Vegan sour cream – Thick, rich and tangy cashew sour cream is made with simple, plant-based ingredients and ready in minutes! It's the perfect dairy-free sour cream substitute!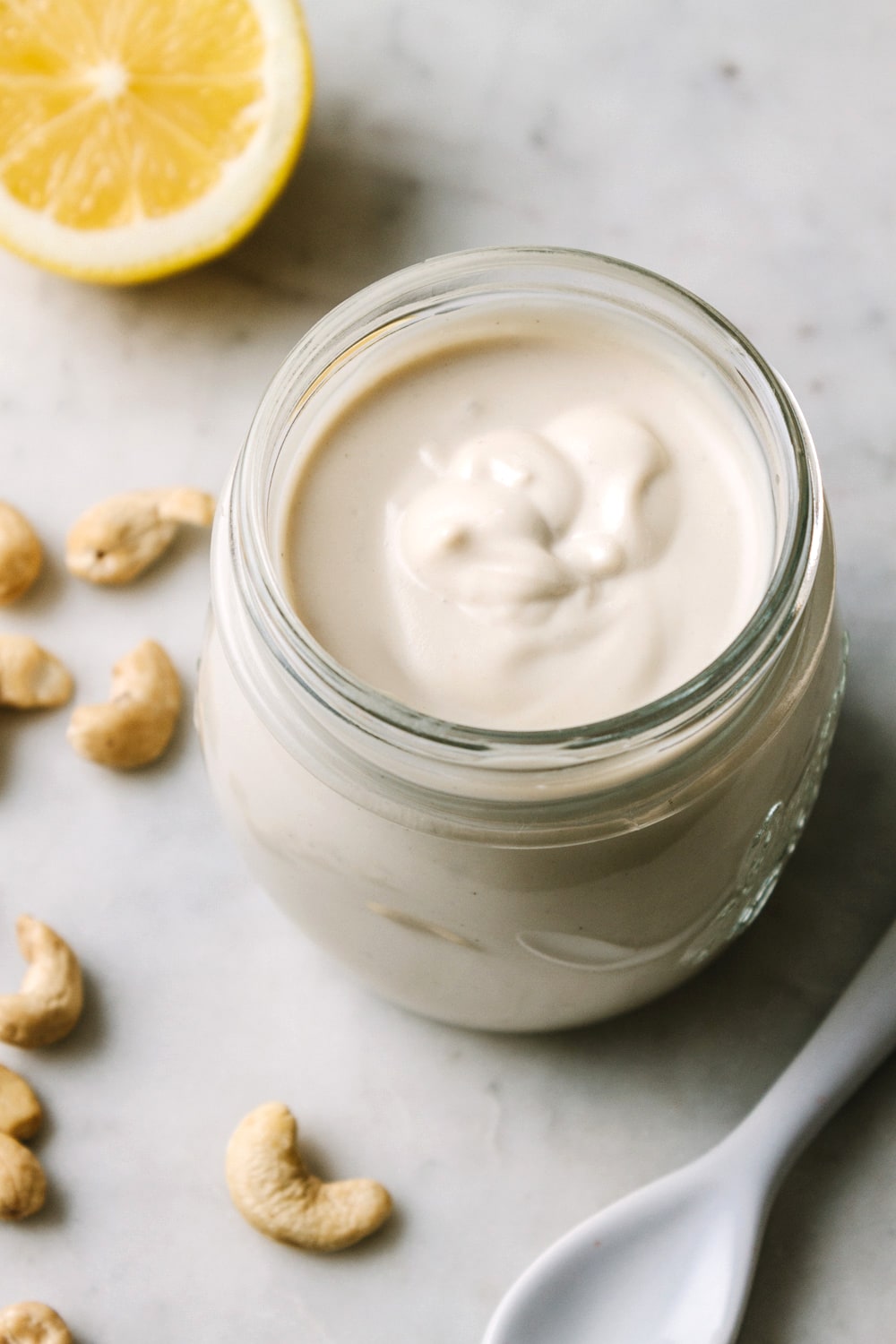 I love simplicity and am always looking for ways to share them here. And this vegan cashew-based 'sour cream' is another wonderful addition to the recipe collection!
With only 5 ingredients and so easy to make, you're going to love this tangy, creamy condiment.
It's whole food, plant based sour cream substitute that's soy-free, non-dairy, and cleaner than any sour cream you will purchase in the grocery store, vegan or not!
Trust me when I say, you won't miss a thing!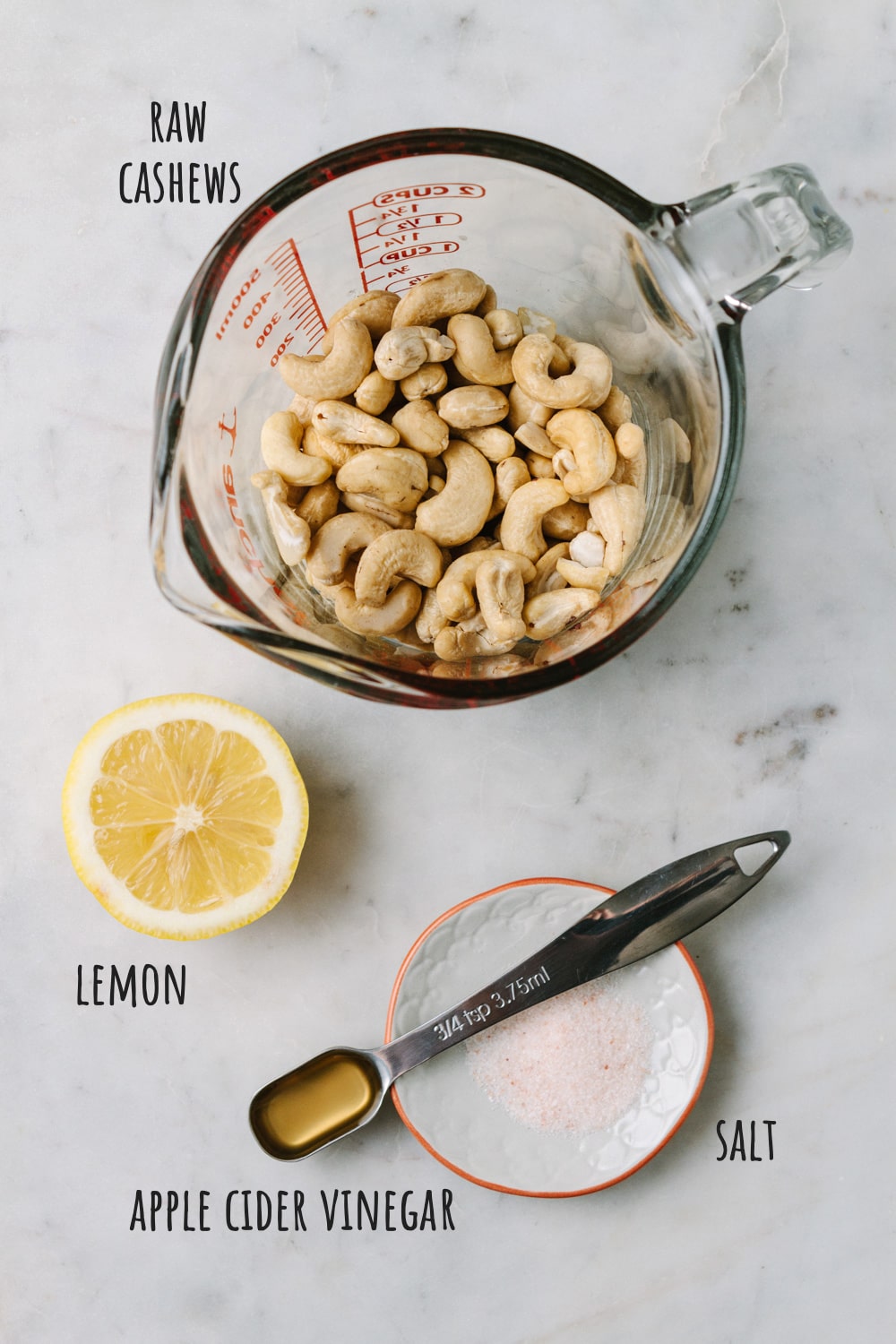 Ingredients You'll Need
In this recipe, raw cashews, lemon juice, apple cider vinegar, and salt are blended until creamy smooth. It takes 10 minutes to make and will last up to 5 or 6 days in the refrigerator.
Here's everything you'll need:
Raw cashews – use only raw cashews for their neutral flavor. Roasted cashews will yeild a deeper toasted flavor that is not characteristic of sour cream.
Water – any purified water will do. You can also use unsweetened, plain non-dairy milk if you prefer.
Lemon – adds an acid.
Apple cider vinegar – this also adds an acid flavor and is more potent than lemon.
Mineral salt – just a pinch to bring out all the flavors.
Soak The Cashews
It is recommended to soak the cashews before processing them. I know we snack on nuts without soaking, or eat them in our foods without going through this process, but it does have some advantages.
Soaking cashews will increase enzyme activity, offer greater absorption of the food's nutrients by the body and help to increase digestibility. Plus, it does help soften them up ensuring a creamy consistency. But if you don't have time to go through the process of soaking, you'll be just fine if you don't.
Soak in 1 of 2 ways:
Soak cashews covered with 2 – 3 inches of water for 2 – 3 hours, overnight is great too but not necessary for cashews.
For a faster soak, add them to hot water and let soak for 5 – 10 minutes (this is my preferred method).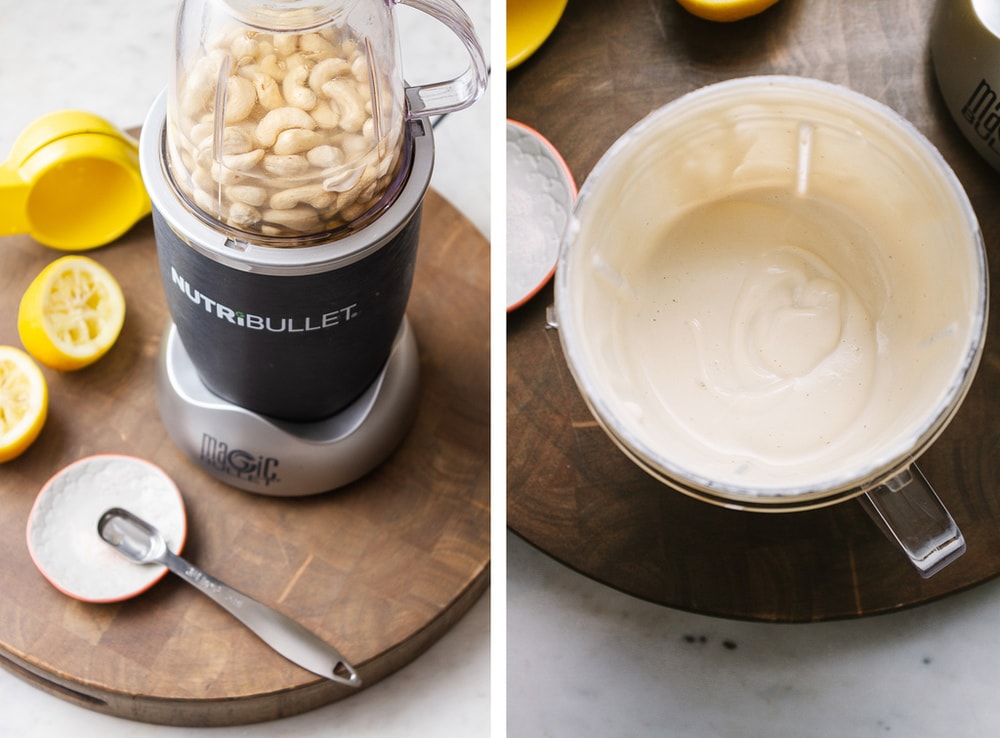 How To Make Vegan Sour Cream
Soak the cashews to soften them up a bit.
Once cashews have been soaked, place them in a high-speed or personal blender along with the water, lemon juice/apple cider vinegar and pinch of salt.
Process until creamy smooth, stopping to scrape down the sides as needed.
And that's it, thick and creamy vegan sour cream in minutes!
Recommended Equipment: I recommend using a high-speed blender or Nutri Bullet (affiliate link) for small jobs like this. It's compact, easy to clean, and works great!
Serving Suggestions
So now to the good stuff! Use anywhere you would normally use sour cream. Here are some of my favorite options: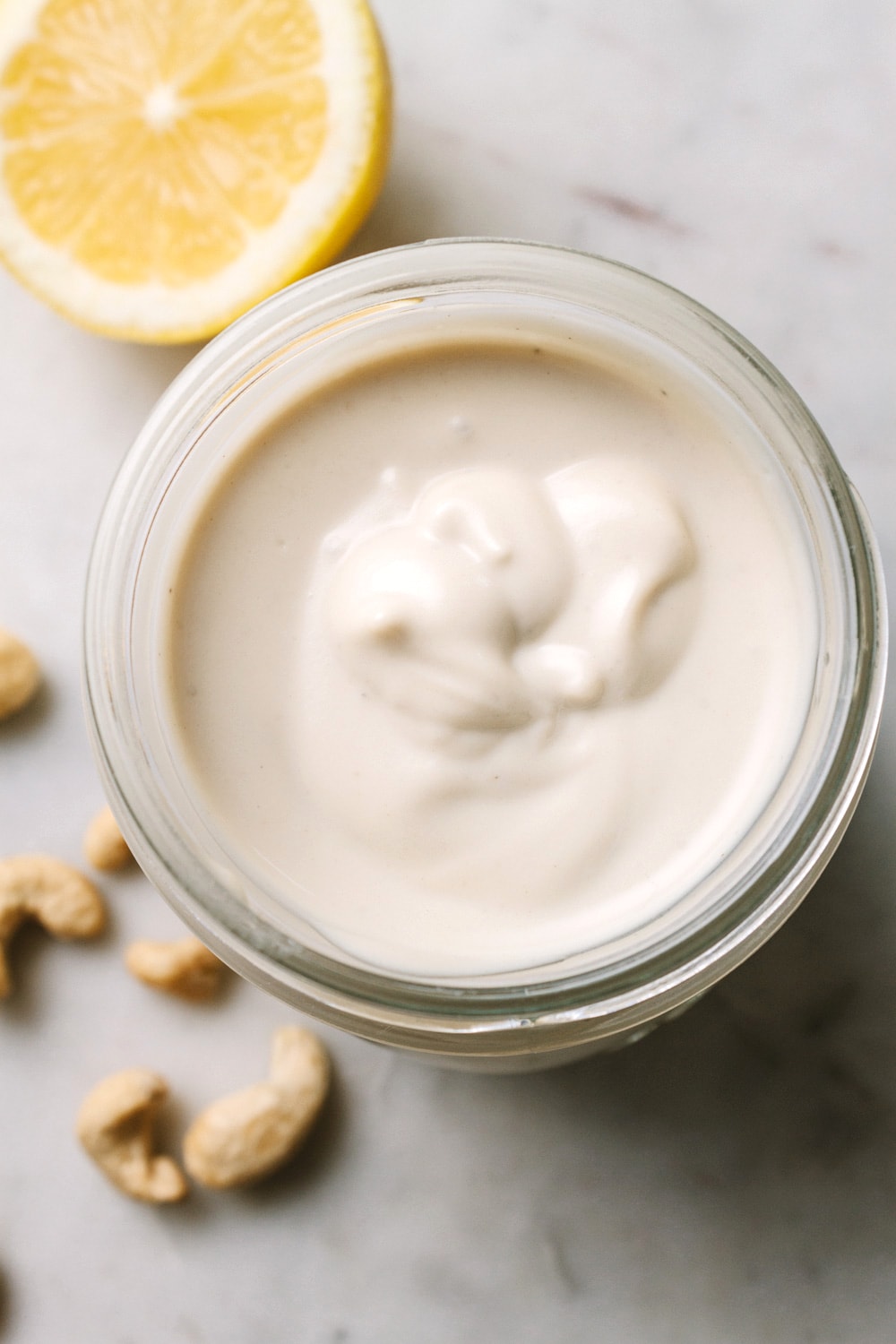 If you try this vegan sour cream recipe, please let me know! Leave a comment and rate it below. I love to hear what you think, or any changes you make.
Print
VEGAN CASHEW SOUR CREAM
This vegan cashew 'sour cream' can be used anywhere traditional sour cream is used. Place a dollop on chili, baked potatoes, soup, and more. You can also use it in baking when called for.
1 cup

raw cashews

1/2 cup

water

1 tablespoon

lemon juice

3/4 teaspoon

apple cider vinegar
generous pinch of mineral salt
Instructions
Soak the cashew in 1 of 2 ways, then drain and rinse well.
Soak cashews covered with 2 – 3 inches of water for 2 – 3 hours, overnight is great too but not necessary for cashews.
For a faster soak, add them to hot water, not boiling, and let soak for 5 – 10 minutes.
In high-speed or personal blender, add all ingredients and blend until nice and creamy, stopping to scrap down the sides every now and then. Add a tad more water as needed to create desired consistency.
Sour cream is best refrigerated for at least an hour before serving, but will do fine if served right away. Sour cream will thicken upon being chilled.
Makes about 1 1/4 cup.  
Store: Will keep in the refrigerator for 5 – 6 days in an airtight container. Give a good stir before using.
Notes
Variations:
Use lime instead of lemon and add a few sprigs of cilantro at the end for a Lime Cilantro Sour Cream.

Try adding a few dill fronds and 1 tablespoon dijon mustard for a Dill Sour Cream.
Adding extra water will depend on how long you've soaked your nuts. The longer you soak, the more water they'll absorb making for less extra liquids needed. Less water will result in a thicker sour cream while more water makes it thinner. If you feel you've put in too much liquids, add a few more cashews and blend until smooth. Keep in mind that refrigerating will also thicken your cream.
Equipment: I love and recommend the Nutri Bullet (<< affiliate link) for small jobs like this. It's compact and works fantastic!
FOLLOW TSV on Facebook, Instagram, Pinterest, or RSS for more updates and inspiration!