VEGAN BUTTERMILK BISCUITS & COUNTRY GRAVY
Vegan Biscuits & Gravy made from scratch with pantry staples are the ultimate morning comfort food! This classic, hearty breakfast recipe is super easy and ready in 35 minutes.
Warm, flaky buttermilk biscuits and good old-fashioned country gravy, it's a delicious combination that takes me on a journey to my younger days, before becoming vegan.
Those were the days of doughboy biscuits and packaged country gravy. Yes, I'll admit it was just so easy and I know many of you have been there too!
Vegan biscuits and gravy are made from scratch with cashew milk (almond, oat or your favorite plant milk works too), flour and fat, making them a pantry staple recipe and perfect for breakfast, lunch or dinner!
Nothing really compares to homemade biscuits and gravy, so roll up your sleeves and get your hands a little doughy because although it may take a little longer – it's well worth the effort and 100 times more delicious!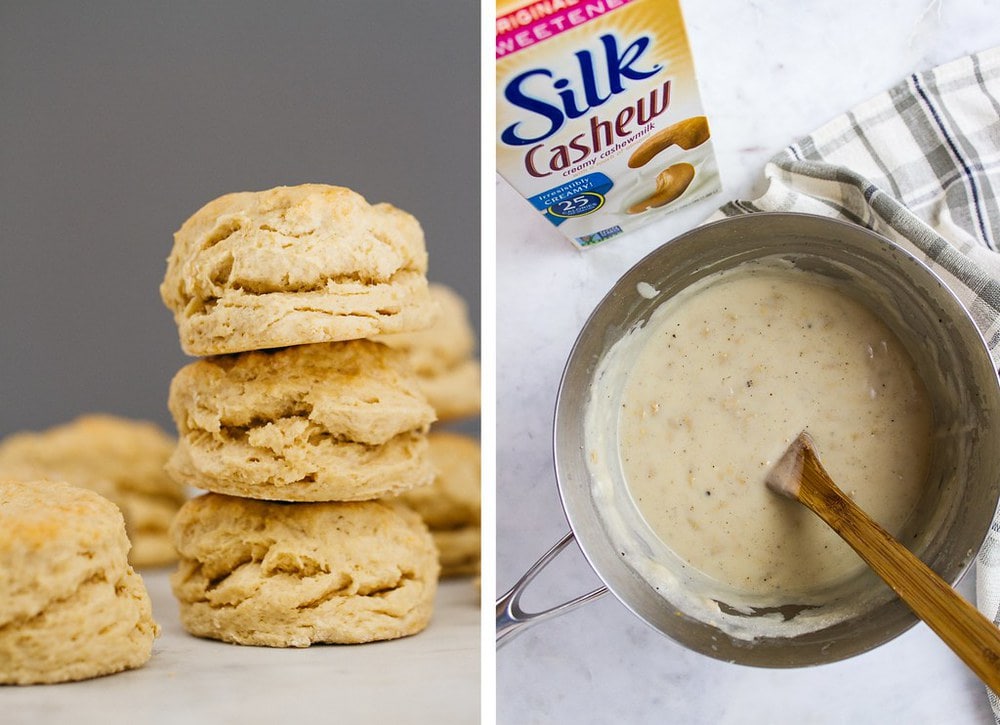 Top Tips
I've researched and adapted my vegan biscuits and gravy recipe from a few well-known sources: Simply Recipes & The New York Times. I've read the reviews, done the testing and bring to you my final results.
Adding optional seasoning. Traditionally you won't find spices other than black pepper in the country gravy, but the addition of a little poultry seasoning and nutmeg are delicious so I've added them as an option. If you don't have poultry seasoning on hand sub in 1/4 teaspoon both sage & marjoram. The spices add a subtle flavor without overpowering. Give it a try!
Gravy first. I would tend to start with the gravy first. This will give it time to cool off a bit and thicken, plus you can always warm the gravy on low just before the biscuits are done. This will ensure piping hot biscuits and warm gravy.
Read recipe instructions before starting. The vegan biscuits come together fairly fast, just be sure to read the instructions before beginning. One thing you'll want to keep in mind in not working the dough too much, the less handling the better your end result will be.
Making good use of time. While your biscuits are baking, you can do the kitchen clean up. Happy cooking!
Change up the gravy. For variation, try this delicious Vegan Mushroom Gravy in place of the country gravy.
How To Make Biscuits and Gravy Without Milk
Once added to the roux, milk makes homemade gravy light in color and creamy. We'll be using unsweetened cashew milk (almond milk is great too) instead of dairy milk, making this a non-dairy recipe without losing flavor or creaminess. You can also use a combo of vegetable broth and milk/water, making your gravy even more flavorful, but the color may be a little darker.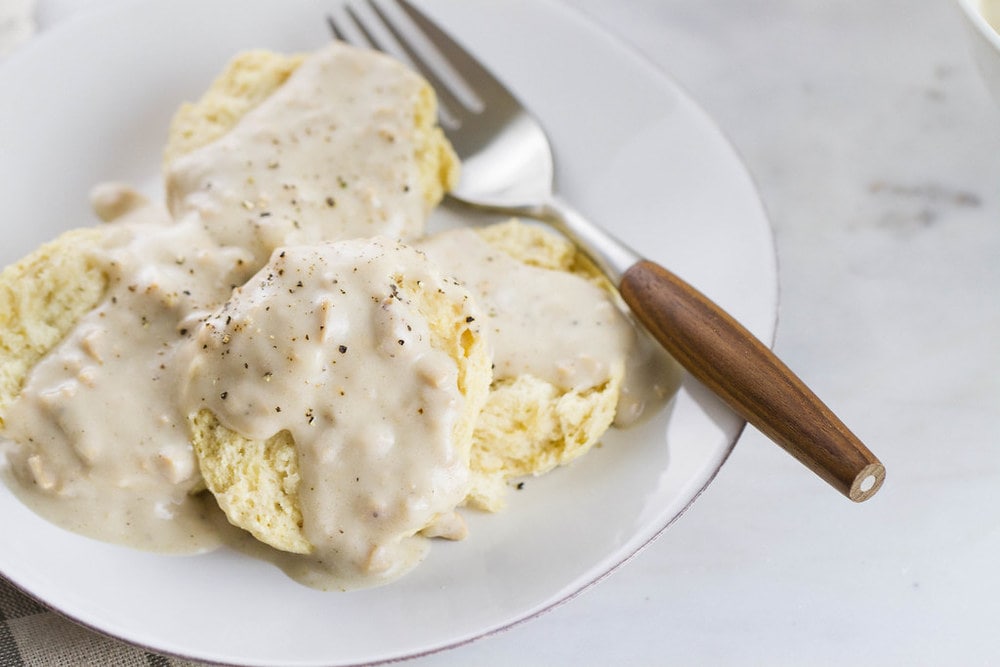 How To Store Leftovers
Countertop: The biscuits can be kept covered on the counter for up to 2 days.
Refrigerator: Both the gravy and biscuits can be safely stored in the refrigerator for up to 5 – 6 days, in covered containers.
Freezer: Both the gravy and biscuits can be stored in the freezer for up to 2 – 3 months using freezer safe containers. Let thaw before reheating.
How To Reheat
Gravy: To reheat the gravy, simply warm it on the stovetop over low heat until warmed through. Add a little milk or water as needed too thin.
Biscuits: Biscuits can be warmed in the oven set at 300, wrapped in foil, for 6 – 8 minutes. Once ready, slice biscuits in half and top with warm vegan gravy.
Serving Suggestions
Easy vegan biscuits and gravy is a classic breakfast food and best served with other hearty vegan breakfast foods. Here are a few of my favorite serving options:
Looking for more vegan breakfast ideas? Take a look at all Vegan Breakfast Recipes on TSV!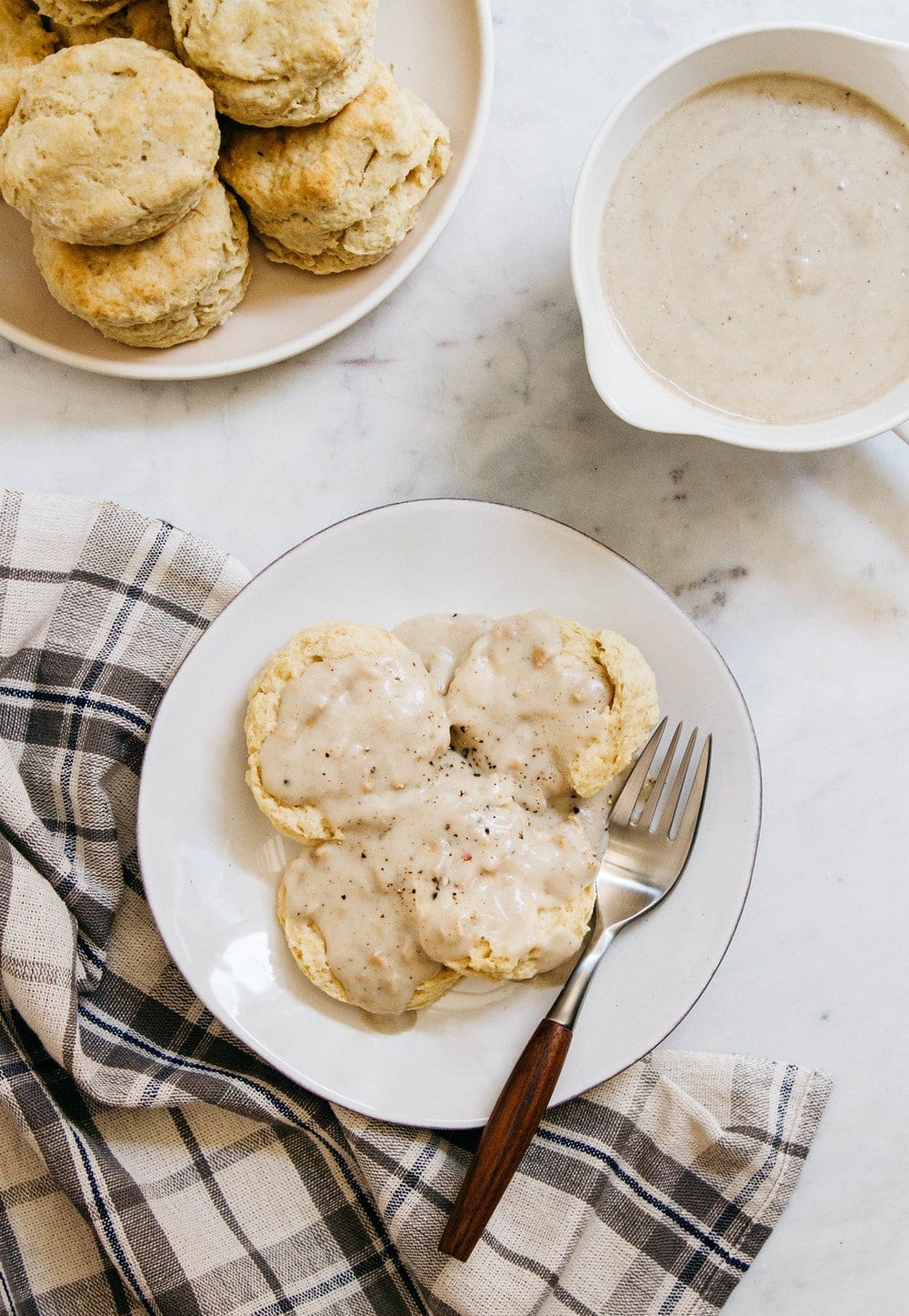 If you try this biscuits and gravy recipe, please let me know! Leave a comment and rate it below. I love to hear what you think, or any changes you make.
Print
VEGAN BUTTERMILK BISCUITS & COUNTRY GRAVY
Craving a little comfort food, these vegan biscuits and gravy are sure to hit the spot and will be ready in about 35 minutes!
Prep Time:

15 min

Cook Time:

20 min

Total Time:

35 minutes

Yield: Serves

4

- 6

1

x
Category:

Breakfast

Cuisine:

Vegan
Biscuits
2 1/2 cups

unbleached all-purpose flour

1 tablespoon

baking powder

1/2 teaspoon

baking soda
pinch of salt

4

rounded tablespoons of vegan butter (I used smart balance w/olive oil)

1 cup

unsweetened cashew milk
juice of

1

lemon, about

1 tablespoon
Country Gravy
5 tablespoons

olive oil or vegan butter

7 tablespoons

all-purpose flour

1

vegan sausage, minced (Tofurky or Field Roast), optional
pinch of garlic powder

1/2 teaspoon

poultry seasoning, optional

1/8 teaspoon

nutmeg, optional

4 cups

unsweetened cashew milk,

at room temperature

mineral salt & fresh cracked pepper, to taste
Instructions
Gravy: In a medium sized pot heat oil over medium-high heat, add flour and stir for 2 – 3 minutes, until it turns light golden brown. Add the garlic powder, poultry seasoning and nutmeg, mix well, add in the sausage and stir another minute or so. Mixture will form a ball of sorts. Slowly add the milk and continue to stir, bring just to a boil, reduce heat to medium and continue to cook, stirring constantly, until gravy has thickened to desired consistency, about 10 minutes. Use the back of the spoon/fork to help break up the sausage if needed. Gravy will thicken a bit more as it cools. Season with plenty of pepper and salt to taste. Set aside with lid on, or slightly askew stirring every now and then until ready to serve. If gravy cools too much, heat over low until warmed.
Biscuits: Make your buttermilk by combining the milk with the lemon juice. Let set for about 10 minutes.
Preheat oven to 425 degrees F. Lightly flour a flat surface (use a cutting board, marble slab, etc). Leave a little extra flour on the side for your fingers and the biscuit cutter. Line a baking sheet with a silpat or lightly grease with oil.
In a medium size mixing bowl, add the flour, baking powder, baking soda and salt, mix well to combine. Add the chilled butter and cut it into the flour using a pastry blender or the back of a fork. You'll know it's ready when the butter is about pea sized and the mixture is crumbly looking. Add in the milk and mix until just combined, making sure there are no flour patches. The dough should form into a rough ball, it should be tacky not sticky. If mixture is too wet & sticky, add a little extra flour and mix just a needed.
Place dough on the prepared floured surface, pat it down into a rough circle or rectangle about 1 inch thick, fold dough onto itself. Repeat 2 more times (this will make for flaky biscuits). Add extra flour to your fingers or dough as needed. Gently flatten the dough to about 3/4 inch thick. Using a 2 1/2 inch cookie cutter, place cutter in the reserved flour, tap the cutter on the flat surface to remove any excess and press the cutter into the dough, repeat. As much as you feel you want to, do not twist the cutter in the dough as it crimps the edges and will interfere with proper rising. Place biscuits on prepared baking sheet, brush with a little olive oil or cashew milk over top if you like. Place in the oven on the middle rack for 15 -18 minutes.
Makes approx. 10 biscuits. You can get 12 if you rework the dough scraps. They won't be the prettiest biscuits but they'll still taste great.
Serve: Split the biscuits open face and serve gravy over top. Enjoy often!
Serves 4 – 6
Notes
If gravy thickens too much, add a splash of milk to thin.
If you don't have baking soda on hand, use an extra 1 1/2 teaspoons of baking powder.
Swap 1 cup of the flour for spelt or whole wheat flour. Biscuits will be a little darker.
You can also try placing the biscuits in a 9 inch round or 9 x 11 rectangular baking dish (be sure to lightly grease it first). Biscuits will be closer together making the edges nice and soft!
The vegan sausage will add a nice dose of protein to the overall recipe. Each Tofurkey kielbasa sausage (this is what I used) contains 26 grams of protein. Add two sausages if you like!
Keywords: vegan biscuits & gravy
FOLLOW TSV on Facebook, Instagram, Pinterest or RSS for more updates and inspiration!