Looking to stock your kitchen with whole food, vegan items? Let this comprehensive guide help you build a healthy, plant-based kitchen pantry!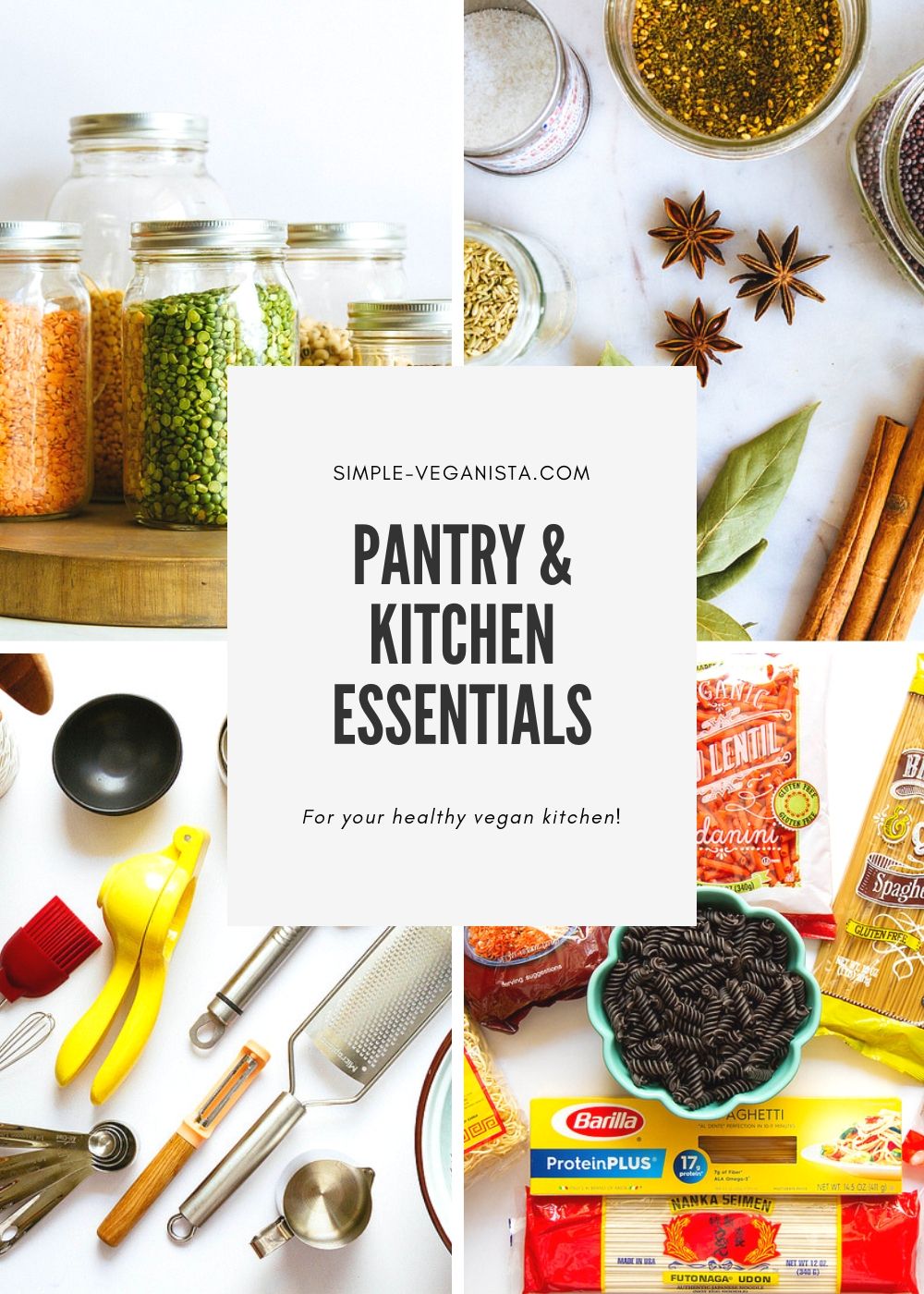 MY VEGAN PANTRY & KITCHEN ESSENTIALS
From pantry, to cupboards and refrigerator, the following is a list of what you'll find in my vegan kitchen. All pantry and refrigerator items are part of a healthy whole foods diet. Most I have used and can be found within the recipes, some items are used more frequently and noted in bold.
As for the equipment I have listed, these are the items that suit my kitchen cooking style and find to be useful. I hope this will encourage you as a guide for your own kitchen and any changes you're looking to make.
Most items are easily accessible and reasonably priced, making eating a plant-based diet easy and affordable. It's just a matter of pulling together meal plans and routines to suit your lifestyle. I hope you find lots of inspiration here at TSV!
Please note, this page contains affiliate links. Links are to show you what an ingredient or product is in case they are new to you, and by choosing to use these links earns TSV a small commission, and it doesn't cost you anything  – thank you for your support!
bold = used most frequently
(GF) = Gluten Free (grains, pastas & flours)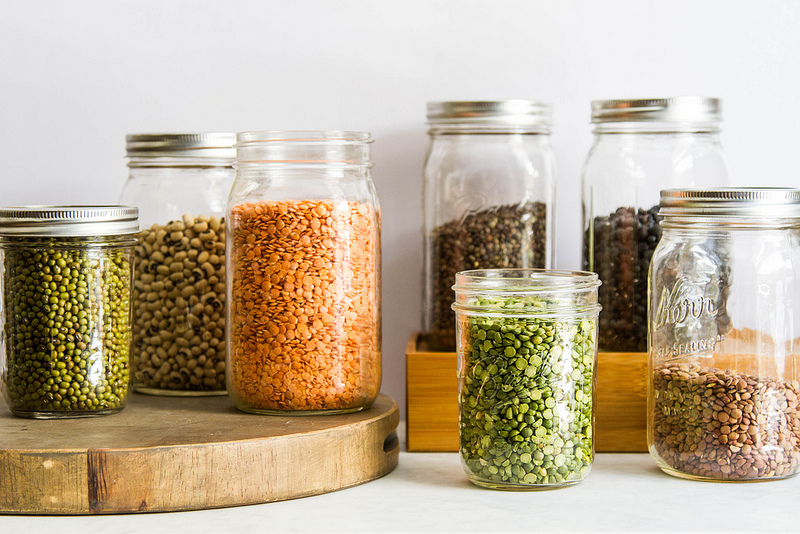 LEGUMES
Legumes are the main proteins in a vegan diet. They are inexpensive and extremely versatile. From hummus (which I eat almost every day), veggie burgers, tacos/burritos, soups, salads, stir fries and even pasta dishes, all types of legumes can be used in various ways creating an endless supply of high protein plant-based meals. Legumes are low in fat, high in protein and fiber, and carry essential micronutrients and phytochemicals to keep you at your best. Fresh is best, but canned is great too for those who need a more convenient option. See all Bean & Legume recipes on TSV!
edemame – whole bean
lentils (green, red, black)
peas (split & whole)
tempeh (organic non-gmo) eat in moderation
tofu (organic non-gmo) eat in moderation
black beans
black eyed peas
chickpeas (garbanzo beans)
kidney beans
pinto beans
white beans (cannellini, navy, great northern)
refried pinto beans
refried black beans
GRAINS
Grains make for great fillers and main meals. Full of fiber and protein, fuel up with breakfast foods like oatmeal, muesli and quinoa porridge. For the later meals, add a rice of choice, farro, wheat berries, quinoa, etc. to complete your main meals. Many of these are gluten free and should be used as part of a healthy diet.
amaranth 

(GF)

barley
basmati & jasmine rice 

(GF)

black rice 

(GF)

brown rice 

(GF)

buckwheat groats, raw pref 

(GF)

bulgar wheat
farro
millet 

(GF)

oats – steel-cut, rolled and quick 

(can be GF)

quinoa 

(GF)

wild rice 

(GF)
PASTAS
A good pasta dish is so comforting. My favorite pasta is the soba noodles with the quinoa, brown rice and spelt next. I love to make stir fries, soups of all kinds and good old-fashioned pesto and spaghetti dishes. Each pasta has its place and keeps my pantry varied.
brown rice pasta 

(GF)

mung bean threads 

(GF)

quinoa pasta 

(GF)

rice noodles (all sizes) 

(GF)

100% soba noodles 

(GF)

spelt pasta
whole wheat
---
FLOURS
If you love baking and pancakes, flour is going to be essential. Even if not, you'll want to have some on hand for recipes that call for small amounts (like when thickening gravies or sauces). My favorite flour is spelt, which bakes up beautifully, making for perfect pancakes, muffins, cookies and breads. Following spelt would be almond, buckwheat and chickpea flour. I usually have about 4 flours on hand at any given time, all of which I store in the refrigerator to maintain freshness.
chickpea flour (aka. garbanzo bean, besan, gram flour) 

(GF)

cornmeal, grits, polenta (coarse or fine grind) (organic pref.) 

(GF

)

oat flour 

(GF)

whole wheat flour
whole wheat pastry flour
NUTS & SEEDS (all raw, except where noted)
All around great as toppers and snacks. You'll be amazed what you can make from nuts and seeds…i.e. tahini, cheeses, nut meats, nut butters, raw truffles, etc. A nice assortment on hand will be a plus! I store mine in mason jars and keep them in the refrigerator to for maximum freshness.
almonds
cashews
hemp hearts – hulled hemp seeds
pecans
pepitas (pumpkin seeds)
pistachios
sesame seeds (white, black & toasted)
sunflower seeds (raw or toasted)
walnuts
---
DRIED FRUITS
Use these as snacks and toppers, or mixed with nuts. Make raw truffles and desserts. You can also use dried fruit in the DIY Muesli Mix for a quick breakfast idea. Try adding dates to your smoothie for sweetness. I love taking dried mango slices with me on the go to snack on. As with nuts, a nice variety is good to have on hand. Dried fruits are fine stored in the pantry, but will keep longer in the refrigerator.
apricots
coconut flakes – all sizes
cranberries – unsweetened or organic sweetened
currants
dates
mango (unsulfured & unsweetened)
raisins
---
SWEETENERS
Natural sweeteners, my favorite and most used is pure maple syrup. Dates are a favorite as well to sweeten shakes and smoothies. Coconut sugar has a wonderful caramel flavor, like brown sugar, that I love to bake with.
coconut nectar
raw sugar
dates
SPICES
Spices are what will make your meals come alive. I love the simplicity of allowing my vegetables to shine, but sometimes I like to use many spices at once to really make a dish flavorful as possible. I have a large selection in my pantry, but find that I usually stick with a few key ones that I love. Use spices to take old recipes and change them up using a different blend. Some I prefer to use fresh like basil, cilantro and parsley while the rest I'm happy to use dried. I recommend purchasing the freshest dried herbs and spices you can find for best flavor!
allspice
basil (fresh pref.)
bay leaves
caraway seeds
cardamom
cayenne
chili powder
chipotle
cilantro (fresh pref.)
cinnamon
cloves
coriander
cream of tartar
cumin
curry
fennel
garam marsala
garlic powder
ginger
herbs de Provence
himalayan salt
lemon pepper
marjoram
mustard powder
nutmeg
old bay seasoning
oregano
onion powder
paprika (sweet)
paprika (smoked)
parsley (fresh pref.)
peppercorns (rainbow pref.)
pumpkin pie spice
red pepper flakes
rosemary
sage
smoked salt
summer savory
tarragon
thyme
turmeric
vanilla extract and/or vanilla beans
white pepper
za'atar
OILS
I try to use oils sparingly as possible, but do keep a few on hand. There is no butter in my kitchen, other that nut butters, so oil is essential and used in its place. Depending on what my dish is going to be will depend on my oil. I use coconut oil for most of my baking, sometimes I'll use olive or grapeseed oil. Sesame oil is used mainly for stir fries. When roasting vegetables, I use either grapeseed, olive or coconut oil. Extra virgin olive oil is used for dressing and non-heat recipes.
extra virgin olive oil
olive oil (I prefer light flavored)
sesame oil (regular and toasted)
other nut oils (walnut, hazelnut, pistachio, etc.)
---
VINEGARS
Vinegar adds a nice zest and tang to dishes. Great in stir-fries, salad dressings and soups. They also lend a hand when an acid is needed, like making vegan buttermilk and cheeses.
apple cider vinegar (unfiltered)
balsamic vinegar (white and dark)
champagne vinegar
red wine vinegar
rice vinegar
white wine vinegar
---
BUTTERS & CONDIMENTS
A good assortment of these will go a long way. You can do so much with all of these. From dressings, dips, sauces, spreads and toppings, these are essentials.
tahini
almond butter
coconut butter
ketchup (organic)
mustard (whole grain, dijon, brown mustard)
100% fruit jams & jellies
sriracha
chili paste
tapitio (or other favorite vegan hot sauce)
tamari, soy sauce or nama shoyu
CANNED & BOTTLED GOODS
Of course I want you to cook from scratch as much as possible, but I also realize that not everyone has the desire or time. This is where canned goods can be a great saver of time and energy. Keeping a stocked pantry with some of these essentials means you'll be able to pull something together. Try to buy bottled items whenever possible and look for BPA free cans.
diced tomatoes (pref. fire roasted)
sun-dried tomatoes
tomato paste
fire roasted green chilies
coconut milk (full fat & light)
bottled spaghetti sauce
baked beans
salsa
enchilada sauce (green or red)
curry paste (red is what I have)
olives (green and/or black)
greek pepperoncini, sliced or whole
unsweetened apple sauce
bottled lemon/lime juice (in case I don't have lemons)
---
PACKAGED AND OTHER
More base essentials to have on hand to throw together with fresh produce or baked up into something wonderful.
---
REFRIGERATOR ESSENTIALS
You'll find these trusted items in my refrigerator. Almond milk and miso being my most used.
unsweetened almond milk
non-dairy yogurt
miso
tofu
tempeh
---
FREEZER
frozen fruits
leftovers :)
---
THINGS I KEEP IN MY REFRIGERATOR AFTER OPENING
Some are quite obvious, while others not so and I keep in the refrigerator for maximum freshness.
flours
nuts & seeds
maple syrup
ketchup
mustard
tahini
curry paste
jams & jellies
almond and nut butters
coconut aminos
mirin
baking soda/powder
lemon juice
applesauce
bottled lemon/lime juice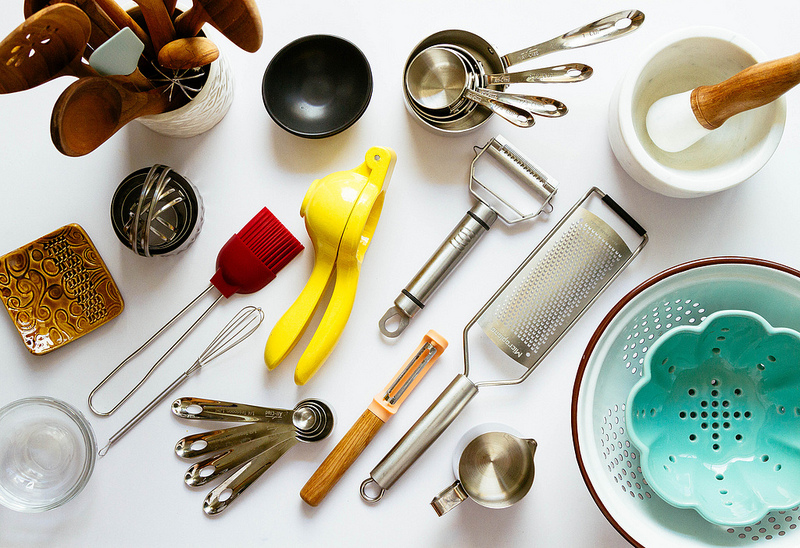 KITCHEN TOOLS
The kitchen tool list is maybe a bit overboard and some obvious. Once I started it, I couldn't stop. Of course you don't need all these kitchen tools and can make do with some of the basics. This is what's in my kitchen after a few years of accumulation and are noted here because they are useful to me. Hopefully this can be a good guide to get you started or think of something you may have overlooked.
food processor
blender
immersion blender
small blender (Nutri Bullet or Magic Bullet)
vegetable peeler
julienne tool
microplane
mortar & pestle
tea kettle
large carbon steel wok (w/ wooden handles pref. on both sides for easy handling)
stock pot (great for large batches of soup and stove top popcorn)
cast iron skillet & griddle (griddle pref. smooth on one side & ribbed on the other)
mason jars (all sizes) (perfect for the organizer and to take soups, smoothies, etc. on the go)
basic measuring spoons (1/4 t, 1/2t, 1t, 1T)
basic dry measuring cups (1/4, 1/3, 1/2, 1 cup)
liquid measuring cups (I have a 2 cup & 4 cup)
whisk, small and large (I use my little one all the time for sauces and dressings)
tongs
ladle
assorted wooden spoons
mixing bowls (small to large)
silicon brush
small silicon bowls (great for drizzling thick sauces and icings)
potato masher
grater
can opener
kitchen scissors
bamboo steamer
serrated bread knife
good chef knives & sharpener (I have three sizes: paring, utility & chef)
cutting board (various sizes are helpful)
colander (small to large)
fine mesh strainer (small to large)
oversize griddle/pan spatula
rubber spatula
mineral oil (for maintaining cutting boards and wooden utensils)
---
ESSENTIAL BOOKS
---
added suggestions by others
crock pot (perfect for the busy person…set it and forget it)
rice cooker
Instant Pot (an all-in one, fast cooking appliance)
stand alone mixer (attachments are a plus )
So there you have it! I may have missed a thing or two in its entirety but this is a pretty solid list of things to work with in a vegan/plant-based kitchen. Add in some fresh produce to the mix and you can whip up some pretty amazing snacks, meals, breads and desserts. Easy, peasy, vegan! Cheers :)
---
SHOP KITCHEN ESSENTIALS
---