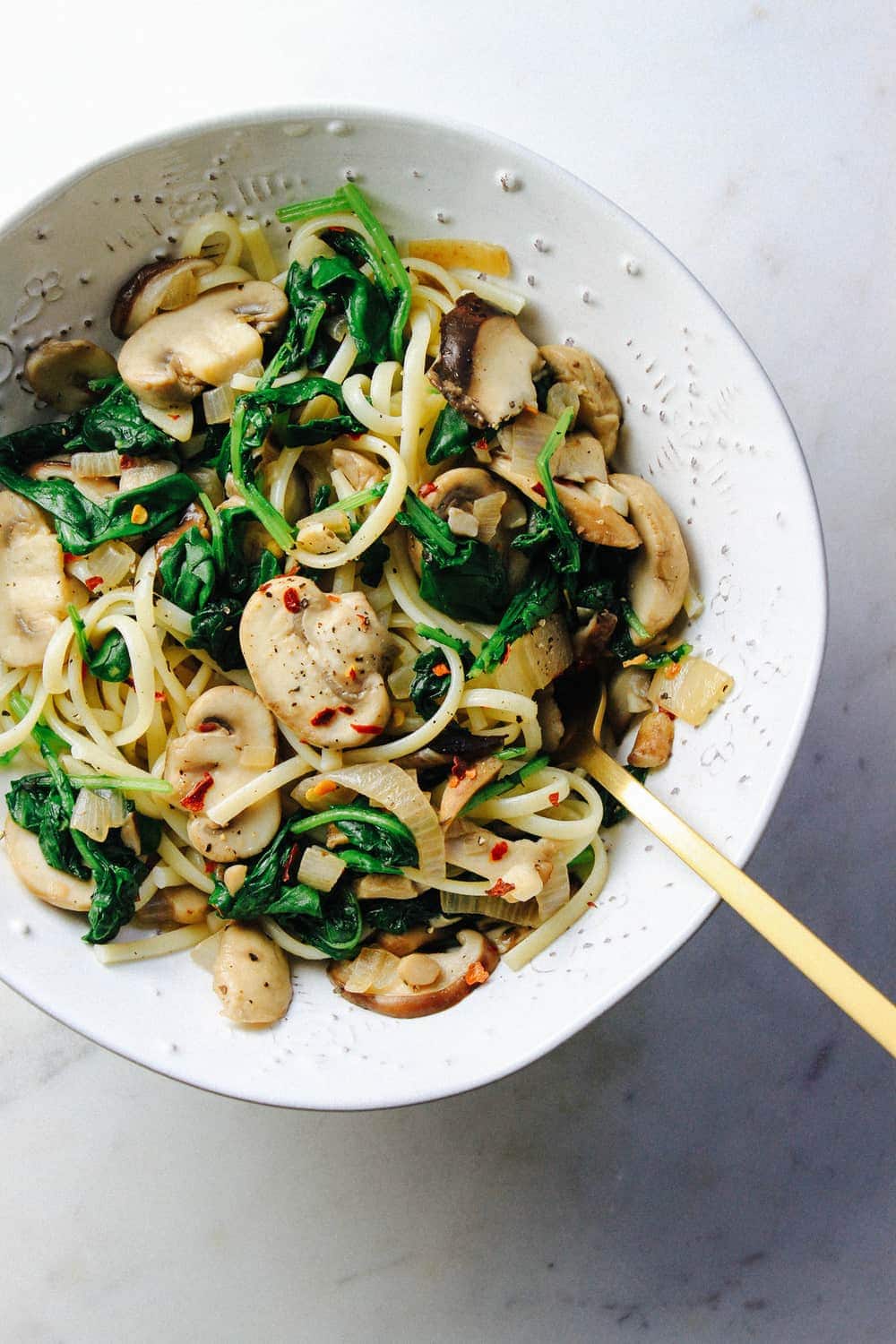 In this moment I am both insanely happy and extremely full!
I am thrilled to be back doing what I love. It makes me smile from ear to ear to be cooking, taking photos, editing and sharing new inspiration with you all! I've missed it all and have thought about it every day since my last post.
As life goes, I've had to take time to move and adjust to a new home. I'm happy to say all is fantastic and you'll be seeing me in your inbox and on the social network more regularly. :)
As for being full, I'm sure you've already guessed why. I just finished this amazingly simple one-pot meal and am stuffed. I've been on a garlicky mushroom and kale kick lately, and this linguine pasta dish hit the spot!
I had a few variations of this recipe in mind. Should I make it creamy or brothy? Well, I settled on my original craving of a simple juicy broth.
Now without further ado, let's get on with the good stuff!
This recipe is very flexible and can be mixed up using different broths, noodles or herbs.
For the mushrooms I used a combo of white and shitake. The white mushrooms came in a large 16 oz. tub as seen below and were on sale, naturally I went with those and picked up a small  6 oz. tub of shitake mushrooms. Use your favorite mushrooms here in any combo you like or simply use one type.
The mushrooms on their own will give you a savory juice but I added a cup or so of vegetable broth to the finished mixture for extra juices. Miso broth would also be a good option, especially if you decide to use udon, soba or ramen noodles.
I used a small amount of thyme in this recipe but you could vary it up with herbs de Provence, rosemary or an Italian blend.
For added protein, try using a can of white beans such as cannellini or great northern.
This recipe cooks up fairly fast using one pot and will be on your table within 35 minutes or so, the longest part is cooking the pasta.
I hope you enjoy this savory and simple meal as much as I did!
Let's talk mushrooms!
Classified as a vegetable, they actually are not plants at all but belong to the Fungi Kingdom. Not only do they add a hearty texture to your meals, they are full of health benefits.
Crimini, shitake, porcini, white and portabella mushrooms are widely available year round. All are an excellent source of vitamin D, B2 and B3. They're also a good source of minerals such as iron and selenium.
Selenium plays a role with the enzyme function in the liver acting as a detoxifier of certain cancer-causing compounds. It also works to help prevent inflammation. Selenium isn't found in high doses, and sometimes not all, in fruits and vegetables but mushrooms are an excellent plant-based source of this important mineral (brazil nuts are also an excellent plant source). Shitake mushrooms are your best bet for adding this mineral to your diet, with crimini coming in second.
Mushrooms raw or cooked should be an integral part of your healthy plant-based diet.
Cook your pasta, saute the veggies and mix to combine. Voila, a delicious bowl of goodness is born.
Cheers to all things good for us and happy Friday friends!
Print
GARLICKY MUSHROOM + KALE WITH LINGUINE
For all the mushroom lovers! This savory one pot pasta dish is quick, easy and simply delicious.
Ingredients
12 oz. linguine

2 tablespoons olive oil or 1/4 cup water/broth (for water saute)

1 large shallot or 1/2 medium onion, chopped

6 – 7 large garlic cloves, chopped

2 lbs. (32 oz.) sliced mushrooms (button, crimini, shitake, porcini, etc.)

5 oz. package baby kale or 1 bunch lacinato kale (julienned)

1/2 heaping teaspoon thyme, herbes de provence, rosemary or Italian blend

pinch of red pepper flakes, optional

mineral salt & fresh cracked pepper, to taste

1 1/2 cups vegetable or miso broth

lemon wedges, to serve (optional)
Instructions
In a large pot cook pasta according to package, drain in colander and set side.
In same pot, heat olive oil over medium heat, add onions and cook 4 minutes, add garlic, mushrooms and herbs, optional red pepper flakes, salt and pepper, cook over medium heat until mushrooms start to release moisture, about 4 – 5 minutes. Add kale and continue to cook until wilted (lacinato will take longer to wilt than baby kale).
Add the pasta to the mushroom mix, add broth, mix well and continue to cook until broth is just warmed.
Serve in individual bowls with some of the juices, top with fresh cracked pepper and a squeeze of lemon for brightness.
Serves 4 – 6
NOTES:
Add a few chopped sun-dried tomatoes for another layer of flavor. It's delicious!
Use spinach in place of kale if you like.
Add extra protein to this recipe by adding a can of cannellini or great northern beans, drained and rinsed, to the pot after adding the broth.
Use any noodles you prefer, penne, farfalle, soba, udon, ramen, fettucine, etc. Use rice or quinoa pasta to make this gluten free.