AUTUMN WHEAT BERRY + BUTTERNUT SQUASH SALAD
Autumn Wheat Berry Salad with butternut squash, kale & pomegranate is a flavorful, warm salad for the days of fall and winter!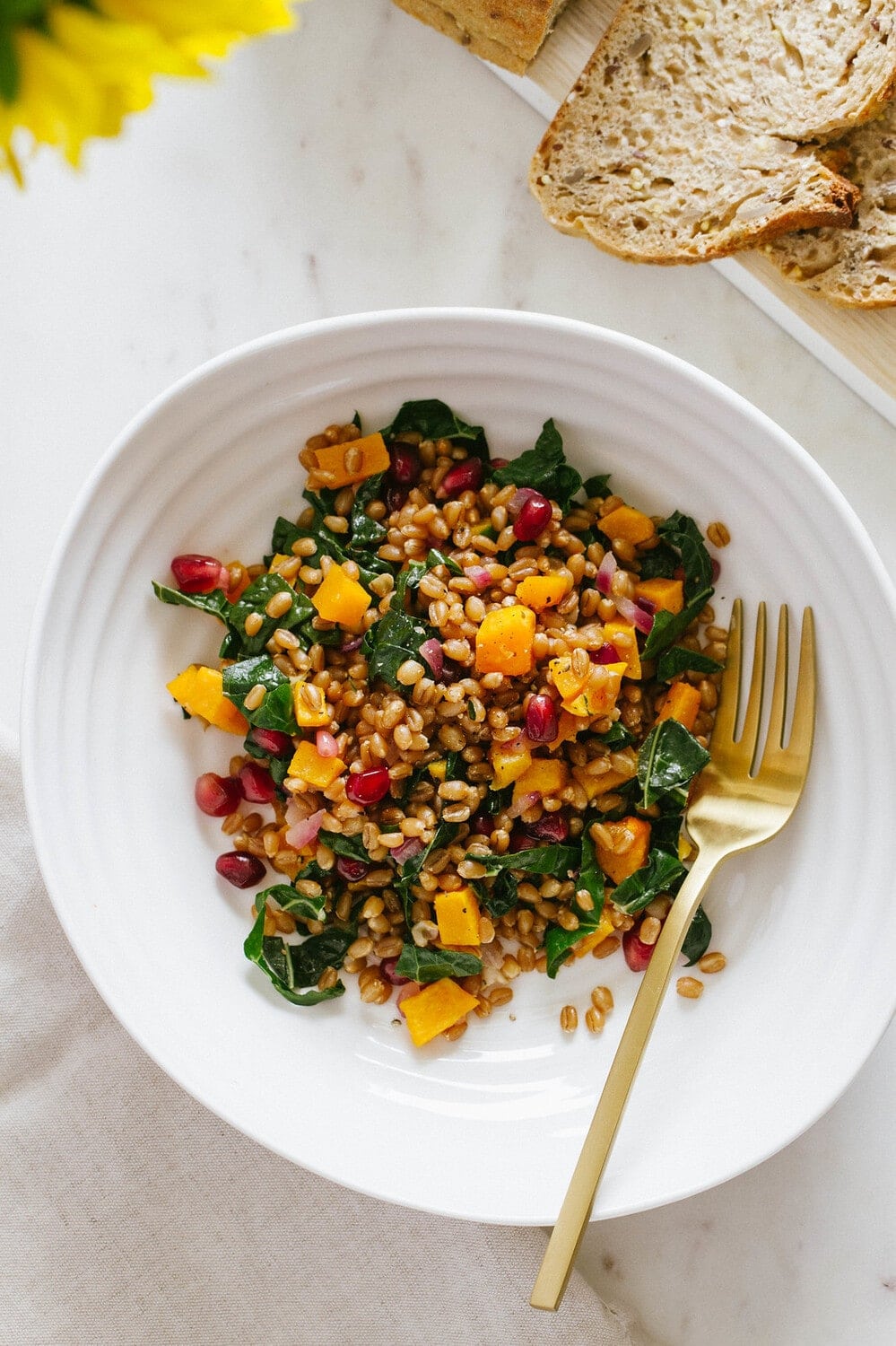 The autumn season is well under way here in California!
Having a bag of wheat berries in my pantry just waiting to be used and a butternut squash on hand, I decided to put the two together creating hearty salad. After a quick google search I ran across a very tempting recipe from Food & Wine that I used as a guide.
Autumn Wheat Berry Salad
Today we'll celebrate the season with this fall colored Autumn Wheat Berry + Butternut Squash Salad with kale and pomegranate seeds all dressed with an apple cider vinaigrette. It's a deliciously, simple salad to nourish your body and brighten your day!
This recipe will make enough to feed a small crowd, or you'll have plenty of leftovers to nibble on or take for to-go lunches. Feel free to cut the recipe in half if you like, but I must say it was nice to have leftovers.
Wheat berries are a low gluten grain with an ample amount of protein and fiber per serving, about 6 grams each. They work well in salads and soups for added bulk and heartiness. If you haven't tried them yet, hopefully this is a little inspiration to get you started!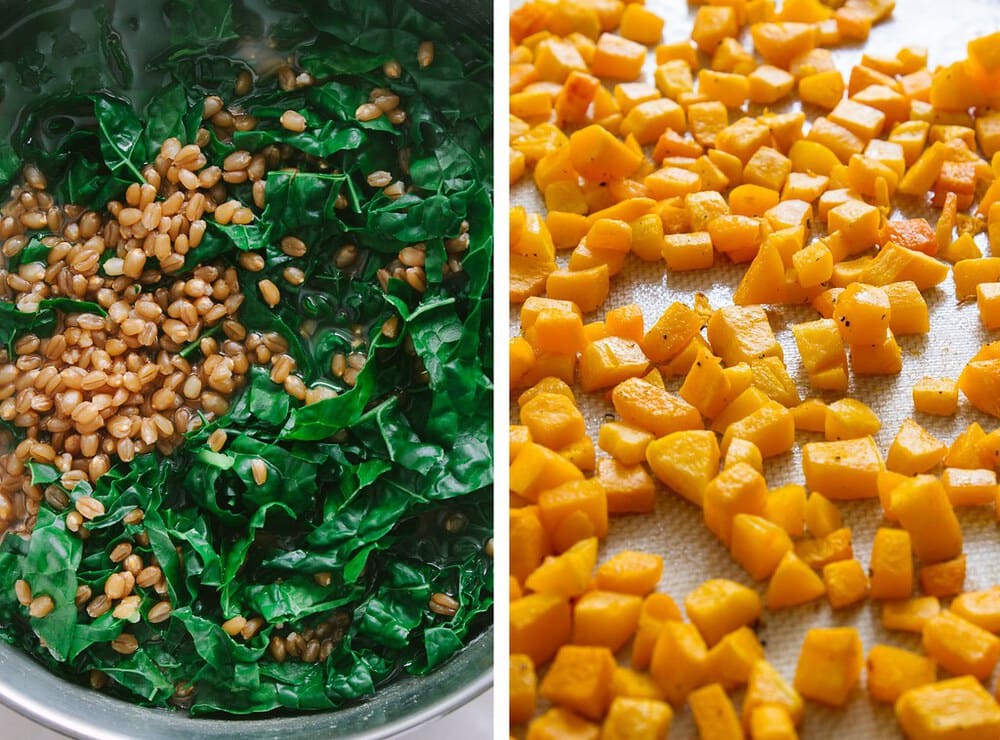 There are a few steps to the recipe but they flow nicely making this come together easily. First you'll be cooking the wheat berries and adding the kale at the end to help steam it. While that's coming along, roast your butternut squash.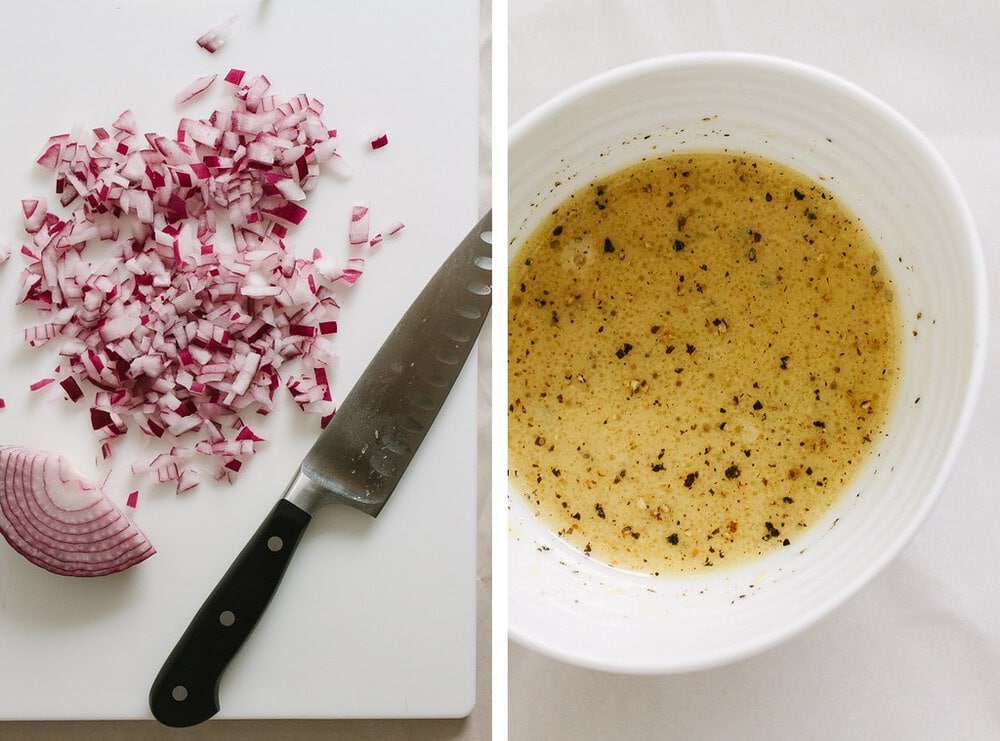 Next, dice the onions and saute until just softened. Prepare the vinaigrette, set aside.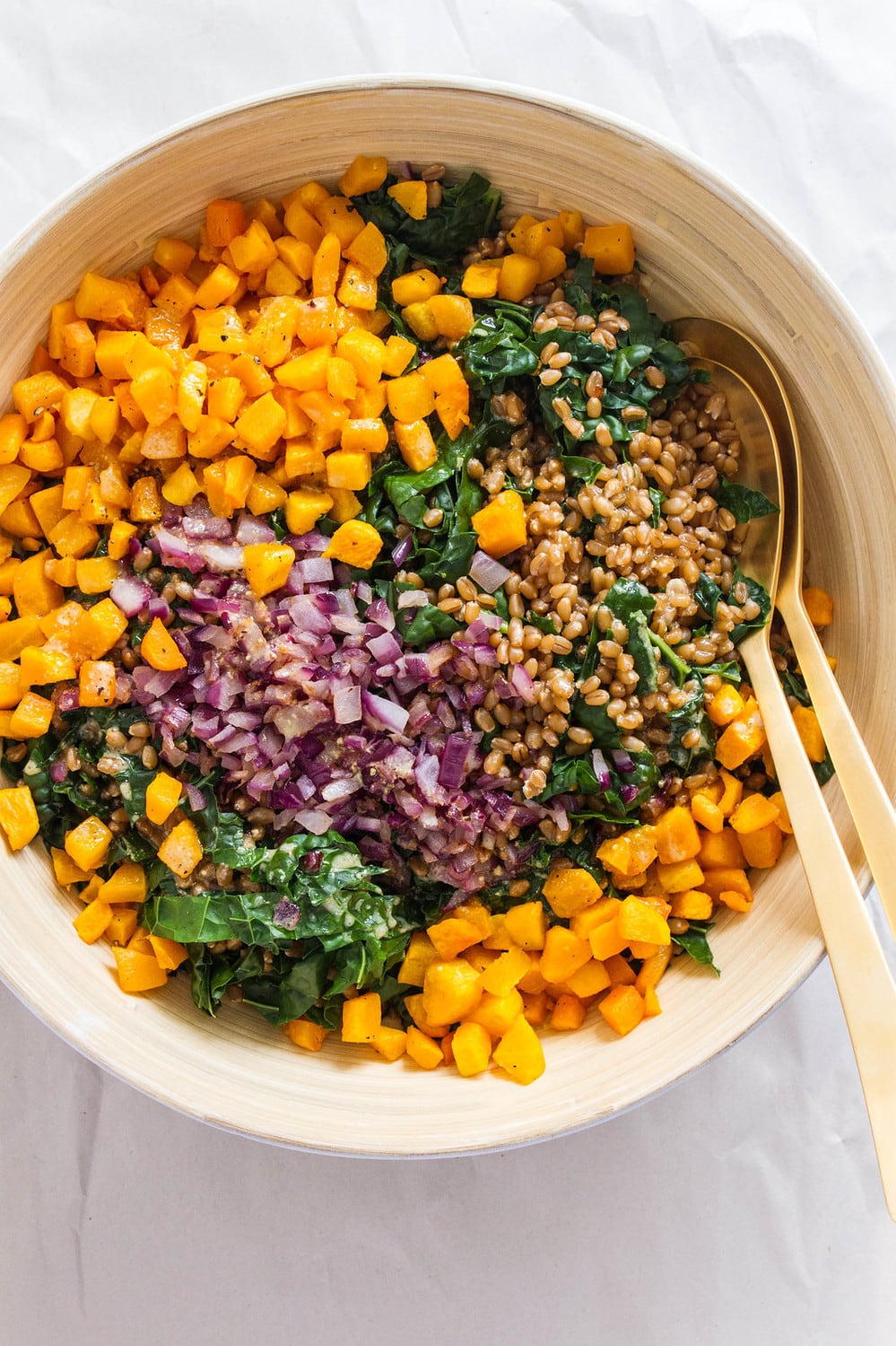 Once you've cooked the wheat berries, wilted the kale, roasted the butternut squash, sauteed the onions and made the dressing, it's time to mix it all together.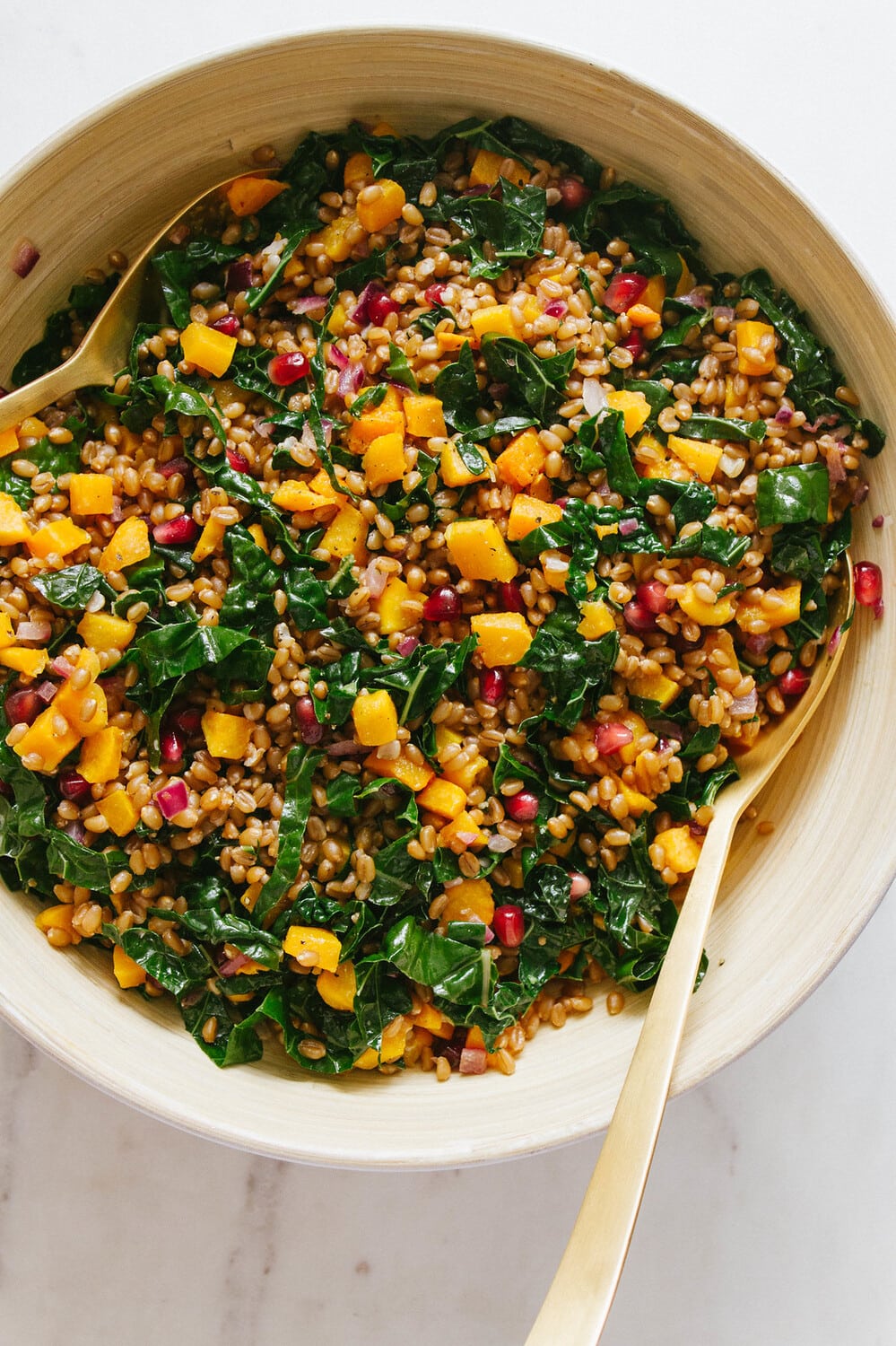 And voila, the end result is a colorful autumn salad to share with friends and family, or eat all to yourself.
P.S. Don't skimp on those pomegranate seeds, they are soooo good and add a nice touch of color!
More ways to use butternut squash
If you try this wheat berry salad recipe, please let me know! Leave a comment and rate it below. I love to hear what you think, or any changes you make.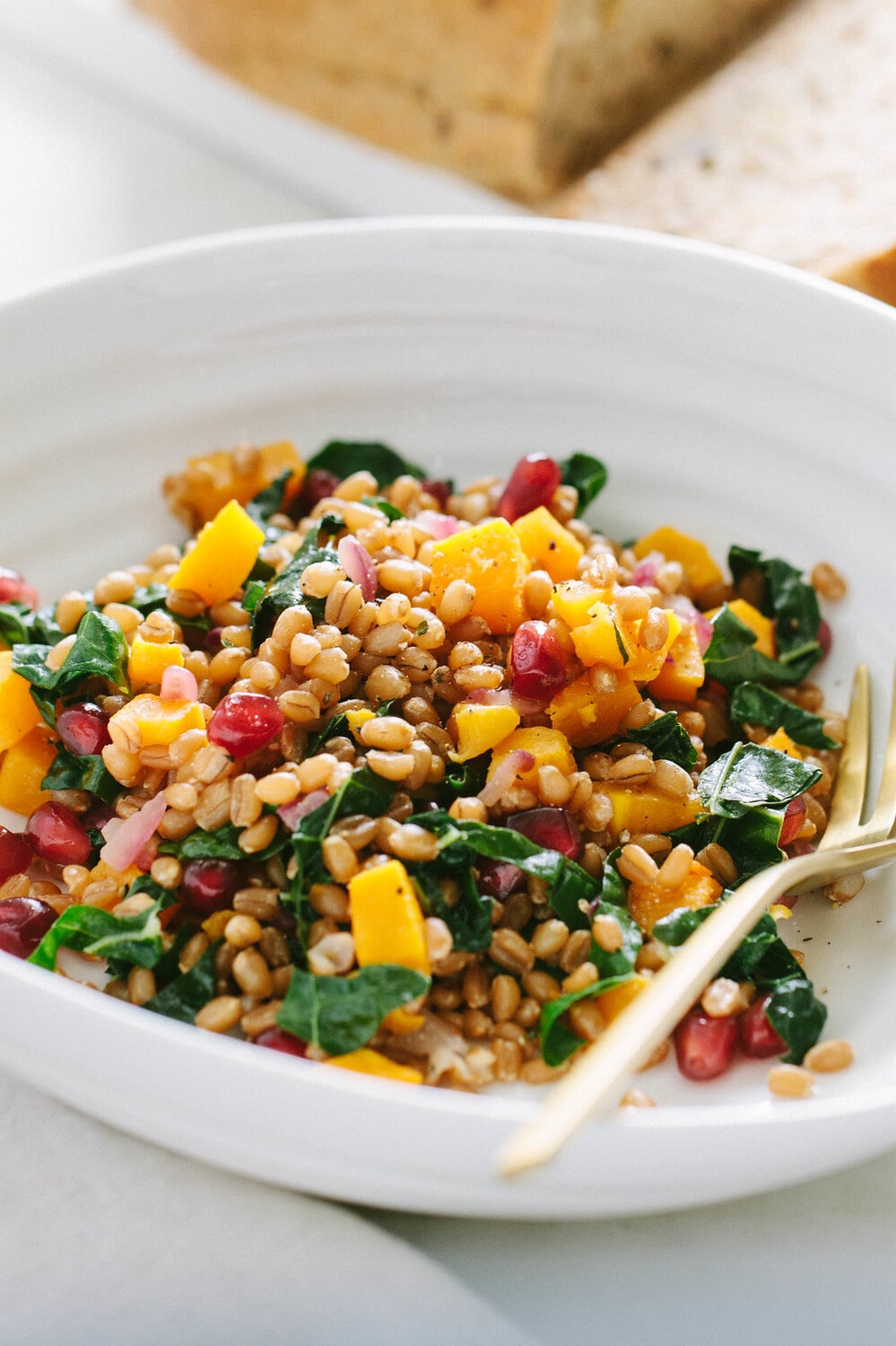 Print
AUTUMN WHEAT BERRY + BUTTERNUT SQUASH SALAD
Wheat berries add heartiness and protein to festive autumn salad. It will nourish and brighten you day!
Prep Time:

10 min

Cook Time:

45 min

Total Time:

55 minutes

Yield: Serves

4

- 6

1

x
Category:

Salad, Side

Cuisine:

Vegan
1

butternut squash, diced (about

4 cups

)

2 tablespoons

olive oil, divided

2 cups

dry wheat berries (I used

Bob Red Mills

)

5 cups

water

1

bunch tuscan kale, stems removed and chopped

1/2

red onion, diced

3/4 cup

pomegranate seeds

mineral salt & fresh cracked pepper, to taste

1/4 cup

chopped parsley, optional
Apple Cider Vinaigrette
1/4 cup

apple cider vinegar

1 tablespoon

dijon or whole grain mustard

1 tablespoon

olive oil

fresh cracked pepper

pinch of salt
Instructions
Butternut squash: Preheat oven to 400 degrees F. Line a rimmed baking sheet with parchment paper, a silpat or lightly greased with oil. Place butternut squash on baking sheet, drizzle with 1 tablespoon oil, and mix well to coat. Add a sprinkle of salt and pepper over top. Place in oven on the middle rack and cook for 25 – 30 minutes, stirring after 15 minutes. Remove from oven, set aside.
Wheat berries + kale: In a medium size pot, add water, wheat berries and a pinch of salt, bring to boil, cover, reduce heat to low so water is at a gentle boil, and cook for 45 minutes, or until wheat berries are tender. Add kale to the wheat berries and give a good stir, let set for 5 minutes, or until kale softens and wilts. Drain wheat berries and kale.
Onion: In a small skillet or pan, heat 1 tablespoon olive oil over medium heat, add onion and cook 5 minutes, until softened.
Dressing: In a small bowl, combine the apple cider, dijon mustard, olive oil, pepper and salt, mix well to combine.
Mix it all together: In a large serving/mixing bowl, combine the kale, wheat berries, butternut squash, onion, pomegranates, optional parsley and dressing, toss well to combine. Add extra salt and pepper to taste.
Serve warmed, at room temperature or chilled. Tastes great with a slice of freshly cut crusty bread. Enjoy!
Serves 6
NOTES:
If using different wheat berries, cook according to package, and add an extra cup of water.
Use farro or barley in place of the wheat berries if you prefer. Cooking times of farro and barley my vary so adjust and cook according to package directions. You can still add the kale at the end, just be sure to put the lid on for a few minutes to help stem the kale.
Feel free to use baby kale instead. No need to cook the baby kale. Simply add it to the mixing bowl while everything and combine.