BEST VEGAN SNICKERDOODLES
Simple and delicious, these cinnamon sugar coated Vegan Snickerdoodles can be made traditional with cream of tarter, or without. It's an easy recipe that everyone with love!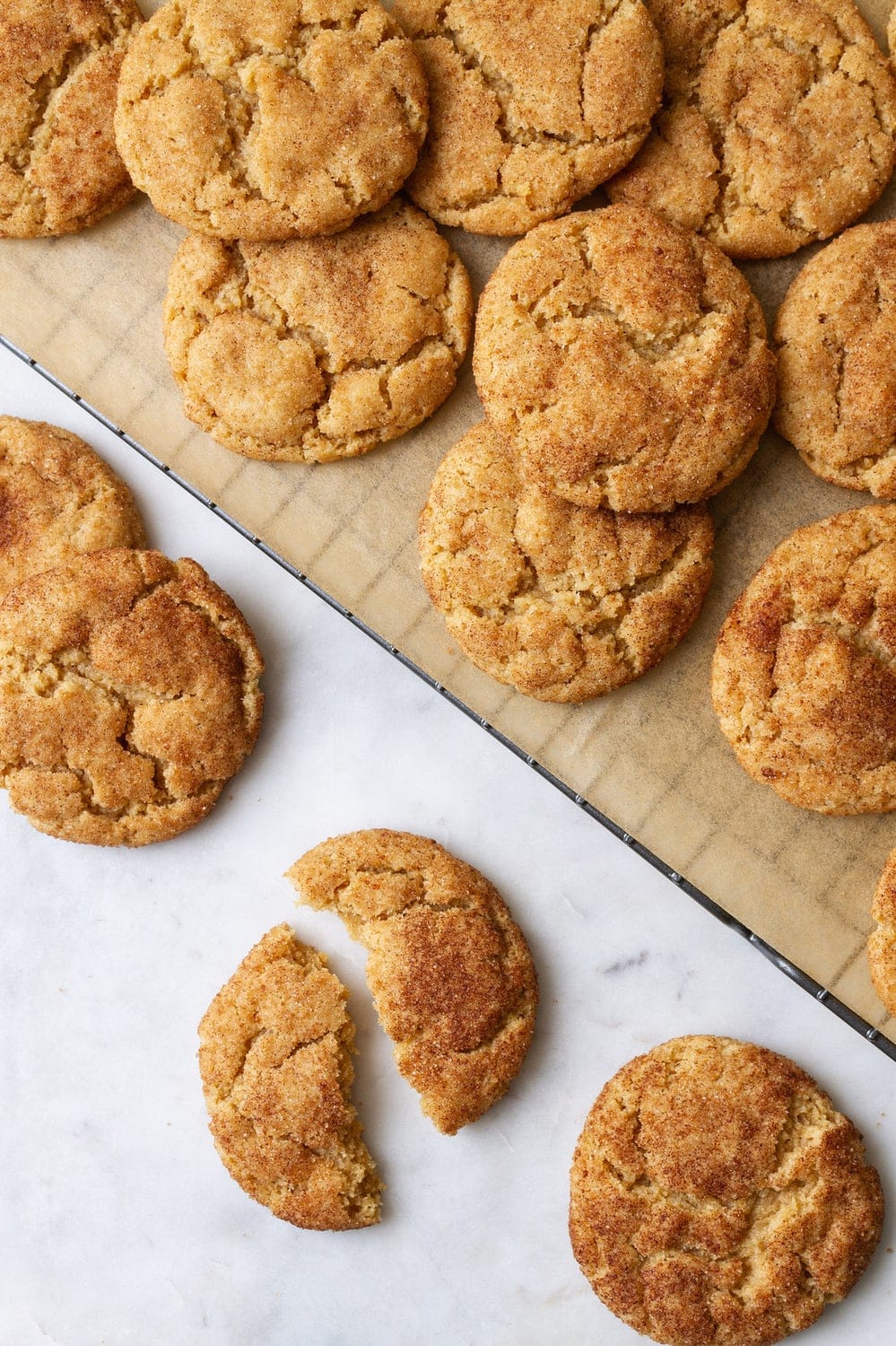 Let's make vegan snickerdoodles!
With everyone getting into the holiday spirit, this is one of the busiest times of the year. When you're craving something sweet or need a little something to take along to holiday festivities, these vegan snickerdoodles are soft, chewy and easy to make, you'll have plenty of time to include them into your busy schedule. This classic snickerdoodle cookie recipe is sure to be a hit with friends and family, they are the best!
What Is A Snickerdoodle?
Old-fashioned snickerdoodles are a type of sugar cookie rolled in a cinnamon-sugar mixture before baking. The batter is very simple and easy to make. Snickerdoodles typically have a cracked surface, and can be either soft or crisp, depending on the ingredients used. Once done, I especially love the sparkly cinnamon sugar top!
Sugar Cookie Vs. Snickerdoodles
Snickerdoodles and sugar cookies use the same basic ingredients – flour, butter, sugar, and sometimes vanilla. However, there is one specific ingredient that snickerdoodle cookies have that sugar cookies don't, and that is cream of tartar, giving snickerdoodles their wonderful distinctive tang.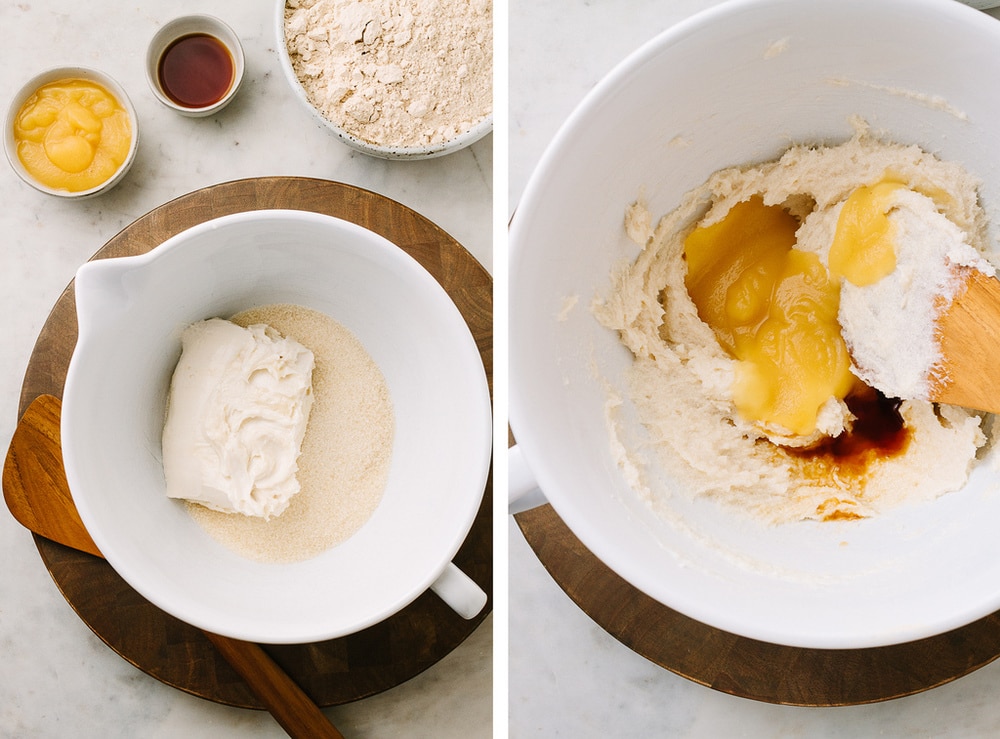 Cream of Tartar: Making Snickerdoodles With And Without
Cream of tartar adds a 'subtle tang or underlying sourness', giving the snickerdoodles its traditional tangy taste and also makes snickerdoodles chewy by preventing the sugar in the cookie dough from crystallizing into crunchiness.
But if you don't have cream of tartar on hand, or prefer to make snickerdoodles without it, you can easily substitute the cream of tartar AND the baking soda with 2 teaspoons of baking powder.
So, for a traditional snickerdoodles cookie, use the cream of tartar. And if you just want a spectacular sugar cookie, without using cream of tartar, feel free to substitute with baking soda, as mentioned above, for a still great cookie that everyone will love!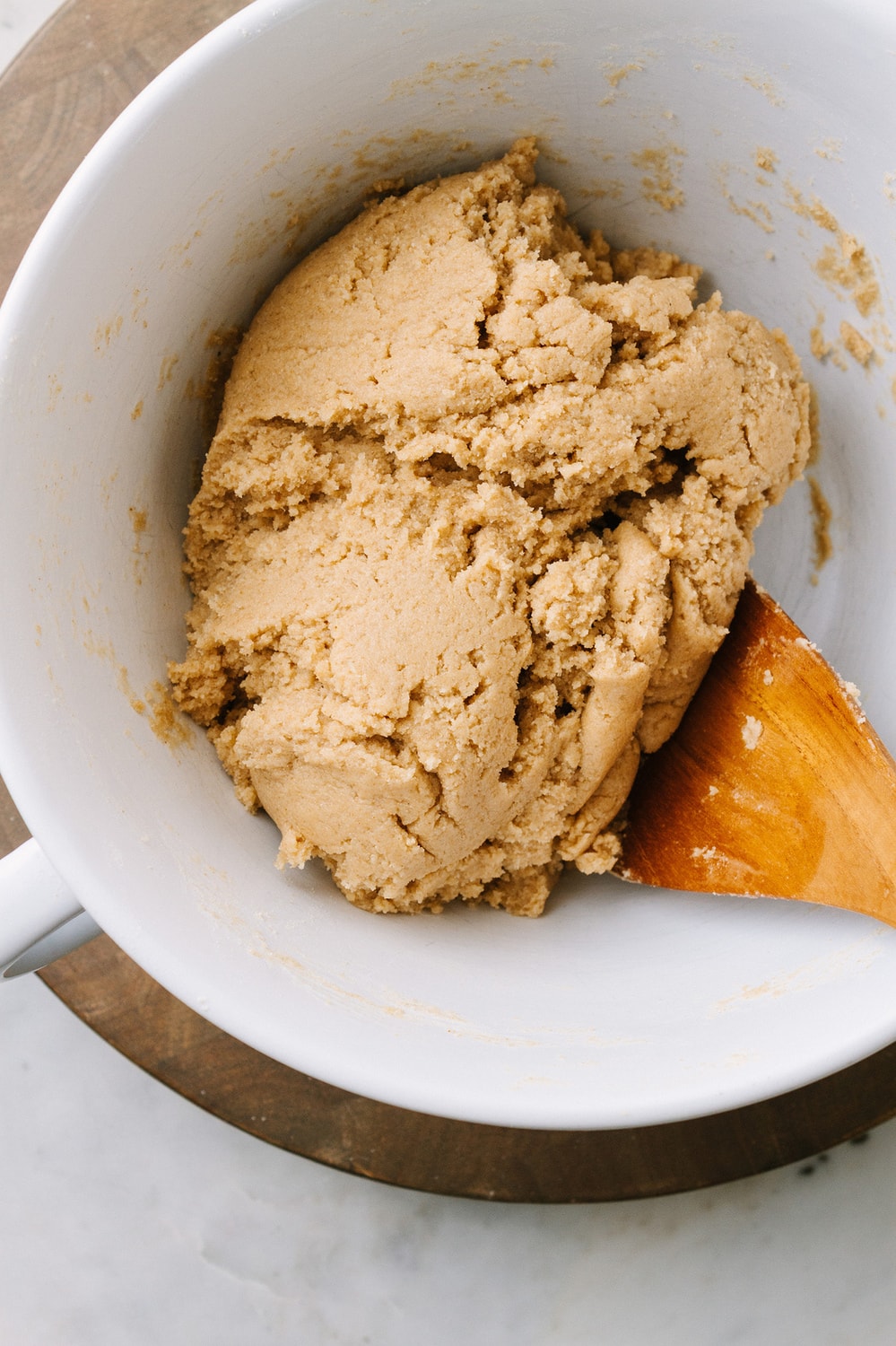 How To Make Snickerdoodles
You'll love how easy they are to make, it takes just a few simple steps:
First cream together the butter and sugar. You can use a stand alone mixer, hand mixer or simply cream using a spoon and bowl (which is how do it). Then add in the applesauce (or its substitute) and vanilla, mix to combine. Add the flour mixture into the batter and mix just until the flour is incorporated.
Dough should be firm and thick. If the dough is too soft, chill it in the refrigerator for 15 minutes to 1 hour until it stiffens a bit. This will help keep them from spreading too much.
Next, using a 1 tablespoon measuring spoon or 1 tablespoon scooper, you'll roll the cookies into about 1 inch ball, and finish them off by rolling the balls in a cinnamon-sugar mixture. Recipe will yield about 28 cookies.
While baking, keep an eye on them after 8 minutes, they shouldn't need any more than 10 minutes. Cookies are done when edges are slightly golden and center soft. They will be tender and puffy, but will flatten and harden slightly as they cool. My favorite snickerdoodles has a slightly crispy edge, and a chewy, soft center. The longer you bake the snickerdoodles, the crisper they will become.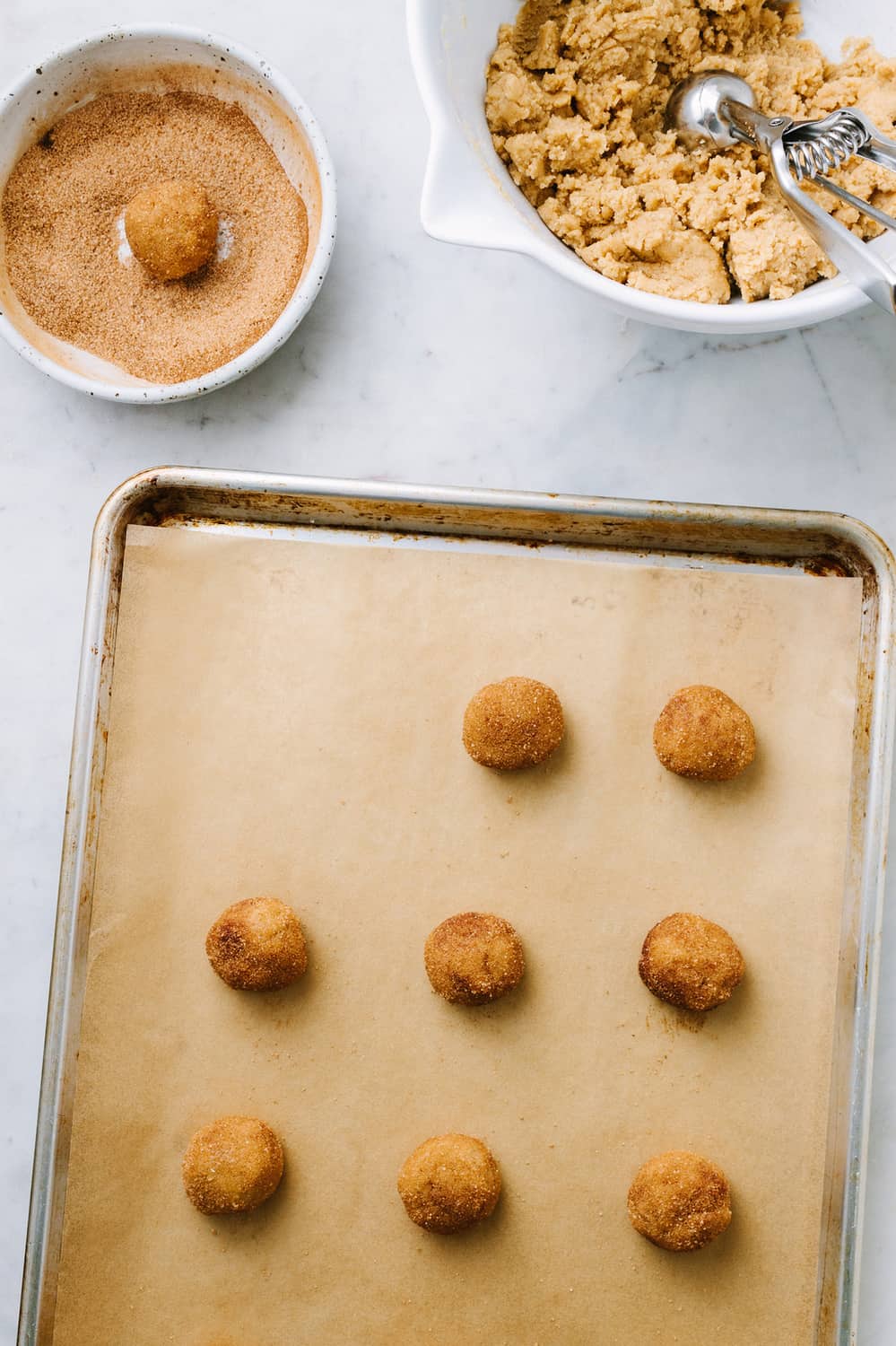 Tips & Variations
The ingredients for these vegan snickerdoodles are so few, that I suggest buying the best ingredients possible!
The Butter: I absolutely love and recommend sourcing Miyoko's European Style Vegan Butter. It is the best and doesn't leave any funny aftertaste.
Added Moisture: In place of eggs that are typical in snickerdoodles, we'll be using 1/4 cup applesauce. You can't taste it and it will add the extra moisture needed. Feel free to substitute the applesauce with a flax egg (1 heaping tablespoon flaxseed meal + 3 tablespoons water, let set for 10 min.) or use 1/4 cup of your favorite unsweetened non-dairy milk.
The Sugar: I used organic pure cane sugar – and I only call for 1 cup in this recipe. Typically, most snickerdoodle recipes call for upwards of 1 3/4 cups, but that was a bit too sweet for me. Feel free to up the amount to 1 1/4, 1 1/2 or 1 3/4 cup to suit your sweet tooth.
The Flour: I used King Author White Whole Wheat Flour, but you can sub in light spelt or all-purpose flour. Use a gluten-free flour blend to make these gluten-free.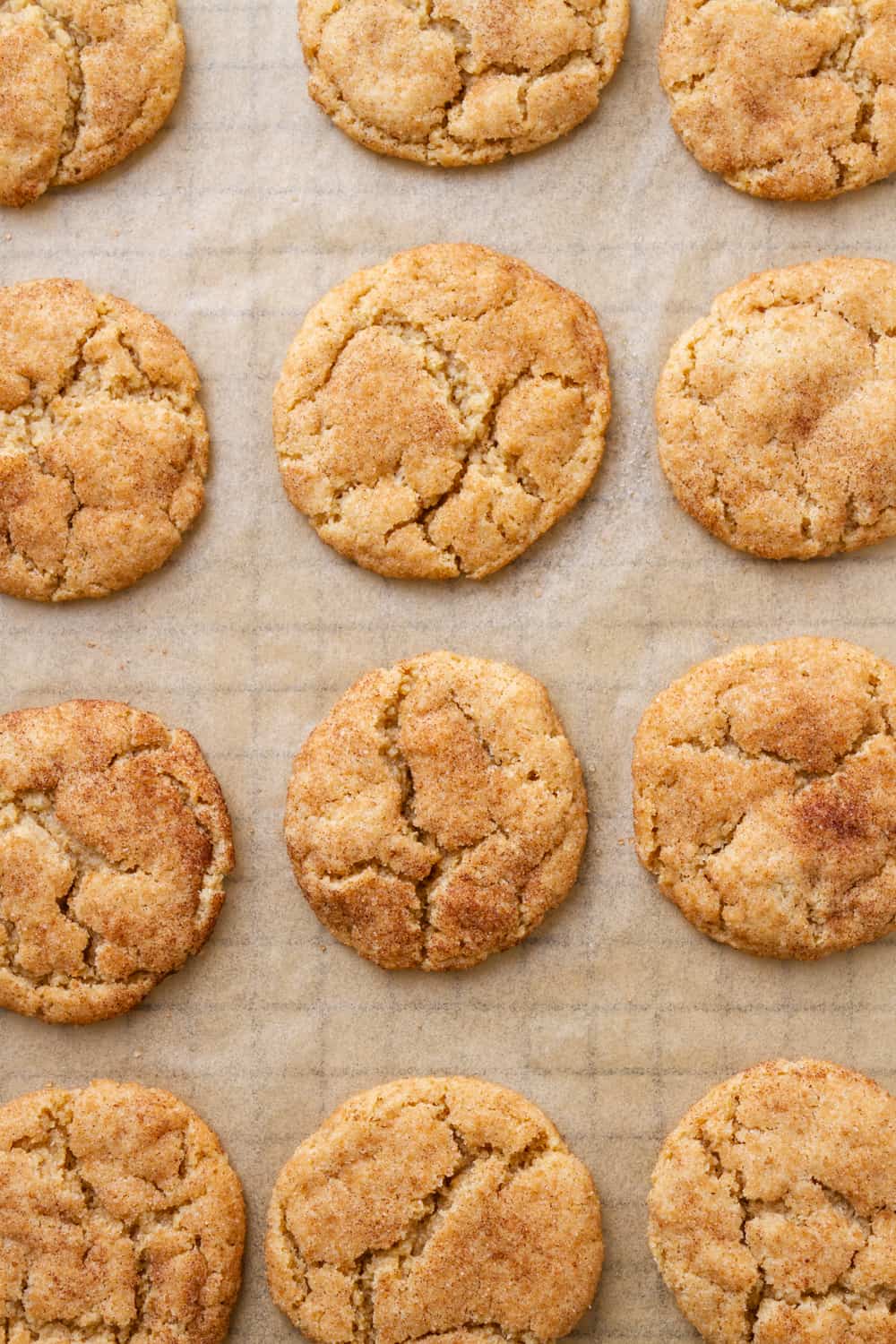 How to Store + Freeze Snickerdoodles
Dough
To refrigerate dough: You can always make the dough ahead of time and bake the snickerdoodles later as needed. Keep the dough covered in the refrigerator for up to 3 days. When ready, roll the dough into balls and roll in the cinnamon sugar mixture. Alternately, you can roll the dough into balls ahead of time, chill, and before baking roll the balls in the cinnamon sugar.
To freeze dough: After rolling the cookie dough balls in cinnamon sugar, place them on a small baking sheet or plate that will fit in your freezer and freeze until solid. Once the dough is frozen, transfer to an airtight container or freezer bag and store in the freezer for up to 2 months.
Baking from frozen: When baking frozen snickerdoodle dough, you do not need to thaw the dough. Simply place the frozen, cookie dough balls onto a baking sheet and bake for 2 – 3 minutes longer than the recipe recommends. Easy as can be!
Baked Cookies
Counter: Store cooled snickerdoodles in an airtight container on the counter for up to three days.
Refrigerator: The will keep in the refrigerator for up to 10 days.
Freezer: Snickerdoodles also freeze well and can be kept in the freezer for up to 2 months in a freezer safe bag or container. Let thaw on the counter for a couple of hours or in the refrigerator for a day before eating.
More Delicious Cookie Recipes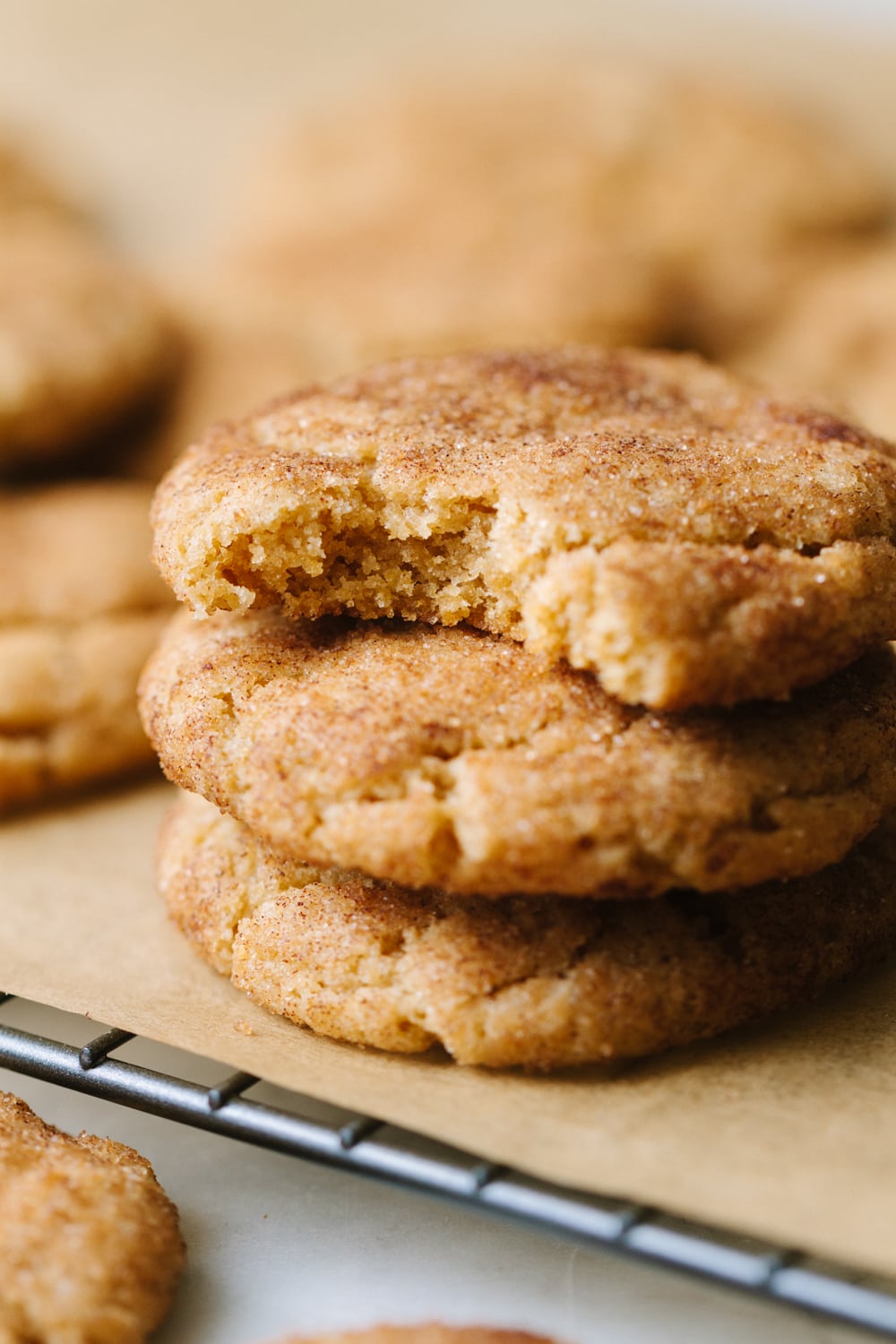 If you try this easy cookie recipe or have a question, please let me know! Leave a comment and rate it below. I love to hear what you think, or any changes you make.
Print
BEST VEGAN SNICKERDOODLES
Follow TSV on Facebook / Instagram / Pinterest / Twitter / RSS