Bircher Muesli with apple and a mix of grains, nuts, and seeds is a healthy overnight Swiss oatmeal to be served for breakfast or snack! Vegan and gluten-free recipe.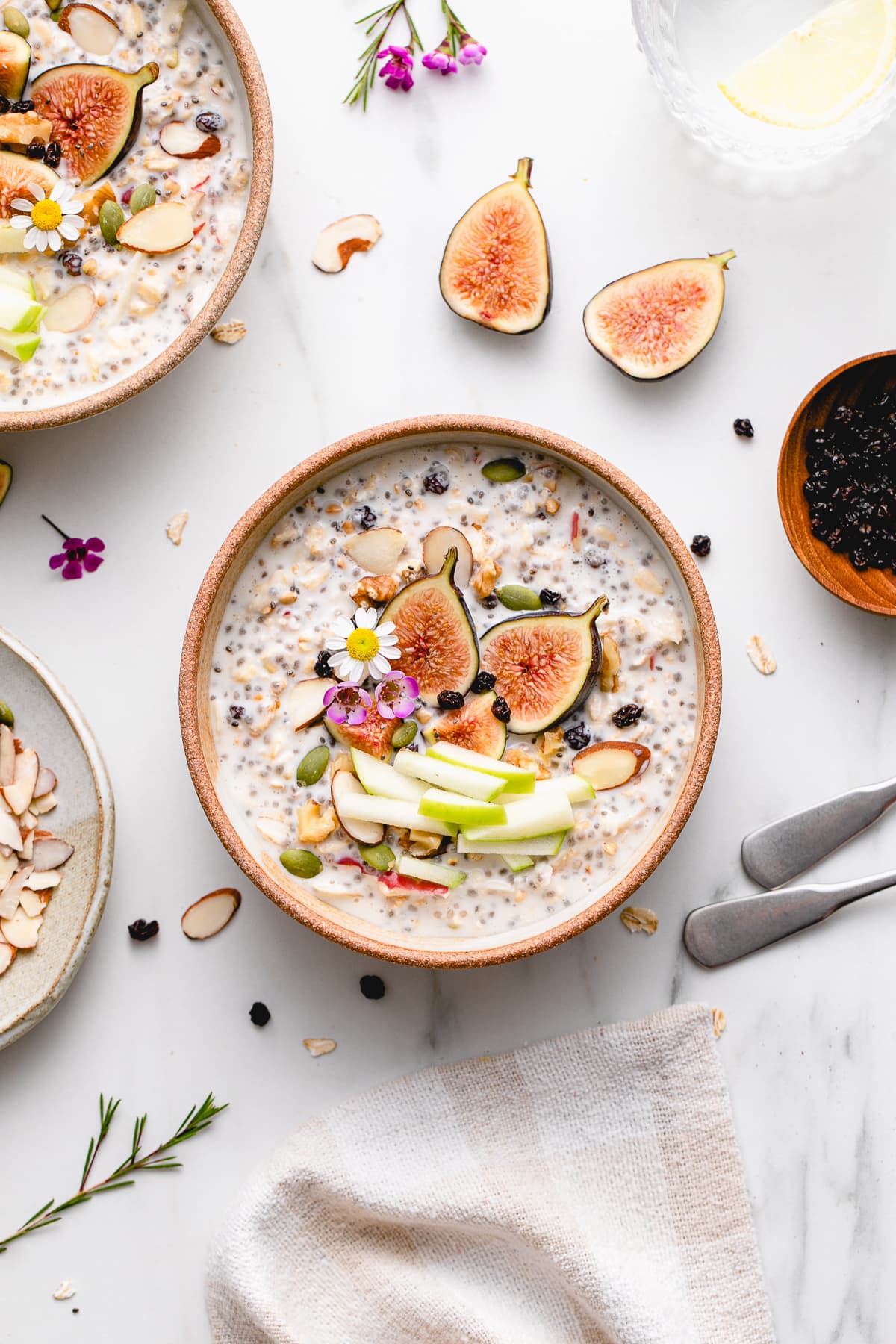 What Is Bircher Muesli?
Bircher Muesli is considered the original raw muesli and was created around 1900 by a Swiss physician named Maximilian Bircher-Benner for his patients to be eaten as a small appetizer before each meal as a health remedy.
Originally called Apfeldiätspeise (the 'apple diet dish'), Bircher-Benner soaked the oats in water or fruit juice, included freshly grated apple, and served with nuts and a bit of cream. Today there are many versions, but all contain traditional oats and fresh fruit.
To this day, Bircher muesli is still a popular breakfast or light evening meal, also known as Swiss Oatmeal, eaten throughout Switzerland and Germany.
Here is my favorite bircher muesli recipe using not only oats but other 'superfoods' like chia seeds and buckwheat grouts, making this a nutritional powerhouse meal!
It's more filling than the original Bircher-Benner Muesli and is meant to be enjoyed as a light but filling breakfast or snack.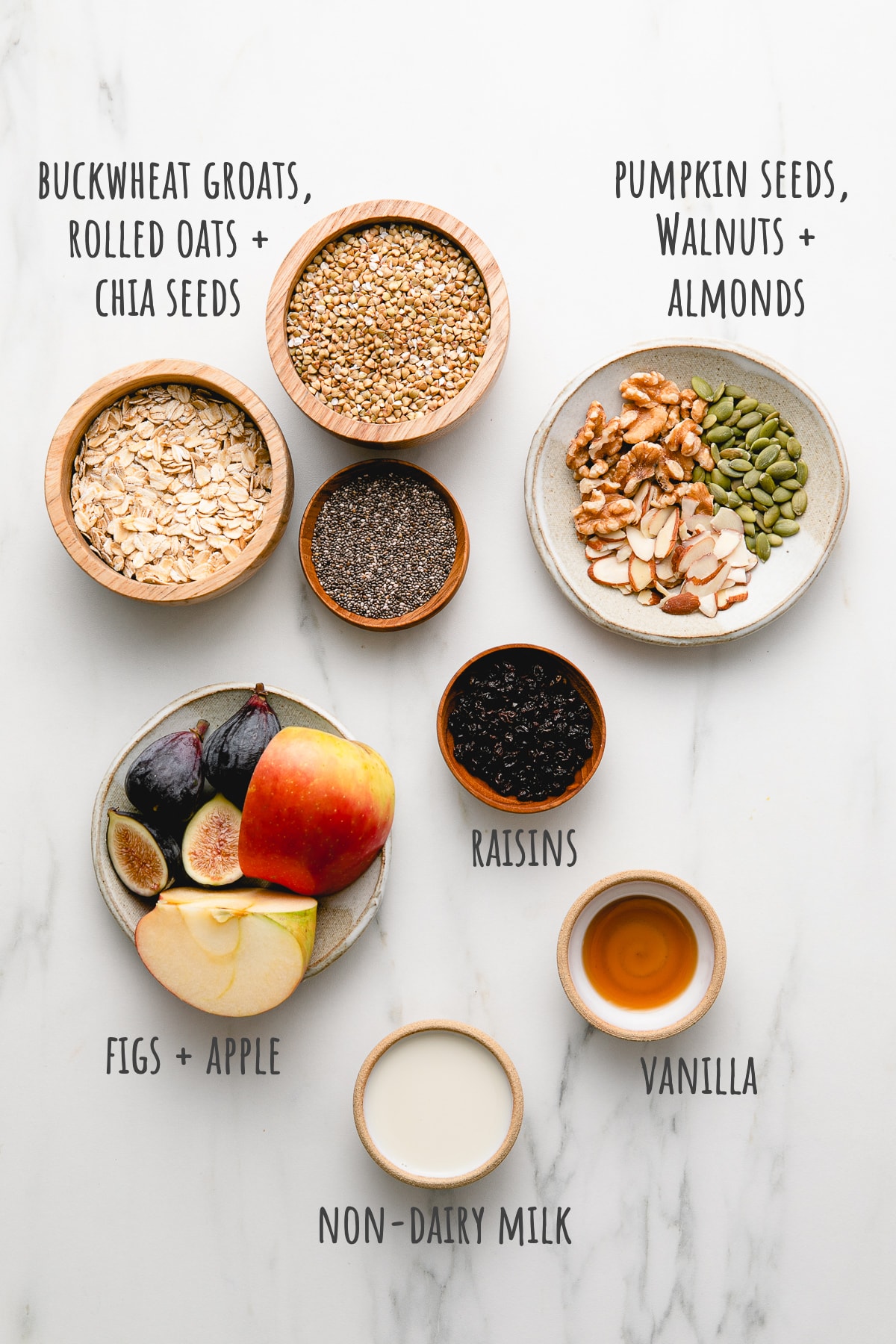 What Goes Into Swiss Oatmeal?
When you're in need of a meal that will carry you the distance – healthy bircher muesli is it!
Oats + Buckwheat Groats
The oats are a classic muesli staple and help soak up the liquids to make for a nice creamy dish, while the other ingredients give texture and flavor.
The buckwheat groats can be optional in this version, but I highly suggest you get to know buckwheat. Despite its name, buckwheat isn't in the wheat family and is considered a seed. It's a great source of protein and fiber, even more than the oats per serving. It's also gluten-free. I recommend Anthony's Organic Buckwheat Groats from Amazon (affiliate link).
Chia Seeds
The added chia seeds in this version alone are an energy extender, along with the all-important omega's 3 & 6 they contain. They are one of the few plant-based sources of omega 3. Chia seeds also contain a good amount of protein, fiber, iron, and calcium per serving. You can also sub with flaxseed meal!
Fresh fruit
Apple is another key ingredient, adding a hint of flavor, texture, and fiber. Use your favorite variety of apples, red or green. Applesauce can also be used! Feel free to add any other fruit you like along with the apple. Figs happen to be in season, so I added them here. And they were delicious!
Mixed Nuts + Seeds
Use any mix you like. Traditionally, walnuts, almonds, or hazelnuts were used, but I opted for a mix of walnuts, almonds, and pepitas. You only need a small amount. You may even opt to stir in 1 tablespoon of nut butter (or sun butter for those with nut allergies) instead.
Non-Dairy Milk
Originally, Bircher muesli was soaked with apple juice or orange juice. I prefer using unsweetened non-dairy milk instead of these sugar and calorie-filled ingredients. You can also add in a dollop of unsweetened non-dairy yogurt (plain or vanilla) for extra creaminess!
Let's make some 'superfood' muesli, I think Bircher-Benner (the inventor of Swiss oatmeal) would approve of this version!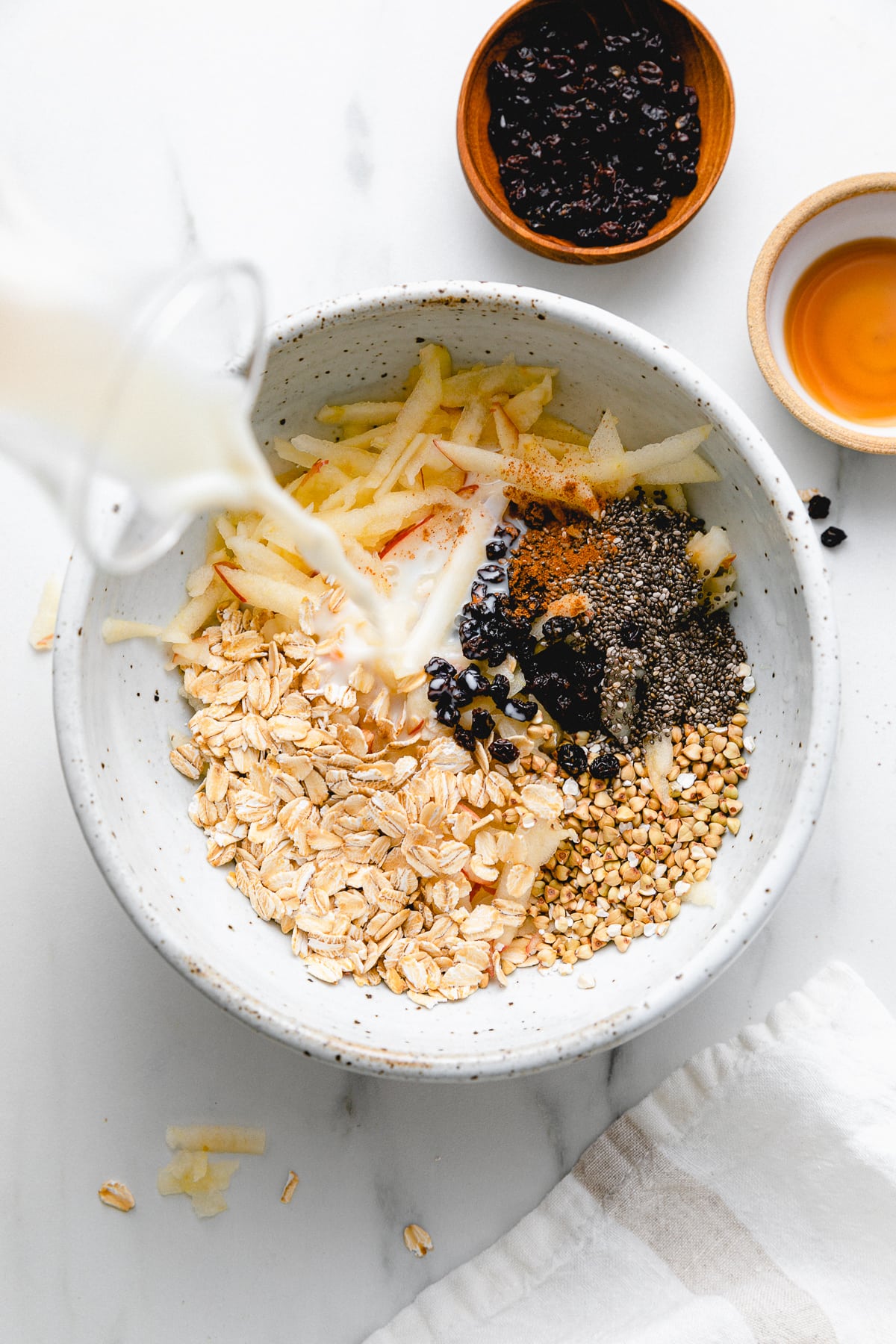 How To Make Bircher Muesli Overnight
Making bircher muesli overnight is easy as 1 – 2 – 3…
In a medium bowl, add the oats, buckwheat groats, chia seeds, grated apple, raisins, vanilla, and cinnamon.
Pour the non-dairy milk over the top and mix well to combine.
Cover and store in the refrigerator overnight, or at least 6 hours.
And that's it!
When you're ready to serve top with nuts, seeds, and diced apple.
Swiss Oatmeal Tips + FAQs
Add sweetener if needed. The apple and raisins mixed into the soaking muesli infuse it, adding just the right touch of sweetness. But if you prefer, add 1 teaspoon of pure maple syrup.
Make it ultra-creamy. Add a dollop of plain or vanilla, unsweetened non-dairy yogurt to the muesli before soaking for added creaminess.
Is Bircher muesli healthy? Yes, bircher is filled with healthy oats and fresh apples. To keep it healthy, be sure to not overuse dried fruits that are typically sugar-filled. I recommend sticking with naturally sweetened raisins or currants.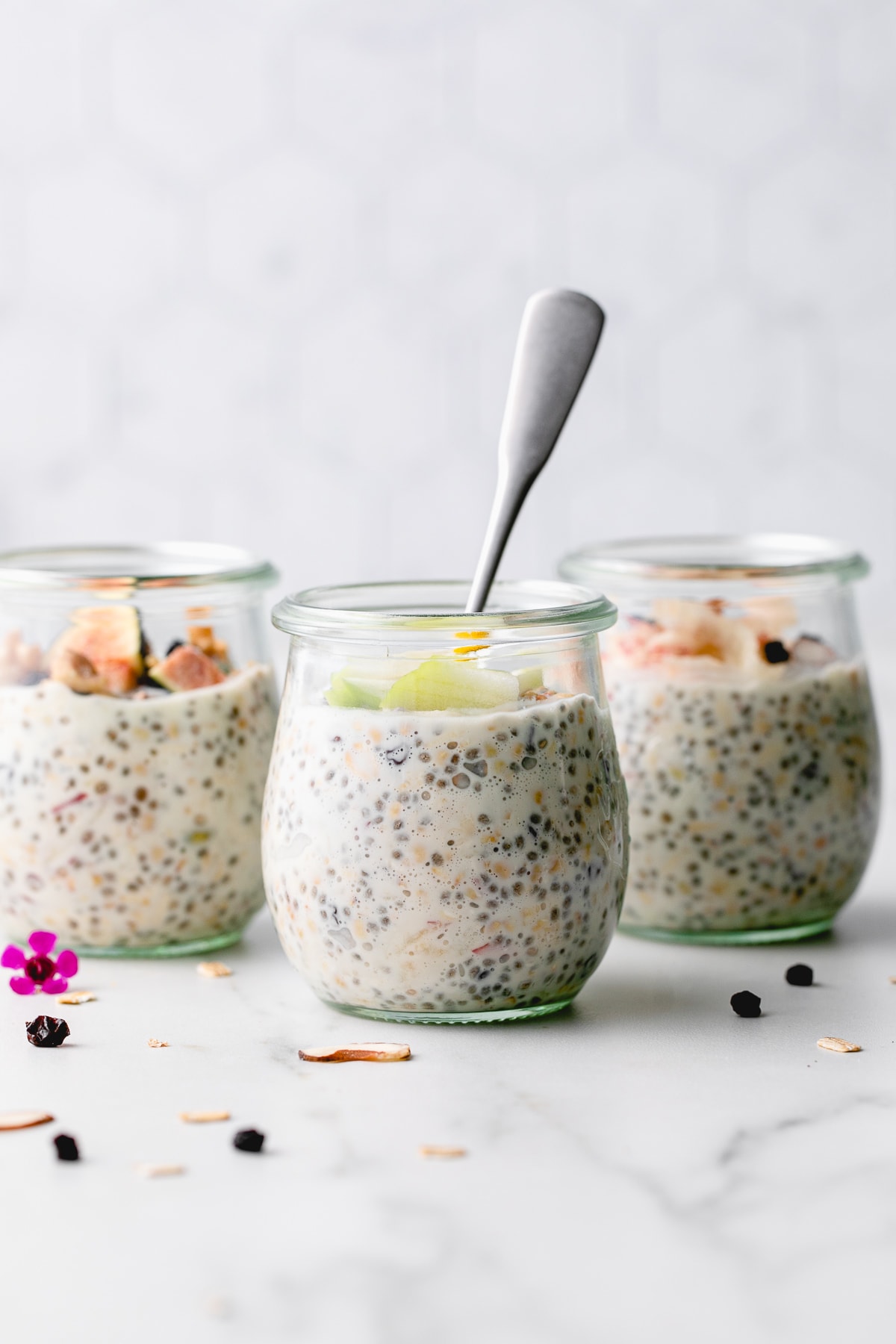 How Long Will Bircher Muesli Last?
Bircher muesli will last up to 4 days stored in the refrigerator in a sealed container. My favorite way to store overnight muesli is in individual containers. Then, when I'm hungry, I can pull out my portion, top with nuts and fruit, and enjoy.
More Healthy Breakfast Recipes!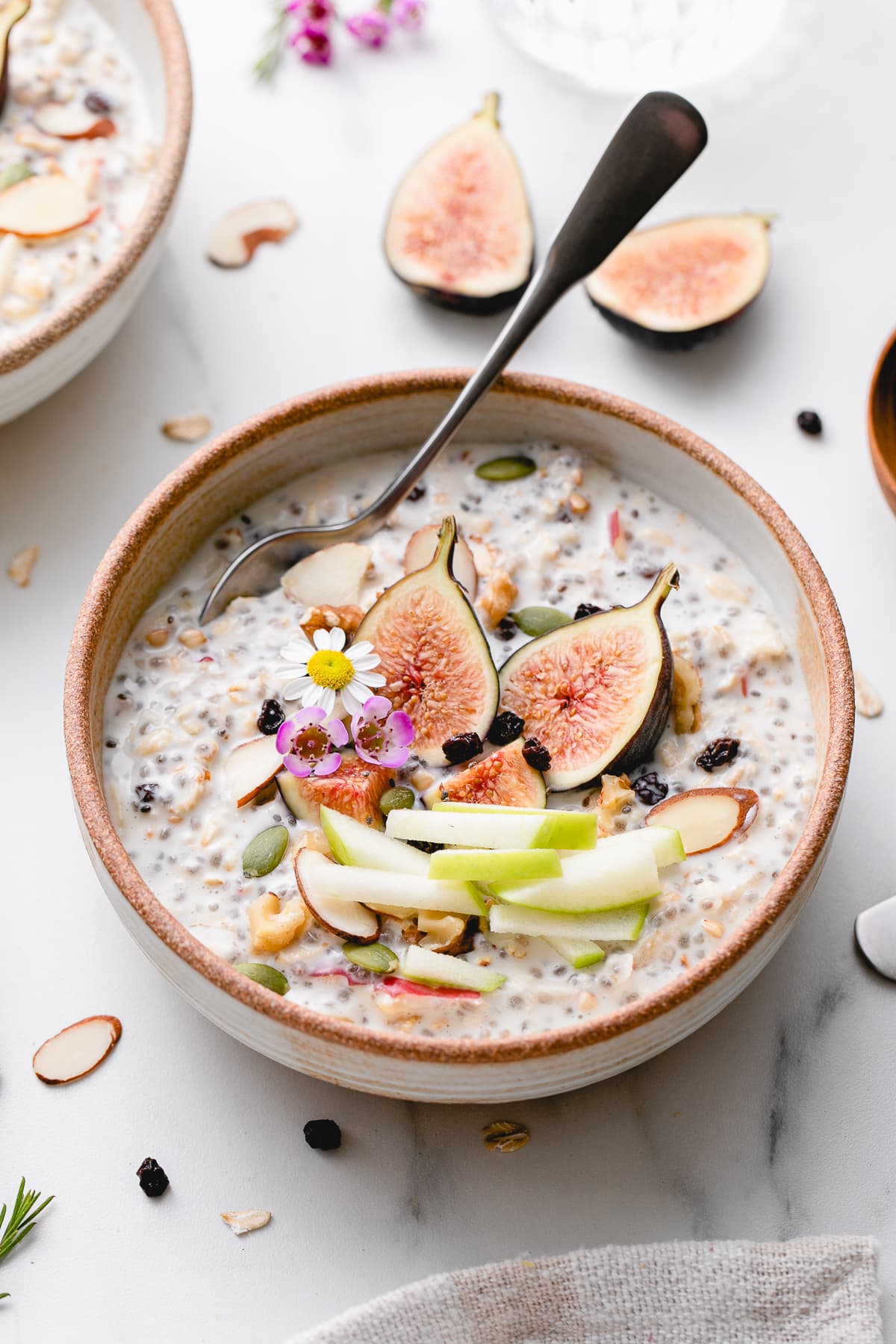 If you try this muesli recipe, please let me know! Leave a comment and rate it below. I love to hear what you think, or any changes you make.
Print
Bircher Muesli (Swiss Oatmeal)
Bircher Muesli is a healthy make-ahead breakfast to nourish your morning! Can also be enjoyed as a light evening meal or snack. This Swiss oatmeal recipe is for 1 serving but can easily be doubled or tripled for making ahead.
Author: Julie | The Simple Veganista
Prep Time:

5 min

Cook Time:

6 hours

Total Time:

6 hours 5 minutes

Yield:

Serves 1

Category:

Breakfast, Entree

Method:

mix

Cuisine:

American, Vegan
2 tablespoons

rolled oats (not steel-cut or quick oats)

2 tablespoons

raw buckwheat groats (or oats)

1 teaspoon

chia seeds

1/2 teaspoon

vanilla extract

1/2

cup

unsweetened almond milk (plain or vanilla)
dash of cinnamon, or to taste

1/2

large organic apple (green or red), grated or diced

1

–

2

teaspoons pure maple syrup, optional

1 tablespoon

raisins or currants

1 teaspoon

EACH almond, walnuts, pepitas (pumpkin seeds)

2

figs, chopped (optional)
Instructions
In a small bowl, combine oats, buckwheat groats, chia seeds, vanilla, milk, cinnamon, and half of the apple and raisins. Mix well, cover, and refrigerate overnight, or eat in one to two hours after it has set.
Serve cold, or at room temp, topped with diced figs, remaining apple, raisins, and nuts/seeds, and a sprinkle of cinnamon, and top with a little more milk if desired. 
Serves 1
Store: Leftovers can be kept in an airtight container in the refrigerator for up to 4 days.
Notes
Add sweetener if needed. I find the apple and raisins mixed in infuses the soaking muesli, adding just the right touch of sweetness. But if you prefer, add 1 teaspoon of pure maple syrup.
Make it ultra-creamy by adding a dollop of plain or vanilla, unsweetened non-dairy yogurt to the muesli before soaking for added creaminess.
Along with fresh apples, unsweetened applesauce can also be stirred into the oat mix.
You may also like to try 100% fruit juice in place of the milk. Orange or apple juice will work well.
You can also make it to go in the morning. Combine all the ingredients in a mason jar or other to-go containers, give it a good stir and take it with you. The non-dairy milk is perfectly fine without refrigeration until ready to eat. At least if it's eaten within the day, it should be fine, unlike dairy products that need refrigeration (another reason non-dairy milk is so great).
Updated: This muesli recipe was originally published in September 2012. It has been retested and updated with new photos and helpful tips in April 2021.
FOLLOW TSV on Facebook, Instagram, Pinterest, or RSS for more updates and inspiration!