CREAMY CELERY SOUP (VEGAN)
Celery Soup – Delicate and flavorful, this creamy vegan soup recipe is incredibly simple, healthy and easy to make from scratch using celery, potato, leek, fresh dill and parsley, and it's deliciously creamy without the cream!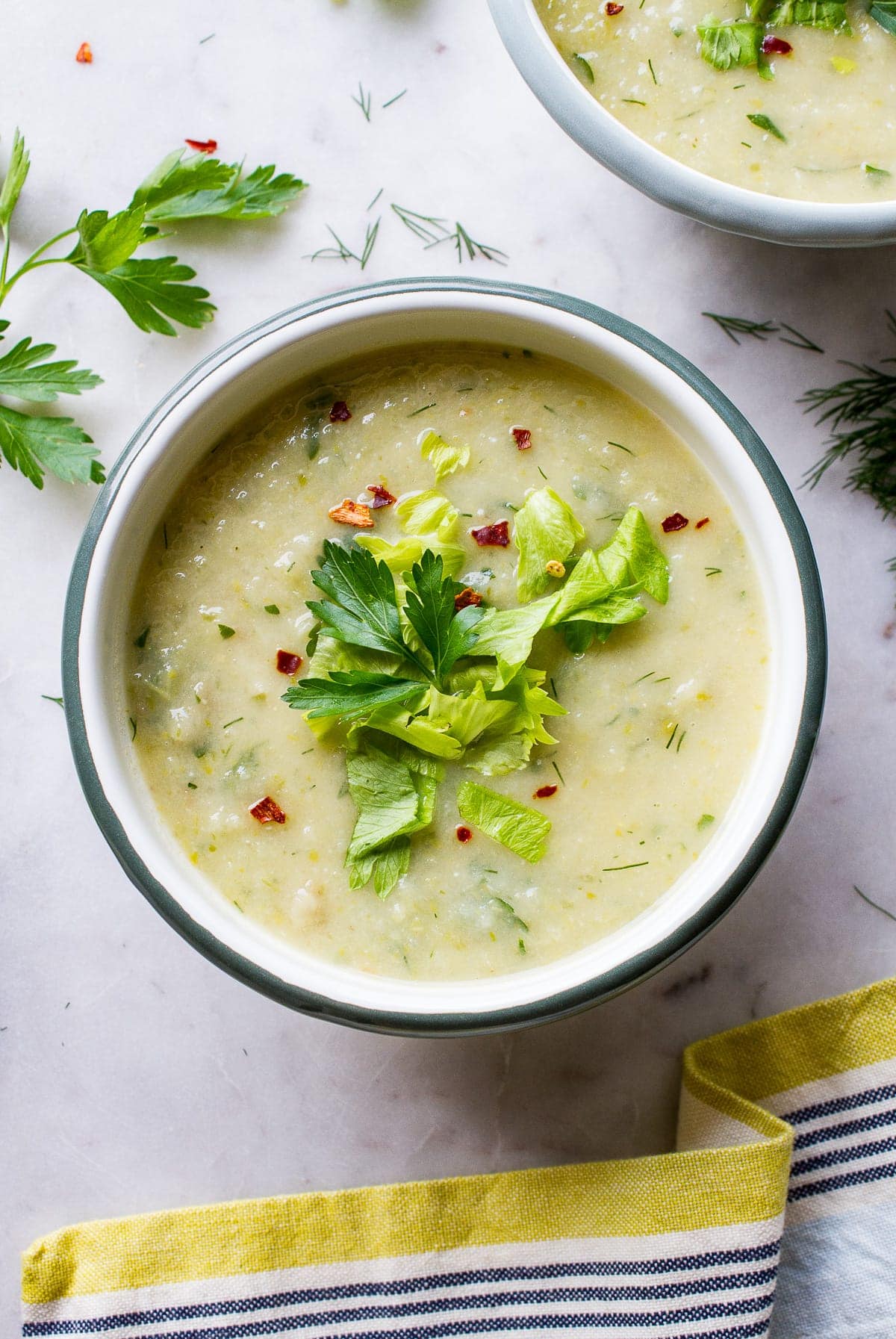 With tons of celery leftover after updating this Lemony Kale & White Bean Soup with Leeks, Cabbage, Potato & White Bean Soup and Potato, Leek & White Bean Soup, I set out to find a great recipe to use it in. And it just happens to be another delicious vegan soup using many of the same ingredients I already had on hand!
Who knew that humble stalks of celery could be made to taste so good? This soup is absolutely wonderful and filled with beautiful flavors that will leave you oohing and ahhing with every bite.
The ingredients for cream of celery soup are minimal, easily accessible and budget friendly, making this a perfect vegan soup for an easy weeknight dinner or whenever you want a quick meal ready in 30 minutes. Serve warm in the winter and cold in the summer!
Is Celery Soup Healthy?
Yes, celery soup is filled with whole foods that are healthy and nourishing. Typically celery soup contains creams and dairy, but we'll be making this dairy-free by using vegan butter, or it's noted substitute, and letting the potatoes add the creaminess when pureed. It's low fat, can be made oil free and is absolutely delicious!
This post contains affiliate links. Read my full disclosure here.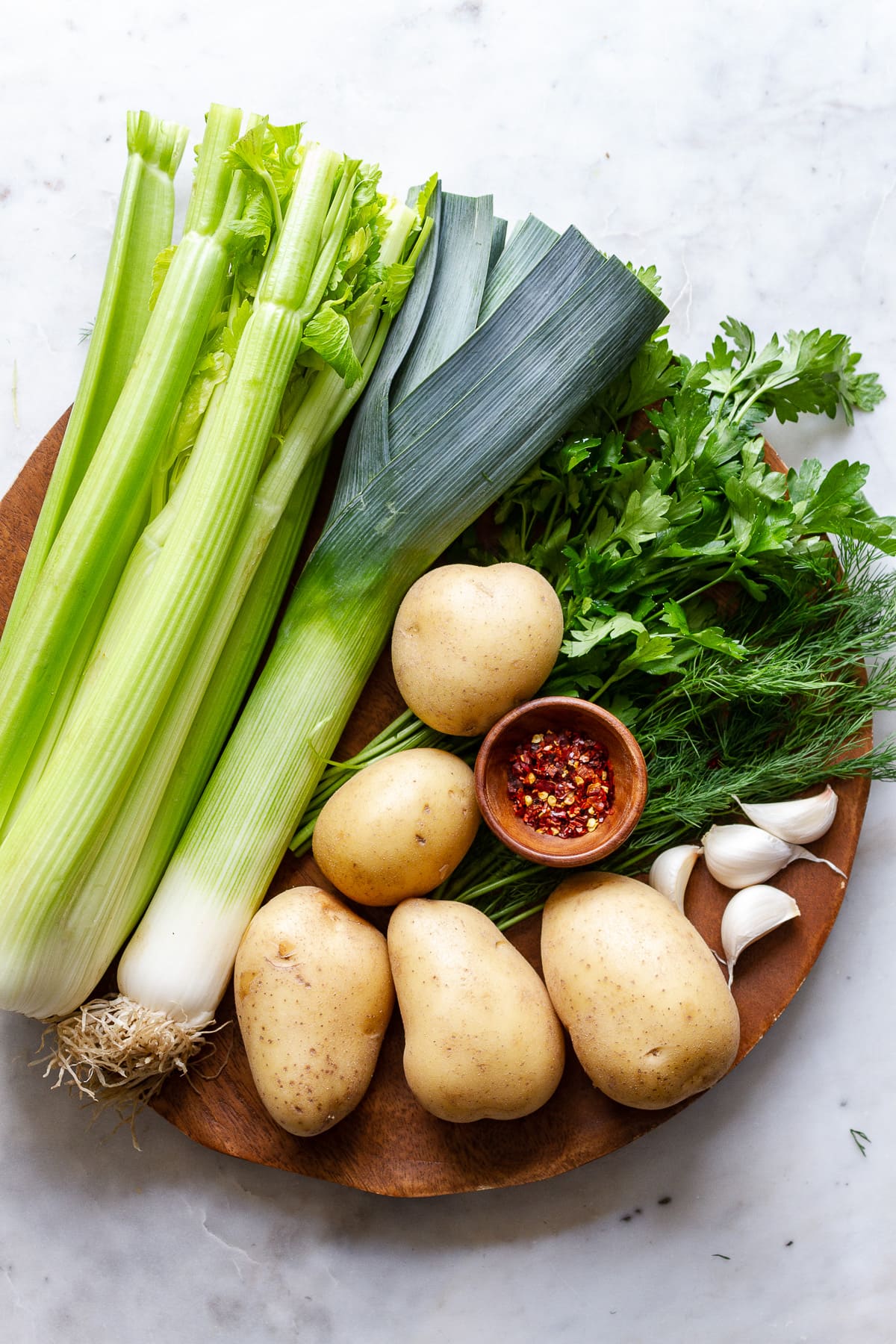 What Ingredients Go Into Celery Soup?
Celery – Use as much of the celery stalk as possible, including the leaves since that is where the most nutrients are. When picking celery the bunch should be compact and well shaped, with light green celery ribs that are glossy. Darker green ribs have slightly more nutrients, but tend to be stringy. Just be sure to thinly slice the celery to avoid strings in the soup.
Leek or onion – I had a leek on hand so that's what I used, but an onion will do just fine. If available, I highly recommend using a leek.
Garlic – Use 4 garlic cloves or 1 1/2 teaspoons garlic powder.
Potato – Use 3 – 4 medium white or Yukon gold potatoes with the skin on for the most nutrients.
Fresh dill – Dill adds a lovely flavor. Fresh is best, but 2 – 3 teaspoons of dried will work too.
Parsley – Parsley adds more fresh herby flavor and brightness.
Red pepper flakes – For a little kick of heat, adjust the amount to suit your taste.
Vegan butter – My favorite is Miyoko's. The vegan butter is really delicious in this soup, but if you don't care for it use a few tablespoons of olive oil instead. To make this virtually fat free & oil-free, simply omit the butter/oil and use 1/2 cup of water for a water saute.
Veggie broth or water – I use Better Than Bouillon veggie base. To keep the sodium low, I use 1 teaspoon for the 4 cups of water called for here. It's still extremely flavorful and lets the main ingredients shine through. You may also like this powder Veggie Broth Base.
Optional Toppings
When garnishing the soup, save some of the celery leaves to add on top. A drizzle of Vegan Cream or dollop of homemade cashew sour cream or store bought vegan sour cream is great too.
And if you happen to have black mustard seeds on hand, crush a small amount and sprinkle some on top when serving. It'll add a slight tangy mustard flavor and kick of heat. I added some to the leftovers and it was delicious!
Looking to add more protein? Add 2 tablespoons of hemp seeds, stirring into your serving bowl for an extra 6 grams of protein, 111 calories and 9 grams of fat.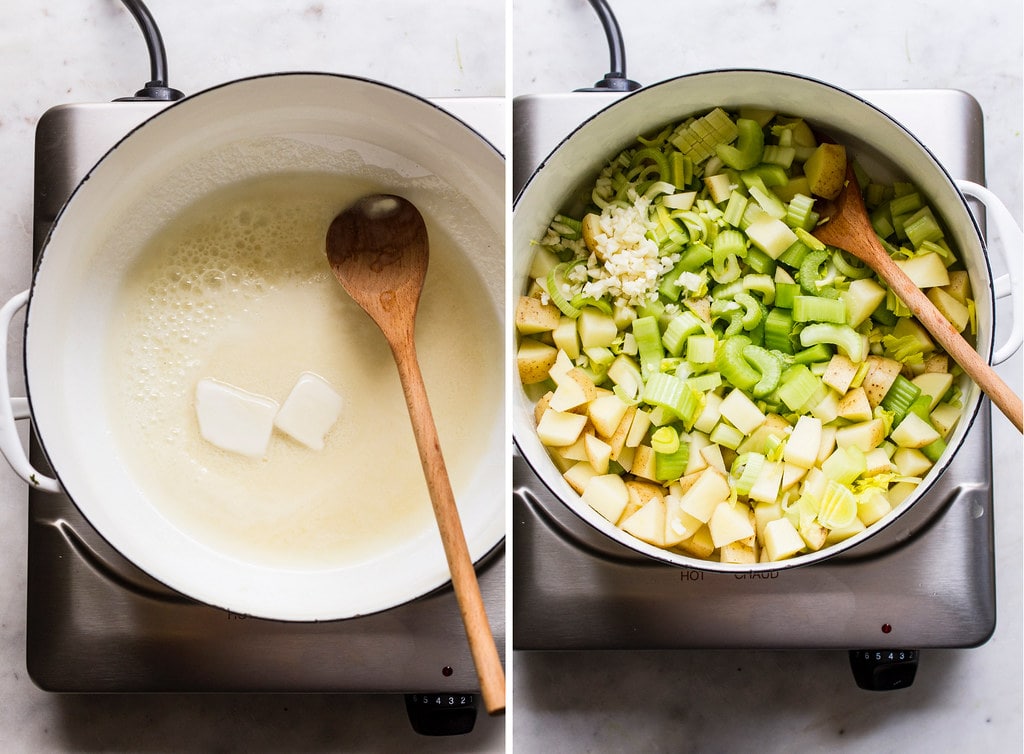 How To Make Celery Soup
Start by melting the butter over medium heat, then add the leek/onion, celery, potato and garlic. Saute until the leek/onion is tender, about 8 – 10 minutes.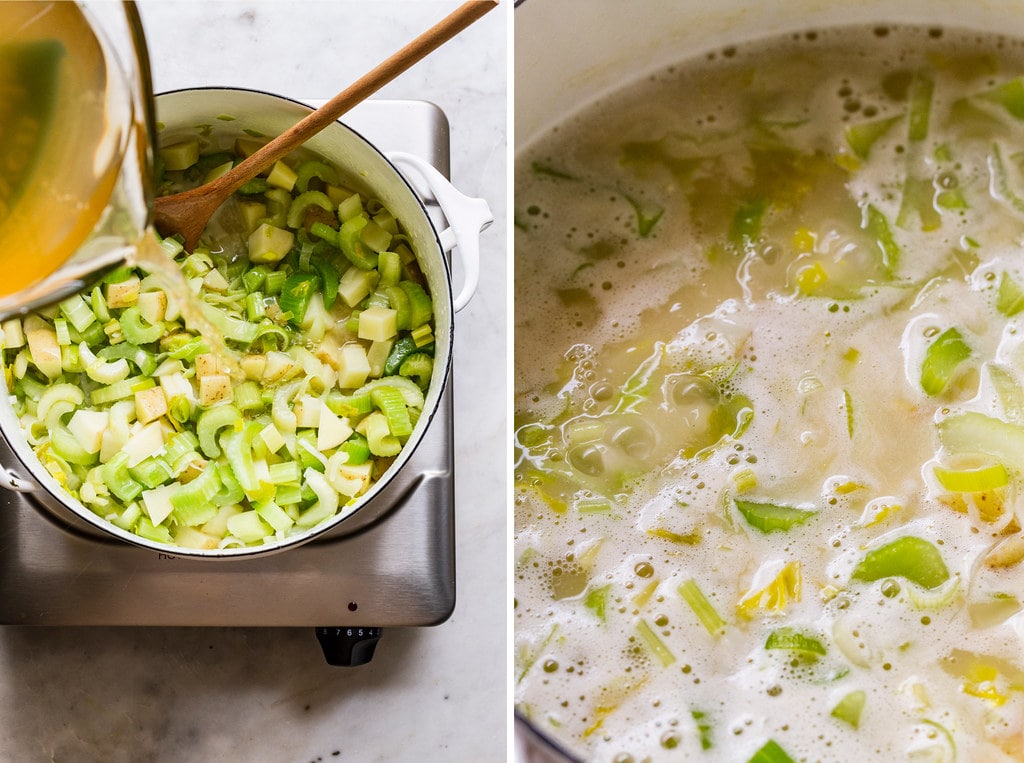 Add the broth, bring to a boil, reduce to heat and simmer for about 10 minutes, until potatoes are tender.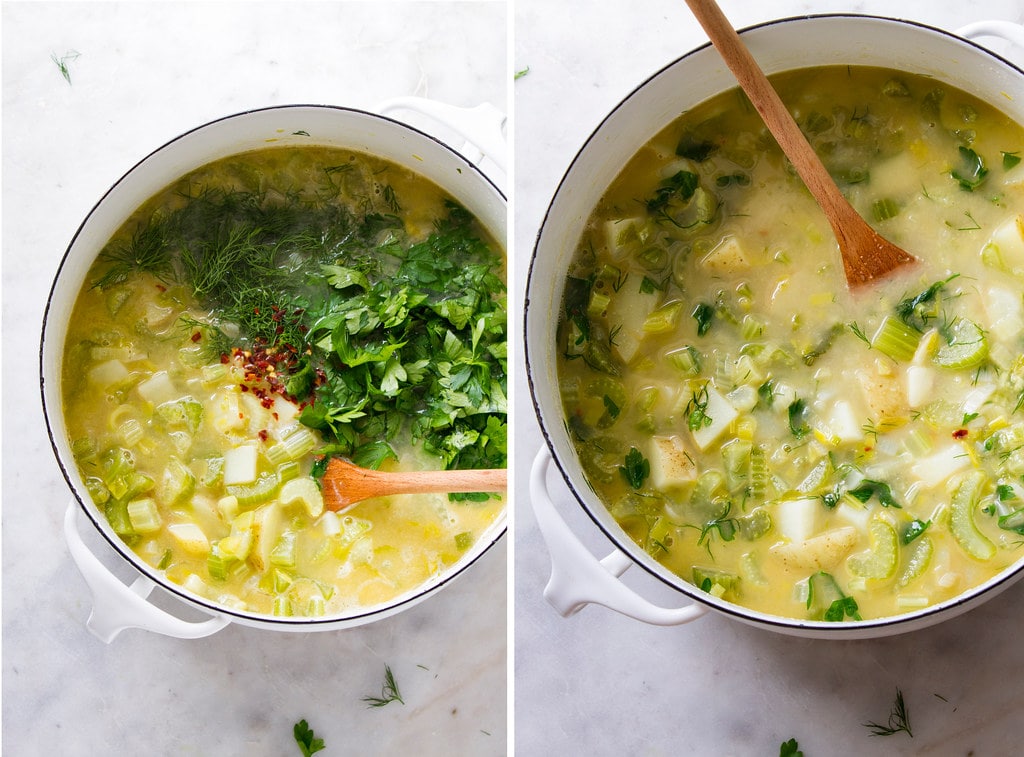 Once potatoes are tender, remove the soup from the heat and the fresh dill, parsley and red pepper flakes (shown above).
You can eat the soup as is – chunky style – or continue to the next step.
Using an immersion blender, puree the soup until creamy, or close to it (shown below). You can also transfer the soup to a blender and puree.
And that's it, so simple and delicious. Celery soup can be served warm or chilled.
Now all you have to do is enjoy!
How Long Will Leftovers Keep?
Leftovers will keep for 5 – 6 days in the refrigerator, stored in a covered container. Eat the soup chilled or re-warm it on the stovetop or the microwave. It makes a great meal prep for the week with homemade artisan bread or naan bread on the side for swiping and soaking.
Can You Freeze Celery Soup?
Yes, it freezes well for up to 2 months! To freeze, let cool completely and store in freezer safe containers (affiliate link), leaving 1/2 inch head space for expansion. You can also freeze larger portions in large freezer ziplock bags. Let thaw before reheating.
Why Is My Celery Soup Stringy?
This is most likely due to using outer ribs of celery that are coarse and stringy. When prepping be sure to thinly slice the celery, about 1/8 to 1/4 inch, to reduce the chance of stringiness. To completely remove the strings from the celery, simply peel them away with a vegetable peeler.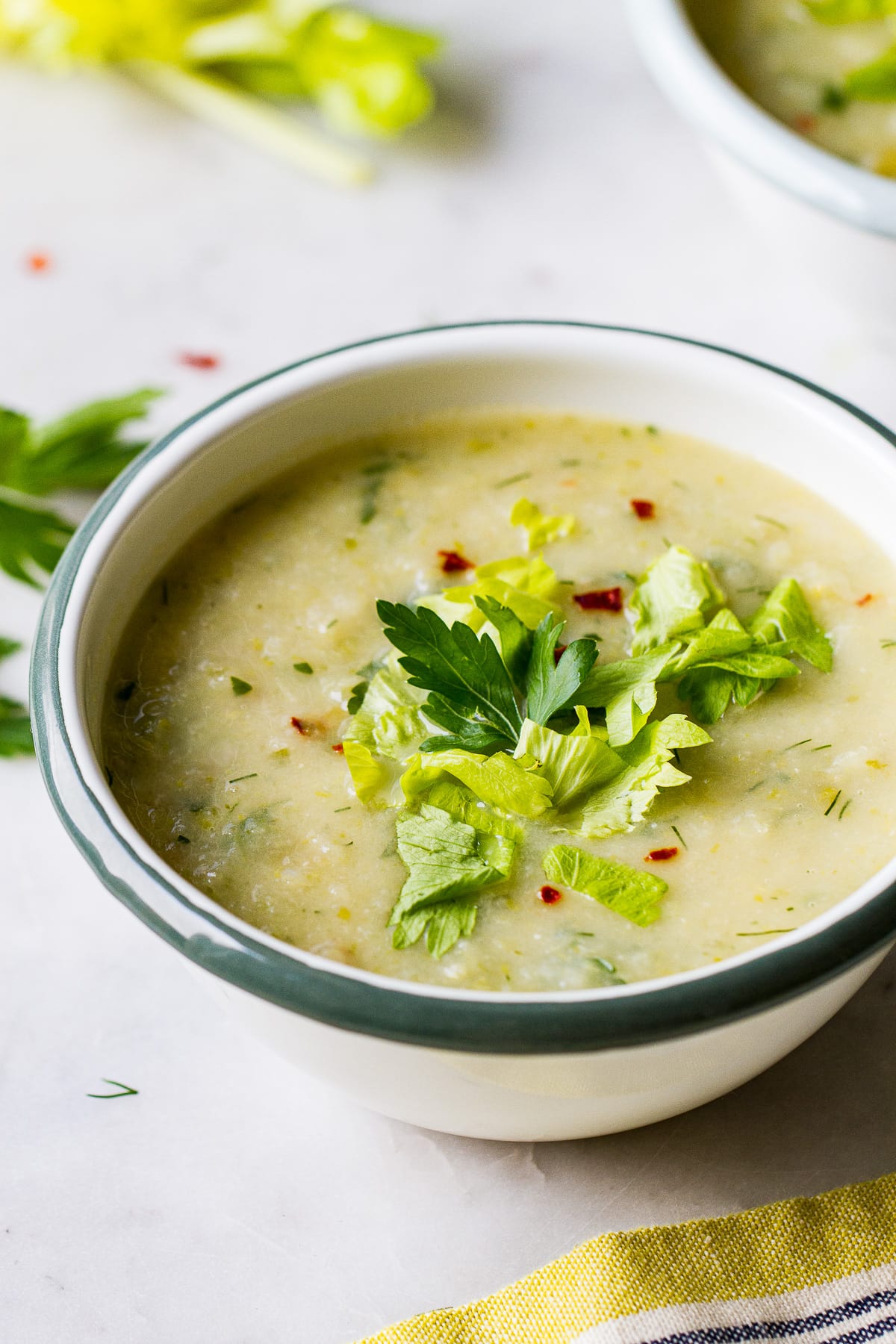 More Soups You'll Love
If you try this celery soup recipe, please let me know! Leave a comment and rate it below. I love to hear what you think, or any changes you make.
Print
CREAMY CELERY SOUP (VEGAN)
Follow TSV on Facebook / Instagram / Pinterest / Twitter / RSS