Easy Grilled Tofu & Asparagus (+ Ginger Cauliflower Rice)
Full of flavor and minimal ingredients, this easy pan Grilled Tofu & Asparagus with Ginger Cauliflower Rice is a quick and healthy Asian-inspired vegan lunch or dinner!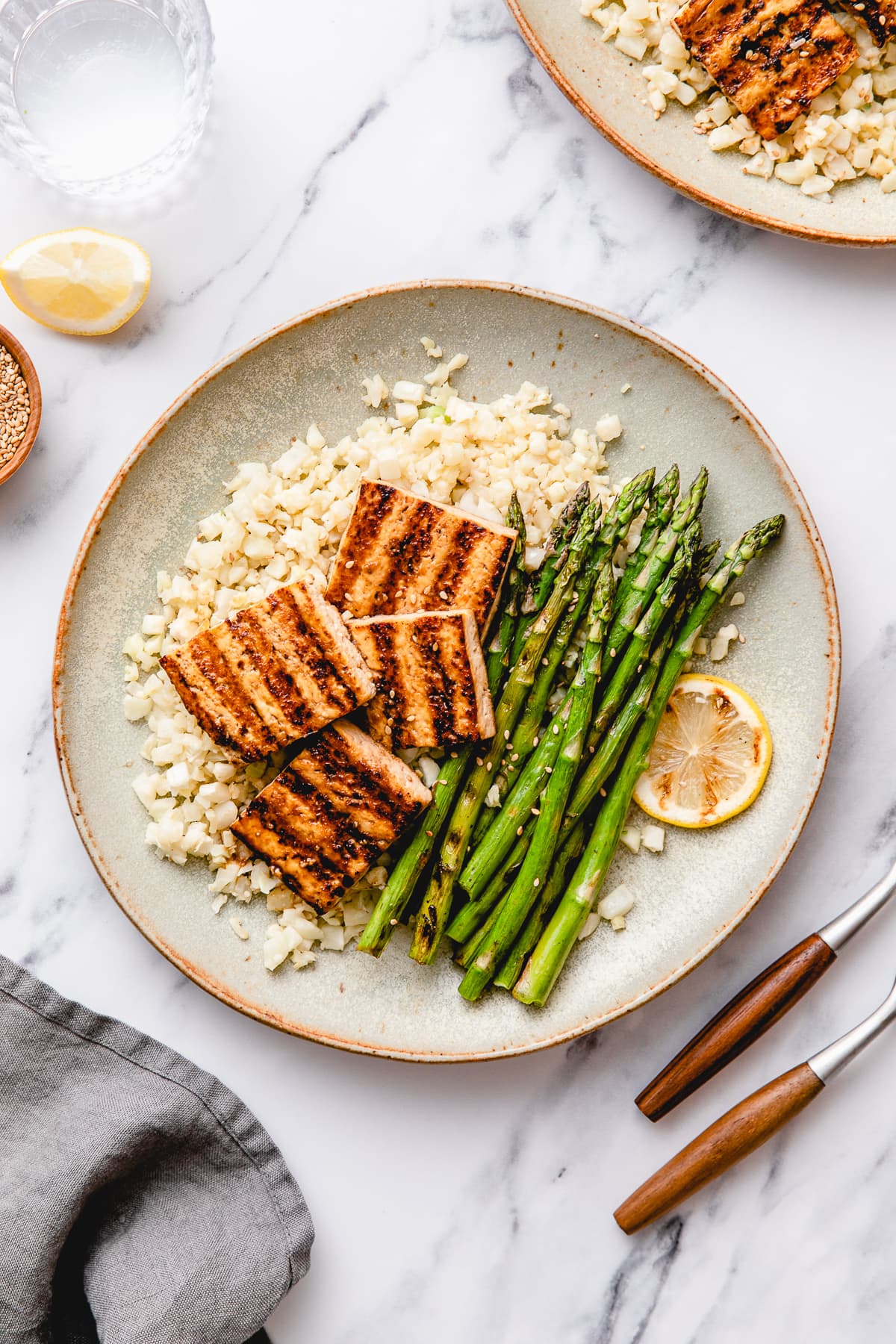 This easy recipe was something I just threw together the other night and happened to be delicious enough to share with you all!
It's a wonderful combination of simple ingredients with lots of flavor and texture. I could eat it every day, and I think you're going to love it too!
Why We Love This Recipe!
We especially love this grilled tofu and asparagus recipe because of its minimal ingredient list and that it's ready in about 30 minutes. Nothing better than quick and delicious!
Plus, it won't break the bank! I estimate this meal to cost around $10 and serves 2 generously or 3 smaller meals.
It's a healthy, well-balanced meal that fits into many dietary groups such as gluten-free, tree nut-free, nightshade-free, grain-free, and more.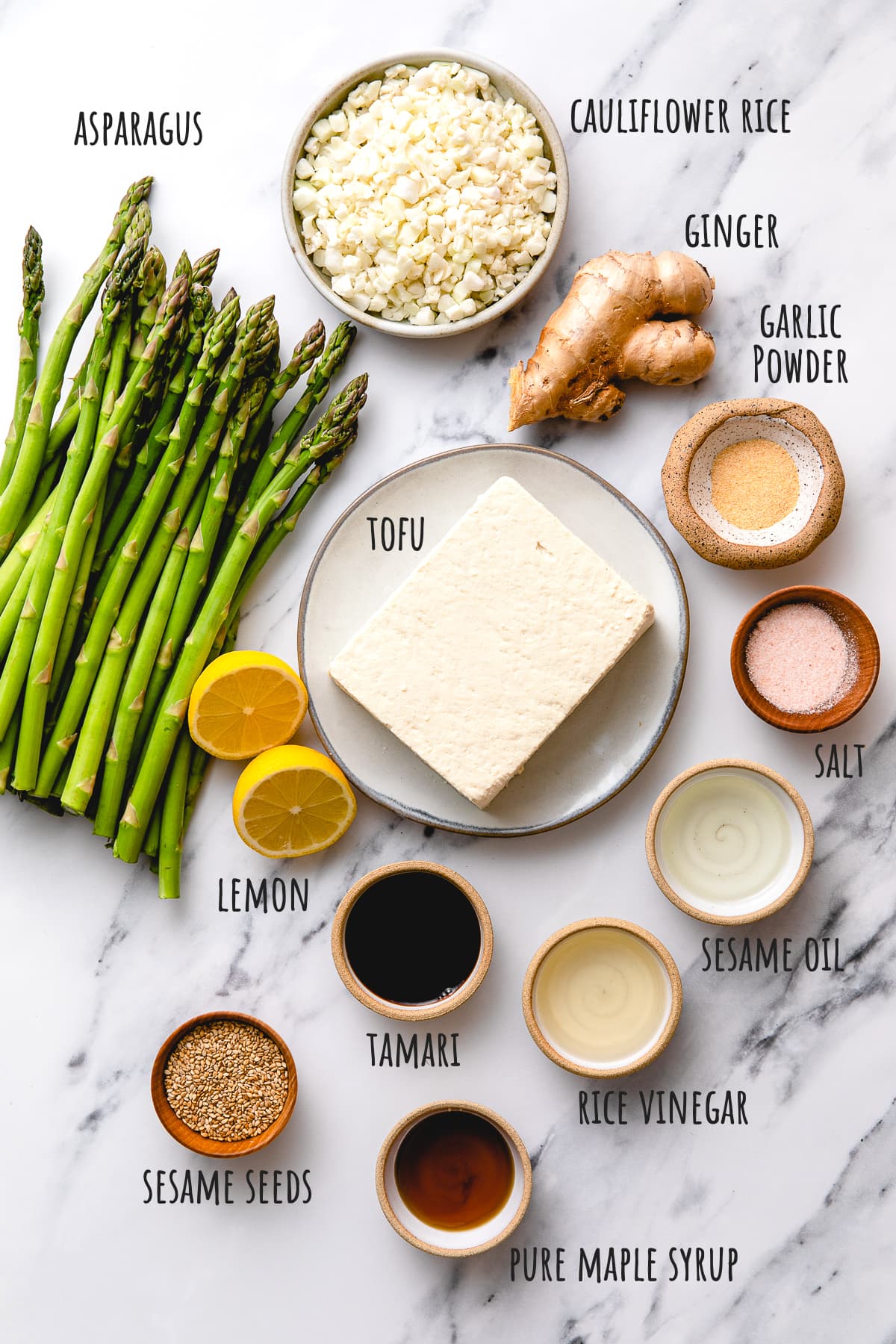 Ingredient Notes
Tofu – Use firm or extra firm for best results. You can drain and press the tofu for a few minutes (or gently pat the slices dry with a clean dish cloth) before grilling. The firmer the tofu, the less water it has making it easier to remove excess liquids.
Asparagus – Nothing beats using fresh asparagus. This recipe is best when it's in season and at the height of it's flavor.
Tamari – If you're not following a gluten-free diet, regular soy sauce can be used. Also, coconut aminos is a healthy alternative!
Rice Vinegar – Use seasoned or plain rice wine vinegar. If you're in a pinch and don't have it on hand, apple cider vinegar can be used as well.
Sesame oil – Both regular and dark sesame oil can be used. For a more robust flavor, sesame oil will lend a wonderfully distinct nutty and toasted flavor.
Cauliflower – I used a packaged cauliflower rice but you can make your own. All you'll need is a large head of cauliflower and a box/cheese grater (use the medium-large holes). Alternately, you can chop the cauliflower into large pieces, place them in a food processor, and pulse until you get rice-sized pieces.
Ginger – The ginger adds a nice flavor profile and pairs perfectly with the other ingredients. I prefer to finely grate the ginger using a Microplane but you can mince it with a knife as well. And my favorite way to peel fresh ginger is with a vegetable peeler, easy peasy!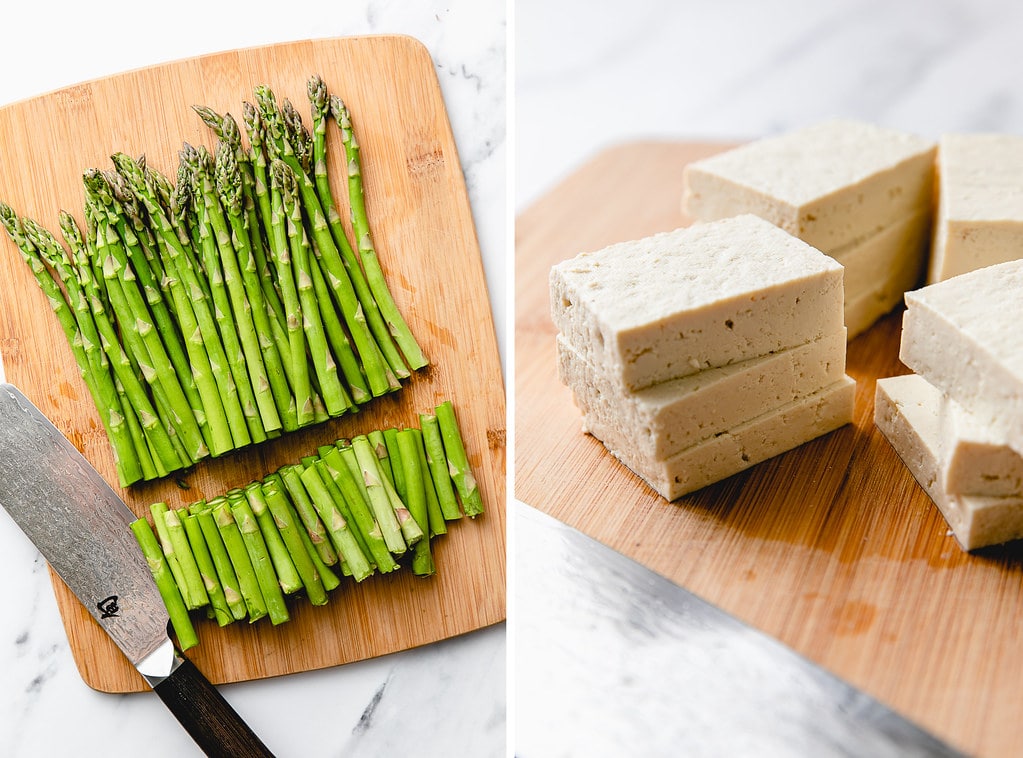 How To Make Easy Grilled Tofu + Asparagus
Start by slicing the tofu on its side, cutting it into 3 slabs. Turn the tofu on its flat side and cut it into four squares, creating a total of 12 slices of tofu.
Trim the ends of the asparagus by cutting off the bottoms (shown above) or snapping each piece individually.
To create the marinade sauce, whisk together the tamari, rice vinegar, and maple syrup in a small bowl.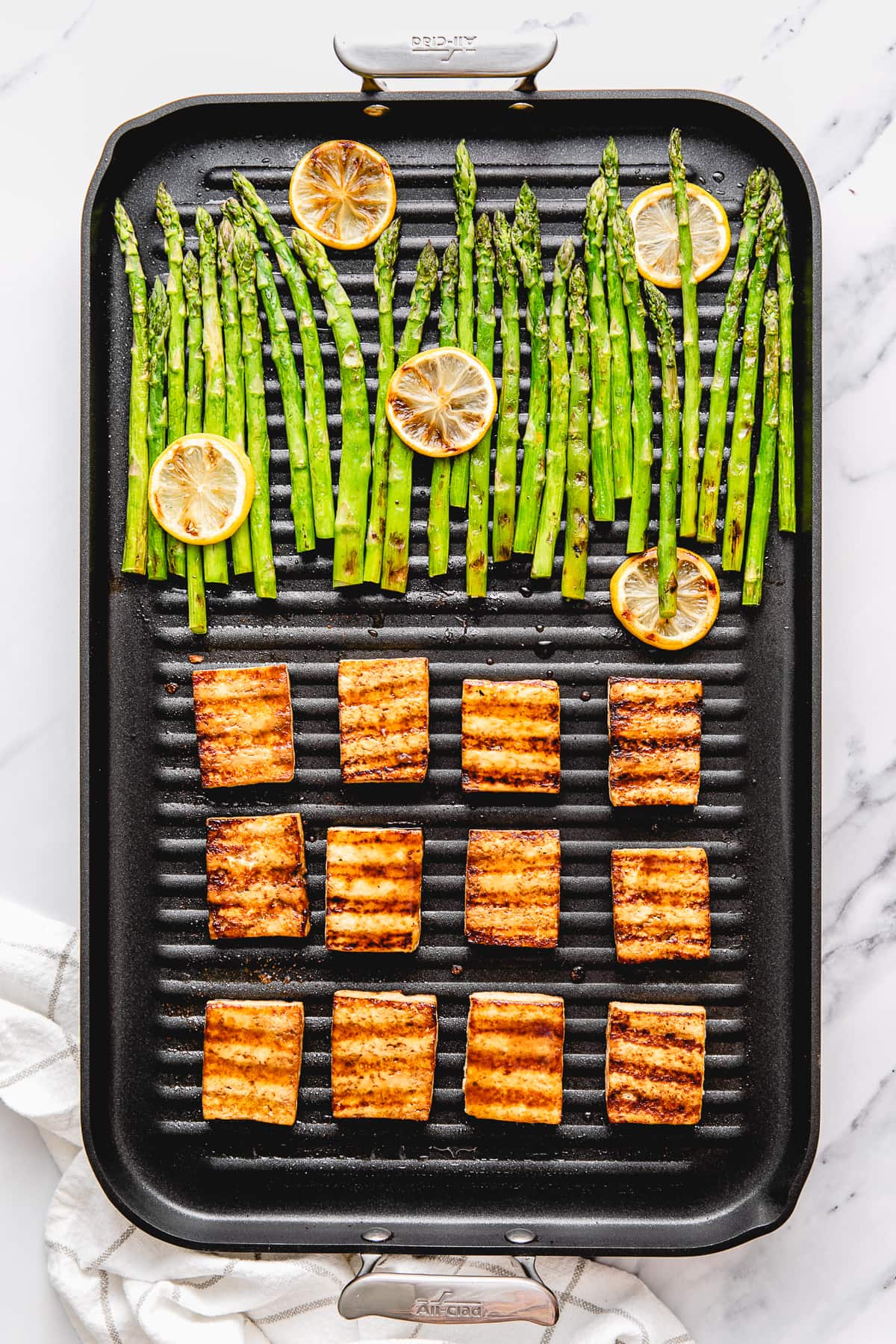 Heat a stovetop grill over medium heat. Dip the tofu in the marinade on each side and add the tofu to the pan along with the asparagus and cook for 4 – 5 minutes on each side.
When ready, serve over cauliflower rice with a little extra sauce, and enjoy to the fullest!
Top Tips
If you have extra time, marinate the tofu. Place up to half of the sauce into a shallow bowl and marinate the tofu for up to 20 – 30 minutes on the counter (or overnight in the refrigerator), flipping once or twice to coat. You can also use ziplock baggies for the job.
Add ginger to the marinade. If using something other than the ginger cauliflower rice, such as rice or quinoa, try adding 1 – 2 teaspoons of grated or minced ginger to the marinade.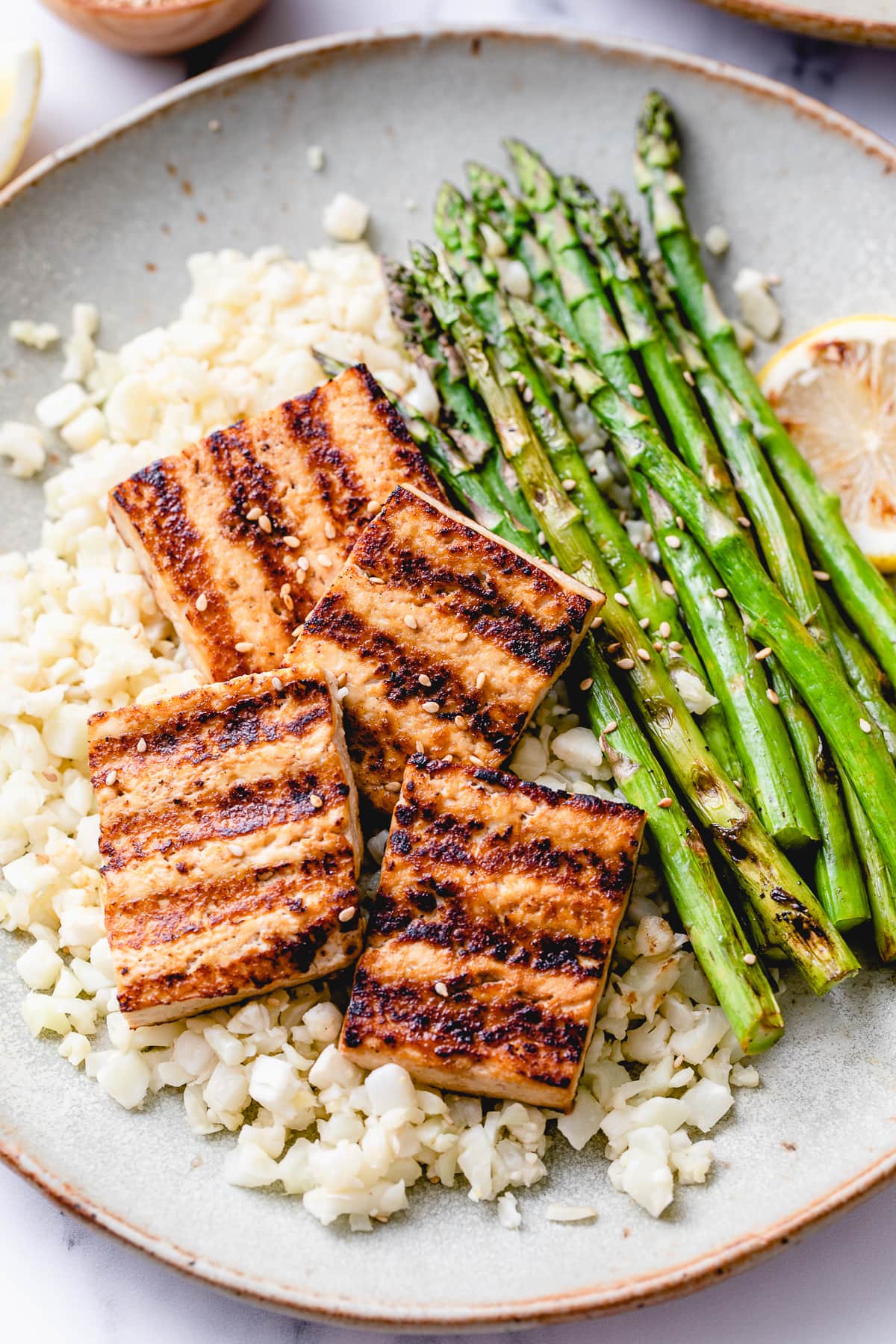 FAQs
Do I need to marinate the tofu before grilling?
No, the recipe doesn't require marinating the tofu before grilling. Just dip each slice before adding to the grill and brush with the marinade during cooking.
Which is the best for pan grilling – cast iron or non-stick grill pans?
Both non-stick and cast iron grills work great. It will depend on your preference. Cast iron cooks well but tends to be a bit more maintenance unless it's coated. I've been leaning towards using non-toxic nonstick grill pans as they are easy to clean and maintain. I love my large All-Clad Stovetop Grill (affiliate link) for recipes like this.
How long do leftovers last?
Leftover grilled tofu and asparagus can be stored in the refrigerator for up to 5 – 6 days in an airtight container. You can reheat in a preheated oven set to 350 degrees F for 10 – 15 minutes or warm in the microwave.
More Easy Vegan Dinner Recipes!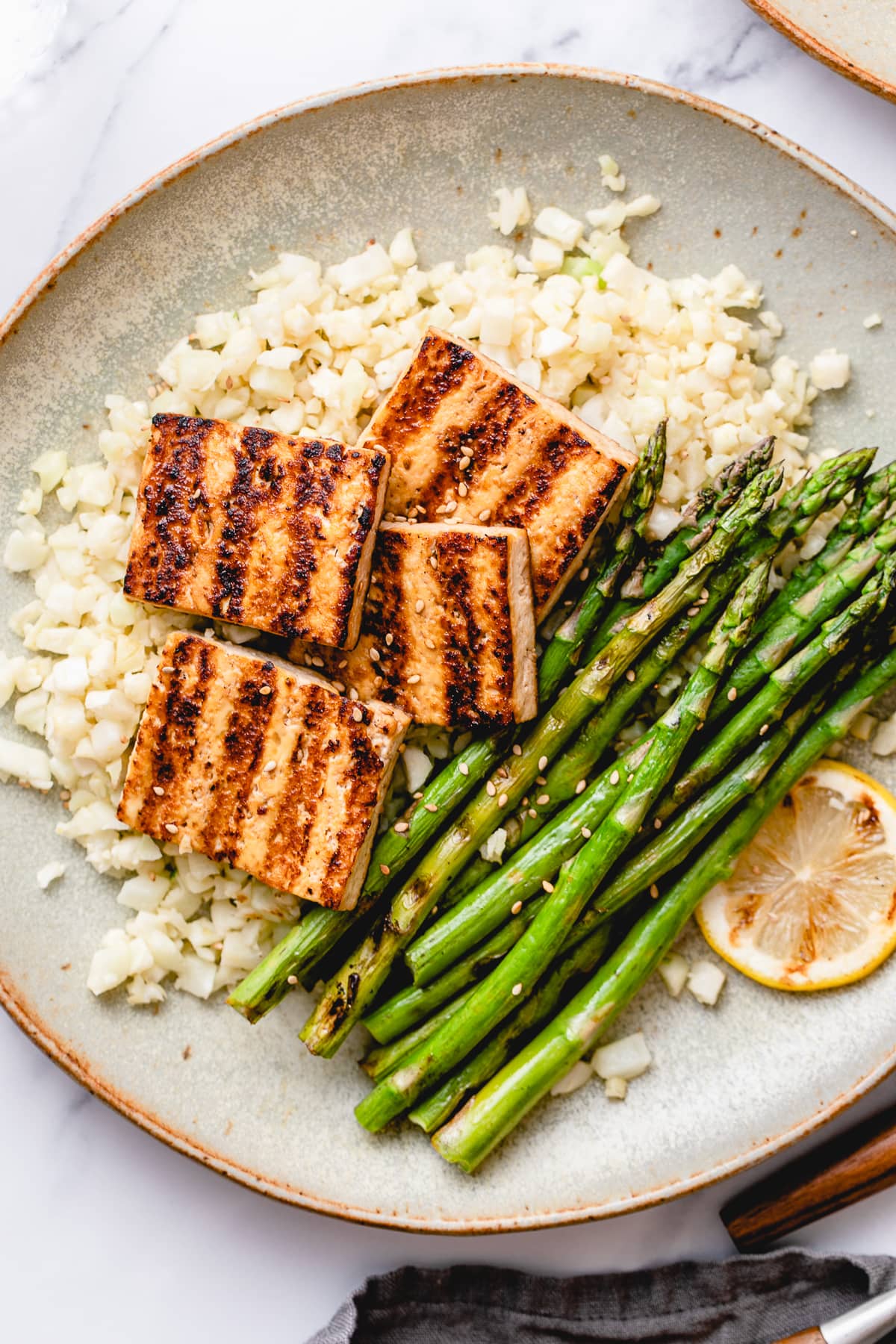 If you try this grilled tofu recipe, please let me know! Leave a comment and rate it below. I love to hear what you think, or any changes you make.
Print
Easy Grilled Tofu & Asparagus
With only 10 ingredients (plus salt) and ready in 30 minutes, this easy grilled tofu and asparagus is a super simple and delicious well-balanced vegan meal!
Author: Julie | The Simple Veganista
Prep Time:

10 min

Cook Time:

20 min

Total Time:

30 minutes

Yield:

Serves 3

Category:

Entree

Cuisine:

Vegan, Asian

Diet:

Gluten Free
1 tablespoon

sesame oil (dark or regular)

1

block (14 oz) firm or extra-firm organic tofu, drained

1

bunch asparagus, ends trimmed

3 tablespoons

tamari or soy sauce (low-sodium pref.)

3 tablespoons

rice vinegar

1 tablespoon

pure maple syrup

1 tablespoon

toasted sesame seeds, optional

1

package cauliflower rice or

1

large cauliflower, grated

1

-inch piece ginger, finely grated or minced

1/2 teaspoon

garlic powder
mineral salt, to taste
lemon slices, to serve
Instructions
Tofu: Place the tofu on its side and cut into 3 slabs. Turn the tofu on the flat side and cut into four squares, creating a total of 12 slices of tofu. Pat dry with a clean dishtowel.
Heat griddle: Place the grill/griddle over the front and back burner. Heat the grill over medium – medium-high heat. Using a silicone brush, coat the entire surface well with sesame oil.
Mix marinade: In a small bowl, mix the tamari/soy sauce, rice wine vinegar, and pure maple syrup, set aside.
Grill tofu & asparagus: Dip the tofu into the sauce and add tofu squares to half of the grill and the asparagus to the other (I put the tofu towards the front and the asparagus to the back). Cook 4 – 5 minutes. Spoon a little bit of the marinade over the top of the tofu. Add a little over the asparagus as well. Carefully flip the tofu and cook another 5 minutes, until golden brown on both sides. Rotate the asparagus as needed to cook evenly. Once complete, turn off the heat. Add a few slices of lemon to the grill to give it a grilled look. It warms the lemon and makes the juices taste delicious!
Cook cauliflower: Heat a large pan or skillet over medium, add cauliflower, minced ginger, garlic powder, and a pinch of mineral salt. Mix and stir frequently until just tender, about 5 minutes.
Assemble: Serve with a little squeezed lemon, an extra drizzle of sauce, and a few extra toasted sesame seeds over the top. Enjoy!
Serves 3
Notes
Grate your own cauliflower: Using the large holes of a cheese/box grater, grate cauliflower. Pat 'cauliflower rice' with paper towels to remove any excess moisture. Alternately, chop the cauliflower into large pieces, place them in a food processor, and pulse until you get rice-sized pieces.
I never press my tofu, and I only blot it dry. The heat from the grill will remove most of the moisture, making pressing unnecessary.
I did a dry fry with the cauliflower. Feel free to add 1 teaspoon of oil to the pan while heating.
Updated: The recipe was changed to include rice vinegar and maple syrup. You can find the original recipe here.
Updated: This recipe was originally published in March 2016. It has been retested and updated with new photos and helpful tips in July 2021. The recipe was changed to include rice vinegar and maple syrup. You can find the original recipe here.
FOLLOW TSV on Facebook, Instagram, Pinterest, or RSS for more updates and inspiration!