MUSHROOM, BELL PEPPER & BASIL STIR FRY
A healthy, flavorful Basil Stir-Fry with mushroom, bell pepper and tofu in a spicy sauce, and paired with a grain of choice. Vegan, gluten free and well-balanced, easy weeknight dinner ready in under 30 minutes!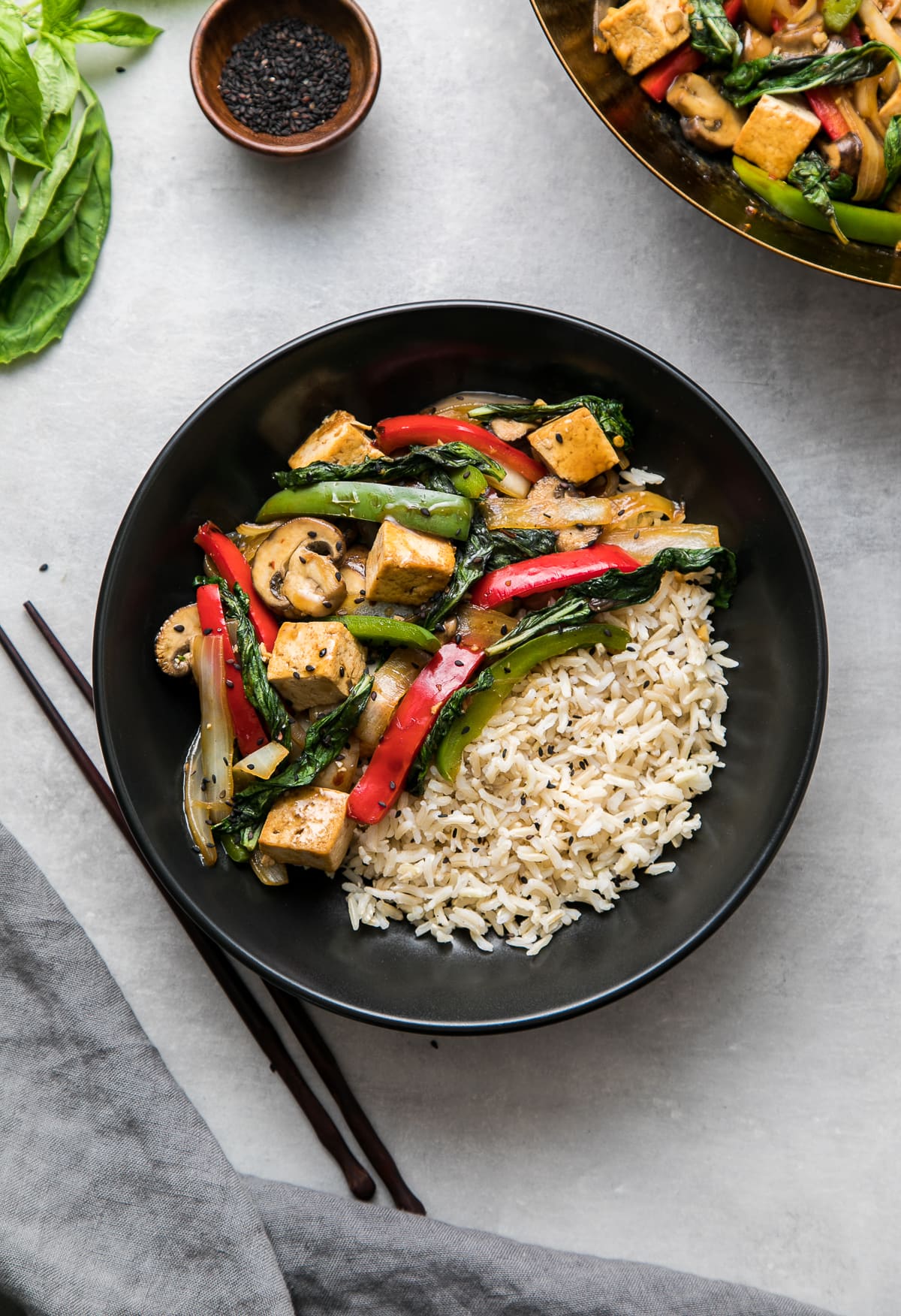 This Basil Stir Fry is one of those on a whim recipes that just came about from cleaning out the fridge. I had all the ingredients in my kitchen, put them together and decided it was good enough to put it into the recipe collection.
I love basil, and this stir fry is really all about the basil! Here in So Cal we are lucky enough to have access to fresh basil year round. This recipe calls for 2 cups, but feel free to add more if you like!
As for the other vegetables, you can mix them up using whatever you like. That's what I love about stir fry's, they are so versatile.
Try using different colored bell peppers, zucchini, bean sprouts, broccoli or carrots adding or replacing anything you don't care for – pretty much anything will work here.
This post contains affiliate links. Read my full disclosure here.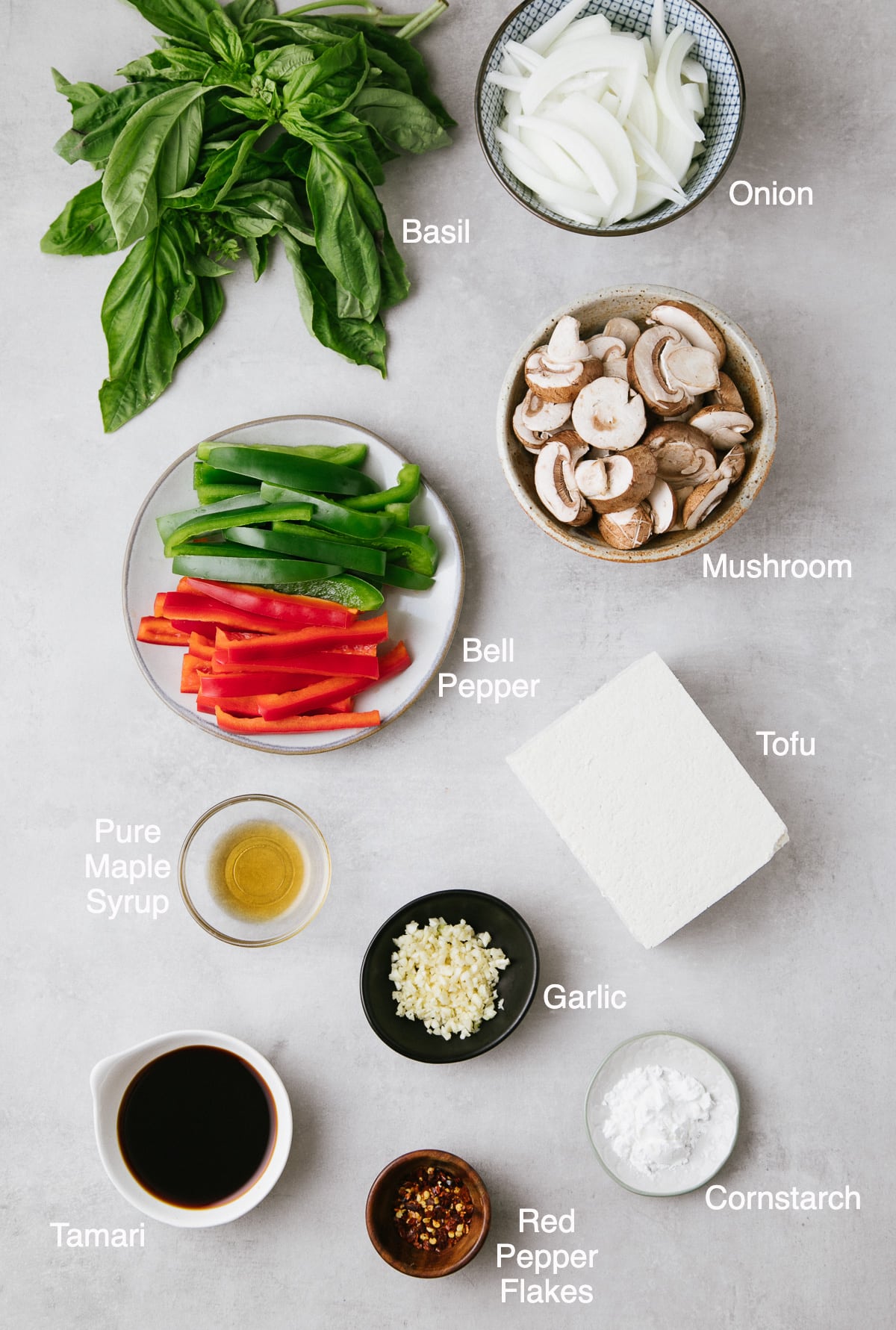 Ingredients You'll Need
In this recipe we will be stir frying veggies, tofu and basil in a flavorful sauce creating a delicious Asian inspired meal. Here's everything you'll need, plus a few substitution ideas.
Tofu – Organic preferred. Use super firm (my fav), extra firm or firm.
Basil – Use either regular basil or Thai basil (found in Asian grocery stores). Thai basil has smaller leaves, but really both will work well adding its fantastic basil flavor.
Veggies – I love the combo of onion, mushrooms and bell peppers and garlic, but feel free to customize your veggies to whatever you prefer. Add baby corn, zucchini, broccoli, carrots, sugar snap peas, tomatoes, bean sprouts, cauliflower, etc.
Tamari – If not using tamari, coconut amino's, light soy sauce or namu shoyu will all work fine.
Pure Maple Syrup – Adds just a touch of sweetness to counter the saltiness of the tamari.
Cornstarch – Acts as a thicker for the sauce, and reacts when heated (I use this organic cornstarch). A good substitute is arrowroot or tapioca flour.
Red Pepper Flakes – For a good dose of heat, adjust the amount added to suit your taste. Sub with fresh Thai chilies or jalapenos.
A Note About My Favorite Tofu
Lately, I've been buying tofu labeled either Sproutofu from Wildwood or High Protein Tofu from Trader Joe's. Both are high protein and super firm.
I find these types do not need to be pressed making them a bit easier to work with, as you can skip the pressing process. They are so dense that there is no room for water to collect. Simply open your package, cut as desired and cook.
The tofu takes on the flavors surrounding it very well and has a nice tender texture. If you can find these in your local store, I highly recommend giving them a try. If you can't find these then you will still want to press your tofu for this recipe to release as much water as possible.
Adjusting For Dietary Restrictions
Soy-free: Omit the tofu and use coconut amino's in place of tamari or soy sauce.
Oil-free: Make your stir-fry healthier without added oils, use water or vegetable broth to stir-fry the vegetables. It will cut fat and calories without losing flavor!
Gluten-free: Use tamari or coconut amino's.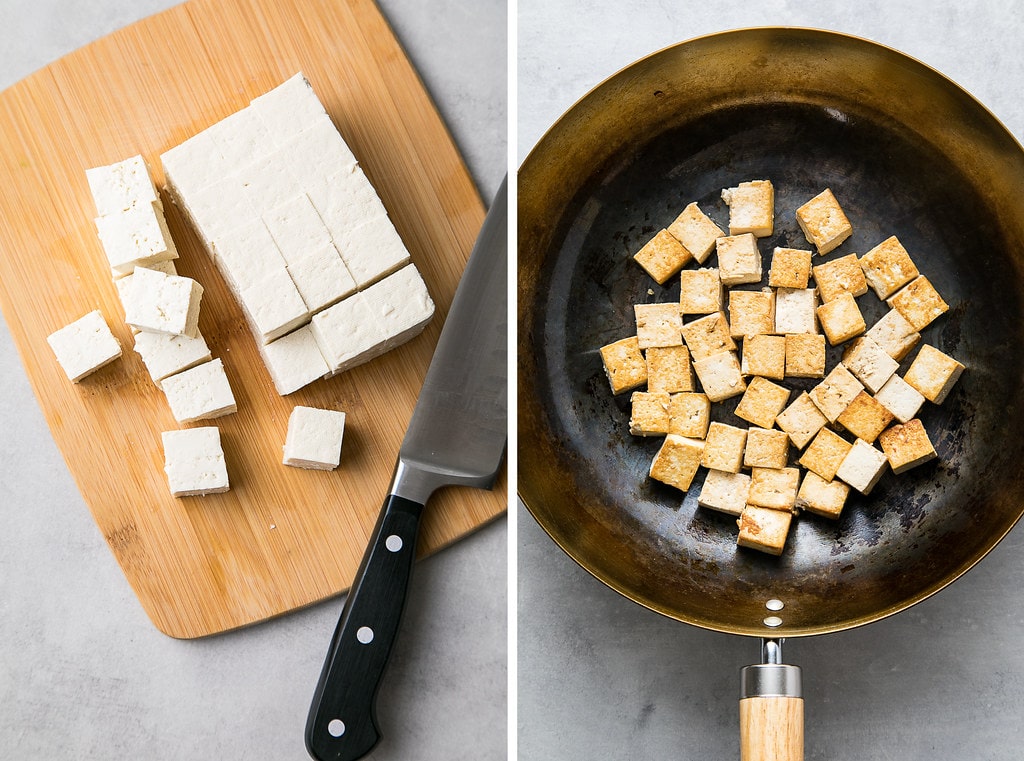 How To Make Basil Stir Fry
Prep and marinate the tofu.
Prepare your vegetables while the tofu is marinating.
Make the stir fry sauce.
Sear the tofu in a wok or skillet.
Set tofu aside.
Stir-fry the vegetables.
Add back tofu and simmer with liquid ingredients until sauce thickens.
How To Store Leftovers
Refrigerator: Store leftovers in the refrigerator for up to 5 days, in covered containers. This stir-fry is great for weekly meal prep too, using these handy glass storage containers.
Freezer: I don't recommend freezing this recipe. Although you probably can, I just don't think it will taste as good once thawed. If you try, and it works, do let us know in the comments!
Reheat: Leftovers can be warmed on the stovetop over low heat until warmed. Alternately, reheat in the microwave using 30 second intervals, stirring between each interval, until warmed through.
Serving Suggestions
Serve with 1/2 cup grain of choice. I used a sprouted brown rice here, but quinoa, white rice, cilantro lime rice, or black rice would be great too. Garnish with a sprinkle of sesame seeds on top.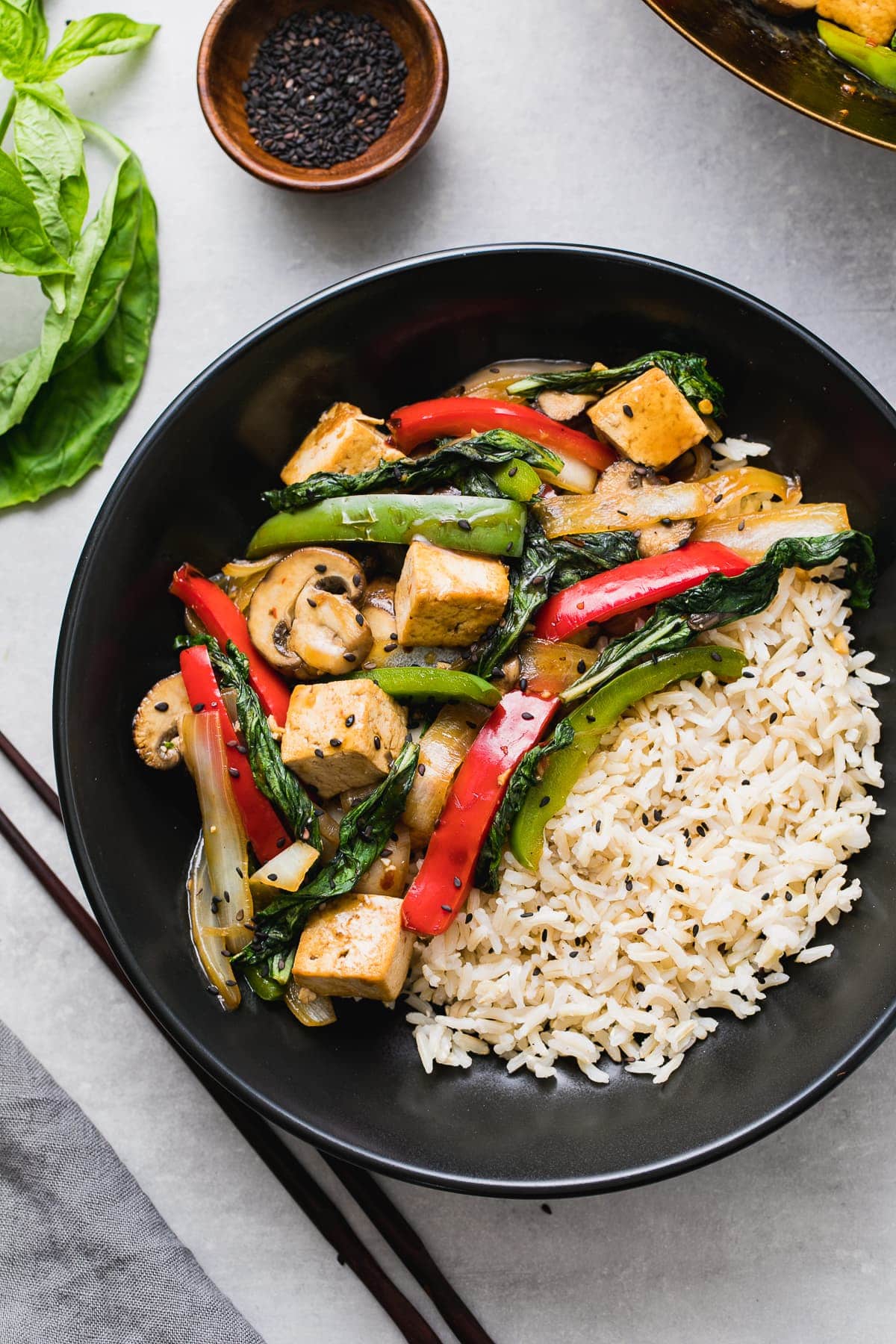 More Easy Asian Inspired Recipes
If you make this basil stir fry recipe, please let me know! Leave a comment and rate it below. I love to hear what you think, or any changes you make.
Print
MUSHROOM, BELL PEPPER & BASIL STIR FRY
A healthy, flavorful basil stir-fry with mushroom, bell pepper, basil and tofu in a spicy sauce, and paired with a grain of choice. Only 10 ingredients and ready in 30 minutes!
Author: Julie | The Simple Vegansita
Prep Time:

15 min

Cook Time:

15 min

Total Time:

30 minutes

Yield:

Serves 4

Category:

Entree

Method:

Stir-fry

Cuisine:

Vegan, Asian
1

block (14 oz) organic tofu, super or extra firm (organic pref)

1

–

2

tablespoons oil (sesame or olive) OR

1/4 cup for water saute (see notes)

8 oz

. mushrooms

2

bell peppers (red & green)

1/2

large onion

3

cloves garlic

2 cups

basil, lightly packed

1/4 cup

tamari, coconut aminos or soy sauce

1 tablespoon

pure maple syrup

2 teaspoons

cornstarch or tapioca flour

1 teaspoon

red pepper flakes, or to taste
To serve
cooked grain of choice to serve (quinoa, brown, basmati or jasmine rice – soba noodles would be great too)

black or white sesame seeds, for garnish
Instructions
Tofu: If using non-high protein tofu, start by pressing your tofu (if using high protein tofu as mentioned above there is no need to press). Place your block of tofu either between a few sheets/or folded paper towel OR between a clean folded dish cloth. Gently press around the entire block, add sides, with the towel to remove excess moisture.
Marinate tofu: Cut the tofu into 3/4 inch cubes. Add to a medium bowl and drizzle with 1 – 2 tablespoon of tamari, gently toss to coat. Let tofu marinate while prepping the veggies.
Prep veggies: Slice the onion lengthwise into strips about 1/4 to 1/2 inch thick. Cut to top off of the bell peppers, remove the core and seeds, slice lengthwise the same as the onions. Mince the garlic. Slice the mushrooms (or better yet buy them already sliced).
Mix sauce: In a small bowl, combine the tamari, maple syrup, cornstarch and red pepper flakes. Add 2 tablespoons of water. Set aside.
Sear tofu: In a large skillet or wok, heat 1 tablespoon oil over medium heat, add tofu and cook for 2 minutes without touching, flip and cook another 2 – 3 minutes. Transfer tofu a plate.
Basil stir fry: In same large skillet or wok, add onions, garlic, bell peppers and mushrooms. Stir fry for 5 minutes. Add in the wet mixture and toss to coat. Add in basil and tofu, mix well and cook another 5 minutes, or until vegetables are just softened, tofu is warmed and sauce has thickened. Add more tamari and pepper flakes to taste.
Serve: Pair with 1/2 cup grain of choice (white or brown rice, or quinoa) with a sprinkle of black sesame seeds on top.
Notes
Soy free option: Omit the tofu and use coconut amino's.
Oil-free method: Try doing a water or vegetable broth stir fry in place of using oil. Use 1/4 cup water/broth in place of the 1 – 2 tablespoon oil.
Veggies: For variation try mixing and matching any combo of baby corn, zucchini, broccoli, carrots, sugar snap peas, tomatoes, bean sprouts, cauliflower, etc.
Keywords: basil stir-fry, vegan stir-fry recipe
Updated: This Basil Stir Fry recipe was originally published in October 2013. It has been retested and updated with new photos and helpful tips in December 2019. The only changes made to the recipe includes marinating and searing the tofu before adding to the stir fry.
FOLLOW TSV on Facebook, Instagram, Pinterest or RSS for more updates and inspiration!