SOBA MISO SOUP + ROASTED VEGETABLES
Soba Miso Soup features roasted vegetables and buckwheat noodles in a warm miso broth for a hearty and nutrient dense meal perfect for a healthy vegan lunch and dinner! Gluten-free recipe.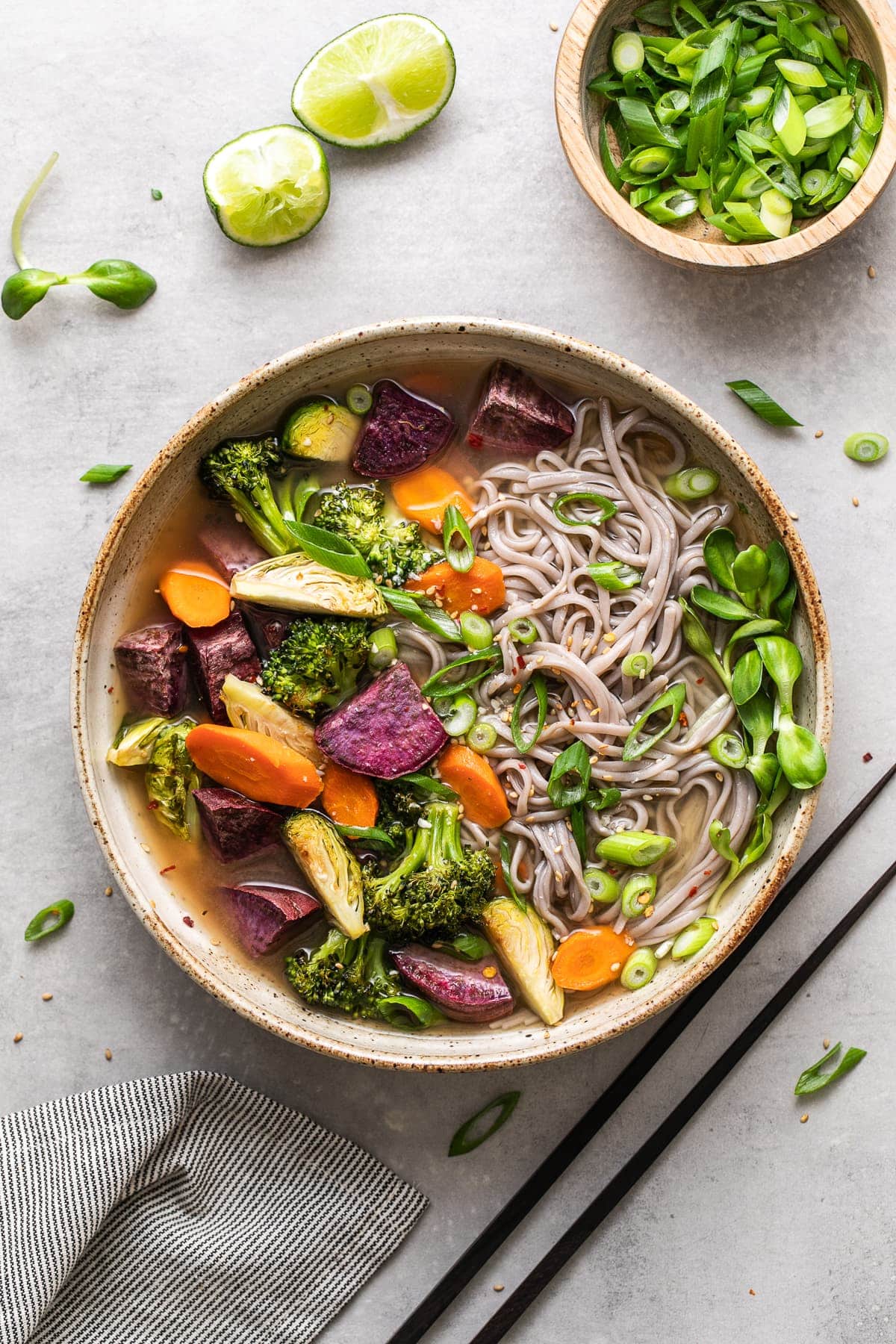 Soups have been a big part of my winter meals lately. They are warming and so easy to throw together.
This soba miso soup with roasted veggies was something I threw together on a whim, and thought it was ultimately good enough for the recipe collection. So here it is!
It fits my criteria for being simple to pull together, has versatility and is fairly well-balanced. Plus, it only requires a handful of ingredients!
Enjoy this soup, it's filling, flavorful and so easy to make. Win, win, win!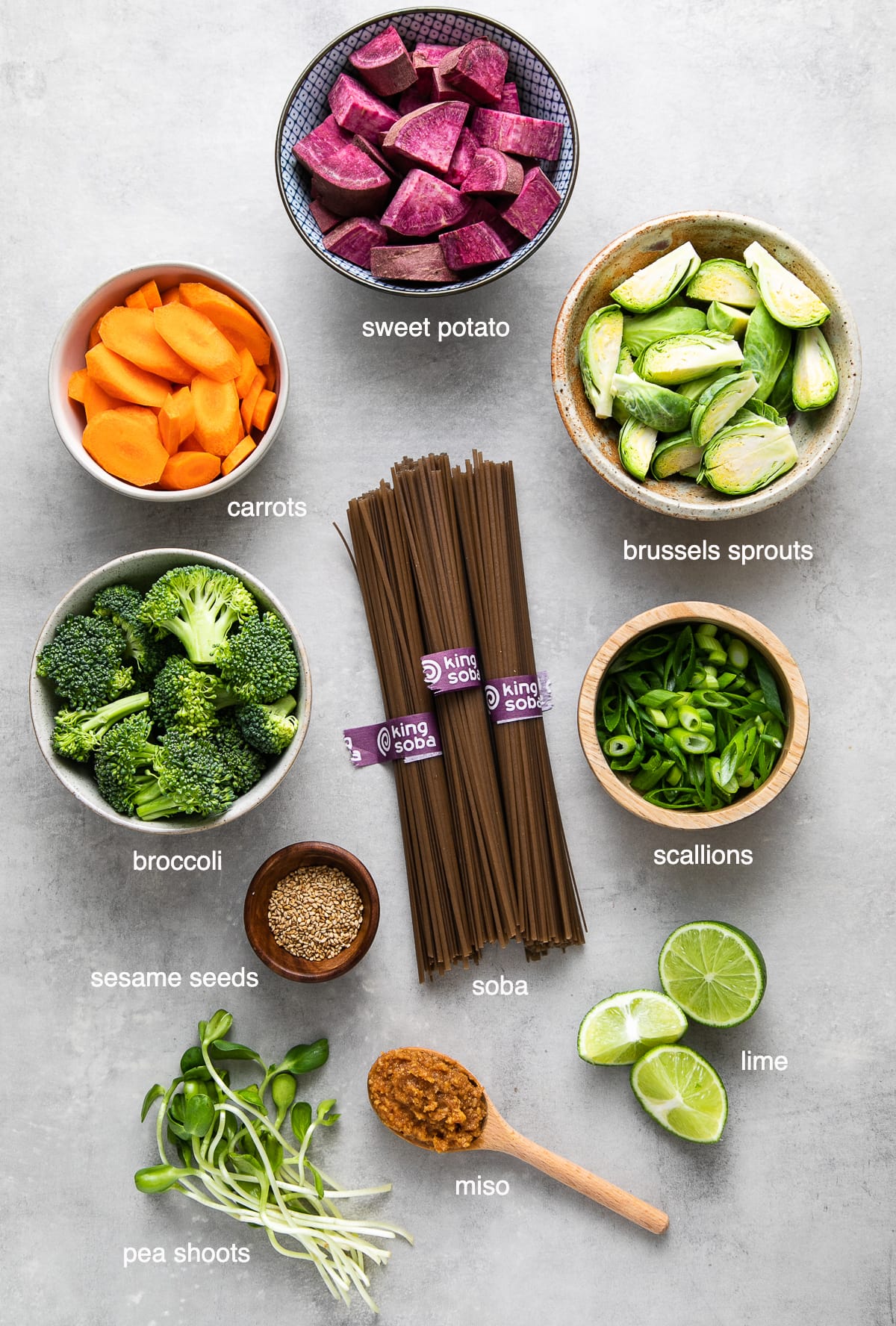 Ingredients You'll Need
In this miso soup recipe, vegetables are roasted until tender and served with soba noodles and warm miso broth for a healthy and filling vegan main dish.
Here is everything you will need:
purple sweet potato (or any color)
carrots
brussels sprouts
broccoli
sesame oil – regular or toasted (toasted will have the most flavor)
100% soba noodles – My favorite are these King Soba Noodles or  Eden Buckwheat Noodles from Amazon (affiliate links).
miso – I used red, use your favorite
scallions
toasted sesame seeds (raw black and/or white are great too)
greens – pea shoots, sprouts or greens and/or cilantro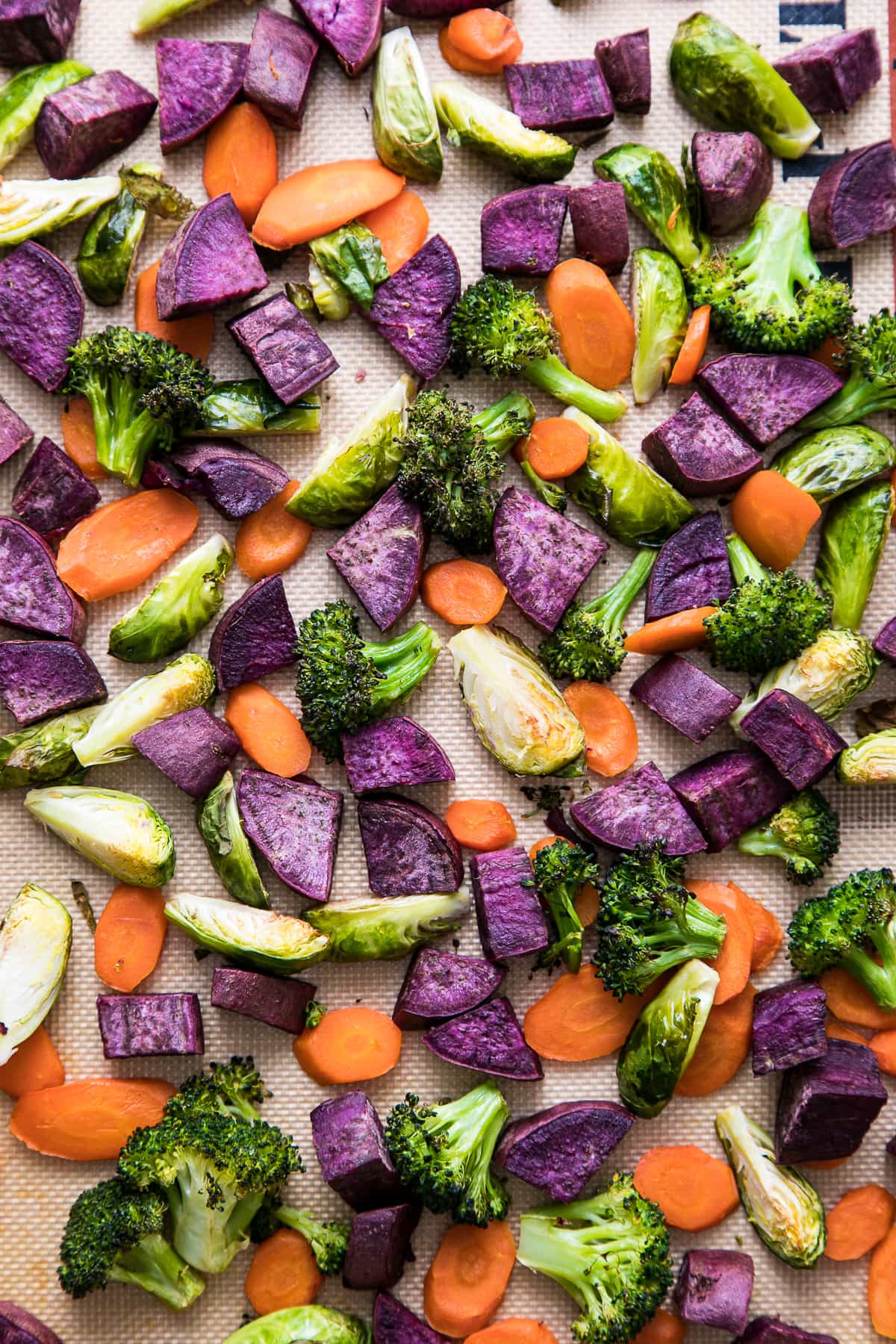 How To Make Soba Miso Soup
Roasted Vegetables
Now, I know roasting vegetables and adding them to soup is not typical. But I'll be darned if it didn't taste great and make life simple. I gently roasted them just until softened, about 20 – 25 minutes with an oven temp of 400 degrees. Chop the veggies on the smaller side so they cook faster.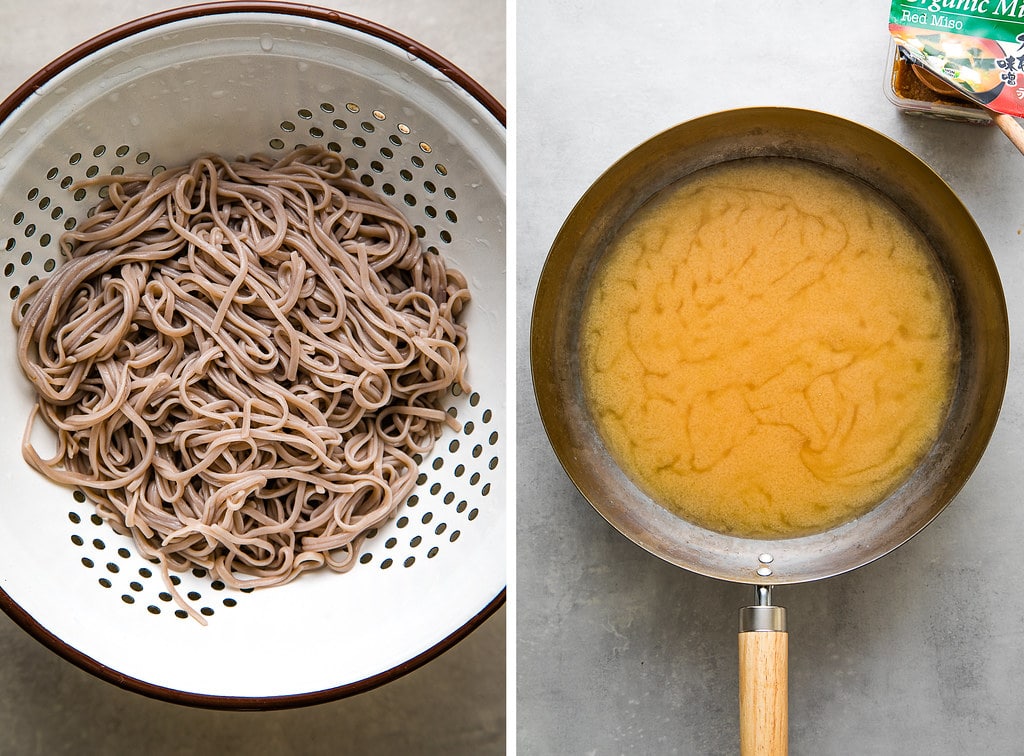 Soba Noodles
The soba noodles are just as easy too and cook pretty much the same as any other noodle. Just be sure to rinse well under cool running water when done.
Miso Broth
The miso broth is super easy to make. Just heat the water and add the miso paste. I'm in love with red miso at the moment (it's robust & flavorful) but you can use your favorite. You may even like to add a tablespoon or so of tahini to the broth for something different.
Top Tips
Don't boil miso soup. Boiling miso soup will kill the beneficial probiotics that are so good for you! It's best to gently warm the liquids and add the miso paste towards the end of cooking. This ensures the integrity (health benefits) of the miso paste is at its highest.
Change up the veggies. Feel free to use your own mix of vegetables. Omit the brussels sprouts if you don't care for them. And when in season, try adding butternut or kabocha squash. I've used butternut squash in place of sweet potato and it was delicious!
Add more protein. Add a serving of cubed organic tofu (firm or extra firm) for additional protein.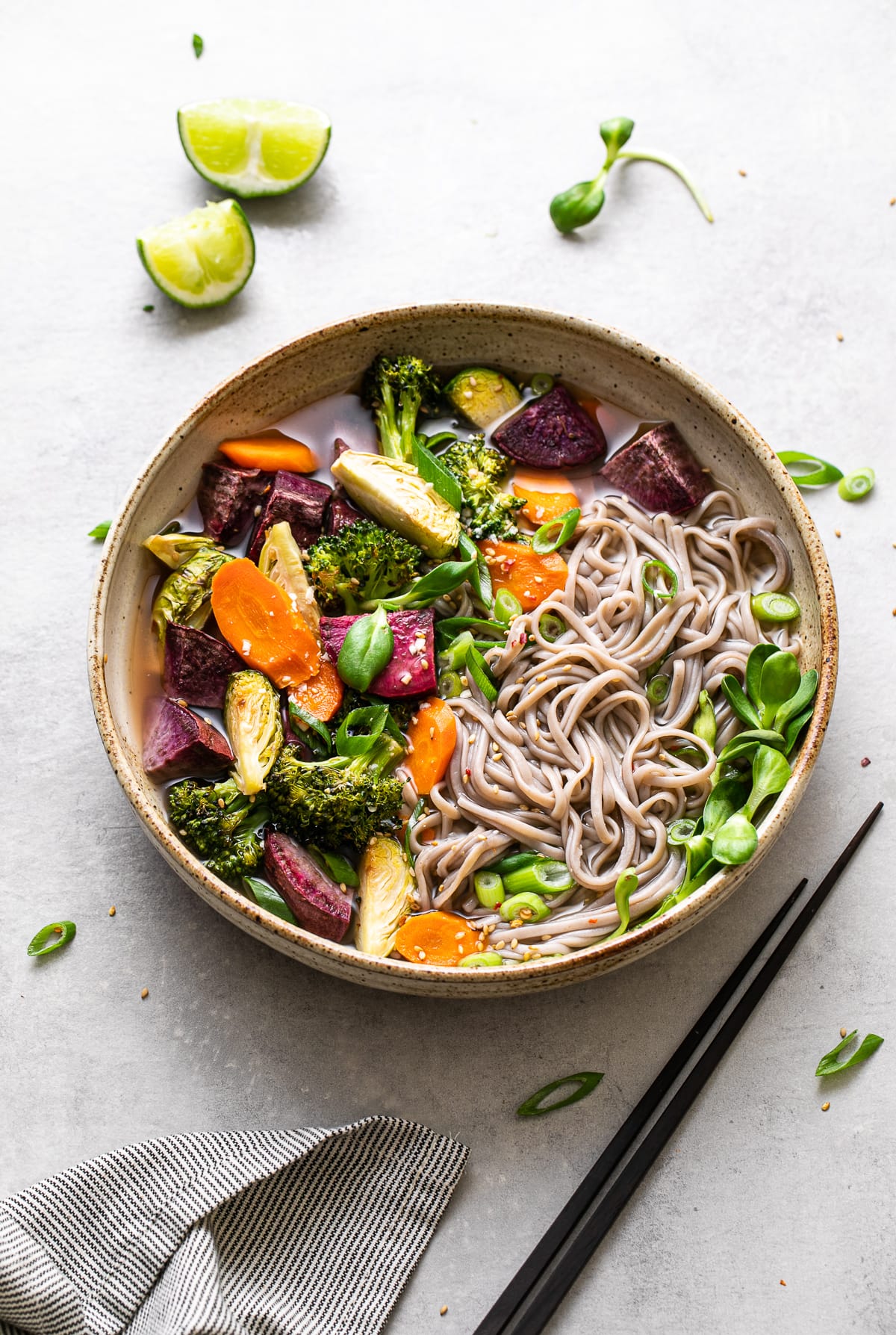 Adjusting For Dietary Restrictions
Gluten-Free: To keep this gluten-free, stick with 100% buckwheat noodles. Some buckwheat noodles are made with a combination of wheat flour and buckwheat flour, making them not truly GF.
Soy-Free:

If avoiding soy, use a miso paste that doesn't contain soy such as chickpea miso or brown rice miso.
How To Store Leftovers
Leftovers can be stored in the refrigerator for up to 3 – 4 days in a covered container.
Serving Suggestions
Add some freshness to the soup with sliced scallions, a few greens and cilantro if you have it on hand. A squeeze of lime and/or dash (or two) of sriracha isn't a bad idea either!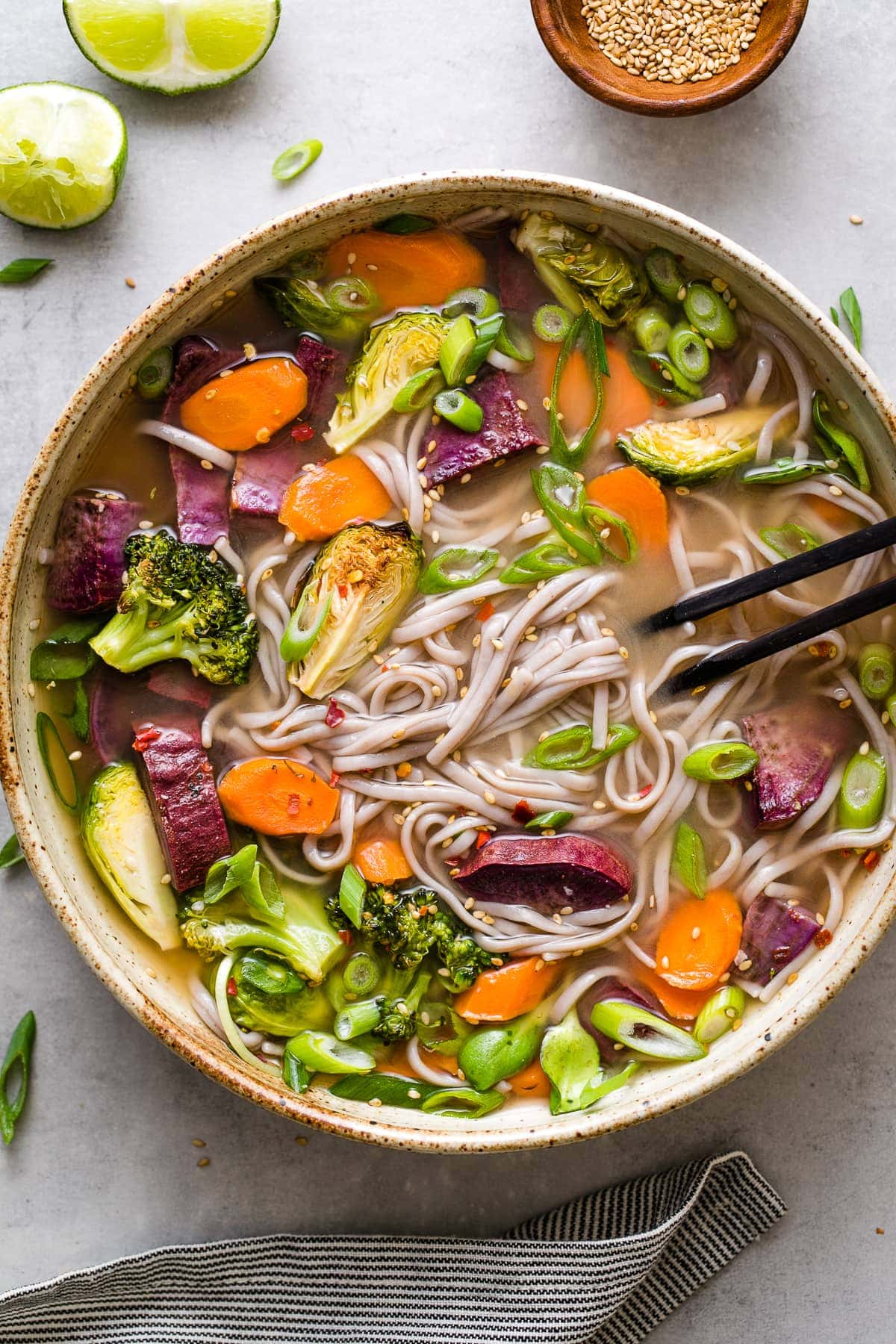 More Easy Soba Recipes
If you try this soba miso soup recipe, please let me know! Leave a comment and rate it below. I love to hear what you think, or any changes you make.
Print
SOBA MISO SOUP + ROASTED VEGETABLES
Loaded with vegetables, this soba miso soup with buckwheat noodles is a hearty, nourishing bowl of goodness!
Author: Julie | The Simple Veganista
Prep Time:

10 min

Cook Time:

25 min

Total Time:

35 minutes

Yield:

Serves 2

Category:

Entree

Cuisine:

Vegan, Gluten Free
1

purple sweet potato (or any color), peeled and cut into

1/2

inch cubes

2

carrots, sliced diagonally

1/2 cup

brussels sprouts, quartered

2/3 cup

broccoli florets
drizzle of sesame oil

1

package (9 oz.) 100% soba noodles (I love these King Soba Noodles (affiliate links))

5

–

6

tablespoons miso (I used red, use your favorite)

4 cups

water
garnish
2

scallions, sliced
toasted sesame seeds (raw black and/or white are great too)
handful of greens (pea shoots, sprouts, greens and/or cilantro)
Instructions
Preheat oven to 400 degrees F.
Roast veggies: Place veggies on a large rimmed baking sheet that's lightly greased or lined with a silpat or parchment paper. Add a drizzle of oil and toss well. Add a sprinkle of salt over top. Place sheet on the middle rack and cook for about 25 minutes stirring every 10 minutes, vegetables are done when just fork tender.
Noodles: Cook your soba noodles according to the package directions. Be sure to use a large pot filled just under half way when cooking soba noodles. Once the noodles have come to a boil, the water tends to foam up quickly and overflow (ugg, I've learned from experience). Pay attention and reduce the heat as needed to prevent the water from boiling over while keeping the water at a gentle rolling boil. Most importantly, when done rinse the noodles right away under cool running water to keep them from cooking (or else you'll have mushy noodles on your hands).
Miso Broth: Heat your water in a small pan until nicely warmed, but not boiling, (use the pot the noodles were cooked in to save a dish). Remove from heat, add miso and mix until miso is dissolved. This keeps the miso from overheating and killing the beneficial probiotics. You can opt to keep it on the burner on low to keep warm until veggies are done.
Assemble soup: Add noodles and vegetables to your serving bowl, top with broth and add a few of the garnishes. Some other optional garnishes would be a dash or two of sriracha or red pepper flakes.
Serves 2 – 3
Store: Leftovers can be kept in the refrigerator for up to 4 days in a covered container.
Notes
Try adding a tablespoon of tahini to the broth for something different, it will add creaminess.
No need to use all these vegetables, 3 types is enough. You may opt to use either the brussels sprouts or broccoli. You can also try using butternut or kabocha squash in place or along with the sweet potato. I used butternut squash in my first attempt and it was delicious!
The smaller you cube your vegetables the quicker they cook.
Add a serving of cubed organic tofu (firm or extra firm) for added protein.
For the noodles, it's 4 servings per package but I can easily eat half a package myself which is why I suggest this serves 2 – 3.
Soy-free: Use chickpea or brown rice miso.
Updated: Soba Miso Soup was originally published in January 2015. It has been retested and updated with new photos and helpful tips in March 2020.
FOLLOW TSV on Facebook, Instagram, Pinterest or RSS for more updates and inspiration!