The best Acai Bowl is a thick and creamy smoothie made with acai berries (frozen puree or freeze-dried powder) and served in a bowl with a variety of healthy toppings. It's easy to make and packed with superfood nutrition!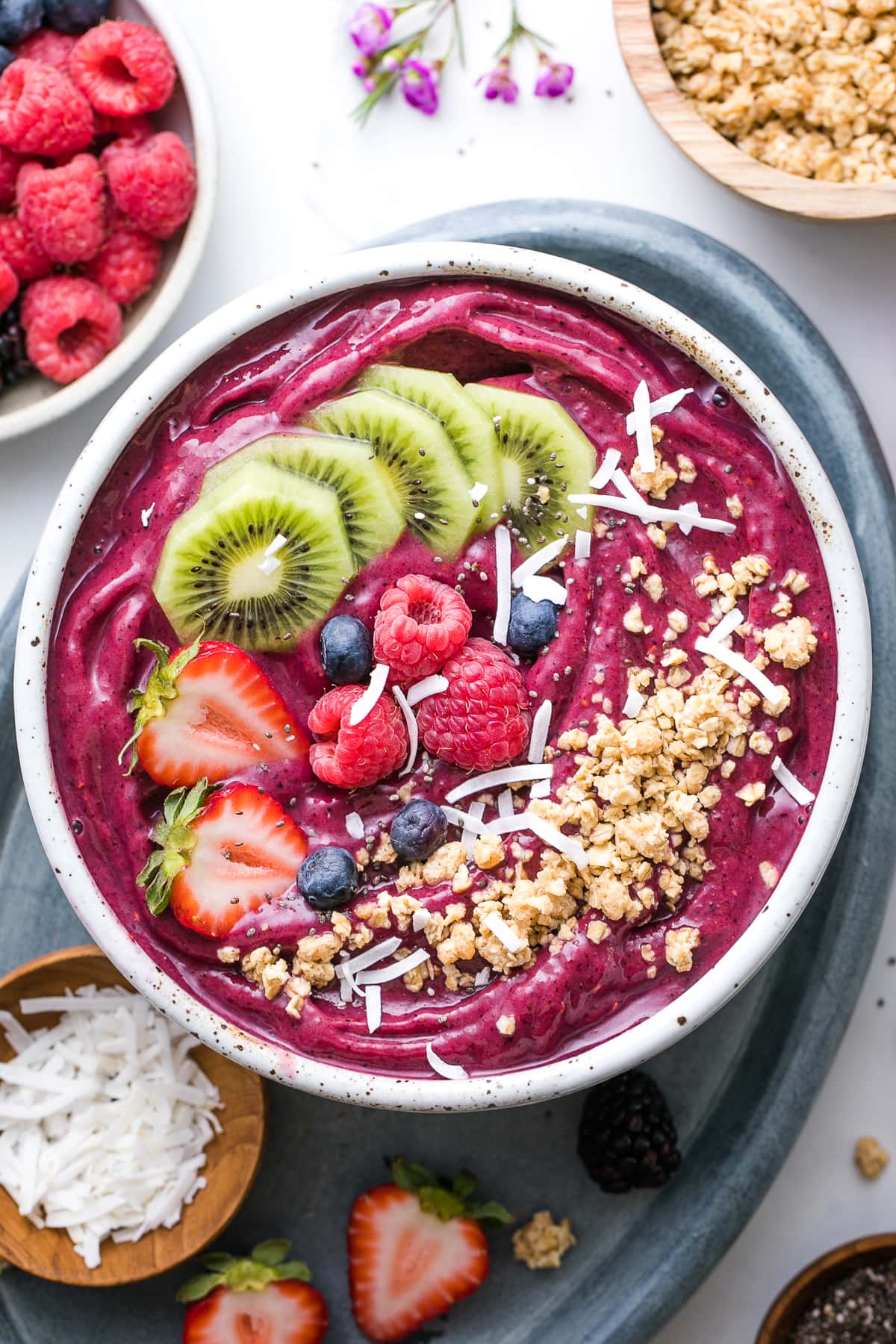 This post may contain affiliate links.
Meet the new love of my life – packed with antioxidants, essential vitamins & minerals. Acai bowls are the perfect vegan smoothie elixir!
Acai 101
Acai (pronounced ah-sigh-EE) is a small deep-purple grape-like fruit harvested from the acai palm tree. It is native to the Brazilian rainforests of Central and South America. Acai berries are known for their vibrant purple color, creamy texture, and numerous health benefits.
Packed with nutrients, acai berries contain antioxidants, fiber, healthy fats (particularly omega-3, omega-6, and omega-9 fatty acids), vitamins (especially vitamin A and C), and minerals (such as potassium, calcium, and iron). They are also relatively low in sugar compared to other fruits.
Acai berries have a high concentration of antioxidants, particularly anthocyanins, which are responsible for their deep purple color. Antioxidants help protect the body against oxidative stress, which can contribute to aging and various health issues.
Not commonly found fresh outside of their native region, acai berries are highly perishable. Instead, they are typically available in the form of frozen puree, freeze-dried powder, capsules, and juice. These products can be used in various recipes, such as smoothies, acai bowls, and energy bars.
Acai has truly become something of a phenomenon. Specifically, the acai bowl has captured the hearts of many and is right up there with avocado toast and matcha anything.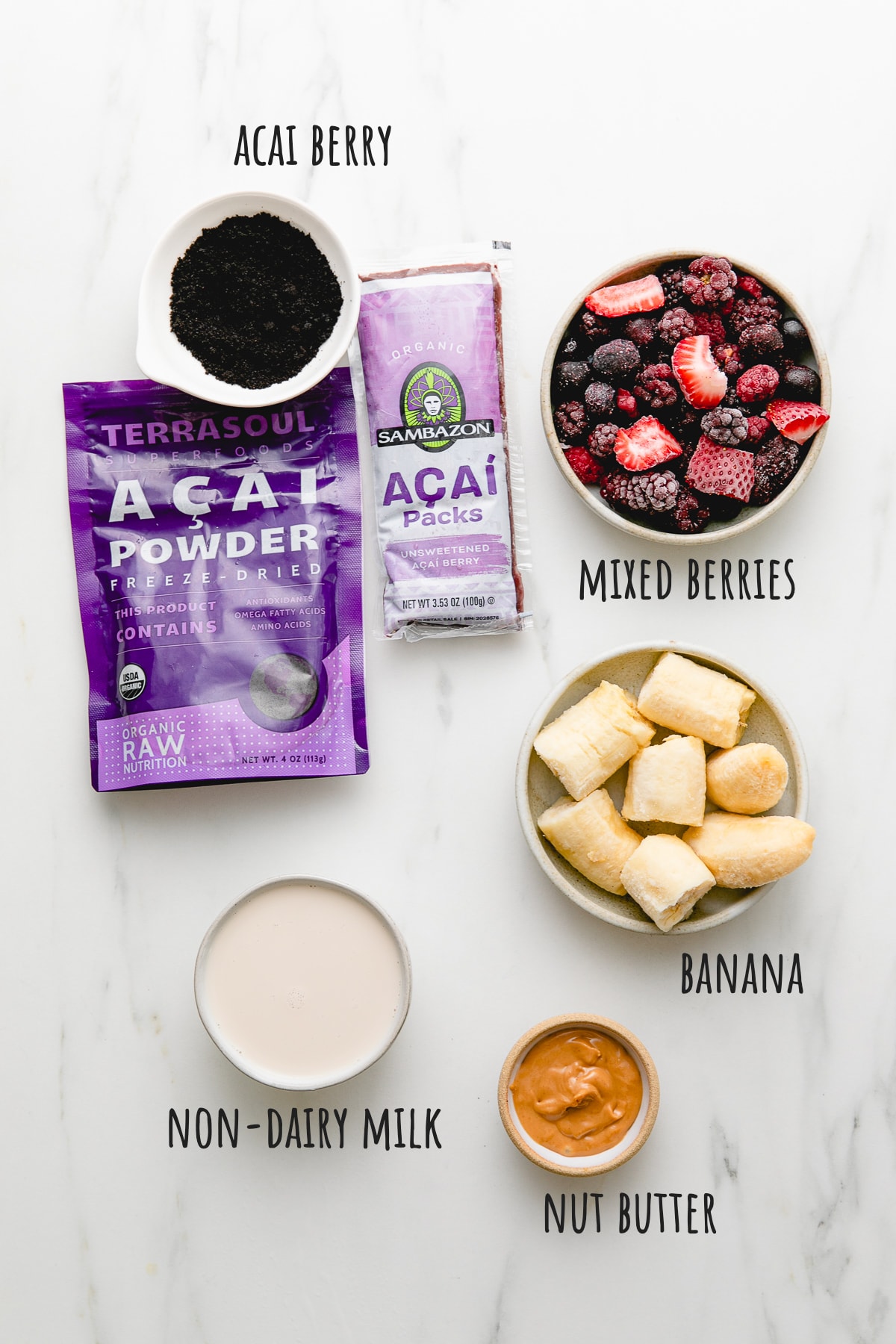 What Is An Acai Bowl Made Of?
An acai bowl is a nutritious and delicious meal or snack made from a base of blended acai berries, a fruit native to Central and South America, particularly the Amazon rainforest in Brazil. Here's a basic breakdown of the ingredients used in an acai bowl:
Acai puree: The base of the bowl is typically made from frozen acai puree, which is blended to achieve a smooth, thick consistency. Acai berries are packed with antioxidants, fiber, and healthy fats. We also love using freeze-dried acai powder in place of puree.
Liquid: To blend the acai puree, a liquid is added. Common choices include milk (we use non-dairy, plant-based milk), coconut water, or fruit juice. The amount of liquid added depends on the desired thickness of the acai base.
Sweetener: While optional, some like to add a natural sweetener. Popular choices include vegan honey, agave syrup, or a few drops of liquid stevia.
Fruit: Additional fruit is typically added, either blended into the base or used as a topping. Common fruits include bananas, strawberries, blueberries, kiwi, and mango.
Toppings: A variety of toppings are added to an acai bowl to enhance its flavor and texture. Popular choices include granola, nuts (such as almonds, walnuts, or cashews), chia seeds, coconut flakes, cacao nibs, and a drizzle of nut butter.
We love experimenting with different fruits, toppings, and sweeteners. And we encourage you to do the same!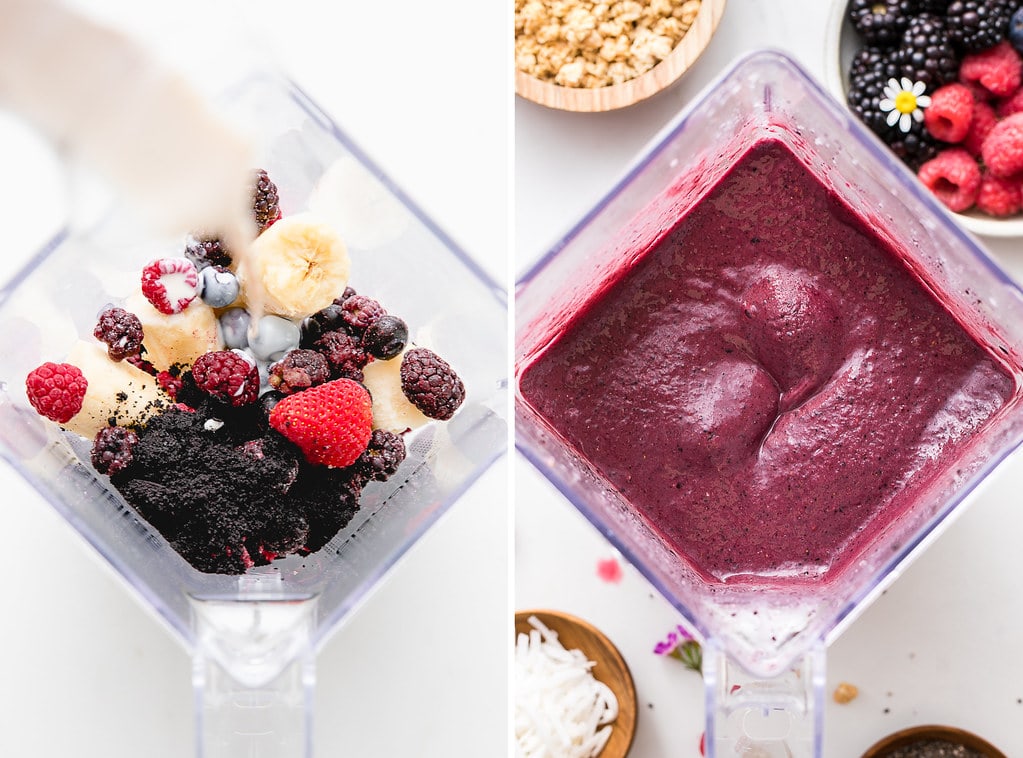 How To Make The Perfect Acai Bowl
To make the perfect acai bowl, follow these simple steps:
Gather your ingredients:
1 – 2 packs (100g each) of unsweetened frozen acai puree or 1 – 2 tablespoons of acai freeze-dried powder (Amazon)
1/2 to 1 cup of liquid (milk, almond milk, coconut water, or fruit juice)
1 small banana or 1/2 of a larger one, frozen (optional but recommended for creaminess)
1/2 – 1 cup of frozen mixed berries or other fruit (optional)
Sweetener of choice (vegan honey, agave syrup, or liquid stevia), to taste (optional)
Toppings: granola, nuts, chia seeds, coconut flakes, fresh fruit, cacao nibs, etc.
Thaw the acai puree:
Remove the acai puree from the freezer and let it sit at room temperature for a few minutes to soften slightly. You can also run the packs under warm water to thaw them more quickly.
Blend the base:
In a high-powered blender or food processor, combine the slightly softened acai puree, liquid, frozen banana, and any additional frozen fruit. Start with a smaller amount of liquid and add more as needed to achieve the desired consistency. Blend until smooth and creamy. You may need to pause and scrape down the sides of the blender to ensure even blending. Taste and add sweetener if desired, blending again to incorporate.
Assemble the bowl:
Pour the blended acai mixture into a bowl, using a spatula to scrape down the sides of the blender. The consistency should be thick and similar to a soft-serve ice cream.
Add your toppings:
Get creative with your toppings! Add granola, nuts, chia seeds, coconut flakes, fresh fruit, cacao nibs, a drizzle of honey or nut butter, or any other favorites. Arrange them on top of the acai base in an aesthetically pleasing manner.
Enjoy:
Grab a spoon and enjoy right away! The acai base can melt quickly, so it's best to eat it immediately after preparing.
Remember, the perfect acai bowl is subjective, so feel free to experiment with different ingredients and toppings to suit your personal preferences and dietary needs.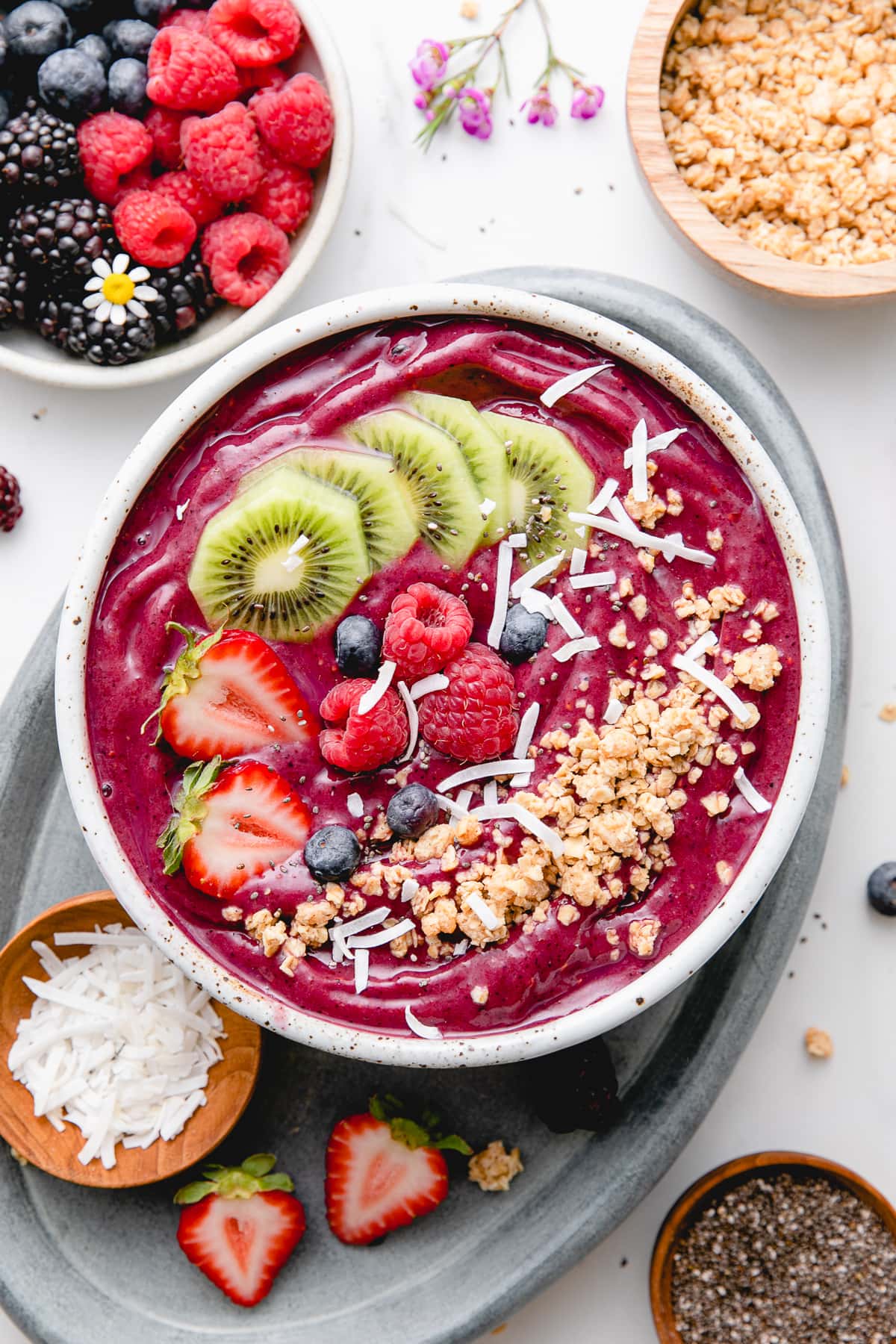 Tips For Success!
Use ripe bananas. When freezing bananas, make sure they are very ripe. That way, they will sweeten your smoothie so you won't need added sweeteners.
Serve right away. As with all smoothies, they are best eaten right after making.
Top to your heart's content. Add as much fruit as you like to your acai smoothie bowl. Just go easy on the granola if you're watching your refined sugar intake.
Have ingredients prepped ahead. Keep frozen banana slices and berries in the freezer. You can even portion the berries in freezer-safe ziplock bags that are ready to grab and use.
FAQ's
More Smoothie Recipes!
Whether in a bowl or in a glass, you can never have too many smoothie recipes! Take a look at these other vegan smoothie recipes, you may just find a new favorite.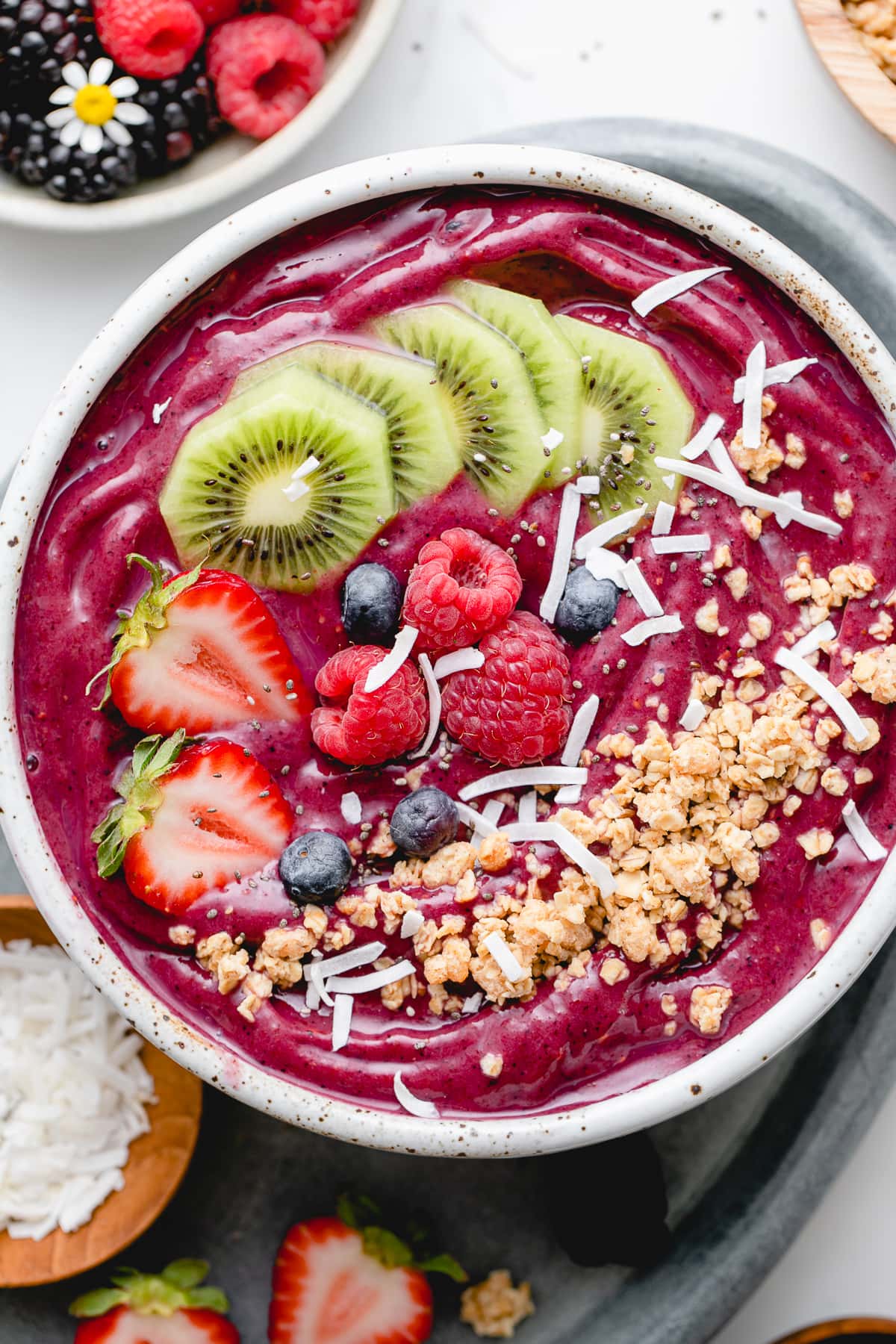 If you try this easy acai recipe, please let me know! Leave a comment and rate it below. I love to hear what you think, or any changes you make.
Print
Super Berry Acai Bowl
Rich in antioxidants, vitamins, and minerals, this quick and easy homemade acai bowl is a perfect way to lighten up and cool down!
Author: Julie | The Simple Veganista
Prep Time:

5 min

Total Time:

5 minutes

Yield:

Serves 1

Category:

Breakfast, Smoothie

Method:

blender

Cuisine:

Vegan
1 cup

frozen berry mix (any combo: blackberries, blueberries, strawberries, raspberries)

1

large banana (sliced and frozen)

1 tablespoon

acai berry powder or 1 packet frozen acai puree

3/4

–

1

cup unsweetened non-dairy milk or water, + more as needed

1 tablespoon

nut butter, optional for protein
Topping
mix of fresh berries and fruit
granola
toasted coconut flakes
chia seeds and/or hemp hearts
Instructions
In a blender, place the berries, banana, acai powder, optional protein source and water/milk. Blend until smooth. Add extra water if needed (most likely you won't need any).
Place in serving bowl and top with the suggested toppings or your favorite assortment.
Serves 1 large or 2 small
Notes
I love and recommend this acai berry powder from Terrasoul, purchased from Amazon (<affiliate link). You can find frozen acai berry packets for smoothie bowls at Target in the freezer section with the other frozen fruits.
Nutrition information is calculated without toppings.
Updated: This recipe was originally published in April 2016. It has been retested and updated with new photos and helpful tips in April 2021.
FOLLOW TSV on Facebook, Instagram, Pinterest, or RSS for more updates and inspiration!