SUPER SPINACH SALAD + CARROT MISO GINGER DRESSING
Super Spinach Salad features a colorful mix of veggies, quinoa, cranberries, and dressed with a delicious carrot miso ginger dressing for a healthy and nutritious vegan lunch or dinner!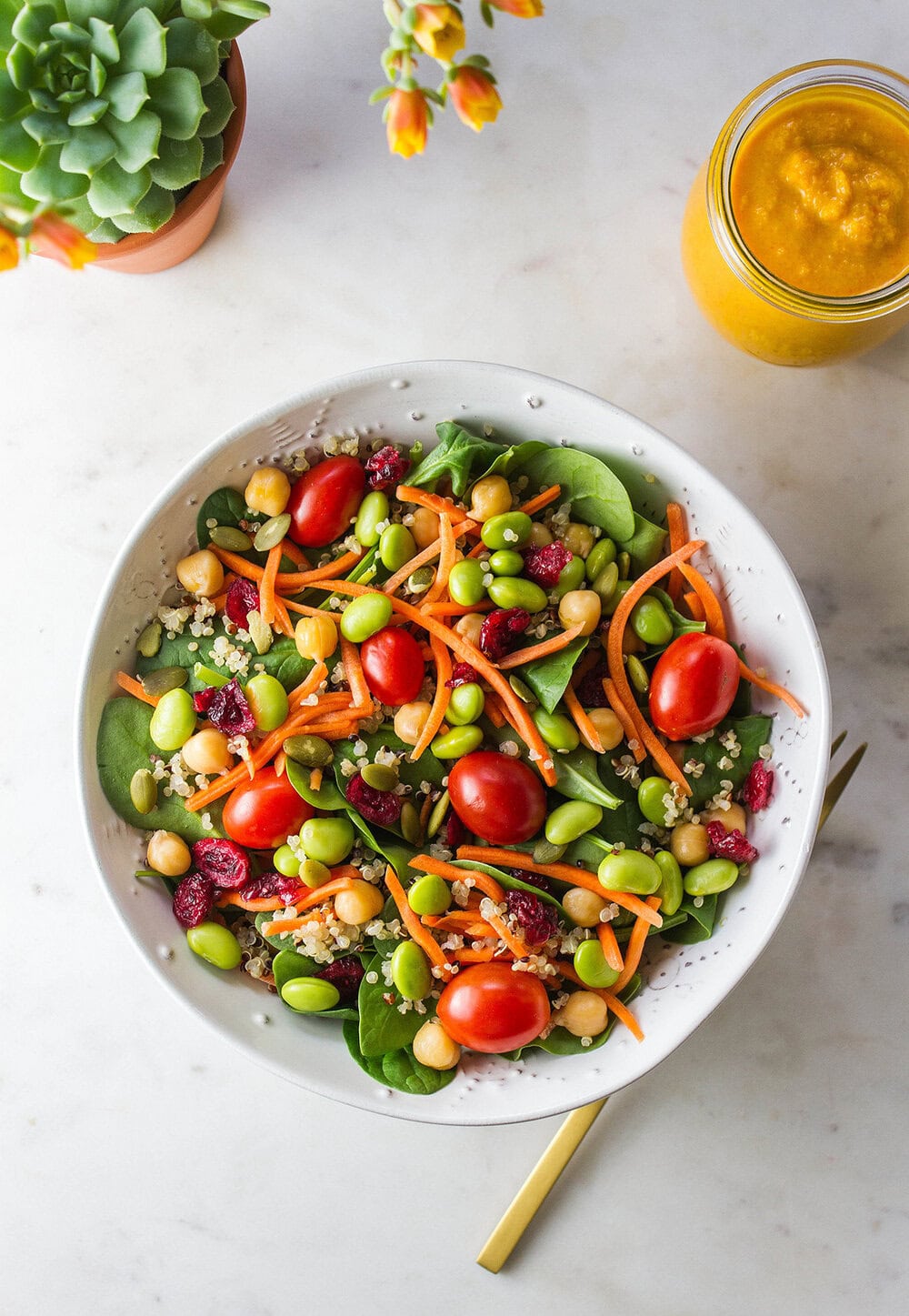 Calling all salad lovers! Today I'm sharing with you another Trader Joe's recipe redo/copycat. I love Trader Joe's! They have some of the best grab-n-go food and I can't help but add them to the recipe collection from time to time.
Currently, I am crushing on their 'Super Spinach Salad'. This salad vibrant and colorful – it's like eating the rainbow! It's also a healthy, well-balanced meal.
It starts with spinach, carrots and tomatoes for freshness. Then quinoa, chickpeas and edamame for protein. Toss in a little sweetness with dried cranberries and a sprinkle of pepitas for crunch.
Finally, dress it all up with a colorful carrot miso ginger dressing and you're in for a most interesting and delicious salad. It's seriously addicting!
And if you love Trader Joe's as well, you may also like to take a look at the other recipes I've recreated.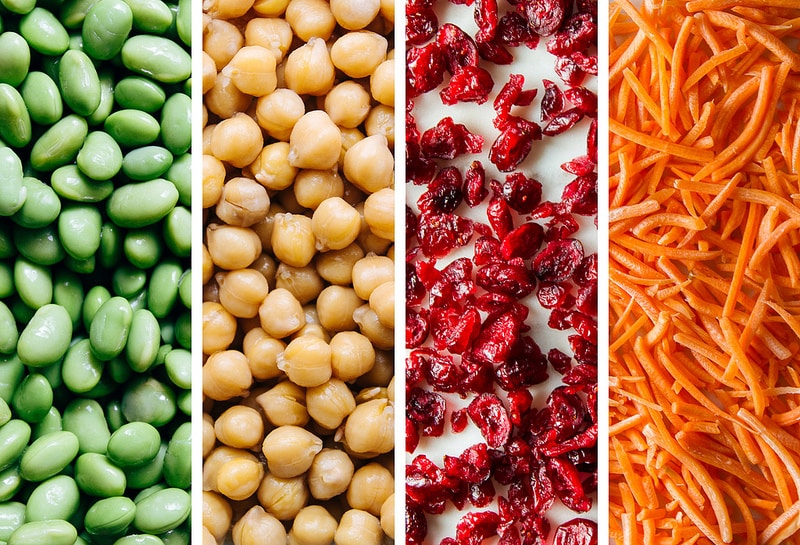 Vibrant colors and delicious flavors!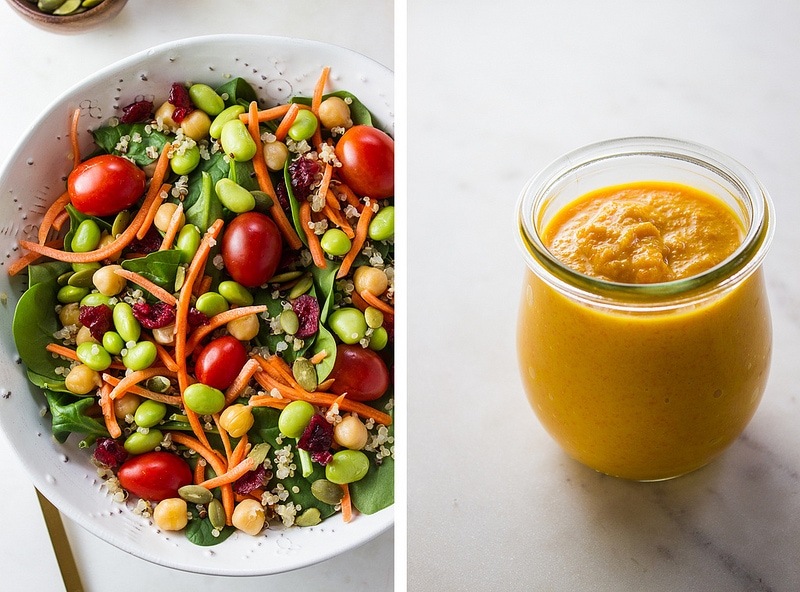 Super Spinach Salad
The Salad: I've done my best to recreate the original salad by using the same salad ingredients. Everything works together so well that I didn't want to change it up, but you can add or subtract whatever you like. The amounts called for in the salad don't have to be exact. And if you only have only one bean available, edamame or chickpeas, either will work just fine. Sub in golden raisins for cranberries if that works better for you, but do add either of them as they are delicious in the salad.
The Dressing: The dressing was a little trickier but with a few tries I think I came up with a pretty darn good version. In fact, it's just about perfect in my book! I used a recipe from the NYTimes as my guide. There are many layers, from the nutty and bold toasted sesame oil to the slight zestiness of the ginger & vinegar, and of course the miso with it's own unique flavor. The dressing is what really makes this salad both interesting and amazing! Even if these flavors are new to you, I think you'll love it as much as I do. I also imagine this dressing pairing well with a simple green salad topped with carrots, cucumbers, edamame/chickpeas and toasted sesame seeds. Simple perfection!
Once your salad is put together, top with the dressing and give a good toss. Wholesome, vibrant and delicious, it's my kind of wonderful!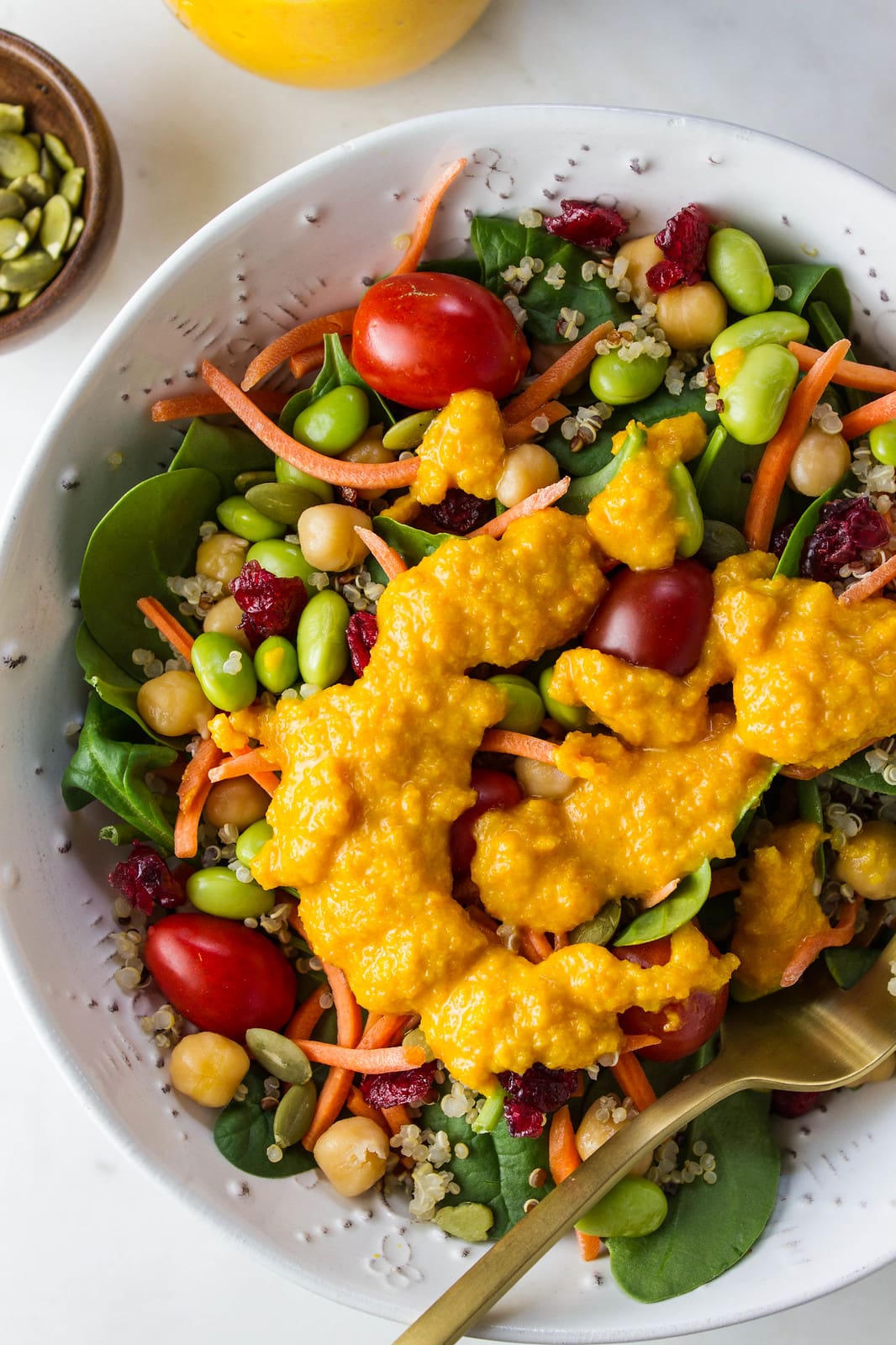 Print
SUPER SPINACH SALAD + CARROT MISO GINGER DRESSING
Add a little color to your day with this Super Spinach Salad silled with wholesome goodness like quinoa, chickpeas, edamame, carrots, cranberries and topped with a flavorful creamy dressing!
Salad
6

–

8

oz. baby spinach

3/4 cup

cooked quinoa

3/4 cup

shredded carrots

3/4 cup

edamame

3/4 cup

chickpeas

1/3 cup

dried cranberries

1/4 cup

pepitas (pumpkin seeds)

8 oz

. grape/cherry tomatoes
Carrot Miso Ginger Dressing
1/4

cup neutral oil (grapeseed, peanut or light flavored olive oil)

3 tablespoons

mellow or sweet miso (yellow or white)

1 tablespoon

dark/toasted sesame oil

2 tablespoons

rice wine vinegar

2 teaspoons

pure maple syrup

2

large carrots, roughly chopped or

1 cup

grated

1

inch piece ginger, peeled and minced
water, as needed to thin
Instructions
Dressing: Place ingredients into a food processor/personal blender and pulse a few times to mince carrots. Scrap down the sides. Blend again until smooth, stopping to scrap down the sides as needed. Taste for flavor adding anything extra you like. For more zestiness, add more vinegar. To thin, add water instead of extra oil, a couple tablespoons should do the trick. To thicken, add more carrots or miso paste.
Serve: Place a large handful of spinach in your serving bowl, top with quinoa, carrots, edamame, chickpeas, cranberries, pepitas and tomatoes. Add the dressing over top. Either enjoy as is or give the salad a good toss.
Serves 3
Store any leftover dressing in an air tight container in the refrigerator for up to 5 – 6 days. Dressing can be made ahead of time.
Notes
Try using less less oil when preparing the dressing. When adding the neutral oil, use 2 – 3 tablespoon and 1 – 2 tablespoons water, any ratio that equals about 1/4 cup.
If you only have seasoned rice vinegar on hand, omit the maple syrup.
If you don't have both edamame and chickpeas, use one or the other but do make sure the amount is equal to 1 cup.
FOLLOW TSV on Facebook, Instagram, Pinterest, or RSS for more updates and inspiration!