Apple & Coconut Bacon Salad
Vegan Apple + Bacon Salad is a wonderful mix of sweet and savory flavors with a delicious ginger peanut dressing for a healthy lunch or dinner!
As a salad lover, I'm always looking for new ways to dress them up and simplicity is always a plus!
I threw this healthy, vegan Apple & Coconut Bacon Salad together after making a batch of this Coconut Bacon from the archives.
This salad is so easy to make, featuring fresh apples, sweet raisins, smokey vegan bacon, and a creamy ginger peanut dressing.
It may seem like a strange combination with the peanut dressing, but let me tell you, it's absolutely delicious!
Plus, it's a well-balanced recipe, making for a nicely rounded meal full of plant-based protein, healthy fiber, and essential vitamins and minerals!
Apple & Coconut Bacon Salad Ingredients
Fresh crisp apples and flavorful coconut bacon make great additions to salads!
Here are a few key ingredient notes:
Apple – Feel free to use your favorite apples. Mine happens to be Fuji, but you may prefer tart green apples or other red varieties.
Vegan bacon – I used my homemade coconut bacon, but you can also purchase it (see notes). Alternatively, use other plant-based bacon such as shitake bacon or crumbled tempeh bacon.
Leafy Greens – Use your favorite leafy greens. I chose a 50/50 spring mix, but arugula, spinach, baby kale, oak lettuce, or any mix of these would be great!
Peanut dressing – The addition of the peanut dressing will give you a good dose of protein (about 8 grams) and some delicious creaminess at the same time. I used ginger powder since it was on hand, but freshly grated ginger is ideal for maximum ginger flavor. Those with nut allergies can use sun butter or tahini in place of peanut or almond butter.
Extras – I like to add raisins and slivered almonds for extra texture and flavor.
How To Make Apple & Bacon Salad
Making this sweet and savory salad is easy as can be!
Start with making the dressing first. In a small bowl or jar, whisk together the almond butter, apple cider vinegar, pure maple syrup, ginger, garlic powder, salt, and water. Set aside.
Slice up the apples, either dicing them into small cubes or slicing them thinly.
Assemble your salad by adding leafy greens to a serving bowl and layer with the apples, vegan bacon, almonds, and currants.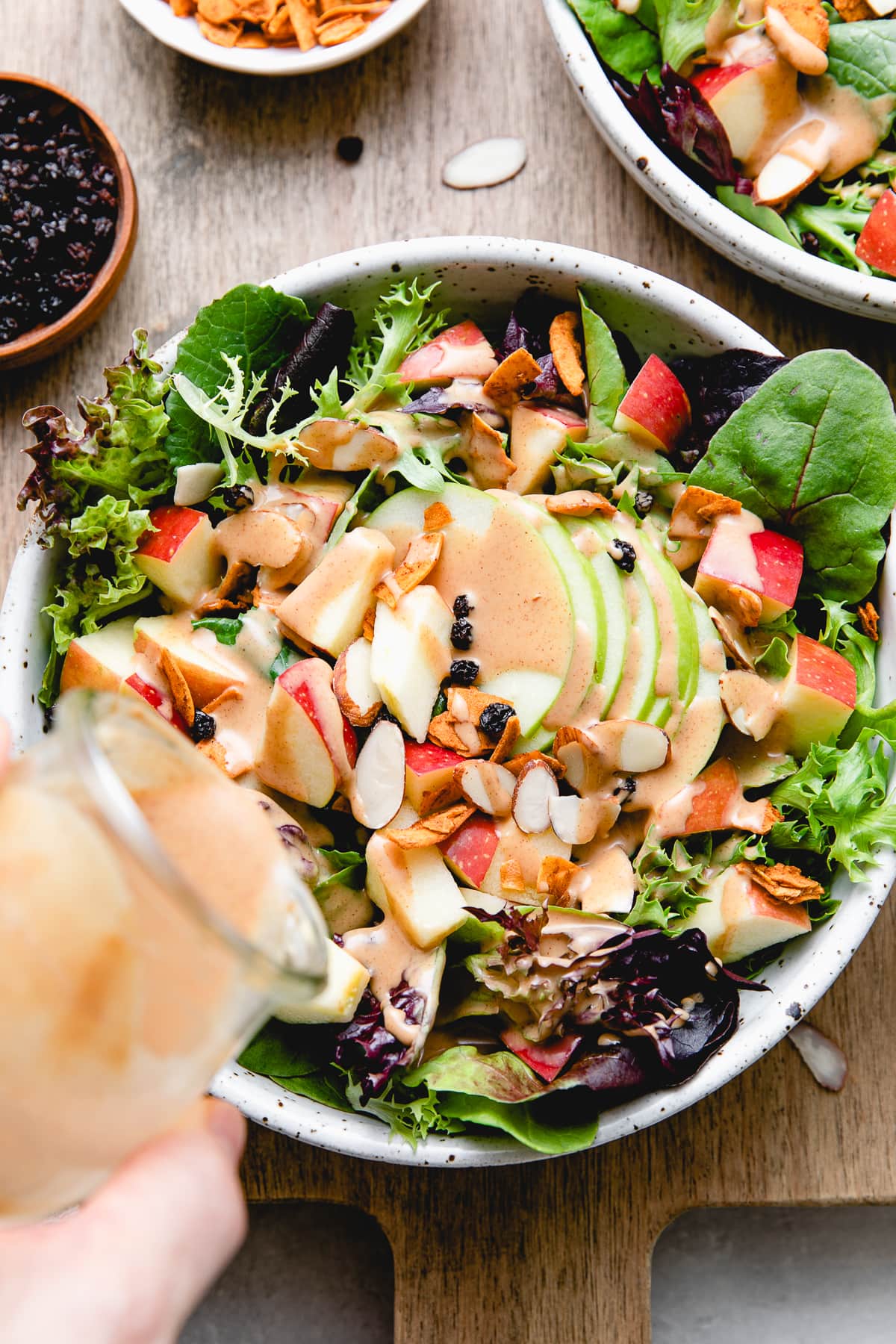 Lastly, drizzle the dressing over the top.
And now you're ready to enjoy!
Grab whatever ingredients make you happiest or have on hand and give it a go. Happy repeat salad days ahead!
It's a delicious and addicting combination!
Adjusting For Dietary Restrictions
Nut Allergies: Sub with sunflower butter or tahini. Opt to use sunflower seeds or pepitas in place of almonds.
How To Store
If you're planning on making this salad for meal prep or have leftovers, here are a few suggestions for storing.
Salad: The salad can be assembled and stored in the refrigerator for up to 4 days. If storing for more than a day, I suggest tossing the apple slices in lemon juice so they don't oxidize and turn brown during storage.
Dressing: The peanut dressing can be stored in the refrigerator for up to 5 days. Give a good stir before using. You can easily double the recipe for multiple salads. I recommend storing the salad and dressing separately until ready to serve if meal prepping.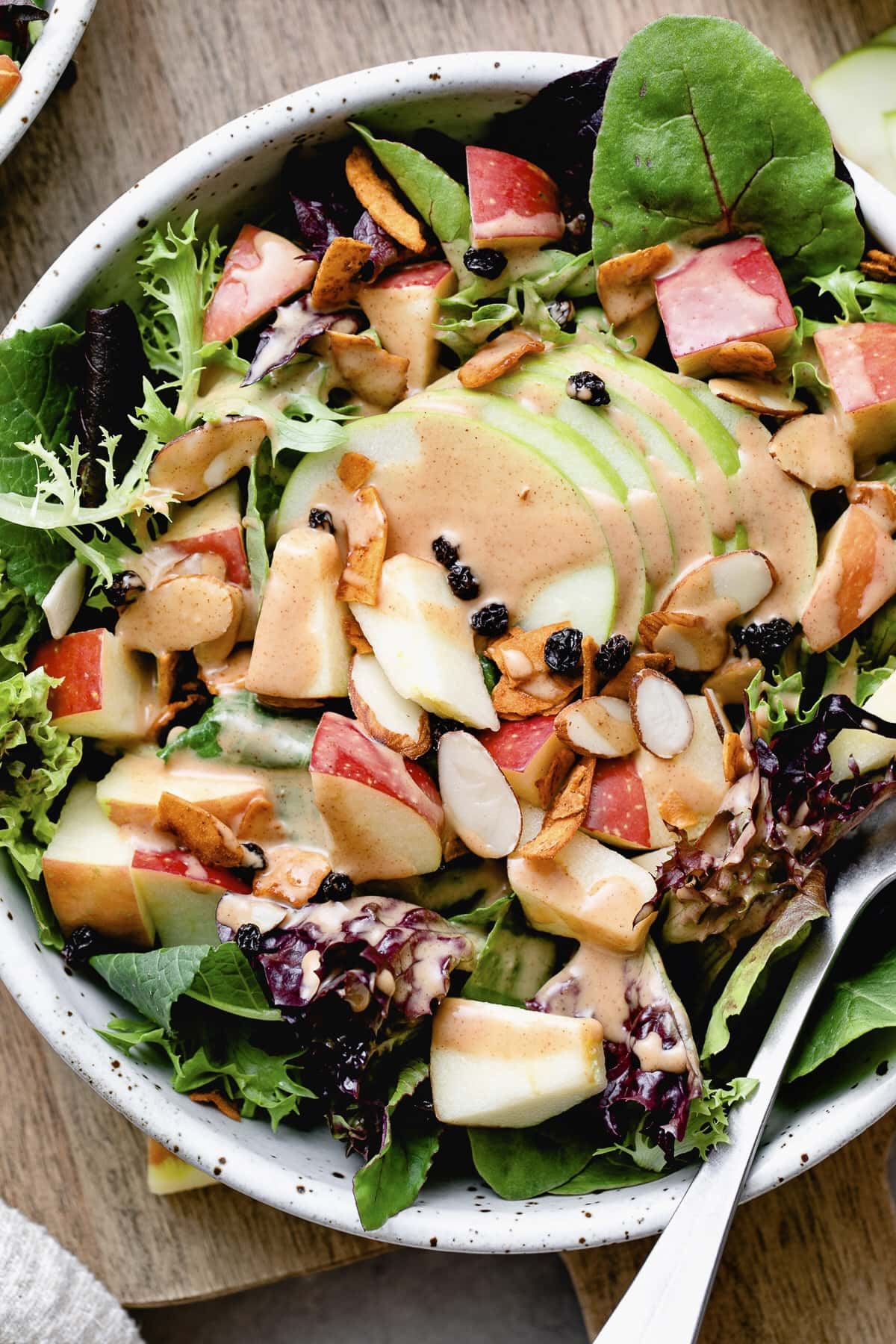 More Healthy Green Salads!
If you try this easy salad recipe or have a question, please let me know! Leave a comment and rate it below. I love to hear what you think, or any changes you make.
Print
Apple & Coconut Bacon Salad
A scrumptious salad with fresh apples, sweet raisins, smokey coconut bacon and a creamy ginger peanut dressing!
1

Fuji apple (use your favorite apple), cored and diced

1/4

cup

coconut bacon

1

– 2 tablespoons currants or raisins

1

–

2

tablespoons slivered almonds (pumpkin, sunflower seeds or hemp hearts would be great too)
favorite salad mix
Ginger Peanut Dressing
2

rounded tablespoons natural peanut butter or almond butter

1 tablespoon

apple cider or rice wine vinegar

2 teaspoons

pure maple syrup

1/4 teaspoon

garlic powder

1/8 teaspoon

ginger powder or

1/4 teaspoon

fresh grated
pinch of mineral salt

2 tablespoons

water, plus more as needed to thin
Instructions
Dressing: In a small bowl, mix together the dressing ingredients. Add water, a teaspoon or two at a time, as needed to create desired consistency. Taste for flavor adjusting as needed. If dressing becomes to thin, add a bit more peanut butter to thicken. Set aside.
Salad: Create your salad by adding a few large handfuls of salad mix to your serving bowl—top with diced apple, handful of coconut bacon, currents and slivered almonds. Drizzle ginger peanut dressing over top and enjoy.
Serves 1
Notes
Adjusting salt and sugar: I used raw almond butter for the dressing. If using other nut butter containing salts and sugars, you may not need as much maple syrup or a pinch of salt – just something to consider.
Packaged coconut bacon: Don't feel like making coconut bacon, you can purchase pre-packaged from Phoney Baloneys. It's delicious! Look for it at your local grocery store or order online from participating retailers.
Nut-free option: If you have nut allergies, try using tahini in place of the nut butter.
Updated: Vegan Apple Bacon Salad was originally published in May 2015. It has been retested and updated with new photos and helpful tips in May 2021.
FOLLOW TSV on Facebook, Instagram, Pinterest, or RSS for more updates and inspiration!