Toasted Tofu + Avocado Sandwich
Toasted Avocado-Tofu Sandwich features pan-seared tofu, sauteed onions, and creamy avocado with leafy greens and dijon for a wonderfully hearty & healthy vegan sandwich that I think you're going to love!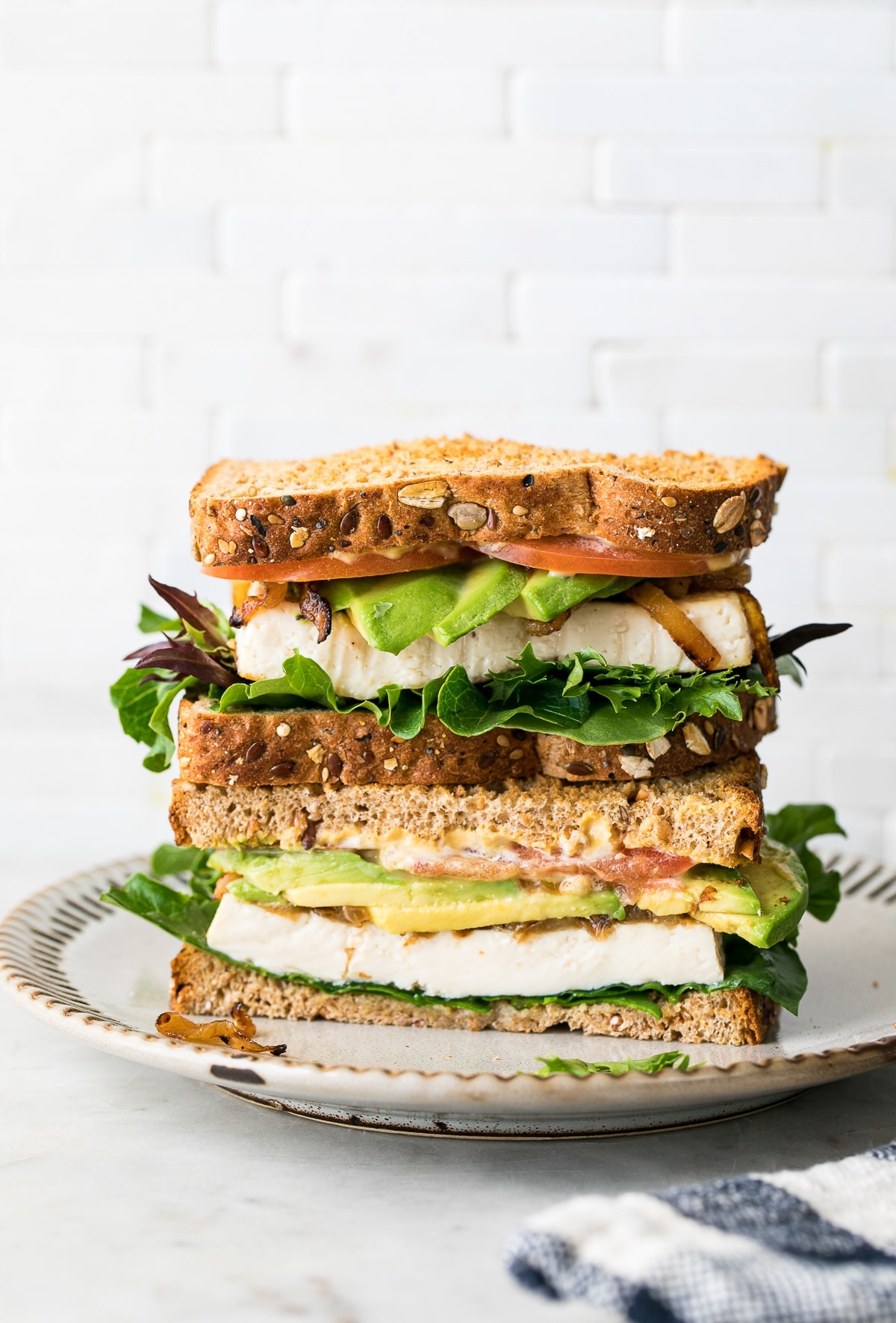 This tasty sandwich came about as my plant based version of an avocado and egg sandwich.
I find plain cooked tofu and egg whites resemble each other in texture and flavor. And if you enjoy egg whites, you should take to this tofu sandwich with no trouble at all!
The tofu is prepared as simple as possible since that's what you generally do with egg whites. The only ingredients added are garlic powder, salt, and pepper during cooking to give a slight flavor.
And frankly, once the sandwich is complete, that's all it needs. Cooking the tofu on a hot griddle or skillet will sear it, giving the tofu a light golden color.
To add even more flavor, I've added flavorful sauteed onions. I have a thing for them lately, and they never disappoint! If you're not a fan of onions, feel free to leave them out.
A Protein Rich Sandwich
This sandwich is loaded with protein not only from the tofu but also from the bread I used.
Bread. At the moment I'm loving Dave's Killer Bread. Two slices of this bread gives me 10 grams of protein and 10 grams of fiber. That's pretty amazing in itself.
Tofu. The tofu will add another 15 grams boosting the protein content of this sandwich to 25 grams. That's slightly more than half of the day's recommended amount for the average adult female and slightly less for males.
All in all, it's a well-balanced sandwich I could every day!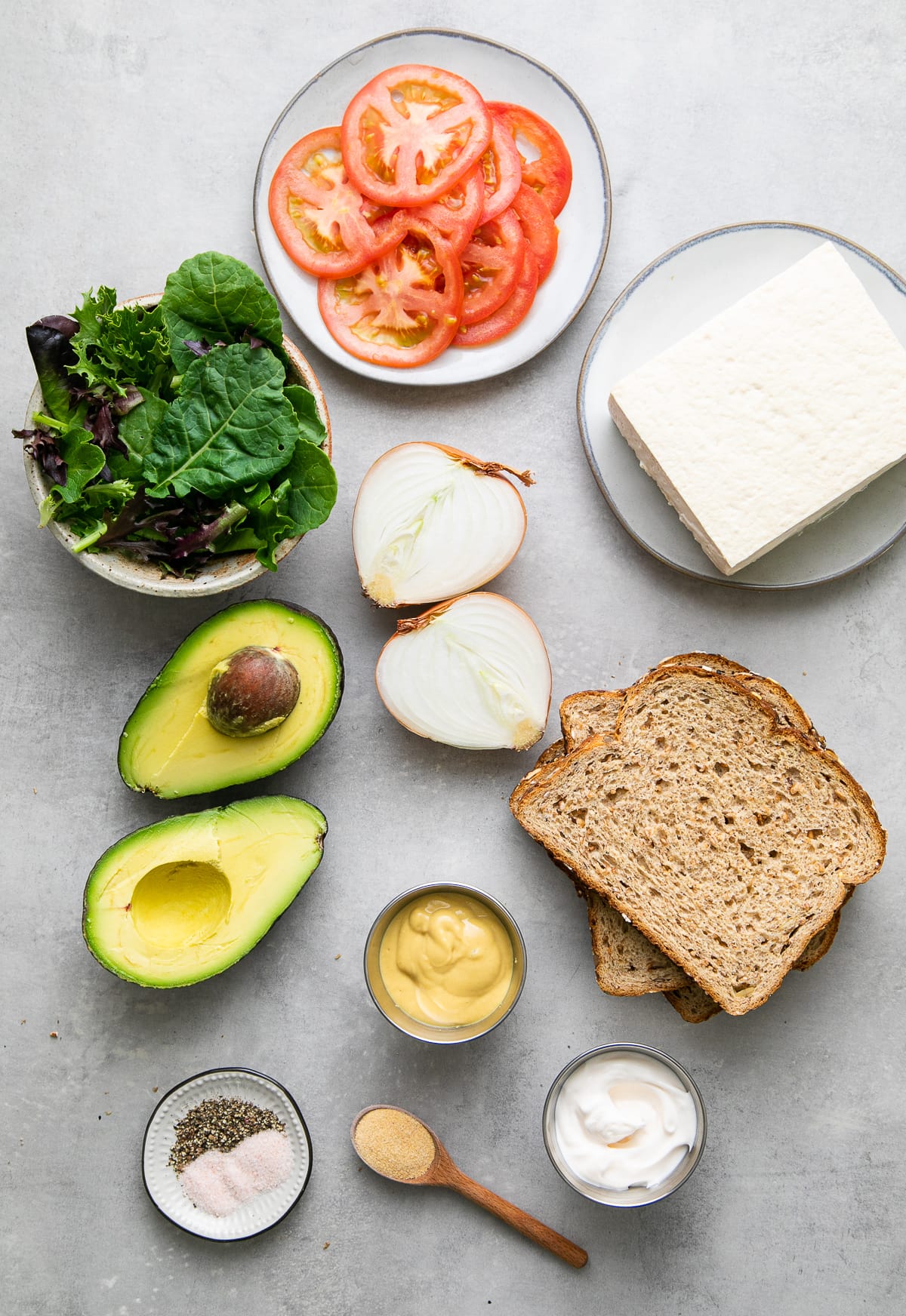 Avocado Tofu Sandwich Ingredients
In this recipe, onions are sauteed, and tofu is pan-seared, then the sandwich is built on your favorite bread with sliced avocado, leafy greens, and spreads of choice.
Here is everything you'll need, plus substitution ideas:
Tofu – use extra firm or high protein, pref organic
Avocado
Onion – white, brown, even red onion will work fine
Tomato
Leafy greens – use your favorite
Dijon and/or vegan mayo
Garlic powder
Salt + pepper
Bread – I used Dave's Killer Bread (green label), use your favorite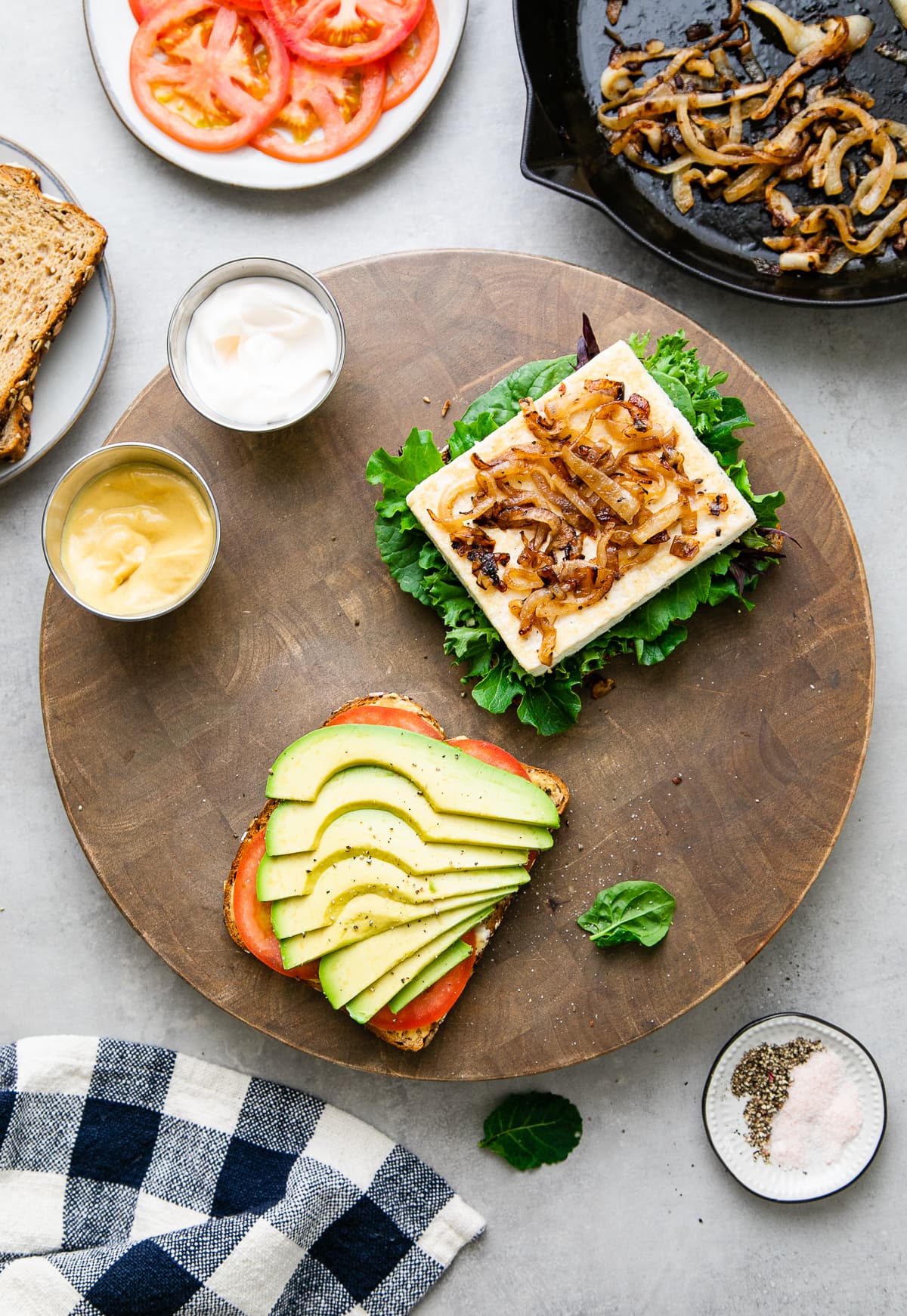 How To Make Tofu Avocado Sandwich
Drain the tofu. Cut into thirds, creating slabs.
Pan sear the tofu over medium heat.
Slice the onions, saute over low heat until brown and soft, about 15 minutes.
Toast the bread, or leave untoasted.
Layer one side of bread with mayo, mustard, tomatoes and avocado. Layer the other side with leafy greens, tofu and sauteed onions. Top with salt + pepper.
Put sliced together, slice in half and enjoy!
And now you're ready to enjoy this easy to make and flavorful Toasted Avocado-Tofu Sandwich!
For all those tofu nay-sayers out there, give this one a try. You just may fall in love!
Top Tips
You can skip the sauteed onions, using thinly sliced red onion.
This sandwich is great with a spicy habanero mustard!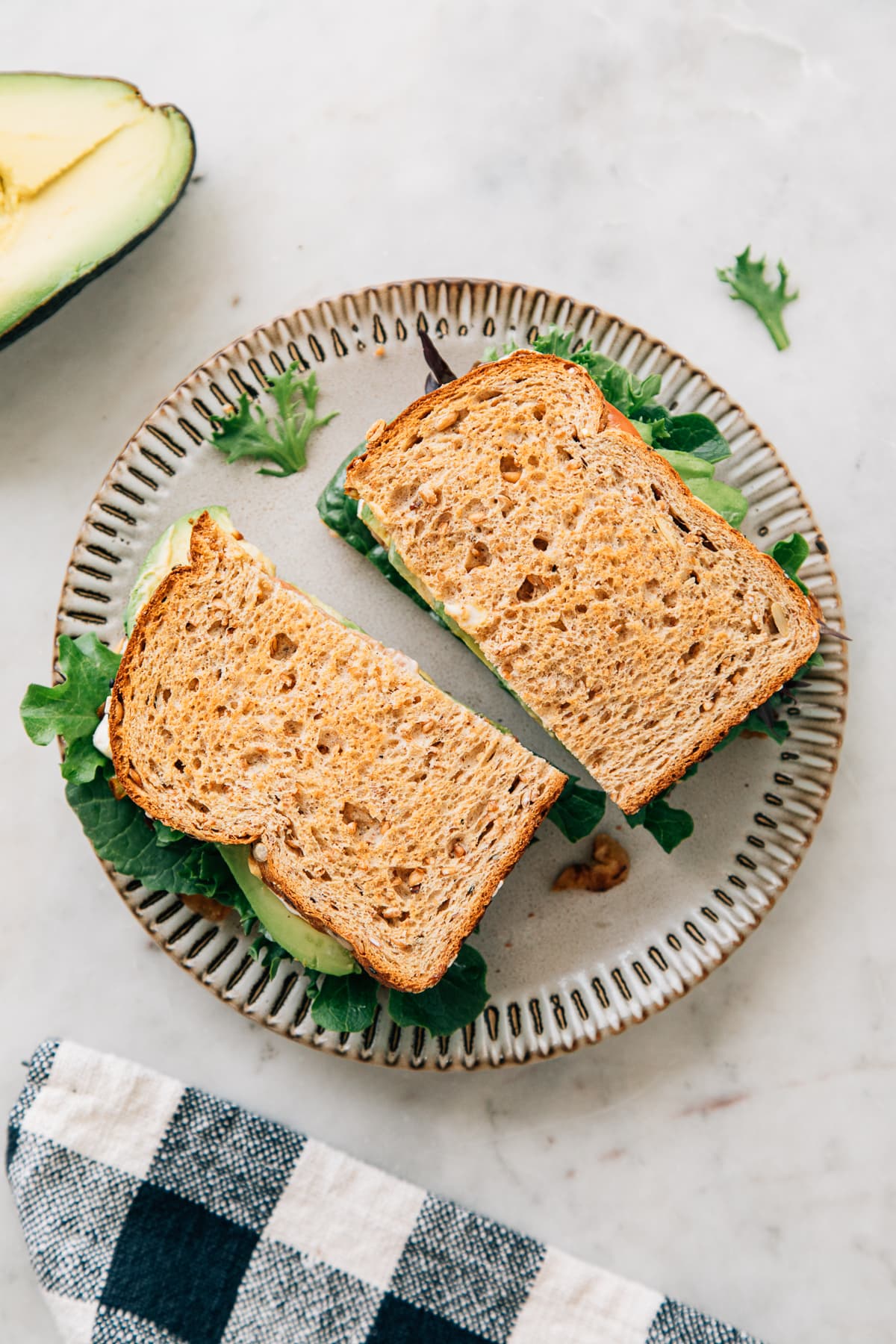 More Easy Sandwich Recipes!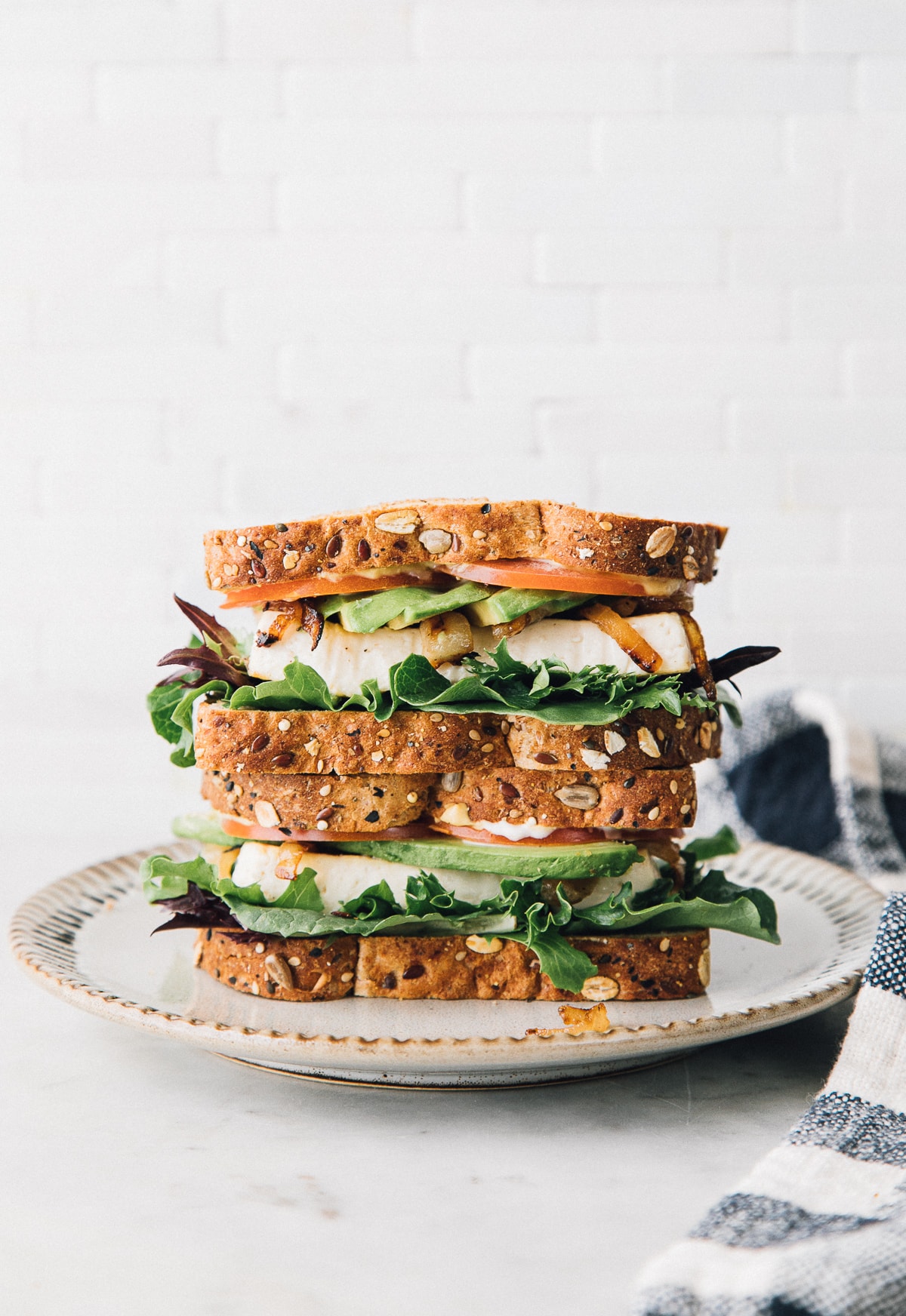 If you try this tofu avocado sandwich recipe, please let us know! Leave a comment and rate it below. I love to hear what you think, or any changes you make.
Print
TOASTED AVOCADO-TOFU SANDWICH + SAUTEED ONIONS
This Toasted Avocado Tofu Sandwich is my substitute for an egg & avocado sandwich. It's works for me, especially with the sauteed onions, and I hope you find it's good for you too!
Author: Julie | The Simple Veganista
Prep Time:

10 min

Cook Time:

10 min

Total Time:

20 minutes

Yield:

Serves 3

Category:

Entree, Sandwich

Method:

sear, saute

Cuisine:

American

Diet:

Vegan
14

–

16

oz tofu (extra firm, firm or high protein)

2 tablespoons

olive or grapeseed oil, divided
garlic powder
mineral salt
fresh cracked pepper

1

onion, thinly sliced

1

tomato, thinly sliced, optional

1

–

2

medium avocados

6

slices bread of choice
leafy greens of choice
favorite mustard or vegan mayo, to spread
Instructions
Slice and press tofu: Remove tofu from package, turn on it's side and carefully slice into 3 slabs. Place slabs between 2 clean dishcloths or towels, lay a heavy object over top to press out excess moisture. I used my large cutting board but a heavy cookbook will do the job too. Let set under pressure for about 10 minutes.
Saute onions: Peel and cut the ends off the onion, lay onion cut side down and cut in half. Slice onion into thin strips, about 1/8 – 1/4 inch. Heat 1 tablespoon oil in a skillet or medium size pan over medium heat. Add onions and cook, stirring frequently, until golden and browned on the edges, about 10 minutes. Remove from pan and set aside. If you happen to leave your onions in the pan take note that they may continue cooking from the heat of the pan, pay close attention so they don't burn too much.
Pan-fry tofu: Heat 1 tablespoon oil over medium-high heat in a cast iron skillet or pan. Add tofu and cook without touching for about 4 – 5 minutes per side, or until golden brown. Sprinkle with salt and garlic powder after the first flip.
Prepare bread & avocado: Toast your bread, or not, and slice your avocado. You may even prefer to mash your avocado right in its shell with the back of a fork and spread like butter. I find I use the latter method most often.
Assemble: Layer your sandwich as you like. I layered mine from bottom to top with mustard (dijon and habanero mix), leafy greens, tofu, sauteed onions, salt & pepper, avocado and more mustard. Every bite was so delicious!
Serves 3
Notes
I suggest using only non-gmo, pref. organic, tofu. Tofu is very inexpensive and non-gmo/organic tofu is only a few cents more. Make the splurge!
The addition of sliced tomato on the sandwich is delicious but here I chose to eat them separately.
Nutritional values are estimates only. See our full nutrition disclosure here.
Updated: Toasted Avocado Tofu Sandwich recipe was originally published in May 2015. It has been retested and updated with new photos and helpful tips in June 2020.
FOLLOW TSV on Facebook, Instagram, Pinterest, or RSS for more updates and inspiration!