EASY SPICY MAC-N-CHEESE (VEGAN)
Easy Spicy Mac and Cheese is a crowd-pleasing favorite that all types of eaters enjoy! Made with only 8 ingredients and ready in 20 minutes, this easy vegan mac and cheese recipe is perfect for a quick and healthy meal.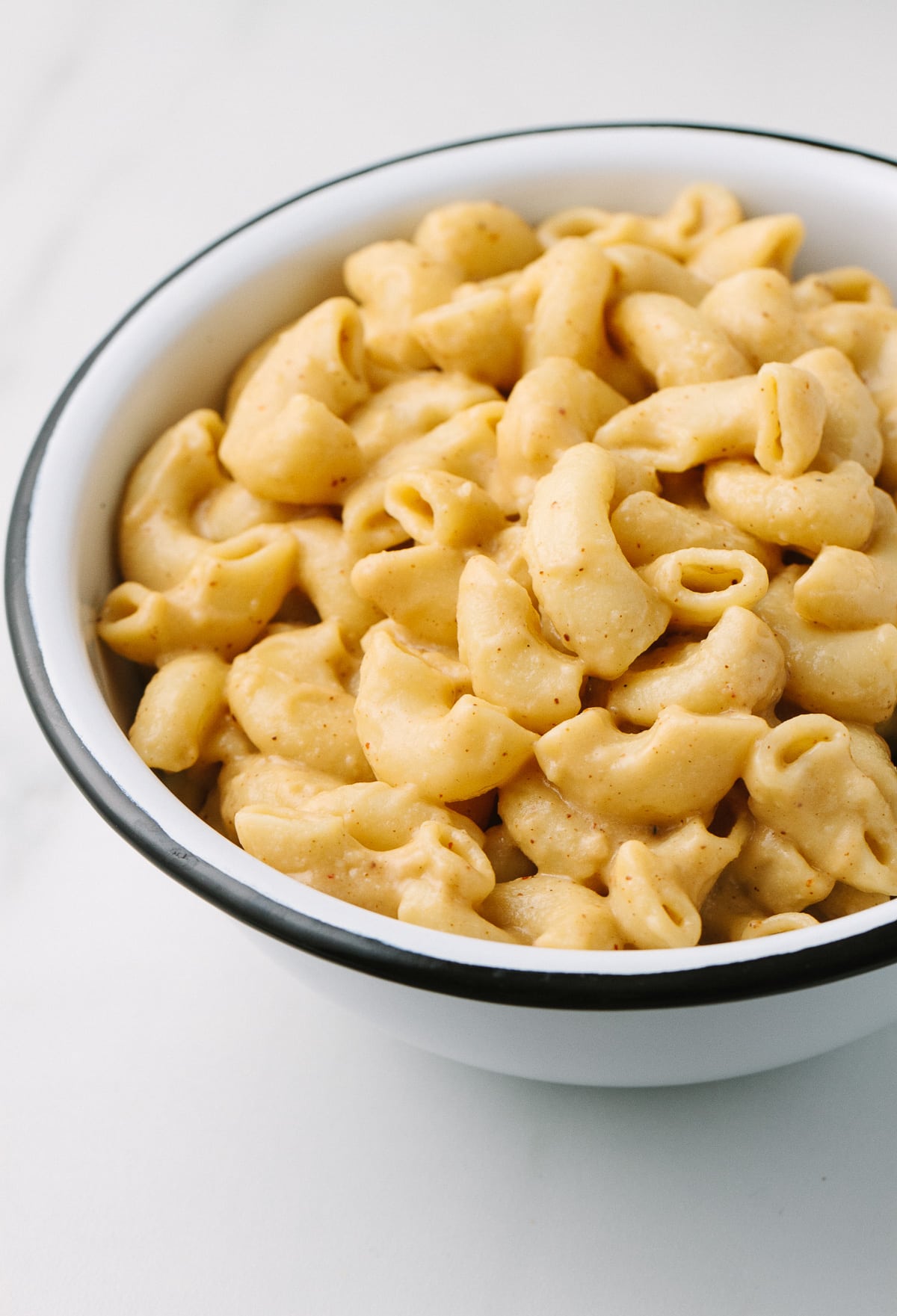 No frills here, just a simple vegan mac n' cheese with a kick. This is seriously the easiest recipe ever using only pantry staples and resulting in a creamy, cheesy-ish macaroni!
This is my second mac & cheese recipe to date. My other one, Vegan Mac and Cheese Bake, is supreme to any others I have tried and is an easy cashew based recipe.
But, I don't always want to use the high fat nut-based recipes. So in comes this new easy vegan mac and cheese recipe which is simply made from non-dairy milk, a little oil, flour, nutritional yeast and a few spices.
It's delicious and ready in a quick 20 minutes. Plus, the recipe can easily be doubled and is great for weekly meal prep!
I can see this version being made again and again in my kitchen, adding steamed or roasted vegetables for variety. It hits the spot completely and I think you'll agree!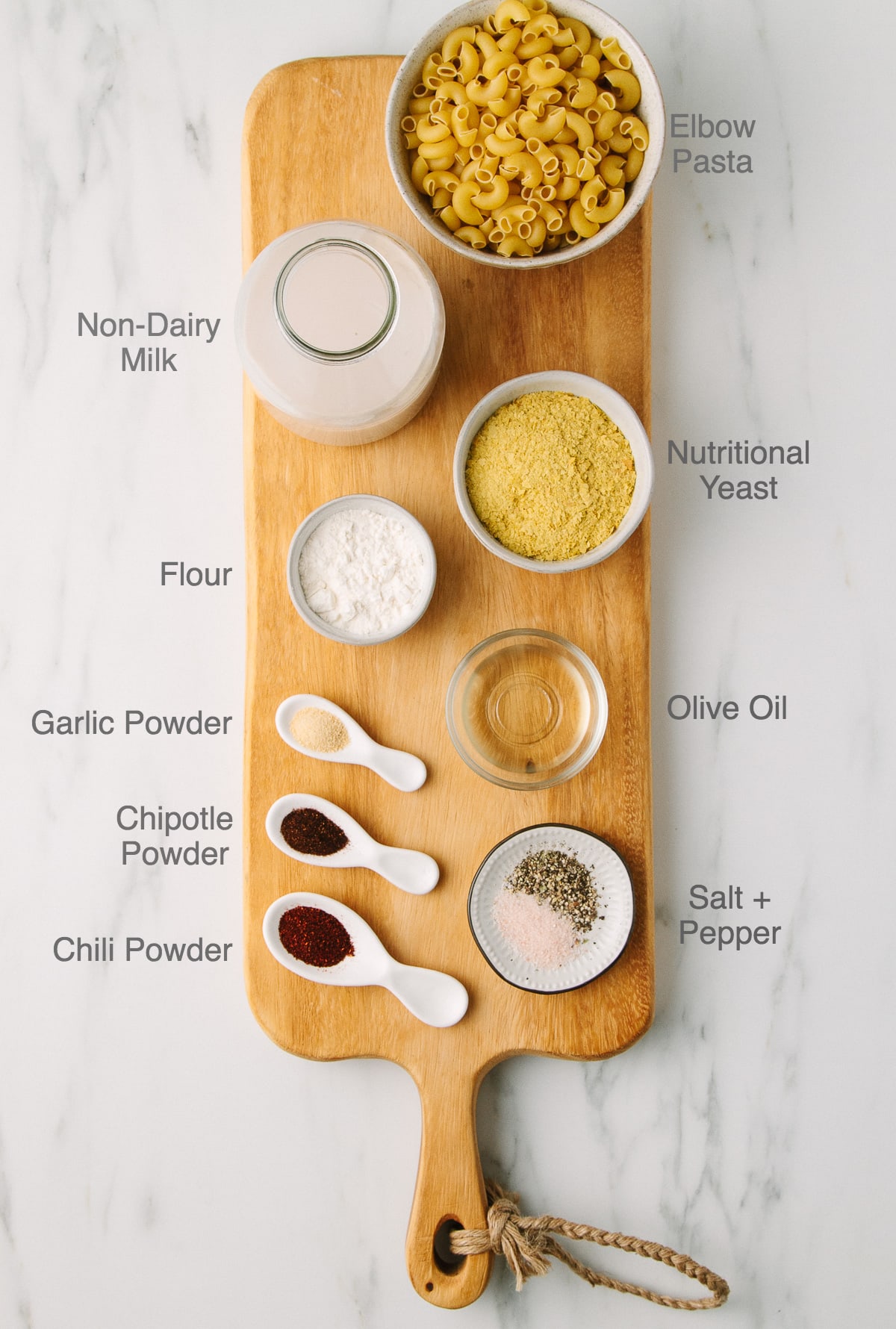 Ingredients You'll Need
Using these key ingredients will give this mac n' cheese lot's of flavor! Plus, you'll find ideas for varying the ingredients to suit your needs.
Pasta – Any small pasta will do. You can even toss it with noodles for a change!
Non-dairy milk – I used almond milk for mine, but you can opt for your favorite nut free, non-dairy milk instead to make this nut free.
Nutritional Yeast – Nutritional yeast, aka 'nooch' or 'savoury yeast flakes', has a savory/umami characteristic. With its nutty, cheesy flavor, that's an acquired taste, it's great for mimicking cheese flavored dishes. It's a great addition to your plant-based diet! For starters, it's a complete protein containing 9 grams of protein per serving, 2 tablespoons. It's also low in fat and sodium, and contains B vitamins. Some brands are fortified with B-12, like this Now (<affiliate link), so be sure to seek out those brands.
Spices – This is a spicy mac and cheese, but not overly so, calling for just a little chili and chipotle powder for a little heat and flavor. Feel free to omit the chili spices, using just garlic powder, for a milder flavor.
Oil – I used olive oil, but you can use your favorite neutral flavored oil.
Flour – All-purpose, spelt, gluten free flour blend or rice flour will all work well.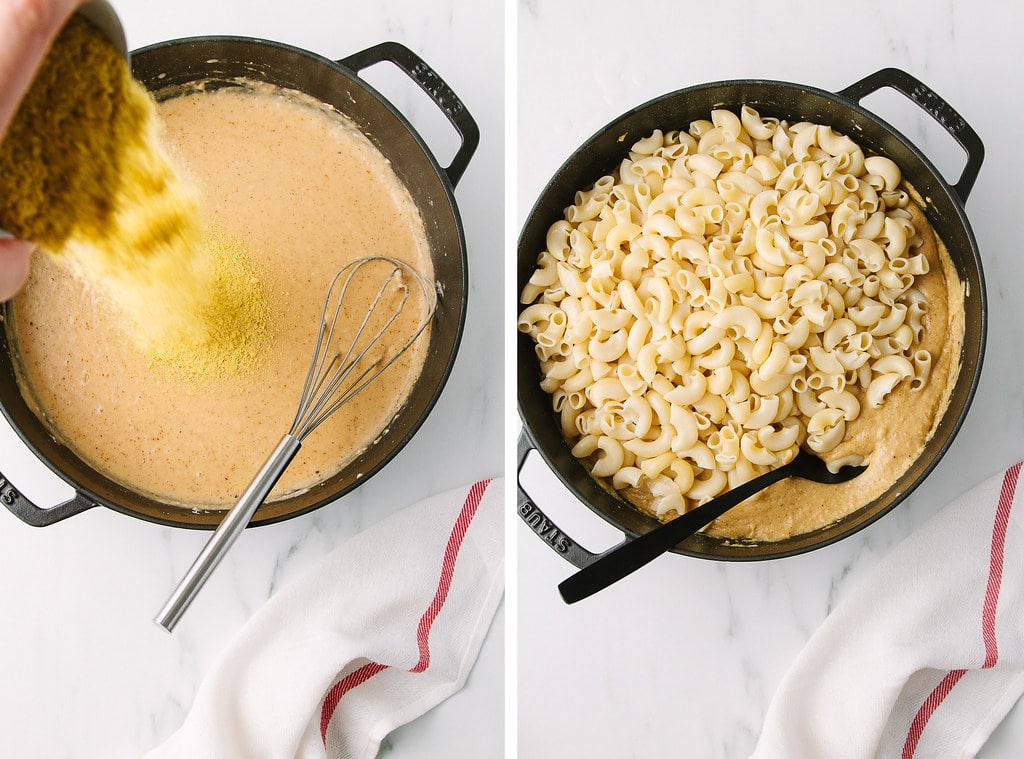 How To Make Vegan Mac and Cheese with Nutritional Yeast
Cook your pasta according to package directions.
Next, make the roux by heating the oil over medium heat, add the flour and whisk until flour is dissolved. Slowly add in the the almond milk, continuously whisking, until mixture thickens. Feel free to add in the spices, once it starts to thicken.
Remove from heat, stir in the nutritional yeast. I prefer to add the nutritional yeast at the end so it doesn't lose any of the nutritional benefits.
Add the pasta and cheese sauce together, mix well to coat. Taste for seasoning.
This is an easy, versatile mac n' cheese that will win hearts!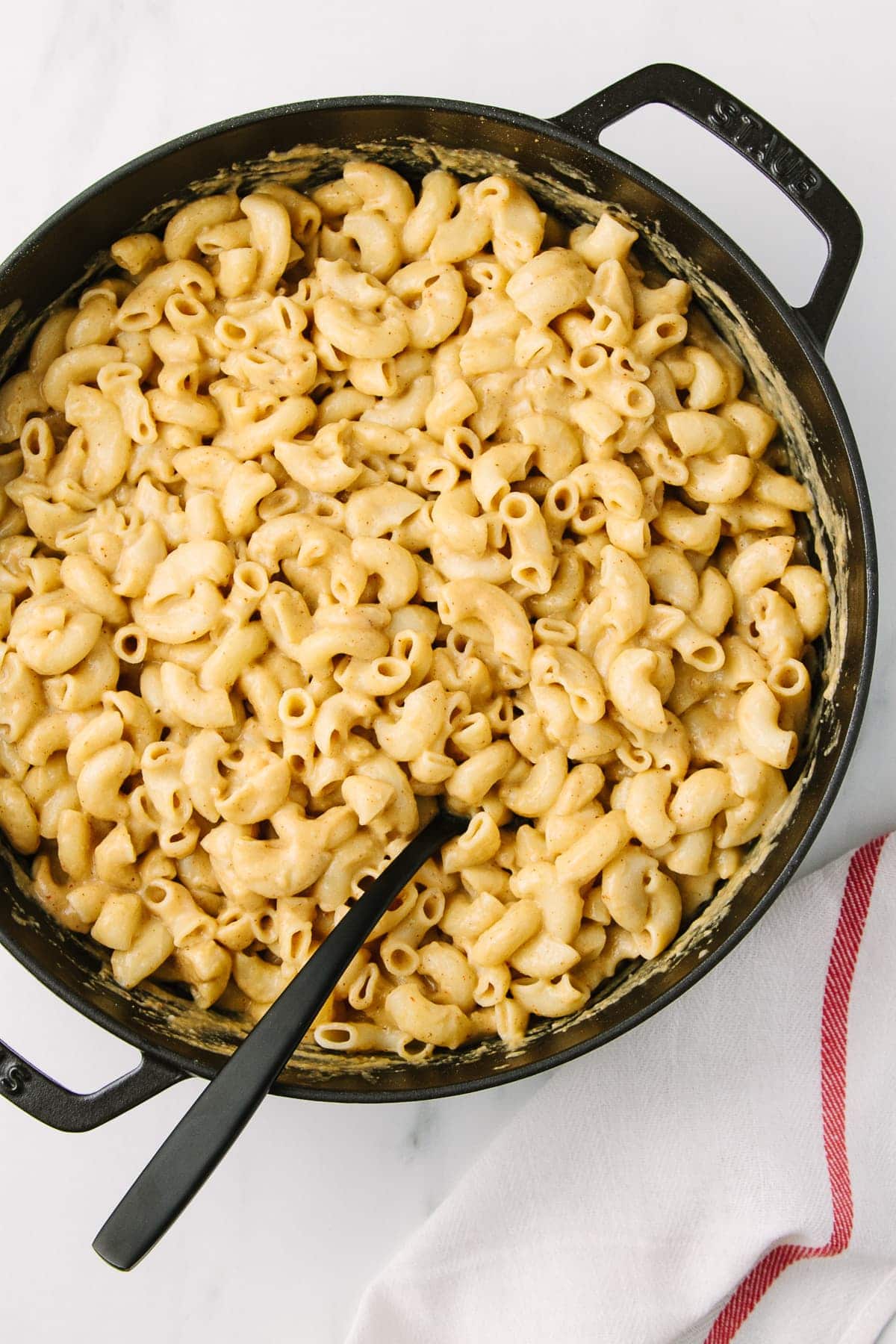 How To Store Leftovers
Refrigerator: Leftovers can be stored in the refrigerator for up to 5 days.
Freezer: This mac and cheese is freezer friendly and will last 2 – 3 months stored in freezer safe containers (affiliate link). Let thaw in the fridge, or bake from frozen.
How To Reheat Mac n cheese
Stovetop: Warm on the stovetop over low heat, adding a splash of non-dairy milk or water to bring back its creaminess.
Microwave: Using 30 seconds intervals, microwave until warmed through, stirring between each interval.
Oven: Heat in the oven at 350 degrees for 10 minutes, or until warmed through.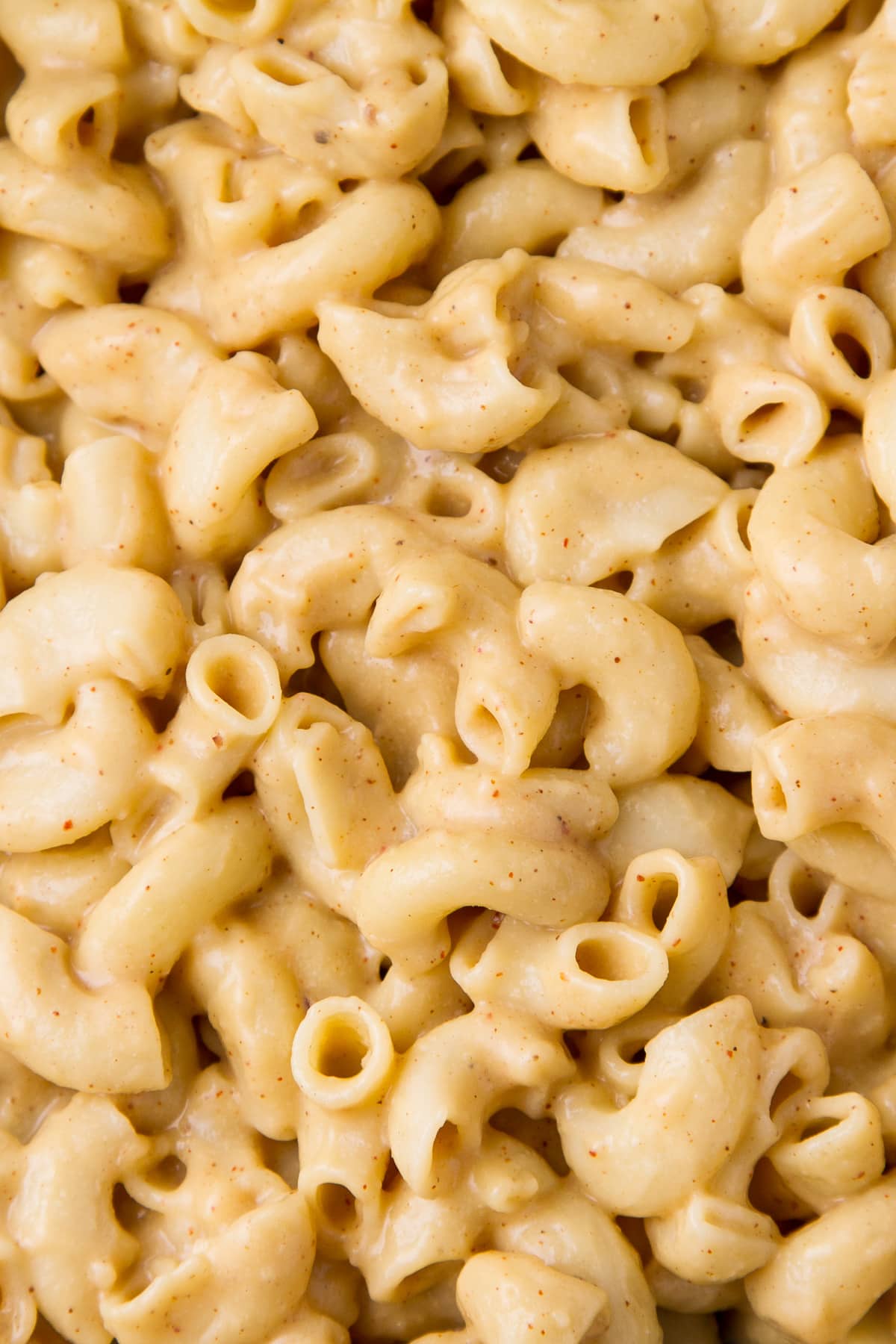 Serving Suggestions
This savory mac & cheese is great alone and can be made even better when paired with any of this serving options for a healthy lunch or dinner.
More Recipes With Nutritional Yeast
If you're wondering what else you can do with nutritional yeast, you can find a few more ways to use it here. And if this is new to you, it's a flavor that you may have to adjust to. I've heard many do not like it at first, but it will grow on you, and you will find it to be a useful and tasty addition to your healthy diet.
Lots of ways to put nutritional yeast to use in your kitchen. You may even try sprinkling some on your popcorn!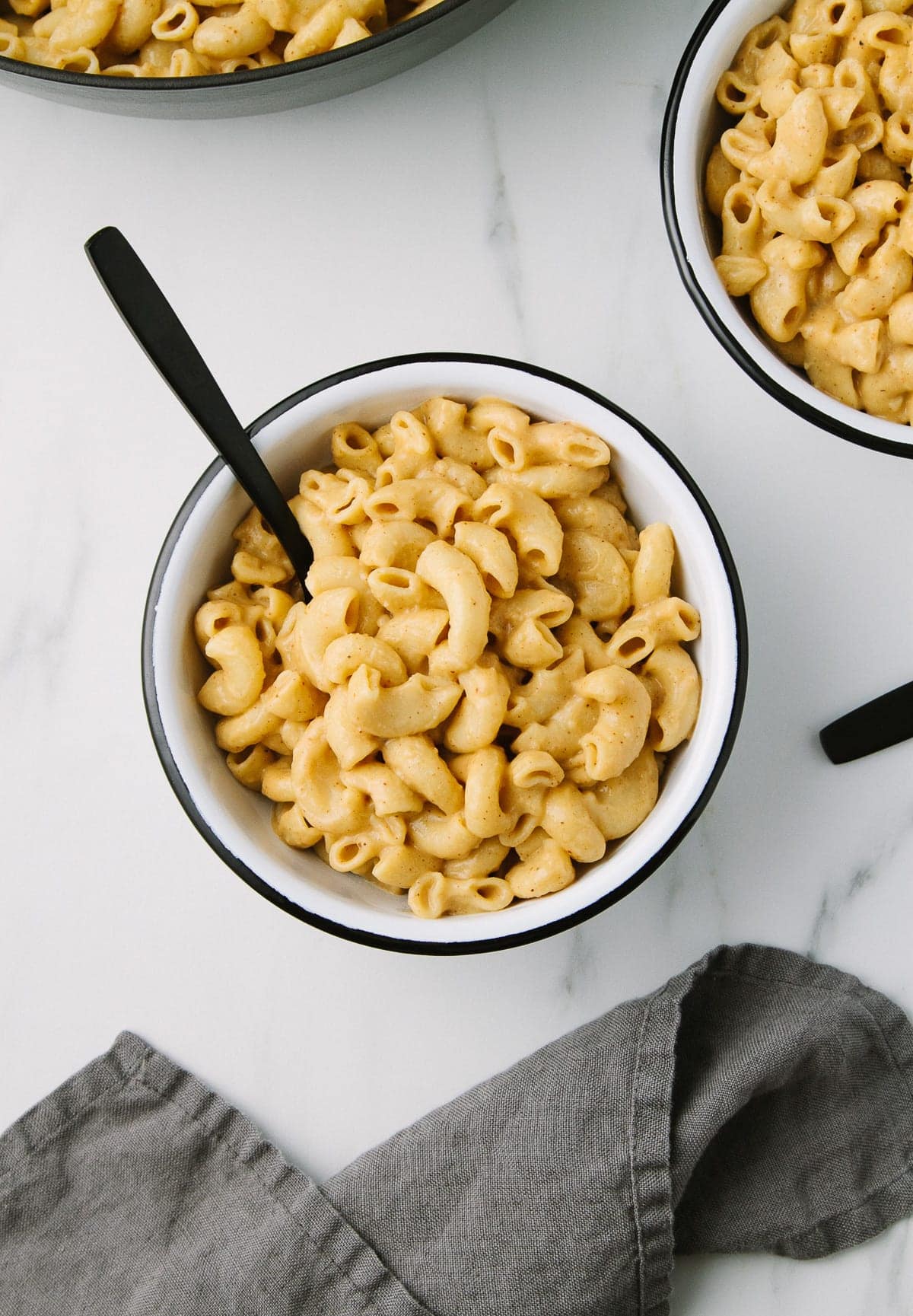 More Vegan Mac and Cheese Recipes
If you make this vegan mac and cheese recipe, please let me know! Leave a comment and rate it below. I love to hear what you think, or any changes you make.
Print
EASY SPICY MAC-N-CHEESE
No frills here, just a simple vegan mac n' cheese with a kick! No dairy and no cashews. Add in steamed or roasted veggies to suit your taste.
Author: Julie | The Simple Vegansita
Prep Time:

10 min

Cook Time:

15 min

Total Time:

25 minutes

Yield: Serves

3

- 4

1

x
Category:

Entree, Pasta

Method:

boil, simmer

Cuisine:

Vegan
8 oz

. favorite pasta (I used

quinoa pasta

)

1 1/4 cups

unsweetened plain almond milk (at room temperature)

2 tablespoons

olive oil

3 tablespoons

flour (spelt, rice, tapioca or all-purpose)

1/4

–

1/2

cup nutritional yeast flakes

1/2 teaspoon

garlic powder

1/4 teaspoon

chili powder

1/4 teaspoon

chipotle powder
mineral salt & pepper, to taste
Instructions
Pasta: Cook your pasta according to package. Drain and place back in pot, set aside.
Vegan Cheese Sauce: In a small/medium saucepan, heat oil over medium heat, add flour and whisk to incorporate. Continue whisking and cook for 2 minutes, mixture will be bubbly. Add milk slowly, whisking constantly. Add the garlic powder, chili & chipotle powder and salt. Turn heat to low and cook until sauce thickens, about 8 minutes, stirring frequently. Remove from heat. Stir in nutritional yeast. Stir until everything is incorporated and smooth again. Taste for flavor.
Assemble: Add sauce and pasta together, tossing well, add more milk as needed and serve right away.
Serves 3
Store: Leftovers can be stored in the refrigerator for up to 4 – 5 days in a covered container.
Notes
This recipe is just a template. Add as much of the salt and spices to suit your taste. You may even like to omit the chili and chipotle opting for a mild mac n' cheese. Or use either the chili or chipotle powder alone.
For the nutritional yeast, if using powder form reduce the amount to about 1/4 cup. You can try playing around with the amount. I have used less, 1/4 – 1/3 cup, and still had a nice cheesy flavor. You may opt to start with less and add more to taste.
Toss in steamed or roasted vegetables of choice with the pasta…broccoli, brussels sprouts, sun-dried tomatoes, tomatoes, spinach, kale and corn are a few that come to mind that will work with the flavors. I'm sure I missed a few and would love to hear your suggestions in the comments below.
To reheat, add a small amount of milk and heat over low until warmed.
You may also like to top with some almond parmesan!
Updated: Spicy Mac & Cheese was first published October 2013 and has been updated December 2019 with new photos and helpful tips.
FOLLOW TSV on Facebook, Instagram, Pinterest or RSS for more updates and inspiration!