SPICY KALE PESTO + ZUCCHINI NOODLES
Spicy Kale Pesto and zucchini noodle is a simple meal that's light, refreshing and tastes so good! Plus, it's fairly quick to make and great for to-go lunches as well.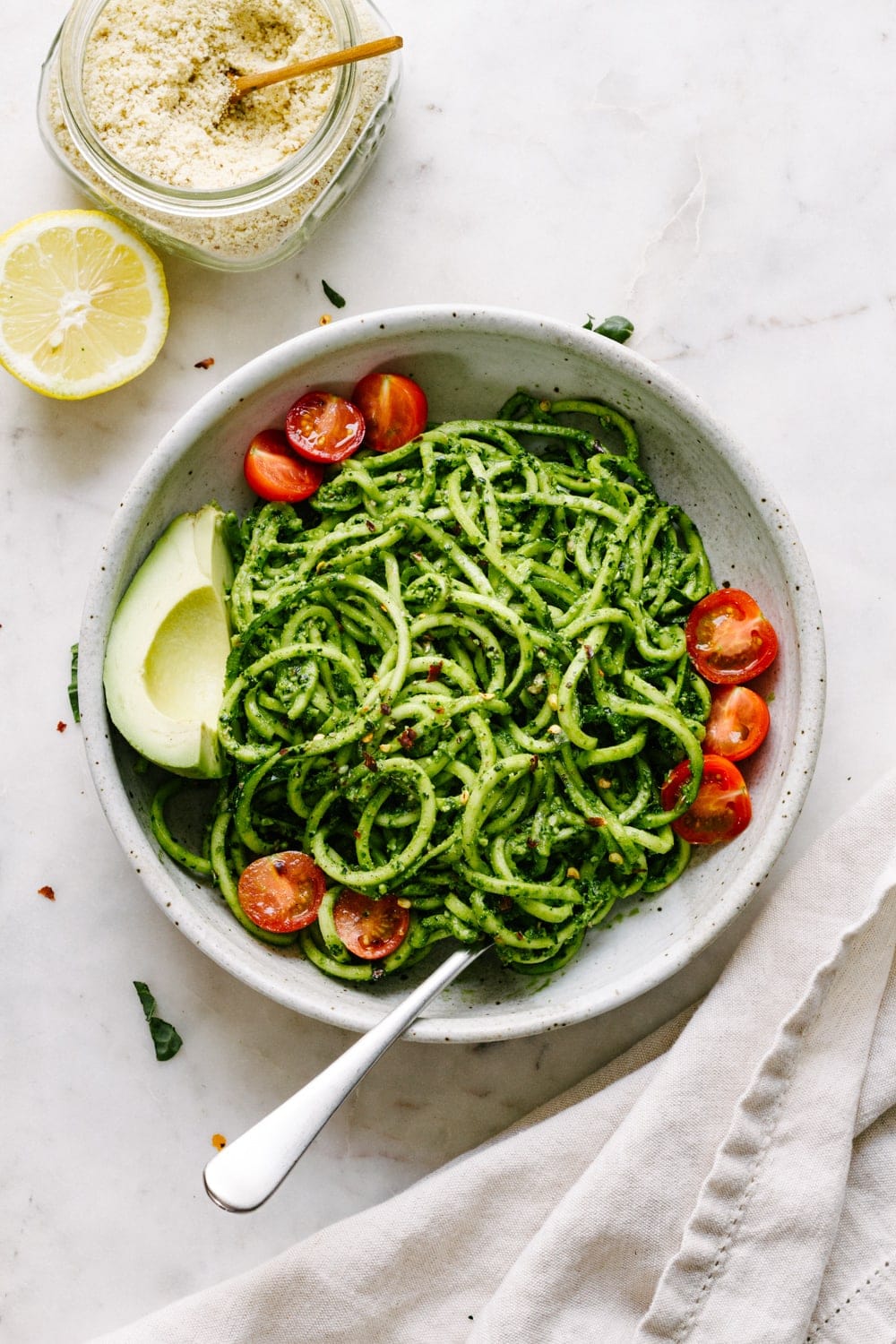 After making these raw zucchini wraps with kale pesto a few weeks ago, vegan kale pesto has become a regular habit. I did the pesto in this recipe a little differently, adding red pepper flakes for heat and a bit of nutritional yeast for a cheesy flavor.
Paired with spiralized zucchini noodles and finished off with a dusting of almond parmesan, this spicy kale pesto is another great recipe for the raw recipe collection!
Kale is king of the leafy greens and the more we can incorporate it into our meal plans the better. I hope to inspire others to join in on this nutritional powerhouse green, in a way that tastes amazing!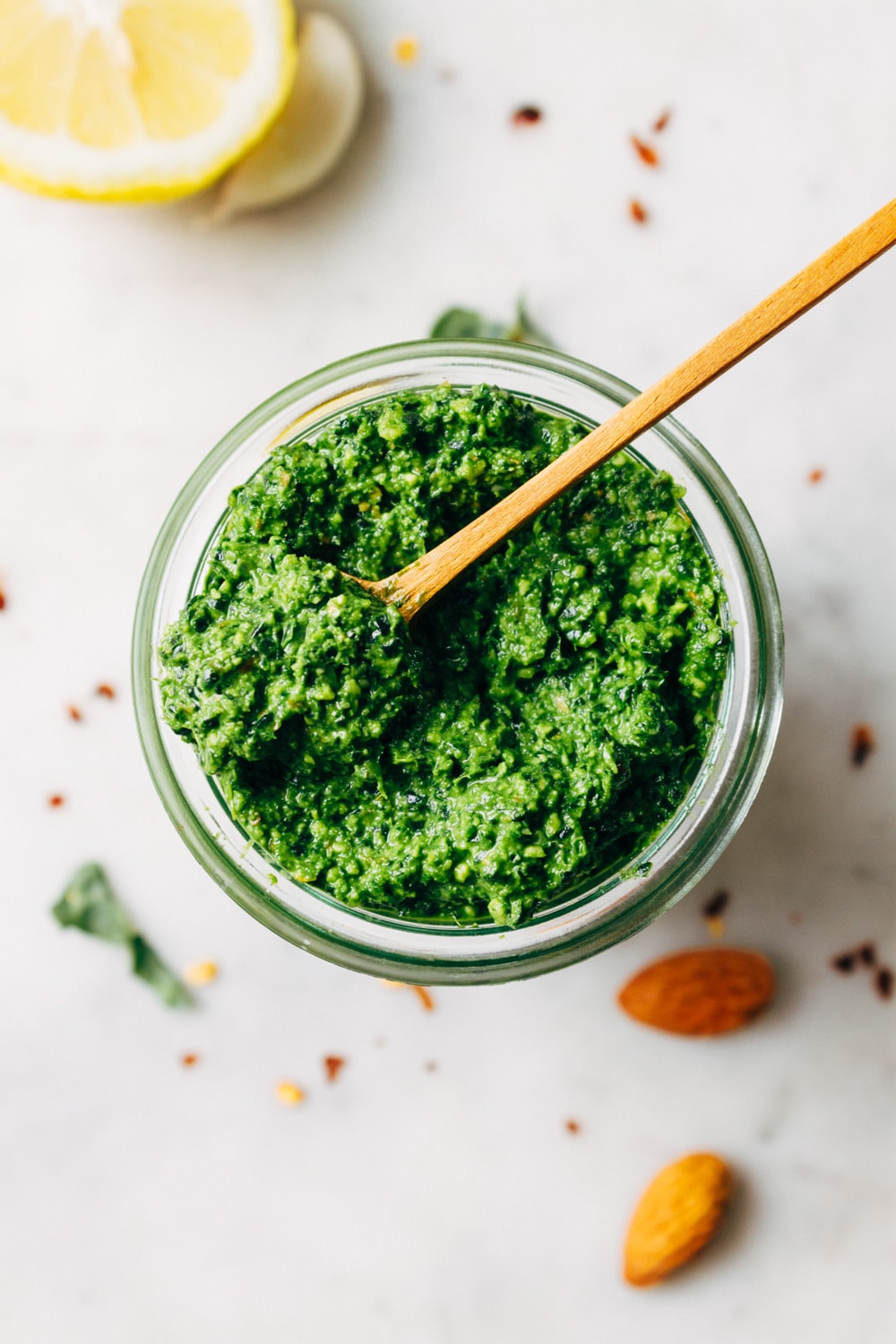 Ingredients You'll Need
In this recipe, zucchini is spiralized creating a fresh vegetable 'noodles' and tossed with a spicy kale pesto for a light and refreshing lunch or dinner.
Here is everything you will need:
Zucchini
Grape tomatoes
Kale (flat or curly)
Almonds
Olive oil
Garlic
Nutritional yeast
Red pepper flakes
Lemon
salt & cracked pepper
Adjusting For Dietary Restrictions
Nut-Free: To make kale pesto nut-free, in place of almonds, sub pepitas, sunflower seeds. Or add a few tablespoons of tahini for creaminess.
Oil-Free: Make this oil-free by omitting the oil using veggie broth or water.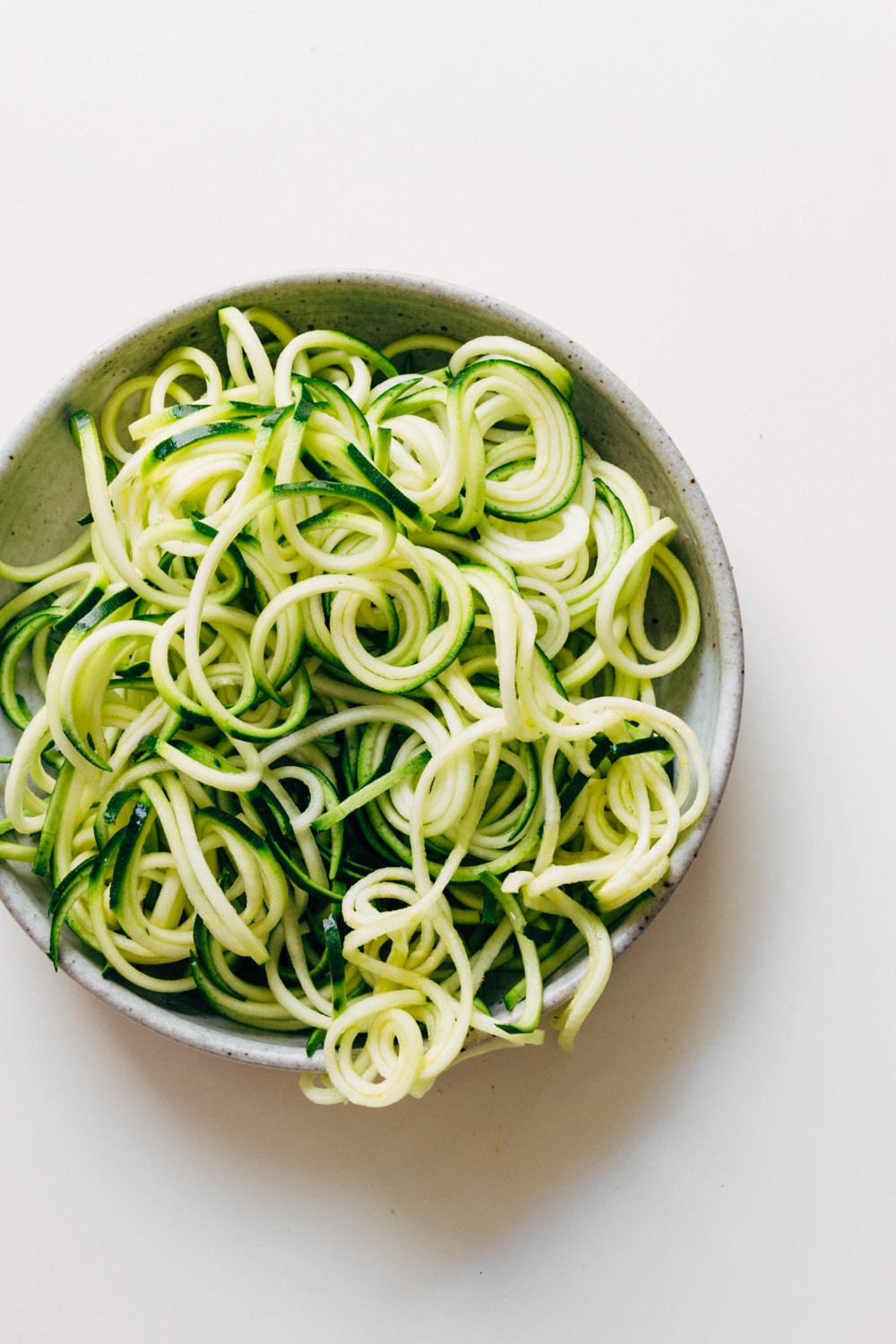 How To Make Vegan Kale Pesto + Zucchini Noodles
Kale Pesto: Making vegan kale pesto is surprisingly easy. Simply add the ingredients, including kale, almonds, garlic, olive oil, lemon, red pepper flakes, salt and optional nutritional yeast into a food processor or blender. Blend until fairly smooth, stopping to scrape down the sides as needed.
Zucchini Noodles: It's easy to make curly zucchini noodles using a spirilizer (<affiliate link). You can also use a julienne tool making straight zucchini noodles.
Can I Use Other Vegetable Noodles?
Yes! Try spiralizing a yellow summer squash, cucumber, sweet potato, or beet. All are fantastic, healthy and a nice way to eat noodles that are low fat, low calories and nutrient dense.
How To Store Leftovers
Refrigerator: Kale pesto and zucchini noodles can be stored in the refrigerator, together or separate, for up to 3 – 4 days.
Freezer: The pesto is freezer friendly and can stored in freezer safe containers for up to 2 months. Let thaw before using. Zucchini noodles do not freeze well.
More Ways To Use Kale Pesto
Kale blends up into a thick paste and can be used in a variety of ways. Toss it with your favorite pasta or spiralized vegetable noodles. Use it as a condiment and spread on sandwiches, burgers, or grilled bread. It's also fantastic as a dip for fresh and roasted veggies!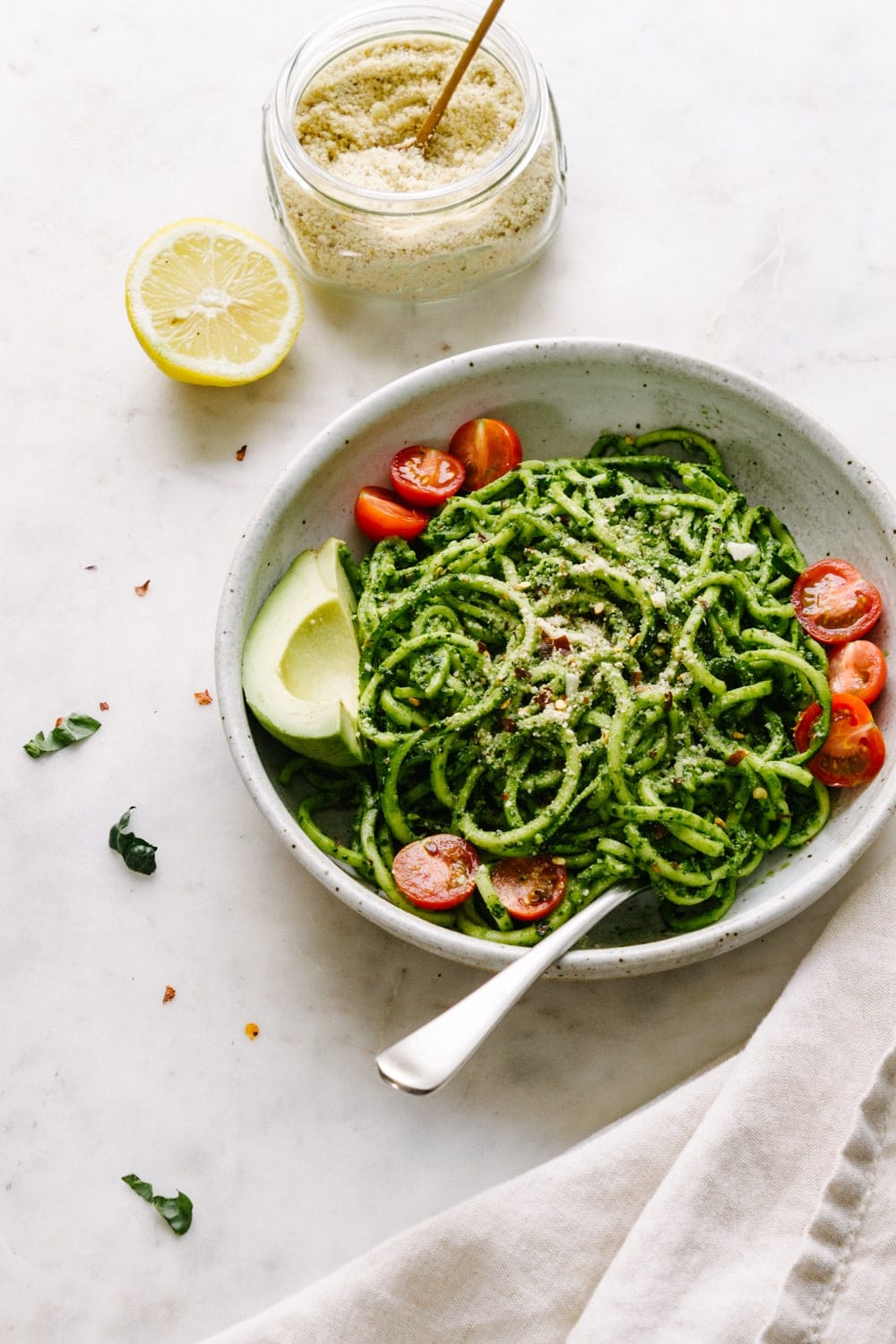 More Easy Pesto Recipes
If you try this spicy kale pesto recipe, please let me know! Leave a comment and rate it below. I love to hear what you think, or any changes you make.
Print
SPICY KALE PESTO + ZUCCHINI NOODLES
Updated: This Spicy Kale Pesto was originally published on January 2013, and has been updated with new photos and helpful tips on April 2019.