Raw Vegan Fruit Tarts – A delicious no-bake fruit tart recipe featuring an almond crust, creamy cashew sweet cream, and topped with lots of fresh, colorful fruit!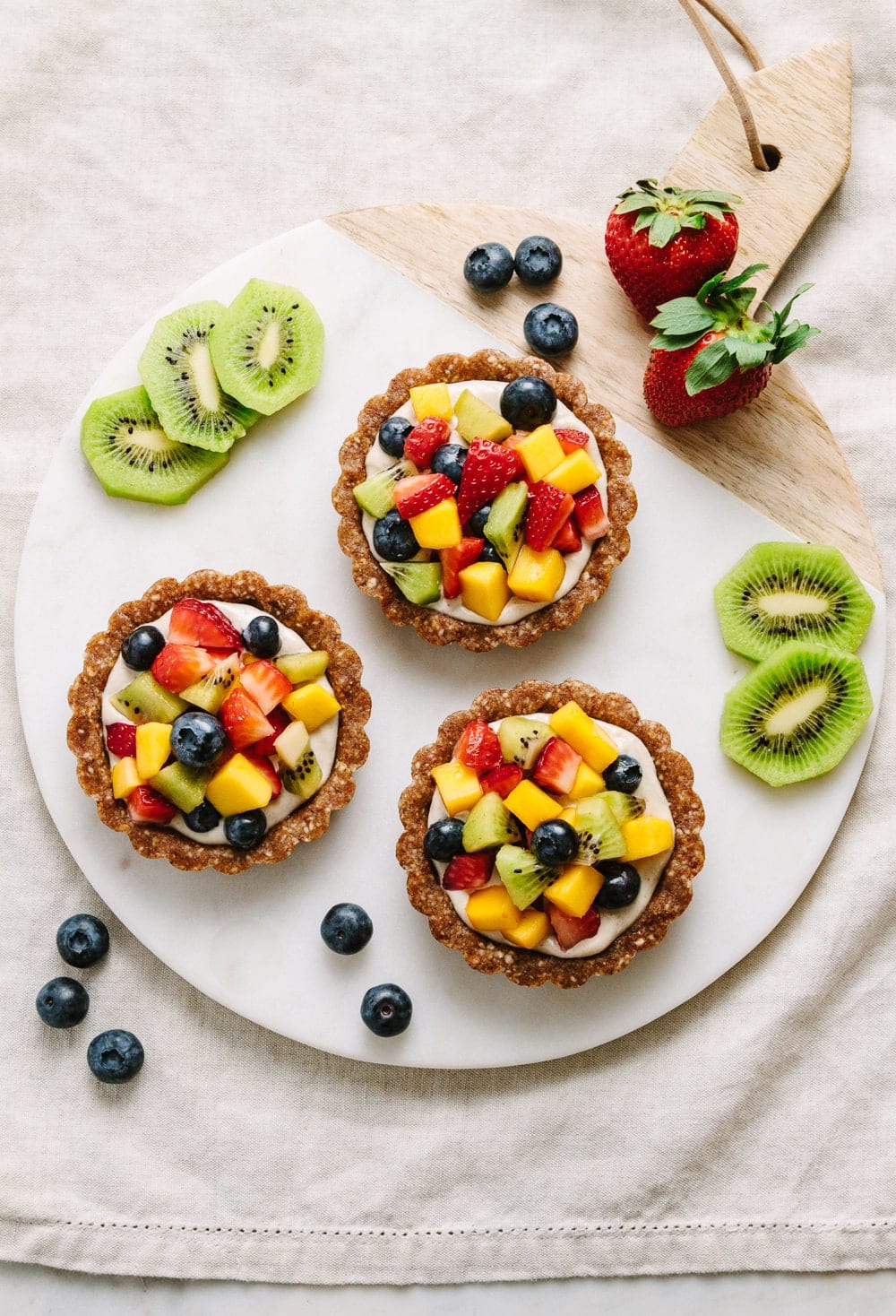 This raw vegan tart recipe is a spin on a classic fruit tart I enjoyed as a teenager. We had a wonderful little bakery that carried the most wonderful fruit tarts. The combination of fruit and cream together was divine, and the crust was always just an added bonus!
After making these vegan fruit tarts, I must say that I prefer and love this raw version even more. They make for a great snack, dessert, and are healthy enough for breakfast too.
Colorful, simple, and delicious, these no-bake raw fruit tarts are a guilt-free, tasty treat. They won't leave you feeling weighed down in the least and you can be sure that every ingredient is beneficial!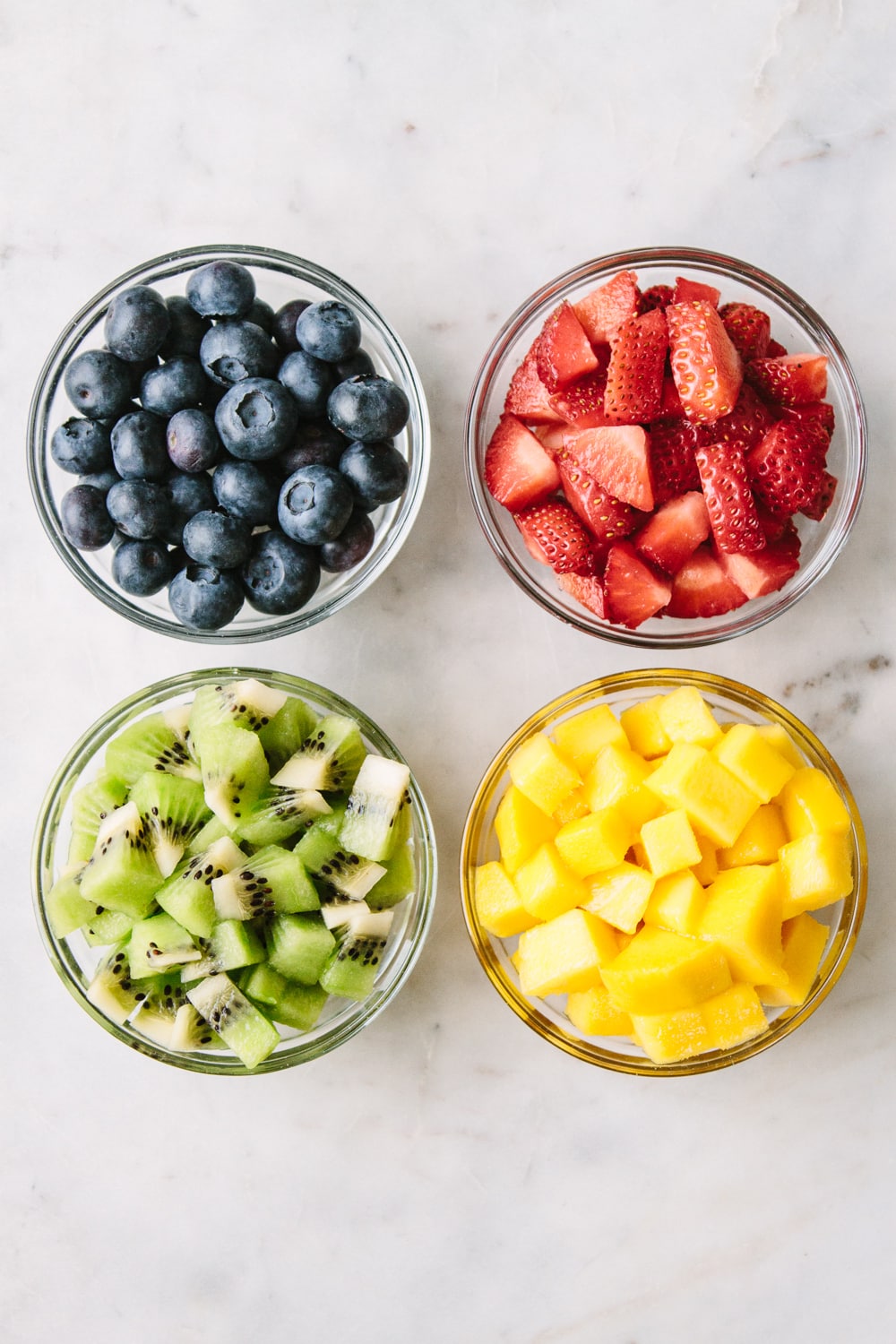 Raw Fruit Tart Ingredients
Topping: Fresh fruit for the topping includes mango, kiwi, strawberries, and blueberries. Feel free to change up the fruits using raspberries, cherries, blackberries, mandarin oranges, etc.
Crust: The crust is super easy to make and is a simple mix of almonds, dates, cinnamon, and water. You can also use a mix of almonds and walnuts.
Filling: For the filling, we'll be using this vegan Sweet Cashew Cream made with cashews, vanilla, and naturally sweetened with dates.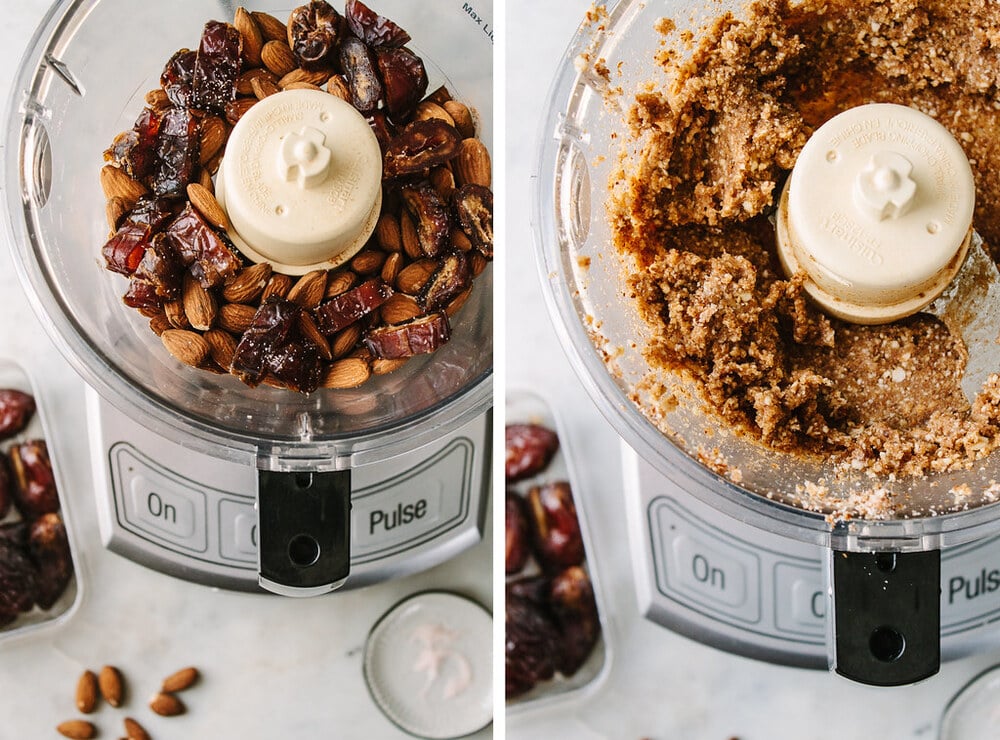 How To Make Raw Fruit Tarts
1. Start with crust by blending the almonds, dates, and cinnamon in a food processor (shown above left). Once the mixture is fairly chopped up at a little water and continue to process until dough forms (as shown above on the right). Place in the refrigerator for about 20 minutes to stiffen and make it less tacky.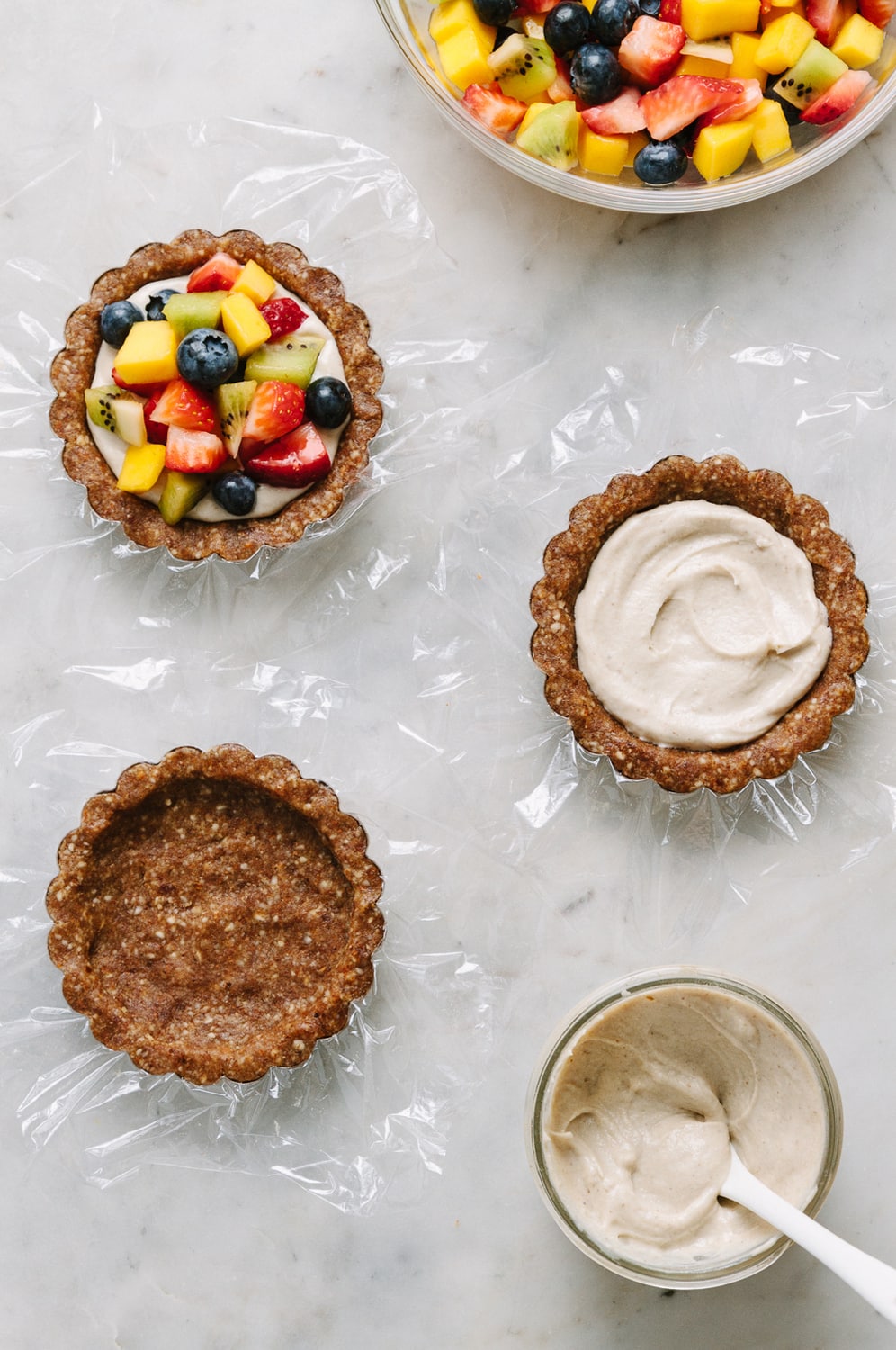 2. Next, cut saran wrap and place it over the molds. Divide the dough into thirds if using the classic mini molds (see below for more info). Firmly press the dough in the center of the mold and press and push towards the sides. You should get a uniform layer about 1/8 to 1/4 inch thick. You can put them in the fridge until ready to fill. If it's just a few minutes, keep it in the freezer until ready.
3. Fill each tart with the cashew sweet cream. I found the perfect amount to add was to fill just before the rim, as the fruit will be heavy and sink, making the cream rise.
4. Finally top with the fruit. Keep in the refrigerator until ready to serve.
Top Tips
Mold types: I used these classic tartlet molds (<affiliate link) and was able to get 3 tarts with the crust amount (to get all 6 you'll need to double the crust recipe). I've also made these with little mini 3-inch cake pans as a mold. They were inexpensive for a set of three, but I only was only able to fill 2 pans.
The fruit tarts held up great. The crust stayed in place and didn't become soggy, even after being in the refrigerator overnight. But if making these for parties, for best appearance I recommend making the crust and assembling them closer to the time of serving. All in all, everything held up fantastic and it was quite delicious!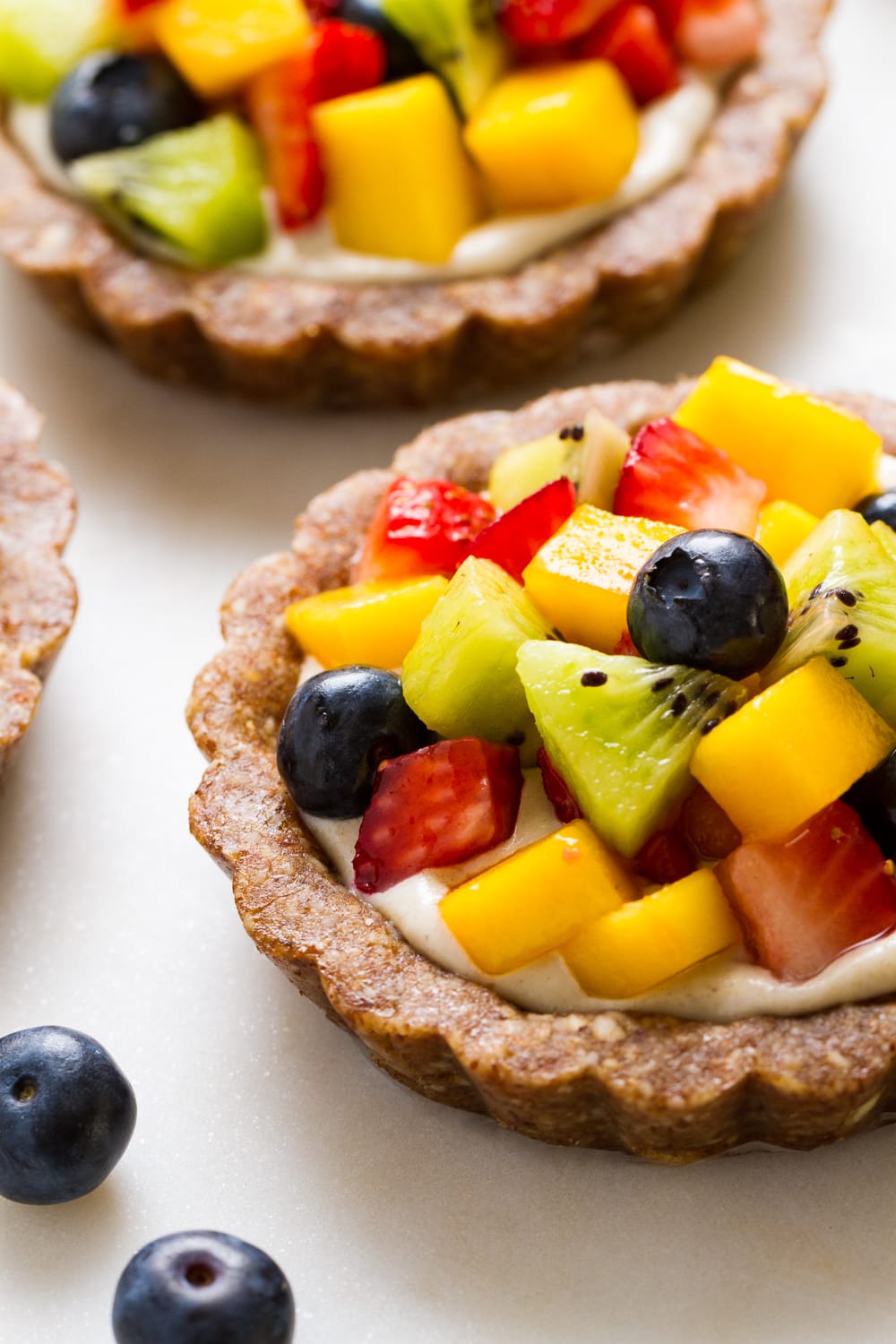 If you try this raw fruit tart recipe, please let me know! Leave a comment and rate it below. I love to hear what you think, or any changes you make.
Print
RAW FRUIT TARTS
Raw vegan fruit tarts are simple, colorful and delicious raw treat! Use your favorite fruits to suit your taste…
1/4 cup

kiwi, peeled and chopped

1/4 cup

strawberries, chopped

1/4

cup

blueberries

1/4

mango, chopped
Crust
1 cup

almonds or walnuts, or combo (I used almonds)

5

medjool dates
dash or

two

of cinnamon

2 tablespoons

water, divided
Instructions
Cashew Sweet Cream: Make your cashew sweet cream, you can use right away or keep in the fridge for a few hours to thicken. Cashew cream can also be made a day or two ahead.
Crust: Make your crust by combining all the ingredients, except water, into a food processor/blender and blend until combined, and somewhat chunky. Add one tablespoon of water, and process until dough forms. Add the extra tablespoon of water if needed (you may find in your climate or altitude that you may not need it). We don't want the dough too wet, just enough so that it combines nicely. Cover and place in the refrigerator for 20 min to stiffen.
Prep fruit: While dough is setting, prepare your fruits and set aside.
Assemble: Using molds of choice, line each with a piece of saran wrap or cut parchment paper (this will help to remove them so be sure to leave overhanging flaps). Fill each pan with a layer of dough, about 1/4 inch thick, by pressing firmly, yet gently into place. Fill each tartlet with cashew cream, almost to the rim, and level out, top with 1/3 cup of fruit.
Remove: To remove tart from mold, gently lift the edges of saran wrap or parchment paper, place on a flat surface, and using a spatula carefully wedge under the tart and move to desired flat surface.
Make ahead: You can prepare these a couple of hours ahead, cover them with saran wrap and store in the refrigerator until ready to eat. Makes 3 three-inch fruit tarts using the mini cake molds. Each fruit tart is about 2 servings.
Notes
If using classic tartlet molds, the cashew sweet cream will fill all 6, and the crust will cover 3. If using mini cake pans, the cream will fill 3, and the crust will cover 2.
FOLLOW TSV on Facebook, Instagram, Pinterest, or RSS for more updates and inspiration!