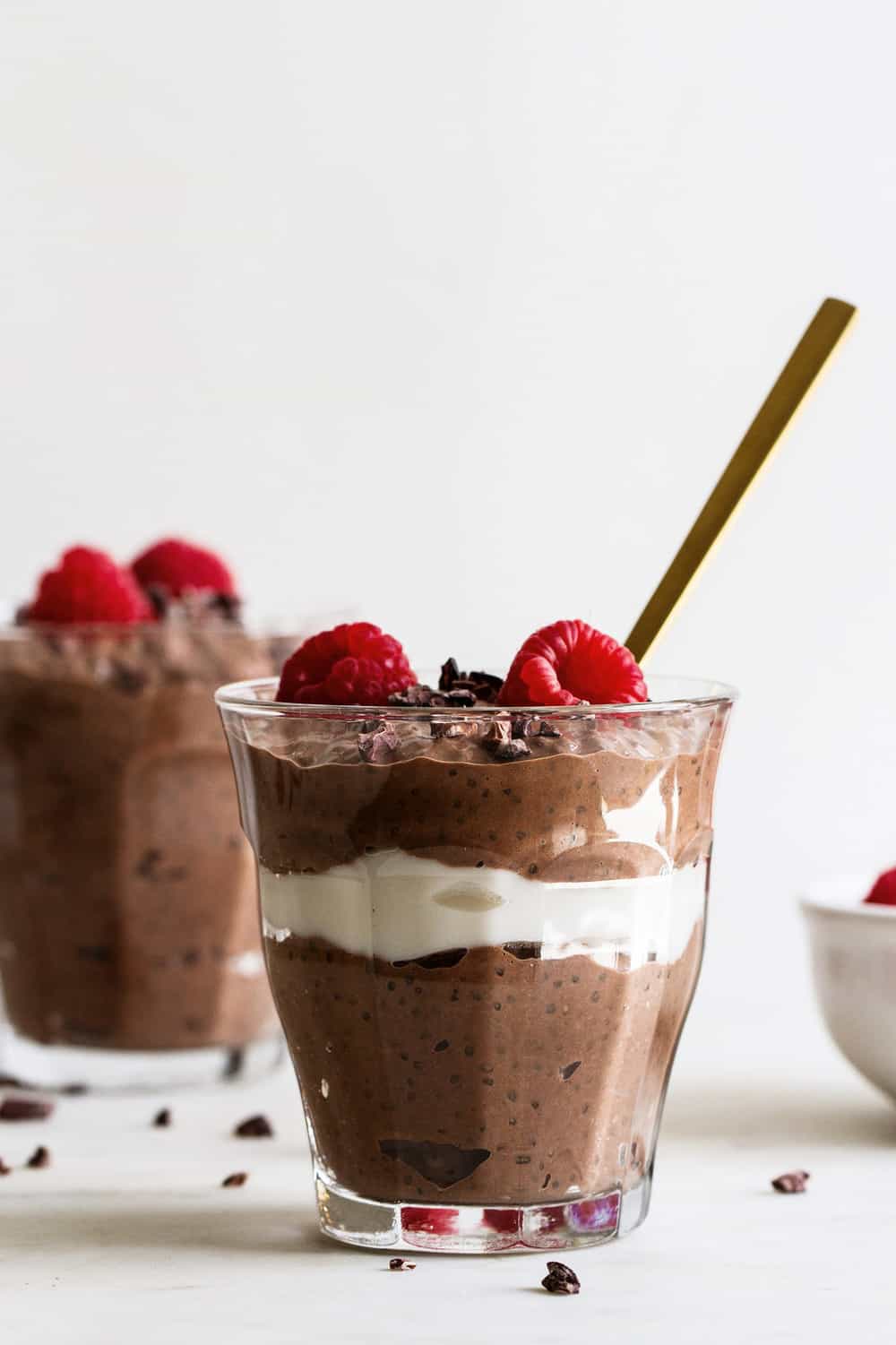 This post is sponsored by Silk.
---
Hello chocolate lovers!
Today I have for you a classic chocolate chia pudding featuring Silk Protein & Nutmilk (but really any non-dairy milk will do). It's a combination of ingredients that whips up into a deliciously creamy, almost tapioca like, pudding!
Loaded with protein and wholesome chocolate goodness, the recipe is quick, easy, dairy-free, and meant to be enjoyed anytime of day. Be it for breakfast, a pick-me-up snack, or decadent dessert!
How to serve chocolate chia pudding:
Pair it with fresh fruits like raspberries, strawberries, blueberries, blackberries, sliced banana, kiwi, pineapple, mandarin oranges, cherries, etc.
For extra protein, add a dollop of your favorite nut butter.
Add crunchiness with a sprinkle of granola.
Make a parfait using whipped coconut cream or non-dairy vanilla yogurt.
Finish it off with additional topping of chocolate such as cacao nibs, mini chocolate chips or shaved chocolate.
You can make this a healthy to-go treat by filling mason jars or tupperware with a serving of chia pudding and toppings of choice. Store your to-go containers in the fridge and they'll be ready to grab-n-go when you're on the run.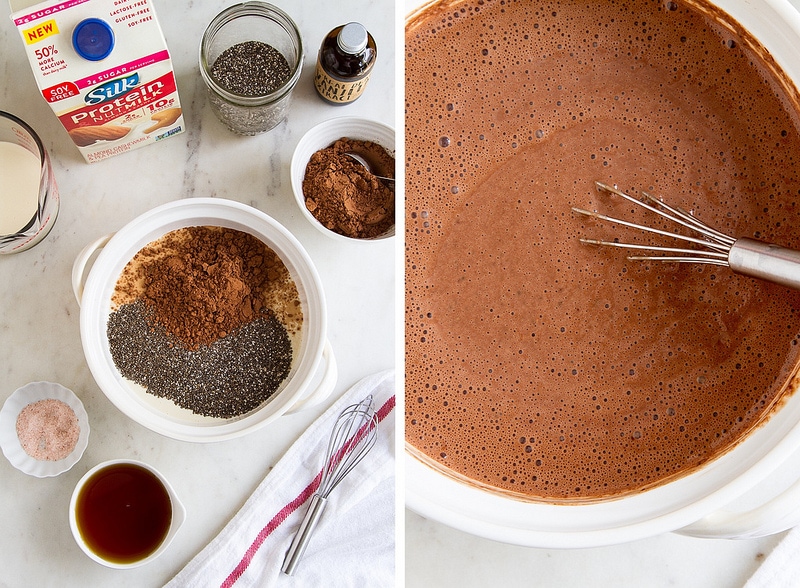 A little about this recipe:
You may already be familiar with the Vanilla Chia Pudding I shared a while back. My first batch of this chocolate chia pudding, I used the same ratio of chia seeds to milk and came up with a finish that, with the added cocoa powder, was just a bit too chalky for my taste. So you will find this recipe calls for slightly less chia seeds, and a definite improvement in texture. Using slightly less chia seeds will mean you may have to chill it for a full 4 hours, or overnight, for it to thicken nicely. But it's well worth the wait!
The vanilla can be optional, but is highly recommended as it adds another layer of flavor I know you're going to love! Only skimp on the vanilla if you must. :)
I ❤️ Silk's Protein Nutmilk! It adds an extra 10 grams of protein per cup and is just slightly thicker than regular non-dairy milks, making it a perfect fit. If you don't mind the little bit of sugar that is added, only 2 grams per serving, than this protein nutmilk is for you. Add it to your favorite cereals, oatmeal and smoothies. I haven't baked with it yet, but I imagine it would do fine in cake, brownie and pancake recipes too.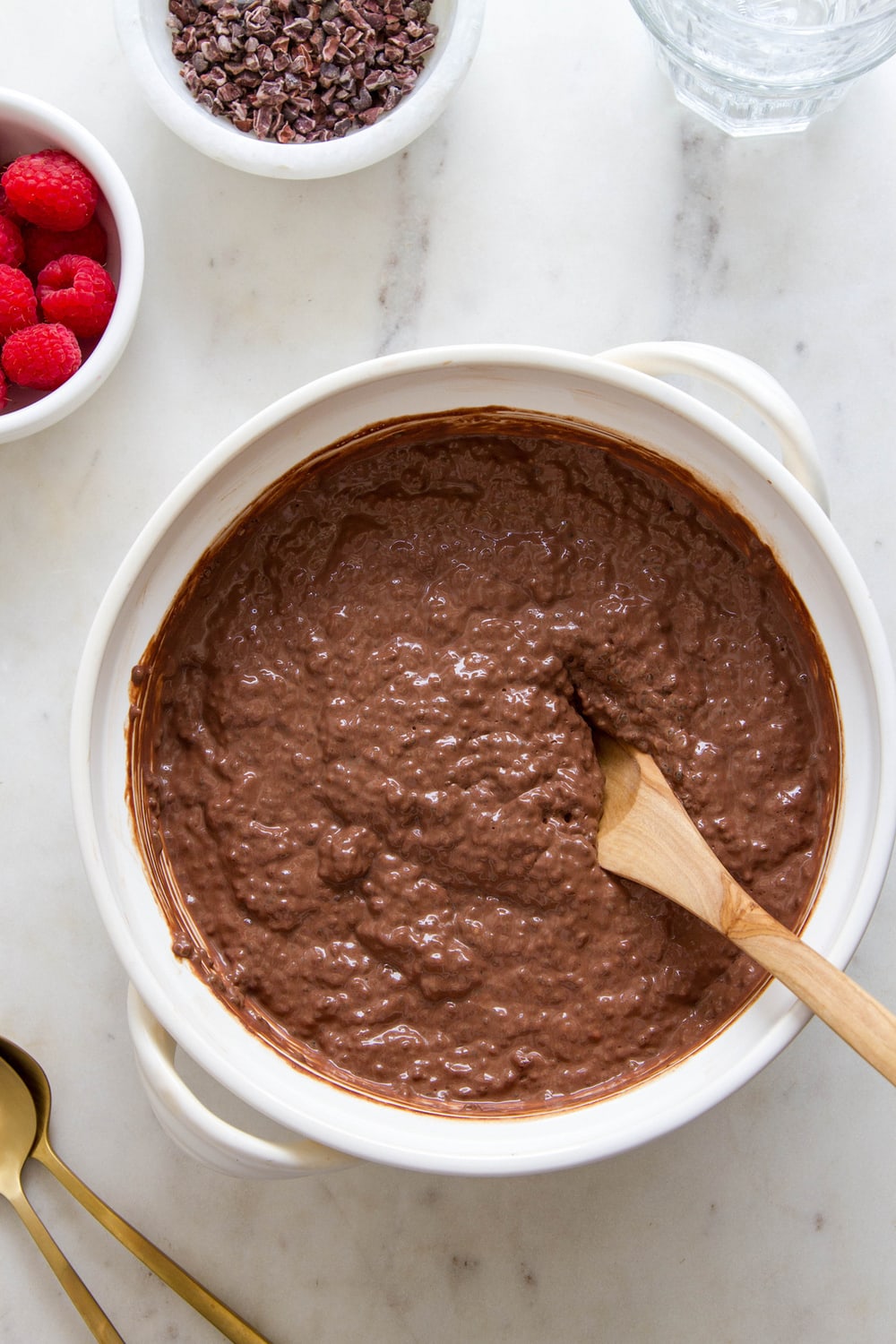 Once chilled, the pudding will miraculously become thick and creamy. It's a delicious mix of chocolate goodness that will put a smile on your face and fill that chocolate craving!
Now, you are ready to assemble your pudding however you like. My favorite topping this time around was fresh raspberries, cacao nibs and a dollop of non-dairy vanilla yogurt.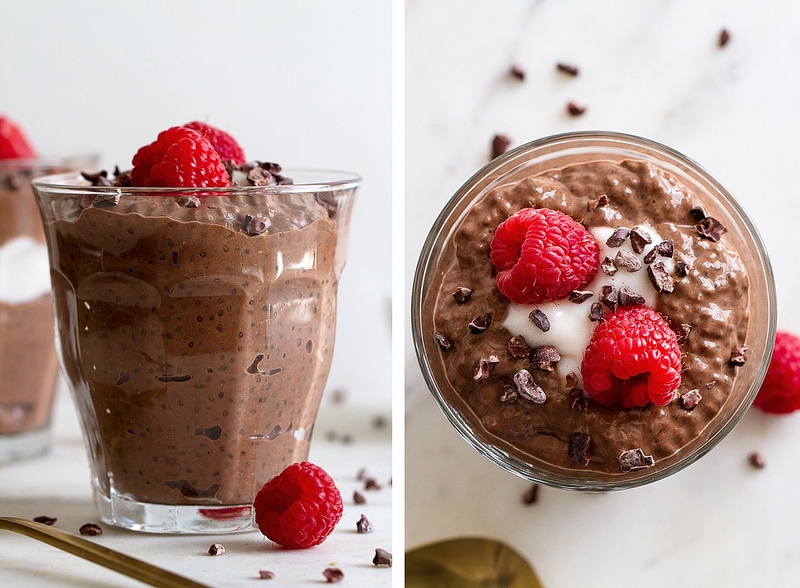 With minimal ingredients and maximum flavor, it's nom, nom, nom….all day long!
Print
CHOCOLATE CHIA PUDDING
Craving chocolate? This classic chocolate chia seed pudding is a healthy way to satisfy your chocolate craving!
Ingredients
2 cups Silk Protein & Nutmilk (or your favorite non-dairy milk, pref unsweetened)
1/4 cup + 2 tablespoons chia seeds
1/3 cup 100% cocoa/cacao powder
1/4 – 1/3 cup pure maple syrup
2 teaspoons vanilla extract
pinch of mineral salt
Instructions
In a medium sized mixing bowl, combine the milk, chia seeds, cocoa powder, maple syrup, vanilla and salt, whisk until blended. Be patient, it will take a good minute or so to blend in the cocoa powder. Cover and place in the fridge to chill. Give a good stir after 30 minutes, cover again and continue to chill. Pudding should be thickened and ready to serve within 4 hours, and will be at it thickest after 8 – 10 hours.
Serve as is, or with a few of the following….
banana slices
berries (raspberries, strawberries, blackberries and/or blueberries)
kiwi, pineapple, cherries, or mandarin oranges
cacao nibs, mini chocolate chips, or shaved chocolate
granola
dollop of whipped coconut cream, peanut butter, or non-dairy vanilla yogurt
Serves 4 – 6
NOTES:
The nutritional information is a guesstimate. Since Silk's Protein Nutmilk is so new, the nutritional information is not available to be calculated within the nutritional label generator. To balance out the protein & fat content, instead of typing in almond milk I used reduced fat milk which made the protein numbers a bit more accurate. Also, I input only 1/4 cup of chia seeds, instead of 6 tablespoons to bring down the protein count to a more realistic number. All in all, I think this is a pretty good guesstimate to what the actual numbers are. The protein and fat, may be off by 1 gram or so.
Silk, plant powered and delicious! Sign up with Silk and get an instant member coupon! Find out where to buy Silk products in your local area. #SilkProteinNutmilk
All opinions are my own. Thank you for supporting TSV by supporting my sponsors. They have many plant-based, non-dairy products, some organic, that you can find here: Silk Products