SAFFRON POTATO LEEK SOUP + FRIED GARLIC & ALMONDS
Saffron Potato Leek Soup with rice and fried garlic and almonds is a delicious twist on potato leek soup! It's wonderfully hearty, gluten free and vegan!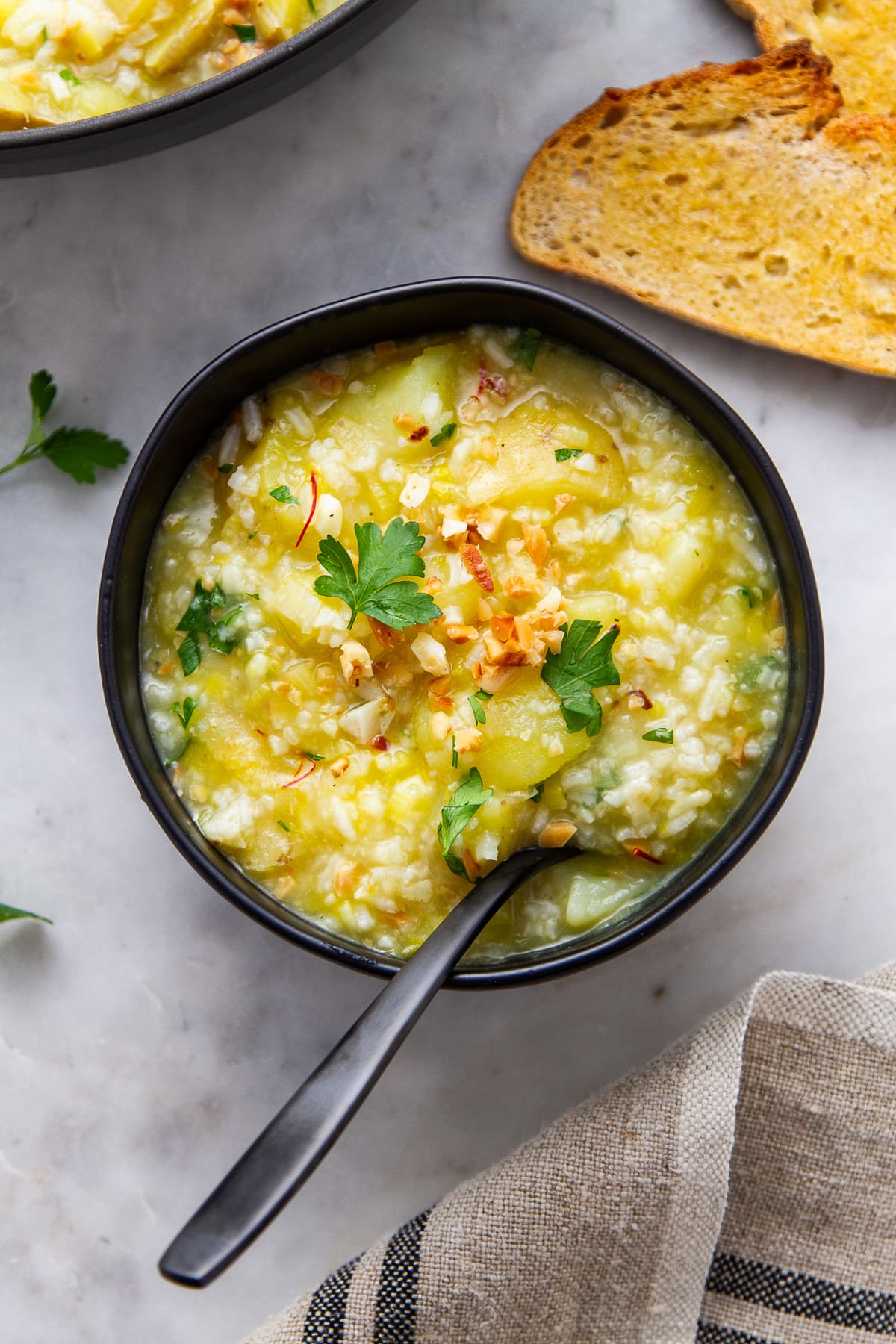 Take potato soup to a new level by adding saffron, a little rice and fried garlic and almonds! It's super hearty, easy to make and easily customizable.
This saffron potato leek soup will have you smelling the finest aromas right from the get go. Open the windows and let the neighbors get a whiff of this aromatic soup you have going.
Recipe adapted from Food 52 Anya von Bremzen's Potato Soup with Fried Almonds. I changed up the recipe a little making it vegan while adding rice and leeks.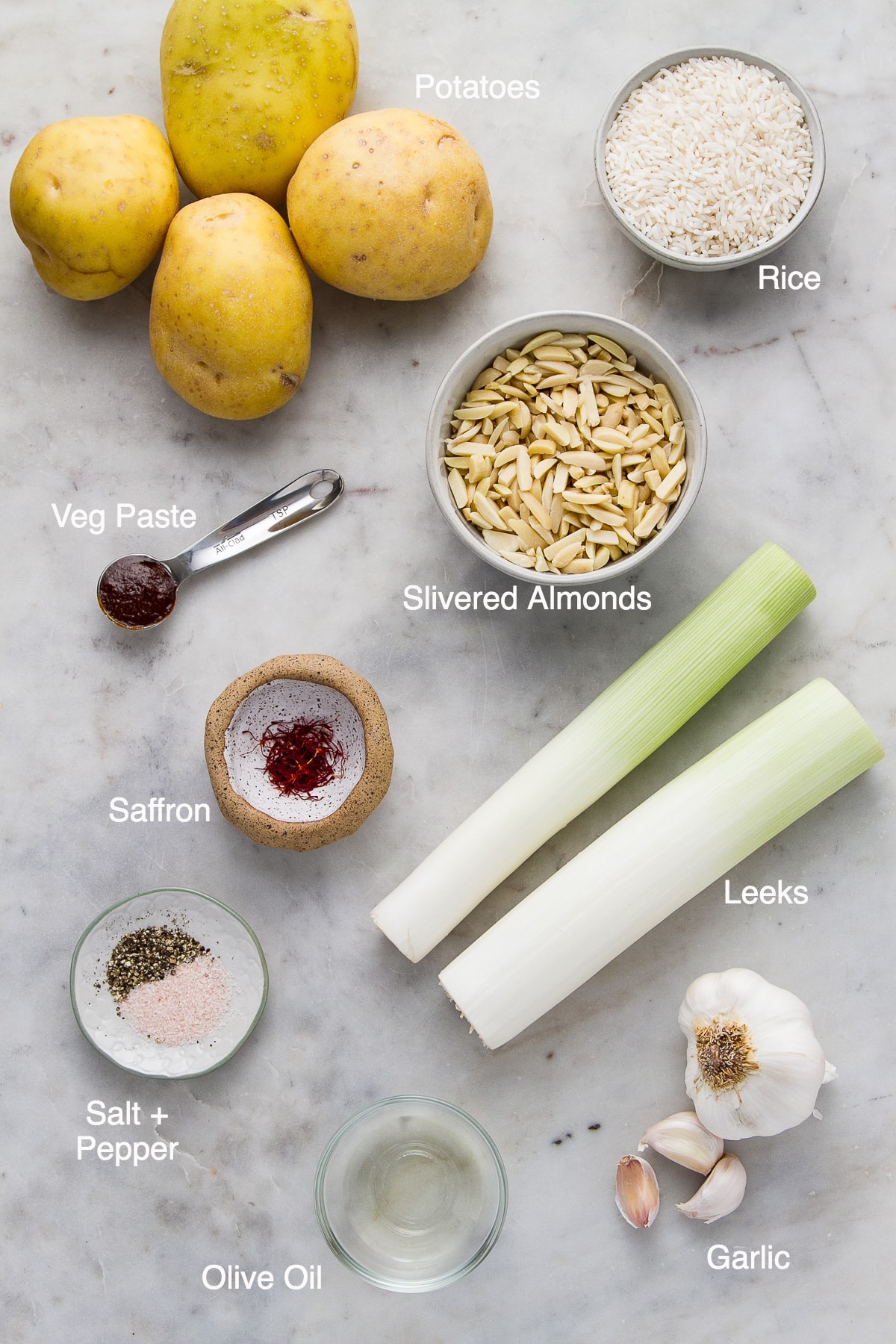 Saffron Potato Leek Soup Ingredients
Here's what you'll need, along with tips and suggestions for each ingredient.
Potatoes: Use waxy potatoes – red, white or yukon gold. Russet potatoes are ok too if you prefer.
Leeks: The original recipe doesn't call for any type of onion, so feel free to omit the leeks.
Rice: Use your favorite long grain rice – basmati, jasmine or other long grain rice. Brown rice would work too, but you'll need to adjust cooking times according the rice used. If you prefer to not use rice, reduce the liquids as noted in the recipe card below.
Almonds: Use almonds with or without the skins. I've made this before using whole raw almonds and it was delicious too, if you don't mind the skins softening up in the soup. This time around I used slivered almonds which was great as well and easier to chop.
Saffron: I buy saffron from Trader Joe's for $5 or so, it contains a good amount. I hope you will have access to this price since it can be fairly pricey in the general stores, upwards of $15 to $20. It really pairs well with all the other ingredients, leaving your house smelling wonderful. I also imagine it will taste just as good without it, so feel free to be flexible and attempt this without the saffron if need be.
Vegetable broth: I use 1 teaspoon of

Better Than Bouillon Vegetable Base

(affiliate link) with the water called for in this recipe. It adds lots of flavor without too much sodium and the jar lasts a long time!
Salt & Pepper. My favorite salt is pink mineral salt (affiliate link) which naturally contains essential minerals and trace elements the body needs. Season to taste with your favorite salt and pepper.
Olive Oil: Use your favorite neutral flavored oil.
Vinegar: Sherry, white or red wine vinegar will all do well. Apple cider vinegar would be ok too. The vinegar adds a nice brightness.
Parsley: For pop of color and freshness parsley is always delicious!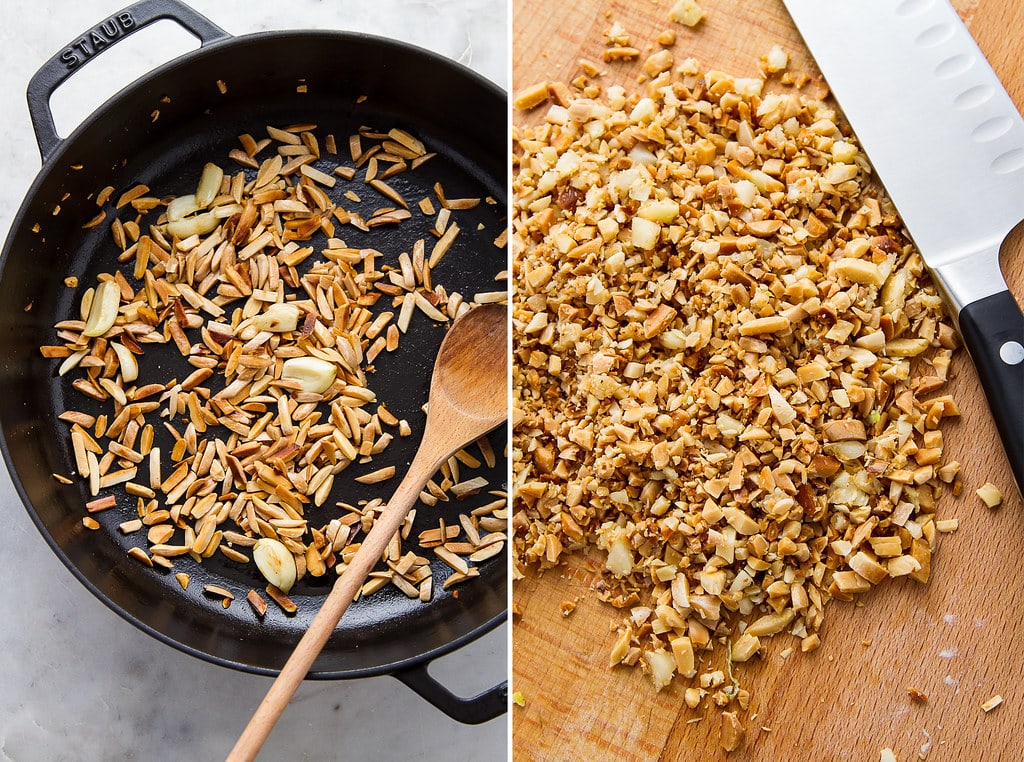 How To Make Saffron Potato Leek Soup
Start with frying the almonds and garlic in a heavy bottom pan until golden and fragrant (above left). Remove from pan and let cool.
Chop the garlic and almond mixture (above right), or process in a blender or food processor to desired consistency. Set aside. I like mine to be on the chunky side and it's one less thing to wash. :)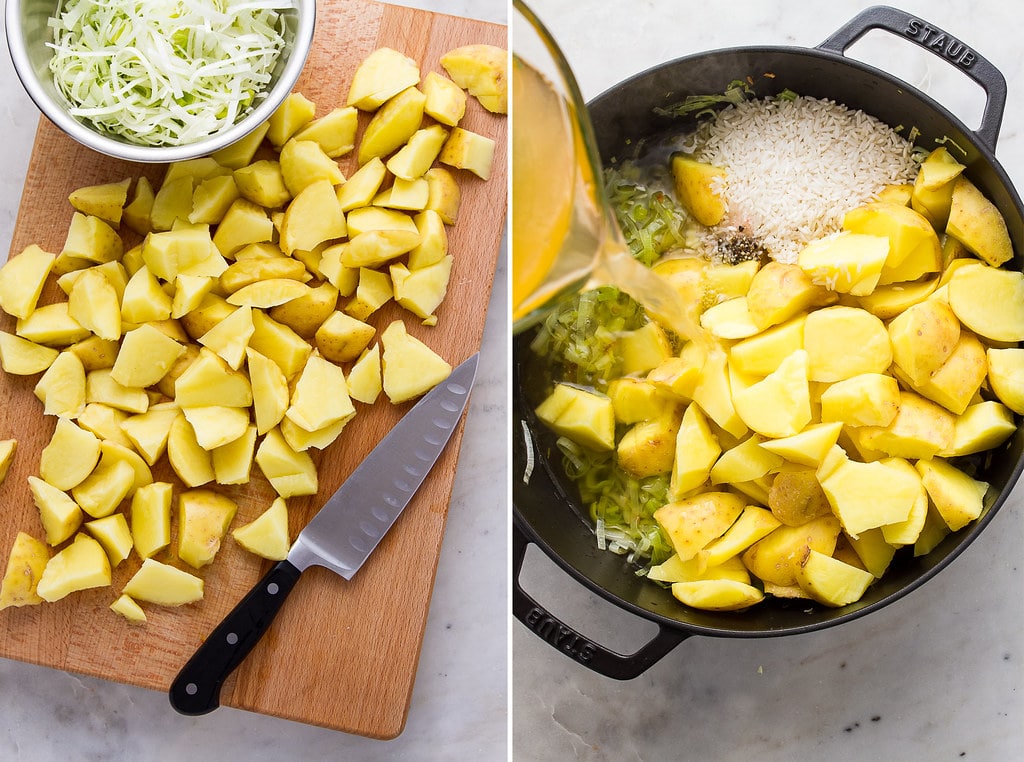 Slice the leeks and remove any dirt and debris in between the layers.
Cut the potatoes into irregular chunks by using the tip of knife to dig into the potato and twist. Pieces should be about 1 to 1 1/2 inches (above left).
Saute the leeks, add the potatoes, rice, and liquids. Season with salt and pepper. Bring to a boil, reduce heat and simmer for 30 minutes, until potatoes are fork tender.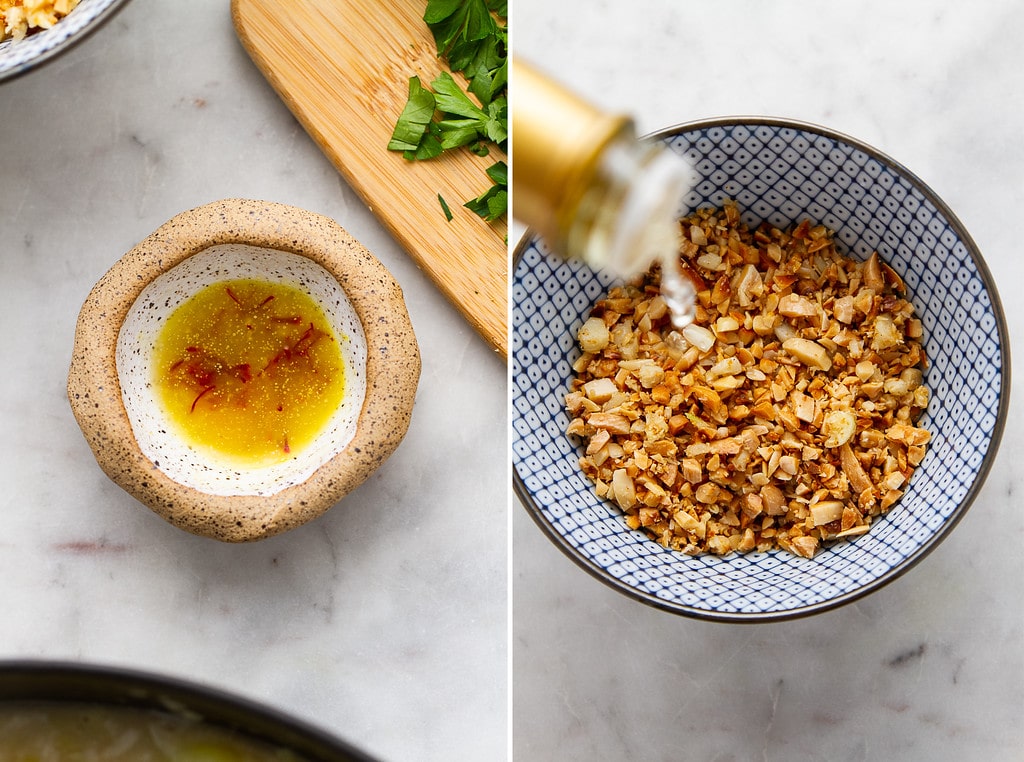 When potatoes are fork tender, add the saffron to a small bowl along with 2 tablespoons of soup broth, let seep for 2 minutes. Add to the soup.
In a small bowl, add the chopped nut mixture and vinegar, toss to mix.
Add the nut mixture, reserving a little for garnish, and parsley to the soup (as shown below). Stir to combine.
And there you have it, pair with homemade crusty artisan bead or soft vegan naan and enjoy!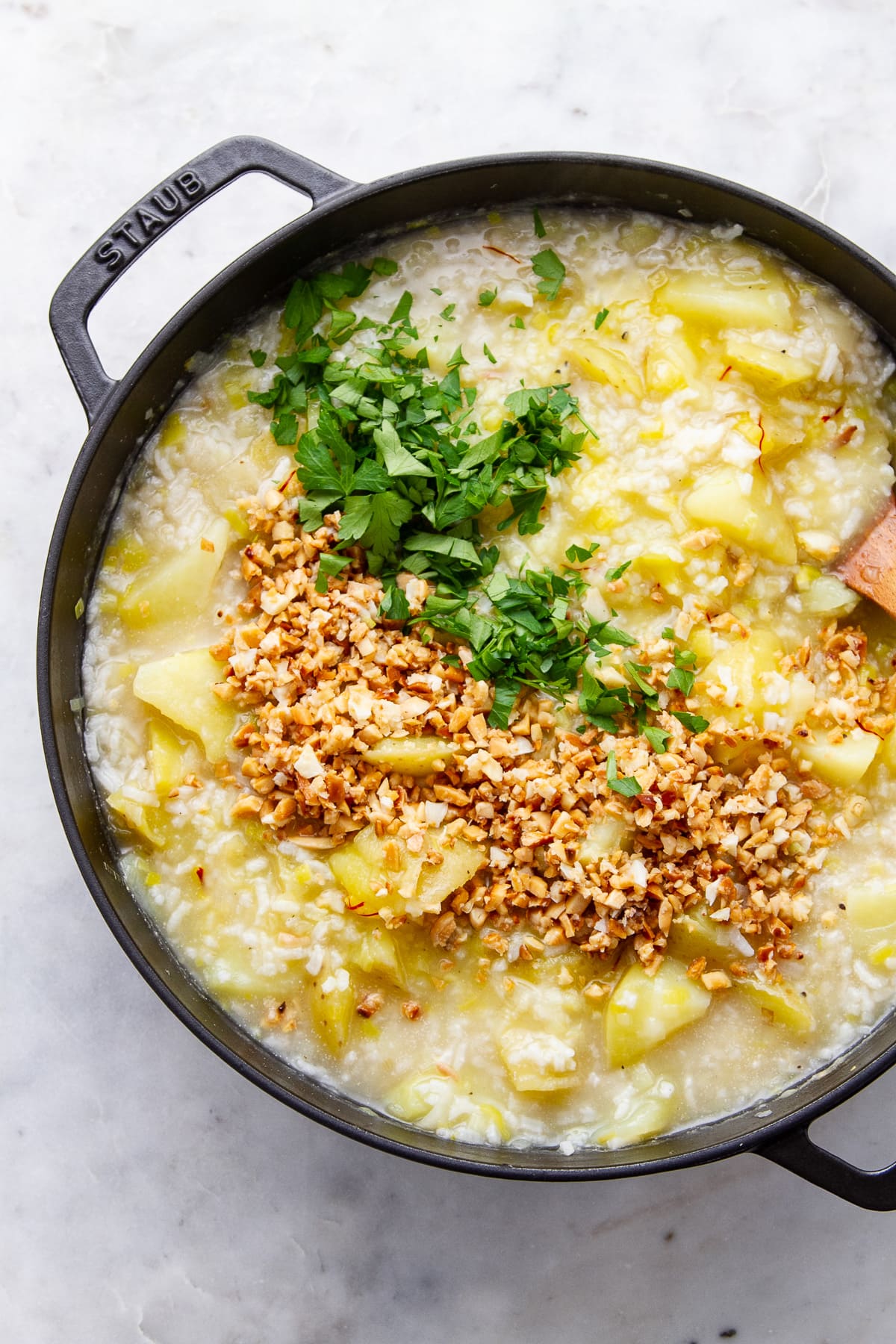 How To Make In A Slow Cooker
Simply add the leeks, potatoes, rice and liquids to the bowl of your slow cooker. Cook on LOW for 4 – 5 hours or HIGH for 3 – 4 hours. Fry the almonds and garlic according to directions and continue with the recipe add the mixture and saffron at the end of cooking.
How To Store Leftovers
Refrigerator: Leftovers will keep for 5 – 6 days in the refrigerator, stored in a covered container.
Freezer: This soup freezes well for up to 2 – 3 months! My favorite way to freeze soup is in individual serving size freezer safe containers (affiliate link). You can also freeze larger portions in large ziplock bags or containers. Let thaw before reheating.
Reheat: Simply re-warm on the stovetop over low heat or in the microwave using 30 second intervals, stirring in between intervals, until warm.
More Soup Recipes You'll Love
If you try this saffron potato soup recipe, please let me know! Leave a comment and rate it below. I love to hear what you think, or any changes you make.
Print
SAFFRON POTATO LEEK SOUP + FRIED GARLIC & ALMONDS
A hearty and unusual potato leek soup using saffron, fried garlic and almonds. It's a wonderfully flavored soup and will make your home smell delicious too!
Author: Julie | The Simple Vegansita
Prep Time:

10 min

Cook Time:

50 min

Total Time:

1 hour

Yield: Serves

4

- 6

1

x
Category:

Entree, Soup

Method:

Simmer

Cuisine:

Vegan, American
2

pounds organic yukon gold potatoes

2

small leeks, sliced and any dirt removed

2 tablespoons

olive oil

1/2 cup

raw slivered almonds

4

–

6

large garlic cloves, minced

6 cups

water or vegetable broth, + more as needed

1/2 cup

rice (basmati or jasmine rice)

1

pinch saffron, partially crushed
mineral salt and fresh cracked pepper, to taste

2 teaspoons

sherry vinegar or red/white wine vinegar

2 tablespoons

flat leaf parsley, minced
Instructions
Potatoes: Cut potatoes into irregular chunks by inserting the tip of a small, sharp knife into a potato and twisting until a 1 1/2 chunk comes out. Repeat until the entire potato is cut up, than continue with the remaining potatoes, set aside. You can also just roughly chop the potatoes into 1 1/2 inch chunks. Peeling is optional.
Fried Almonds + Garlic: Heat oil in a heavy pot over medium heat, add almonds and garlic, cooking, stirring frequently until golden, 3 – 4 minutes. Transfer the almonds and garlic to a bowl to cool slightly. In a food processor, place the garlic and almonds, pulse until desired texture. I left mine fairly course. You can also simply mince them with a knife. Add all but 2 tablespoons to the soup. Season soup with salt and pepper to taste.
Saute: Add leeks and a 2 tablespoons of water to the pot and cook, stirring occasionally, until softened, about 4 minutes.
Simmer: Add potatoes, vegetable broth and rice, bring to a boil, cover, reduce heat to low and simmer 40 to 45 minutes.
Saffron: Remove a few tablespoons of soup from the pot and place in a small bowl, add saffron and let steep for 2 minutes, add to the soup. Add a little more water or broth if the soup seems to thick and continue to cook.
Add remaining ingredients: Add the vinegar to the reserved ground almond mixture and stir in the soup. Add the parsley and cook for a minute. Taste for seasonings, adding a little more salt and vinegar if necessary. 
Serve with dense whole grain or artisan bread or naan bread.
Store: Leftover can be stored in the refrigerator for up to 4 – 5 days. Keep longer in the freezer, up to 2 – 3 months.
Notes
If using almonds with the skin, just know that the skins will fall off in the soup. For me this is not an issue (I like the added fiber) but if you're serving for company you may consider using blanched almonds.
How to make without rice: Reduce the liquids to 4 cups, adding more as needed. When soup is done, if you'd like it a little creamier, mash a few of the potato pieces with the back of a spoon.
Slow Cooker: Add the leeks, potatoes, rice and liquids to the bowl of your slow cooker. Cook on LOW for 4 – 5 hours or HIGH for 3 – 4 hours. Fry the almonds and garlic according to directions and continue with the recipe add the mixture and saffron at the end of cooking.
Recipe adapted from Food 52 Anya von Bremzen's Potato Soup with Fried Almonds.
RECOMMENDED EQUIPMENT: I have been loving this Staub braiser (affiliate link) you see in the photos, 5 stars for ease and clean up! It's my new favorite for everyday cooking – soups, fried tofu, skillet potatoes, etc.
Updated: Saffron Potato Leek Soup recipe was published in October 2012 and updated in November 2019 with new photos and helpful tips. Enjoy!
FOLLOW TSV on Facebook, Instagram, Pinterest or RSS for more updates and inspiration!