This Black Bean Burgers recipe features smoky flavors and can be cooked in the oven or on the grill! These vegan burgers are made with simple pantry ingredients and super easy to make!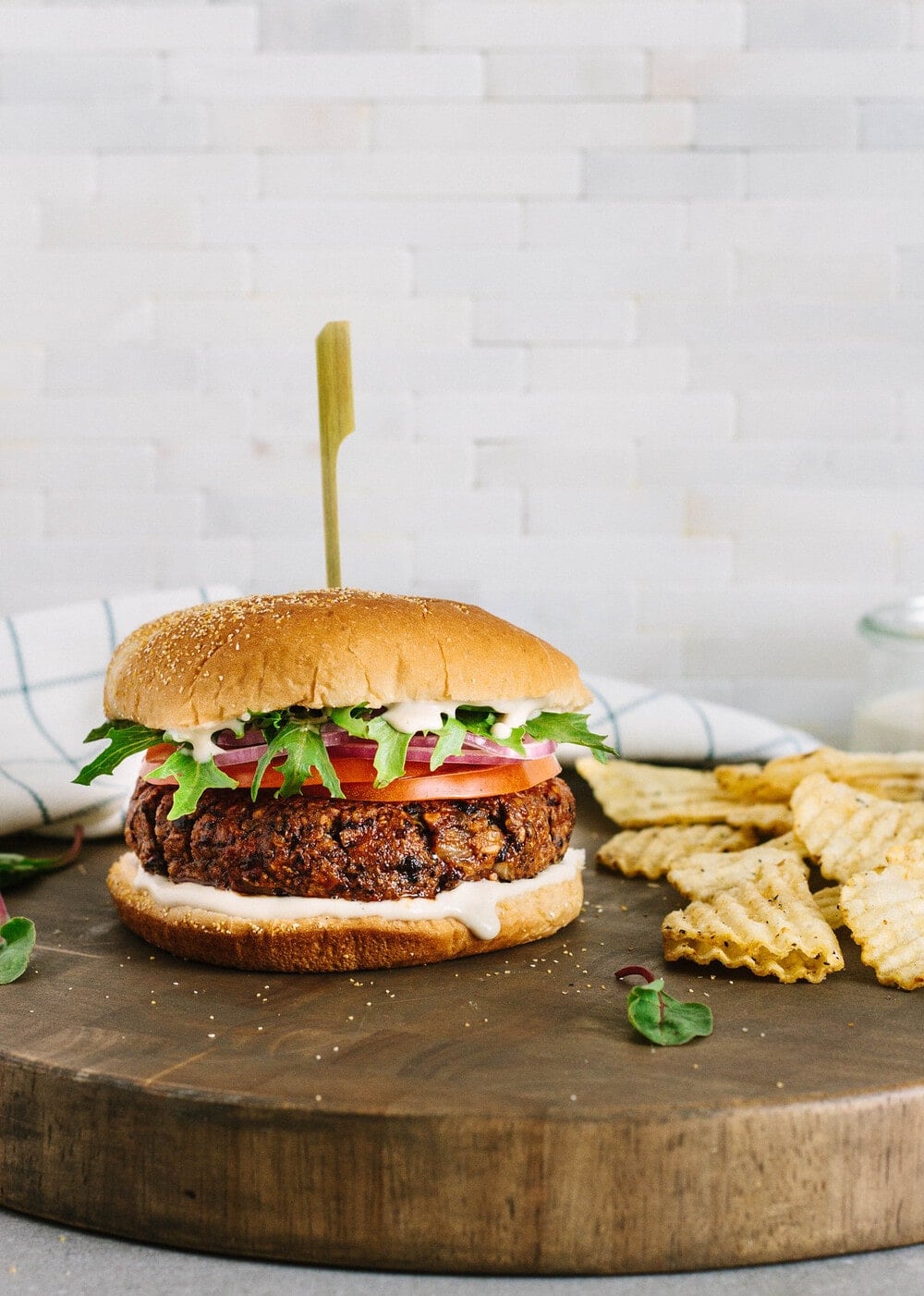 Hello veggie lovers!
Since summer has officially started, and the next grilling holiday is just around the corner, I thought it was a perfect time to bring a new vegan 'smoky' black bean burger to the recipe collection.
It's an uncomplicated mix of everyday ingredients that's big on flavor and easy to customize, making burgers tailored to your taste or what you have on hand. Plus, they are low-fat and high fiber for a healthy meal!
Texture and flavor-wise, these smoky black bean burgers are tender with a nice mouthfeel. The spices include smoked paprika, along with a hint of oregano and/or cumin. And the sweet, tangy glaze adds the final touch and punch of flavor!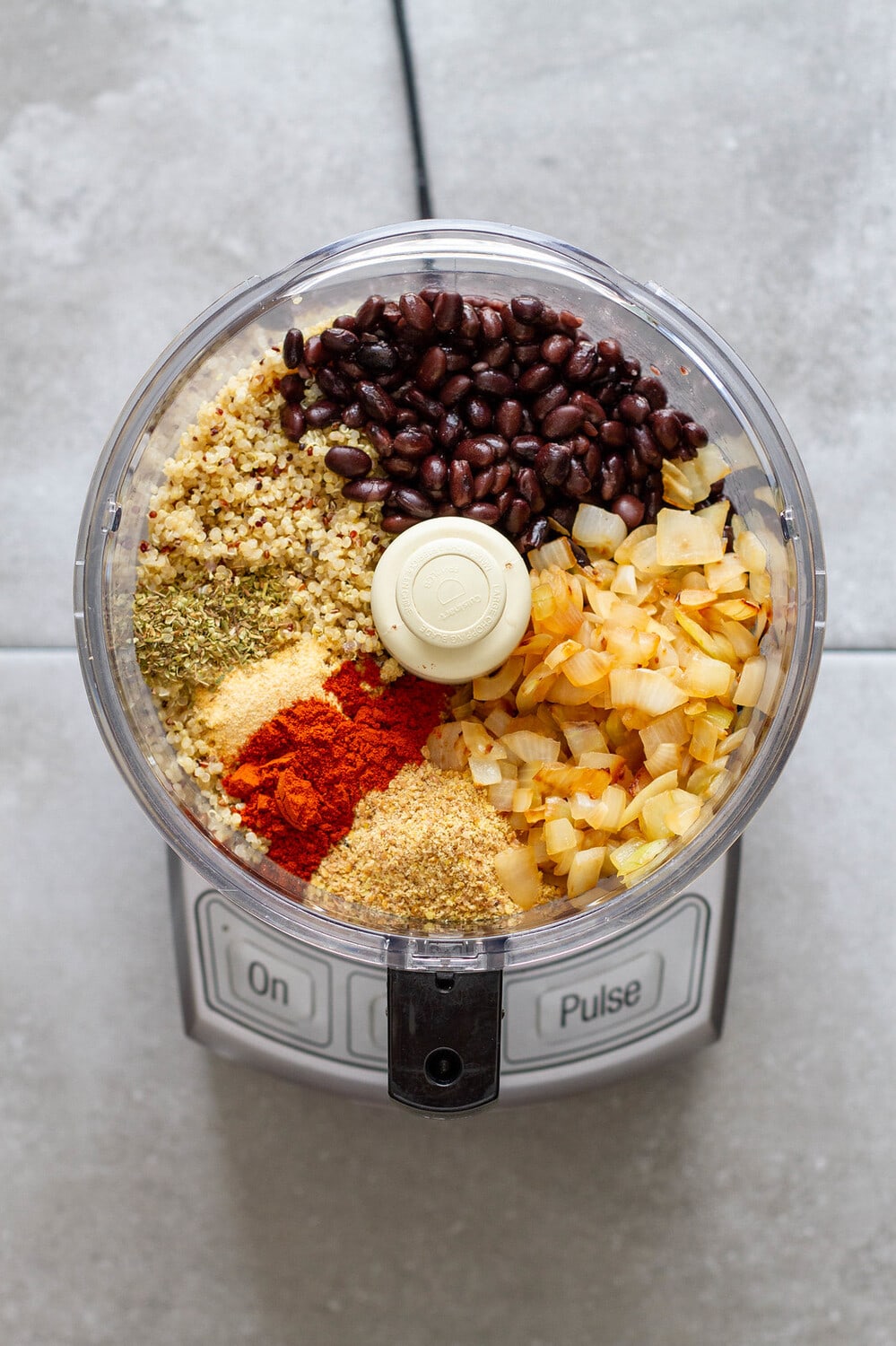 How To Make Vegan Black Bean Burgers
Here is a quick overview of the process with photos for reference.
Start with sauteing the onion. You can skip this step and use raw onion if you're in a pinch.
Once done add them to the bowl of a food processor (shown above), along with the black beans, quinoa/rice, flaxseed meal, spices & herbs, and process in short pulses until partially blended (shown below).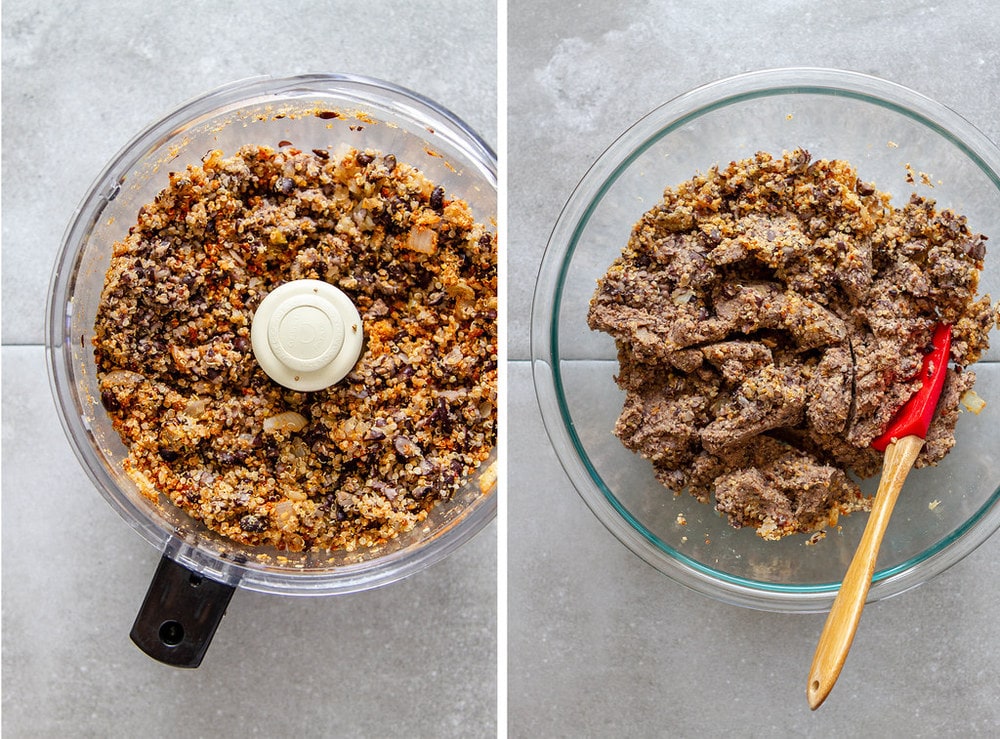 Once pureed (above left), move the mixture to a large mixing bowl and mix well with your hands or spatula, making one big packed mound in the bowl.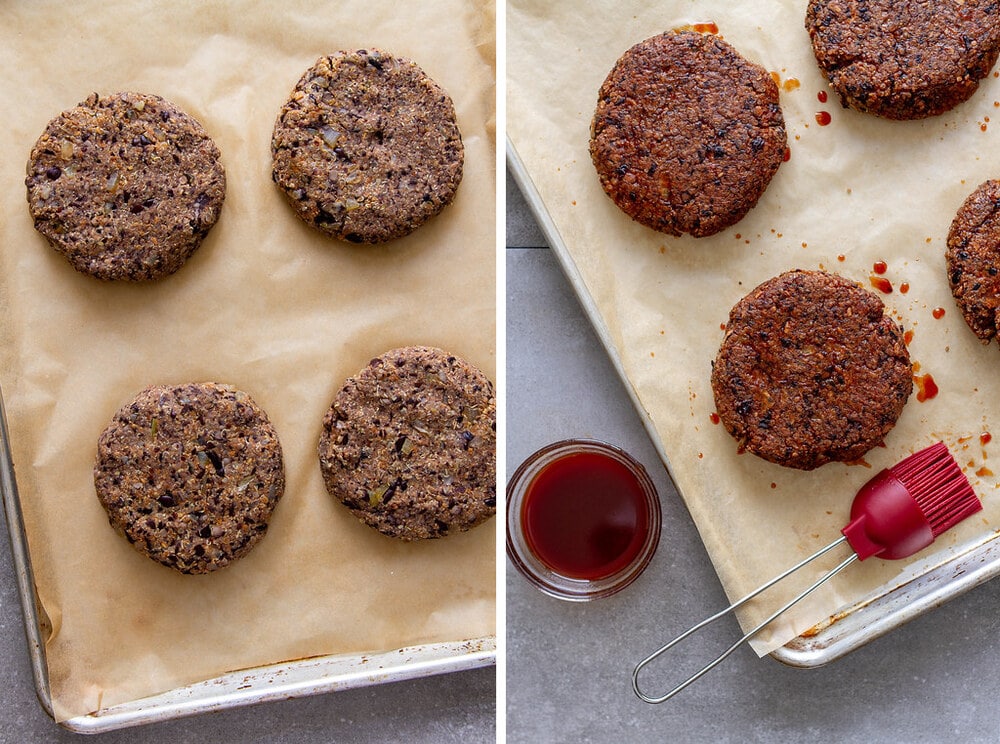 Divide the mixture as evenly as you can and form firmly packed balls. The black bean burger recipe will yield 4 jumbo, 6 regular, or 8 slider-sized patties.
Flatten each ball into 3/4 – 1 inch thick patties. Make sure to smooth any cracks along the edges after flattening – usually pinching it together is all it takes.
Cook black bean patties with your preferred method, either on the grill, in the oven, or on the stovetop. I baked mine in the oven for an oil-free burger.
When done, brush the balsamic glaze over the top and along the sides of each patty.
Now, you're ready to assemble your black bean burgers with any – and all – of the 'fixins' you like!
I served mine with the classics – sliced tomato, red onion, leafy greens, and this delicious creamy vegan Garlic Aioli spread.
Top Tips
Use quinoa or brown rice. Use your favorite or whatever is convenient. For myself, quinoa is king because it's magical for my digestive system!
Use flaxseed meal or panko/breadcrumbs. The flax meal is the healthiest and gluten-free option, but panko is soo good too!
They can be made oil-free. Depending on how you cook your burgers, they can be oil-free.
Saute onions for depth of flavor. Onions can be used raw for quickness and ease or sauteed for even more flavor (which I highly recommend!).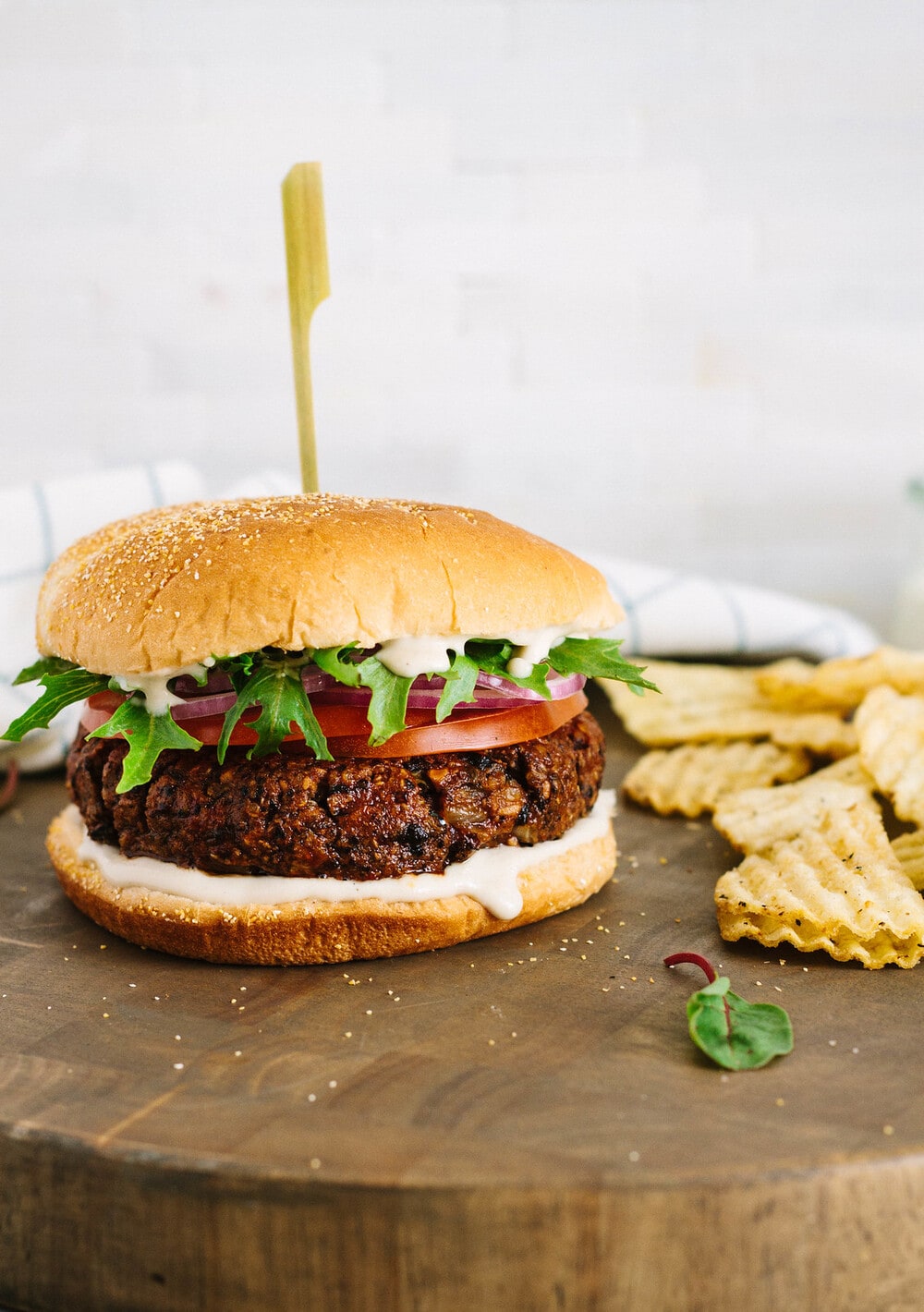 What To Serve Alongside Your Burger
Pair your black bean burgers with these classic sides:
How To Store + Freeze
These black bean burgers store and freeze well, making them great for planning ahead. You can easily store them cooked or uncooked. They will stay fresh in the refrigerator for up to 5 – 6 days. For longer storage, keep them in the freezer for 2 – 3 months. To freeze, place a piece of parchment paper between the patties so they don't stick together when frozen. Let thaw in before heating.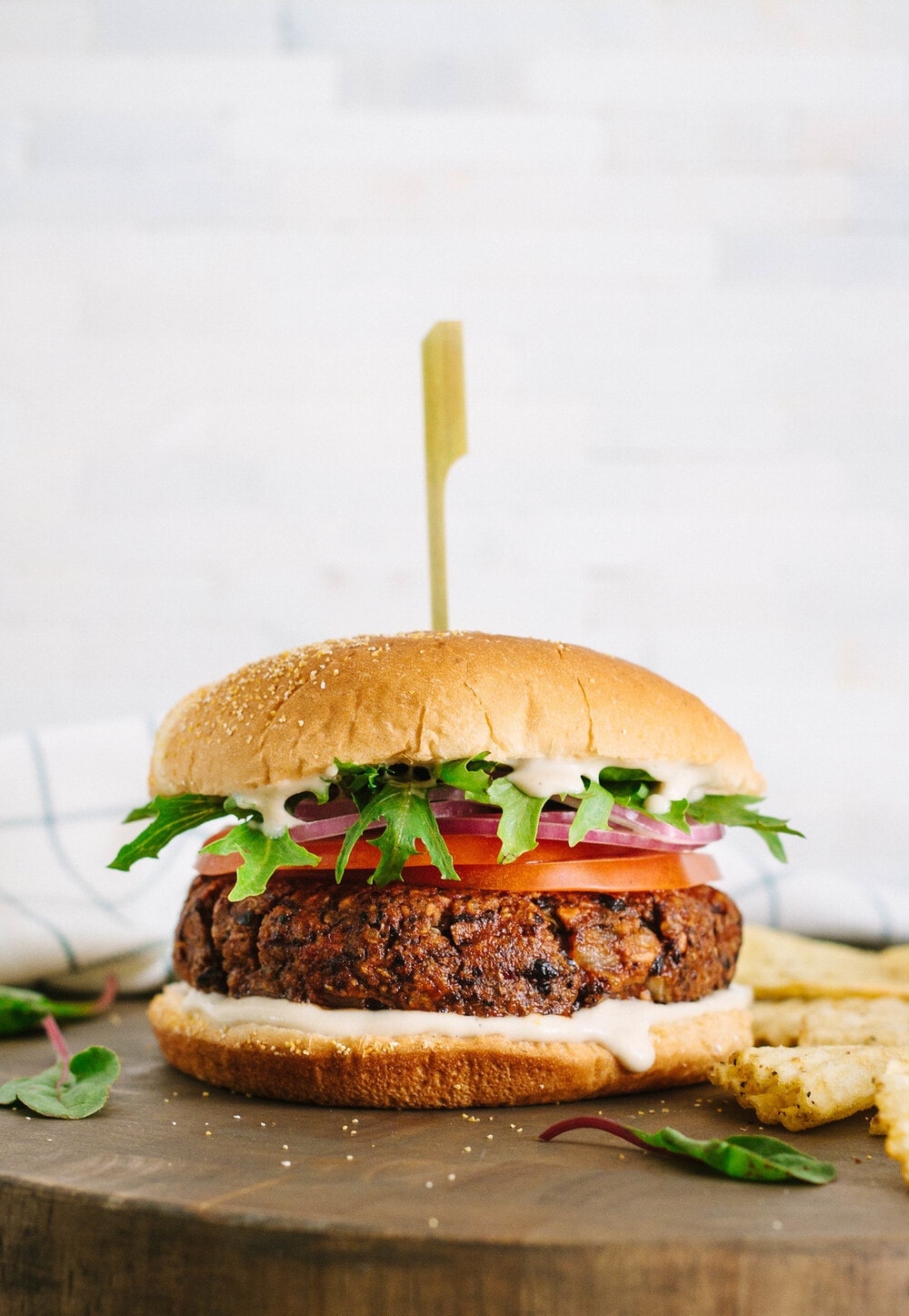 If you try this easy black bean recipe, please let me know! Leave a comment and rate it below. I love to hear what you think, or any changes you make.
Print
Smoky Black Bean Burger
Simple and delicious, these smoky black bean burgers are 100% vegan and can be made in the oven, on the stovetop or grilled to perfection!
Author: Julie | The Simple Veganista
Prep Time:

15 min

Cook Time:

30 min

Total Time:

45 minutes

Yield: Makes

4

– 8

1

x
Category:

Entree

Method:

grill, stovetop, oven, mix

Cuisine:

American, Vegan
1 tablespoon

olive oil or 2 tablespoons water (for water saute)

1

small onion (about

1 cup

), chopped

1 1/2

cups

cooked quinoa (packed) or brown rice*

2

cans (15 oz.) black beans, drained and rinsed

1/2

cup

flaxseed meal or panko/bread crumbs

1 1/2 teaspoons

smoked paprika

1 teaspoon

garlic powder

1 teaspoon

oregano or cumin (or

3/4 teaspoon

both)

1/2

mineral salt, or to taste
Glaze
1 tablespoon

balsamic or apple cider vinegar

1 tablespoon

pure maple syrup

1 teaspoon

tamari, coconut aminos of soy sauce

1 teaspoon

tomato paste

1/2

–

1

teaspoon sriracha or hot sauce of choice
To serve
hamburger buns
leafy greens
sliced red onion
tomato slices
Instructions
Saute: In a small pan or skillet, heat oil/water over medium heat, add onion and saute for about 5 – 7 minutes, onions should be tender and slightly golden on the edges. Let onions cool a bit before moving to the food processor.
Glaze: Next, prepare the glaze. In a small bowl, combine the vinegar, maple syrup, tamari, tomato paste, and sriracha. Mix well, and set aside to let the flavors mingle. Taste again, adding more of any ingredient to suit your taste.
Process: Using a food processor, add slightly cooled onions, quinoa/rice, black beans, flaxseed meal, and spices/herbs. Pulse for 5 – 6 seconds at a time, until about half the mixture is combined. Be careful not to over-process, you want some chunkiness from the beans and onions.
Mix: Place mixture in a mixing bowl. You'll notice once you remove the mixture, the underneath part will be more processed than the top. Using your hands or spatula, mix together well.
Patties: Form 4 round jumbo balls, making sure to pack the balls together well. Flatten each ball into a patty, about 3/4 inch thick, and smooth any cracks along the edges. Place on prepared baking sheet. Alternately, you can make 6 regular-sized patties or 8 sliders.
HOW TO COOK
Oven: Preheat oven to 350 degrees. Line a baking sheet with silpat, parchment paper, or lightly grease with oil. Place baking sheet in preheated oven and bake for 12 – 15 minutes. Using a spatula, gently flip patties and bake another 12 – 15 minutes. Brush tip and sides with balsamic glaze. Let cool a few minutes before serving.
Stovetop: Heat 1 tablespoon oil over medium-high heat, add patties, and cook 5 minutes, or until lightly browned. Carefully flip patties and cook another 5 minutes. Remove, brush with balsamic glaze.
Grill: Preheat grill to medium-high heat, on greased grill, place patties and cook 5 minutes, carefully flip and cook another 5 minutes, or until lightly browned and/or charred. Remove, brush with balsamic glaze.
Serve with fixins of choice and enjoy!
Makes 4 jumbo or 6 regular patties, or 8 sliders.
Store leftovers in an airtight container in the refrigerator for up to a week, or in the freezer for up to 2 months (thaw before cooking).
Pair your burgers with these Homemade Baked Potato Chips, Vegan Coleslaw, Classic Potato Salad or Healthy Baked Beans!
Notes
*If using brown rice, but don't feel like cooking it, you can use packaged precooked rice for ease. Use one whole package (5.5 – 5.8 oz) for this recipe, no need to heat first. It's what I started with and had great results.
For the sauteed onions, you can skip this step and just add the raw onions to the food processor. I started my recipe testing this way but decided I preferred the flavor of the sauteed onions. Both ways are good, and this option is totally up to you.
Make the patties ahead of time, storing them in the refrigerator until ready to cook.
Nutrition information is calculated using quinoa, flaxseed meal, and no added oils.
FOLLOW TSV on Facebook, Instagram, Pinterest, or RSS for more updates and inspiration!