SOUTHERN VEGAN POTATO SALAD
This classic Southern style Vegan Potato Salad is a crowd-pleasing favorite with tender potatoes and perfectly seasoned creamy mayo and mustard dressing. It's a 'tried and true', easy customizable recipe that's ready in about 30 minutes!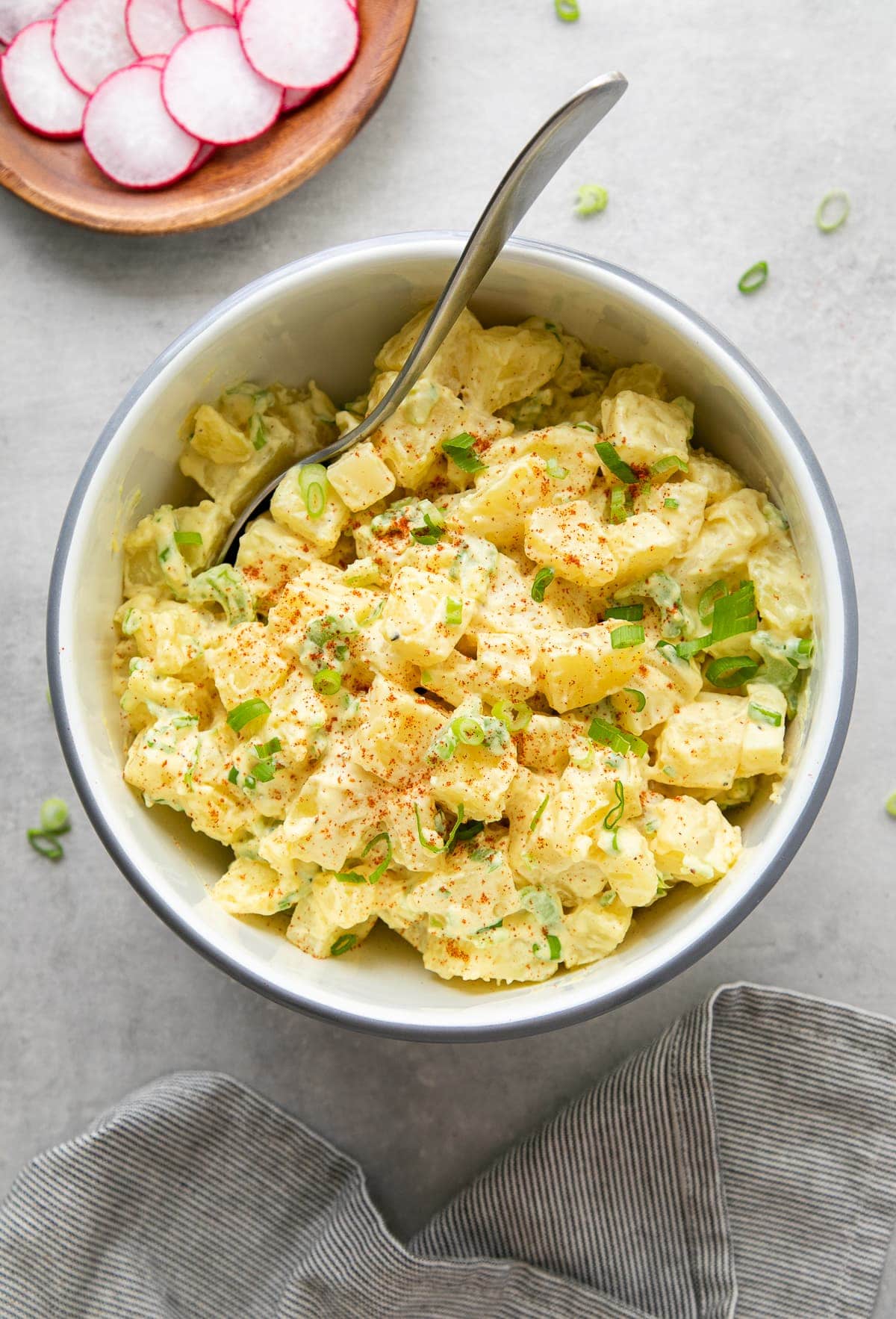 If you're anything like me, you love potato salad in just about any form! You may already be familiar with this Fresh Herb Potato Salad , Curried Potato Salad, Creamy Dill Potato Salad, and German Potato Salad with Dill, all of which are fantastic!
This old-time family favorite vegan potato salad is made with a few simple ingredients and creamy mayo dressing that's simply the best! It's just like mom used to make, minus the hard-boiled eggs.
Customize it by adding more colorful veggies, or maybe add a little more of the dressing if you love it extra creamy. You can easily build upon the classic base, making your own 'best' vegan potato salad!
When you need a side dish to take along to picnics, potlucks or BBQ's, this is a perfect quick and easy side that's a true crowd pleaser. Plus, it's dairy free so you don't have to worry about it sitting out. And it's great all year long – summer, spring, fall and winter!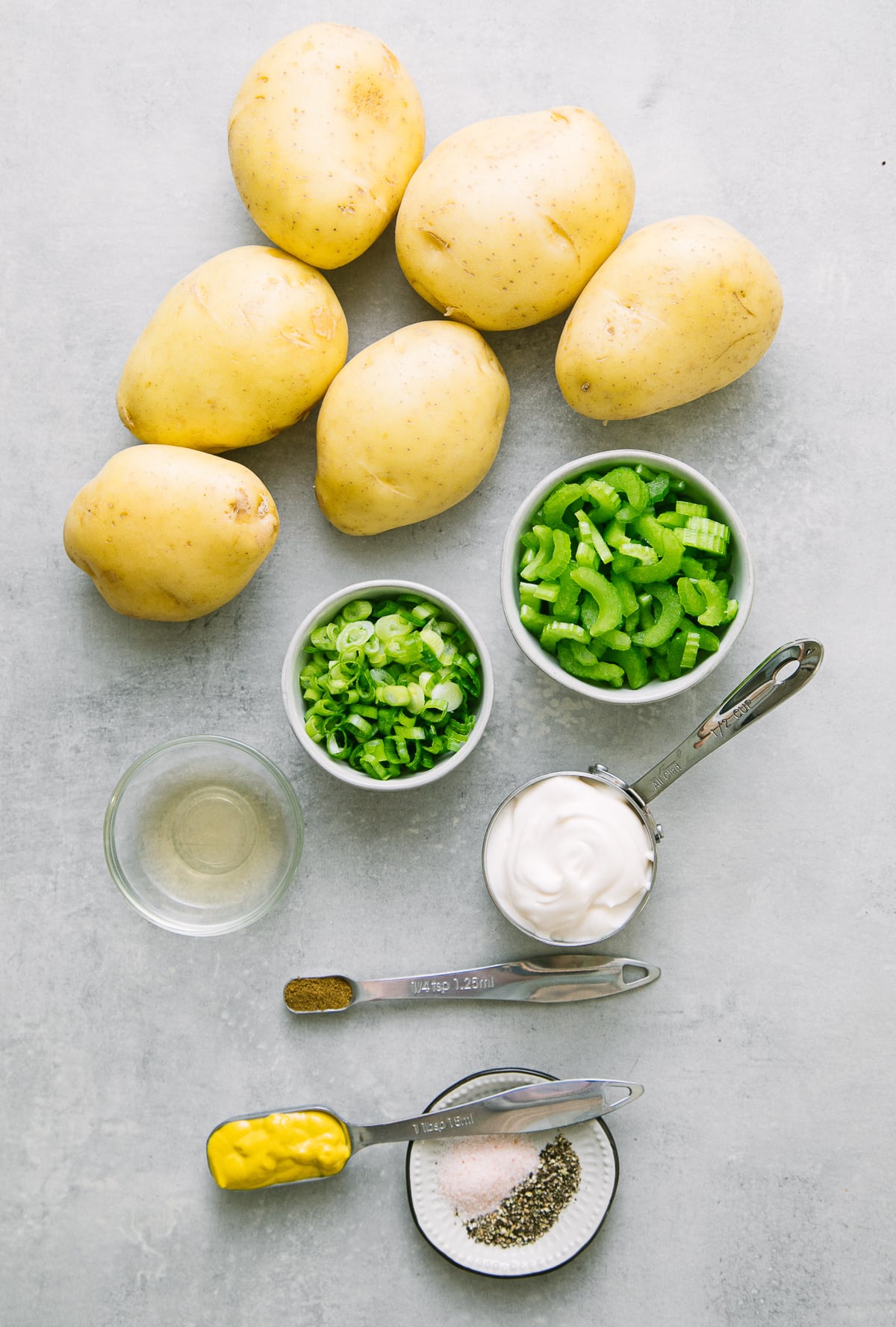 Ingredients You'll Need
In this recipe, chopped boiled potatoes, onion, celery, and optional relish are tossed with a creamy mayo dressing for a classic whole food, plant based potato salad side dish everyone will love!
Here is everything you need:
Potatoes – The best potatoes for potato salad are waxy potatoes such as Yukon gold (my favorite), red or white. They hold their shape well after cooking and won't turn to mush. You can use russet, just be sure to cook them al dente.
Celery – It's cool, crunchy and a classic potato salad ingredient, but can be omitted if you're not a fan.
Onion – For myself, onion is a must. I typically use green onion, but red onion would be great too, adding extra color.
Dill pickle or sweet relish – I don't usually add relish, but I know it's a favorite and have it added for those who love it.
Vegan mayo – Use store bought or make your own vegan mayo (it's so easy to make and tastes amazing). If using store bought mayo, I like to add 2 tablespoons of purified water to the dressing as store bought mayo tends to be very heavy. If you prefer to use an oil-free dressing try the tahini-dijon dressing in this Chickpea Potato Salad, it's fantastic!
Mustard – The dressing calls for yellow mustard, which is really delicious and not overpowering at all. If you love mustard, feel free to double the amount. And if all you have is dijon, you'll be fine.
Celery Seed – The ground celery seed is a favorite of ours and adds wonderful flavor, so don't skimp on it unless you have to. Trust me it's delicious!
Lemon or Vinegar – To add a little tanginess and brightness to the dressing we like to add a little acid, using either 2 teaspoons apple cider vinegar or juice of 1/2 lemon (my favorite is lemon).
Optional Mix-Ins
Feel free to add whatever you like, making your own very best potato salad!
Veggies – Colored bell peppers, olives, cucumber, or radish all add color, crunch, and flavor. I suggest using about 1/2 cup, finely diced, of any of these veggies, in any combination you like.
Fresh Herbs – The most common herbs are parsley, chives, and dill, but cilantro and tarragon work well too. Always start with small amounts, adding more as you like.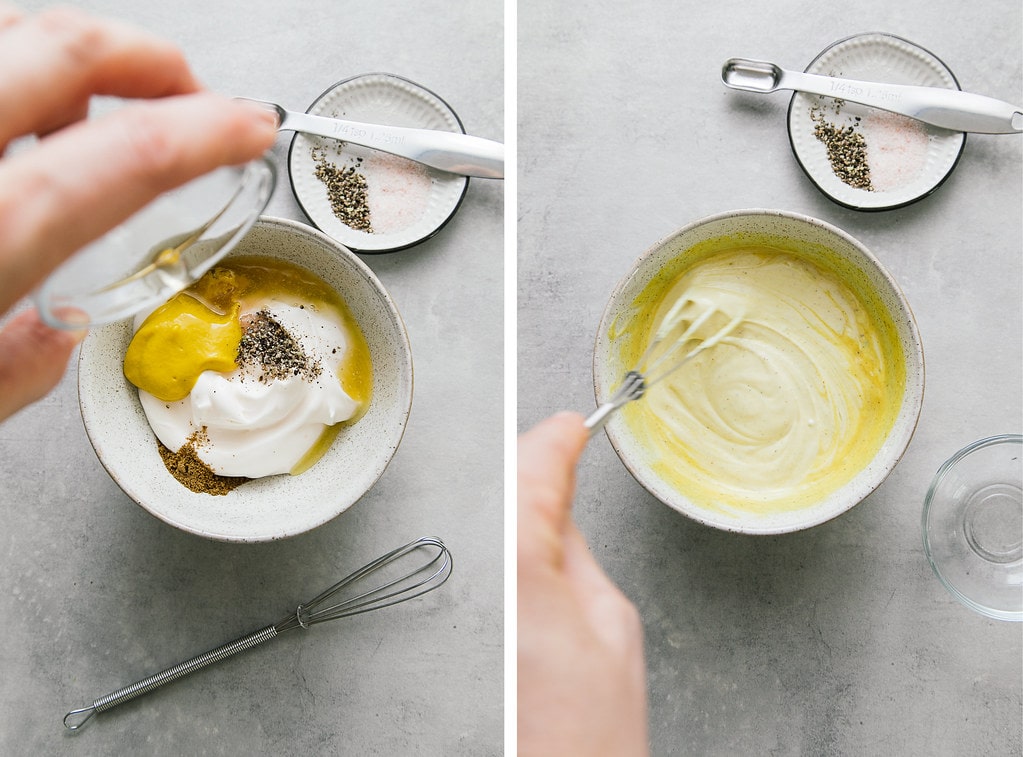 How To Make Vegan Potato Salad
Dressing: Mix the dressing together in a small bowl. Set aside. Make the dressing while waiting for the water to boil for the potatoes.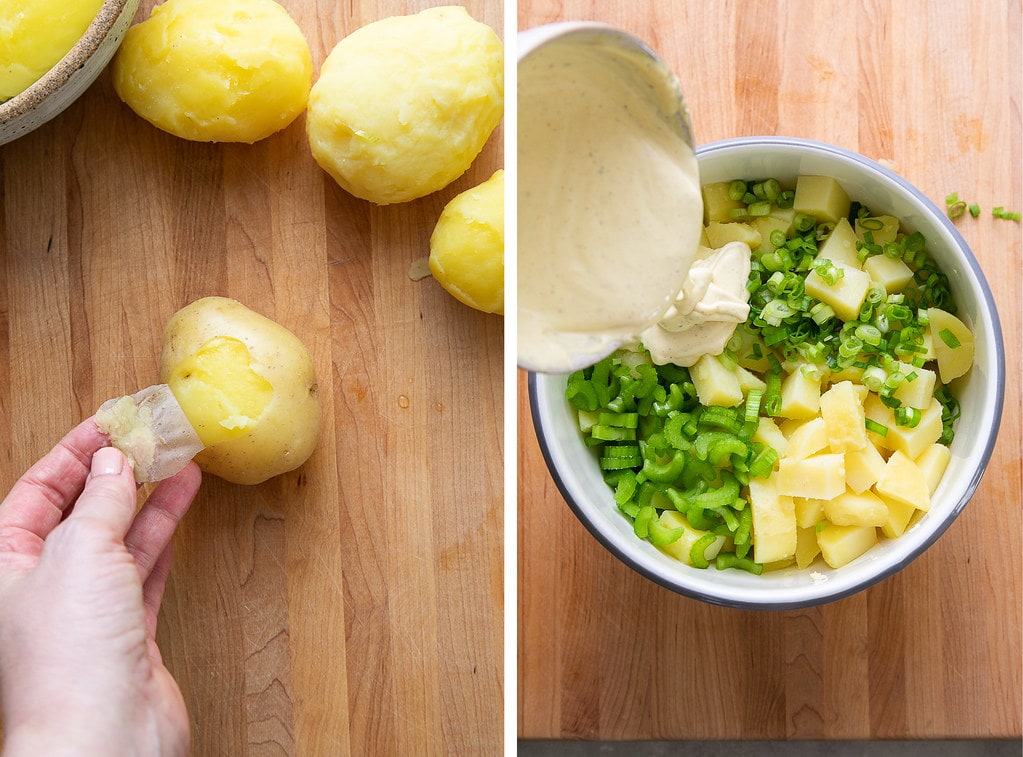 Boil Potatoes: In a large pot, cover the potatoes with about 1 1/2 inch water, boil, covered askew, for 15 – 20 minutes. Drain and rinse the potatoes under cool running water, let cool a few minutes. Peel the potatoes, and cut into 1/2 inch cubes. Alternatively, cut the potatoes first and boil.
Prep optional veggies: While the potatoes are boiling, prep the veggies.
Assemble the potato salad: In a large mixing bowl, add the cubed potatoes, veggies, dressing, and mix until combined.
And that's it, now you can enjoy the potato salad as is or chill before serving.
Tips + Faqs
Cooking the potatoes whole yields the best flavor, and they are really easy to peel once cooled a bit. Simply pinch and pull the skin away from the flesh of the potatoes, as shown above. Don't be afraid to 'manhandle' the potatoes when peeling them. You wont' lose much flesh, if any at all, and then you can cube them into small pieces. Aim for the same sized potatoes so they cook evenly.
Don't overcook the potatoes. Potatoes should be al dente, slightly firm. Overcooking will result in mushy potatoes that fall apart when mixing.
Make it ahead. This potato salad can easily be made a day in advance and stored in the refrigerator in an airtight container until ready to use.
Can I make potato salad without mayo? Yes, you can use a tahini base of 1/3 cup tahini + 1/4 cup water, adding more water or tahini as needed to create the right consistency.
What are the best potatoes for potato salad? The best potatoes are small, waxy and thin-skinned potatoes such as Yukon gold, white or red potatoes. Smaller potatoes cook fairly quickly, about 15 – 20 minutes max. If all you have on hand are russet potatoes, peel and cube them before cooking, and boil gently until fork tender.
Can you freeze vegan potato salad? Yes, you can freeze potato salad, but I don't recommend it. It's just not as good after thawing and loses its texture and appeal.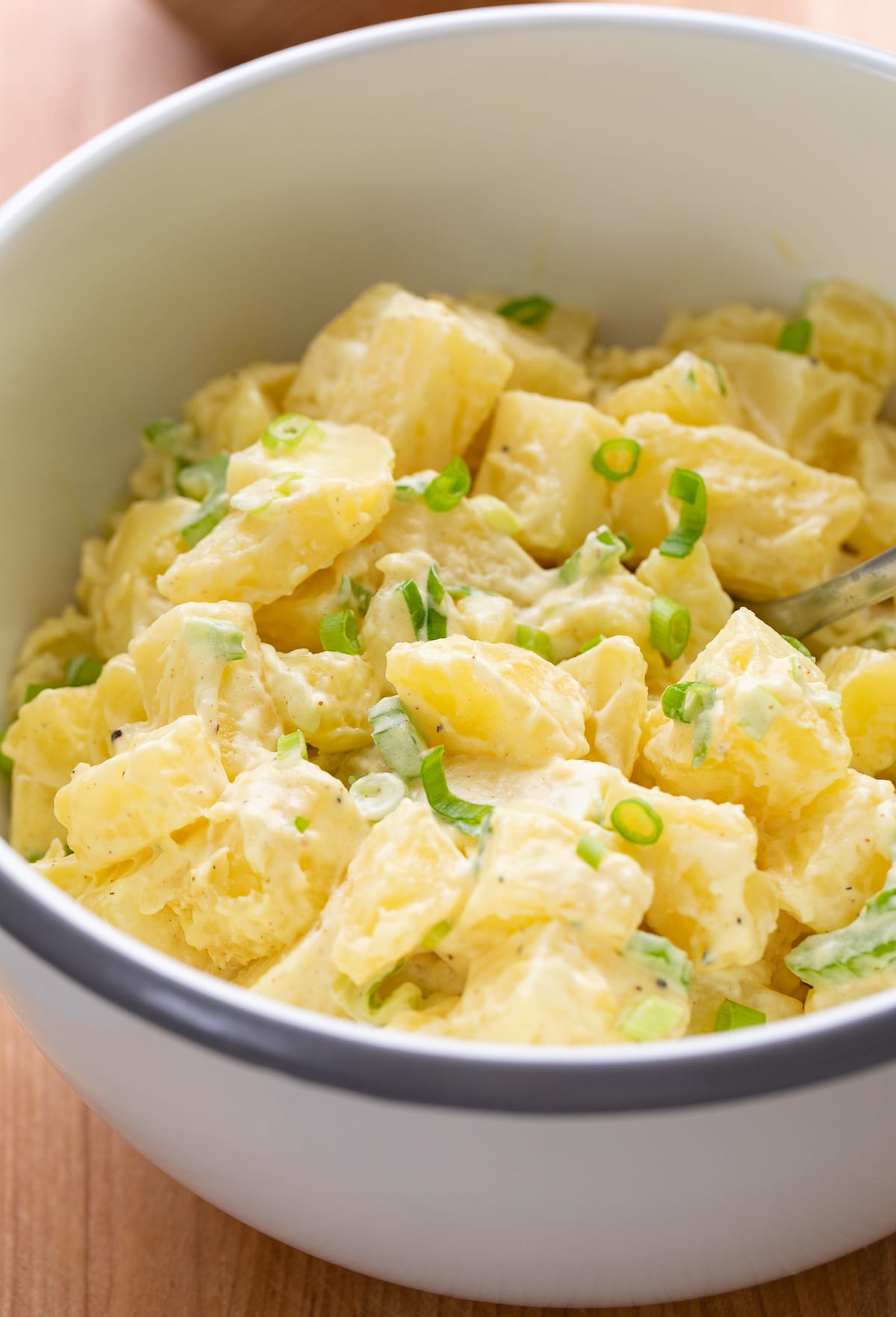 How To Store Leftovers
Refrigerator: Leftovers can be stored in the refrigerator for up to 4 – 5 days in a covered container.
Freezer: It's not recommended to freeze potato salad.
Serving Suggestions
Here's a few ideas of how to serve your potato salad. It's great alongside a variety of main meals and side dishes.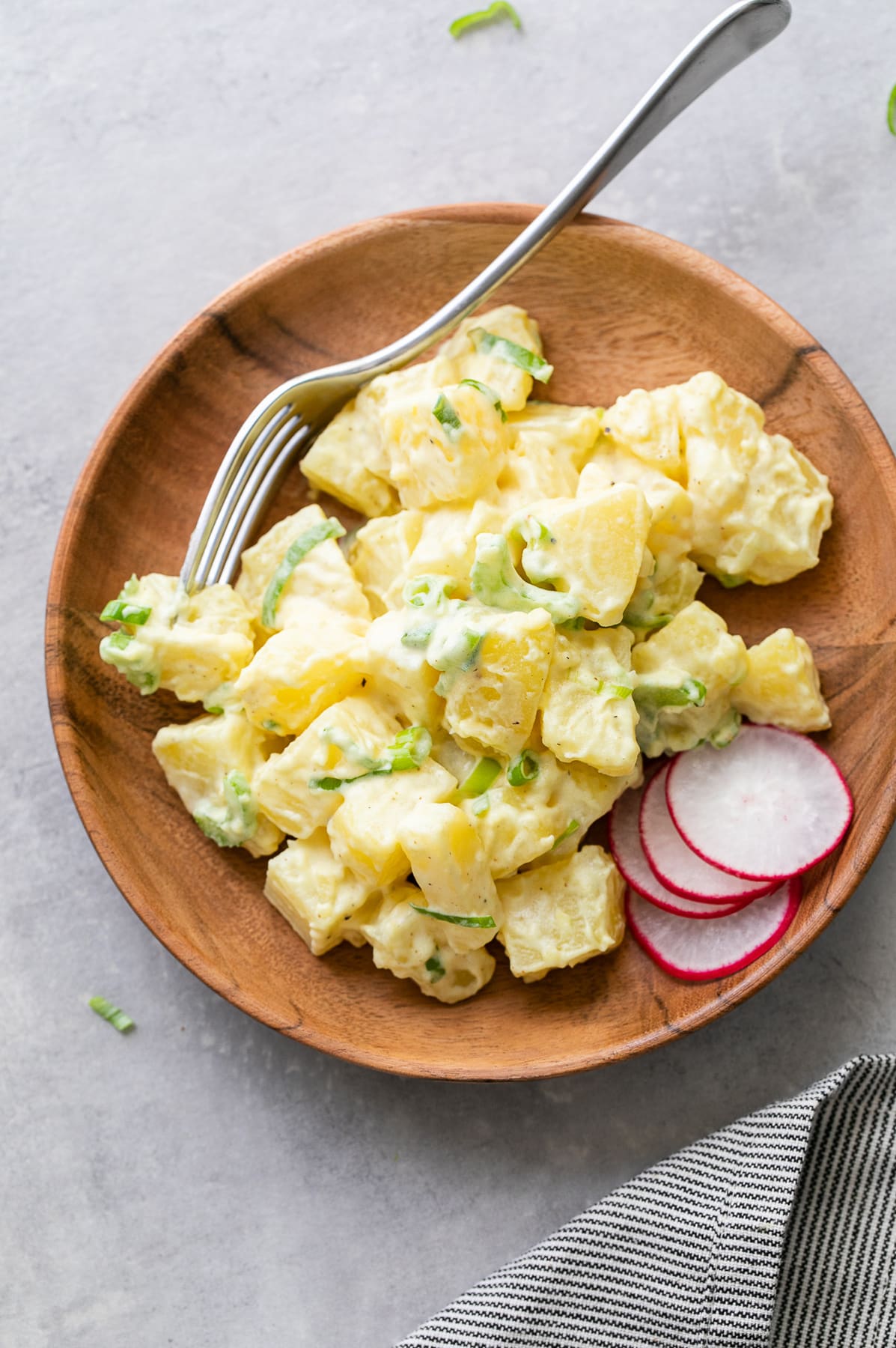 More Easy Side Dish Recipes
If you try this easy side dish recipe, please let me know! I'd love to hear any tips or changes you made to the recipe in the comments below!
Print
BEST VEGAN POTATO SALAD
This classic Vegan Potato Salad recipe uses minimal ingredients, a flavorful creamy mayo-based dressing, and is so easy to make. It's one of my old favorites and perfect for making ahead!
Author: Julie | The Simple Veganista
Prep Time:

15 min

Cook Time:

20 min

Total Time:

35 minutes

Yield:

Serves 6

Category:

Side

Method:

boil, mix

Cuisine:

American

Diet:

Vegan
2 1/2

lbs. yukon gold potatoes (red or white is great too)

1/2

cup celery (some leaves ok), diced (optional)

1/2 cup

green onions (green parts only), diced

1/4

–

1/3

cup

dill or sweet relish or finely chopped pickles, optional
Potato Salad Dressing
1/2

–

3/4

cup vegan mayo (store bought or homemade vegan mayo)

1

heaping tablespoon yellow mustard

2 teaspoons

apple cider vinegar or juice of 1/2 lemon, optional

1/4 teaspoon

ground celery seed
mineral salt & fresh cracked pepper, to taste
Instructions
Potatoes: Place potatoes in a large pot, cover potatoes with 1 1/2 inch of water, add generous pinch of salt. Bring to a boil, reduce heat to a gentle boil and cook about 15 – 20 minutes, until potatoes are just fork tender. Drain potatoes and let cool. Once cooled, gently peel the skin away (or leave it on if you prefer). Pinch the potato skin with your thumb and forefinger, skin should come off with ease. Cut the potatoes into 1/2 inch cubes. Alternatively, cube the potatoes first, then boil.
Prep veggies: While potatoes are cooking and/or cooling, prepare the green onion, and celery.
Dressing: In a small bowl, combine the mayo, mustard, ground celery seed, salt and pepper, and mix well. If dressing is too thick, add a tad more water or lemon juice.  Alternatively, if dressing is too thin, add more mayo. If using store bought mayo, I like to add 2 tablespoons of water to thin, as store bought may is very thick. 
Assemble: In a large bowl (or pot you cooked the potatoes in) place the potatoes, onion and optional celery. Pour the dressing over top and mix to combine. Season with mineral salt and fresh cracked pepper.
Serve as is, or store in the refrigerator for an hour or so before serving. Garnish with paprika, chives, parsley, dill or even radishes.
Store leftovers in an airtight container in the refrigerator for up to 5 days.
Serves 6 
Notes
Baby potatoes: If using baby potatoes, cooking time will be slightly shorter and there is no need to peel them. If you do use baby potatoes, after they've cooked and cooled, slice in half or quarter them.
Making ahead: You can make this the night before, but keep in mind that the dressing tends to be absorbed as the potato salad sits in the fridge, so if you want it really creamy, you can reserve a small portion of the dressing to stir in just before serving.
Recipe can easily be doubled for large crowds.
Variations:
Veggies: For color and texture, try adding any 1 or combo of the following: celery, red onion, cucumber, colored bell pepper, olives, radish, or carrots. Dice them and use up to 1/2 cup each.
Herbs: Fresh herbs are delicious in potato salad! Try adding a a few tablespoon of chopped dill, chives, basil or parsley.
Mustard: Double up the mustard if you're a fan! Try substituting Dijon or whole grain mustard for the yellow mustard for a different flavor profile.
Updated: Vegan Potato Salad recipe originally published May 2019 and has been updated May 2020 with new photos and helpful tips. 
FOLLOW TSV on Facebook, Instagram, Pinterest or RSS for more updates and inspiration!