Healthy Vegan Baked Beans made from scratch using and Instant Pot or slow cooker is easy, customizable and includes an optional no-fuss, no-soak method for the beans.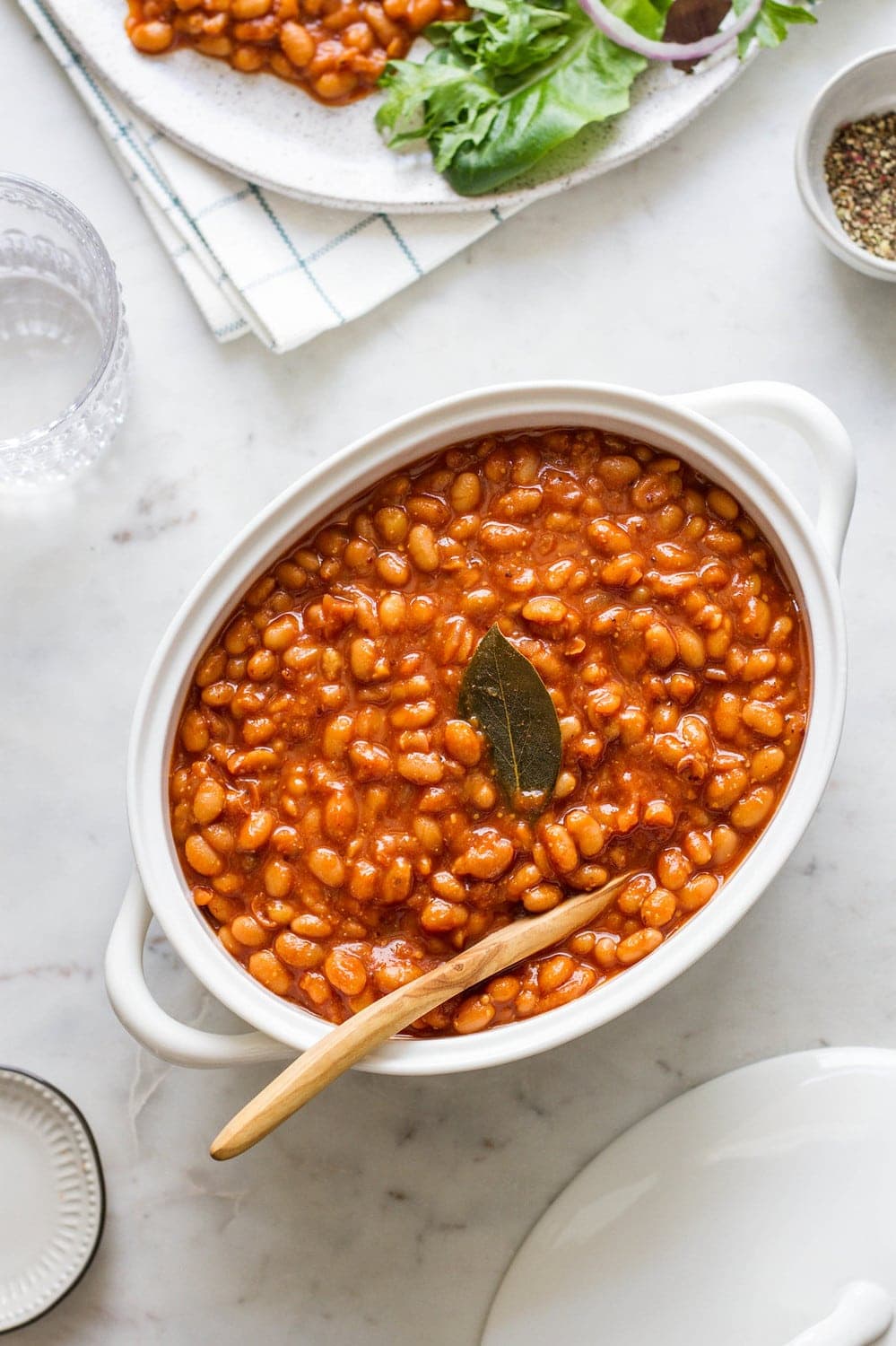 If you've been looking for a great vegan baked beans recipe – especially one made in an Instant Pot – than I've got you covered! Made from scratch with dried beans, these healthy baked beans are full of nutrition, flavor & texture.
Since celebrating my daughters bon voyage with a BBQ, I've had the itch to make homemade baked beans. I bought my favorite 'Celebration' Field Roast to slice and grill (it's great on the grill) and made canned baked beans, along with these Oven Roasted Red Potatoes and corn on the cob. Needless to say it was supremely delicious and this family affair set in motion the need to make fresh baked beans!
Healthy Vegan Baked Beans
My journey to the perfect baked beans has been inspired by readers who have taken the time to leave valuable feedback. This recipe has changed from no-soaking to soaking the beans, but I think we've finally found the happy medium with both methods!
I've reworked the directions to include the option to soaking the beans beforehand or skip this step entirely and use the no-soak method. Just know that cooking times do vary. Both methods are 'tried and true' ensuring that your beans cook perfectly every time!
The end result of making these healthy baked beans is perfectly textured beans, with a robust flavor, that's not too sweet, and has plenty of juices for dipping and swiping. It's a healthy, vegan baked bean recipe I can stand behind 100%!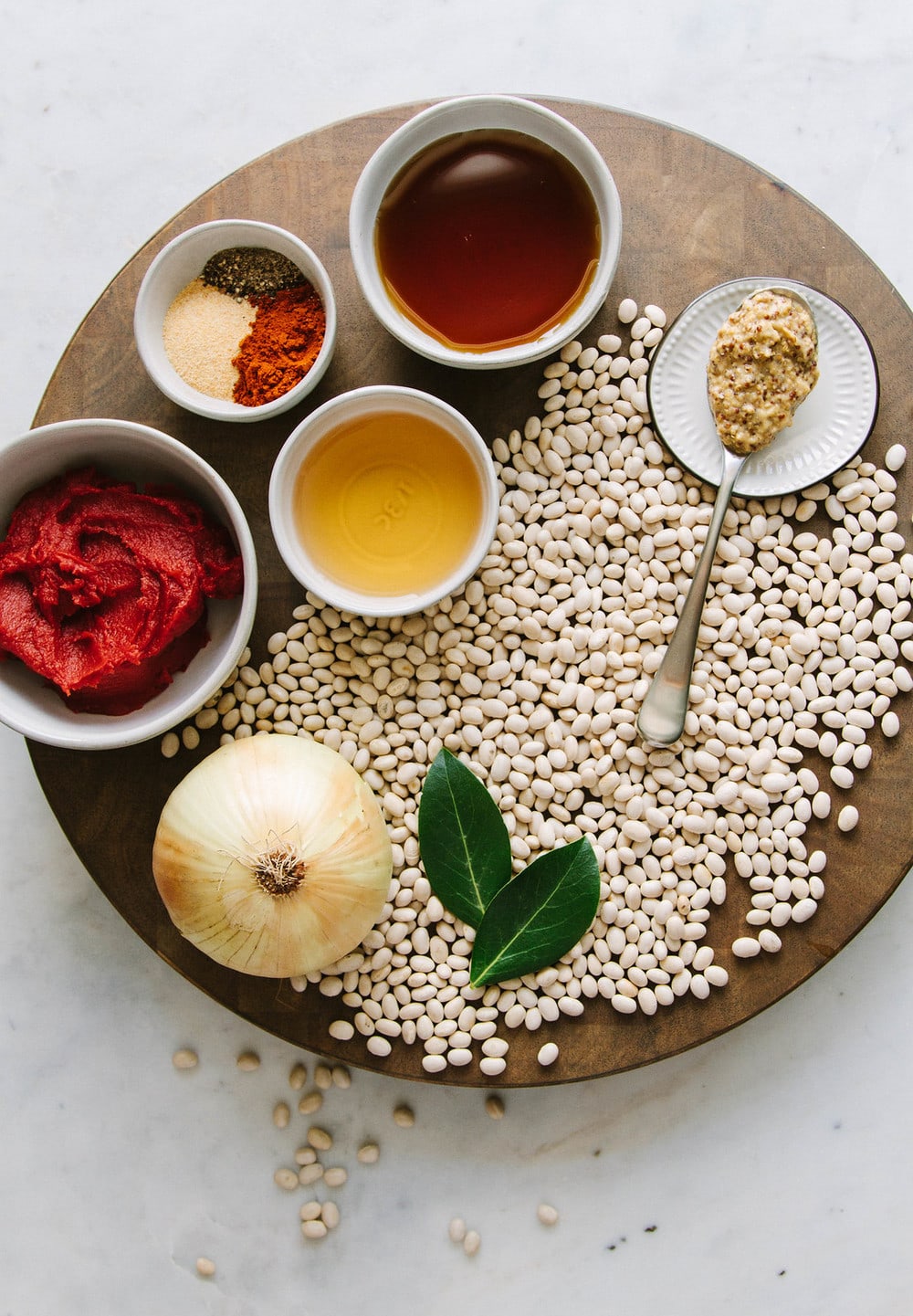 How To Make The Best Vegan Baked Beans
The ingredients are fairly minimal and simple, you may even have everything on hand already.
Beans: Start with small white beans, navy or great northern are perfect. For the best possible result, you'll want to soak the beans in water for 8 hours, or overnight. They'll be fine soaking on the counter, but also do well in the refrigerator if the temps are high. Important tip: Make sure your beans are not expired, as older beans will not cook properly, and may remain hard and under cooked.
Spices: The main spices are simply smoked paprika, garlic powder, pepper (pref. freshly cracked from the pepper mill), and salt (which will be added at the end to taste). I love bay leaves, but you can omit it if you like, as it's pretty subtle.
Mustard: Use your favorite mustard. I used whole grain mustard here. I didn't test regular or Dijon, but I'm sure they will be great too. If you try them, let us know in the comments.
Sweetener: The maple syrup will add a little sweetness, but not overwhelming in the least. If you prefer a sweeter baked beans, add a 2 – 3 extra tablespoons of syrup.
Vinegar: To add a slight tanginess, the apple cider vinegar works wonders. It also helps break the beans down for easier digestion!
Liquids: For maximum flavor, use all vegetable broth. Although, I tend to stick with a combo of vegetable broth and water, using half and half of each, with great results.
Tomato Paste: Personally, I don't care for baked beans that are overly tomatoey in flavor. This recipe does call for a 6 oz. can of tomato paste, but I didn't find to be too much at all. Feel free to omit the tomato paste all together if you prefer.
Healthy Ingredients To Add-In For Versatility –
Small jalapeno, diced (add a few seeds for extra heat)
Small green pepper, diced
2 tablespoons blackstrap molasses (unsulfered)
So there you have it, now it's your turn to make a batch of these flavorful baked beans!
How To Serve Baked Beans
Baked beans will go perfectly with any of these recipes. You may just find a new combination for the meal rotation!
If homemade baked beans were not on your list of things to make, I hope they are now. A staple for summer gatherings, they are perfect for BBQ's, potlucks and picnics.
Love using your Instant Pot
If love using an Instant Pot, try these other wonderful pressure cooker recipes. All are easy and delicious!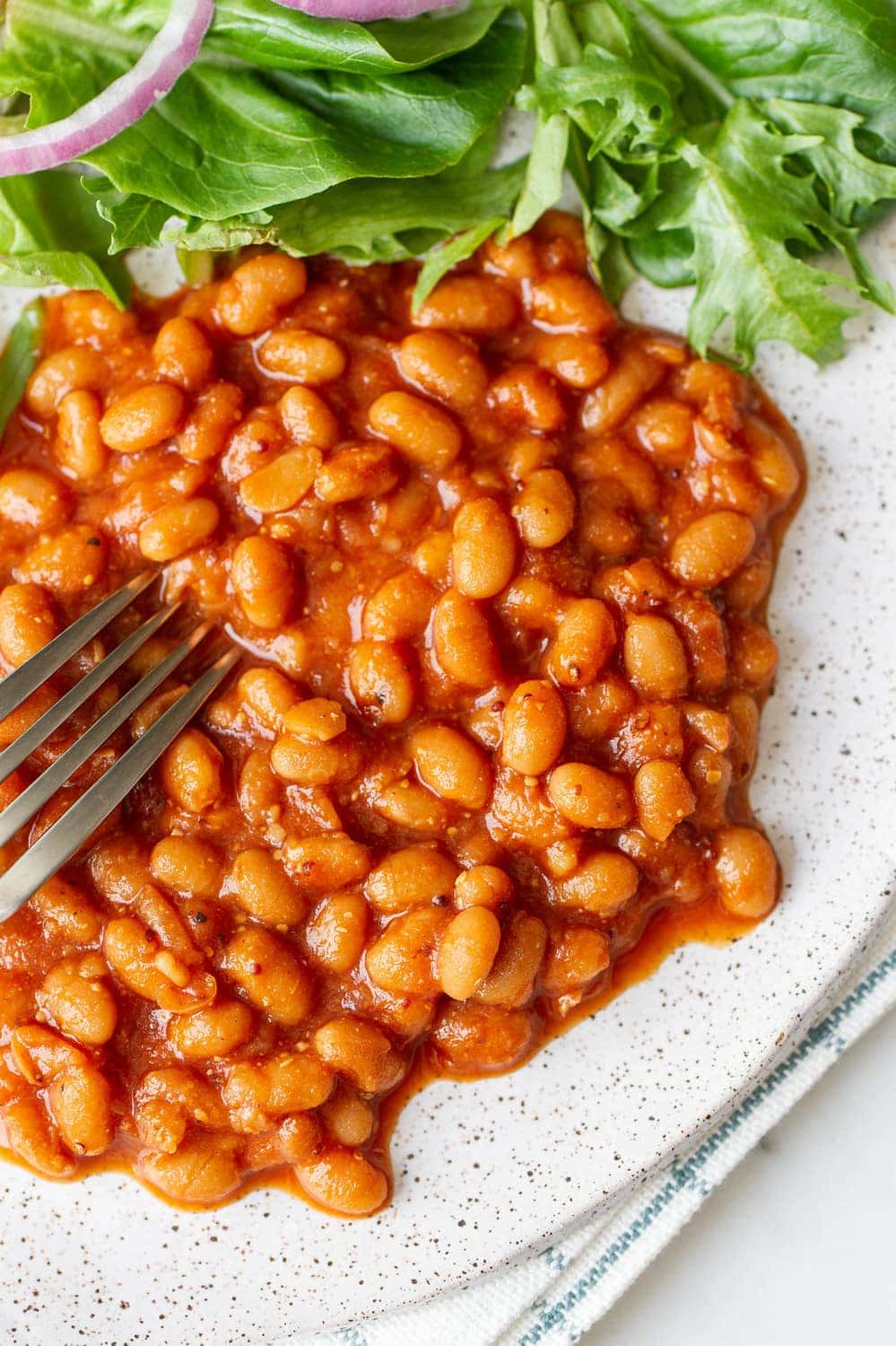 If you try this baked beans recipe, please let me know! Leave a comment and rate it below. I love to hear what you think, or any changes you make.
Print
HEALTHY VEGAN BAKED BEANS
Healthy, vegan baked beans made with simple ingredients right in your Instant Pot. No fuss recipe, just let the beans soak a bit, throw the ingredients in and life made easy & delicious!
Ingredients
1/4 cup

water

1

medium onion, diced

2 teaspoon

s smoked paprika

1

heaping teaspoon garlic powder

1

1b. navy or great northern beans (

2 cup

s), rinsed and odd beans removed

4 cup

s water or low-sodium vegetable broth (or combo)

1

can (6 oz.) tomato paste

1/3 cup

pure maple syrup

1/4 cup

apple cider vinegar

2 tablespoon

s mustard (regular, dijon or whole grain)

1/2 teaspoon

fresh ground pepper

2

bay leaves
good pinch of mineral salt, or to taste
Instructions
Soak the beans first (see notes for NO-SOAK): Add the beans to a large pot (or instant pot or slow cooker insert), pick through and discard any odd shaped or colored beans. Fill the pot with water, adding enough to cover the beans with an inch of water. Let soak on the counter for 8 hours, or overnight. You can also let the beans soak in the refrigerator if temperatures are high.
Alternately, if you're in a hurry, place beans in pot and cover with 2 inches of water, bring to a boil, remove from heat and let soak for 1 hour. Drain beans before using.
INSTANT POT:
Press the SAUTE setting on your Instant Pot and add 1/4 cup water. When hot, add onion and saute for 4 minutes. Add the smoked paprika and garlic powder, cook for 1 minute, or until fragrant, stirring frequently.
Next add the beans, water/broth, tomato paste, maple syrup, apple cider vinegar, mustard, bay leaves, ground pepper and salt, gently stir until the tomato paste is dissolved completely and everything is well combined.
Attach the lid, and make sure the vent is in the SEALED position. Push the PRESSURE COOKER button, and manually set the time for 40 minutes. When done, let the steam vent on it's own, takes about 20 minutes. Move the vent to open, careful not to burn yourself as there may still be a little steam left. Remove lid and let cool a bit, add salt to taste. Remove bay leaves and transfer beans to a serving dish.
Beans will thicken once cooled. If too thick, add a 2 tablespoons of water at a time, mix well, and repeat until desired consistency.
SLOW COOKER:
In bottom of slow cooker, add the onion, beans, maple syrup, vinegar, 3 cups water/broth, tomato paste, smoked paprika, garlic powder, mustard, pepper, and bay leaves. Gently stir, until the tomato paste has broken up and dissolved.
Cook on HIGH for 4 – 5 hours or LOW for 8 – 10 hours. Add salt to taste.
Store: Keep leftovers in and airtight container in the refrigerator for up to a week. These freeze wonderfully, and will keep for up to 2 months in the freezer. Thaw before reheating.
Serves 6 – 8
NOTES:
NO-SOAK BEANS METHOD:
Instant Pot: If you don't care to soak the beans, simply skip the soaking and go straight to the instant pot instructions. The only change is in step 3 – manually set the time for 75 minutes, instead of 40 minutes.
Slow-Cooker: Follow assembly instructions for slow cooker method and cook un-soaked beans and ingredients on HIGH for 8 – 10 hours.
Use your favorite mustard. I used whole grain mustard here. I didn't test regular or dijon, but I'm sure they'll be great too. If you try them let us know in the comments.
These baked beans are not overly sweet. If you prefer sweet baked beans, add and extra 2 – 3 tablespoons of maple syrup.
Optional add-ins for variation:
Small jalapeno, diced (add a few seeds for extra heat)
Small green pepper, diced
2 tablespoons blackstrap molasses (unsulfered)
If using blackstrap molasses, add 2 extra tablespoons of maple syrup. You most likely won't need to add any salt.