BAKED SWEET POTATO SHOESTRING FRIES
Sweet Potato Shoestring Fries bake up tender, crispy, and can be hand cut or julienned for ease. They pair perfectly with creamy Sriracha Cream Sauce or Vegan Aioli!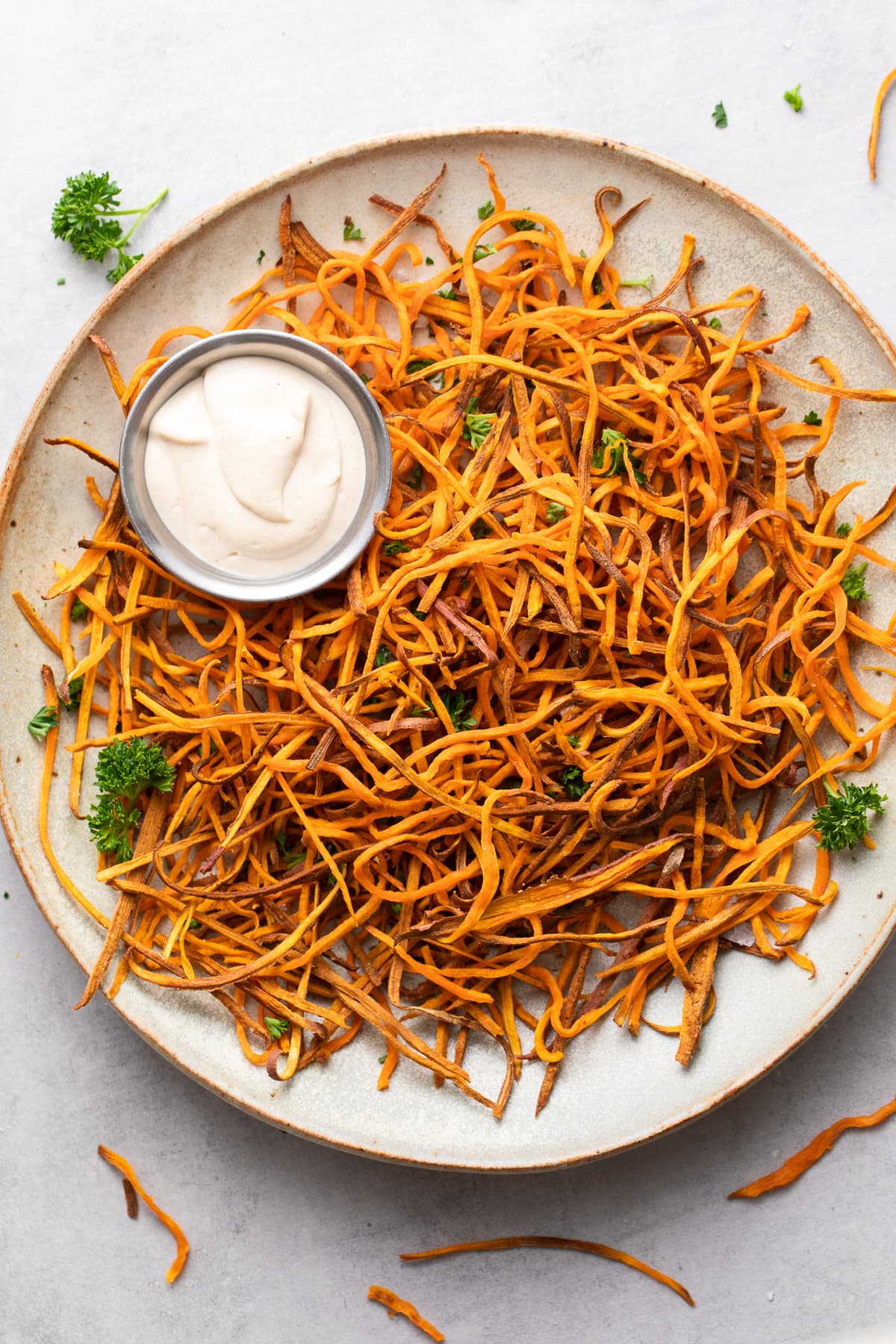 I have a great love for sweet potatoes and similar to my Baked Sweet Potato Wedges, these baked shoestring sweet potato fries are another extension of that love!
To think there was a time when I didn't care for them. Well those days are long gone and I have found many ways to enjoy their sweetness, nutrition and versatility.
These shoestring fries are yet another great way to enjoy this wonderful root vegetable!
Why We Love This Recipe!
Healthy. Sweet potatoes are rich in vitamins and fiber, and the healthier option over other varieties of potatoes. Plus, they are delicious!
Easy to customize. This sweet potato fries recipe can be customized in how you cut the potato and season it, allowing you to create the perfect shoestring fries for you!
Fun to make. Cutting is the hardest part, but even that can be made fun by julienning or spiralizing your sweet potatoes.
So without further ado, let's make baked shoestring fries!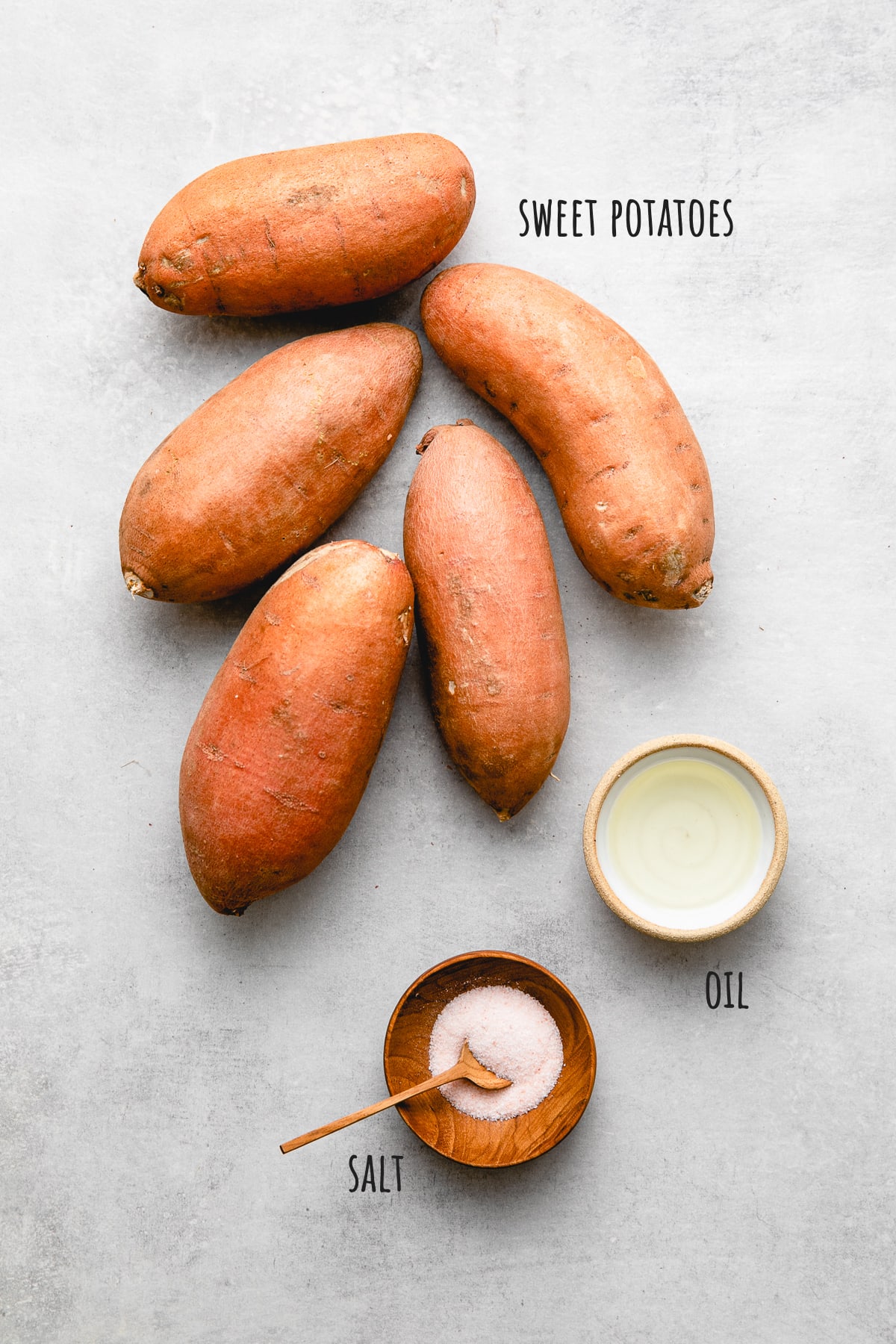 Sweet Potato Shoestring Fries Ingredients
Sweet potatoes – Any variety or color of sweet potatoes will work – orange, white, or purple. Feel free to experiment!
Oil – Use your favorite neutral flavored oil.
Salt
Flavor Variations:
I generally season mine with salt, garlic powder, and ground chipotle. It's a nice combination of sweet and spice!
Sometimes I also like to add a light dusting of cornmeal to mine which gives an extra crunch, but this is an option.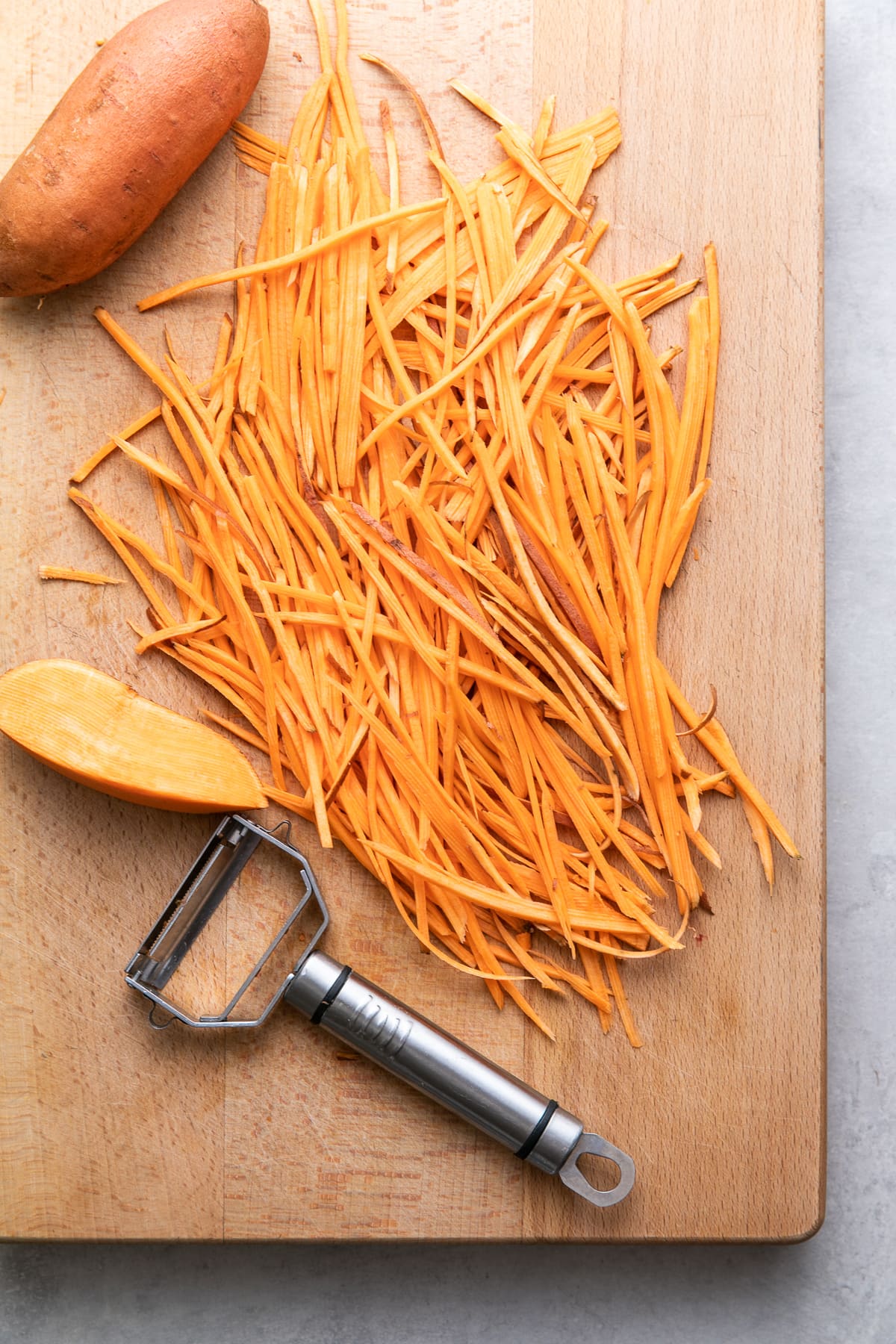 How To Make Shoestring Sweet Potato Fries
Now, I must confess that baking sweet potato fries won't make all of your shoestring fries crispy. I still find them to be great on the soft side. If you're looking for a truly 'crispy' fry this may not be the recipe for you. This is one of those give and takes, and I certainly don't mind. Just the flavor alone is great!
Choose the cut you want: You can either hand cut the sweet potato into 1/4 inch slices or use a julienne tool for ultra thin shoestring fries. Both ways are great and take the same amount of time, but cook at different temperatures.
Season: You can easily customize the flavors, using your favorites. Keep it simple with just salt, or add flavoring such as garlic powder, chipotle powder, thyme, paprika, everyday seasoning blend would all be delicious.
Bake: The baking process will take about 30 minutes with a quick rotation of the baking sheet halfway through. They will seem soft when done, but will crisp up as they cool.
Top Tips
Cooking times. You may have to accept a little trial and error due to oven variances, but I have no doubt you will succeed!
Lined vs unlined baking sheet. I've tried both and it really didn't make a difference either way. Usually I would say line your baking sheet, but these aren't too messy so both ways work well.
Use a vegetable spiralizer. Another option for cutting the sweet potatoes is using a spiralizer. It will cut uniformly and all you'll need to do is cut the spirals into 3 inch pieces.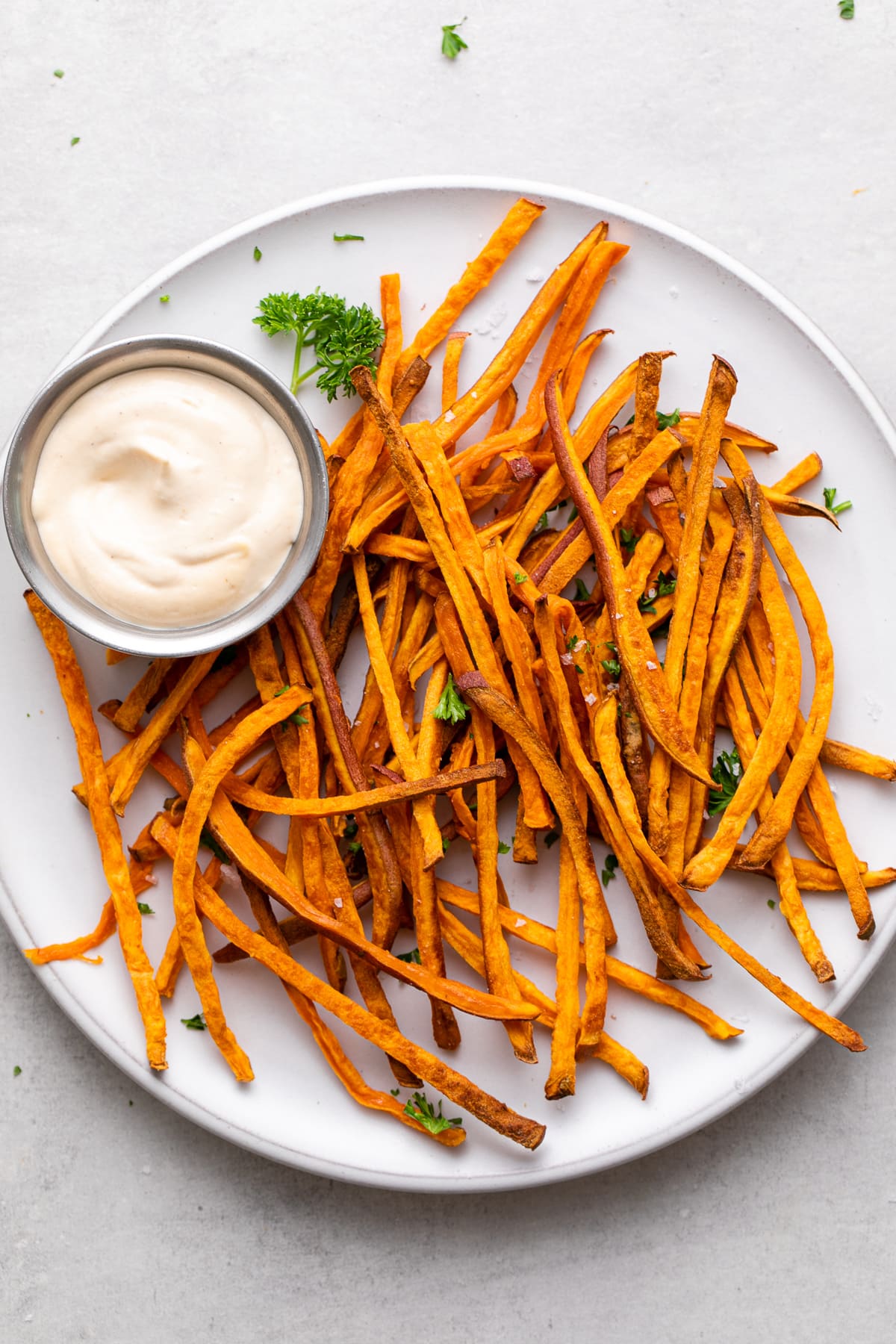 How To Eat Baked Shoestring Fries
You can eat shoestring fries with your fingers, or eat them with a fork, kinda like the way you would with chili fries. In fact, these would be great under a vegan chili making for sweet potato chili fries!
Pair them with a creamy sauce like this Sriracha Aioli or Vegan Aioli.
Serve them alongside a sandwich or eat alone as a snack or light meal. I made The Ultimate Vegetable Lentil Loaf yesterday and made myself a lentil loaf sandwich with the leftovers. It made for a great sandwich and these fries paired perfectly with it.
More Healthy Snack Recipes!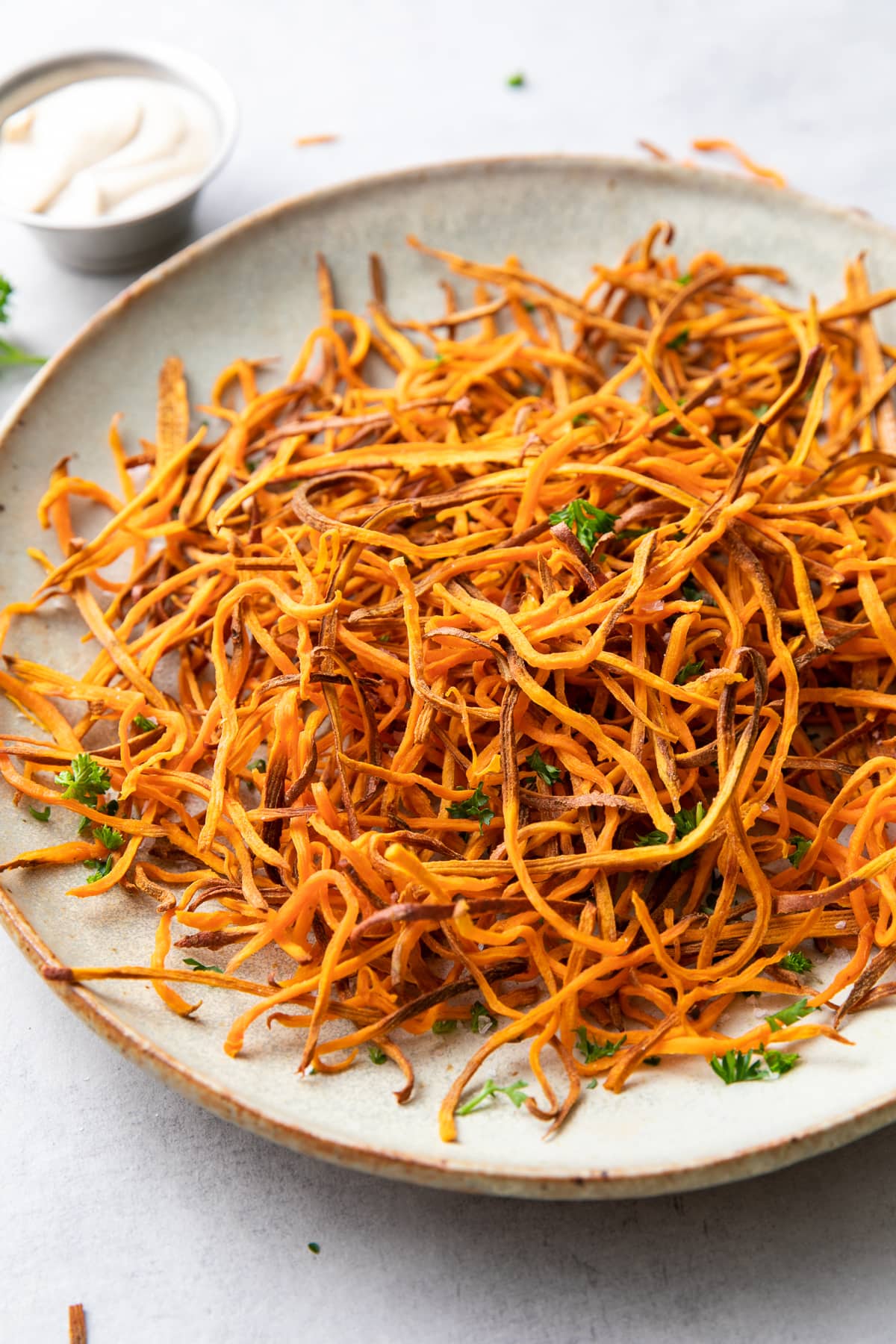 If you try this shoestring fries recipe or have a question, please let me know! Leave a comment and rate it below. I love to hear what you think, or any changes you make.
Full Printable Recipe Card
Print
BAKED SWEET POTATO SHOESTRING FRIES
Sweet potatoes, a deliciously healthy and way to enjoy your fries. Recipe includes two ways to make your baked sweet potato shoestring fries.
Author: Julie | The Simple Veganista
Prep Time:

10 min

Cook Time:

30 min

Total Time:

40 minutes

Yield:

Serves 1

Category:

Side, Snack

Method:

bake

Cuisine:

American, Vegan
1

large sweet potato per person
drizzle of olive oil
mineral salt, to taste
light dusting of cornmeal, optional
Optional flavor variations
sprinkle of garlic powder, ground chipotle, thyme, cayenne or smoked paprika, to taste and depending on your mood (or any combo you like)
Instructions
HAND CUT METHOD:
Preheat oven to 400 degrees if slicing by hand. (

if julienning see baking instructions below

)

Wash your potatoes and remove any unsightly areas.

Hand cut: Slice the sweet potato in half, place flat side down and cut thin slices, about 1/4 inch thick or smaller. Then turn your thinly sliced pieces on their side and do the same as before cutting thin slices. Try to get them as uniform in thickness as possible so they cook evenly. You may have to go through after cutting and double check your work.
Assemble: Place potatoes on your rimmed cookie sheet/s (I used two), add a small amount of olive oil (about 1 tablespoon), toss gently to coat. Place potatoes in a single layer, preferably spread out so they don't touch much, sprinkle with mineral salt and seasoning of choice.
Bake: Place in the oven for 15 minutes, remove sheet/s and rotate positions, bake for another 15 -20 minutes. Keep an eye on them after 15 minutes so they don't burn. You may lose some, and ending cooking times will greatly depend on your oven. Allow to cool a few minutes. They will crisp up as they cool.

Best served immediately with choice of condiments.
JULIENNE METHOD:
Preheat oven to 350 degrees F. (They will be a bit thinner and should be baked at a lower temp but for the same amount of time as if slicing by hand.)

Wash potatoes and remove any unsightly areas.

Julienne: Trim the ends if you like (I usually skip this step). Julienne your sweet potato.
Assemble: Place on cookie sheet, you may need two, toss with oil, spread in a single layer as much as you can, and sprinkle with spices.
Bake: Place in the oven and bake for 15 minutes. Turn sheet around and rotate positions. You can also use a fork and lift the shoestring fries up moving them around a bit. Bake for another 15 – 20 minutes, careful towards the end as they may cook and burn quickly at this point. Keep an eye on them, removing any pieces that are too brown. You may lose some, and ending cooking times will greatly depend on your oven. Allow them to cool a few minutes, they will crisp up a bit.

Best served right away with choice of condiments.
Notes
Feel free to use other spices instead, or in addition too, like garlic powder, nutritional yeast, cumin, chili powder, curry, cinnamon or smoked paprika, etc…as well as other herbs.
Updated: Shoestring Sweet Potato Fries was originally published in April 2013. It has been retested and updated with new photos and helpful tips in March 2021.
FOLLOW TSV on Facebook, Instagram, Pinterest, or RSS for more updates and inspiration!