Happy Friday to you all!
For most of you, your work week is ending and you're ready for some days off. Today I hope to inspire something wonderful for you to eat on your time off.
I've always loved fajitas and if you're like me you love them too. Finally, they have arrived to the recipe collection and I'm so happy to share them with you!
These are 'Eat like you mean it' tacos and were everything I wanted them to be, and more!
I loaded mine up and ate them just as you see here with no problem at all, hardly any mess either. Although the next couple tacos I had were a bit messier because I was at the bottom of the fajita mix with all the juiciness. Not a bad thing at all, just be sure to have a couple extra napkins handy And just like your mom might have reminded you on occasion – 'Eat over your plate'.
I especially love making tacos, mainly because I love corn tortillas! But, if you prefer flour tortillas, your options are open for making tacos or burritos (see notes).
However you like, gather your ingredients and get ready to enjoy some of the best darn black bean fajitas you've ever had! At least I think they're pretty darn good. :)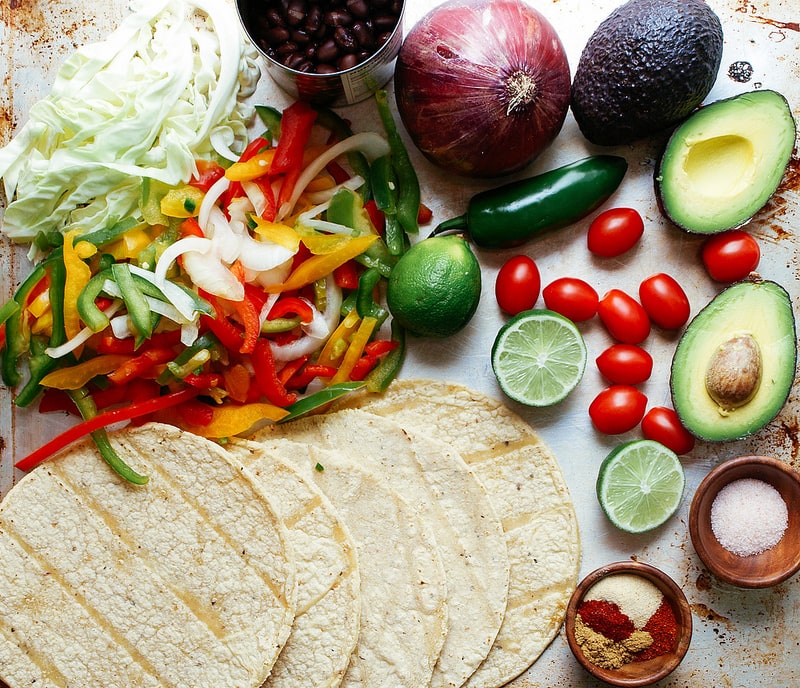 Just simple, colorful ingredients that come together in the best way!
If you're lucky enough, you may even find a prepared fajita mix where you just add your spice and protein. That's exactly what I have here, 2 packages, but the ingredients will reflect buying and slices your own bell peppers and onion.
The tortillas I used are homemade tortillas from Trader Joe's. They are thick and can withstand a large helping.
Start with your guacamole. This is a very simple, classic chunky guacamole. I added chopped cilantro just before serving.
Feel free to omit/add anything you like!
Cook up your fajita mix and warm up the tortillas. Layer your tacos and serve you & yours some hearty black bean fajita tacos!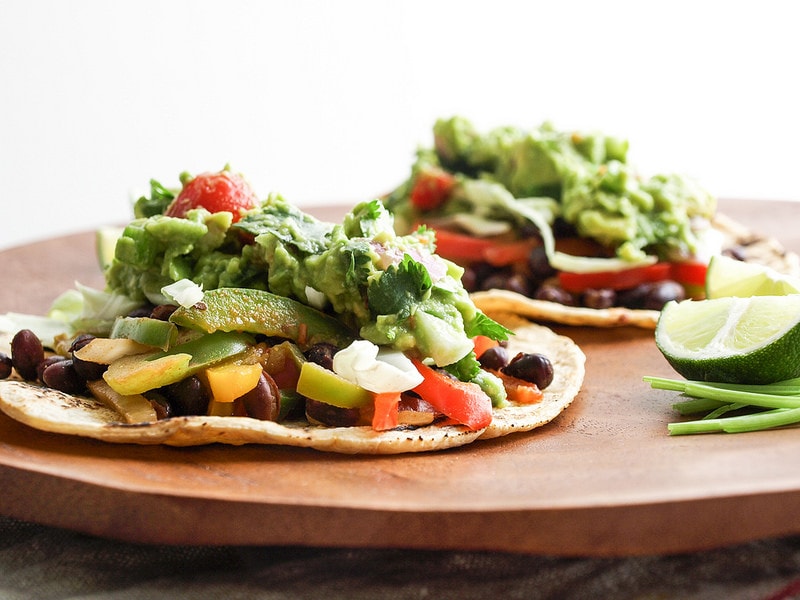 Print
BLACK BEAN FAJITAS + GUACAMOLE
Both flavorful and filling. these black bean fajitas with guacamole with become a regular on the meal rotation.
Ingredients
2 cans (15 oz.) black beans, drained and rinsed (about 3 cups)

1 red bell pepper, cored and sliced

1 yellow bell pepper, cored and sliced

1 green bell pepper, cored and sliced

1 small white onion, sliced

1 tablespoon grapeseed or olive oil

or

3 tablespoon water (for water saute)

1 teaspoon chili powder

1 teaspoon cumin

1 teaspoon garlic powder

1/4 – 1/2 teaspoon chipotle or cayenne powder, optional

1/2 teaspoon mineral salt

6 corn or flour tortillas

1/4 head of cabbage, shredded (optional), to serve

lime wedges, to serve
Guacamole
2 – 3 avocados

1 small jalapeno, most seeds removed and diced

1/4 red onion, diced

small handful cherry tomatoes, quartered

or

1 small tomato, diced

1/2 teaspoon mineral salt, or to taste

few sprigs cilantro leaves, diced

1 lime, squeezed
Instructions
Start with your guacamole. Cut avocados in half lengthwise, remove seed and using a spoon scoop out the flesh, place in medium size bowl. Using a fork cut the halves into large chunks and mash about 1/3 – 1/2. Add diced jalapeno, onion, tomatoes, mineral salt and lime juice. Mix to incorporate. Add in chopped cilantro and mix again gently. TIP: To keep your guacamole from browning, pack your guacamole well, add about 1/4 – 1/2 inch water over top and place in the fridge. When ready to serve, drain water, mix and serve. This will keep air away preventing oxidation.
In a large wok/skillet, heat oil or water over medium high heat. Add bell peppers, onions, and spices, cook for about 3 minutes, stirring occasionally. Add black beans and cook until heated through, about 3 more minutes. Adjust seasoning to taste adding anything extra you like.
Warm your tortillas. I like to heat mine carefully over the open flame of the stove top.
Serve layering the fajita mix on top of each tortilla, then add cabbage and a nice helping of guacamole. Add a squeeze of lime to each taco if you like.
Serves 3 generously.
NOTES:
These can easily double as burritos by simply using large flour tortillas. Layer just as you would the taco leaving about 2 inches at one end, fold up the end over the mixture, take one side of the burrito, fold over and roll. This style will leave you with one open end at the top. It's the way I usually make my burritos. For a completely closed burrito, take a look at this tutorial from the Kitchn: How To Wrap A Burrito (So It Doesn't Fall Apart When You Eat It!)
I read about the water trick for the guacamole from an article at Huff Post Taste: How To Make The Best Guacamole: Tips and Mistakes To Avoid