Chocolate Vegan Buckwheat Waffles (Gluten Free)
Healthy Buckwheat Waffles with chocolate and nut butter maple syrup is a pantry staple recipe made with minimal ingredients and easy to customize! It's a nutritious and delicious vegan and gluten-free breakfast that is sure to be a favorite!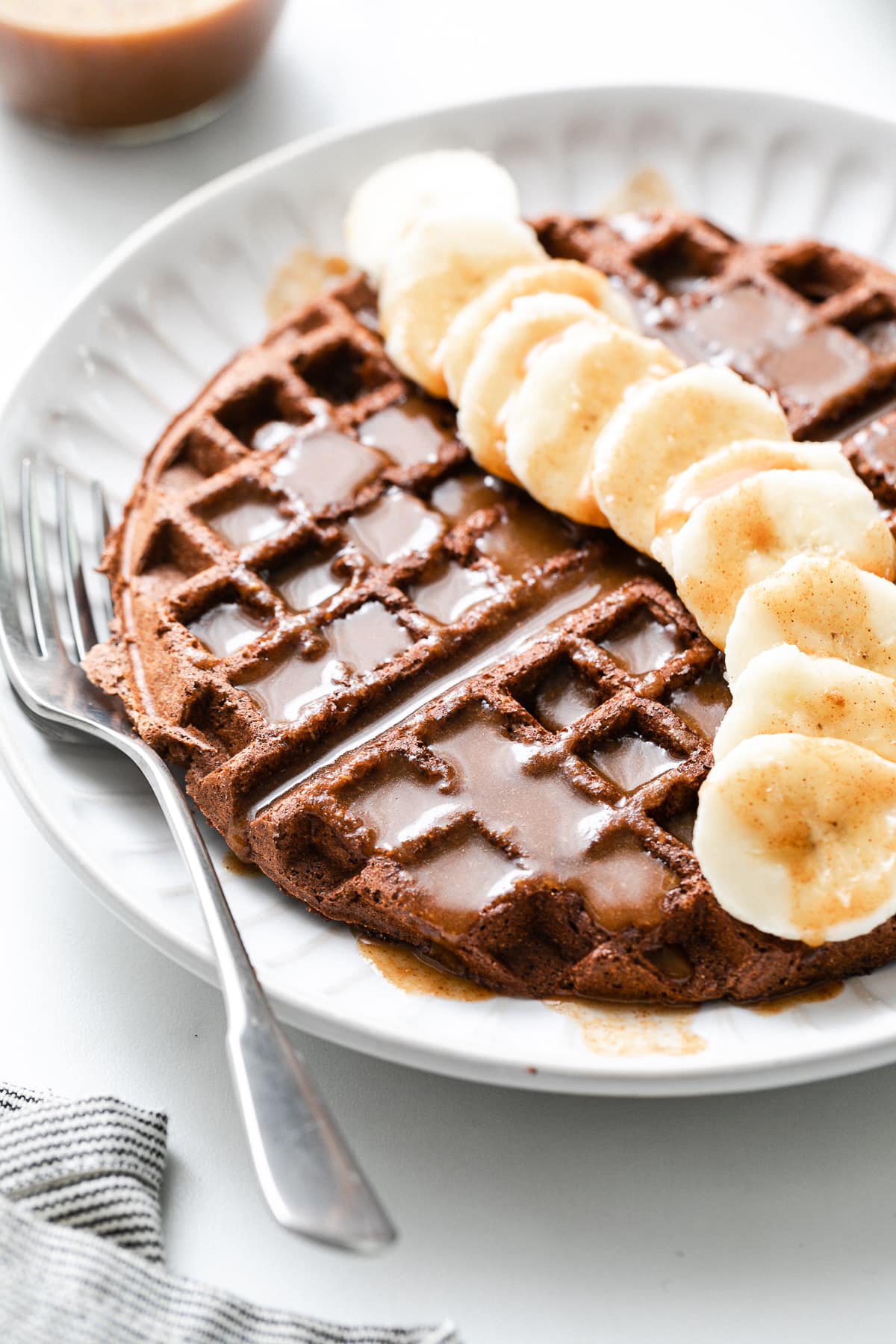 Why We Love Buckwheat Waffles
Buckwheat flour is highly nutritious and gluten free. Despite its name, buckwheat is not related to wheat at all and is in fact a fruit seed related to rhubarb and sorrel.
It can be used to replace flour 1 for 1 in any recipe. And so I share with you this scrumptious vegan Buckwheat Waffles recipe with chocolate and nut butter maple syrup!
These chocolate buckwheat waffles cook up crispy on the outside, with an almost cake like center. The chocolate flavor is subtle and pairs well with the nuttiness of the buckwheat flour, creating the perfect balance.
Fresh banana slices add a touch of freshness and the nut butter syrup ties everything together with its decadence and richness. It's a seriously addicting combination of flavors!
What else is there to love about these buckwheat waffles:
gluten free
dairy free
eggless
healthy + nutritious
vegan + WFPB
& so easy to make!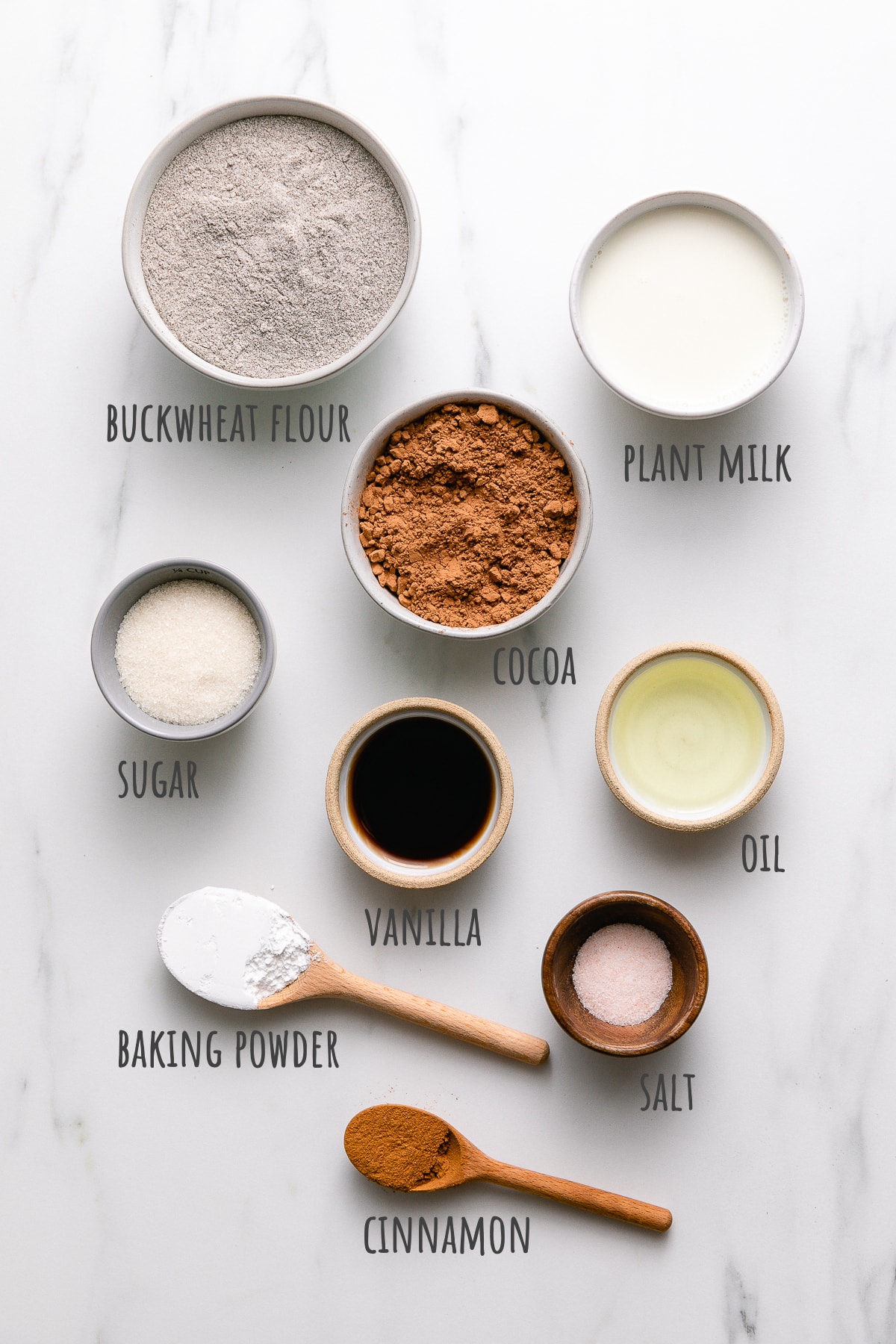 Gluten Free Waffle Ingredients + Notes
Here is a look at the ingredients, including substitution ideas. You can find the measurements in the printable recipe card below.
Buckwheat Flour – This healthy, gluten free flour can be found at most health conscious grocery stores or online. I love and use Anthony's Buckwheat Flour (affiliate link) from Amazon.
Cocoa Powder – Use regular cocoa powder or dutch for a more intense chocolate flavor.
Sugar – I used pure cane sugar, but coconut, date, brown, turbinado, or sugar-free monk fruit sweetener will do just as well.
Baking Powder – Preferably aluminum free.
Unsweetened Almond Milk – You can use your favorite non-dairy milk (cashew, oat, soy, etc.). If you don't have milk on hand, water will do just fine.
Oil or applesauce – Use your preferred ingredient. I've also made these without the addition of these ingredients with success.
Vanilla + Cinnamon – Optional, and will add another layer of flavor.
Salt – Use just a pinch to enhance all the flavors.
Why Use Nut Butter Maple Syrup
Not only does it taste amazing with these waffles, it also adds a fair amount of protein to your meal. The nut butter maple syrup provides about 7 – 8 grams of protein per serving. Not too bad at all for this ultra-decadent topping! You find the instructions for this simple 3 ingredient topping in the recipe card below.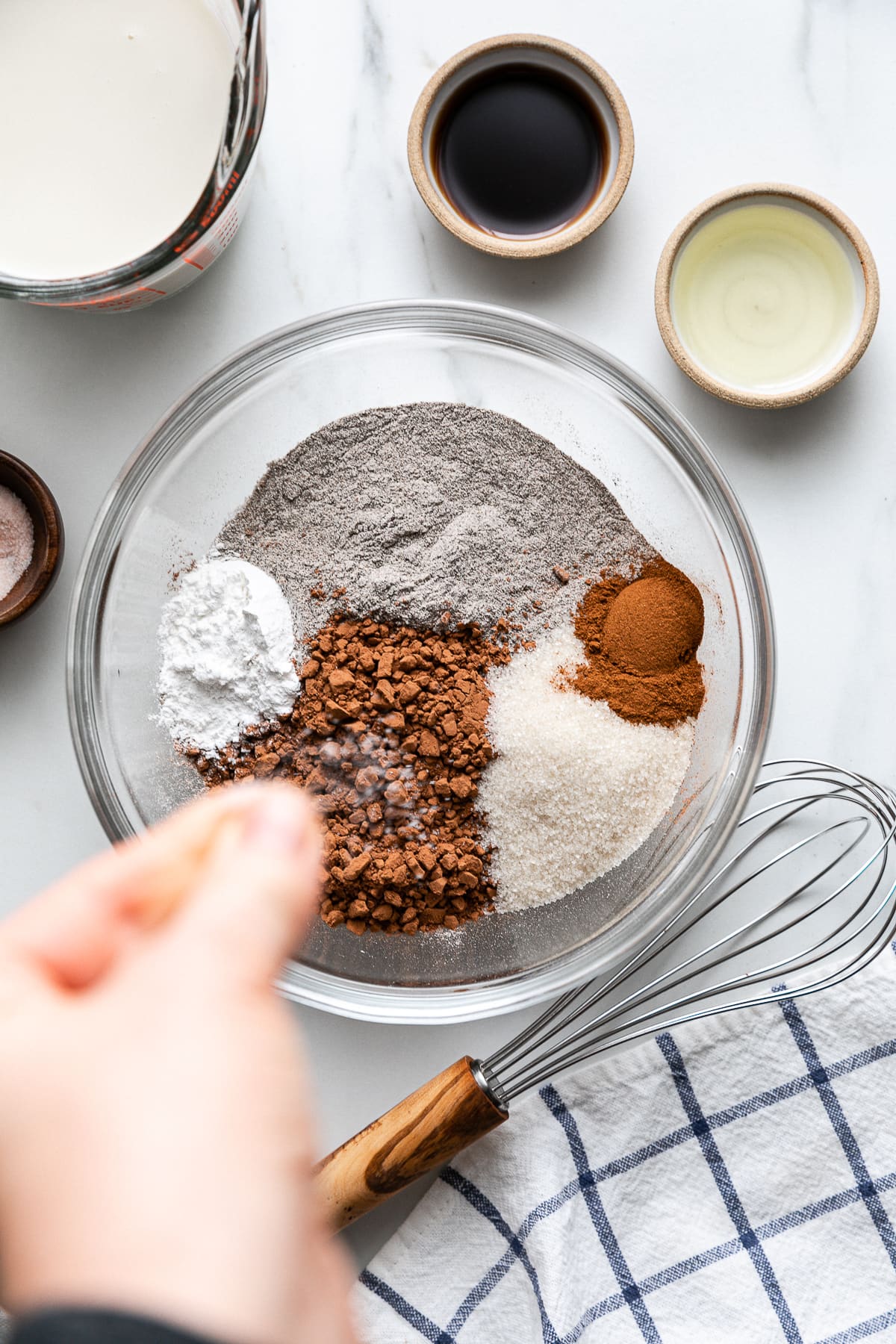 How To Make Buckwheat Waffles
Making vegan buckwheat waffles is as easy as 1, 2, 3!
Simply mix together the flour, sugar, cocoa, baking powder, and salt. Pour in the non-dairy milk, oil or applesauce, and vanilla, and whisk to combine.
Pour waffle batter onto the center of a preheat waffle iron and cook according to manufacturer's instructions.
Gently remove the waffle and serve.
Top Tips
Make oil-free buckwheat waffles. Replace the oil with applesauce. I've done this many times with great success! Just be sure your waffle maker is non-stick.
Make regular flavored buckwheat waffles. If you don't have chocolate on hand, make them plain by using flour instead of cocoa powder. Also, reduce the sugar by half.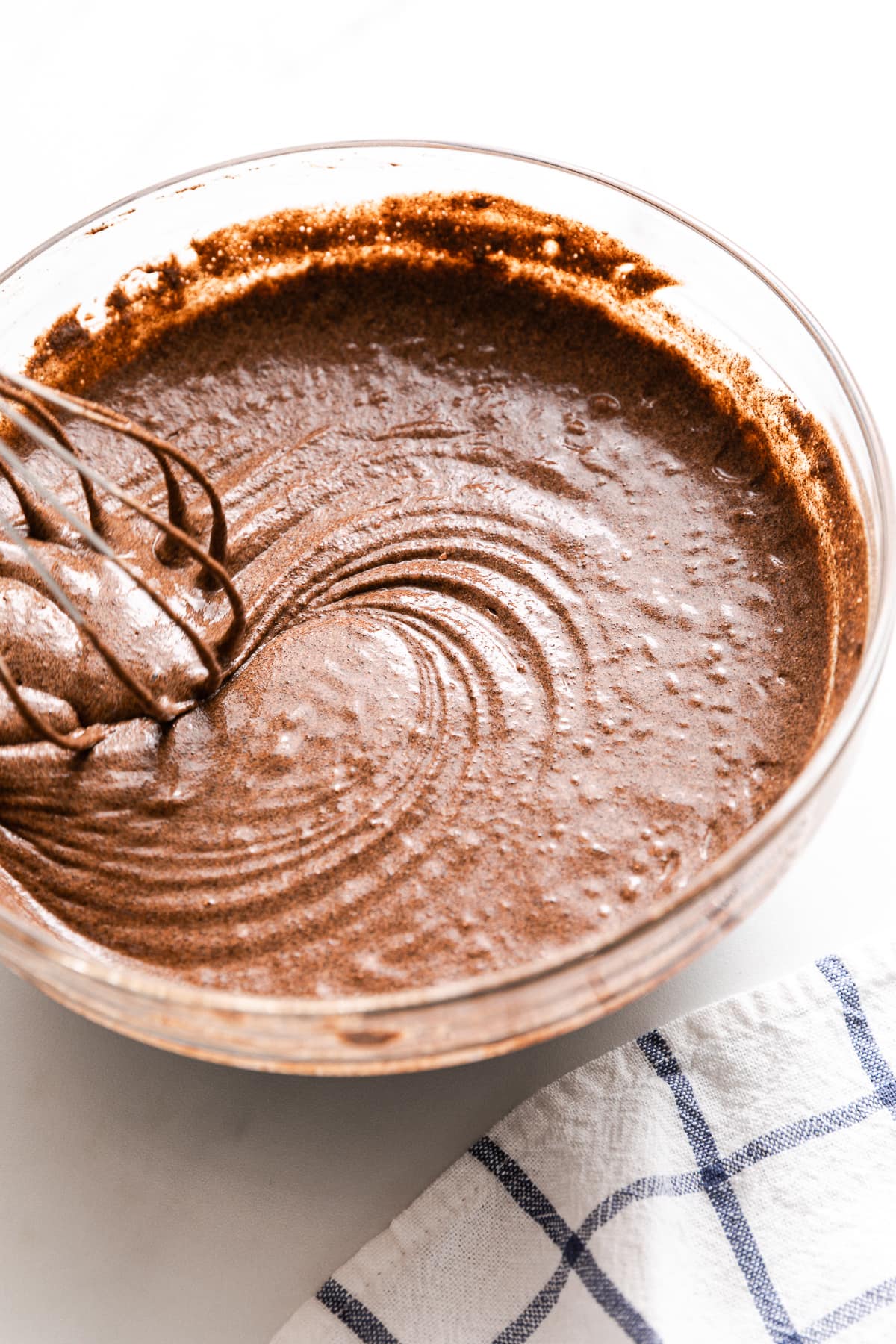 FAQs
Why do my waffles split when opening the waffle maker?
This could be due to undercooking. You may need to turn up the heat or cook the waffles a few seconds extra before opening the lid to make sure they are done.
Can I make pancakes with this waffle recipe?
Yes, if you don't have a waffle maker handy, you can use this recipe to make pancakes or use my Buckwheat Pancakes recipe.
Can I make buckwheat Belgian waffles with this recipe?
Yes, this recipe works for both classic and Belgian waffle makers. It will make 2 buckwheat Belgian waffles.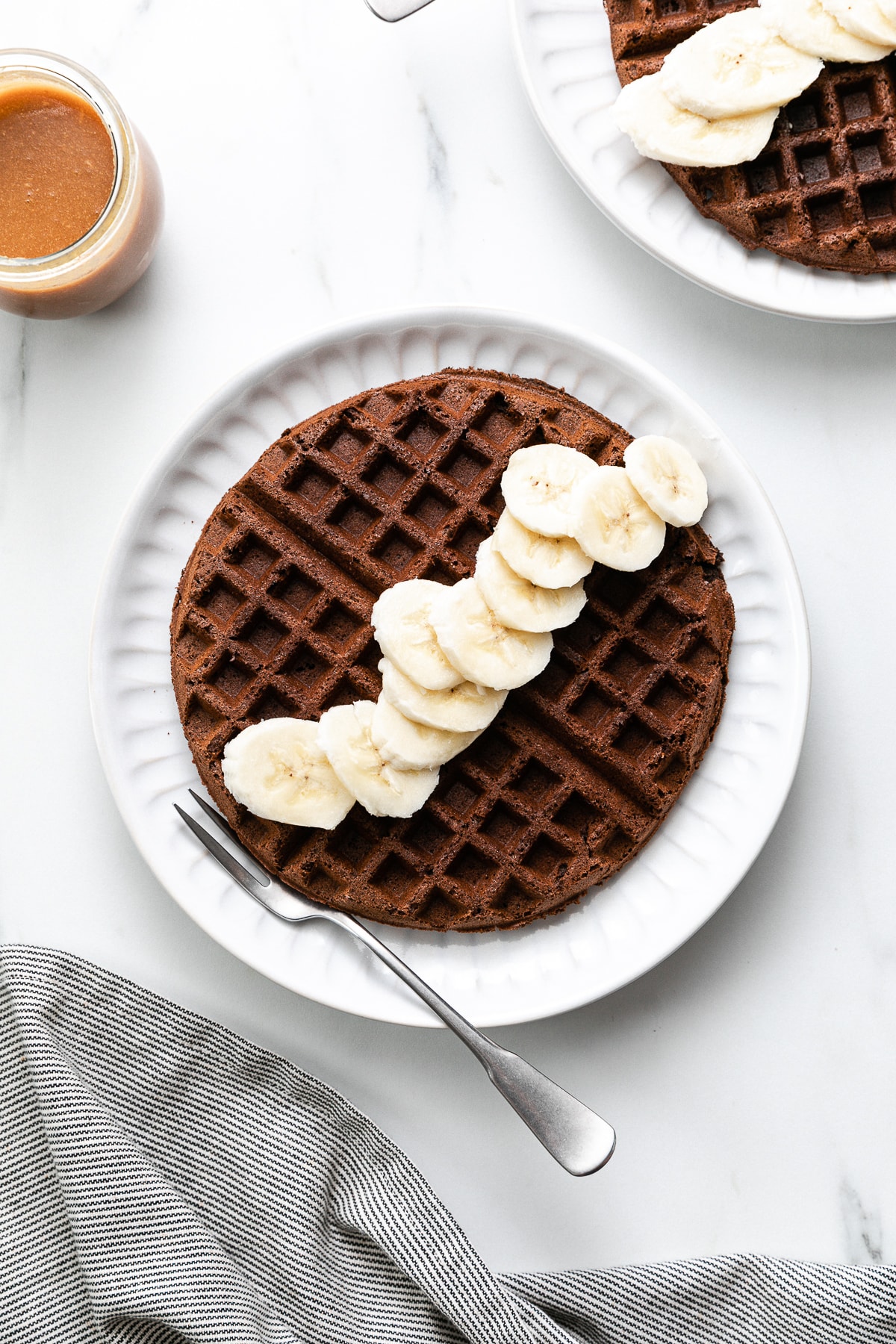 Storing + Reheating
If you happen to have leftovers, buckwheat waffles store well in the refrigerator for 4 – 5 days. You can also freeze them for up to 2 – 3 months. When ready to eat, reheat from frozen or chilled in the toaster oven. when ready to serve.
More Healthy Breakfast Recipes!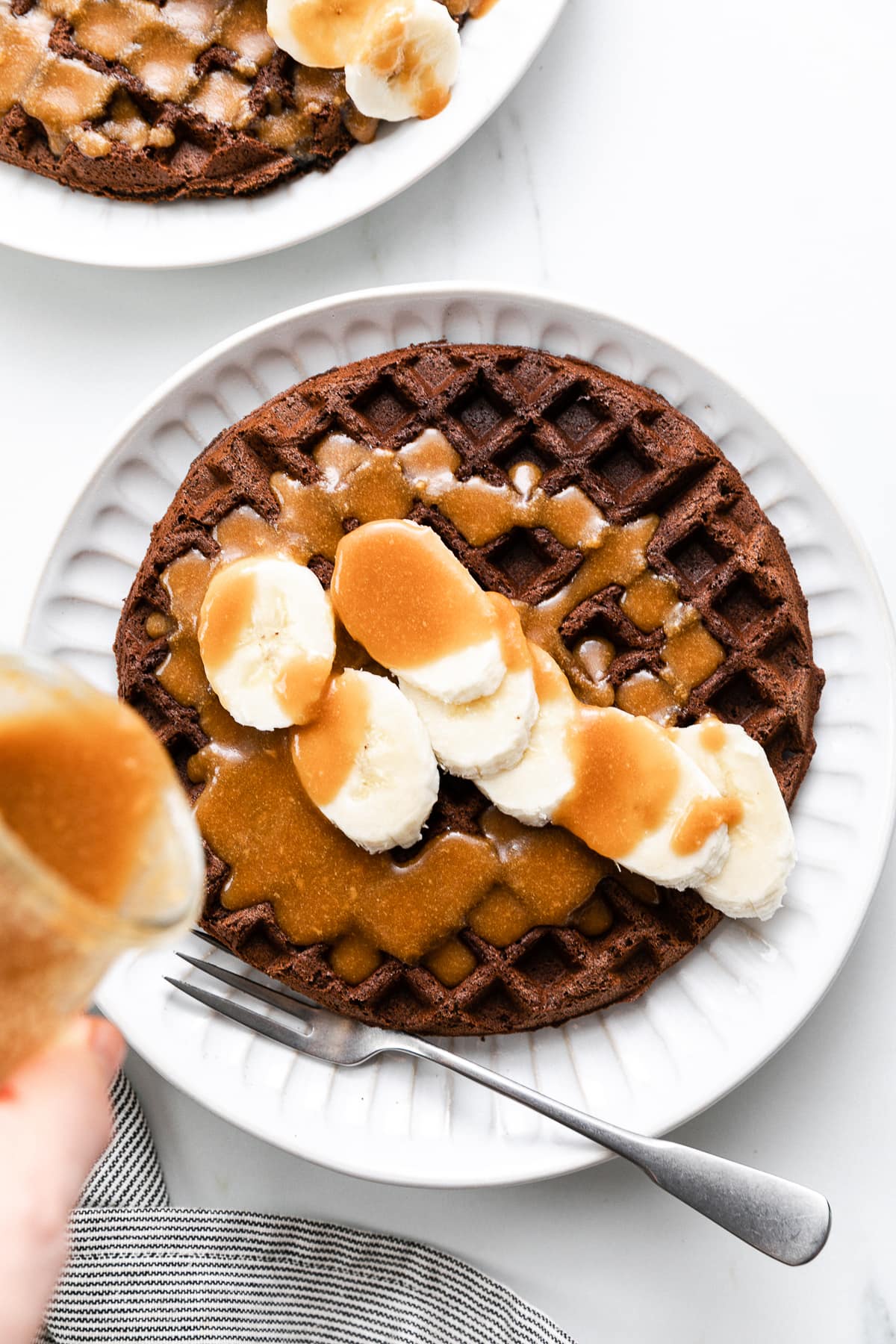 Once assembled, these gluten-free, vegan chocolate buckwheat waffles are simply delicious. It's a great flavor combination and I think you'll agree!
If you try this buckwheat waffle recipe or have a question, please let me know! Leave a comment and rate it below. I love to hear what you think, or any changes you make.
Print
Chocolate Vegan Buckwheat Waffles (Gluten Free)
Deliciousness in every bite, chocolate vegan Buckwheat Waffles are made with minimal ingredients! Gluten free and wfpb recipe.
Author: Julie | The Simple Veganista
Prep Time:

5 min

Cook Time:

10 min

Total Time:

15 minutes

Yield:

Serves 2

Category:

Breakfast

Method:

waffle iron

Cuisine:

American

Diet:

Vegan
1 1/2 cups

buckwheat flour

1/2 cup

organic cocoa powder

1/4 cup

sugar (organic pure cane or coconut sugar)

1 tablespoon

baking powder

1 teaspoon

cinnamon, optional

1/2 teaspoon

mineral salt

1 3/4 cup

unsweetened almond milk, or plant milk of choice

1/4 cup

light flavored olive oil, coconut oil or applesauce

1 teaspoon

vanilla, optional
Maple Nut Butter Syrup (serves 2)
4 tablespoons

almond butter

or nut butter of choice

4 tablespoons

pure maple syrup

2 tablespoons

water, + more as needed
Instructions
Nut butter maple syrup: First, mix your nut butter syrup. Combine ingredients in a small bowl and stir until smooth. For thinner syrup use more water. Set aside.
Preheat waffle maker to manufacturer's instructions.
Waffle batter: In a medium size bowl, combine the flour, cocoa, sugar, baking powder, salt. Add nut milk, oil and vanilla, mix until combined.
Cook: Pour batter onto the center of waffle iron, close and cook about 3 – 4 minutes (or according to your waffle maker's instructions). Gently remove waffles and serve right away. You can also keep waffles warm in a preheated oven at 200 degrees F., keep waffles on a cookie sheet until all waffles are ready.
Serve with the maple nut butter syrup and sliced bananas.
Store: Leftovers can be stored in the refrigerator for 4 – 5 days, or in the freezer for up to 2 – 3 months. Reheat in the toaster oven.
Makes 4 – 5 regular or 2 Belgian waffles.
Notes
Make vegan buttermilk. Add juice of 1/2 large lemon to non-dairy milk and let set for about 10 minutes.
Using coconut oil. Be sure to warm the milk or use room temp milk. Cold milk will solidify the coconut oil making it lumpy. For best results, warm the milk and coconut oil together.
Oil-free waffles. These will turn out just as well without any oil added. 
Plain buckwheat waffles. If you don't have cocoa or just want to make them plain, sub the cocoa powder with flour and reduce the sugar in half.
Updated: Buckwheat Waffles was originally published in June 2015. It has been retested and updated with new photos and helpful tips in January 2021.
FOLLOW TSV on Facebook, Instagram, Pinterest, or RSS for more updates and inspiration!