Autumn Butternut Squash Quinoa Salad recipe featuring dried cranberries, toasted pecans and baby kale, and tossed with an orange-cinnamon dressing is sweet, savory, healthy and delicious! It's nutrient dense, gluten-free, grain-free, low-fat, satisfying and will keep you feeling your best!
Butternut squash with it's warm colored flesh is a must have when in season. I've added a few other butternut squash recipes over the years like this warm Roasted Butternut Squash Salad + Shallot Vinaigrette, and this hearty Autumn Wheat Berry + Butternut Squash Salad, or Creamy Butternut Squash + Sage Pasta Sauce and this delicious Butternut Squash + Red Lentil Soup. And let's not forget about this fan-favorite Butternut Squash and Black Bean Chili!
The recipe I have for you today is adapted from this, Roasted Brussels Sprouts & Butternut Squash w/ Cranberries & Pecans, side dish recipe. I simply omitted the brussels sprouts and included the quinoa, making a perfect salad for a light lunch or dinner. It's also great for make ahead meals, as it refrigerates well and can be served chilled, at room temperature or warm.
You may want to bookmark this butternut squash quinoa salad for the next autumn holiday potluck or get-together. It's a pretty, festive dish for the table and I know your family and friends will love it!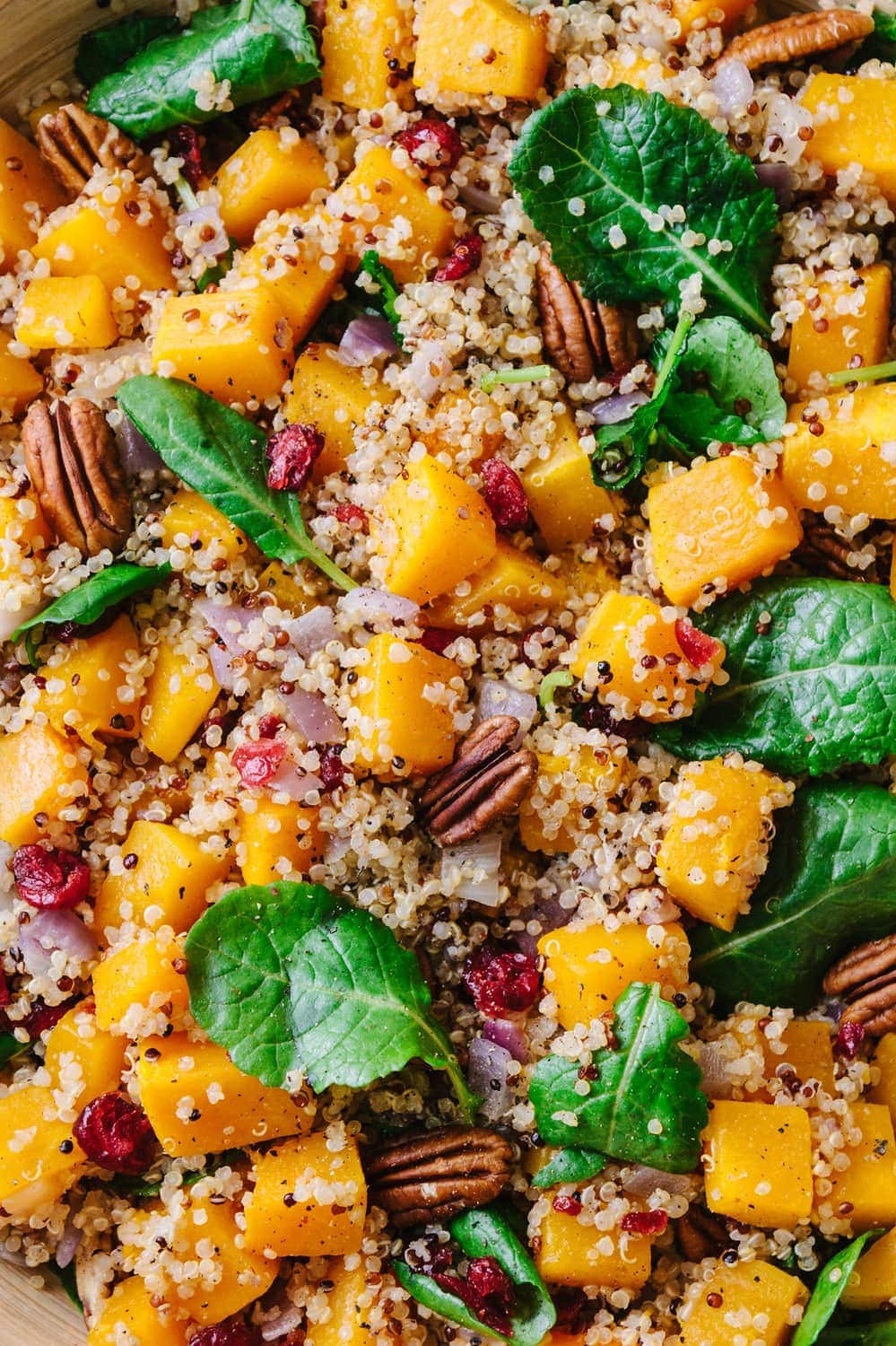 Autumn Butternut Squash Quinoa Salad
This recipe is very simple, with few ingredients and will be ready in about 40 – 45 minutes from start to finish.
Variations and suggestions:
Quinoa: My favorite grain, well technically it's a seed, of all time! Quinoa is good for you, naturally gluten-free, contains a good amount of protein and has loads of fiber (which does wonders for my digestive tract). I've used tri-color quinoa here, but feel free to use your favorite or what you have on hand.
Butternut Squash: Use a squash that's about 2 lbs., a small squash will be perfect if just eyeing it. Alternately, to save time, you may prefer to buy pre-cut squash, which most grocery stores carry these days. Here's a quick guide for How to Peel and Cut Butternut Squash.
Cranberries: This recipe calls for dried cranberries that will be added to the butternut squash once pulled from the oven, this will warm and soften them. If you prefer fresh cranberries, I would suggest using 1 cup and adding them to the oven, on a separate small rimmed baking sheet. If you do add them to the sheet pan with the butternut squash, just keep in mind that the color of the cranberries may bleed.
Pecans: The pecans will be toasted, but feel free to just use them as they are (I found both ways to be great). Just be careful when toasting as they burn easily, I accidentally over toasted a few while making this. You can substitute the pecans with walnuts or pistachios too!
Baby Kale: Baby kale is soft and tender, unlike it's full-grown version. You can use regular kale instead, just chop it up and put it in a large bowl with a big squeeze of orange or lemon juice to soften for about 10 minutes, tossing well a few times. You can also use baby spinach or regular spinach that's been chopped. Even arugula or 50/50 spring mix will work well.
The Dressing: I used a simple orange and cinnamon dressing here, it's warm flavored and wonderful. And it's made even better with a generous sprinkle of salt and pepper. Feel free to eat is as is without any dressing, it's delicious with just salt & pepper too!
Let's Put It All Together
On a lined sheet pan, toss the butternut squash and onion with olive oil. Add a sprinkle of garlic powder and salt overtop, arrange in a single layer (shown above), and bake for 25 – 30 minutes, stirring once or twice. Pull sheet pan from the oven, add the cranberries to the pan to soften.
While the butternut squash is cooking, make the quinoa and toast the pecans.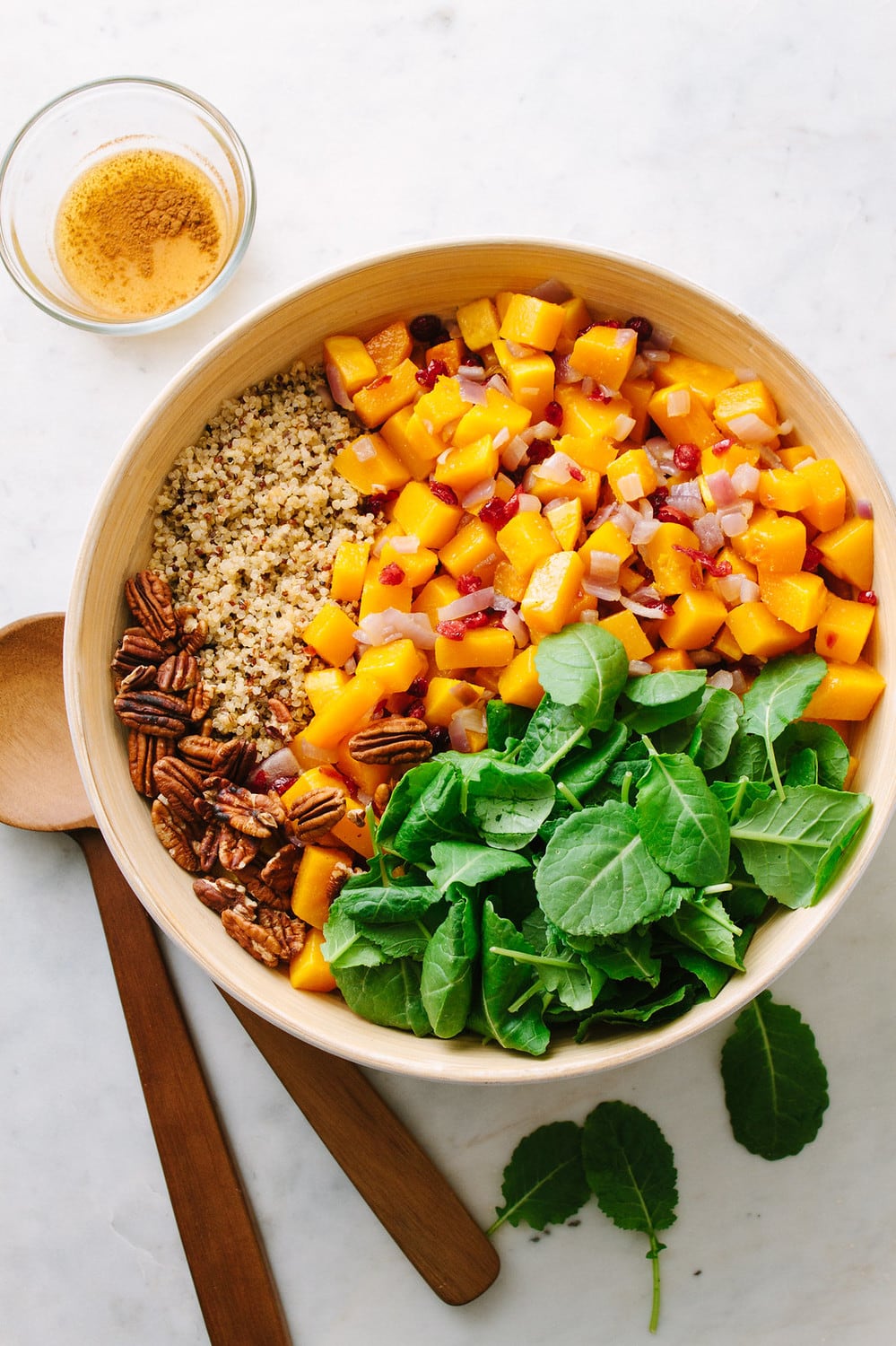 In a large mixing bowl (shown above), add the cooked quinoa, butternut squash mix, pecans, baby kale, drizzle with orange juice and cinnamon, toss well to coat (shown below). Finally, add a generous pinch of salt and pepper to taste.
And that's it, easy as can be! A healthy and delicious butternut squash quinoa salad for everyone to enjoy. And trust me, they will!
Serve as a side, or as a light lunch or dinner. And when in season, pomegranate seeds add more flavor, texture and nice pop of color!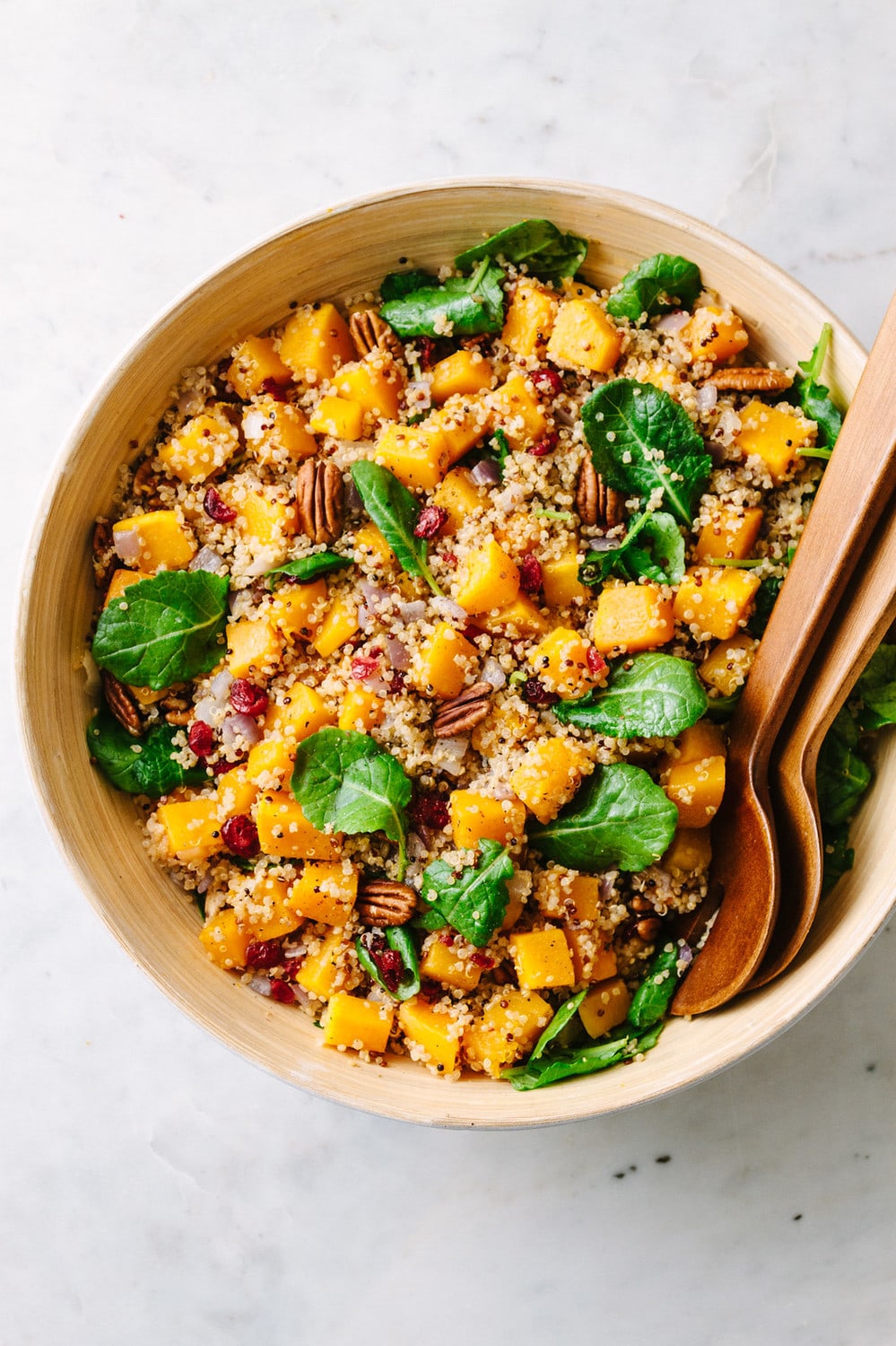 More Autumn Quinoa Recipes
If you try this butternut squash quinoa salad recipe, please let me know! Leave a comment and rate it below. I love to hear what you think, or any changes you make.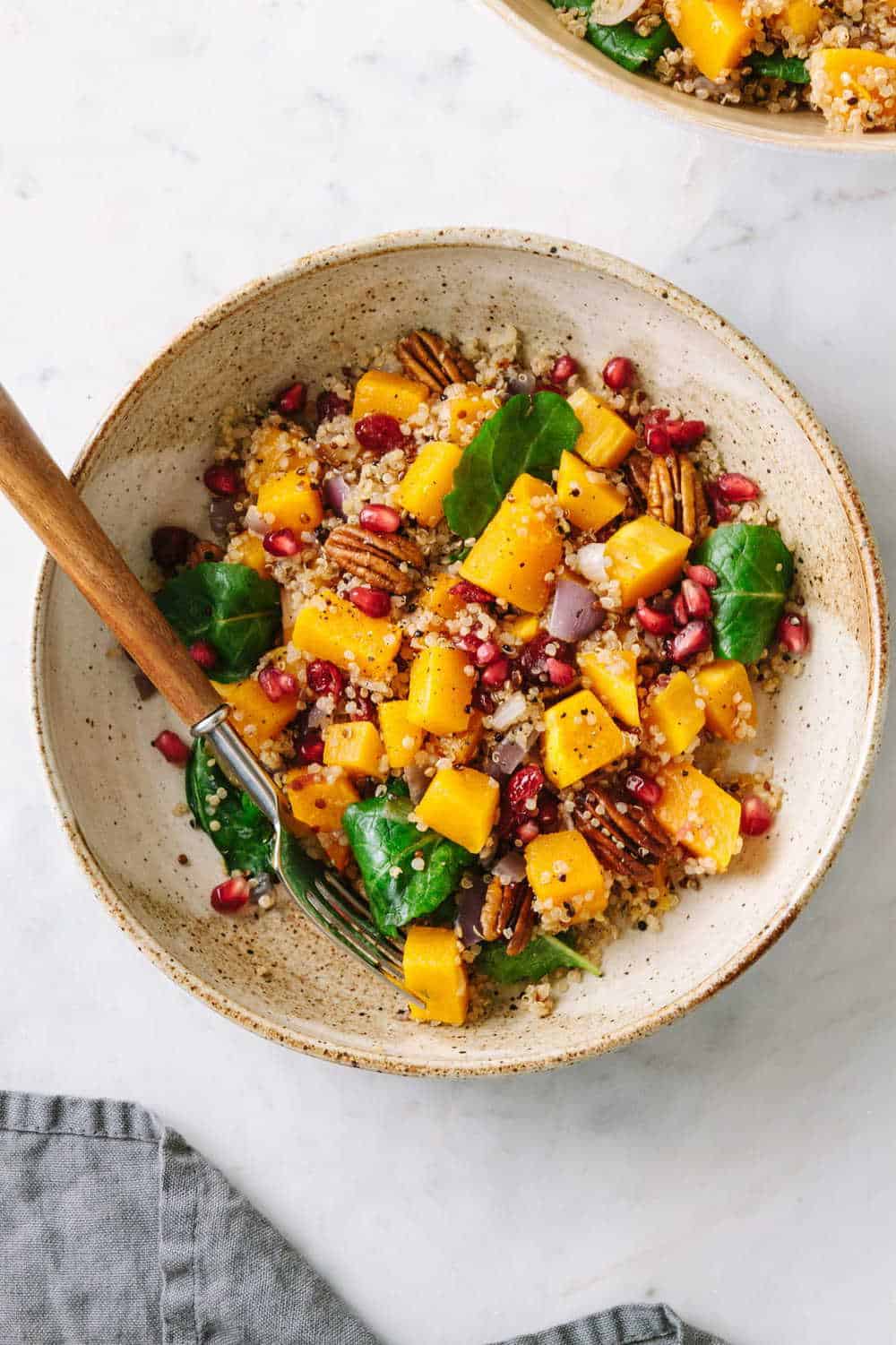 Print
AUTUMN BUTTERNUT SQUASH QUINOA SALAD
Autumn quinoa salad with butternut squash, dried cranberries, pecans and baby kale, tossed with an orange-cinnamon dressing, it's simple, healthy and delicious!
Prep Time:

15

Cook Time:

30

Total Time:

45 minutes

Yield:

Serves 4 - 6

Category:

Salad, Side

Cuisine:

Gluten-Free, Vegan
Ingredients
1 cup

(

200

g) dried quinoa (I used tri-color)

1 3/4

(394 ml) cup water

1 teaspoon

garlic powder, divided

1

small butternut squash (about 2 lbs (.90 kg) or

6 cup

s), peeled, seeded and diced, 1/2 inch cubes

1

medium red onion, diced

1 tablespoon

oil

1/2 cup

(

100

g) dried cranberries

1/2 cup

(

100

g) raw pecans

2

handfuls of baby kale (about

3 ounce

s)

1/4 cup

(

56

ml) orange juice

1/2 teaspoon

cinnamon
mineral salt & fresh ground pepper, to taste
Instructions
Preheat oven to 400 degrees F. (204 c). Line a rimmed baking sheet with parchment paper, a silpat or lightly grease with oil.
Quinoa: In a medium pot, bring the quinoa, water and 1/2 teaspoon garlic powder to a boil, cover, reduce heat to low and simmer over a gentle boil for 15 minutes. Remove from heat, uncover and let rest 10 – 15 minutes, fluff with fork.
Roasted Butternut Squash: Place the butternut squash and onion the prepared sheet pan, drizzle with oil, using your hands or utensils, toss to coat. Spread across sheet pan in a single layer, sprinkle with remaining 1/2 teaspoon garlic powder and mineral salt. Place on rack in center of the oven and roast for 20 – 30 minutes, stirring once or twice. Will be done when butternut squash is just fork tender, not mushy.
When done, remove from oven and sprinkle dried cranberries overtop, let cool a few minutes. Cranberries will soften and warm.
Toast Pecans: Heat a small pan over medium-low, add pecans and stir often until fragrant for 2 – 3 minutes, careful not to let them burn. This step is optional, pecans are great un-toasted too.
Dressing: In a small bowl, combine the orange juice and cinnamon.
Assemble: In a large mixing/serving bowl, add the quinoa, butternut squash mixture, kale, pecans, and drizzle with the dressing, toss to combine. Season with salt and pepper.
Serve: Serve warm, at room temperature or chilled. When in season, it pairs great with pomegranate seeds!
Store leftovers in the refrigerator for up to 5 – 6 days.
NOTES:
When peeling the butternut squash, a vegetable peeler works great! Here's a quick guide on How To Peel & Cut Butternut Squash.
This can easily be made a day ahead, stored in the refrigerator and served chilled, served at room temperature or warmed. It's holds up extremely well, looking just as fresh as if you've just made it!