CREAMY ZUCCHINI PESTO (VEGAN + OIL-FREE)
Creamy vegan zucchini pesto and spiralized zucchini noodles is a simple, clean eating, 5 ingredient recipe that's oil-free and easy to make!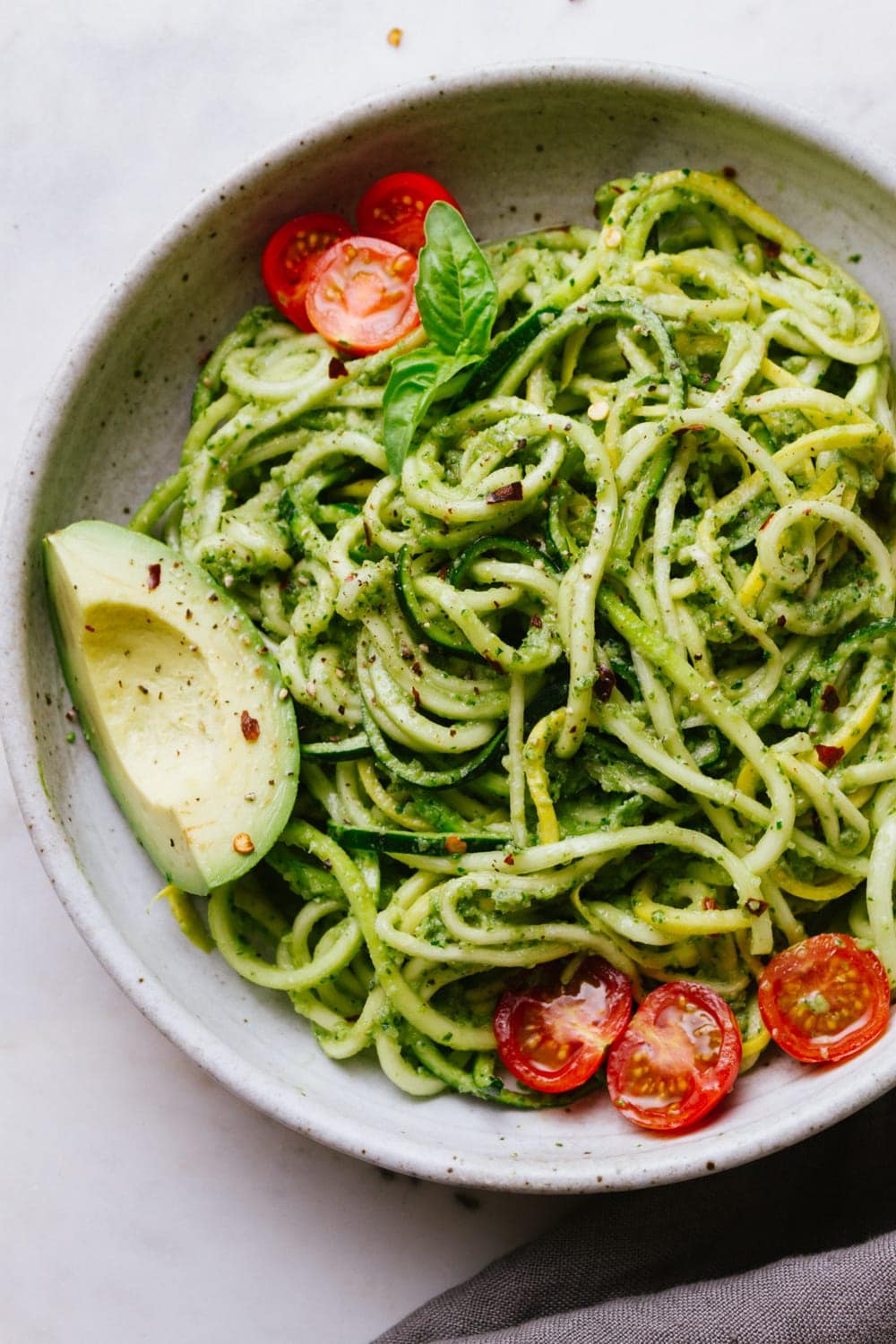 The humble zucchini – it's inexpensive, accessible and full of nutrition!
Here we'll be using it for both a vegan pesto and spiralized zucchini noodles. And I must say it's absolutely light, refreshing and delicious!
This zucchini pesto is oil free, nut free, and dairy free and you won't miss any of it!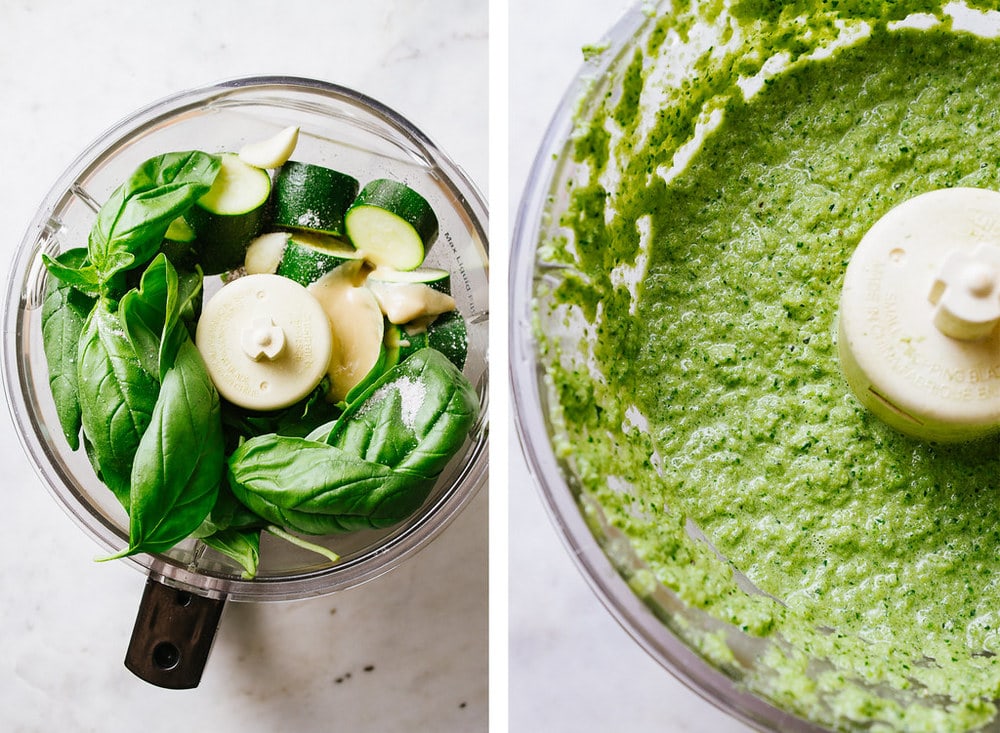 Ingredients You'll Need
In this recipe, steamed zucchini is blended with basil and tahini creating a thick zucchini pesto sauce that is perfect for spiralaized vegetable noodles or pasta.
Here is everything you will need:
Zucchini
Basil
Garlic
Salt
How To Make Creamy Zucchini Pesto
Steam the zucchini. This only takes a few minutes and can be done on the stovetop using a bamboo steamer or double broiler. You can also use a microwave. When using a bamboo steamer or double broiler, once the water is boiling, add the cut zucchini and steam for 3 – 4 minutes. For the microwave, simply cook for 1 1/2 – 2 minutes.
Puree ingredients. To make the zucchini pesto, add the zucchini, basil, tahini, garlic and salt to the food processor or blender, and blend until creamy. Taste for flavor, adding more garlic, salt or tahini as needed.
To Make Raw Zucchini Pesto: To make zucchini pesto fully raw, simply skip steaming it. But do note that steaming zucchini softens it which helps it process easier.
How To Store Leftovers
Refrigerator: Store zucchini pesto in and airtight container in the refrigerator for up to 5 – 6 days.
Freezer: To keep longer, store in the freezer for up to 2 months. Let thaw in the refrigerator before using.
Serving Suggestions
Vegan pesto is great tossed with pasta or spiralized noodles. Use it to make pesto pizza or as a sandwich spread. It can even be used for these zucchini wraps or as a dip for fresh veggie sticks.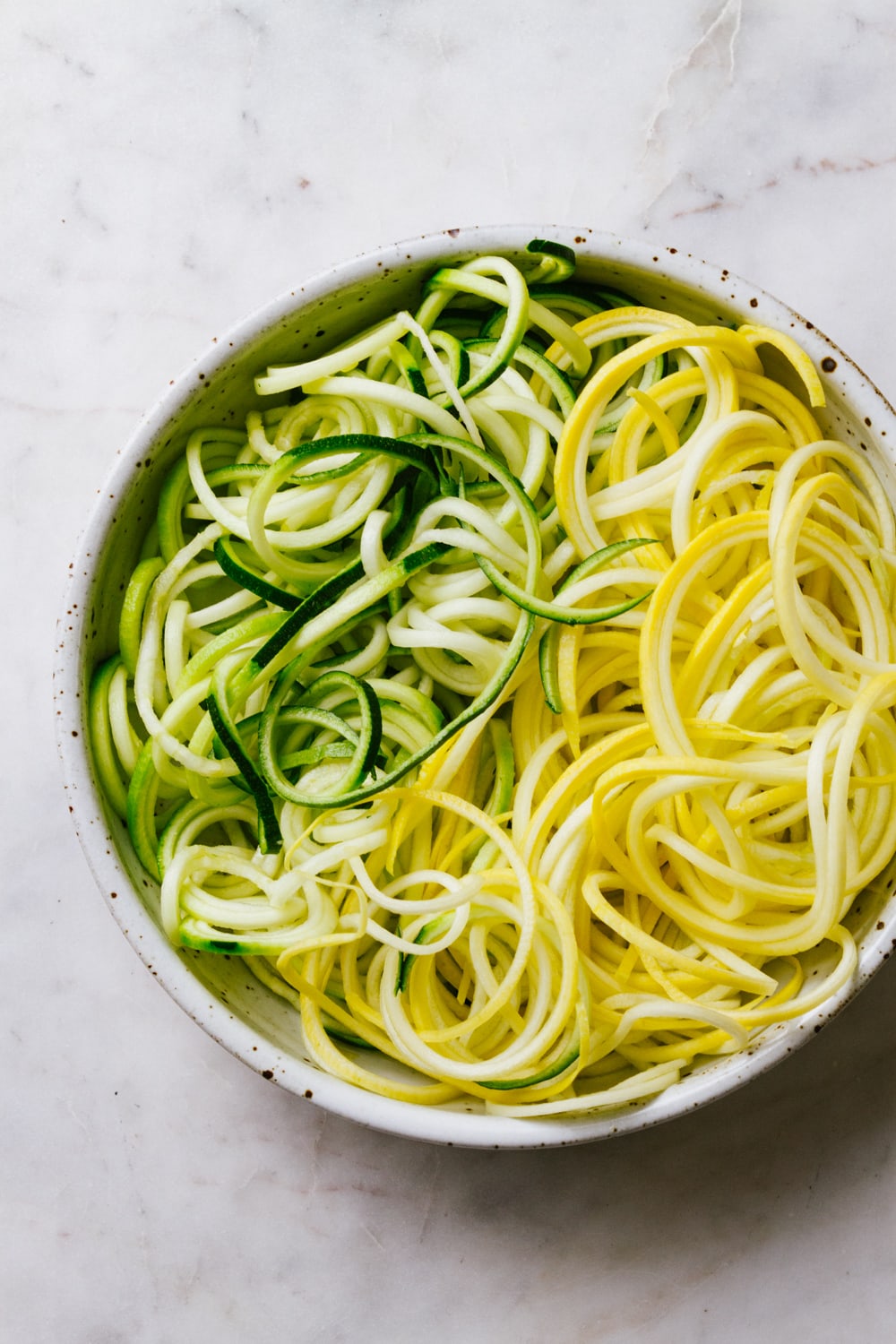 Have you ever tried zucchini noodles? They are light and surprisingly satisfying. And they go perfect with this zucchini pesto!
How To Make Spirilized Noodles
You can make zucchini noodles 2 different ways:
Spiralizer: To make zucchini noodles using a spiralizer simply cut both ends of the zucchini off, place the ends on the spiralizer and turn the handle while gently pushing the zucchini along. It's so easy and cleans up in a cinch!
Juilienne Tool: You can also use a julienne tool to create straight noodles. There are other smaller spiralizers out there, but I haven't tried any so I can't make any recommendations on them. If you have a favorite small one, let me know. I'll give it a try.
What types of vegetables can be spiralized?
There's a variety of vegetables that can easily be sprialized, such as zucchini, yellow summer squash, butternut squash, beets, carrots, cucumber, and sweet potato to name a few.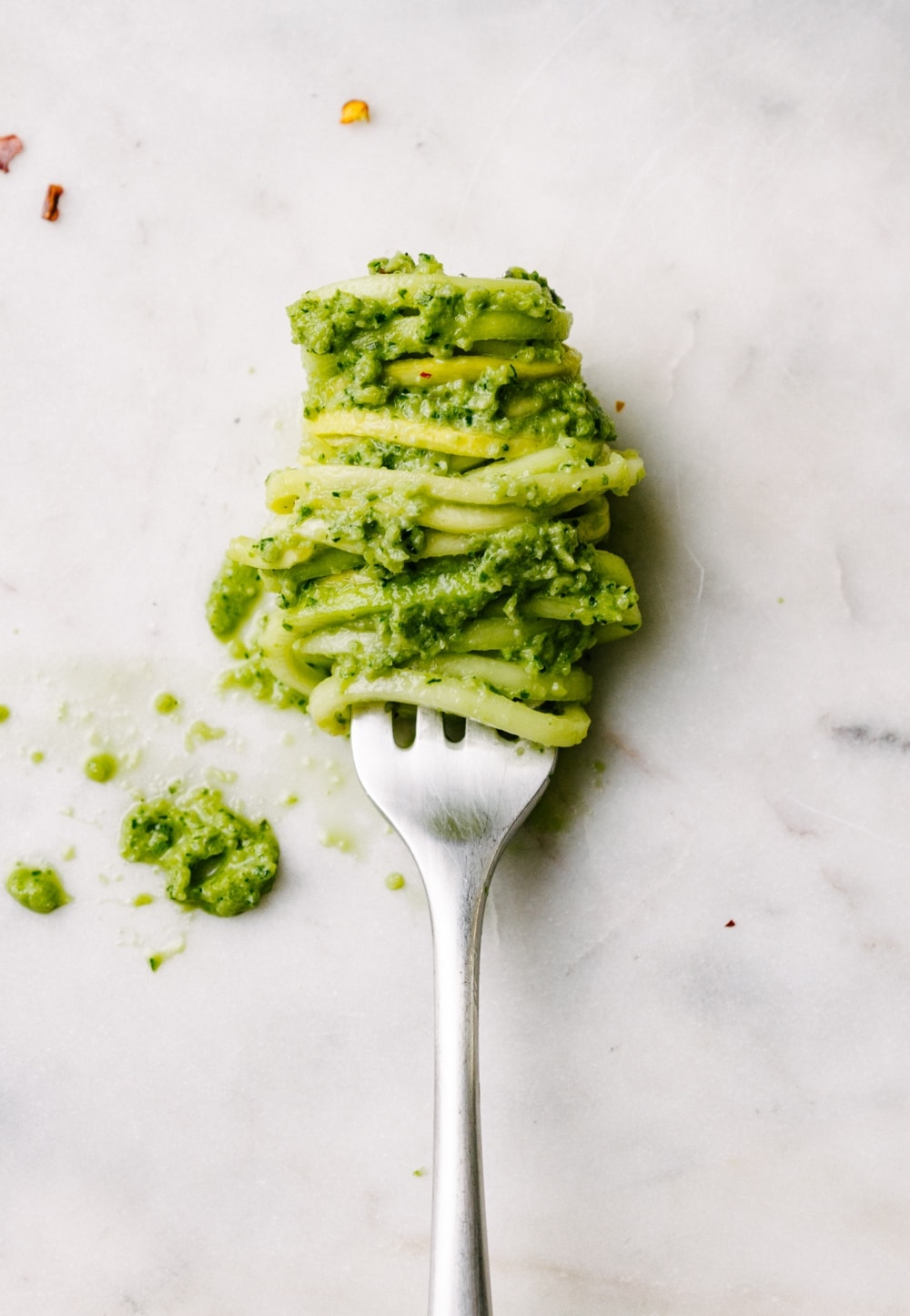 I hope you LOVE this zucchini recipe as much as I do! It's:
Oil free
Clean eating
Quick and easy
Budget friendly
Minimal ingredients
All together, this zucchini pesto with noodles is perfect for a light lunch, dinner or make ahead meal. You can easily make everything ahead of time and keep it stored in the refrigerator – either separate or tossed together – until ready to use.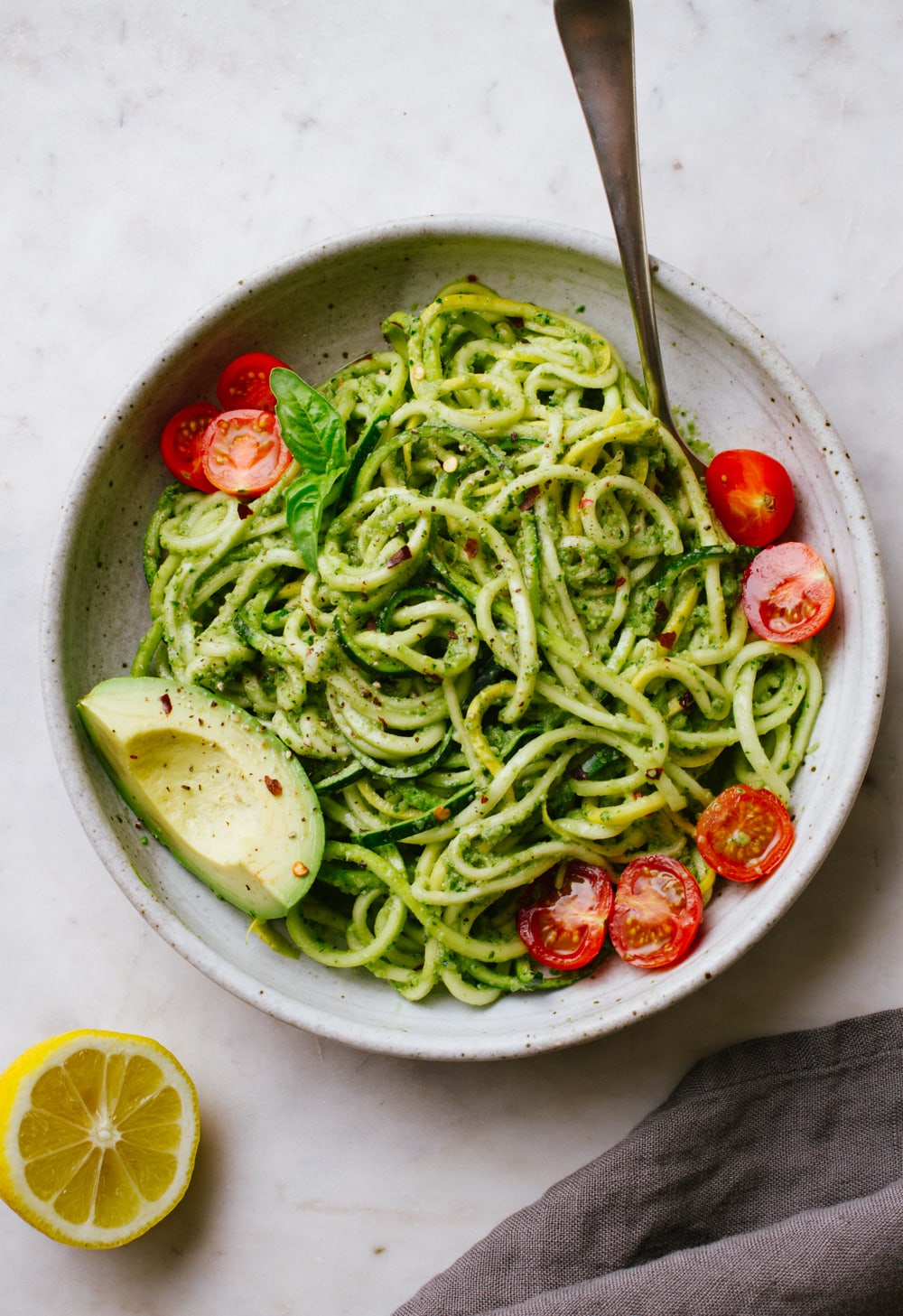 More Easy Zucchini Recipes
If you try this vegan pesto recipe, please let me know! Leave a comment and rate it below. I love to hear what you think, or any changes you make.
Print
CREAMY ZUCCHINI PESTO WITH 'NOODLES'
A simple 5 ingredient, creamy vegan zucchini pesto and noodles recipe using only wholesome ingredients!
'Noodles'
2

zucchini (1 per person), cucumber would be good too
Pesto (serves two)
2

small zucchini or

one

large

2 cups

fresh basil

2

cloves garlic

2 tablespoons

tahini

1/2 teaspoon

himalayan salt, or to taste
Instructions
Noodles: Use a spiralizer to create the 'noodle' effect, or you can julienne them. Both ways are great but I do highly recommend the spiralizer if you intend on making raw 'noodles' often. It's really fun and easy to use.
Pesto: Cut zucchini into 1-inch chunks. Steam chunks over boiling water for about 3 minutes, or until just tender when pierced with a sharp knife. I kept mine a little stiff, I wanted this to be as raw as possible.
Place all ingredients in food processor/blender and process until finely chopped.
Serve: Mix your 'noodles' with the pesto and serve with halved cherry tomatoes and a sprinkle of almond parmesan.
Notes
'Noodle' variations: Change it up by sprializing zucchini, yellow summer squash, butternut squash, beets, carrots, cucumber or sweet potato.
Raw Pesto: To make the zucchini pesto fully raw, simply skip steaming it. But do note that steaming zucchini softens it which helps it process easier. Plus, it doesn't change the nutritional profile very much with such a short steam.
RECOMMENDED EQUIPMENT: I love my Spiralizer, to create curly veggie noodles but this julienne tool works great creating straight noodles (affiliate links)!
Follow TSV on Facebook / Instagram / Pinterest / Twitter / RSS