RAW SPAGHETTI + VEGETABLE PASTA
Eat fresh and clean with this Raw Spaghetti + Vegetable Pasta featuring spiralized noodles, raw marinara sauce and colorful veggies for a light, refreshing and easy to make lunch or dinner! Vegan, low-fat + gluten-free recipe.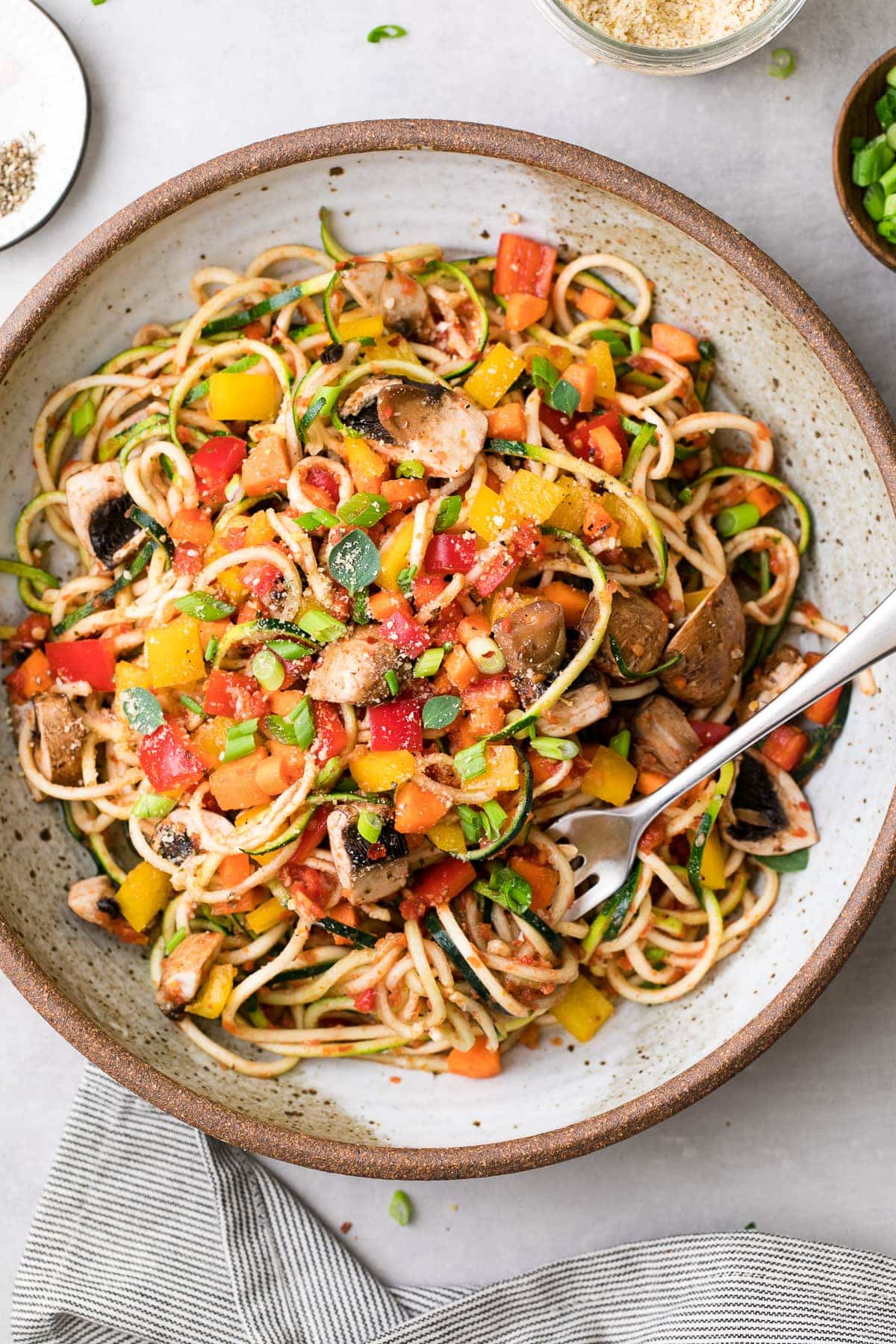 We can all benefit from a raw meal at least once a day, whether it's a salad or something like this raw vegetable pasta. Adding a fresh, raw dish to your daily meal plan is good for your system in countless ways.
So with some marina'raw' sauce I had left over from a previous recipe, I decided to put together this raw vegetable pasta dish.
I started with just the usual zucchini 'noodles' and decided to try some cucumber 'noodles' as well. Turned out to be a nice combo!
The mushrooms, bell peppers, carrots and green onions I happen to have on hand and the result was a complete success.
Finally adding a layer of almond parmesan over top will take this to the next level while adding protein, it's delicious!
This raw pasta dish is simple, gluten-free and refreshingly filling!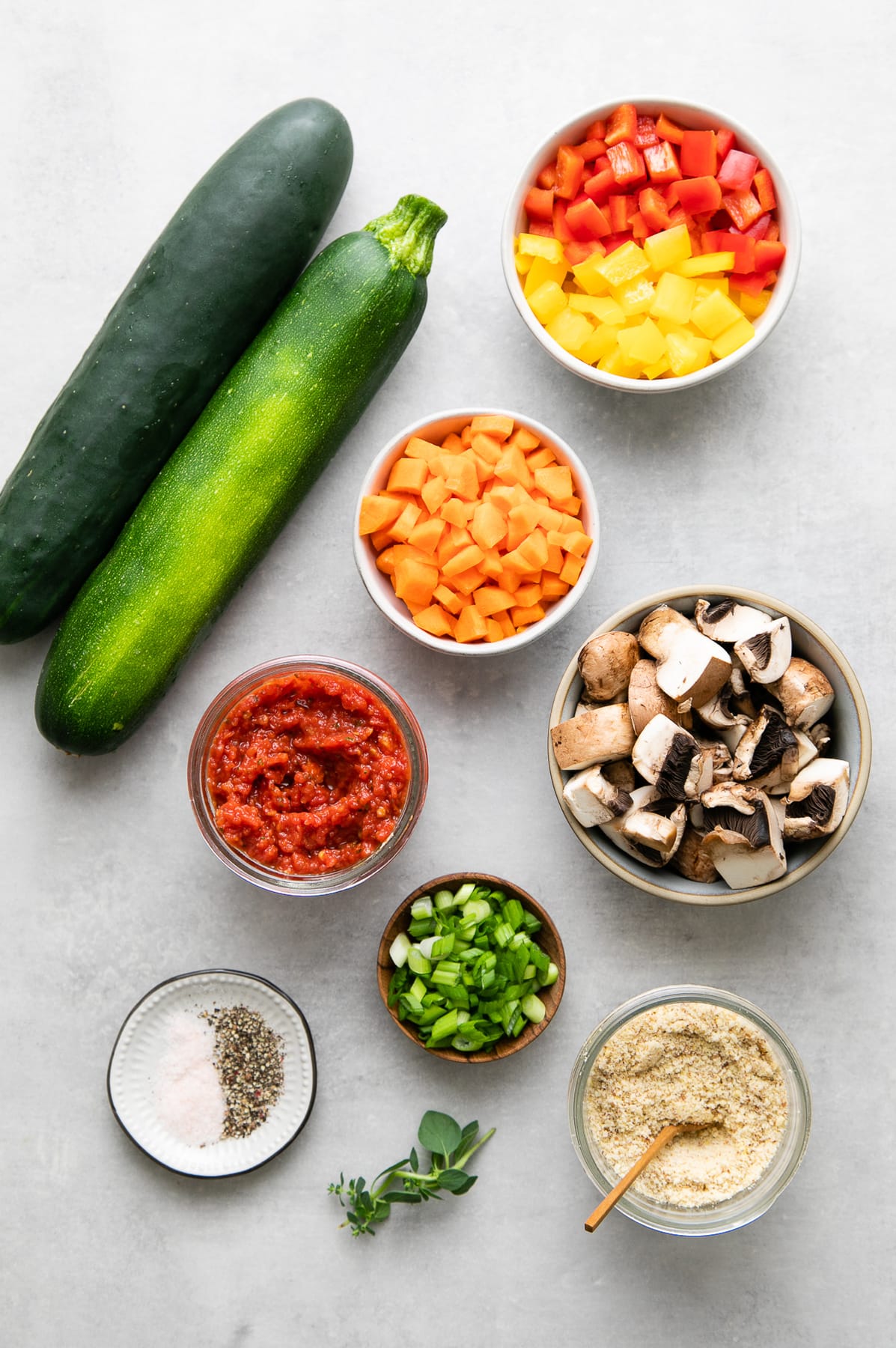 Ingredients You'll Need
This recipe uses a variety of veggies chopped and spiralized creating a delicious raw vegan meal perfect for warm weather dining. Feel free to use any vegetables you like. These are what I had on hand and threw together.
(Note – Exact measurements are listed below in the recipe card)
zucchini
cucumber
mushrooms
red & yellow bell pepper
carrots
scallions
oregano – basil or parsley
salt +pepper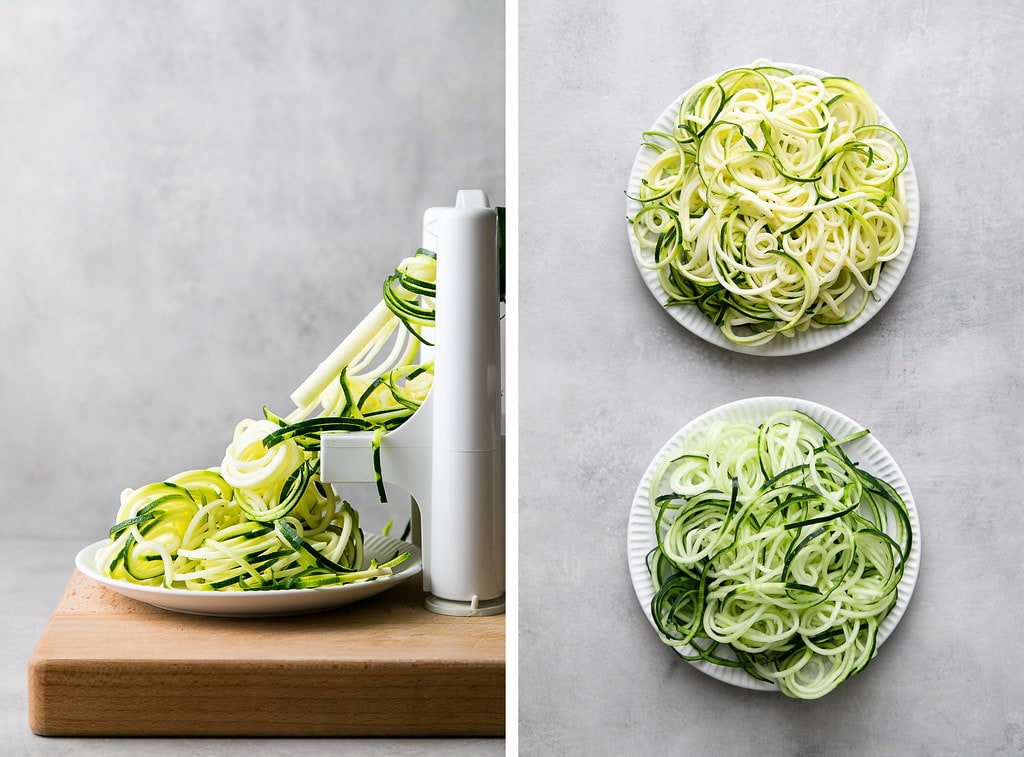 How To Make Raw Spaghetti + Vegetable Pasta
(Note – The full printable recipe is at the bottom of this post)
Make the sauce. The raw tomato sauce is super easy to make and only takes 5 minutes. It can also be made ahead of time.
Spiralize. Spiralize the zucchini and cucumber, set aside. You can also julienne by hand or use a julienne tool, but the spiralizer (affiliate link) is really fun and easy. I highly recommend having one if you make raw noodles often.
Prep the veggies. Dice up your veggies, using as much as you like.
Assemble the pasta dish. You can either mix everything together in a separate bowl and transfer to individual serving dishes, or you can serve and mix right in your serving dish.
Top Tips
Use jar bottle sauce for ease, it just won't be 100% raw, but still delicious!
Add a serving of this Walnut Meat overtop for a change.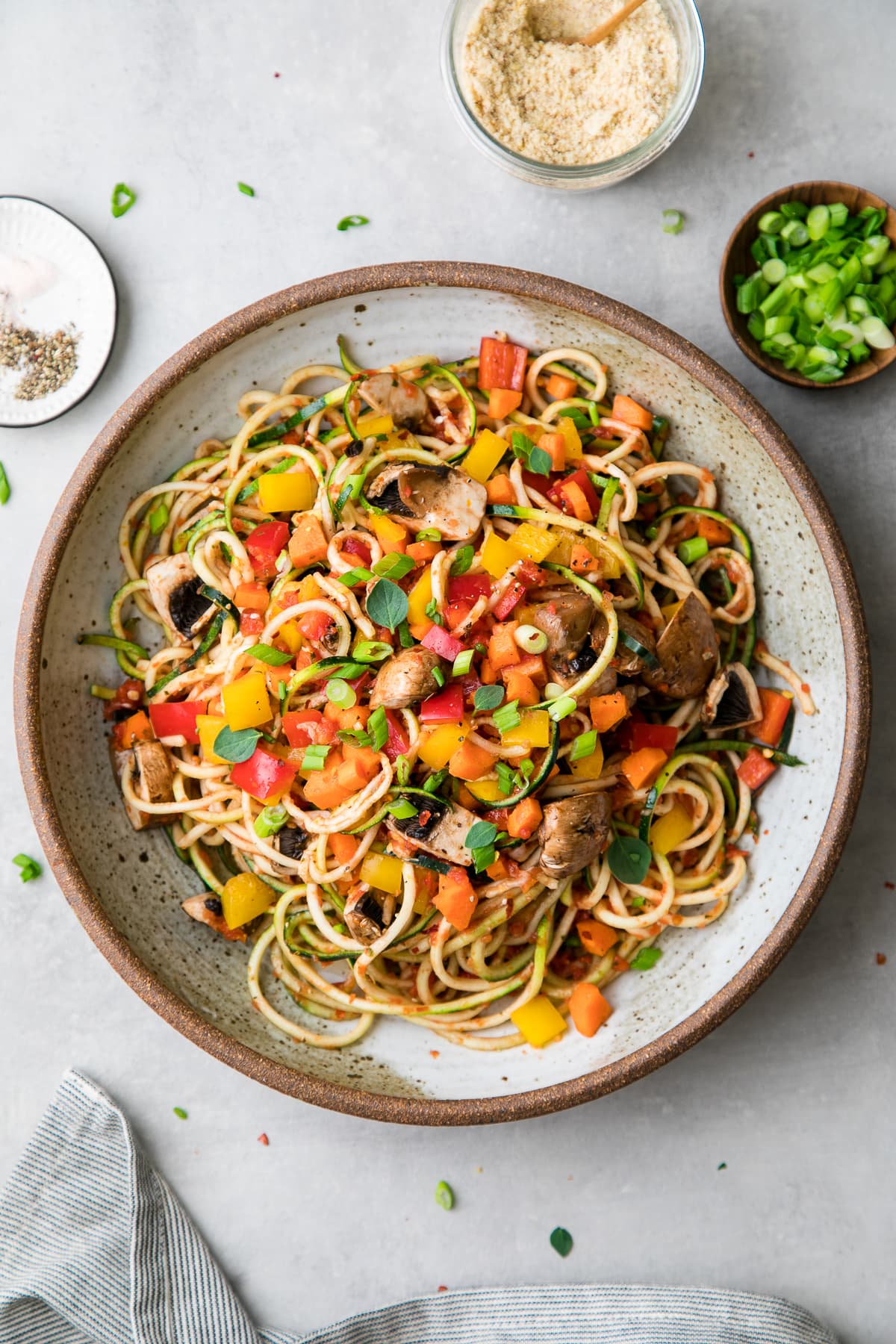 How To Store + Meal Prep
Refrigerator: Leftovers can be stored in the refrigerator for up to 4 days. The zucchini and cucumber noodles will sweat a bit, but will hold up well stored in a covered container.
Meal prep: When meal prepping, you can keep the veggies and sauce store separate or toss it all together before portioning into a covered container.
Serving Suggestions
Top with sliced green onions, fresh herbs of choice, mineral salt & cracked pepper to taste.
I love it with a good dusting of Almond Parmesan!
More Raw Vegan Recipes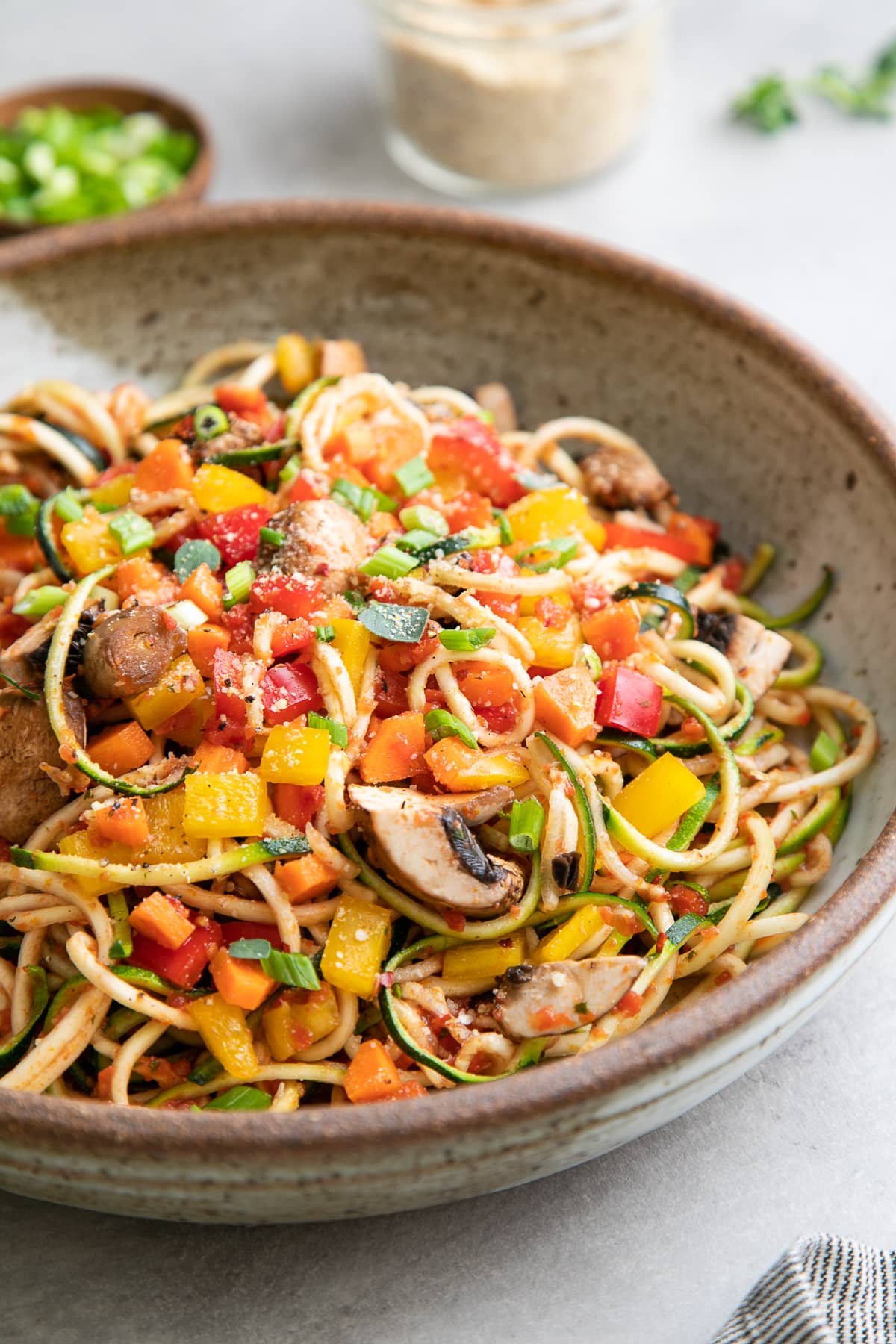 Let me know if you try this raw vegetable pasta recipe or have a question! Leave a comment and rate it below. I love to hear what you think, or any changes you make.
Print
RAW SPAGHETTI + VEGETABLE PASTA
Updated: Raw Spaghetti + Vegetable Pasta originally published July 2012 and has been updated June 2020 with new photos and helpful tips. 
FOLLOW TSV on Facebook, Instagram, Pinterest or RSS for more updates and inspiration!