Fresh Mango Salsa features ripe juicy mango tossed with colorful veggies for a healthy appetizer or side! Serve with tortilla chips, tacos, meal bowls and more!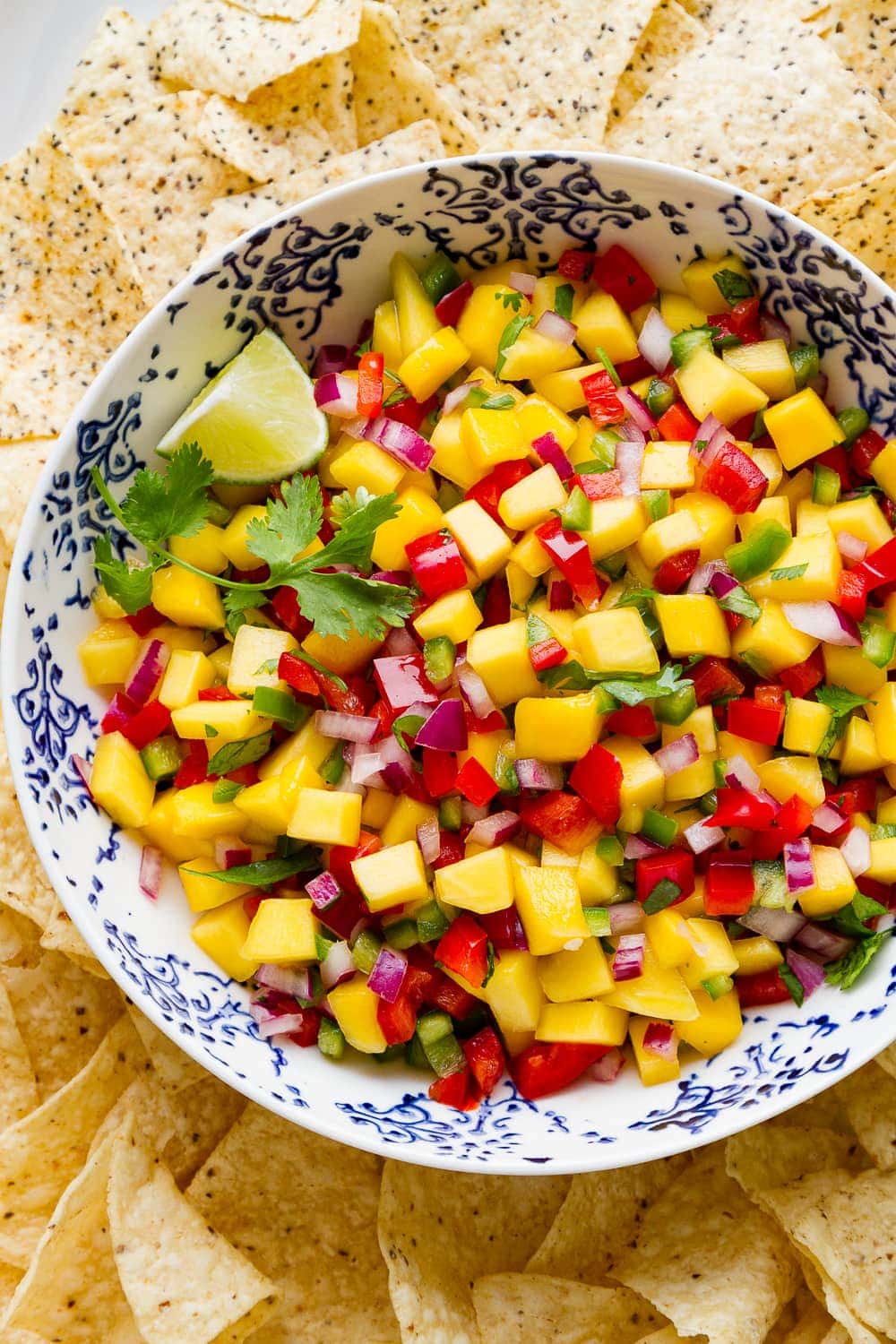 Let's mango salsa, shall we!
Today I have for you a fresh and colorful mango salsa recipe to bring to the table. This simple fruit salsa is versatile and makes a perfect 'WOW' appetizer, side dish or condiment for gatherings and get-togethers.
Both healthy and delicious, with a little sweet and a little heat, mango salsa is a nice change-up from the usual tomato based salsas. There's nothing complicated, just fresh ingredients that compliment each other and are full of color, texture and flavor.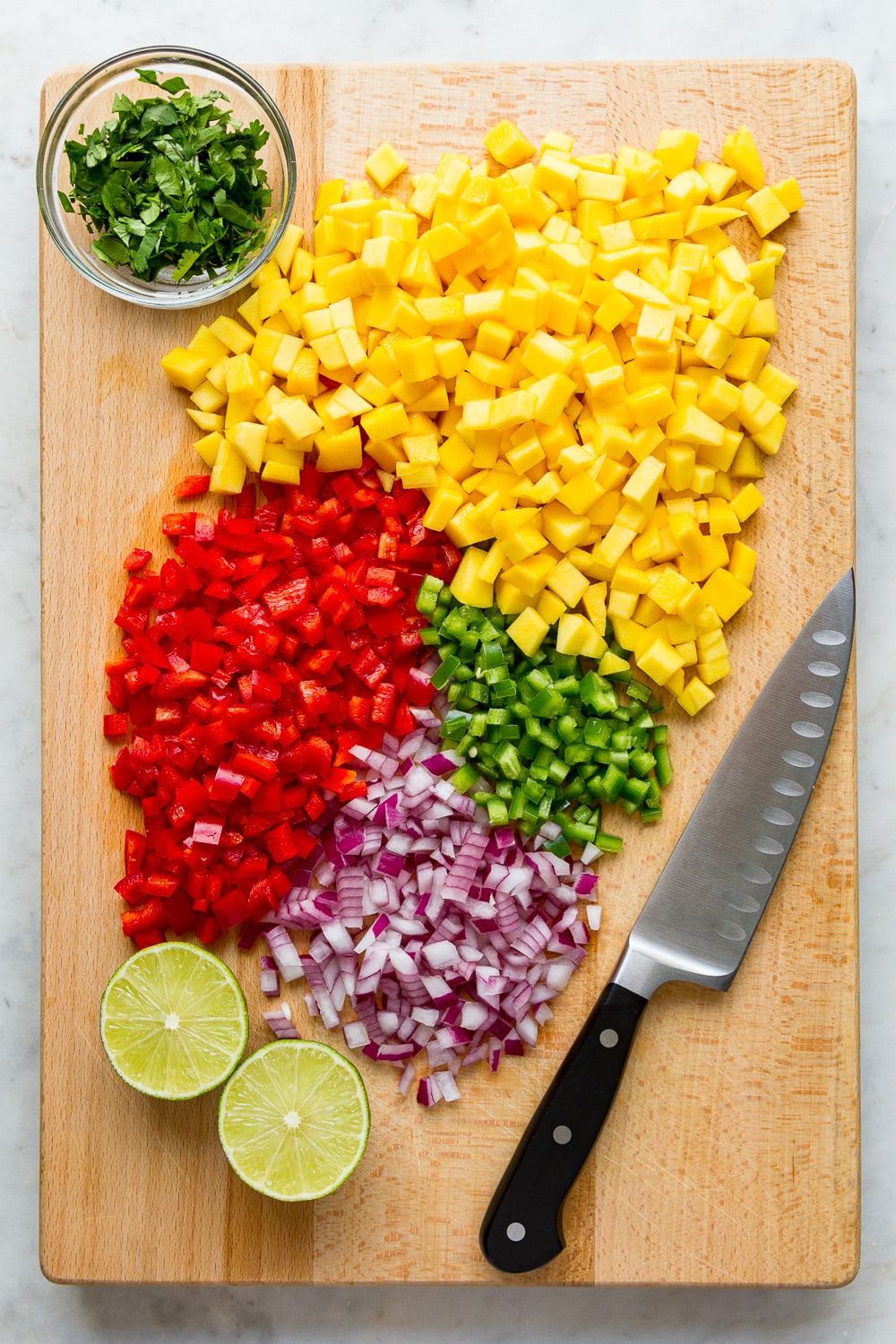 Fresh Mango Salsa Ingredients
This homemade mango salsa includes a wonderful combination of ingredients so don't skip on anything. But, do feel free to adjust the ingredients by adding more or less of anything to suit your taste.
What you'll need:
Mango – sweet and juicy, it's the star of the recipe.
Red bell pepper – adds color, texture and a bit more sweet, plus it's loaded with healthy antioxidants.
Red onion – adds more color, crunch and mild onion flavor.
Jalapeno – lends a little spicy heat and color.
Cilantro – this fresh herby green adds a punch of citrusy notes.
Lime – balances the sweetness with it's slight bitter and sour juices.
Salt – just a healthy pinch will bring out all the flavors.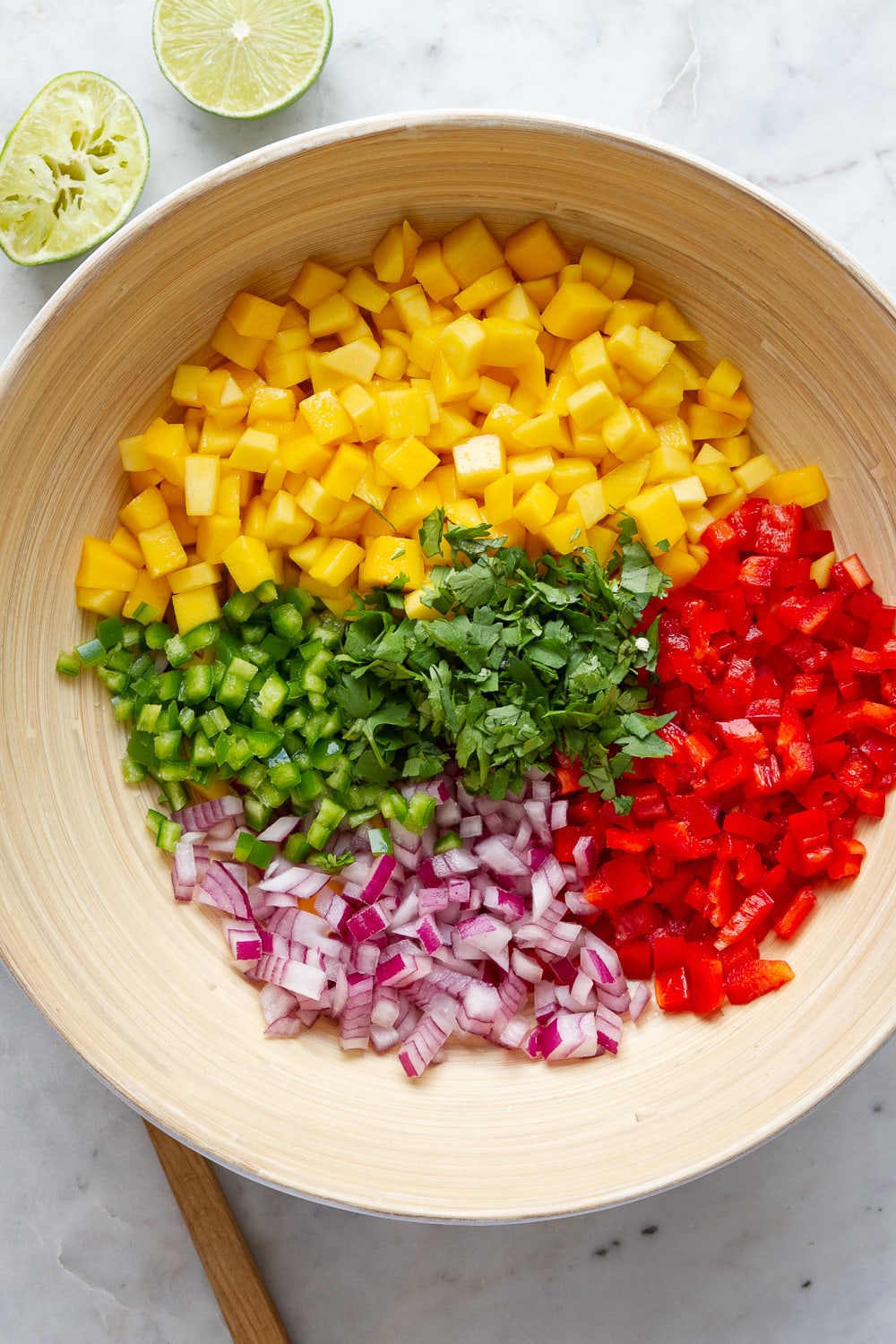 How To Make Mango Salsa
Prep the mango. If you're intimidated by cutting mangos, don't be because it's really not that bad at all. If you have never cut a mango before, here is a good resource with two easy methods to choose from: How to Cut a Mango
Next, Finely dice the bell pepper, jalapeno, and onion. A few seeds from the jalapeno is ok, especially if you like a little extra heat.
To assemble the salad, in a medium/large bowl, combine the mango, red pepper, onion, jalapeno and cilantro (shown above), add a pinch of salt and a big squeeze of lime. Give a good stir (shown below).
This salsa recipe is so easy, you'll most likely memorize it after making it once or twice.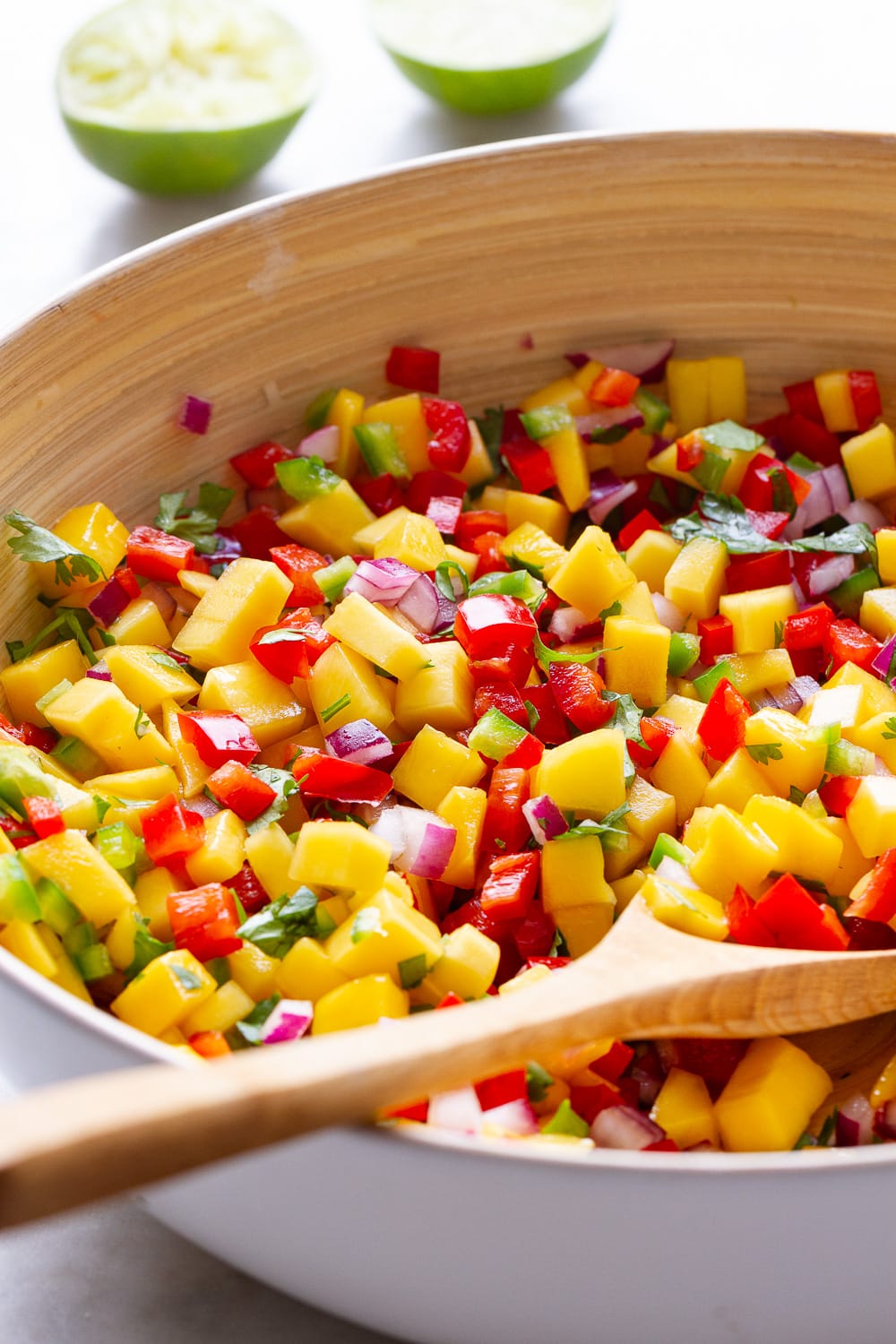 Commonly Asked Questions
Can Mango Salsa Be Made Ahead Of Time?
Yes! To make this salsa ahead of time, simply prepare as directed, and stored in the refrigerator for up to 3 – 4 days, or store in the freezer, in a freezer safe container, for up to 2 months.
Can You Freeze Mango Salsa?
Sure can! You can store mango salsa in the freezer for up to 2 months. When ready to serve, let thaw in the refrigerator for 12 hours – 1 day, or on the counter for a few hours.
What Goes With Mango Salsa?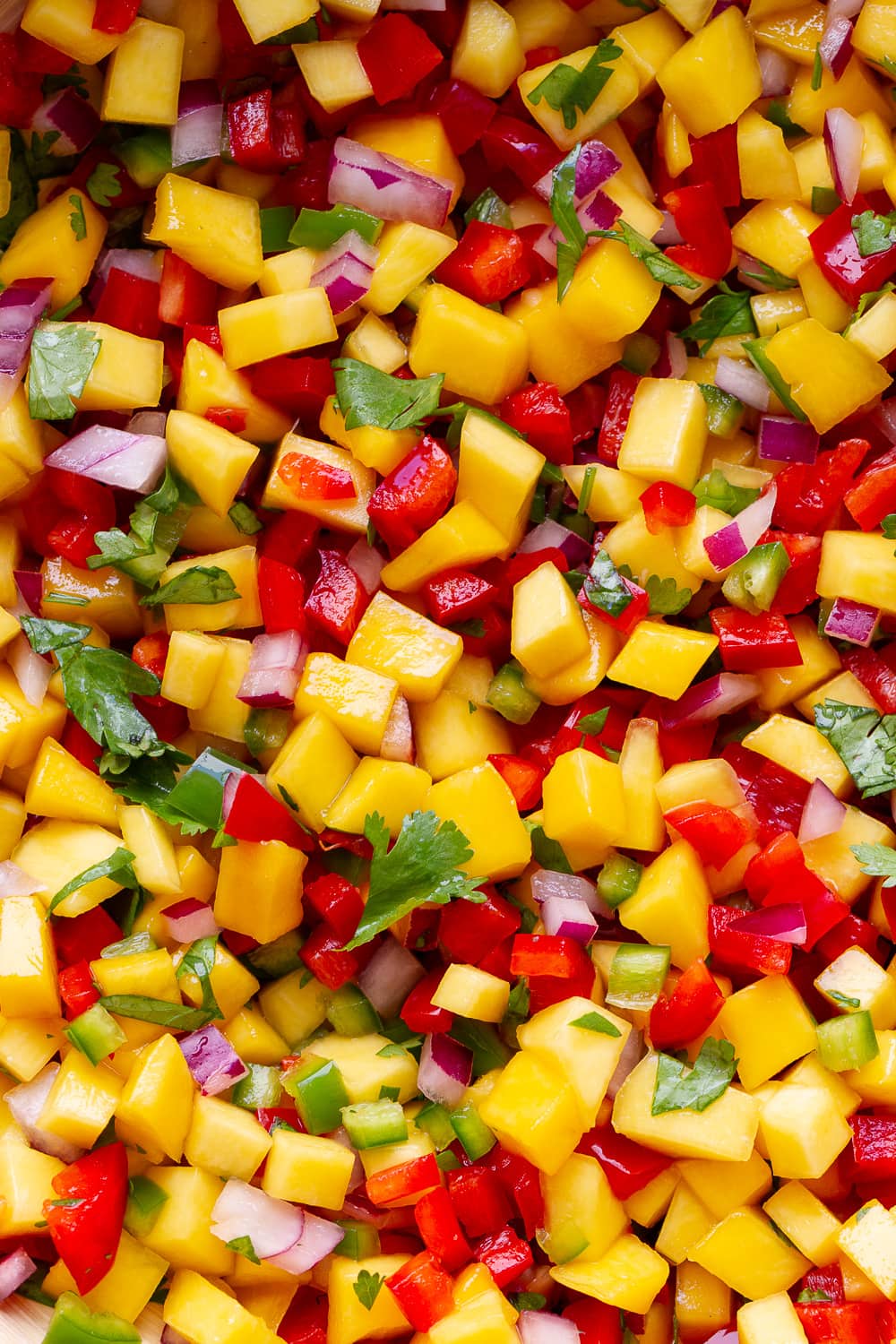 Let's recap why this classic mango salsa recipe is the best! It's:
Fresh ingredients
Quick & easy to make
Healthy
Colorful
Crowd-pleasing
Vegan (of course)
Can be made ahead
There is so much to LOVE. All you need is 7 ingredients and 10 minutes. Share it with family, friends or enjoy all by yourself. I can easily make a batch and eat it for lunch with my favorite tortilla chips. And if you're a mango lover, this delicious salsa is a must!
More Snack Ideas
Because you can never have too many appetizer and snack ideas. Take a look at these other delicious vegan recipes for more inspiration. You just may find a new favorite!
If you try this mango salsa recipe, please let me know! Leave a comment and rate it below. I love to hear what you think, or any changes you make.
Print
FRESH MANGO SALSA
Add a little sunshine to your chips! This colorful, fresh salsa is great with simple bean tacos, burritos and vegan bowls too.
Ingredients
2

large ripe mangos, small diced

1

large red bell pepper, cored, seeds removed and finely diced

1/4

large red onion, finely diced

1

medium jalapeno, seeds removed and finely diced

1/4 cup

cilantro, chopped
pinch of mineral salt

1

lime, juice of
Instructions
Place the diced mango, bell pepper, onion, jalapeno and cilantro in a medium/large mixing bowl. Add a pinch of salt and squeeze of lime juice over top, gently toss to coat.
Enjoy right away or let it rest for 30 minutes so flavors can mingle.
Serve with chips, or as a condiment or side to any complimentary meal, such as bean tacos, bean & quinoa/rice burritos, and various vegan bowl meals.
Store leftovers in a sealed container in the refrigerator for up to 5 – 6 days, or freeze for up to 2 months.
Serves 6
NOTES:
If you feel a whole jalapeno is too much for your taste, use half, adding more as needed. Some jalapenos are hotter than others, so be sure to taste for heat before adding a whole one.
Never cut a mango before? Here are 2 easy methods to get you started: How to Cut a Mango
UPDATED NOTE: This salsa recipe was published in May of 2018 and updated in July of 2019. Mangoes were on sale so I thought I'd update this classic recipe with new photos and helpful tips. Enjoy!