This homemade Pico de Gallo recipe is so much better than store bought and is super quick & easy to make requiring only 5 fresh ingredients, plus salt. It's deliciously healthy, oil-free, low-fat and ready in 10 minutes!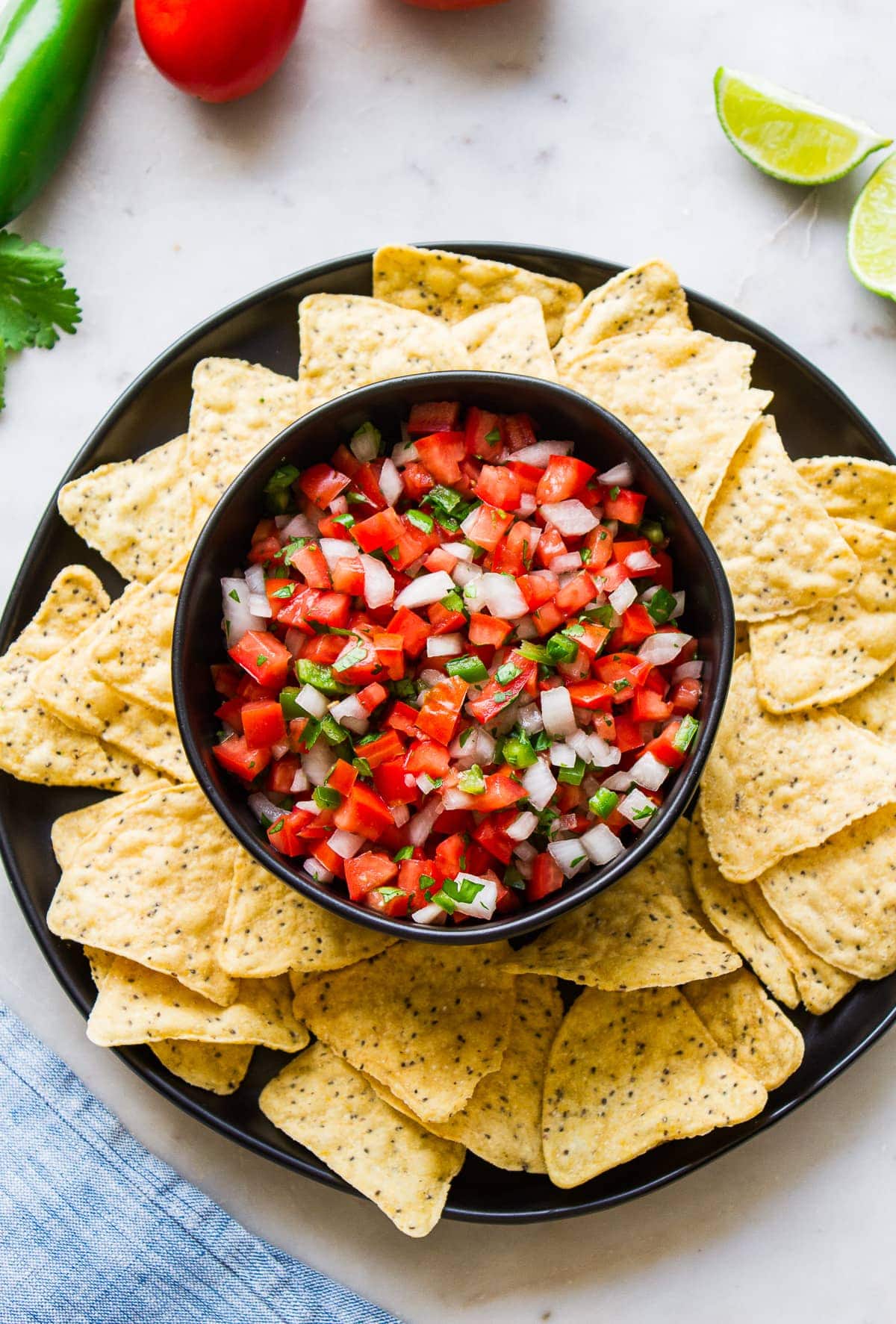 Similar to Fresh Mango Salsa, this classic pico de gallo recipe is made from scratch using only a handful of fresh ingredients and tastes wonderfully delicious!
Pico de gallo, also known as salsa fresca or salsa cruda, is made with fresh chopped roma tomatos, onion, cilantro, jalapeno and big squeeze of lime juice mixed in. Keeping in line with tradition we'll be making it as authentic as possible.
Serve this authentic pico de gallo with this Kale & Quinoa Burrito Bowl, Vegan Tacos, Baja Tofu Fish Tacos, Stuffed Avocados, 7 Layer Bean Dip, and of course chips. And salsa fresca isn't just for Mexican cuisine, use it as a fresh topping for just about anything!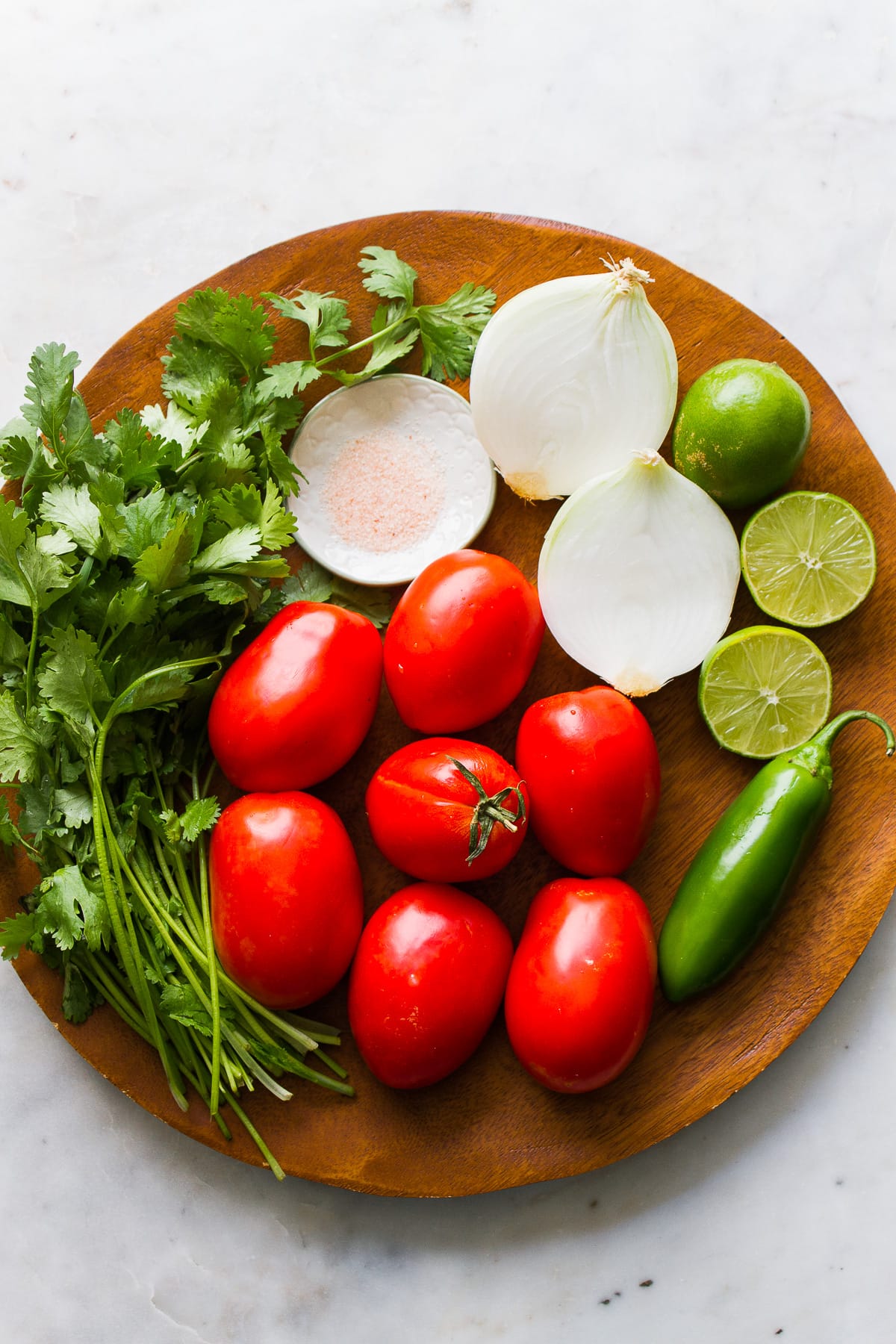 Pico De Gallo Ingredients
With only a few ingredients, use the freshest possible for the best flavor!
Roma Tomatoes – Roma tomatoes (also known as plum tomatoes) have a low water content and fewer seeds than other tomatoes making them a favorite for pico de gallo. The best tomatoes are bright red and firm, even slightly underripe is ok. Steer clear of soft, lack luster, washed out looking tomatoes, and definitely stay away from canned.
Onion – White onion is most traditionally used, but red onion is great too.
Jalapeno or serrano  – For a spicy kick add 1 – 2 jalapenos or serranos, keep a few seeds for a little extra heat if you like.
Cilantro – Cilantro adds a herby freshness, feel free to add as much as you like! And if you happen to have the gene that makes cilantro taste like soap, yes that's a thing, feel free to omit the cilantro all together.
Lime – Lime juice adds a wonderful citrus flavor. If you love lime zest add a little to your pico de gallo!
Salt – Salt adds the finishing touch, bringing out all the flavors of each ingredient. Pink mineral salt (affiliate link) is my favorite and I use it almost exclusively. It has essential minerals and trace elements that sea salt and table salt don't contain.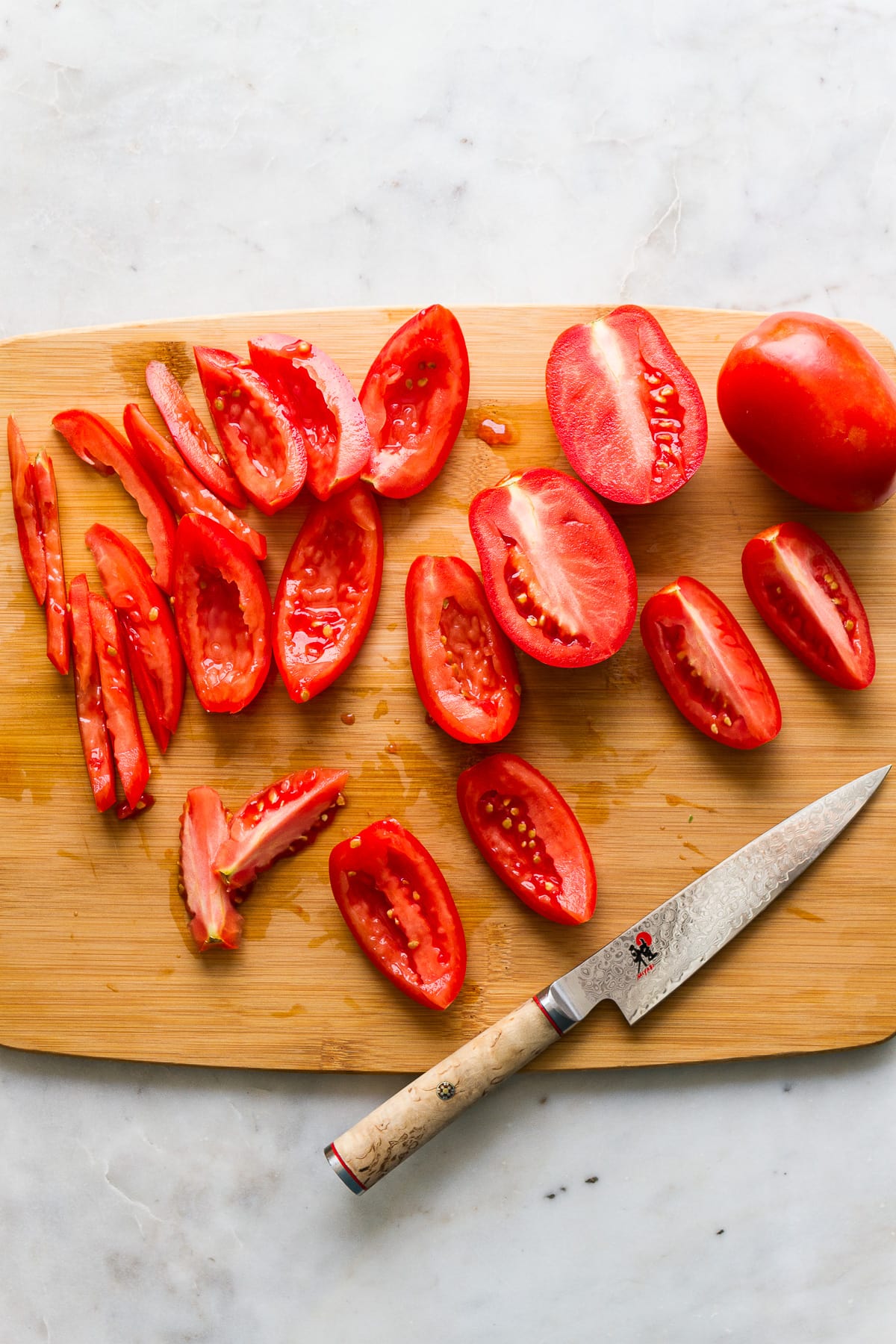 How To Cut Tomatoes For Salsa Fresca
Cut the tomatoes in half. Make a cut down the center of the tomato, while trying to keep the two halves roughly the same size.
Cut the halves in half. Each half should be roughly the same size.
Slice out the seeds. Place each quarter on a table or cutting board with the skin side facing downward. Slice a knife across the tomato to cut out the white, fleshy portion of the tomato. The seeds are attached to this portion, so they will be sliced out as well. You may have to run your finger along the skin to remove any seeds that are lingering.
Cut the quarters into strips lengthwise. You should get about 4 – 5 strips from each quartered half, depending on the size of the tomato.
Finally, dice the strips into small pieces. Cut into 1/4 inch pieces.
How To Make Pico De Gallo
Prep: Prep the tomatoes and jalapeno, removing the seeds and dicing into small pieces. Finely dice the onion. Chop the cilantro leaves, making sure to remove any stems.
Assemble: In a medium bowl, add the tomato, onion, jalapeno, cilantro. Squeeze the lime over top and add a sprinkle of salt. Toss to combine.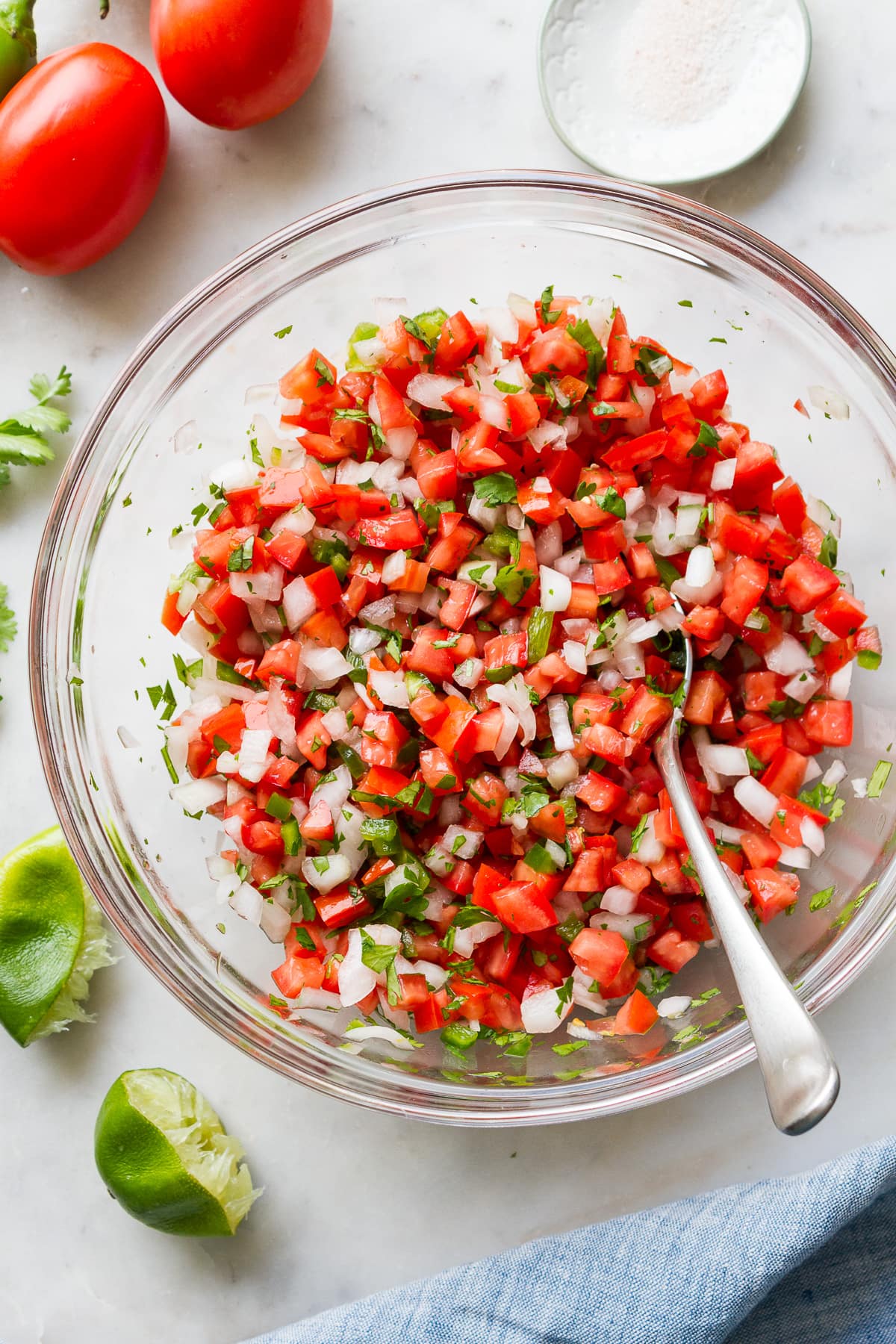 How Long Does Pico De Gallo Last?
Leftover pico de gallo will last in the refrigerator for 4 – 5 days in a covered container. The flavors will enhance after a day or two, making it great salsa to make ahead.
Can You Freeze Pico De Gallo?
Yes, it freezes well for up to 2 – 3 months. To freeze leftovers simply drain any excess juices and place in an a freezer safe container or baggie. The texture may change slightly once thawed but will still be delicious.
More Recipes You'll Love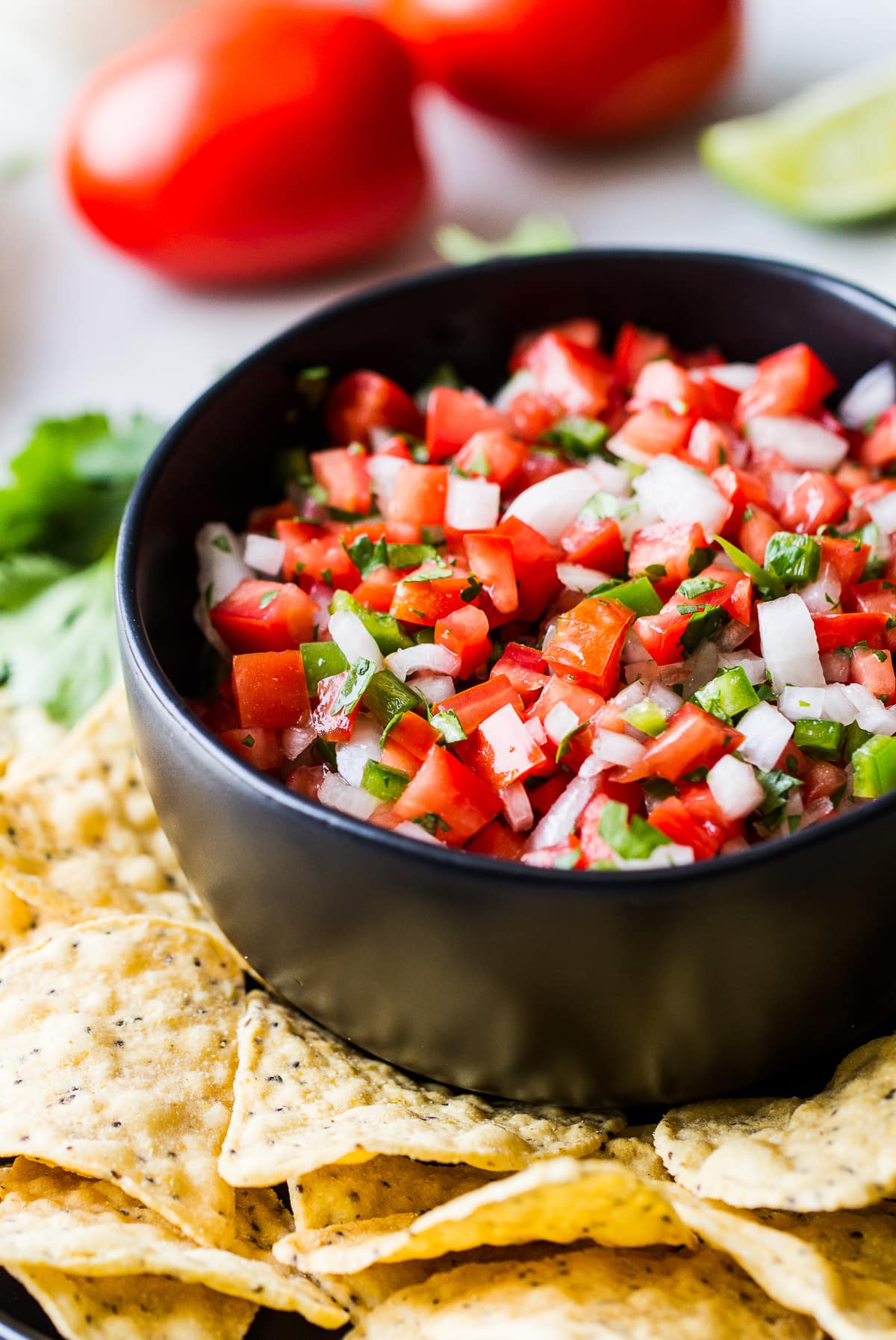 If you try this easy salsa fresca recipe, please let me know! Leave a comment and rate it below. I love to hear what you think, or any changes you make.
Print
PICO DE GALLO
This classic Pico de Gallo recipe is made from fresh tomatoes, onion, jalapeno, and cilantro, with a touch of salt and lime juice!
Author: Julie | The Simple Veganista
Prep Time:

10 min

Total Time:

10 minutes

Yield:

Serves 8

Category:

Condiment, Side

Method:

Mix

Cuisine:

Vegan, Mexican, Tex-Mex
1 1/2

lbs. roma tomatoes (about

6

–

7

medium), seeds removed and finely diced (about 3 cups)

1

small white onion, finely diced (about

1 1/2 cups

)

1

jalapeno, seeds removed and finely diced

1/4

–

1/2

cup

cilantro, chopped and loosely packed

2

limes, juice of
generous pinch of mineral salt
Instructions
Assemble: In a medium bowl, add the tomato, onion, jalapeno, cilantro. Squeeze the lime over top and add a sprinkle of salt. Toss to combine.
Serve at room temperature or chilled.
Makes about 4 1/2 cups.
Store: Leftovers can be stored in the refrigerator for up to 4 – 5 days in a covered container.
NOTES:
As always feel free to adjust any of the ingredients to suit your taste.