No kneading required for this easy, 4 ingredient No Knead Bread recipe! With only 5 minutes hands on and baked in a Dutch oven, it's the most flavorful, rustic homemade bread ever!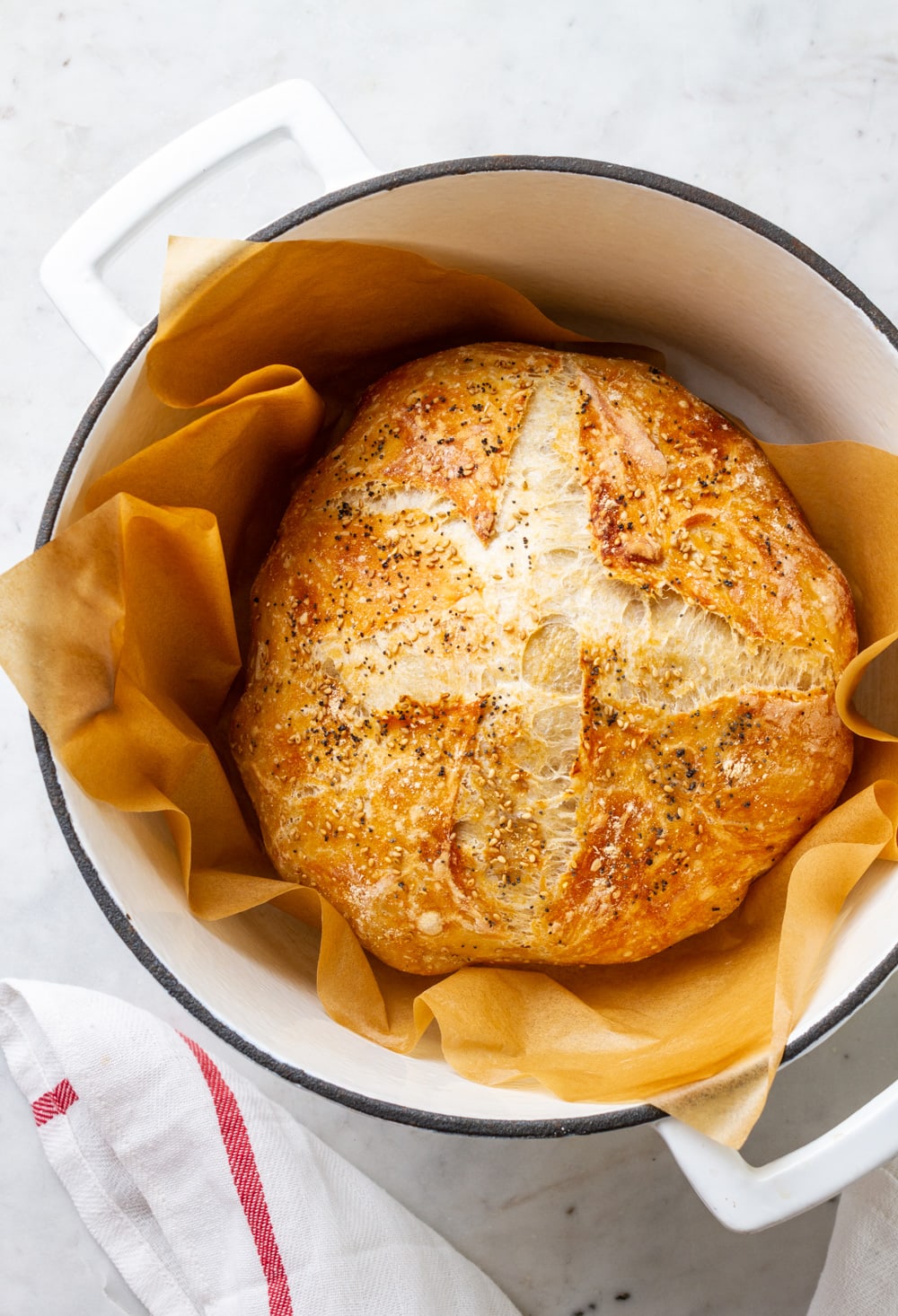 I have seen some beautiful breads come from this simple, no knead recipe across the web. Rustic with the wonderful characteristics of the breads in great bakery houses, made right in your very own kitchen. And it's just about foolproof – anyone can do it!
What Is No Knead Bread
No knead bread is made with flour, yeast, water and salt, and does not require any kneading of the dough at all. You simply mix the dough quickly, cover, and let rest overnight. When ready, shape into a ball, place in the preheated dutch oven and bake in a very hot oven. It's the absolute simplest bread ever, only requiring 5 minutes hands on, and results in a wonderful crusty bread with a tender, chewy center!
I've done another version of this 4 ingredient, no knead bread, Artisan Bread, which is a short rise version, requiring only 2 hours of rise time, and is not baked in a Dutch oven. This No Knead Bread is a long rise version, taking 12 – 18 hours, resulting in the most flavorful bread ever. The longer rise time gives the flavors a chance to develop, greatly enhancing the flavor, and using the covered pot in the oven to steam the bread, creating an extra crispy crust.
What If I don't have a Dutch oven? No worries, you can still make no knead bread in any oven safe pot or pan (cast iron, enamel, Pyrex or ceramic), at least 5 quarts, with a fitted lid will do great!
I'm super excited to have a couple basic no knead artisan bread recipes to work with, each one having their own characteristics, and both great in their own way! This amazing No Knead Bread is a welcome addition to the collection of vegan Bread recipes on TSV!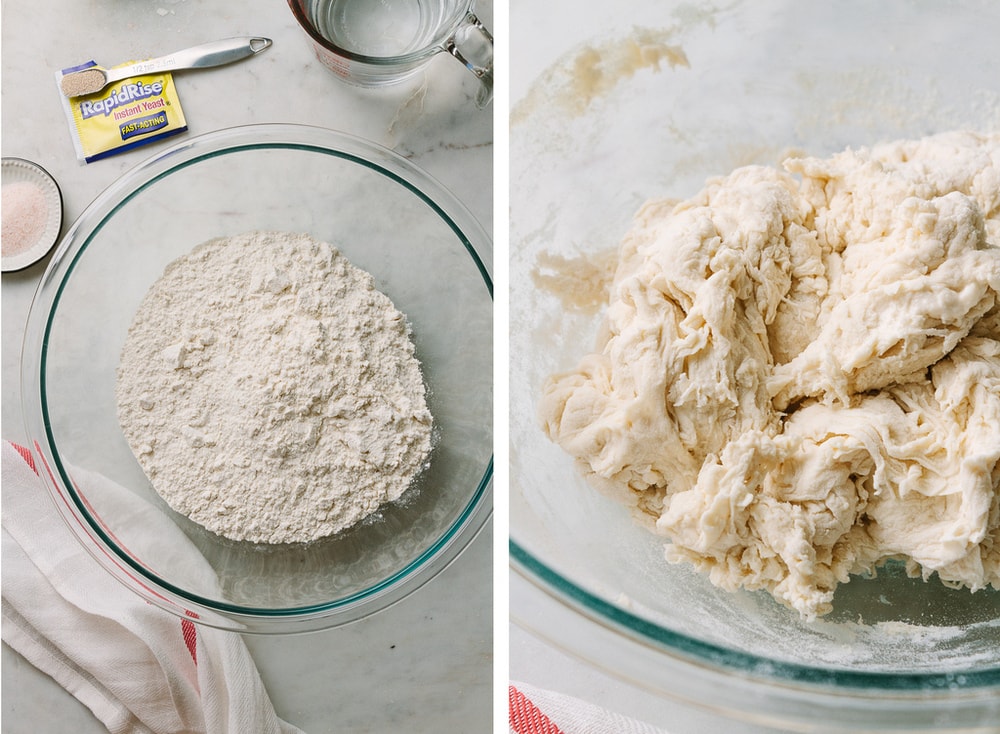 Let's Make No Knead Bread, Shall We!
Gather your ingredients: Flour, yeast, water and salt.
Make the dough: Add the flour, salt and yeast to an extra large mixing bowl, and mix well (be sure to use a large enough bowl, since the dough will expand and bloom, doubling in size as it rises). Add the water and quickly mix to combine – using your fingers is fine, or a wooden spoon. The trick here is to mix just until there are no streaks of flour, 30 seconds or so is all it takes, no kneading. Dough may be shaggy looking (above right), this is just right!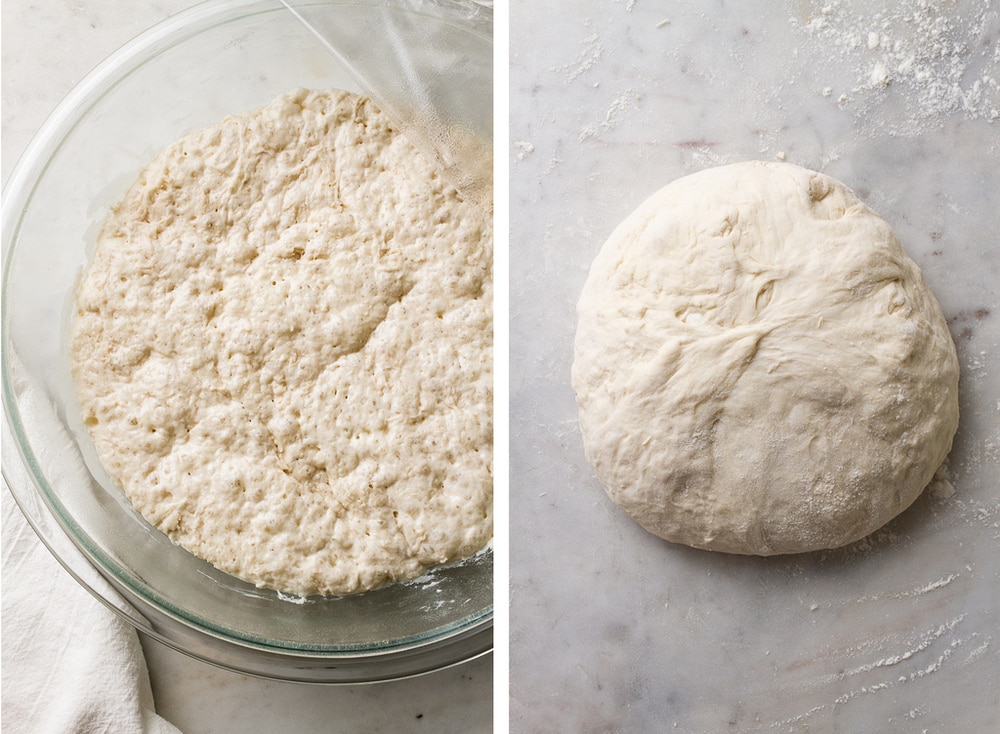 Let dough rise: Cover the bowl tightly with saran wrap and place on the counter, away from drafts, and preferably with a room temperature of 70 degrees F. Let dough rest, undisturbed, for at least 12 hours, and up to 18. When done rising, the dough will have doubled in size and have a plump, bubbly texture (shown above left).
Shape the dough: Lightly flour a flat working surface. Tilt the bowl on its side and using a rubber spatula, scrape the dough onto the floured surface. Dough will be tacky, but should peel away from the bowl fairly easily. Add a little flour to your hands and top of dough, and fold it over on itself once or twice, then gently shape the dough into a ball. Transfer dough to a piece of parchment paper, cover loosely with a smooth, cotton towel and let rest for 30 minutes – 2 hours.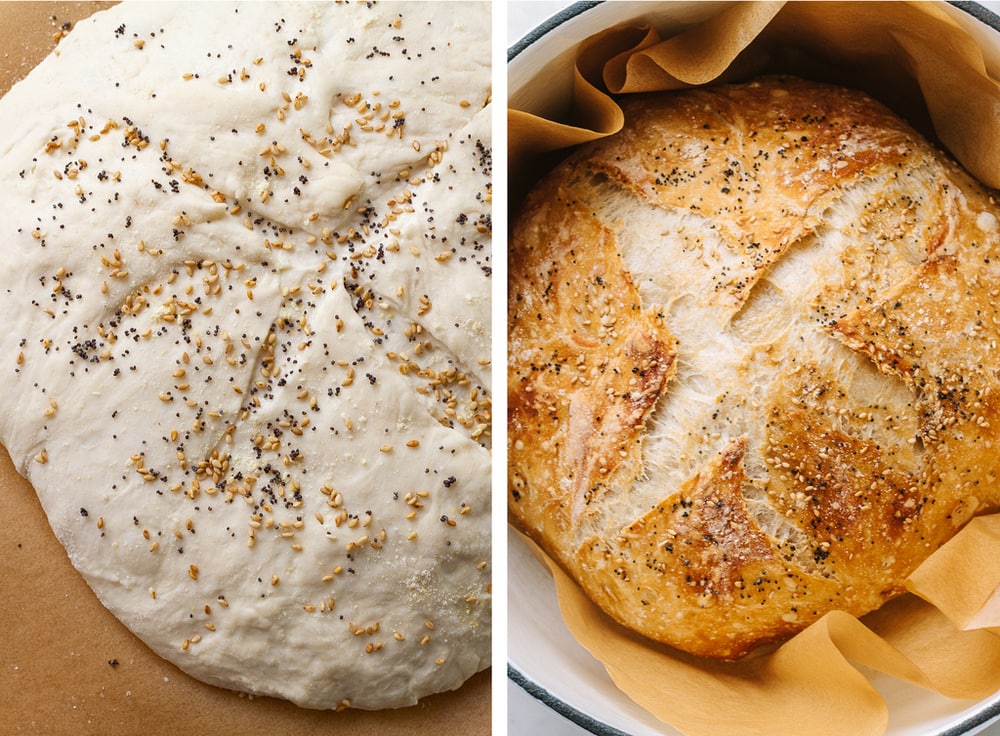 Heat the oven: We want the oven to get nice and hot! Turn the oven to 450 degrees F, and place a Dutch oven with the lid on in the center of the oven. If you don't have a Dutch oven a stock pot or other 6 qt. oven safe pan or pot will do just fine. Let the oven preheat for at least 30 minutes.
Bake the dough: Place dough on parchment paper, if you haven't done this already, using a sharp knife, slice and X or zigzag, cutting 1/4 inch deep (this is optional), sprinkle with a few seeds if you have some on hand (shown above left). I added sesame and poppy seeds to the top. Grab the parchment paper ends and place the dough in Dutch oven, cover and bake for 30 minutes. Remove lid and bake an additional 10 – 15 minutes to allow the top to turn golden brown.
And that's it, with only four ingredients and being simple to put together, making bread at home will be a pleasure!
If you'd like to watch this no knead bread being made in action, check out this Youtube video with Mark Bittman & Jim Lahey – takes 5 minutes to watch and is super helpful!
Can I Make No Knead Bread Gluten Free? Yes, you can use gluten-free all purpose flour with good results. Bread will form hard crust, center is nice, but it will taste different and may not rise as much.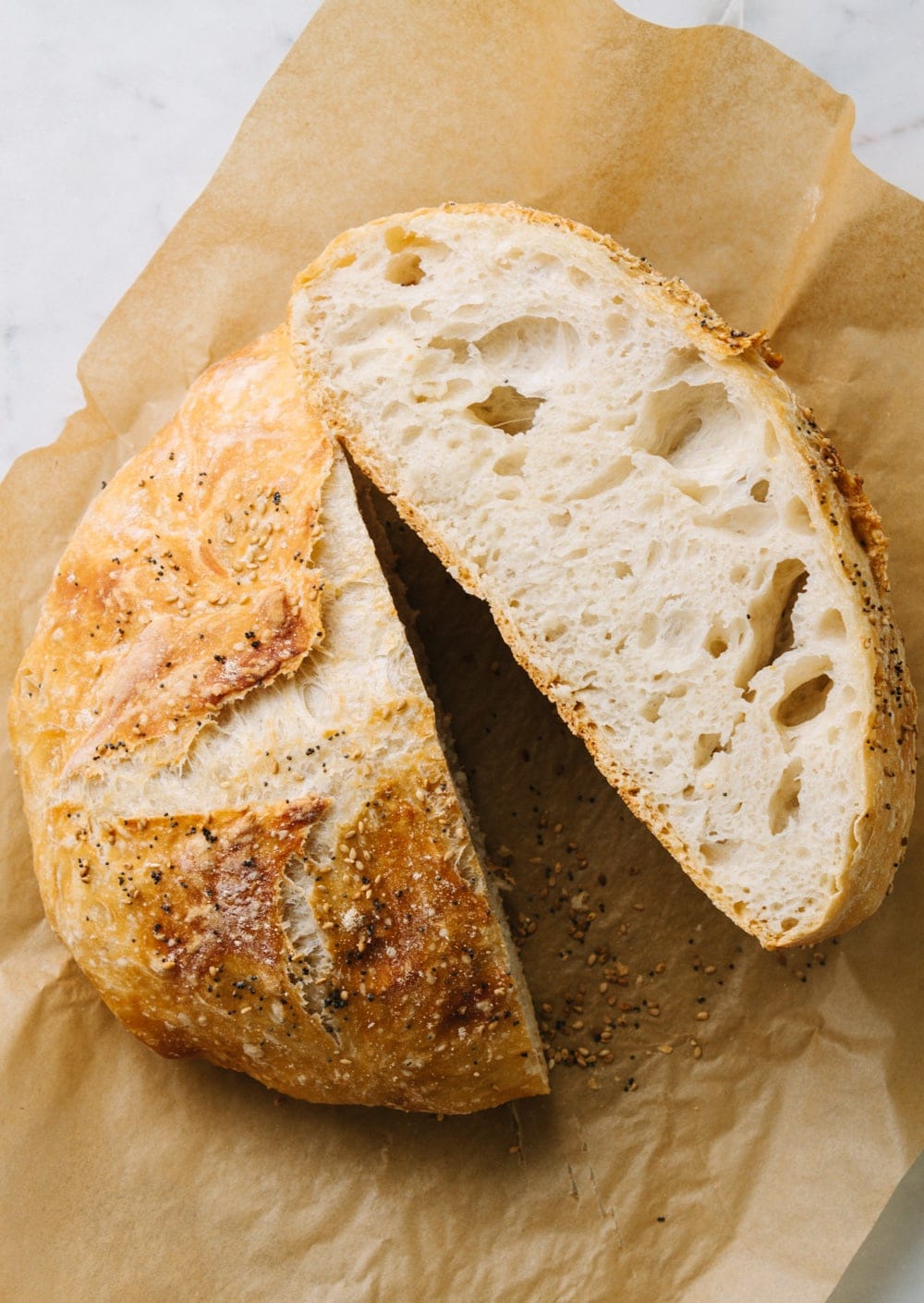 Let's Eat, Shall We!
This no knead bread has a nice textured crumb with a wonderful crusty shell and is so good straight from the oven, as is. Dipping it in extra virgin olive oil and balsamic vinegar, or smearing with a little vegan butter wouldn't be so bad either!
It's also great with these Spinach and Ricotta Vegan Stuffed Shells or this Eggplant Puttanesca, allowing you to get every last bit of sauce.
Of course soups are almost always better with a chunk of bread, and this Lemon Chickpea Orzo Soup or Potato, Leek and White Bean Soup would be perfect to soak up the juices.
For breakfast, toast up a slice and top with this Triple Berry Chia Seed Jam!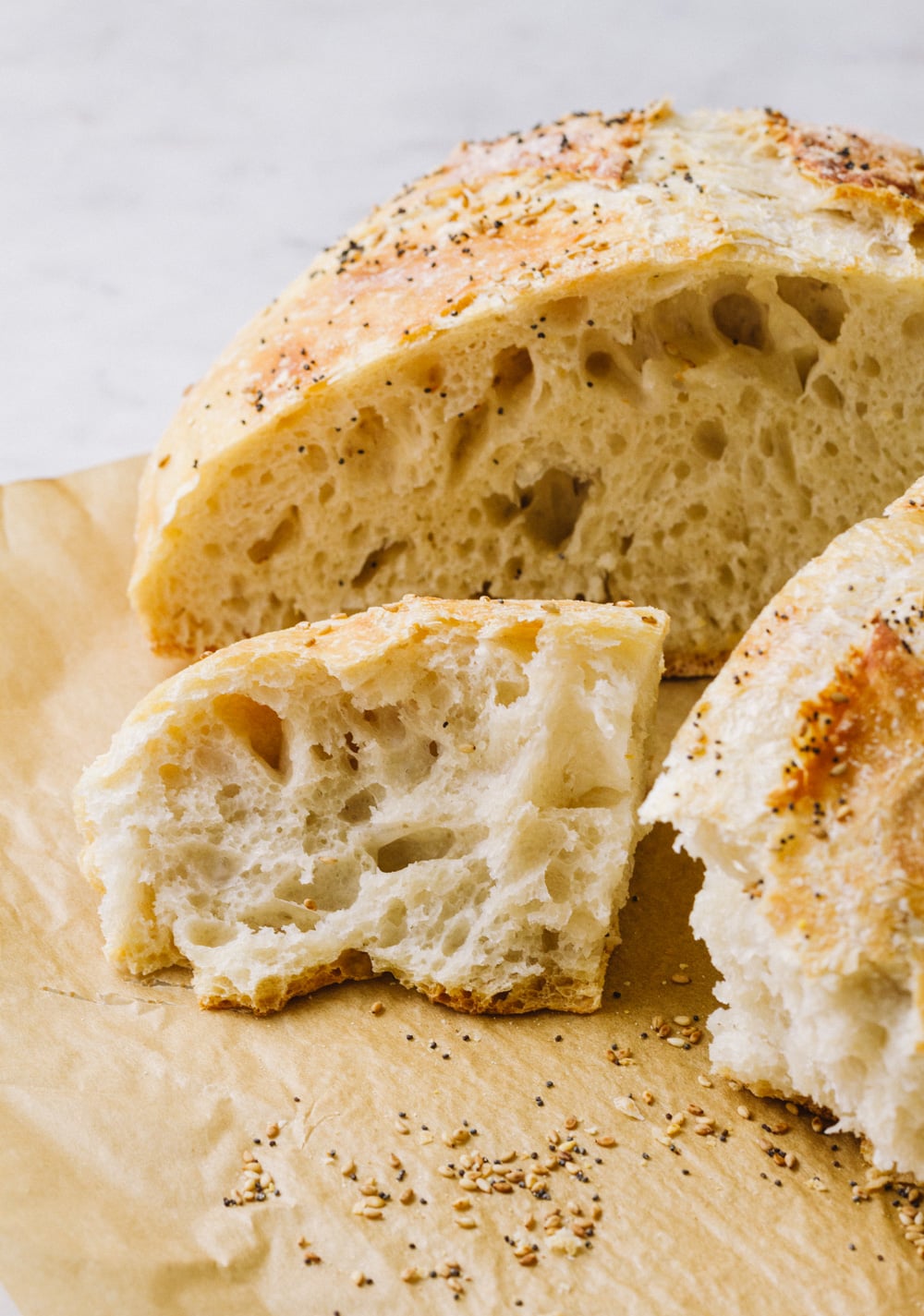 Print
NO KNEAD BREAD: LONG RISE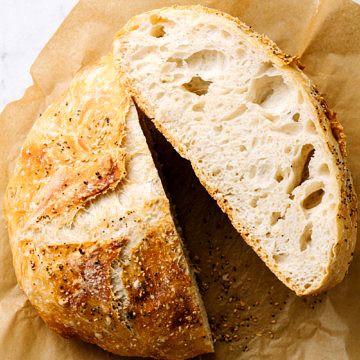 A simple homemade bread, no kneading and only 4 ingredients, that's absolutely easy to make and so delicious!  Recipe adapted from The New York Times. Takes about 5 minutes to prep, plus 14 to 20 hours rising.
Author: Julie | The Simple Veganista
Prep Time:

12 - 18 hours

Total Time:

12 - 18 hours

Yield:

Makes 1 loaf, serves 8 - 10

Category:

Bread

Cuisine:

Vegan
Ingredients
3 cup

s all-purpose or bread flour, more for dusting

1/4 teaspoon

 instant yeast

1 teaspoon

s salt

1 5/8 cup

s water (1  cup +

1/2 cup

+

2 tablespoon

s)
Instructions
Mix: In a large bowl combine flour, yeast and salt. Add the water, and stir until blended; dough will be shaggy and sticky.
1st Rise: Cover bowl with plastic wrap. Let dough rest at least 12 hours, preferably about 18, at warm room temperature, about 70 degrees.
Shape: Dough is ready when its surface is dotted with bubbles. Lightly flour a work surface and place dough on it. The easy way is to tilt the bowl and use a rubber spatula to scrap down the sides, turning the dough out onto the floured surface. Sprinkle the dough with a little more flour and fold it over on itself once or twice. Using just enough flour to keep dough from sticking to work surface or to your fingers, gently and quickly shape dough into a ball.
2nd Rise: Lightly sprinkle your parchment paper with flour, wheat bran or cornmeal, and put dough seam side down, dust lightly. Cover with a smooth cotton towel and let rise for 30 minutes – 2 hours. 
Bake: At least a 30 minutes before dough is ready, heat oven to 450 degrees. Place a 6 to 8-quart heavy covered pot (cast iron, enamel, Pyrex or ceramic) in the oven so it heats up nice and hot. When ready, carefully remove the pot, uncover, lift the edges of the parchment paper with dough and placed it straight in the pot. Cover with lid, place back in the oven and bake 30 minutes. Remove lid and bake another 15 to 30 minutes, until loaf is beautifully browned. Once done, carefully pull bread up using the edges of the parchment paper, let cook on wire rack.
Makes one 1 1/2 pound loaf
NOTES:
Here is my other recipe for Artisan Bread: Short Rise. I would suggest taking hints from both recipes and creating something unique and wonderful to suit your needs. Together these recipes will give you great fresh bread whenever you want. Here is an article from Huffington Post about the different uses of flours you may find helpful as well – Flour Guide: Which Types To Use For Baking