ONE-POT CREAMY FETTUCCINE + PEAS + KING OYSTER MUSHROOM 'SCALLOPS'
One Pot Fettuccine recipe features tender sweet peas, king oyster mushrooms sliced into scallops and cooked until tender, in a creamy vegan cashew cream, that's ready in about 30 minutes!
This post is sponsored by Silk.
---
For all of you who love creamy, lemony, garlicky flavors, this vegan pasta dish will be for you! It's a trifecta of flavors and textures tossed with fettuccine, sweet peas and king oyster mushroom scallops.
Can a pasta dish get any better? In my book, this is the creme de la creme of creamy pasta dishes!
This is one of those recipes I've been wanting to make forever. I love the idea of a one-pot pasta. I tried it a few years ago with quinoa pasta and it was a gloopy mess, not pretty at all.
Quinoa pasta most definitely needs to be drained and is not for one-pot pastas. This time around I went with a traditional pasta and voila, it turned out perfectly and was so easy!
The inspiration for this recipe came from, i am a food blog. Thank you Stephanie!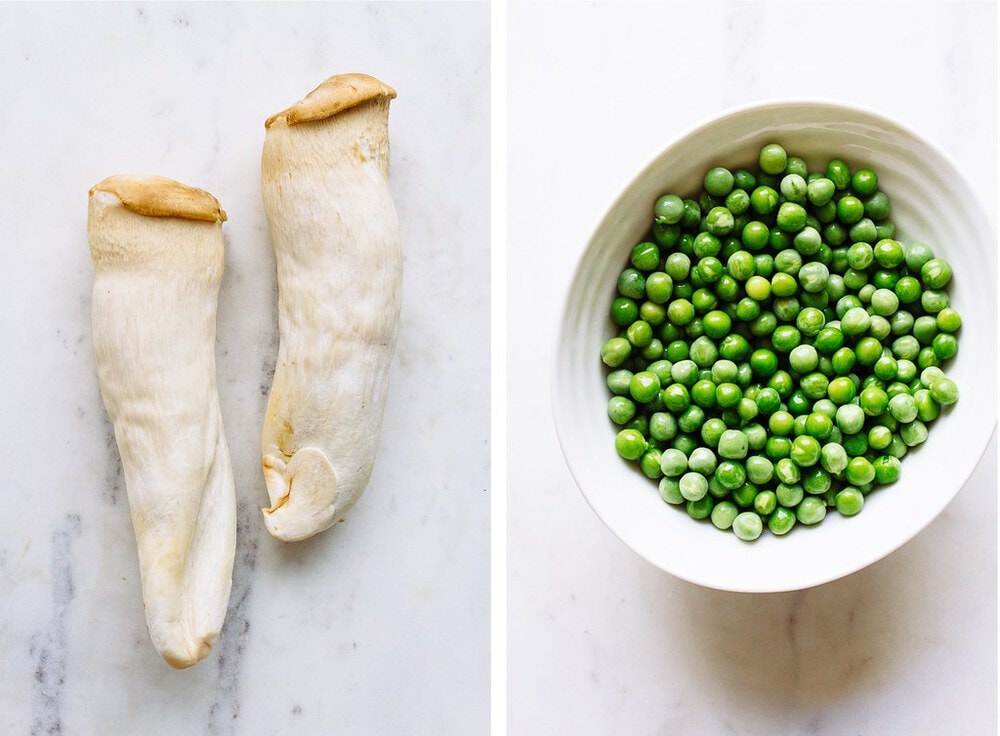 Oyster Mushrooms + Peas
Using king oyster mushrooms in place of scallops has always intrigued me. If you're a mushroom lover, like myself, I know you're going to love this! King oyster mushrooms can be found at your local Asian markets. They cook up tender and meaty, making them a substantial addition to recipes. If you can't find king oyster mushrooms, sub in about 8 oz. of your favorite mushrooms.
As for the peas, they add color, texture and a good dose of protein to each serving. Use fresh or frozen peas in this recipe.
And be sure to check out the nutritional numbers at the bottom of the post. One serving of this creamy dish contains 35% of your daily protein requirements and 144% of your vitamin K needs. Not too shabby for pasta, peas and mushrooms!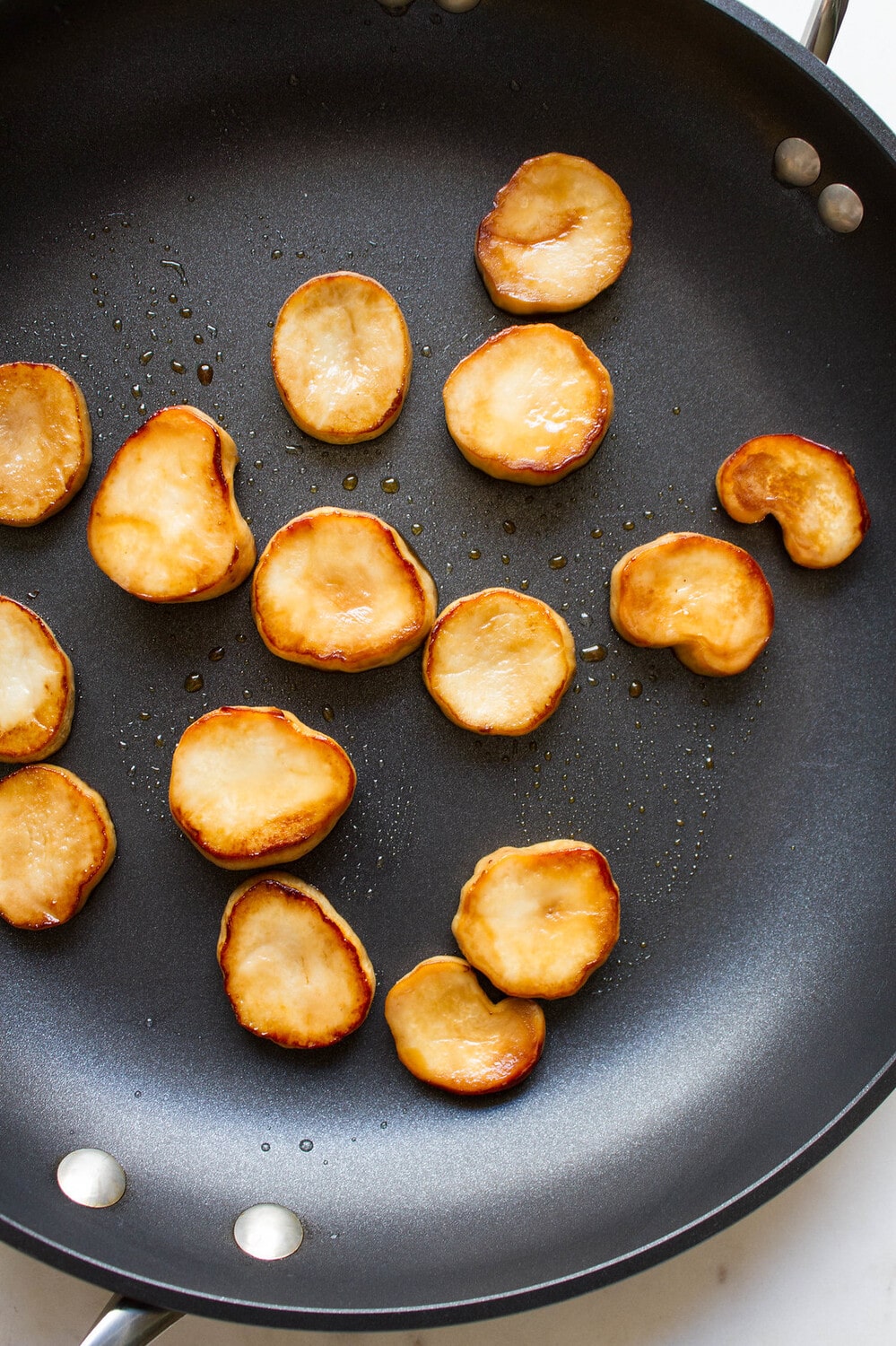 Tips When Cooking Oyster Mushroom Scallops
While cooking the king oyster mushrooms, I add a little coconut amino's to the pan with 2 tablespoons of water. The coconut amino's gave the mushrooms a slight golden color and the water kept them tender and moist throughout cooking. Just be sure you don't go overboard if using tamari since it's high in sodium (too much may ruin them). If you don't plan on using coconut amino's or tamari, sprinkle the mushrooms with a pinch of salt.
If you want to keep oil to a minimum, do a water saute, using about 3 – 4 tablespoons of water, for the mushrooms and the garlic.
Typically mushrooms will reduce in size quite a bit after cooking. On the contrary, my oyster mushrooms stayed about the same size once cooked, so be sure you don't slice them too thick thinking they will shrink. I found slicing them anywhere between 1/4 – 1/2 inch was perfect.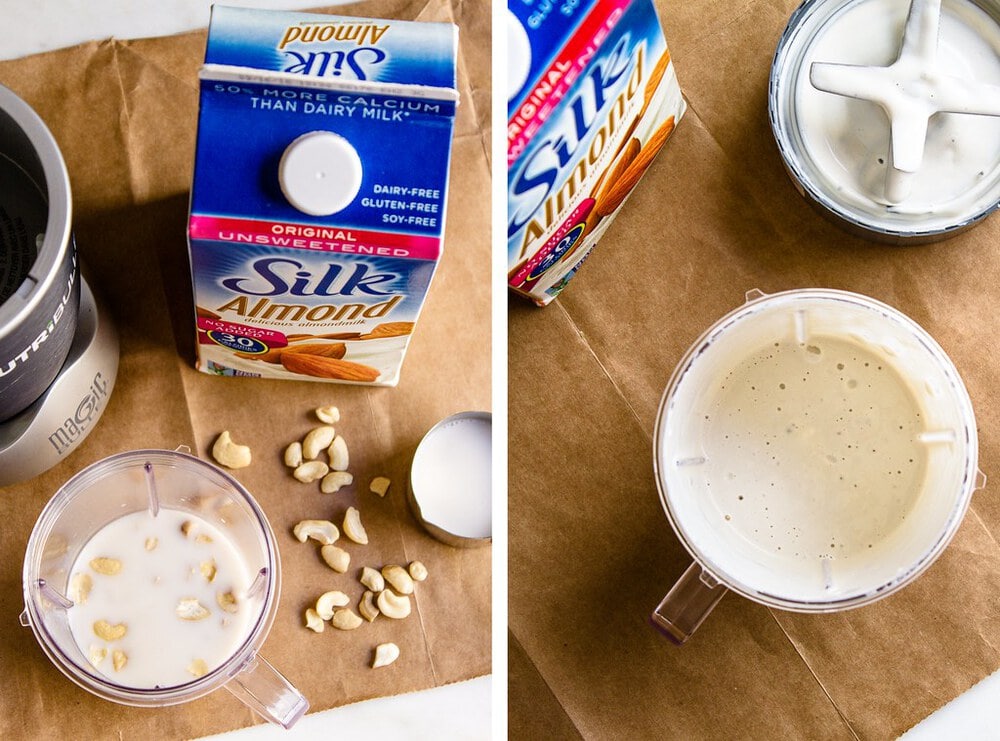 For the vegan cream we'll be making a heavy cream using cashews and non-dairy milk. I've used my go-to brand, Silk Unsweetened Almond Milk, but their Silk Unsweetened Cashew Milk would be great as well.
If you're not familiar with Silk's brand non-dairy milks, they are non-GMO verified and fortified with calcium and vitamins D & E. They do not contain any junk fillers or carrageenan. I love my Silk! They have tons of options and are pretty awesome!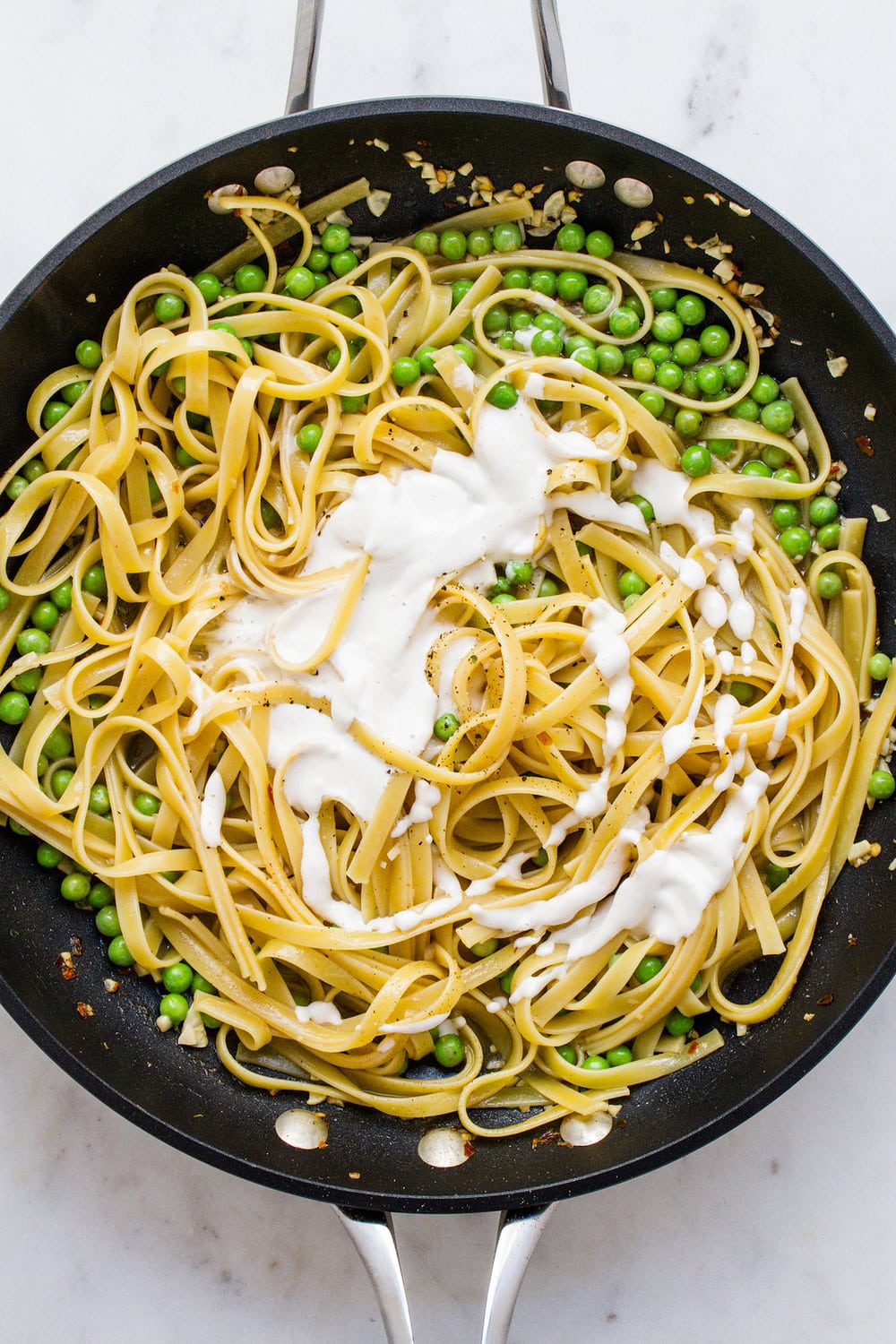 Once your pasta and remaining ingredients have come together, add in the cream and mushrooms, mixing well to combine.
Serve with chopped parsley and plenty of fresh cracked pepper. Enjoy this amazingly easy and delicious dish!
More Pasta Inspiration
If you try this one-pot fettuccine recipe, please let me know! Leave a comment and rate it below. I love to hear what you think, or any changes you make.
Print
ONE-POT CREAMY FETTUCCINE + PEAS + KING OYSTER MUSHROOM 'SCALLOPS'
Healthy and delicious, this one-pot pasta dish is bursting with flavors and textures!
Prep Time:

10 min

Cook Time:

20 min

Total Time:

30 minutes

Yield:

Serves 3

Category:

Entree, Pasta

Cuisine:

Vegan
2 tablespoons

olive oil, divided

2

king oyster mushrooms, cut into

1/2

inch slices

4

garlic cloves, minced

1/4

–

1/2

teaspoon red pepper flakes, optional

3 1/4 cups

low-sodium vegetable broth (or water +

1/2 tsp

. Better Than Bouillon)

8 oz

. fettuccine

1 1/2 cup

fresh peas (if frozen, let thaw)

1

large lemon, juice of (about

3

–

4

tablespoons) + a little zest if you like

1/4 cup

chopped parsley

mineral salt & fresh cracked pepper, to taste
Heavy Cashew Cream
1/3 cup

cashews, soaked for

2

hours and drained

1/4 cup

u

nsweetened almond Milk

or

cashew milk

juice of

1/2

small lemon (about

2 teaspoons

)

pinch of mineral salt
Instructions
King Oyster Mushroom Scallops: Gently wash and dry the mushrooms. Slice into about 1/2 inch pieces. Heat oil over medium heat in a 4 qt. pan or pot (pref. wide bottomed so the dry noodles can lay flat), add mushrooms and cook until golden on each side, about 6 – 8 minutes total. After cooking a few minutes, add about 2 tablespoons of water to the pan, repeat as needed when water has evaporated. This will help keep them moist looking. You may also like to season them with a splash of coconut amino's, low sodium tamari or pinch of salt when adding the water. Once done, reserve mushrooms on a small plate until later.
Vegan Cream: In a small blender, place the cashews, almond milk, lemon juice and pinch of salt, process until creamy. Add 1 tablespoon milk at a time as needed to thin. Set aside.
Pasta: In same pot, heat remaining oil over medium heat, add garlic and red pepper flakes, saute for about 1 minute, or until garlic is golden in color. Add broth and fettuccine, bring to a boil, cover, reduce heat to a semi-rigorous rolling boil and cook, stirring occasionally for about 13 – 14 minutes (if using different pasta, cooking times with vary so check the package directions for cooking times). About 4 minutes before pasta is done, add the peas and continue to cook. A little broth left at the end of cooking is ok (about 1/4 cup), it will add to the creaminess when the cream is added. If more than 1/4 cup, keep cooking to reduce the liquids. Once done, add the juice of 1 lemon, heavy cream, mushrooms, salt and fresh cracked pepper to taste, stir to combine. Serve warm.
Serve: Place pasta in individual bowls, top with chopped parsley, a little fresh cracked pepper and enjoy!
Serves 3 generously.
Notes
If you want to keep oil to a minimum, do a water saute for the mushrooms and the garlic.
This recipe is not overly creamy, feel free to double the heavy cream recipe if you prefer a more creamier pasta.
This post was sponsored by Silk. All opinions are my own. Thank you for supporting TSV by supporting my sponsors. They have many plant-based, non-dairy products, some organic, that you can find here: Silk Products