GRILLED TOFU SKEWERS + PINEAPPLE-TERIYAKI SAUCE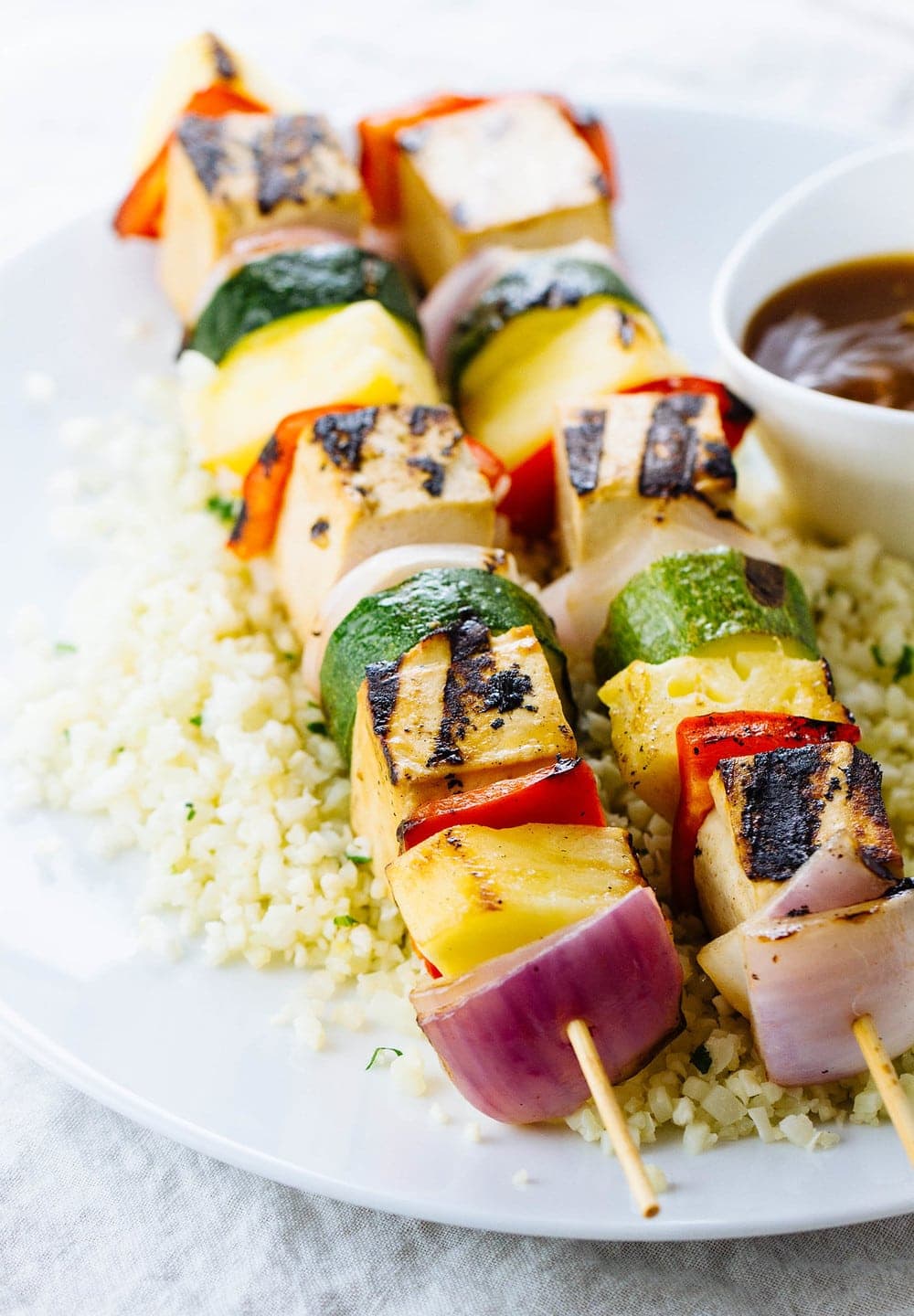 Ready for a little grilling?
These healthy grilled tofu skewers with pineapple teriyaki sauce will be a hit with family and friends!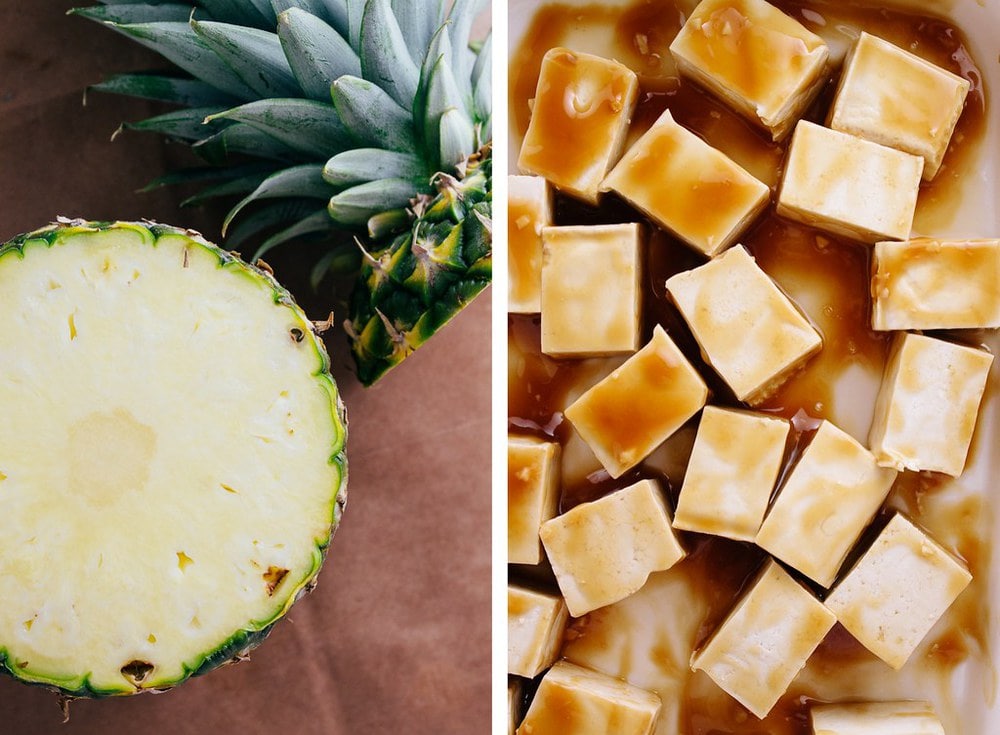 I'm kinda in love with making my own teriyaki sauce right now (it's just so easy!) and wanted to try something different than the last one I made.
I shared a recipe for this Teriyaki Tofu-Tempeh Casserole that used a basic teriyaki sauce. It was good, but I wanted to try incorporating a fruit juice.
For this recipe I added pineapple juice instead of water. I imagine orange juice would be great too. The result is a naturally sweetened and flavorful sauce! It was perfect with these grilled tofu skewers and cauliflower rice I served along with them.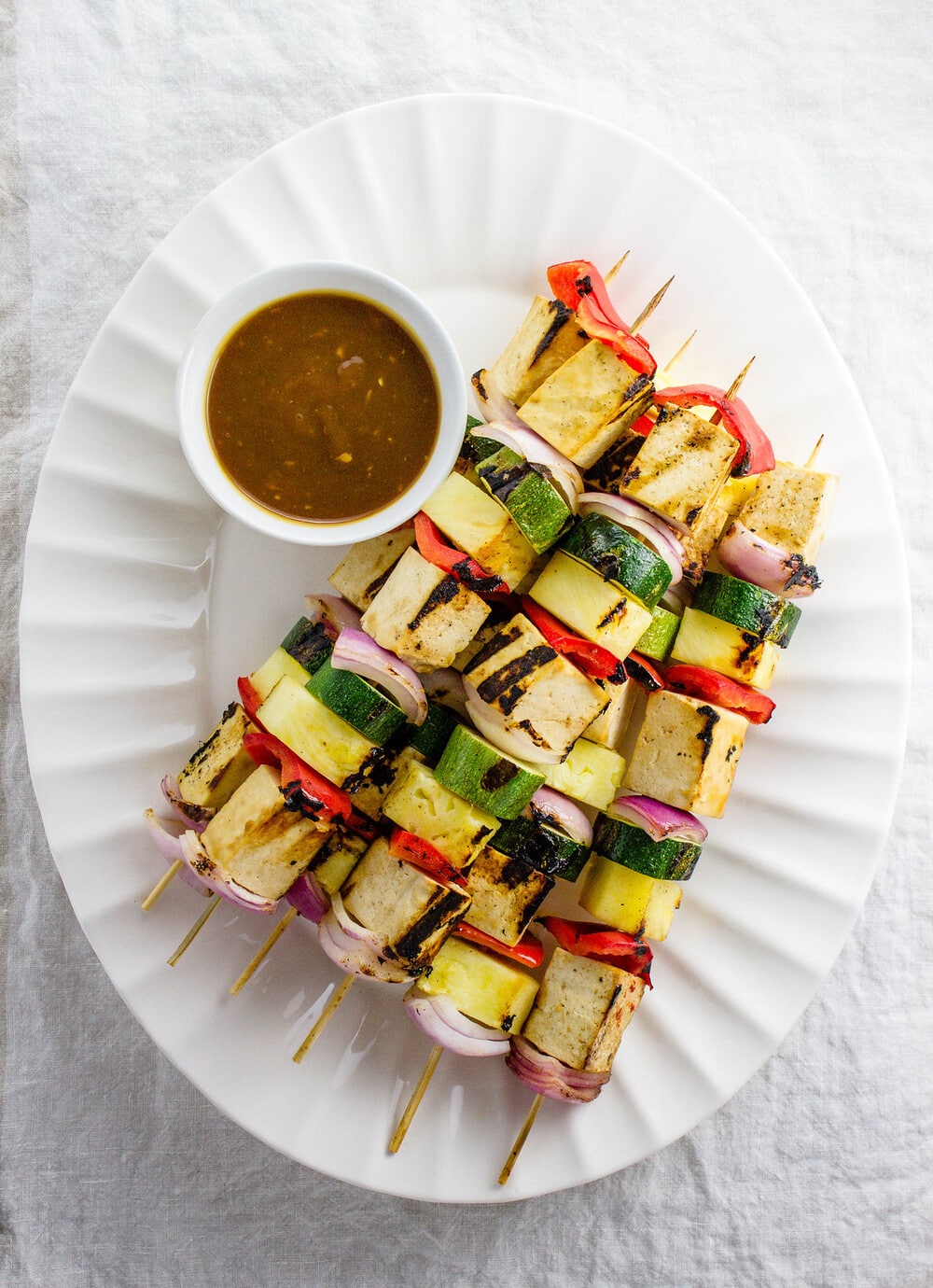 As for the skewers, there isn't too much to change up and it's about as healthy as it's going to get.
If you're not already using coconut amino's, I highly suggest trying it out. It is a soy-free seasoning sauce and contains far less sodium than both tamari or soy sauce, but still has that distinct umami flavor. But if that doesn't fit your needs, at the least get in the habit of opting for low-sodium tamari or soy sauce.
The vegetables can be changed up. Use any color bell peppers you like. Also, you may like to use yellow squash or mushrooms. Most of the veggies I used were left over from previous recipes. Go with what you love or have on hand. And, if you don't care for pineapple chunks on your skewers (or on anything in general), by all means omit them. :)
As for me, I love the combination of vegetables and fruit on these kabobs. It's such a great summer meal! Bon appetite! xo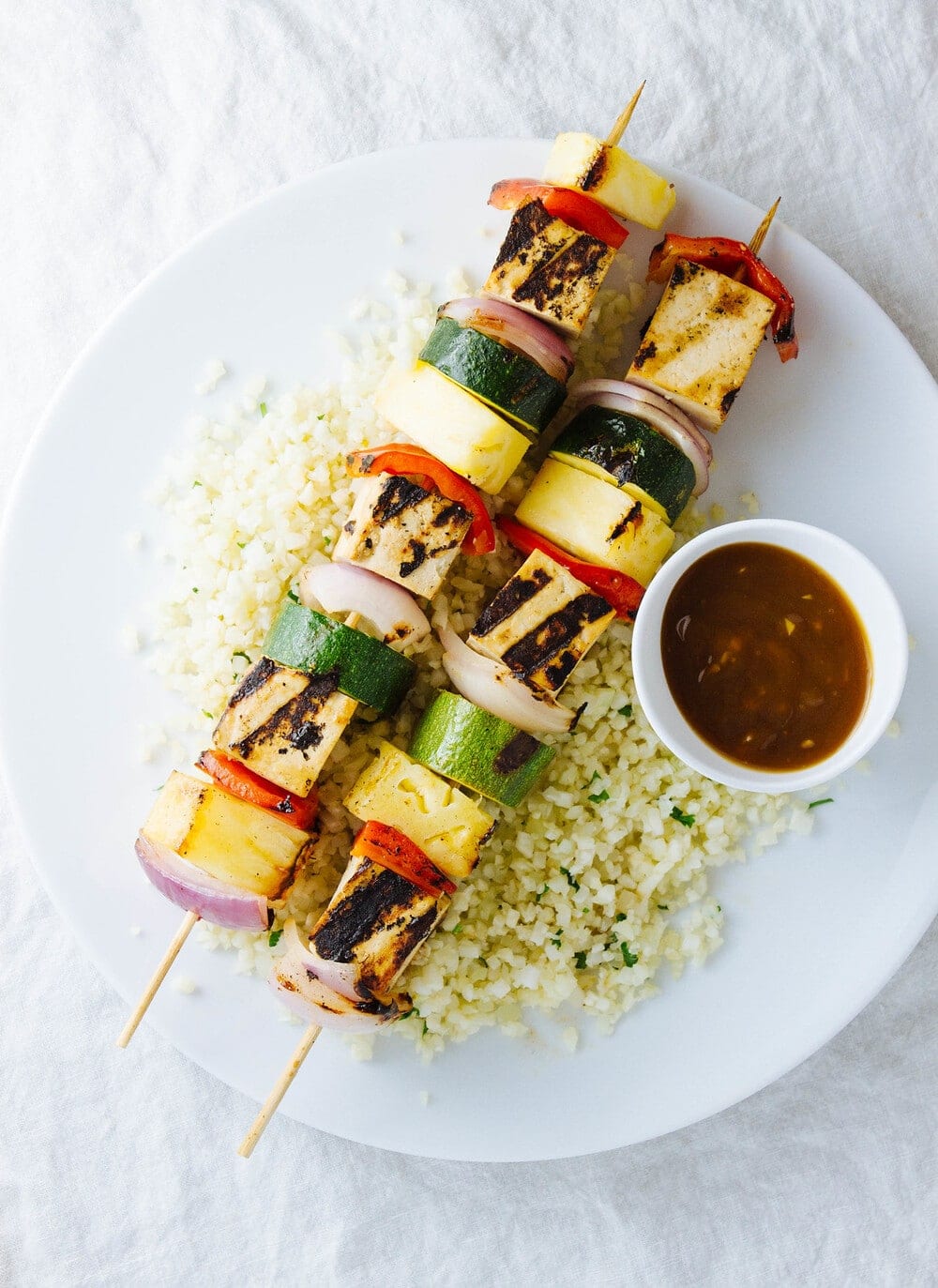 Print
GRILLED TOFU SKEWERS + PINEAPPLE-TERIYAKI SAUCE
Both sweet & savory, once prepped these grilled tofu kabobs are quick and easy. Pair with cauliflower rice, or grain of choice.
1

block (14 oz.) organic tofu (firm, extra or super firm)

1/2

of a fresh pineapple

1

red bell pepper

1

large zucchini

1

large red onion,
Pineapple-Teriyaki Sauce
1/2 cup

coconut amino's or low-sodium tamari or soy sauce

1/2 cup

pineapple juice

2

cloves garlic, minced

1/2 teaspoon

ground ginger or

1 teaspoon

fresh grated

2 tablespoons

pure maple syrup, coconut sugar or pure cane sugar, optional

2

T. tapioca powder or

1

T. cornstarch + equal amount of water
Instructions
Press tofu: Drain tofu and place between a clean double folded kitchen towel, or paper napkins. Place a medium stainless steel pot on top to help press the tofu, releasing it of excess moisture. If using super-firm tofu, skip this step. Let set while making the sauce. If using bamboo skewers, at this time you may also like to soak them in water to keep them from burning on the ends.
Make Sauce: In a small saucepan, add coconut amino's/tamari, pineapple juice, garlic, ginger and optional sweetener, bring to a boil, reduce heat and cook on low for 1 minutes. In a small bowl, mix together the cornstarch/tapioca powder with the water until smooth. Add the mixture to the teriyaki sauce and cook another minute, or until sauce thickens. Remove from heat, cover and set aside. If you like your teriyaki sauce on the sweeter side, add an extra tablespoon or two of your preferred sweetener.
Prep tofu & veggies: Cut tofu into 3/4 – 1 inch cubes, place in a shallow baking dish and add about 1/3 – 1/2 of the sauce, gently toss to coat tofu, cover and let marinate for at least 30 minutes. Chop and prep the veggies. Thread tofu & veggies on the skewers, distributing evenly, in whatever order you like.
Grill: Turn on grill to medium high and coat with oil. Once grill is nice and hot, add skewers and cook, turning every so often, until tofu is slightly charred and vegetables are fork tender (or al dente if you prefer), about 8 minutes. Brush with a little sauce on the skewers while cooking if you like. Just be sure to save some for dipping later or adding over top of your grain.
Serve warm with grain of choice. I made a garlic cauliflower rice with chopped cilantro that was pretty darn good! This ginger cauliflower rice would be great too!
NOTES:
If you don't have pineapple juice on hand, puree 1/2 cup of fresh pineapple and add enough water to equal 1/2 cup, mix well.