VEGGIE PAN BAGNAT (NICOISE SALAD SANDWICH)
Veggie Pan Bagnat filled with vegetarian nicoise salad is a quick, easy and delicious vegan sandwich made with a variety of veggies mixed with protein rich beans dressed in a simple dijon vinaigrette!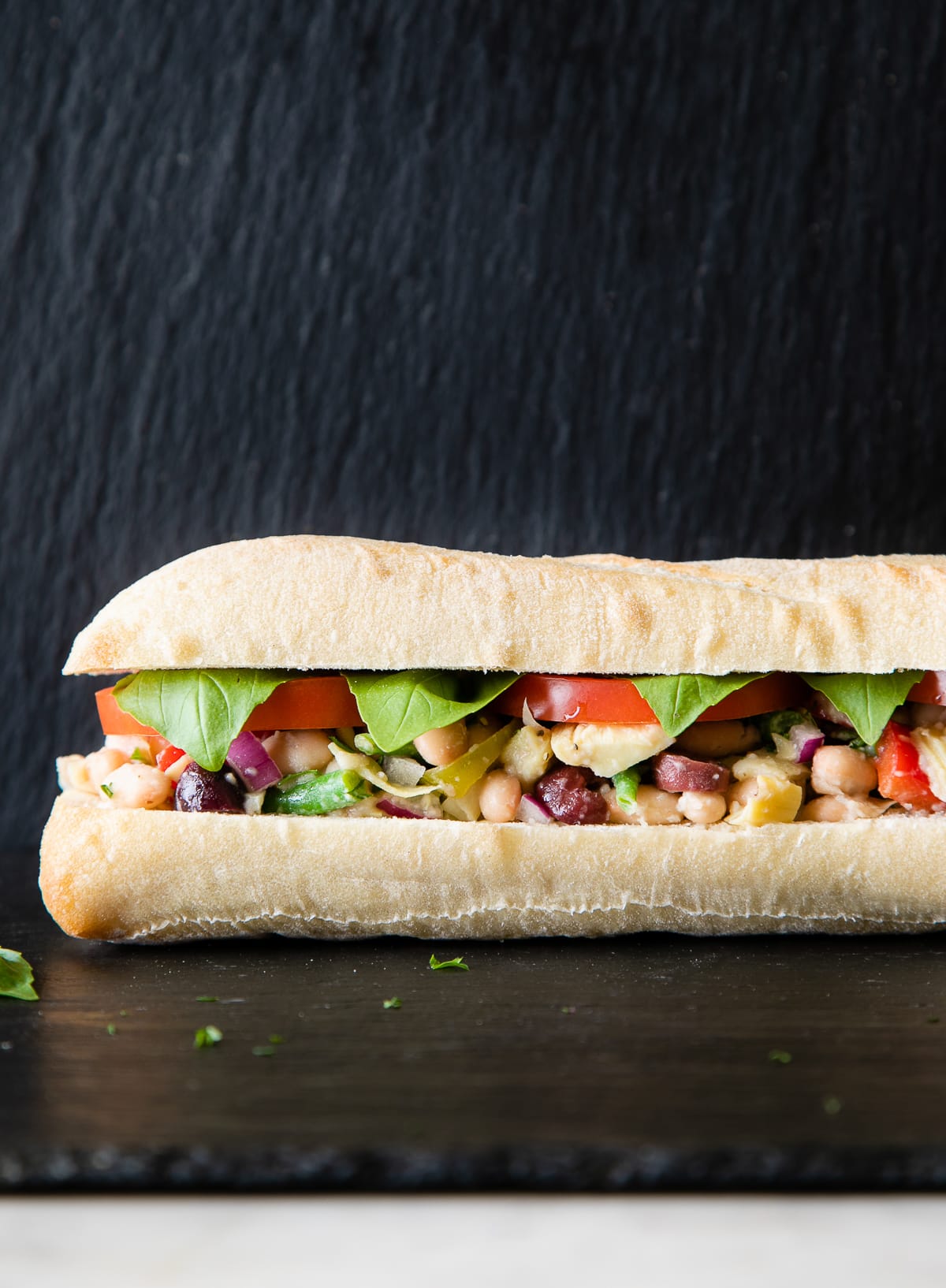 The pan bagnat (meaning 'bathed bread') is a classic specialty sandwich served in and around the region of Nice, France.
It's a sandwich version of the salad niçoise which is a combination of tuna, anchovies and/or sliced hard boiled egg mixed with raw vegetables like red bell pepper, green beans, radishes, olives and onion. You will also find there to be olive oil and possibly vinegar, salt and pepper.
In this vegetarian pan bagnat recipe, we'll be using a few of the traditional ingredients along with white beans as our protein in place of tuna. And I can guarantee you this is just as delicious, if not better than the traditional version!
Not only does the vegetarian nicoise salad make for a great sandwich filler, but it would be just as good on a bed of leafy greens as well.
This recipe may give you leftovers, and that's a good thing because it only gets better the next day. One day make a sandwich for work, home or a picnic. The next day, top it on a bed of leafy greens or eat as is because it's amazing on its own!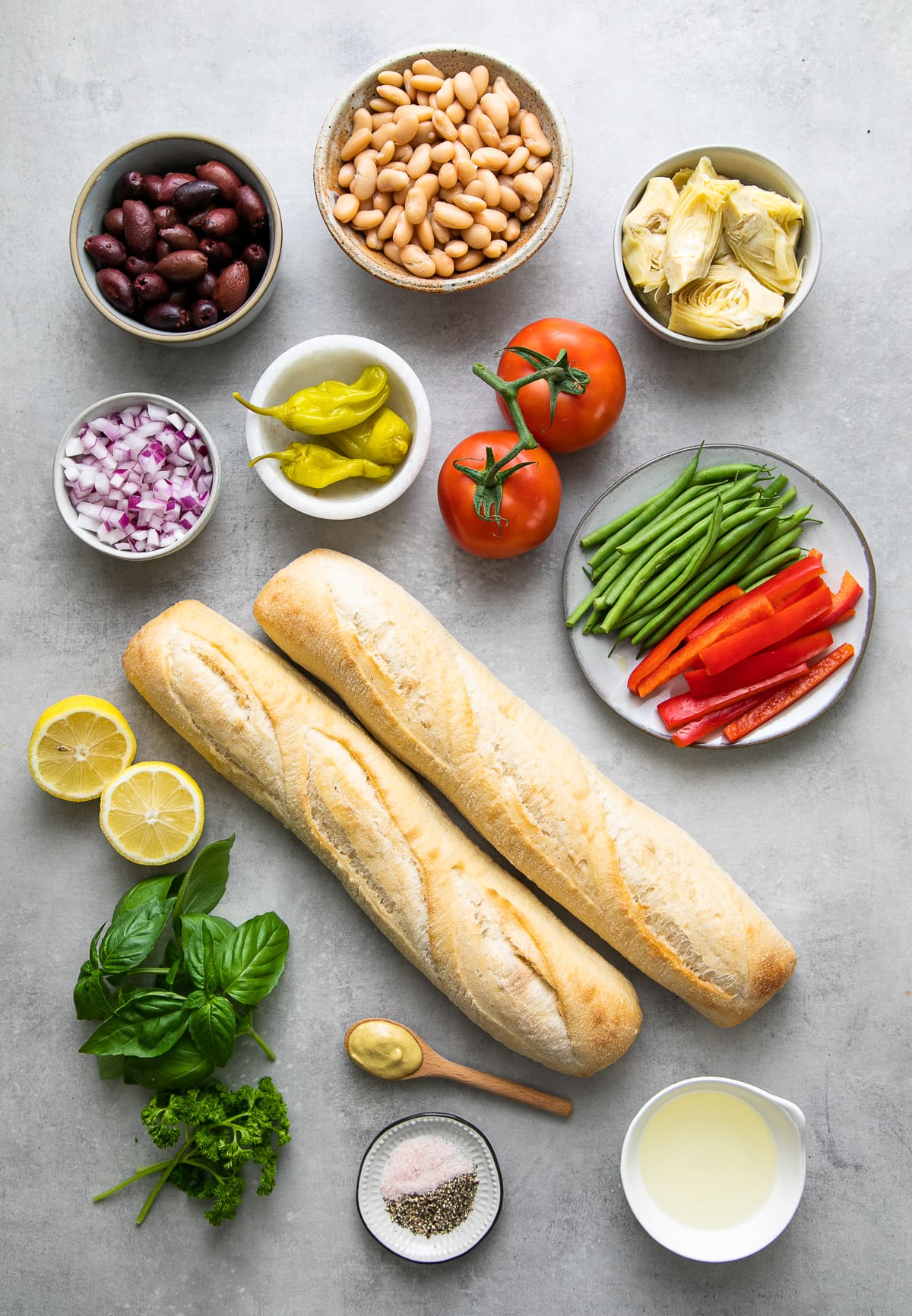 Ingredients You'll Need
The fresh bell pepper and blanched green beans add a nice crunch and sweetness, while the onion and artichokes add another layer of flavor. Tie the vegetables together with the white beans, dressing made of olive oil, lemon and mustard, add a good sprinkling of mineral salt & plenty of cracked pepper and this salad will be another favorite to come back to time and time again!
Here is everything you will need:
White beans – use cannellini, great northern or chickpeas (garbanzo beans)
Red bell pepper
Nicoise or kalamata olives – use your favorite, can also use capers
Artichoke hearts – pref in water
French green beans – can be optional
Red onion
Pepperoncini – definitely not traditional, but so good, and can be optional
Dijon
Lemon
Olive oil
Baguettes
Tomatoes
Basil + parsley
Salt + pepper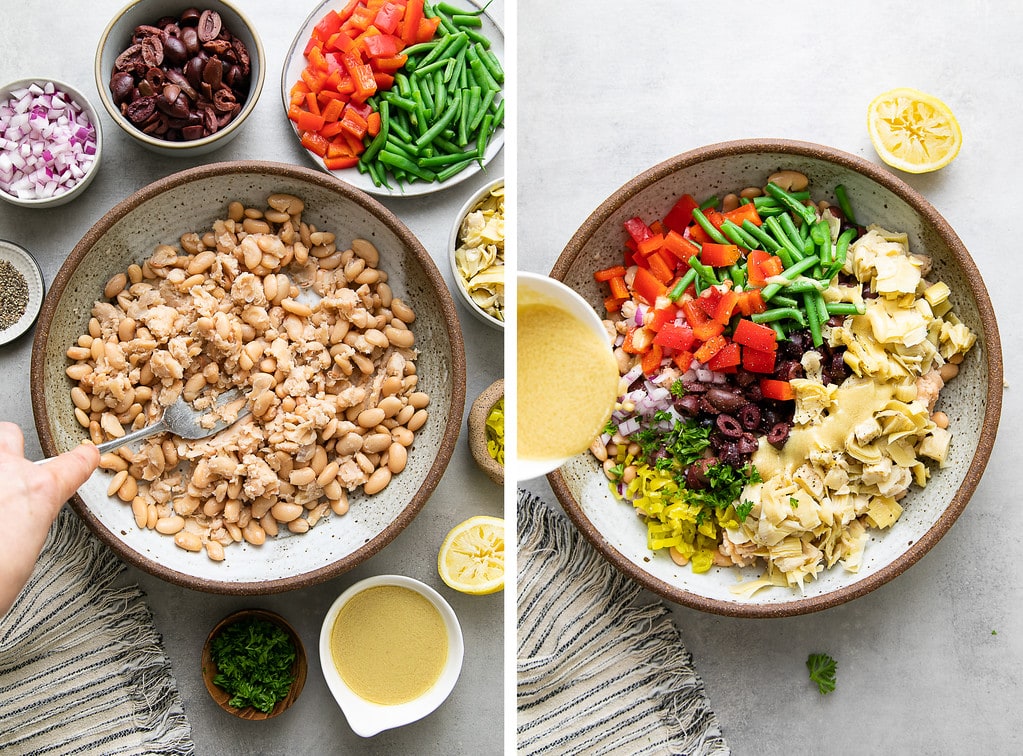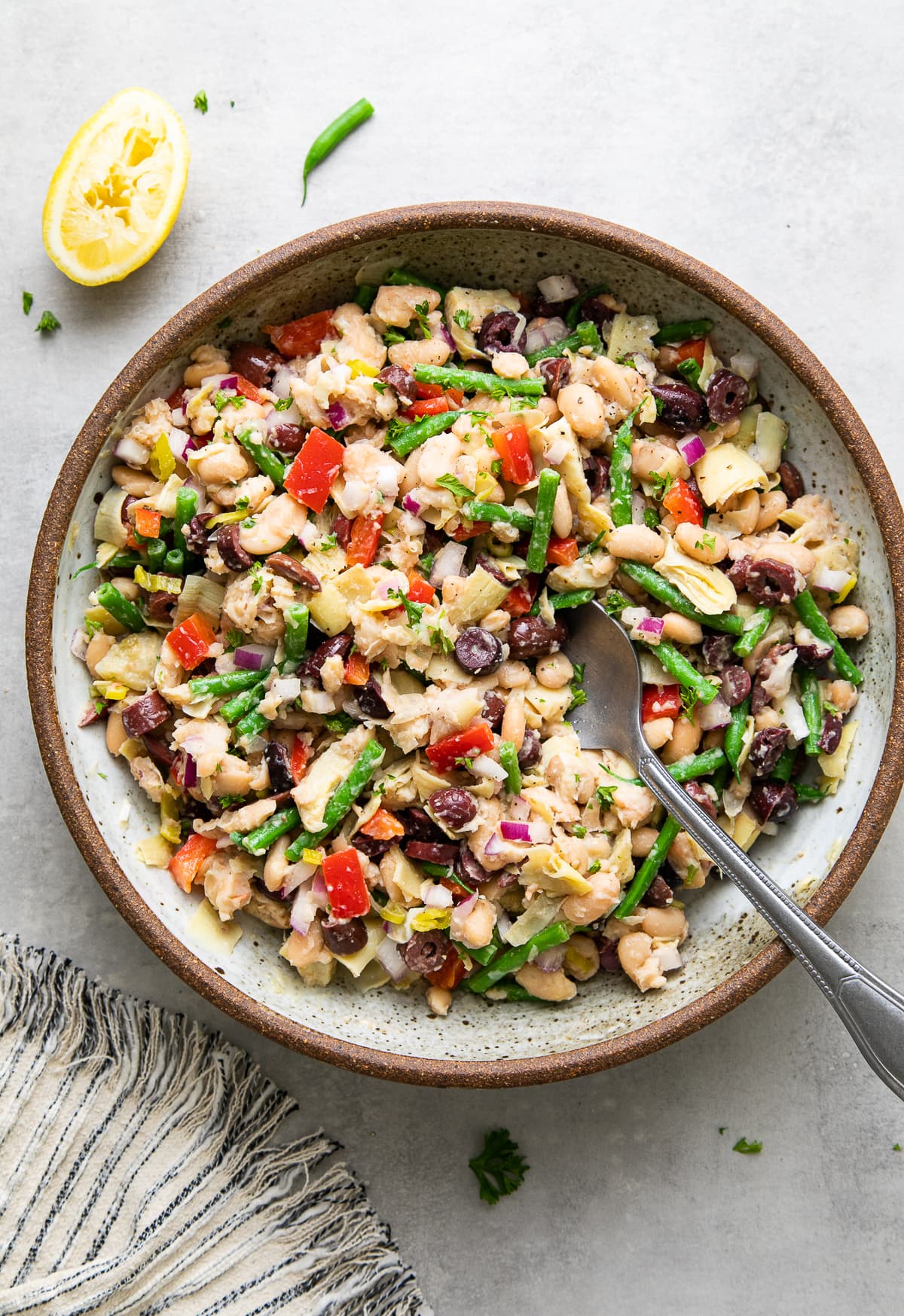 How To Make White Bean Nicoise Salad
This is a double batch. For the full printable instructions, be sure to see the bottom of this post.
In a small bowl, whisk together the olive oil, dijon and lemon juice.
In a medium to large bowl, roughly mash about 1/2 of the beans with the back of a fork. Feel free to leave them whole.
Add the onion, olives, artichoke, green beans, red bell pepper, pepperoncini, salt, and pepper.
Pour the dressing overtop and mix well.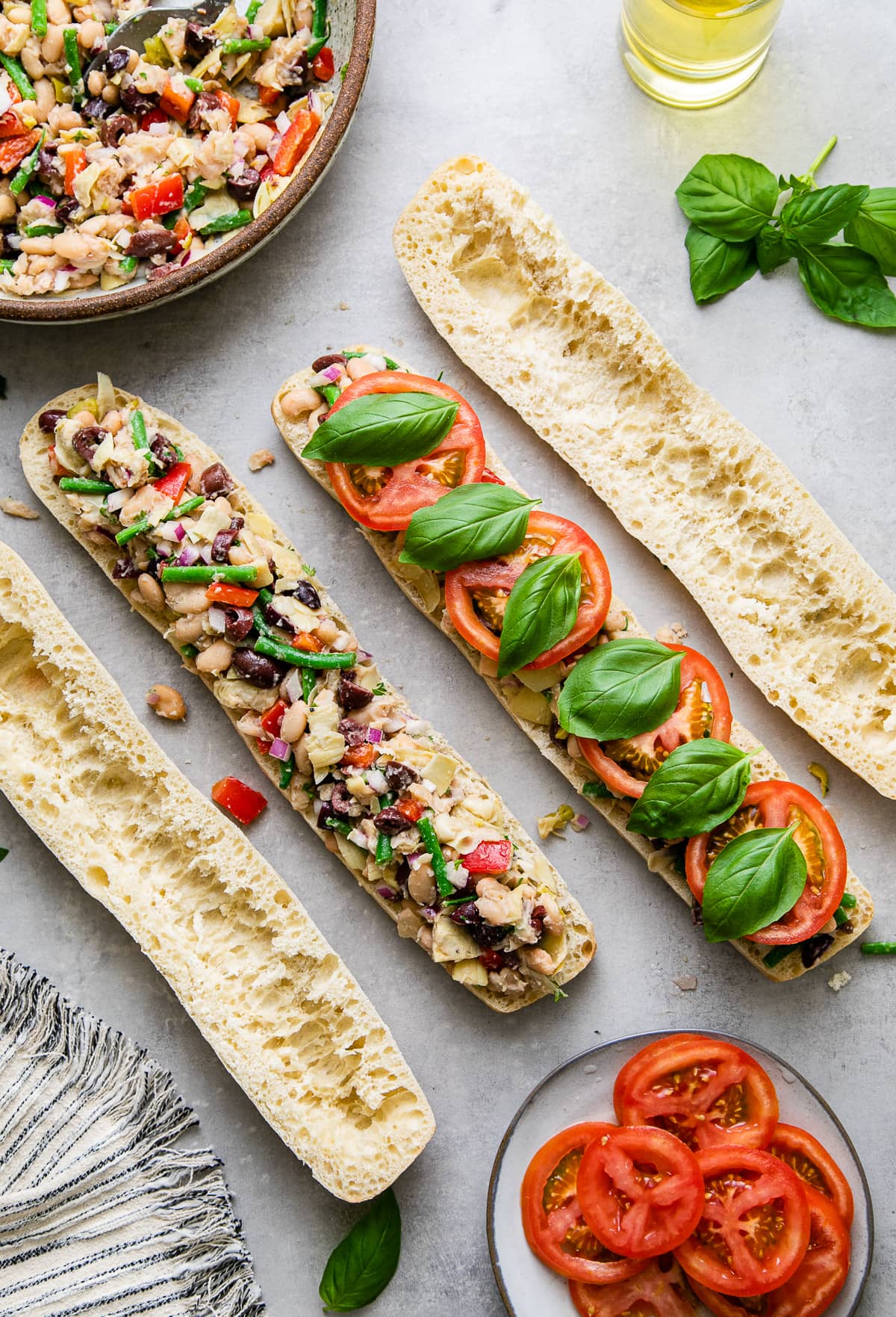 How To Make Veggie Pan Bagnat
To create the traditional pan bagnat you'll first want to hollow out the insides of your bread. Slice the bread in half and hollow out the top and bottoms, removing a bit of the bread.
Next, brush the insides of the bread with olive oil. Layer your bottom half with the salad. Since we're going to press the sandwich you can pile it on pretty good making a very hearty sandwich.
Add tomatoes across the top and layer the basil leaves, and finish off with a sprinkle of mineral salt & cracked pepper and remaining slice.
Lastly, wrap your sandwich tightly in saran wrap, fold ends under and press with a few heavy books, pot or other flat object. This helps the bread soak up the moisture of the salad dressing making for 'bathing the bread'.
Top Tips
Be sure to press. Pressing this sandwich allows the vinaigrette to season the entire sandwich and softens the crusty bread. This is an important part for prepping your sandwich, and will also keep it from being very messy and falling all over. I suggest at least 1 hour, although overnight is even better.
Perfect for meal prep! Pan Bagnat sandwiches makes a perfect grab and go sandwich for lunches and picnics, once pressed it's wrapped and ready to go!
How To Store + Meal Prep
Refrigerator: Sandwiches can be stored in the refrigerator for up to 3 – 4 days. Leftover nicoise salad can be stored for 5 – 6 days.
Meal prep: Wrap sandwiches in saran wrap, or store in to-go containers, for quick and easy to-go snacks or lunches.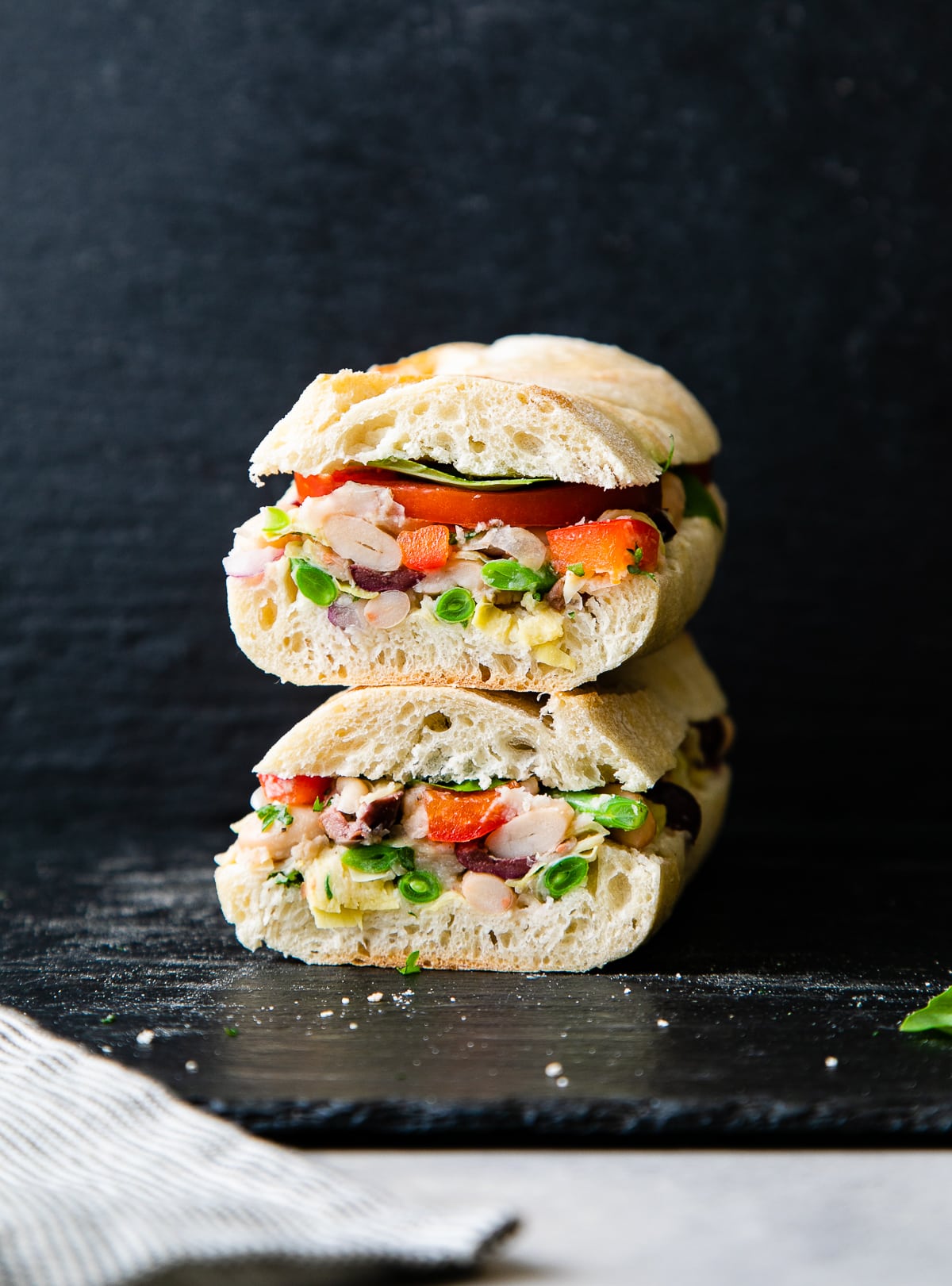 More Easy Sandwich Recipes
If you try this vegetarian pan bagnat recipe, please let us know! Leave a comment and rate it below. I love to hear what you think, or any changes you make.
Print
PAN BAGNAT (WHITE BEAN NICOISE SALAD SANDWICH)
This vegan pan bagnat sandwich with white beans, bell pepper, french green beans, artichoke, olives and lemon dijon mustard dressing makes a great grab and go lunch or dinner! Recipe inspired by Pan Bagnat from Food 52.
1

can (15 oz.) cannellini or chickpeas (garbanzo beans), drained and rinsed (or

1 1/2 cups fresh cooked)

1/2

red bell pepper, chopped

1/4 cup

blanched French green beans, cut into half or thirds

1

jar artichoke hearts in water, drained and chopped

1/2

small red onion, diced
3/4 cup Nicoise or kalamata olives, pitted and sliced

2 tablespoons

parsley, finely chopped

2

–

3

greek pepperoncini, diced (optional, not a traditional ingredient)
mineral salt & fresh cracked pepper, to taste
Dressing
2

–

3

tablespoons extra virgin olive oil
juice of

1

large lemon (about

2 tablespoons

)

1

heaping teaspoon Dijon mustard
To assemble
1

French baguette, ciabatta loaf,

Pain de campagne

,

boule

or artisan loaf of choice (even good sized rolls would be great)

extra virgin olive oil, to brush

8

–

10

basil leaves

1

medium tomato, thinly sliced
mineral salt & cracked pepper
Instructions
Dressing: In a small bowl, mix the dressing ingredients together until dijon has emulsified. Set aside to let the flavors develop.
Assemble salad: In a medium/large mixing bowl, add beans and roughly mash leaving about 2/3 whole beans. Add in dressing to the beans and mix well. Add in the bell pepper, green beans, artichokes, red onion, olives, parsley, optional peperoncini and salt & pepper. Mix to combine.
Prep bread: Cut bread in half lengthwise. Remove some of the insides of each half making a trough for the filling (this will help keep the filling inside the sandwich when eating). Brush both halves with extra virgin olive oil.
Assemble pan bagnat: Layer your bottom half of bread with a good serving of the mixed salad. Add tomatoes across the top, then top with basil leaves and salt & pepper. Top with other slice of bread. (You can also vice versa this layer order starting with the basil and tomato on the bottom and salad on top.)
Cover with saran: Wrap sandwich tightly in saran wrap and press with a few heavy books/pots for at least an hour to overnight. If overnight, be sure to press in the refrigerator.
When ready to serve, slice in half or make as many slices as you like.
Serve chilled or at room temperature.
Makes 2 sandwiches
Store: Store any leftover salad mixture covered in the refrigerator for up to 5 days. Also, sandwiches will last for 3 – 4 days, wrapped or in a covered container.
Notes
The cannellini beans have more protein and fiber than chickpeas so if that is a priority use them. Otherwise use your preferred white bean.
Try adding a splash of red or white wine vinegar to the dressing if you like.
As with all my recipes, add/subtract ingredients to your liking. Try adding a tablespoon or so of capers. I've had someone sub in asparagus for the green beans. Add sliced radishes along the top.
Updated: Veggie Pan Bagnat was originally published in November 2013. It has been retested and updated with new photos and helpful tips in July 2020.
FOLLOW TSV on Facebook, Instagram, Pinterest or RSS for more updates and inspiration!