LENTIL & SUN-DRIED TOMATO HUMMUS WRAPS
Wrap your hands around this delicious, protein rich Lentil & Sun-Dried Tomato Hummus Wrap. It's easy to make and ready in about 15 minutes!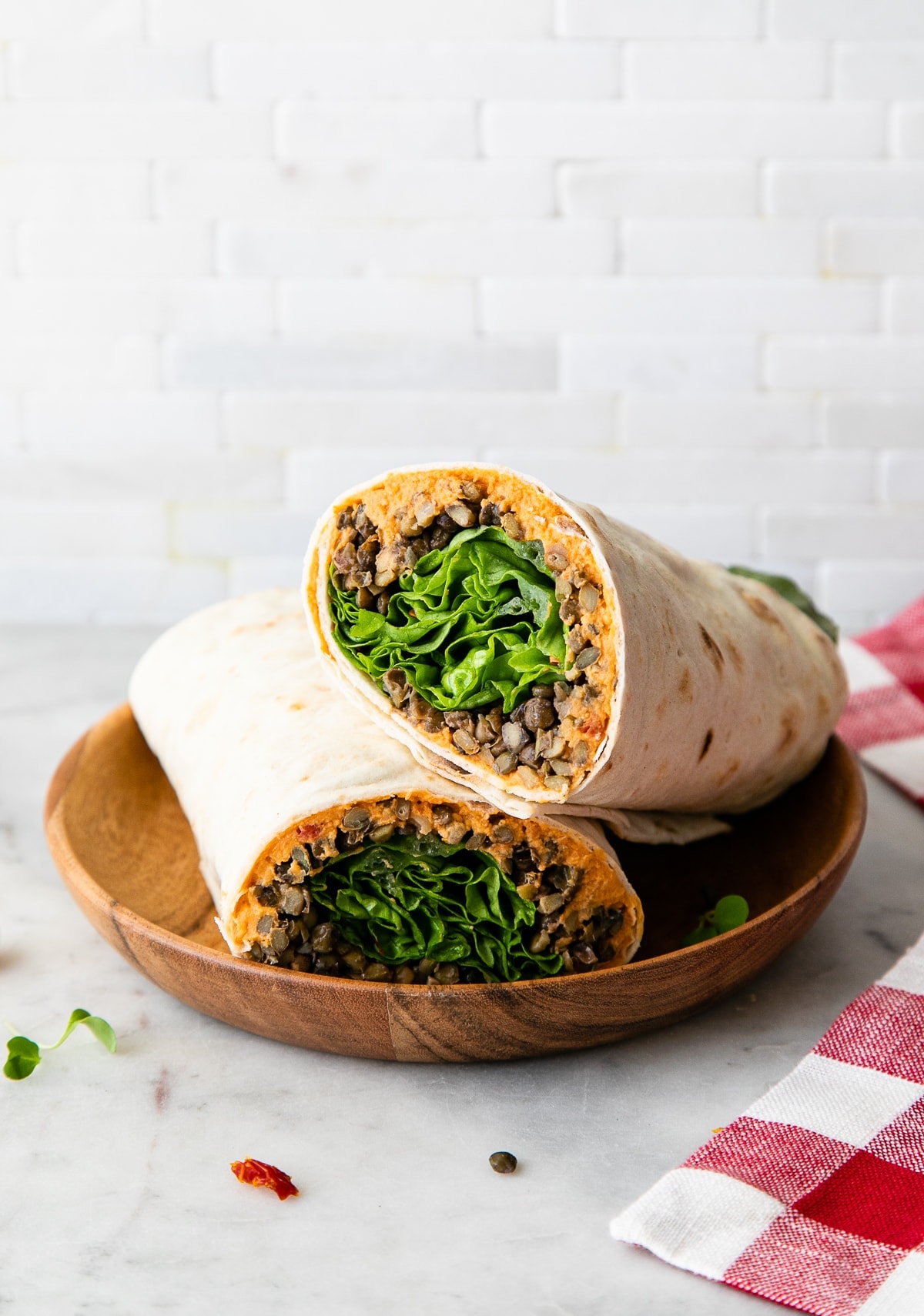 I'm all about quick and easy when it comes to eating. Sometimes I don't mind more intensive recipes in the kitchen, but for the most part I like to keep it simple.
Today's recipe is just that. This Lentil & Sun-Dried Tomato Hummus Wrap is about as simple as it gets while satisfying my hunger and leaving my taste buds happy!
Plenty of protein and flavor in this wrap. I hope it inspires you to gather your ingredients and roll up your own. They also make for great brown bag lunches!
So without further ado, let's make wraps!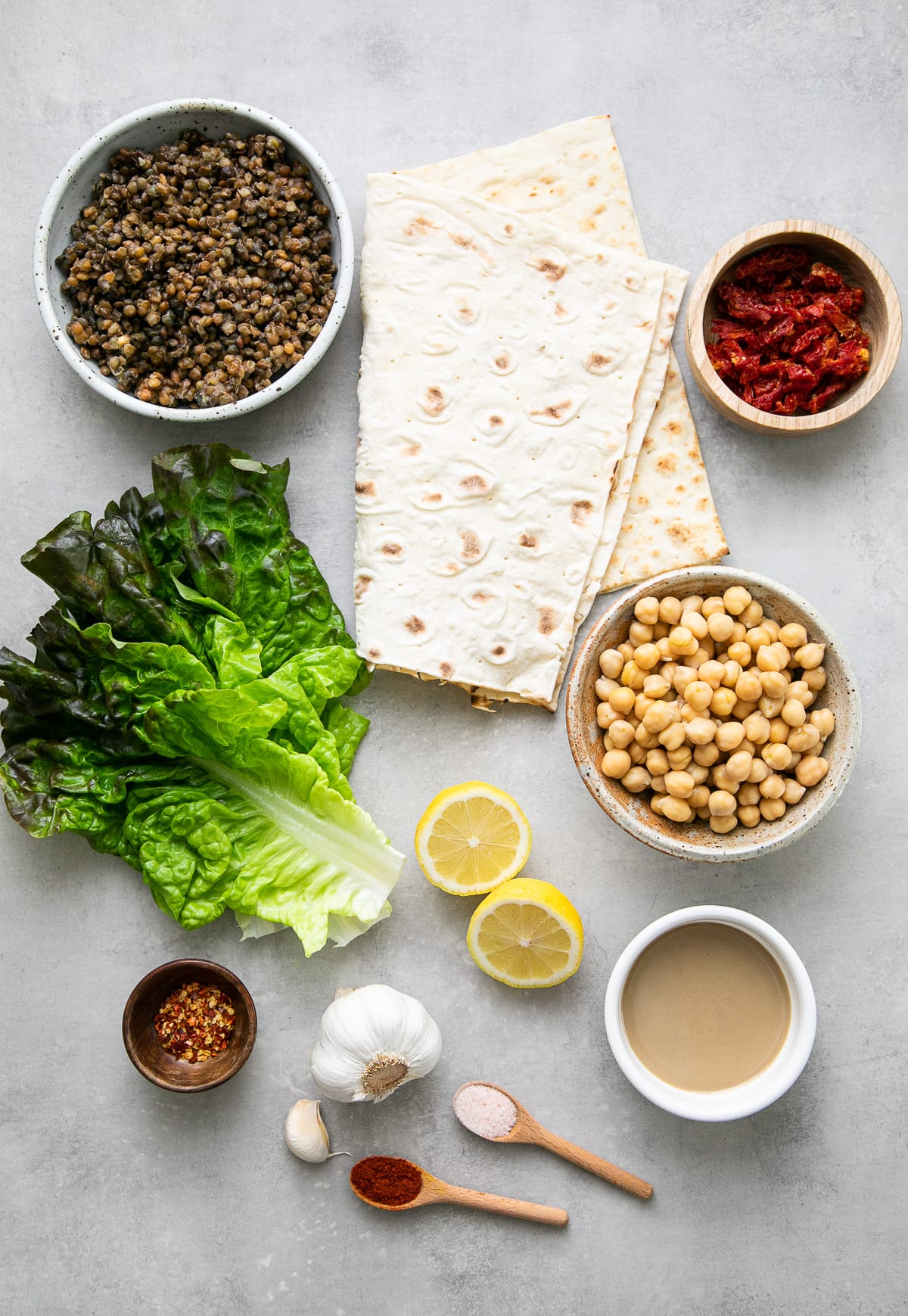 Ingredients You'll Need
Lentils – I used pre-cooked steamed lentils like the ones Trader Joe's carries (Melissa's also carries steamed lentils if you can find them in your grocery store). They have tons of flavor and don't need much of anything. I'll even top them on a big bed of leafy greens, drizzle on something spicy and be happy as can be. Done and done!
Lavash – can also use tortillas wraps
Leafy greens – Adding leafy greens to the wrap gives some freshness, use your favorite, spinach, red or green oak, bibb, boston, butter, romaine, etc
Chickpeas – canned or fresh cooked
Sun-dried tomatoes
Garlic
Tahini – sub with olive oil or use a combo
Lemon
Paprika – use smoked or regular
Red pepper flakes
Salt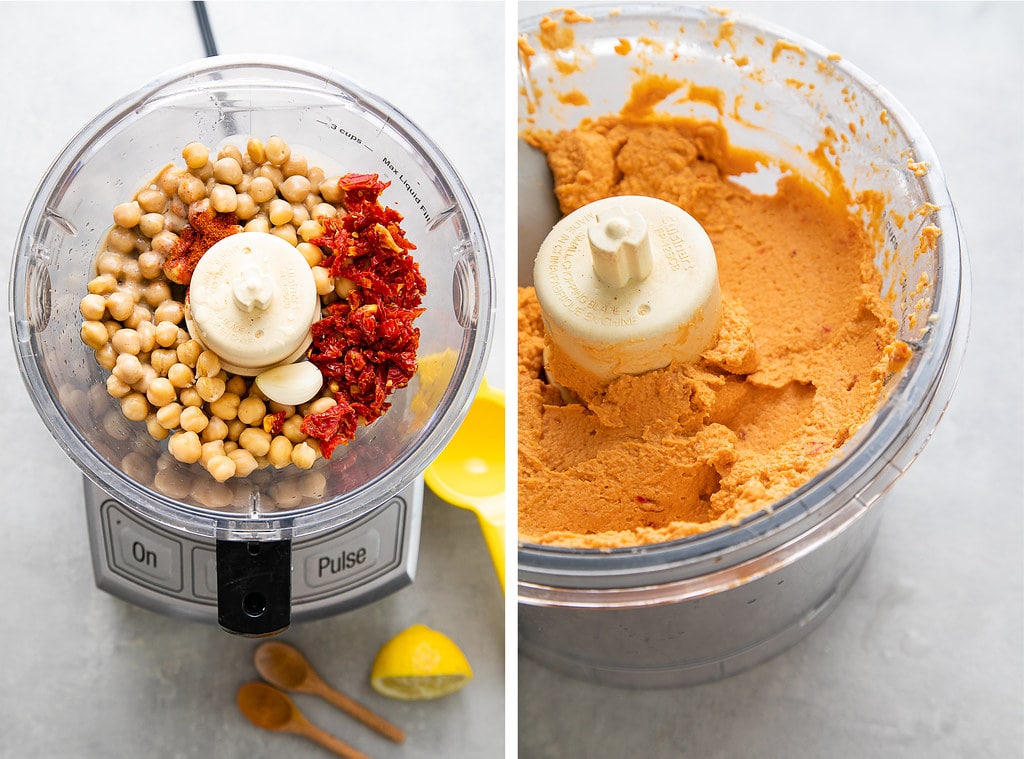 How To Make Lentil & Sun-Dried Tomato Hummus Wraps
Start with the sun-dried tomato hummus. This hummus recipe is so easy to make! Simply place the chickpeas, sun-dried tomatoes, tahini, olive oil, garlic, paprika, salt, lemon juice and water in the food processor, and blend until creamy.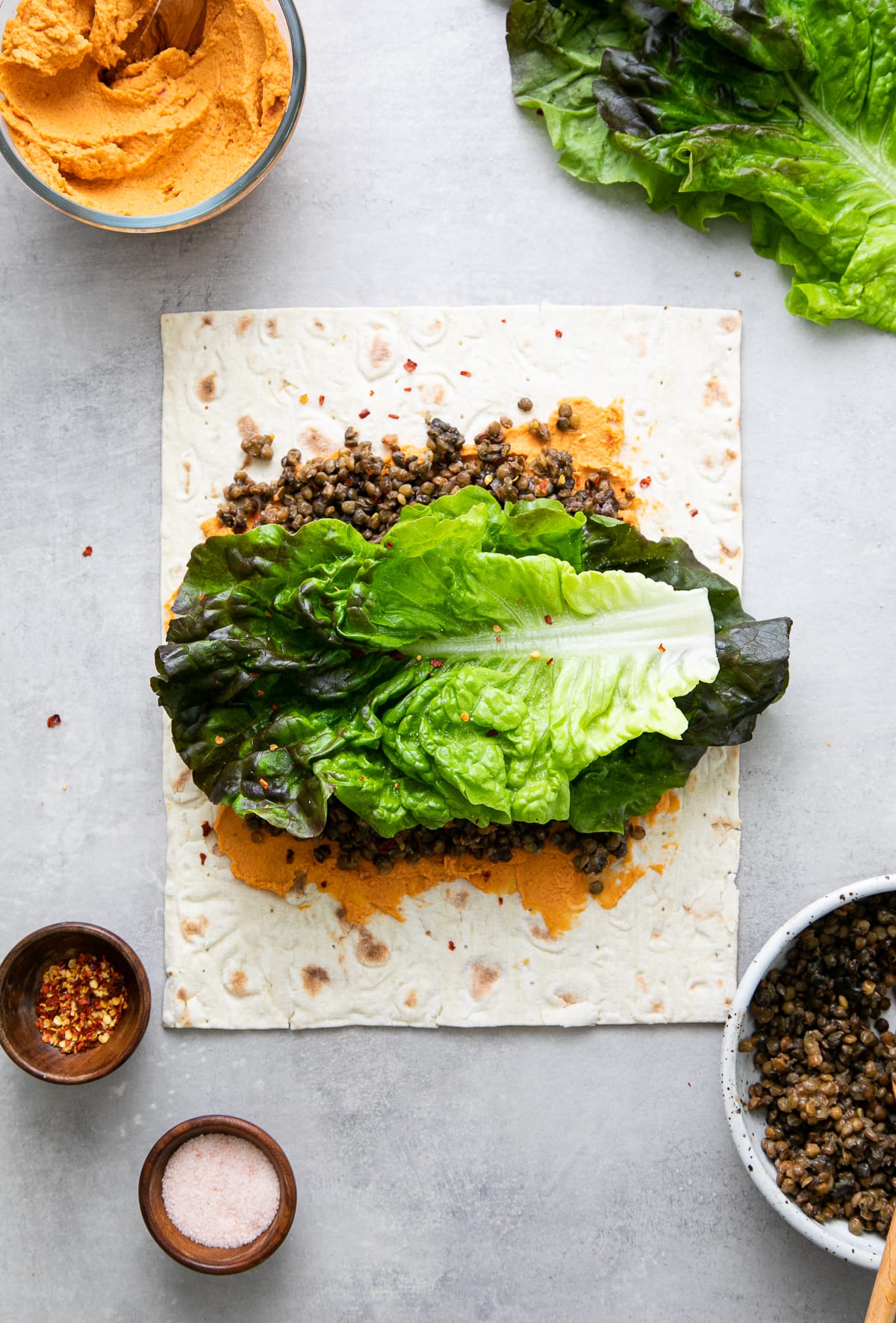 Layer your wrap. Slather the wrap with sun-dried tomato hummus, add a scoop of lentils, leafy greens, and sprinkle of red pepper flakes and salt.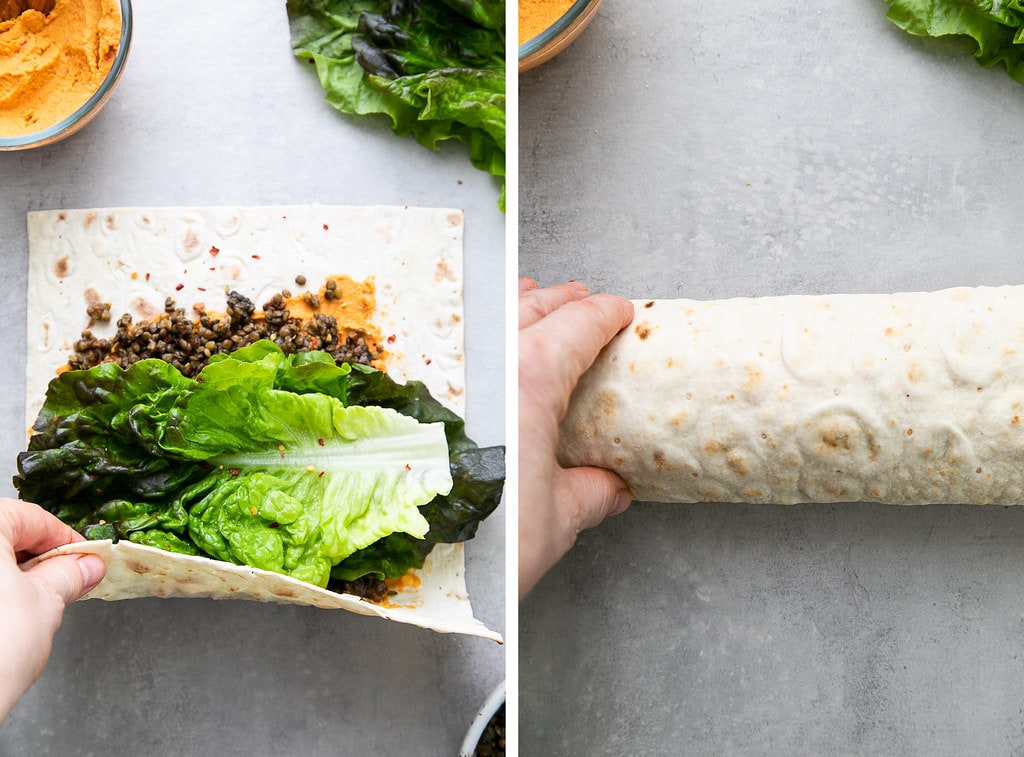 Tuck and roll. Next, gently but tightly, starting from the fullest side (in this case I rolled from left to right) roll your wrap.
And now you're ready to enjoy this easy lentil hummus wrap!
Top Tips
Change up the hummus. Here the lentils worked well with this sun-dried tomato hummus. I imagine plain, garlic or red pepper hummus would be delicious. Hummus is a great spread that lends creaminess to the wrap. You won't miss that there isn't any cheese.
How To Store + Meal Prep
Make 2 – 3 of these wraps at a time storing them in multi-use containers (affiliate link) or bento boxes for the next day or two as a lunch or snack. They hold up well and allow the lavash bread to soften a bit in the refrigerator.
Serving Suggestions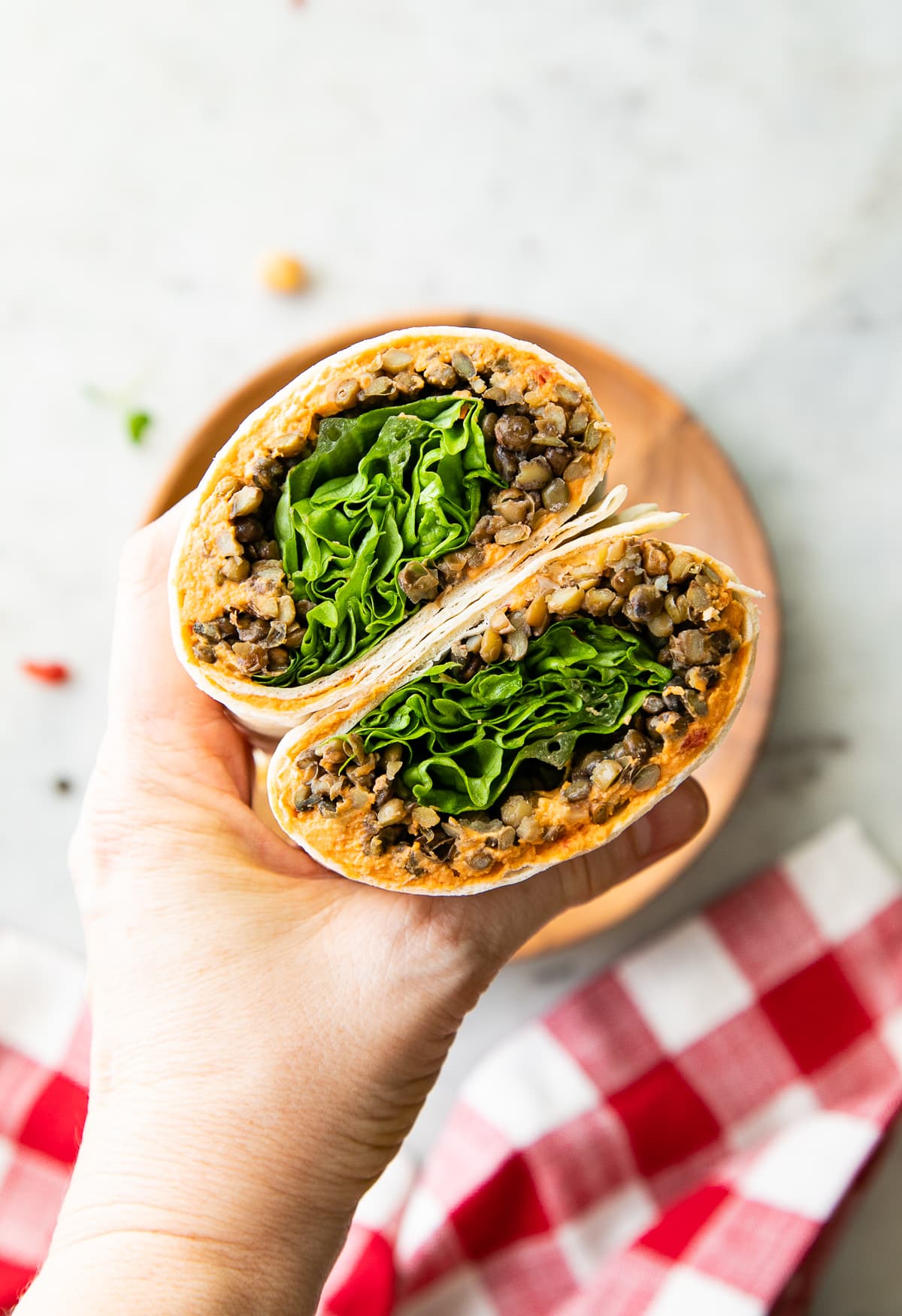 More Easy Sandwich Recipes
If you try this healthy lentil hummus wrap recipe, please let me know! Leave a comment and rate it below. I love to hear what you think, or any changes you make.
Print
LENTIL & SUN-DRIED TOMATO HUMMUS WRAP
Lentil Hummus Wrap with sun-dried tomato hummus, leafy greens and protein rich lentils is full of flavor and makes a great addition to the brown bag lunch!
lavash bread (whole grain pref.) or flour tortillas

1/2 cup

cooked lentils, per wrap
leafy greens (I used romaine)
red pepper flakes
mineral salt
Sun-Dried Tomato Hummus
1 1/2 cups

fresh cooked garbanzo beans (chickpeas) or

1

can (15oz) garbanzo beans

2

–

3

tablespoons sun-dried tomatoes, chopped

1/4 cup

tahini (or cut in half and use

2 Tbsp extra virgin olive oil)

1

clove garlic

1/2 teaspoon

paprika (regular or smoked)

1/2

teaspoon mineral salt, or to taste
juice of

1

lemon or

1

–

2

tablespoons lemon juice

1/4

–

1/3

cup water, as needed
Instructions
Sun-Dried Tomato Hummus:
If using packaged sun-dried tomatoes, soak your tomatoes in water for about 15 minutes to soften, reserve water. If they are super fresh, no need to soak, just chop and use. Use the remaining water as needed when adding it to the hummus. If using bottled in oil sun-dried tomatoes, use as is.
Place all ingredients into food processor/blender, except for the water. Blend until creamy, about 3 minutes or so, adding water as needed to thin. I used about 1/3 cup water as I like my hummus on the moist, thin side.
Makes about 1 1/2 cups.
Leftovers can be stored in the refrigerator for up to 5 – 6 days.
Assemble your wrap:
Lay your lavash bread on a flat surface. Spread a nice layer of hummus over 3/4, top with about 1/2 cup lentils over top, sprinkle with red pepper flakes and mineral salt, add leafy greens over top. Roll gently, but tightly as you can. Slice in half and enjoy!
Store: Wraps can be stored in the refrigerator for up to 2 days in covered containers. They are best eaten within 24 hours of making.
Notes
Feel free to play around with the tahini and olive oil adjusting to suit your taste. You may like more tahini, or you may not have any on hand and can use olive oil in its place.
If you're looking to make this virtually fat free, use water in place of the tahini and olive oil.
Store hummus tightly covered in the refrigerator for up to six days. Makes about 1 1/2 cups.
Try this hummus with warmed corn tortillas or fresh sliced cucumbers, zucchini, carrots, bell peppers, etc. Thin a little more and use as a crema for tacos, enchiladas, and burritos. You can even use it in your salads! Hummus is so versatile and my new nut based cream replacements whenever possible!
Updated: Lentil & Sun-Dried Tomato Hummus Wrap was originally published in June 2014. It has been retested and updated with new photos and helpful tips in July 2020.
FOLLOW TSV on Facebook, Instagram, Pinterest or RSS for more updates and inspiration!