Vegan Egg Salad is the PERFECT lunch, made with seasoned vegan mayo, mustard, and chives mixed with silken tofu, and served as a sandwich or wrap!
This plant based 'egg' salad is for those looking for a vegan replacement of an old classic, and you just may find yourself wanting to make this recipe again and again!
Vegan Egg Salad Sandwich is made with simple ingredients and is so easy to put together, making for a satisfying comfort food sandwich. You can get creative with additional mix-ins and seasonings, but this recipe is a great base for all your tofu egg salad creations.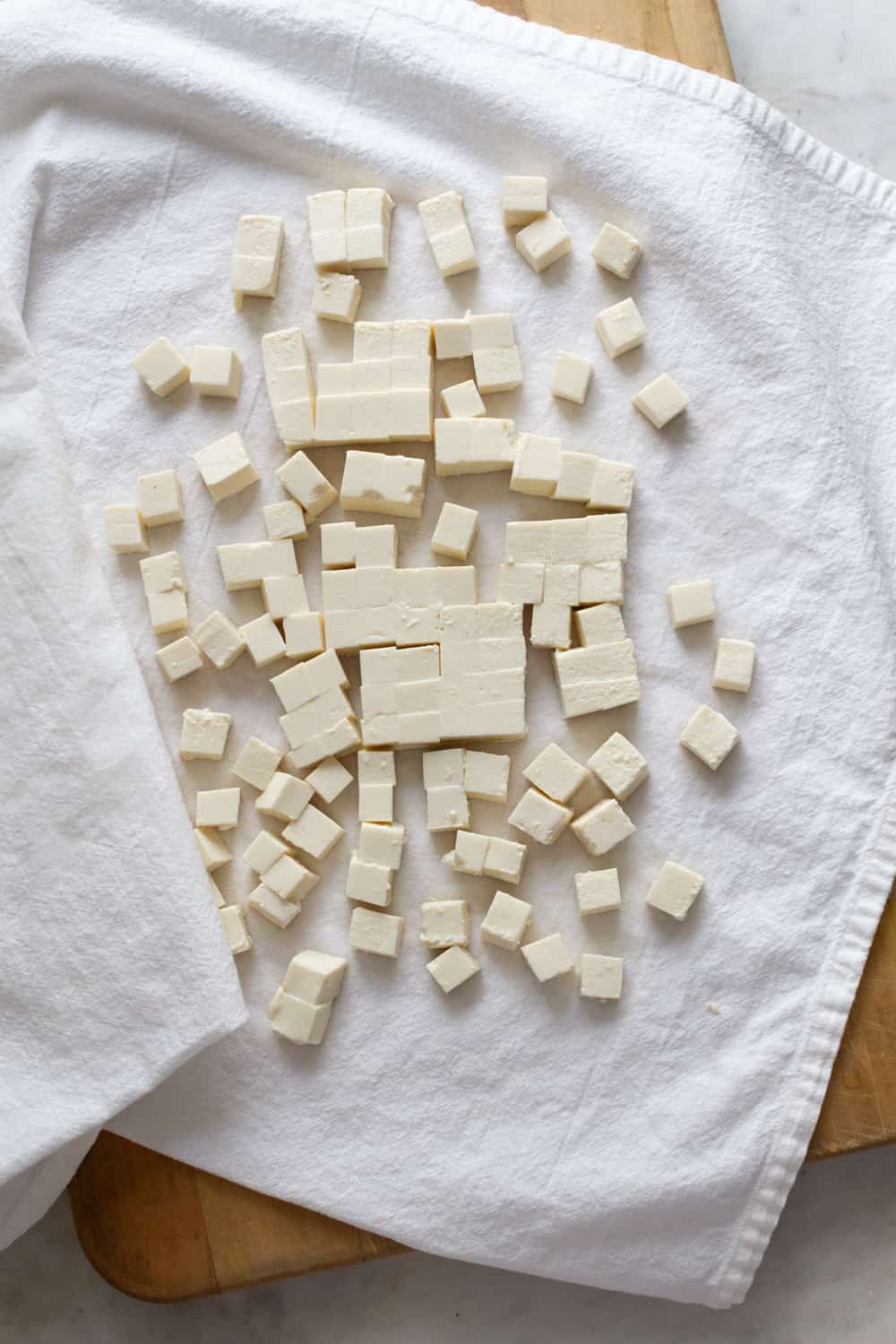 How do you make Vegan Egg Salad Sandwich?
Cut the tofu into 1/2 inch cubes. Gently pat dry between a clean dish towel or paper towels.
In a medium mixing bowl, add the mayonnaise, dijon, turmeric, celery powder, salt and pepper, mix well. Add the tofu and chives, mix until well combined. I found using a spatula to gently fold the ingredients together works best!
Spread on your favorite bread or use with crackers.
What type of tofu should I use?
I've tried silken, soft and firm tofu in this recipe, and I must say that I prefer soft and silken. Maybe it was the brand (Trader Joe's) of firm tofu I used, but it was just a little too firm, spongy and had a strong flavor. The Wildwood brand silken and soft tofu seemed to have just right in texture, a very mild flavor, and held up well when mixing. Keep in mind that tofu differs slightly in flavor and texture between brands, so you'll want to experiment until you find the right one for you.
Tips For Making The Best Vegan Egg Salad
Can I use different types of mustard?
Yes! I love dijon, but whole grain or yellow mustard would also be delicious. Mustard adds a nice tang to the vegan egg salad so don't leave it out.  In fact, you can use a little more if you like. Just be sure to taste the mayo mix before using.
What are some other mix-ins I could add to my vegan egg salad?
Briny foods like pickles or horseradish
Celery, bell peppers or carrots for texture
Olives
Herbs: fresh chopped basil, tarragon, dill, parsley (stay away from dried herbs)
Spices: garlic or onion powder, smoked paprika, cumin or cayanne (for heat)
Looking for that sulfur eggy flavor?
Try using kala namak (<wikipedia), it's black himalayan salt with a sulphurous, pungent-smell, the same characteristics that hard boiled eggs have. So if you want that eggy flavor, add a generous pinch of this salt to the mayo mix! You can find it online at a reasonable price here: Kala Namak (<affiliate link)
How long does vegan egg salad keep?
Kept in an airtight container in the refrigerator, tofu eggless salad can last up to 5 – 6 days.
What is the best bread for tofu egg salad sandwich?
Tofu egg salad is soft and squishy, and pairs best with breads that are softer and mild in flavor. If the bread texture is too firm (like a bagel), the eggless salad may squeeze out the sides when taking a bite of your sandwich. I've served this with Dave's Killer Bread, oat bread and wheat breads, all were fantastic. I think rye would be delicious too!
I hope you love this vegan egg salad! It's:
Quick & easy
Versatile
Minimal ingredients
Simple, yet flavorful
Great for lunch and meal prepping
It's good to have a classic vegan 'egg' salad recipe up your sleeve, as it's the perfect quick and easy lunch or dinner, and can easily be made ahead and prepped for to-go meals.
If sandwiches are your thing, be sure to check out the Mashed Chickpea Salad Sandwich (it's a fan favorite), Favorite Summer Veggie Sandwich, Grilled Peanut Butter & Apple Sandwich, or see all the Sandwich & Wrap recipes on TSV!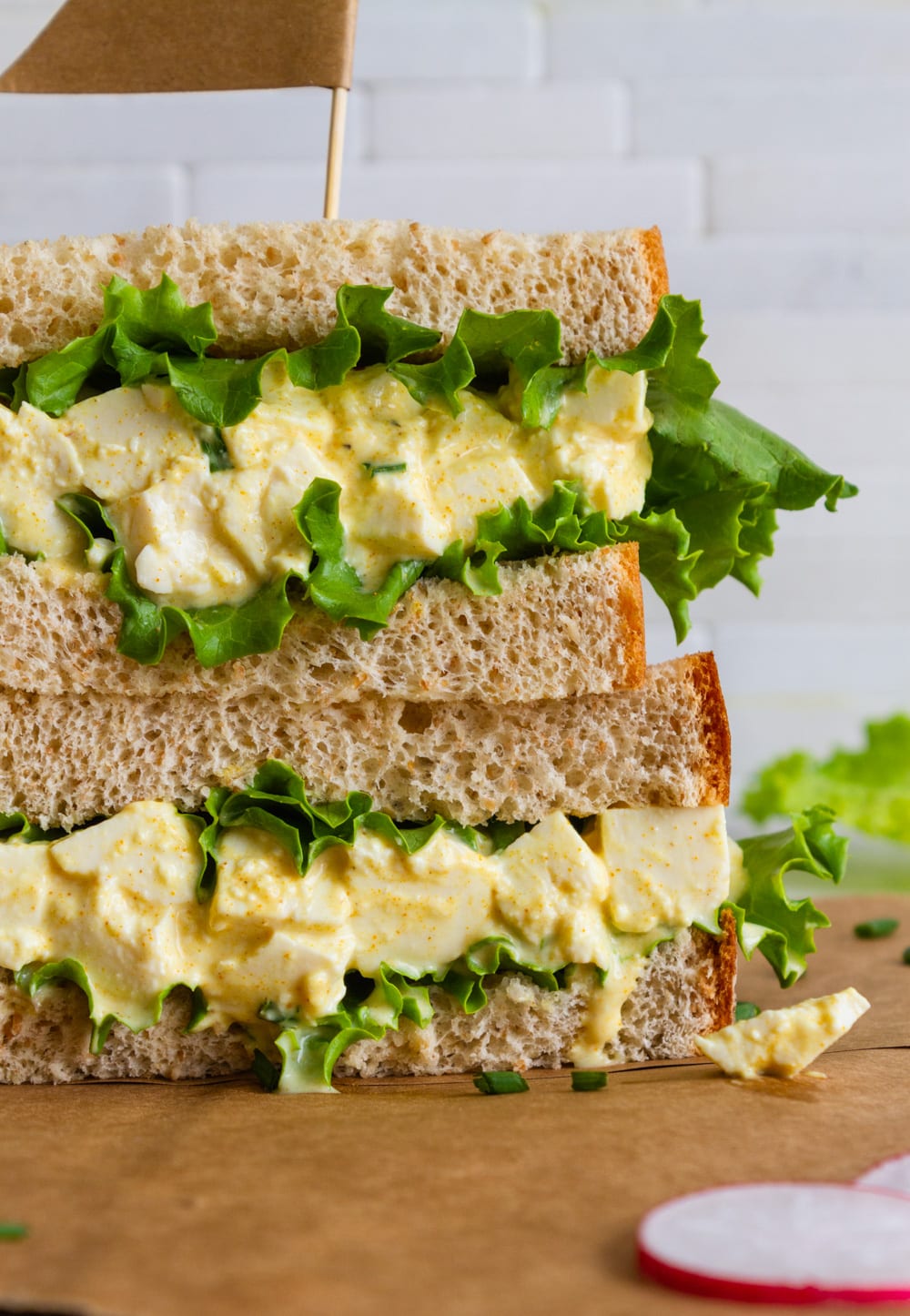 If you try this tofu egg salad sandwich recipe, please let me know! Leave a comment and rate it below. I love to hear what you think, or any changes you make. Cheers!
Print
VEGAN EGGLESS SALAD SANDWICH
Vegan Egg Salad Sandwich is made with simple ingredients and is so easy to put together, making the perfect, flavorful sandwich!  You will want to make this recipe again and again!
Ingredients
1

tub (14-16oz) organic tofu (silken, soft or medium firm)

1/4 cup

vegan mayonnaise

1

heaping tablespoon Dijon mustard (whole grain or regular ok too)

1/2 teaspoon

celery powder or 1/4 cup fresh celery, diced, optional

1/2 teaspoon

turmeric, optional for color
generous pinch of salt (kala namak, smoked or regular mineral salt)
pepper, to taste

2 tablespoon

s finely chopped chives
To Serve
6

slices of bread of choice
leafy greens 
red onion, thinly sliced (optional)
radishes, thinly sliced (optional)
Instructions
Tofu: Cut tofu into about 1/2 inch cubes, lay in between a dish towel or paper towels to soak up excess moisture. Gently press, careful to not press too hard if using silken and soft tofu.
Assemble Salad: In the bottom of a medium sized mixing bowl, add the mayonnaise, dijon, optional celery powder and turmeric, salt and pepper, mix well to combine. Add tofu and chives, gently fold into the mayo mix until well coated. If you like, feel free to mash the vegan egg salad, or mash just 1/2 of it.
Serve: Serve on your favorite bread with leafy greens. Great with crackers too!
Store: Leftovers can be stored in an airtight container in the refrigerator for up to 5 days.
NOTES:
Adjust ingredients to suit your taste. If you love mustard, feel free to add another tablespoon. If it at all seems bland, than a tad more salt is needed (eggs are typically salty).
Other add-ins:
Briny foods like pickles or horseradish
Celery, bell peppers or carrots for texture
Olives
Herbs: fresh chopped basil, tarragon, dill, parsley
Spices: garlic or onion powder, smoked paprika, cumin or cayenne (for heat)
Follow TSV on Facebook / Instagram / Pinterest / Twitter / RSS