SEEDS & GOJI BERRY GRANOLA
Seeds & Goji Berry Granola is an healthy nut-free vegan granola that's oil-free, rich in high quality protein and super easy to make! Perfect for snacking and makes a delicious cereal with your favorite non-dairy milk.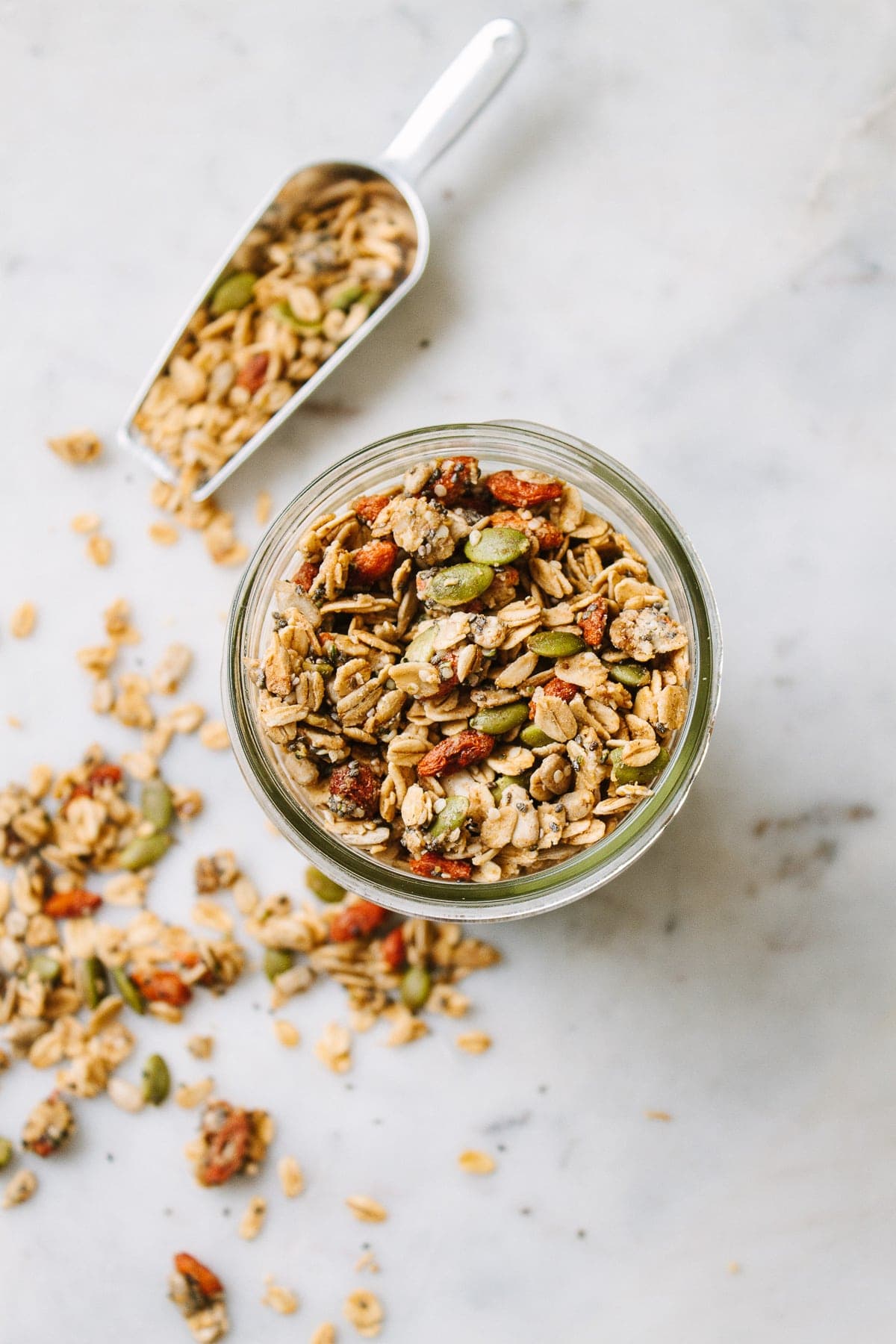 Let's talk granola, seeds and goji berries for a second, shall we?
There are many granola recipes out there and it's no wonder why, as granola is pretty handy to have around. Enjoy it as cold cereal, top it on hot oatmeal, non-dairy yogurts or ice creams, or simply take some to go in a small container. It's a great snack or meal that is filling, healthy and just plain good!
For this seeds & goji berry granola, I had a ton of goji berries in my fridge, along with pumpkin (pepitas) and sunflower seeds that needed to be put to good use, when I ran across an article from Wake Up World entitled, Five Healthy Seeds. That planted the seed, so to speak, for this nut free granola recipe.
Is Seed & Goji Berry Granola Healthy?
Yes, this seed and goji berry granola is super healthy! Seeds are a great alternative to nuts, especially for those who have nut allergies. Some of the best seeds in whole form are hemp, sunflower, chia, sesame and pumpkin seeds. Flax seeds are great too, but unless they are ground you're not going to get their full benefits, as they will pass straight through the body with hardly any benefits.
As for the goji berries, well I love them because they don't have any added sweeteners like most dried fruits do (I also like raisins for this reason). They are full of antioxidants just as other berries like blueberries, acai berries, cranberries, strawberries and cherries. Find out more about their nutritional profile from this article from Live Strong, Goji Berries Nutrition.
This post contains affiliate links. Read my full disclosure here.
Ingredients You'll Need
In this recipe, oat, goji berries, and variety of seeds are mixed with cinnamon, vanilla, maple syrup and seed butter creating a healthy and delicious granola snack.
Here is everything you'll need, including variation and substitution ideas:
Oats. Use old fashioned oats. To ensure they are gluten free, only purchase certified GF oats.
Goji Berries. These exotic berries can be found in most healthy conscious grocery stores or purchased online.
Sunflower Seeds. Use raw, untoasted sunflower seeds.
Pepitas. Also known as pumpkin seeds, these are the actual seed removed from the pumpkin seed shell.
Chia Seeds. These little seeds are packed with nutrients. Feel free to omit them if needed.
Hemp Hearts. Hemp hearts contain all the essential omega's and are a heart-smart addition to this granola recipe.
Cinnamon. Adds a nice layer of flavor!
Salt. My favorite salt for just about everything is pink mineral salt, aka Himilayan Salt. It's has beneficial minerals and trace elements you won't find in other salts. Plus, a little goes a long way!
Pure Maple Syrup. My preferred liquid natural sweetener for granola. It's sweetens perfectly and hardens the granola without the need for oil.
Vanilla. For another layer of flavor, feel free to omit it if you don't have it on hand.
Tahini or Sunbutter. Adds flavor, nutrition and helps with making a few extra clumpy pieces.
How To Make Seed Granola with Goji Berries
Making this granola recipe only takes a few simple steps:
Preheat the oven to 250 degrees F.
In a medium mixing bowl, combine the oats, sunflower seeds, pepitas, goji berries, chia seeds, hemp hearts, cinnamon and salt.
Pour the maple syrup, tahini and vanilla overtop the mixture and stir to combine, mixing well until ingredients are well coated.
Layer the granola on a rimmed baking sheet (shown above) lined with parchment liner or Silpat, or lightly greased with coconut oil.
Bake in the oven for 30 – 35 minutes, stirring every 10 minutes.
Remove from oven, let cool (shown below). Granola will harden as it cools.
Tips For The Best Granola
Bake granola at a low temperature. Granola is best when cooked at a lower temperature. This is to prevent burning, but to also really get that nice golden flavor and texture. I bake my granola between 250 & 300 degrees F, depending on the granola recipe.
Mix well to coat. When mixing the dry and wet ingredients, be sure to mix well coating each piece with the maple for maximum flavor and crunch.
Storing. You can store this healthy granola in a mason jar or an airtight container for up to 1 – 2 months (but trust me when I say, it's not going to last that long!).
More Easy Granola Recipes
If you try this seeds and goji berry granola recipe, please let me know! Leave a comment and rate it below. I love to hear what you think, or any changes you make.
Print
SEEDS & GOJI BERRY GRANOLA
A healthy seed and berry granola with sunflower seeds, pumpkin seeds, goji berries, chia seeds, hemp hearts and cinnamon. Making your own granola is fun and easy!
Prep Time:

10 min

Cook Time:

35 min

Total Time:

45 minutes

Yield: Makes

4 cups

1

x
Category:

Snack, Breakfast

Cuisine:

Vegan
2 1/2 cups

old fashioned rolled oats (I used GF)

1/3 cup

raw sunflower seeds

1/3 cup

pepitas (pumpkin seeds)

1/3 cup

goji berries

2 tablespoons

chia seeds

2 tablespoons

hemp hearts

1 teaspoon

cinnamon
pinch of salt

2/3 cup

pure maple syrup*

1/4 cup

sunbutter or tahini, optional

1 teaspoon

vanilla
Instructions
Preheat oven to 250 degrees. Line a rimmed baking sheet with parchment or silicone mat, or lightly grease with coconut oil.
Combine all dry ingredients in a medium size bowl. Add maple syrup, sunbutter/tahini and vanilla. Mix until well coated.
Spread granola, in a single layer, on baking sheet.
Place in oven and bake for 30- 35 minutes, stirring the mixture every 10 minutes to ensure even cooking. If using two baking sheets, you may even like to switch their positions in the oven once after stirring. If using a smaller baking dish such as a 9 × 9 or 11 × 13, bake for up to 1 hour or so, or until golden throughout. Be sure to stir the mixture every 15 minutes or so.
Once done, remove from oven and let cool, granola will harden as it cools.
Makes 4 cups.
Store in a covered container on the counter for up to 1 month. 
Updated: Seeds & Goji Berry Granola recipe was published in March 2013 and updated in October 2019 with new photos and helpful tips. Enjoy!