THE ULTIMATE TEMPEH CHILI
The Ultimate Tempeh Chili is loaded with protein, fiber and flavor! My favorite tempeh chili recipe is made with a secret ingredient – vegan beer –  for the BEST vegan chili recipe! Includes stovetop and slow cooker methods.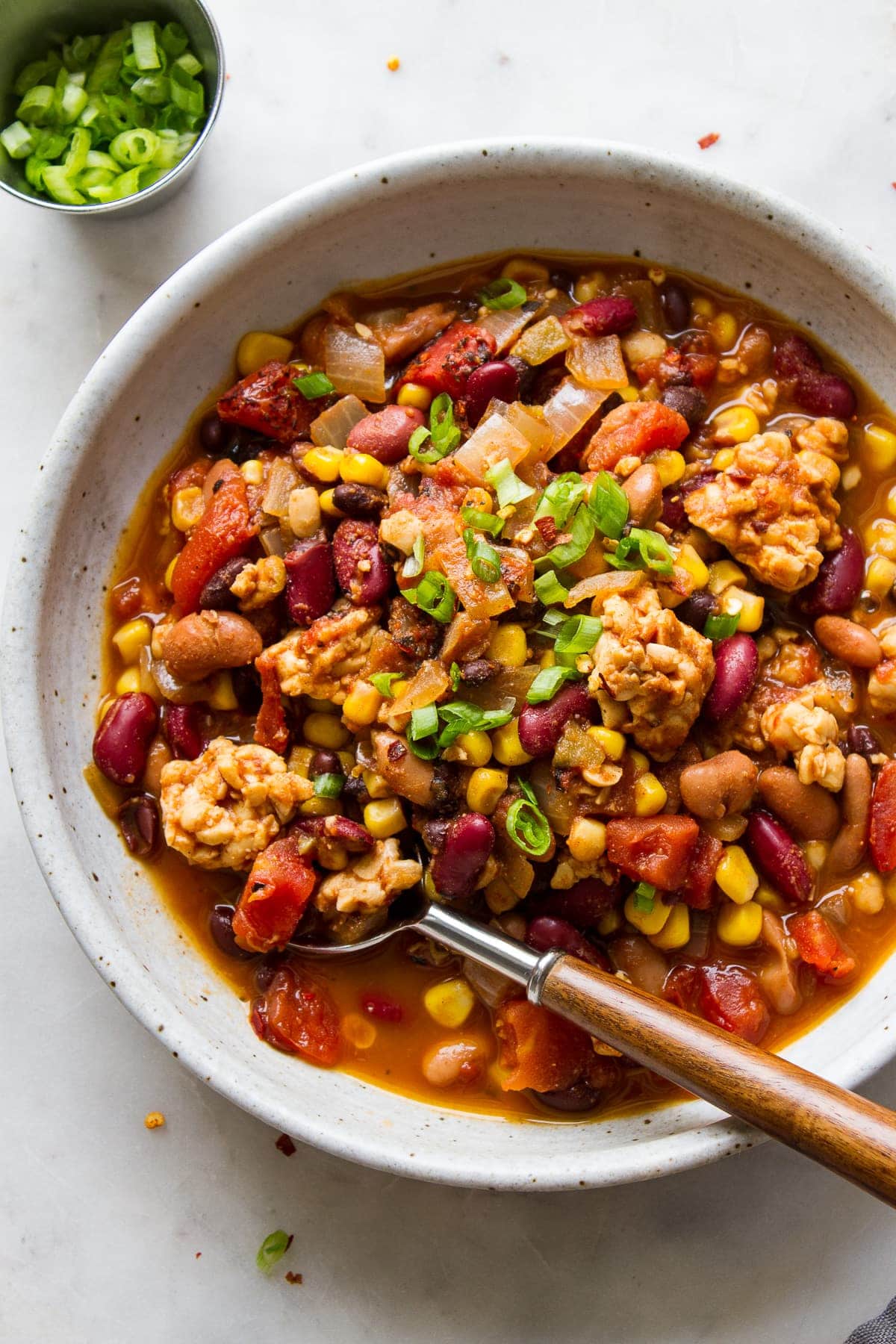 Ultimate Tempeh Chili
I have been wanting to do a tempeh chili for a while now, and with the temperatures steadily on the decline here in So Cal it's the perfect time of year to bring a new chili to the vegan chili recipe collection.
Tempeh makes for a great addition to any chili giving it an extra hearty feel and enhancing the protein & fiber content. With almost 20 grams of protein per 100 grams (about 3.5 oz.) of tempeh, along with protein rich beans, you've got yourself a great high protein chili to keep you feeling full while meeting your daily protein requirements easily.
Since trying to incorporate an extra dose of protein into my diet lately, without having to use protein powders, this tempeh chili has been on my weekly rotation. Please do note that tempeh is a soy product, and although it is a 'good' soy product for you, unlike some, it is best in moderation – once or twice a week is fine.
Full of flavor, this really is the ULTIMATE tempeh chili and is an easy one-pot recipe that's fairly simple. It's easily customizable and can be made on the stovetop or in your slow cooker.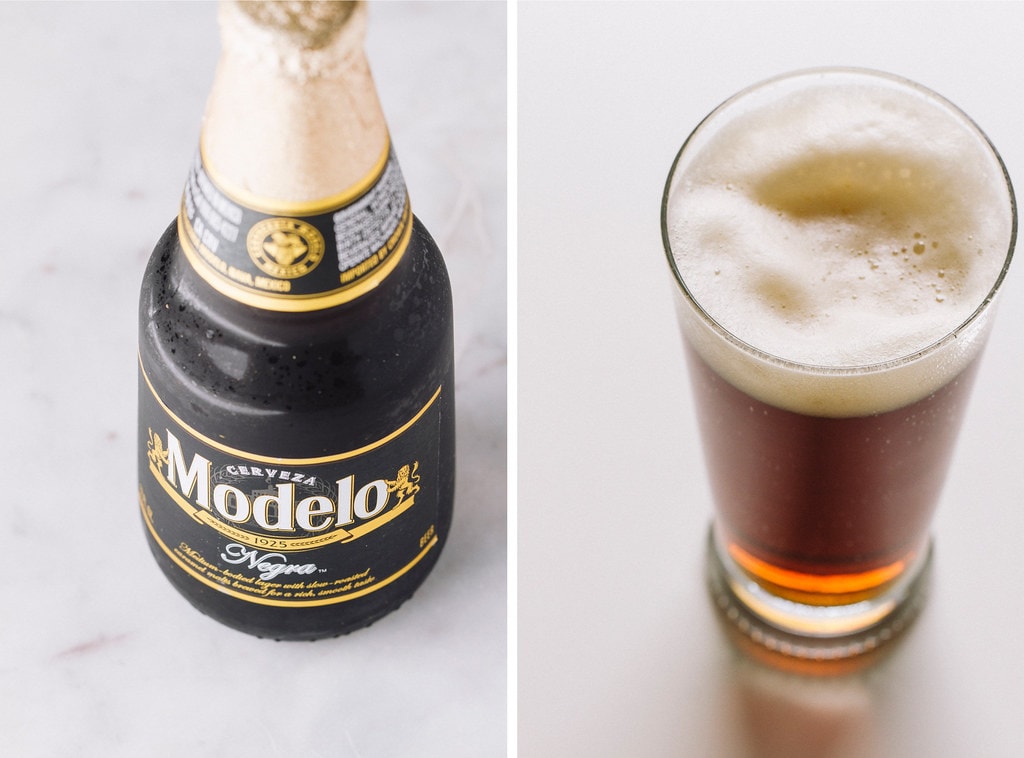 Add Beer To Chili For Depth and Flavor!
I did include a bottle of dark beer and loved the depth and flavor it added. This Negra Modelo is perfect for cooking with and it's vegan friendly! This can be optional but well worth the added flavor and rounds out the chili beautifully, making it one of the best chili's I've ever had!
You could also try a chocolate stout like Boatswain Chocolate Stout, which is also vegan friendly. Whatever liquids you choose, just be sure it equals about 2 cups.
The alcohol, for the most part, will burn off while simmering, leaving the delicate characteristics behind. If your looking to minimize the alcohol content, take a look at the Alcohol Burn Off Rate Chart to find how long you should simmer your chili.
If you've never made chili with beer before I recommend trying it, at least once!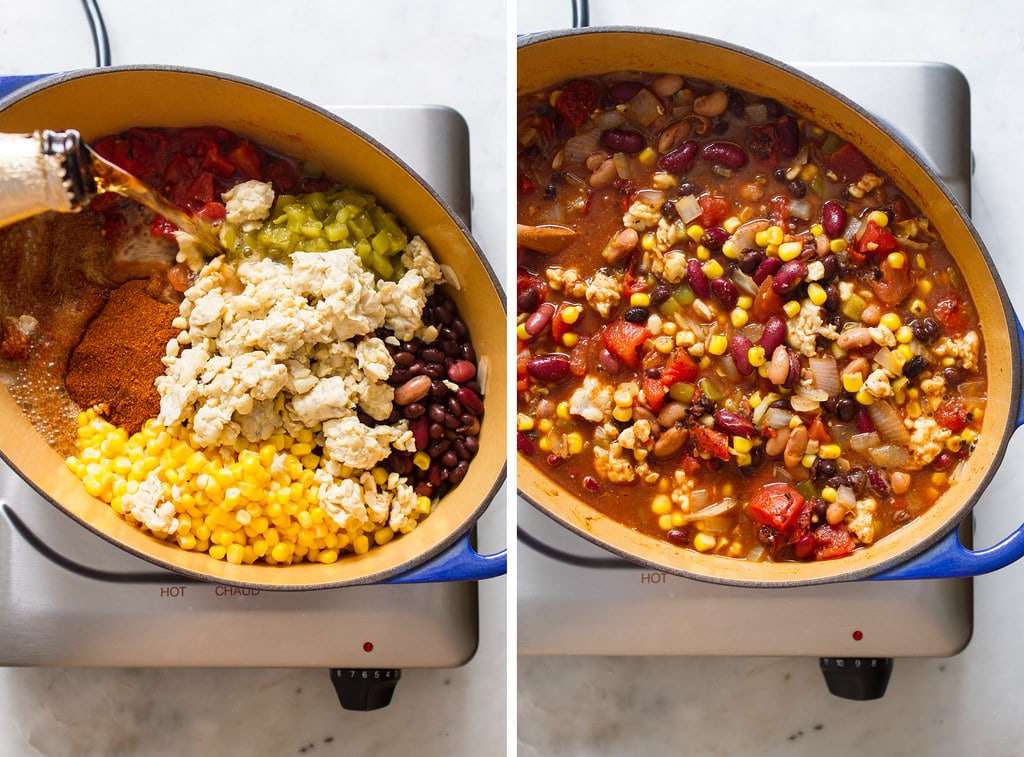 How To Make Tempeh Chili
Making tempeh chili is super easy and requires a few simple steps using the stovetop or slow cooker. All you need to chop is the onion and garlic, and the rest is easy as can be! See the recipe card below for full instructions.
Stovetop: In a large dutch oven, heat oil and saute the onion for 5 minutes. Add the remaining ingredients (shown above), bring to a boil, cover, reduce heat to low and simmer for 45 minutes to 1 hour (shown below). Chili will thicken upon standing.
Slow Cooker: Add the ingredients to the bowl of your slow cooker, ending with the liquids. Cook on LOW for 6 – 8 hours or HIGH  for 3 – 4 hours. Chili will thicken as it cools.
Serve with sliced green onions and dollop of vegan sour cream. It pairs perfectly with Jalapeno Cornbread Muffins or Sweet Chia Cornbread!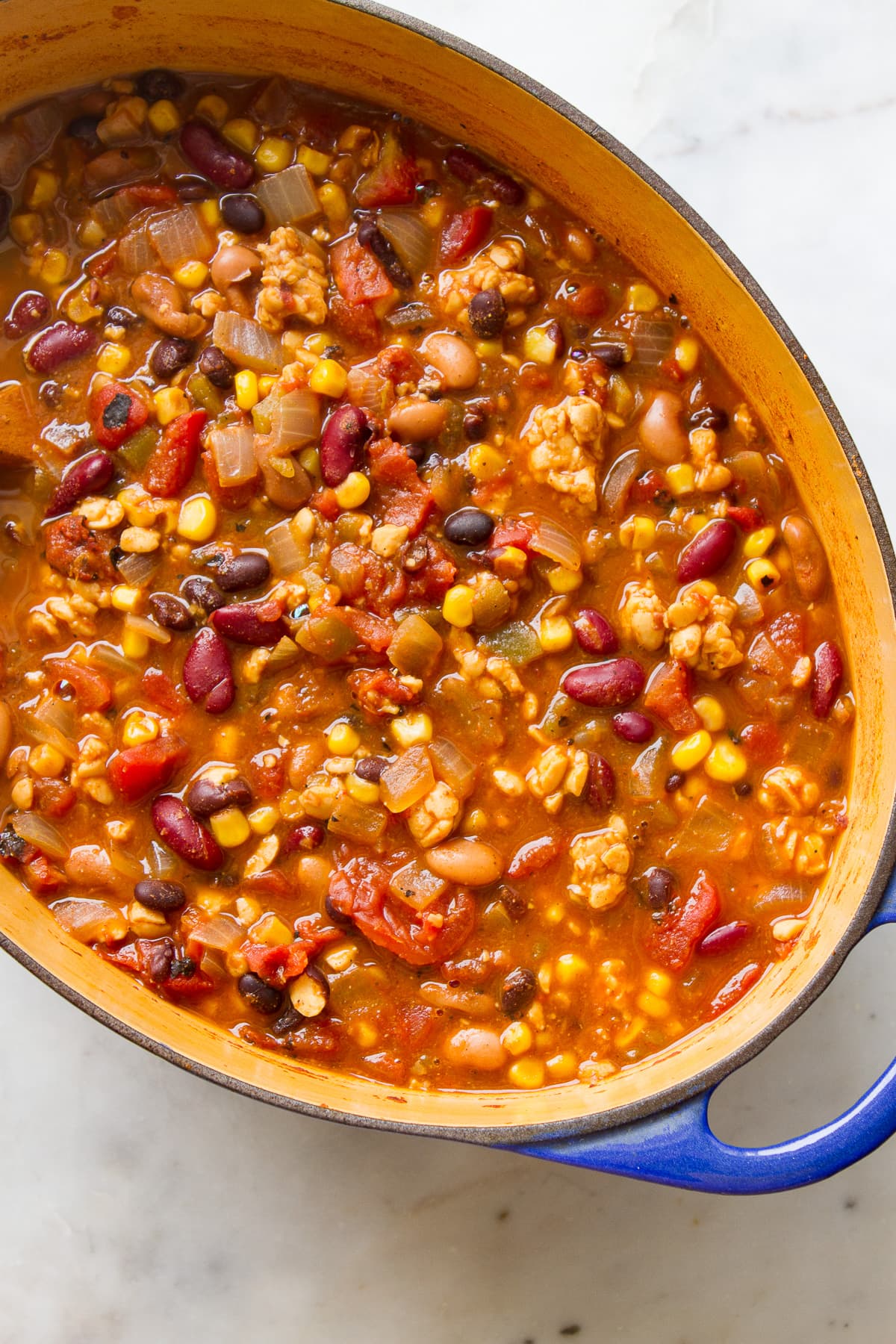 How Long Will Leftovers Last?
Leftovers will keep for 5 – 6 days in the refrigerator, stored in a covered container. Re-warm on the stovetop or the microwave. It makes a great meal prep for the week with vegan cornbread or jalapeno cornbread muffins on the side.
Can You Freeze Chili?
Yes, it freezes wonderfully for up to 2 – 3 months! My favorite ways to freeze chili is in individual portion sizes using freezer safe containers. Then when I want to cozy up with a bowl of warm chili I can just pull it from the freezer and warm it up. You can also freeze larger portions in large ziplock bags or containers.
More Recipes You'll Love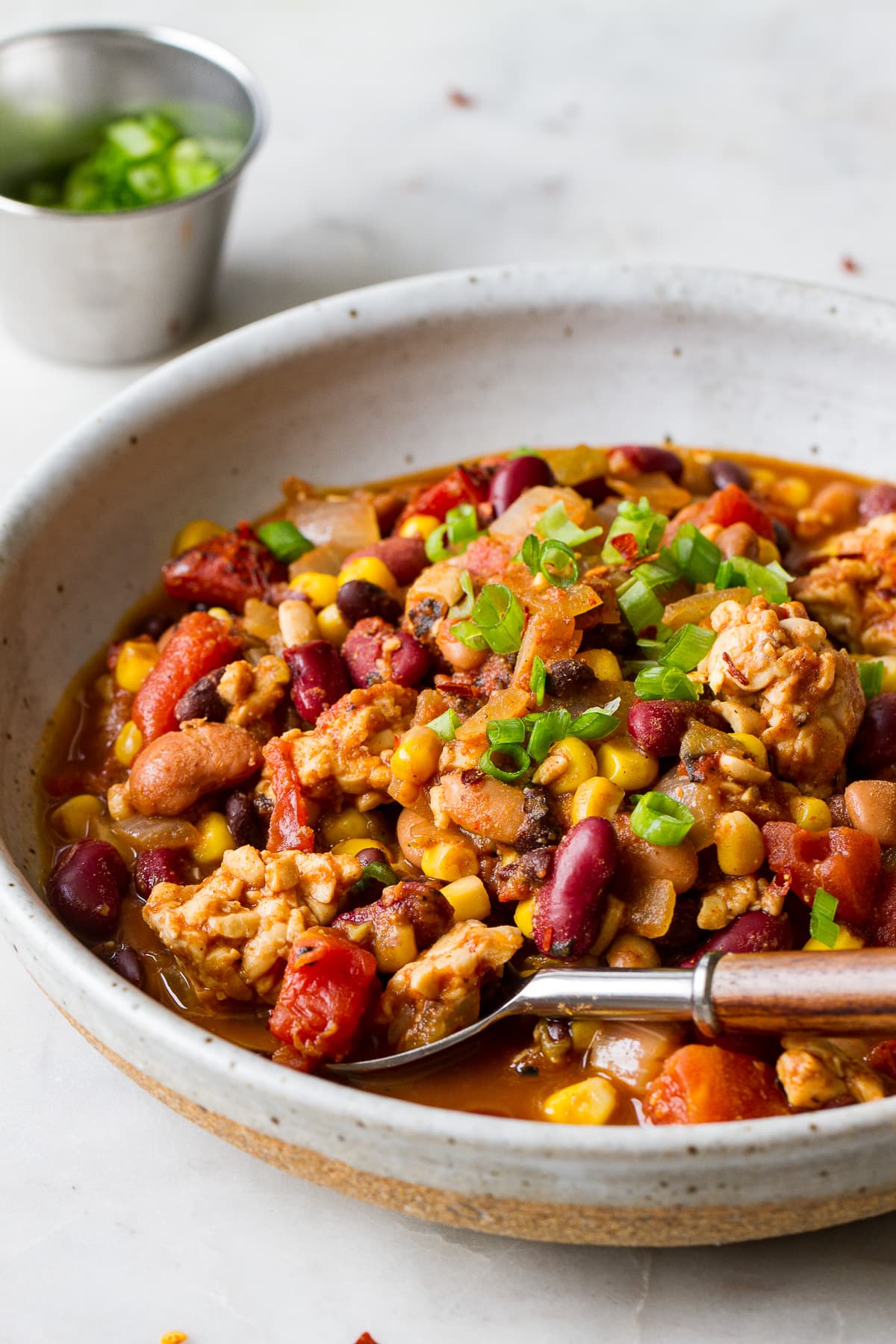 If you try this tempeh chili recipe, please let me know! Leave a comment and rate it below. I love to hear what you think, or any changes you make.
Print
THE ULTIMATE TEMPEH CHILI
UPDATED: This Ultimate Tempeh Chili was originally posted in November 2013, and has been updated with new photos and helpful tips in September 2019. The only changes made to the recipe was adding a can of sweet corn. Since so many who commented on the recipe added it, I thought I would do the same. It's delicious, but optional!
FOLLOW TSV on Facebook, Instagram, Pinterest or RSS for more healthy & delicious vegan food!