LENTIL WALNUT LOAF WITH APPLE, FENNEL & SAGE
Perfect for the holidays this Lentil Walnut Loaf with apple, fennel and sage is hearty, full of flavor and makes a great centerpiece for the holiday table! Recipe is naturally vegan and can be made in advance!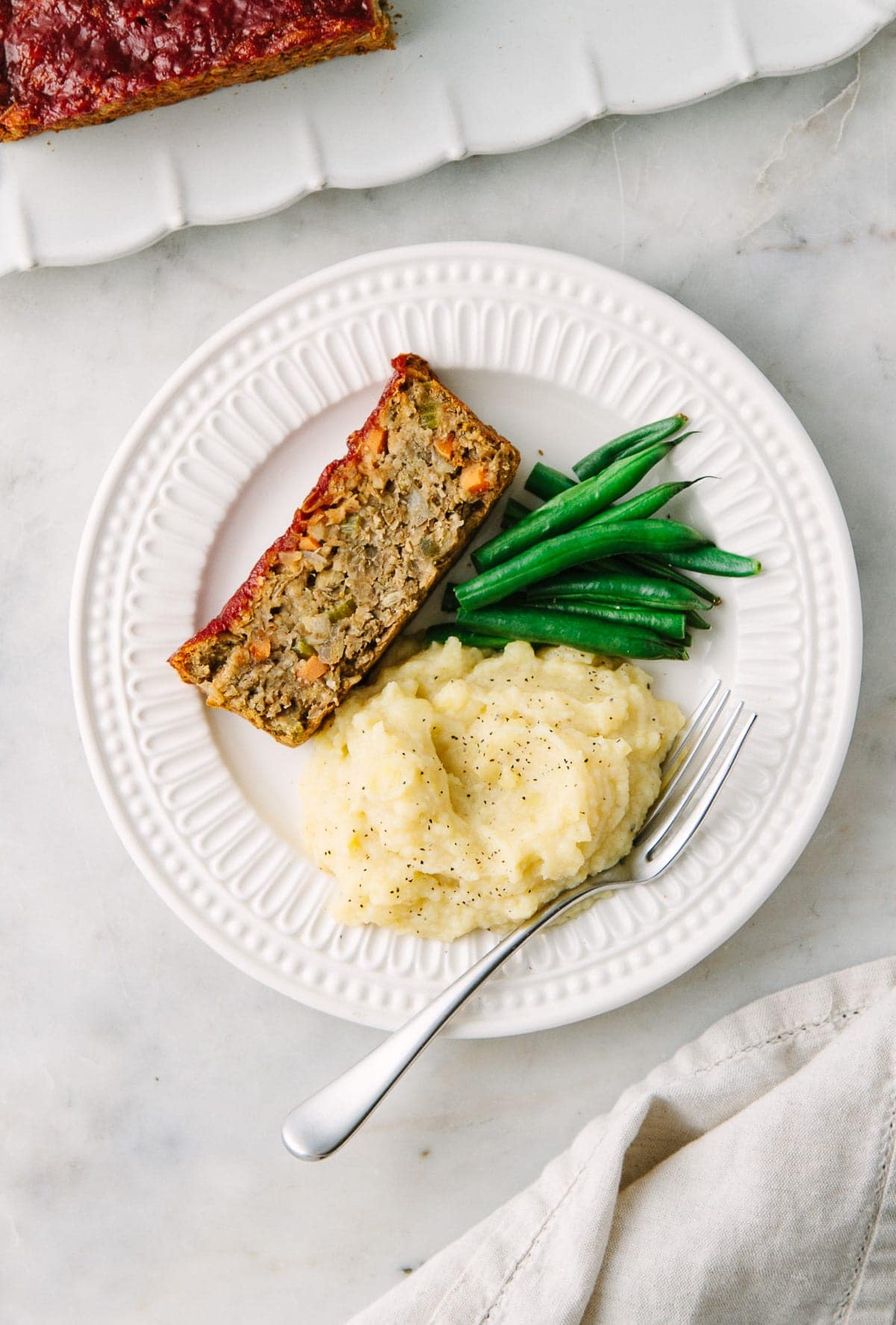 It's been two years since my last lentil loaf recipe!
I've adapted this new vegan lentil loaf from the other, The Ultimate Vegetable Lentil Loaf, on TSV which is still a big hit. It's a great all-around loaf and I hope you all find this new lentil loaf flavor combination just as delicious!
I thought this time I'd create something with a whole new flavor profile and this vegan lentil walnut loaf with apple, fennel & sage is completely different and absolutely delicious.
I love this flavor combination and think it's a perfect fall-winter loaf or one that can be rotated for variation all year long.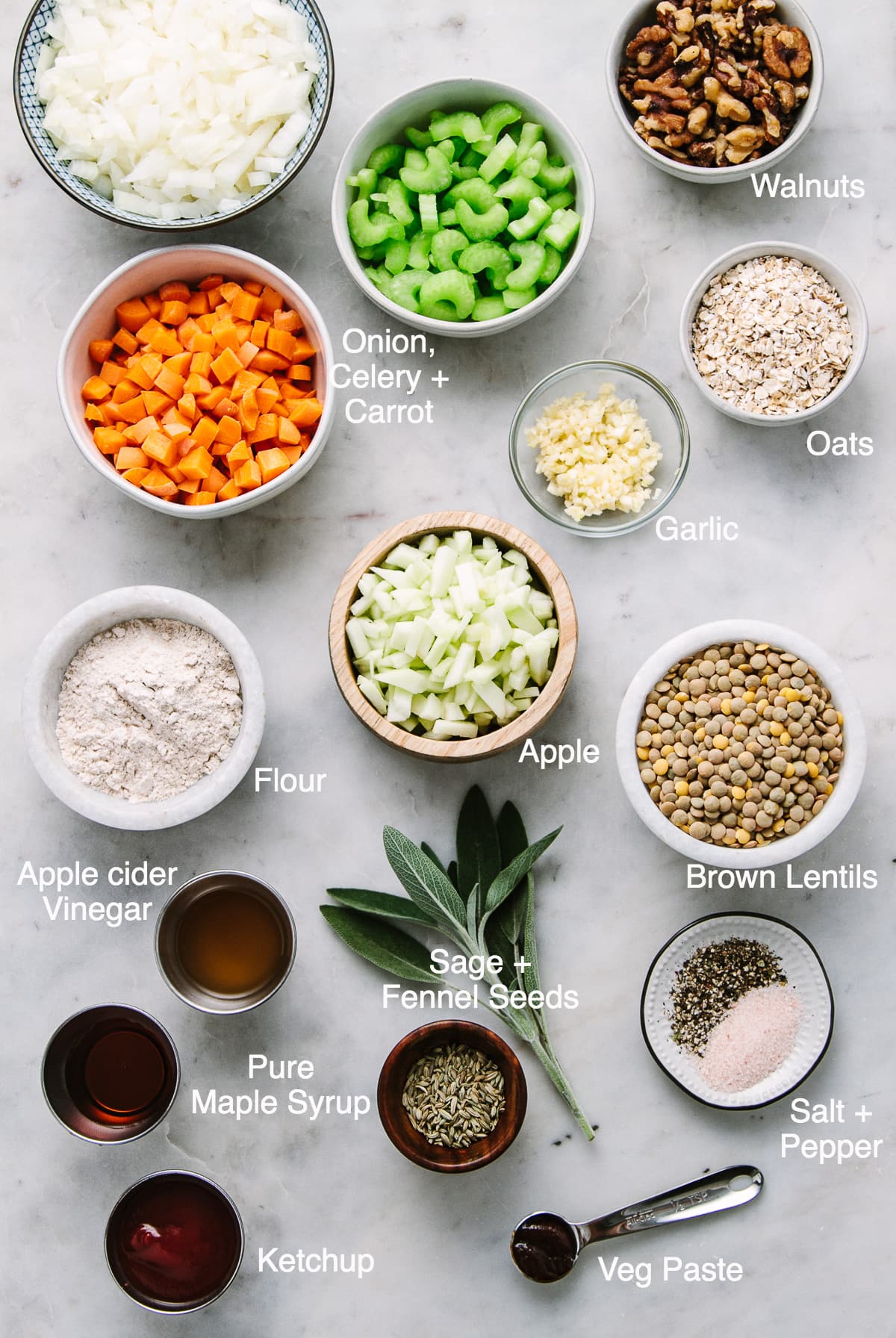 All the flavors come through making every bite just as good as the last!
Apple adds a little sweetness, which is not overpowering at all.
Fennel and sage are a perfect pairing of herbs.
Walnuts give a little extra texture, but can be optional if your allergic or don't care for them.
The glaze is super simple with just organic ketchup, apple cider vinegar and pure maple syrup. It has a slight tanginess which is a nice contrast to the other flavors.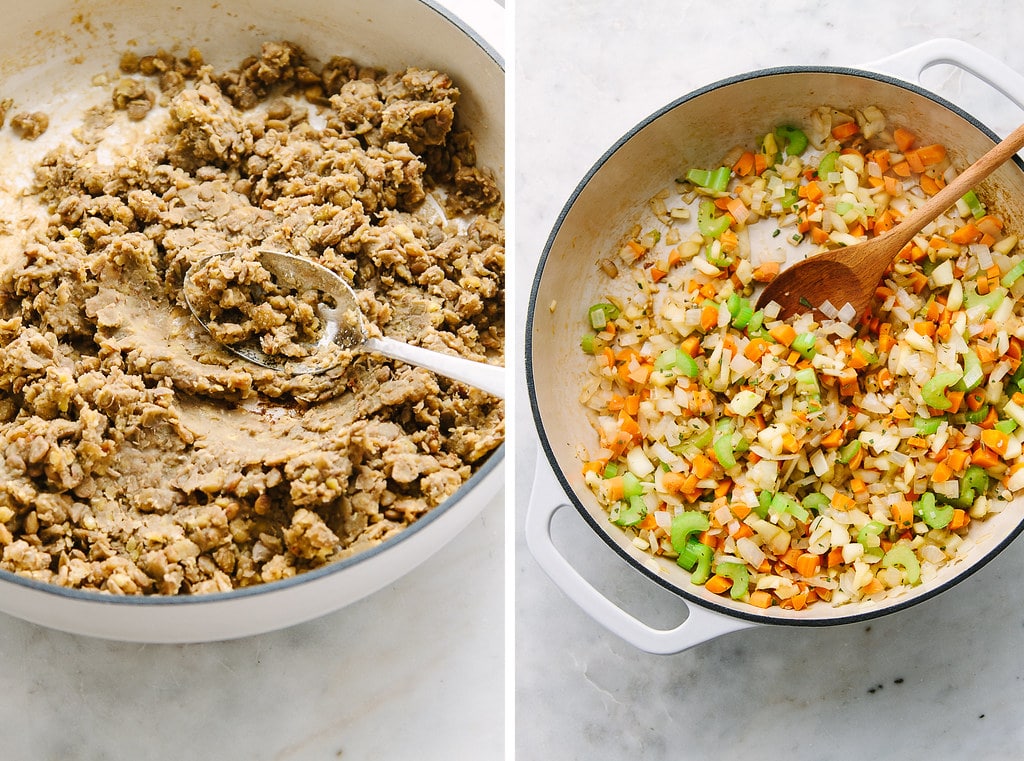 How To Make Lentil Walnut Loaf
Cook your lentils, let set for about 15 minutes, most of the liquid should be absorbed. Mash or puree about 3/4 of the mixture. You should be able to easily mash the lentils with a back of a fork or slotted spoon.
While you're working on the lentils, prepare your vegetables and apple and saute with herbs.
Add the lentils to the sauteed veggie mixture, along with the oats, flour, applesauce, and walnuts. Mix well to combine.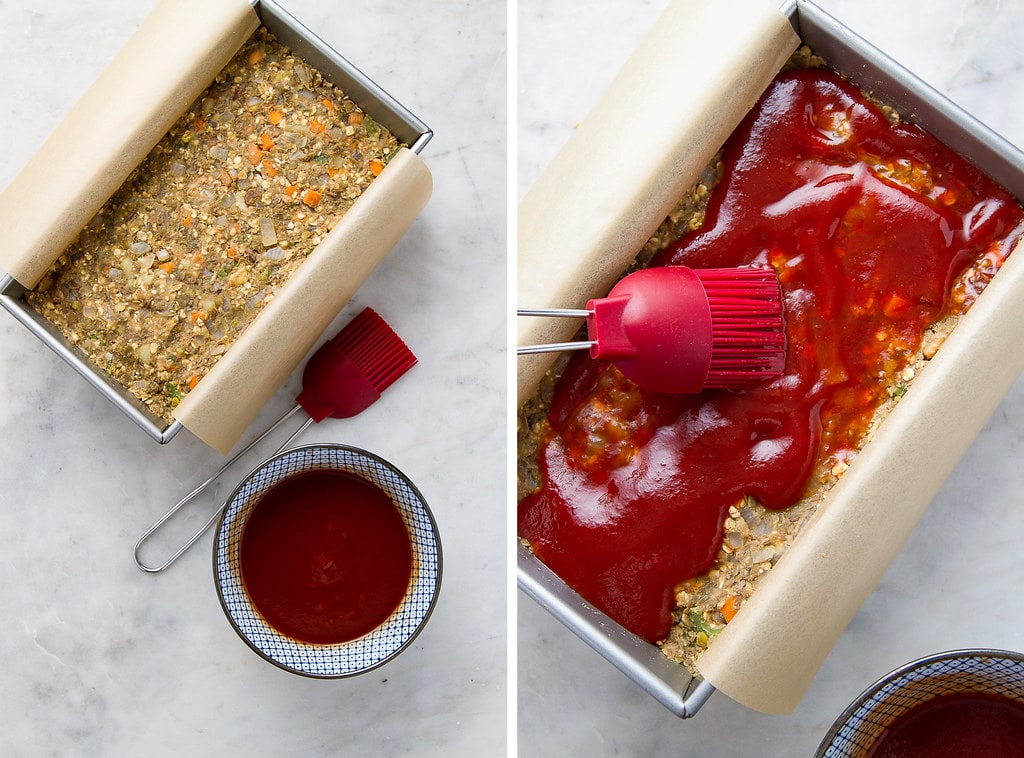 Once everything is mixed, pack mixture into a 9 x 5 loaf pan. Spread glaze over top and bake. Feel free to add a sage leaf on top before baking for decoration.
Once done, remove lentil walnut loaf from oven, let cool, slice and enjoy!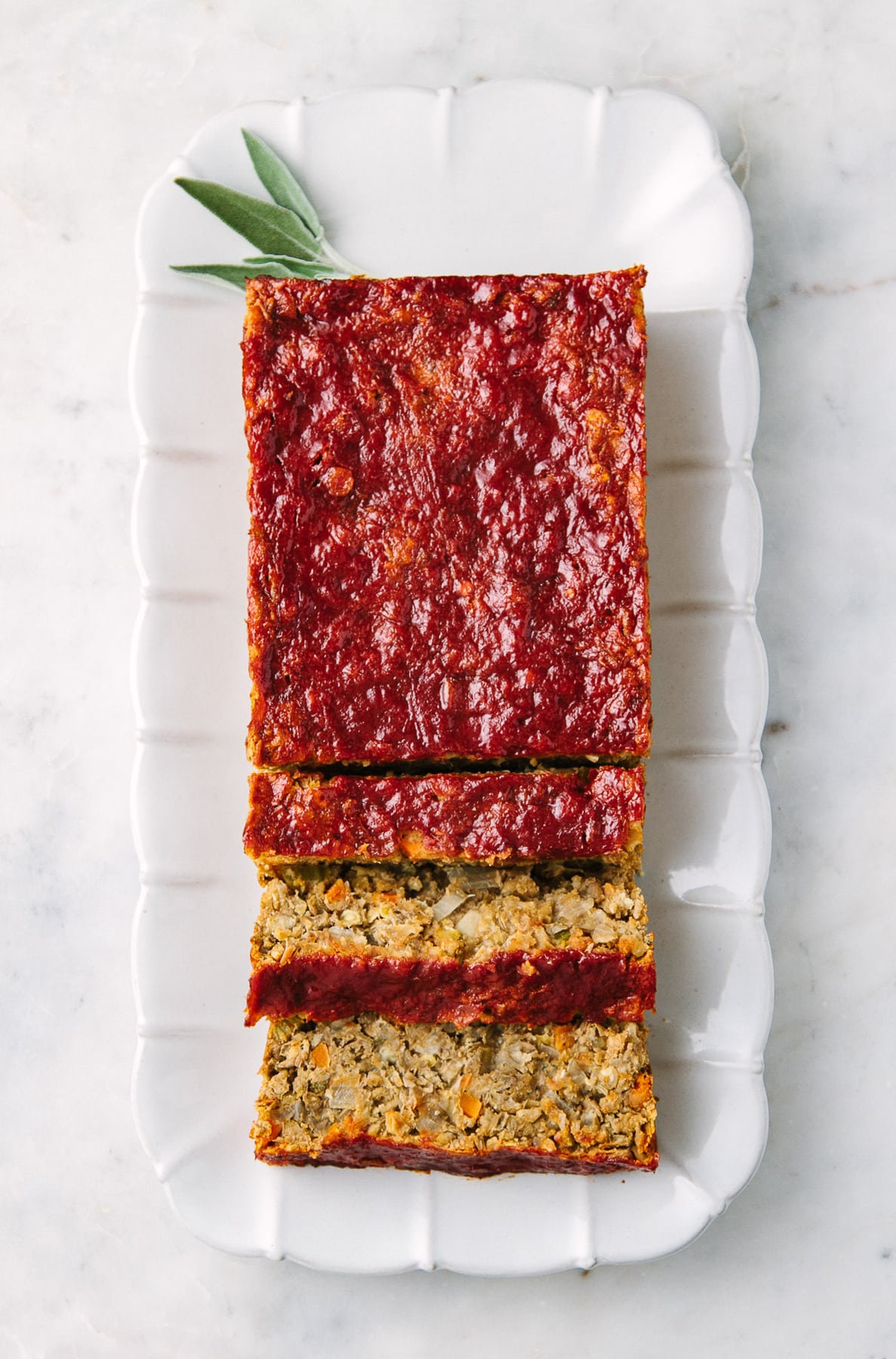 Serving Suggestions
This lentil walnut loaf is pretty versatile and will go many sides. Here are a few of my favorite options:
How To Store Leftovers
Refrigerator: Keep leftovers in the refrigerator for up to 5 – 6 days, in a covered container. Leftovers make for great sandwiches!
Freezer: To keep longer, store in the freezer for up to 2 – 3 months. To freeze, let the lentil loaf cool completely. Slice into individual cut pieces and store in freezer safe containers (affiliate link) with parchment paper between the slices so they don't stick together. You can also use or baggies, removing as much air as possible before storing.
How To Reheat Your Lentil Loaf
I don't recommend reheating the entire loaf at once because t will most likely become too dry, as the heat will take to long to reach the center. I do recommend cutting slices and then reheating.
Make Ahead
You can make your lentil walnut loaf the day or two before and store uncooked in the refrigerator until ready to heat, and bake according to instructions.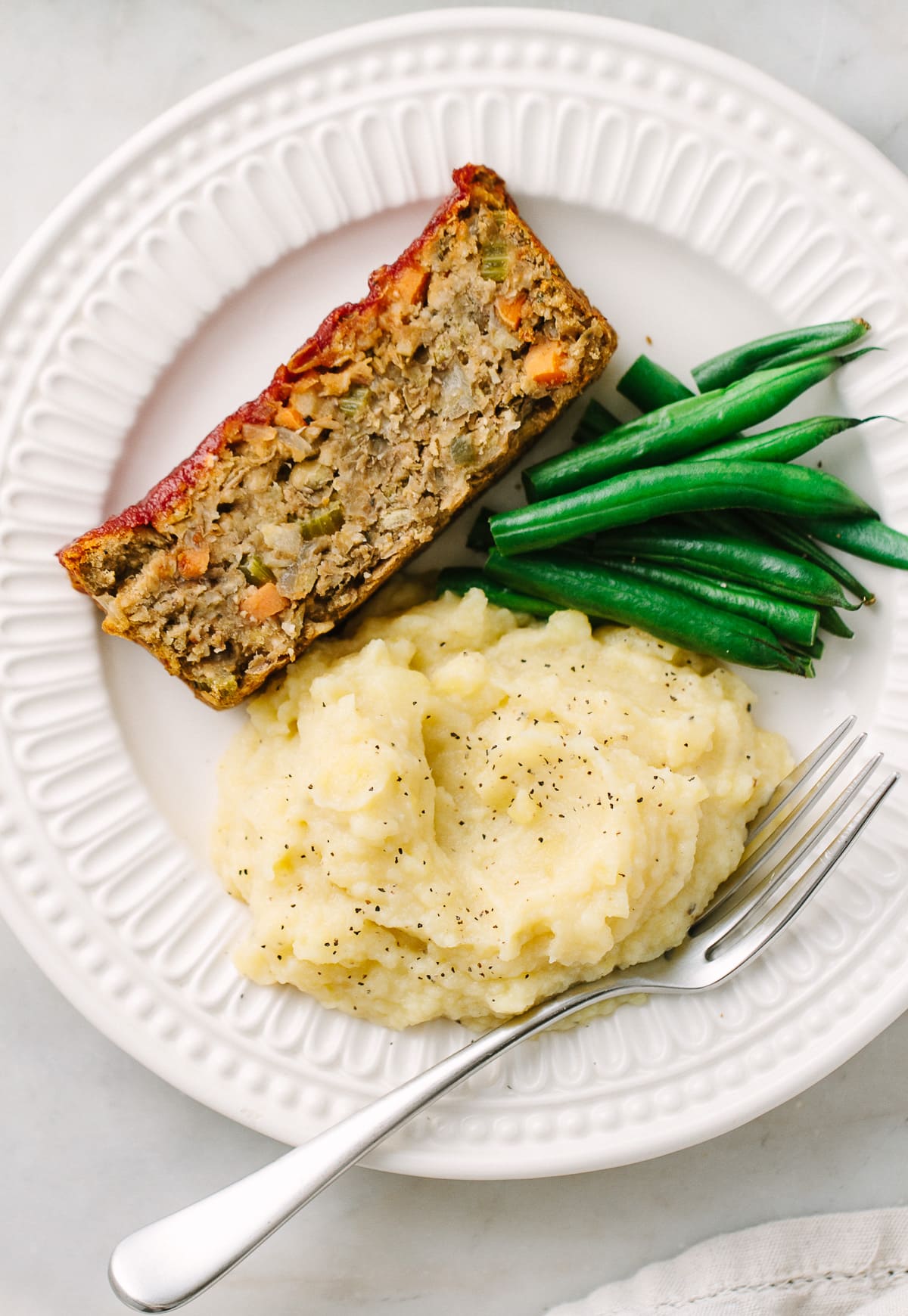 If you try this lentil walnut loaf recipe, please let me know! Leave a comment and rate it below. I love to hear what you think, or any changes you make.
Print
LENTIL WALNUT LOAF
Perfect for the holidays this lentil loaf is hearty, full of flavor and will make a great centerpiece for the holiday table!
Author: Julie | The Simple Veganista
Prep Time:

20 min

Cook Time:

1 hour 20 min

Total Time:

1 hour 40 minutes

Yield:

Serves 8

Category:

Entree

Cuisine:

Vegan
1 cup

green/brown lentils, rinsed

2 1/4 cups

vegetable broth or water

1 tablespoon

olive oil or

1/4 cup

water

1

small onion, diced (about

1 1/4 cup

)

3

garlic cloves, minced

2

celery stalks, diced (about

1 cup

)

2

carrots, diced or grated (about

1 cup

)

1

small apple, cored, peeled and diced or grated (use firm crisp like fuji, gala or granny) (about

1 cup

)

1 1/2 teaspoons

fennel seeds, use whole or lightly crushed

1 1/2 teaspoons

sage or

2 tablespoons

fresh minced

3/4 cup

oats, quick or rolled (I used quick) or bread crumbs

1/4 cup

flour (spelt, almond, oat, GF all-purpose, etc.)

1/2

–

3/4

cup unsweetened organic applesauce

3/4 cup

finely chopped walnuts
salt & pepper to taste (I used white pepper)
Glaze
6 tablespoons

organic ketchup

3 tablespoons

apple cider vinegar

1 tablespoon

pure maple syrup
Instructions
Cook lentils: In a dutch oven or large pot, add vegetable broth and lentils, bring to a boil, cover, reduce heat to low and simmer for 40 – 45 minutes, most to all liquid should be absorbed. (If most liquid is not absorbed, cooked until it is mostly absorbed. If by chance your liquid absorbs too fast, add a tad more water as needed and continue the process.) Lentils should be overcooked and tender. Set aside to cool, uncovered, for 15 minutes. Mash lentils with the back of a spoon or fork, or roughly puree using an immersion blender or food processor, about 2/3 – 3/4 of the lentil mixture.
Preheat oven to 350 degrees F.
Toast walnuts: Spread walnuts on a small rimmed baking pan, place in oven and toast until fragrant, about 10 -15 minutes. Set aside to cool..
Prepare vegetables and apple: Heat oil in a medium size pan over medium heat, add onion, garlic, celery and carrot, saute for about 5 minutes. Add apple, fennel, sage salt & pepper, heat for another 3 – 4 minutes.
Combine everything: Add the sauteed mixture with the lentils and mix. Add flour, oats, walnuts and 1/2 cup apple sauce, mix well to combine. If mixture seems to dry, add a little more apple sauce, mix again. Taste for seasoning adding extra herbs, salt and pepper as needed.
Line a 9 x 5 loaf pan with parchment paper, (this will make for easy removal later), add mixture and press down gently but firmly to remove any air pockets, fill in along the edges as well.
Make glaze: In small bowl, mix together the glaze and spread over top lentil loaf as evenly as you can. Here you can even add a fresh sage leaf in the center of the loaf, it won't burn, it may roll a bit on the edges, and will add a nice decoration.
Bake: Place loaf in oven, on middle rack, and bake for 45 – 50 minutes. Remove from oven, let cool 10 minutes, remove from pan using the edges of the parchment paper. You may like to mix a bit more sauce and spread over top. Place loaf on serving dish, cut and serve individual slices.
Serving suggestions: Serve with roasted or mashed potatoes, or potato & cauliflower mash, a side of green beans or any combo of roasted brussels sprouts, carrots, butternut squash and beets. A simple fresh green salad with a light vinaigrette is also a great side! Leftovers make for great sandwiches!
Makes 8 slices.
Notes
If you don't use a good vegetable broth while cooking the lentils, I recommend add in 1/2 teaspoon of onion and garlic powder, along with a big pinch of salt. The lentils are the base of the recipe and should have good flavor.
If mixture is too wet, add a tad more flour or oats/bread crumbs. If mixture is too dry, add a tad more applesauce.
I've used both oats and bread crumbs. Both were great. I didn't notice that the oat flavor came through at all (or maybe I'm just adapted to them).
I don't recommend reheating the entire loaf at once. It will most likely become too dry, as the heat will take to long to reach the center. I recommend cutting slices and reheating. If you need, you can make your lentil loaf the day before and store uncooked until ready to heat, bring to room temperature and heat according to instructions above.
If you love fennel and sage, by all means add an extra 1/2 teaspoon of each! Or an extra tablespoon of fresh minced sage.
If allergic to walnuts, omit them completely.
RECOMMENDED EQUIPMENT: This loaf pan is a great size, or something similar. For lining the loaf pan I cut the parchment these parchment liners (affiliate links).
Keywords: lentil walnut loaf, vegan lentil loaf recipe
Updated: Lentil Walnut Loaf was originally published in November 2014. It has been retested and updated with new photos and helpful tips in November 2019. Recipe has stayed the same and is still delicious!
FOLLOW TSV on Facebook, Instagram, Pinterest or RSS for more updates and inspiration!