BEST INSTANT POT MASHED POTATOES (NO-DRAIN)
The best Instant Pot Mashed Potatoes are light, fluffy, and require no draining for the best flavor making them simple and fuss-free! Recipe is vegan, can easily be halved or doubled, and is easily customizable.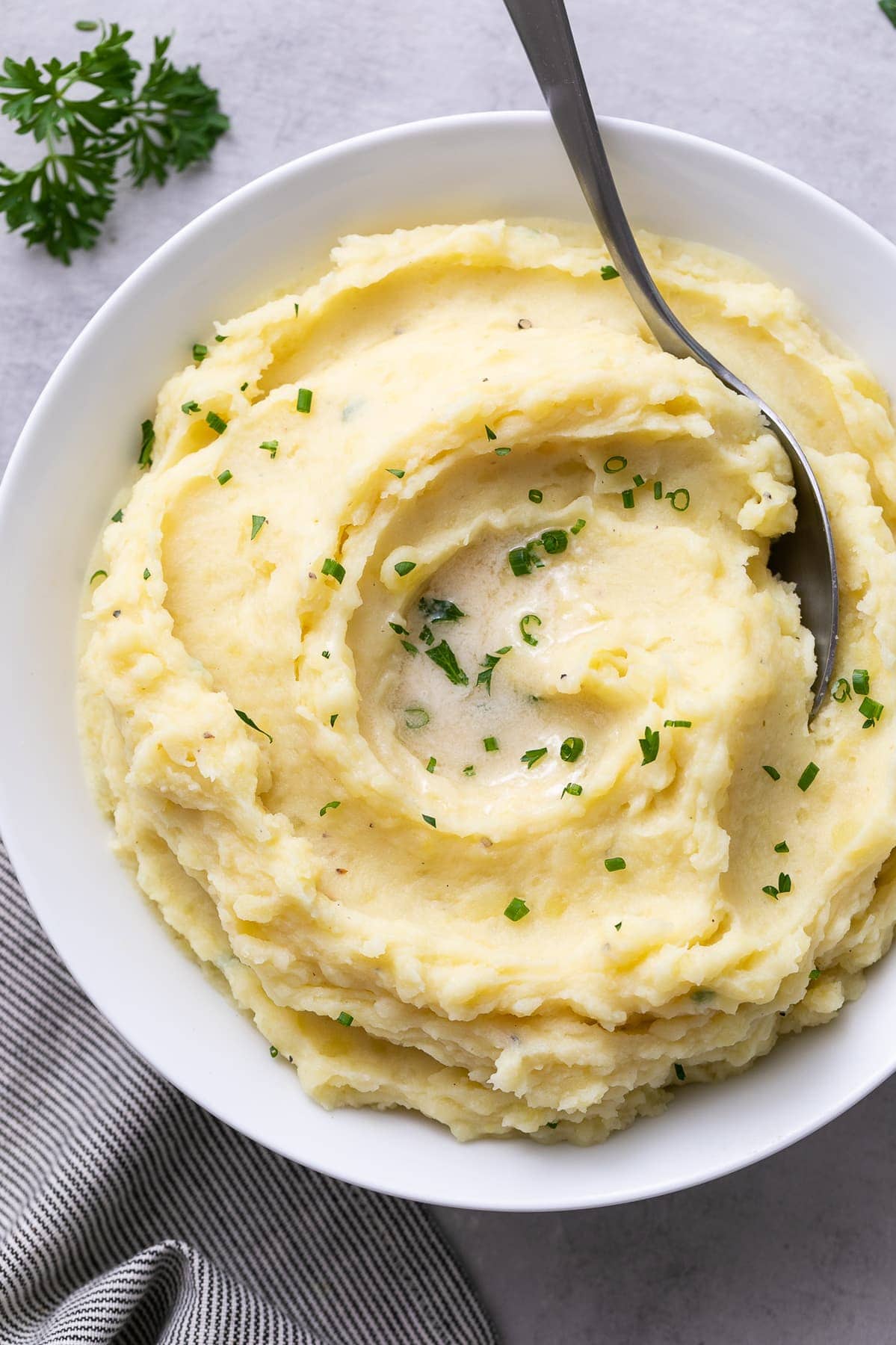 Mashed potatoes made in the Instant Pot is about as easy as it gets and simply the best! It's my all-time favorite way to make mashed potatoes.
Wether you already make them in a pressure cooker or are new to Instant Pot, I know you're going to love this recipe as much as we do
Here's a few reasons why I love this Instant Pot Mashed Potatoes recipe:
No draining necessary! Means one less step and more potato flavor.
Quick and easy. Potatoes are ready in about 20 minutes.
Super flavorful. Retaining all the potato flavor that's typically lost from draining results in naturally more flavor.
Frees up space on the stove. This is especially great around the holidays when your to-do list is long and stovetop full.
Once finished, keep warm right in the Instant Pot using the 'warm' setting until ready to serve.
So let's get to it! It all starts with the potatoes…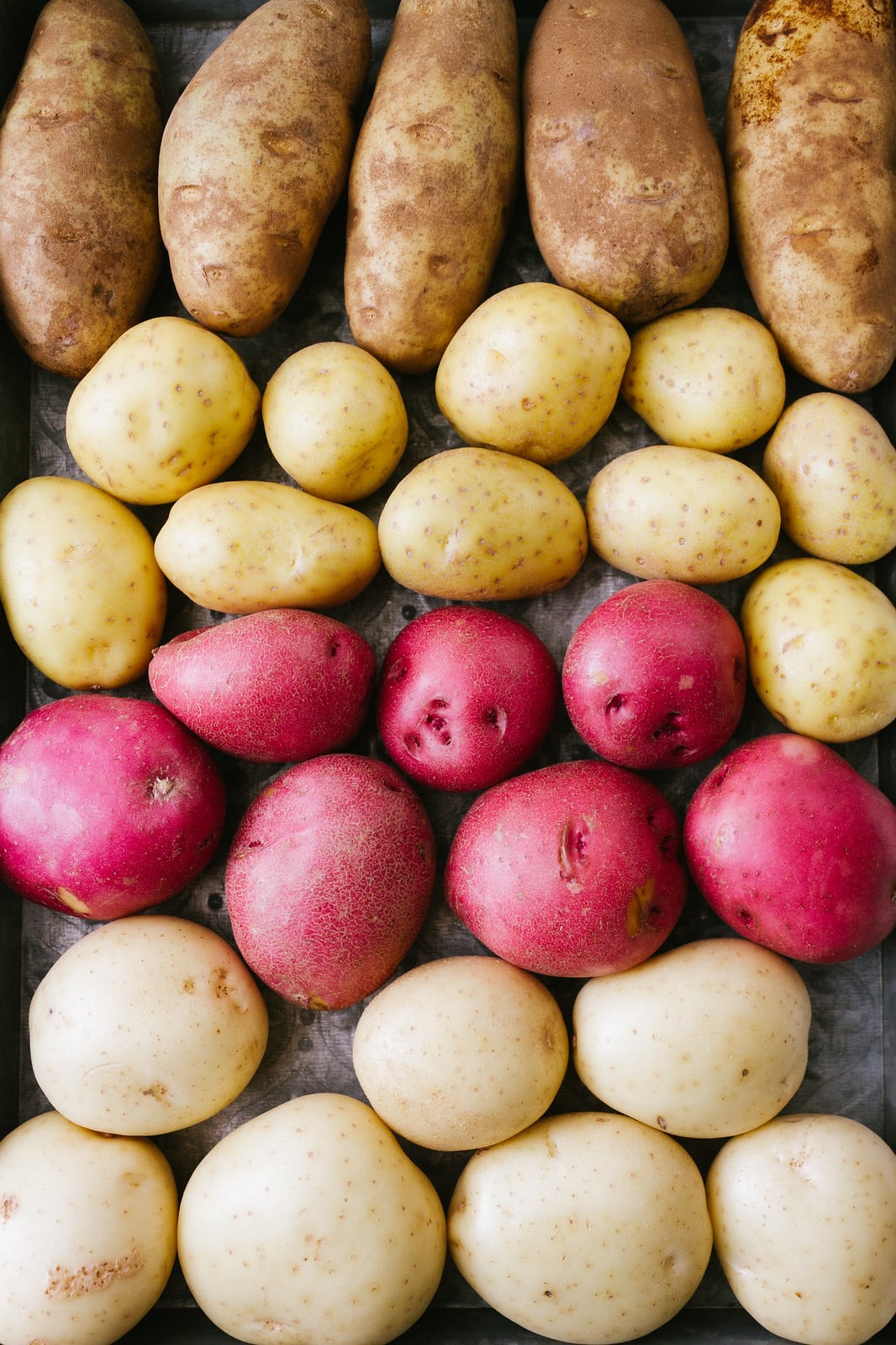 Best Potatoes For Mashing
You can make mashed potatoes with any type of potato, but they do vary slightly in results. In the end, it will come down to personal preference.
Russet potatoes – The gold standard, their high starchiness makes for one of the creamiest mashed potatoes. They are the easiest to peel since they're generally the largest and easy to hold. The skin is thicker than other potatoes, making these best peeled, but unpeeled is ok too for a more rustic mashed potatoes.
Yukon gold potatoes – My all time favorite because of their creamy texture and buttery flavor, not to mention their light golden hue. And Yukon potatoes are excellent with the skin or without!
Red and white potatoes – A waxy potato with the least starch. They may not blend up as creamy but are still delicious, especially with the skins on.
How Many Potatoes Should I Use?
When making mashed potatoes, a good rule of thumb is to use 1/2 pound of potatoes per person. That's about 1 – 2 potatoes per serving , depending on the size (russet will be 1, while yukon or red may be 2). A 5 lb. bag will serve a small crowd of 8 – 10 people. If making mashed potatoes for 4, cut this recipe in half.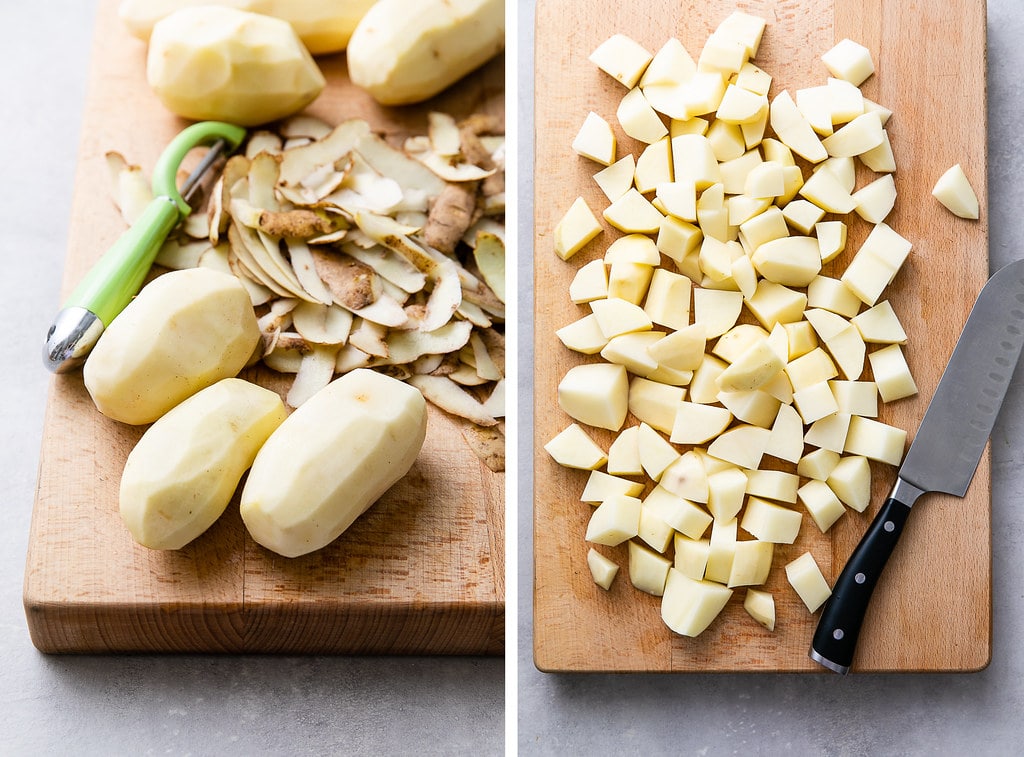 Mashed Potatoes With The Skin Or Without
Both peeled and unpeeled mashed potatoes are great! They both have their place, but if you're unsure and serving for a crowd, it's probably best to serve unpeeled, especially if kids will be joining you.
Here's a few pros and cons:
Peeling: Adds prep time, but results in ultra creamy mashed potatoes.
No Peel: Speeds up prep time (just be sure to scrub them well) and results in rustic, hearty mashed potatoes. Plus, there is fiber in the skins making them a healthy addition!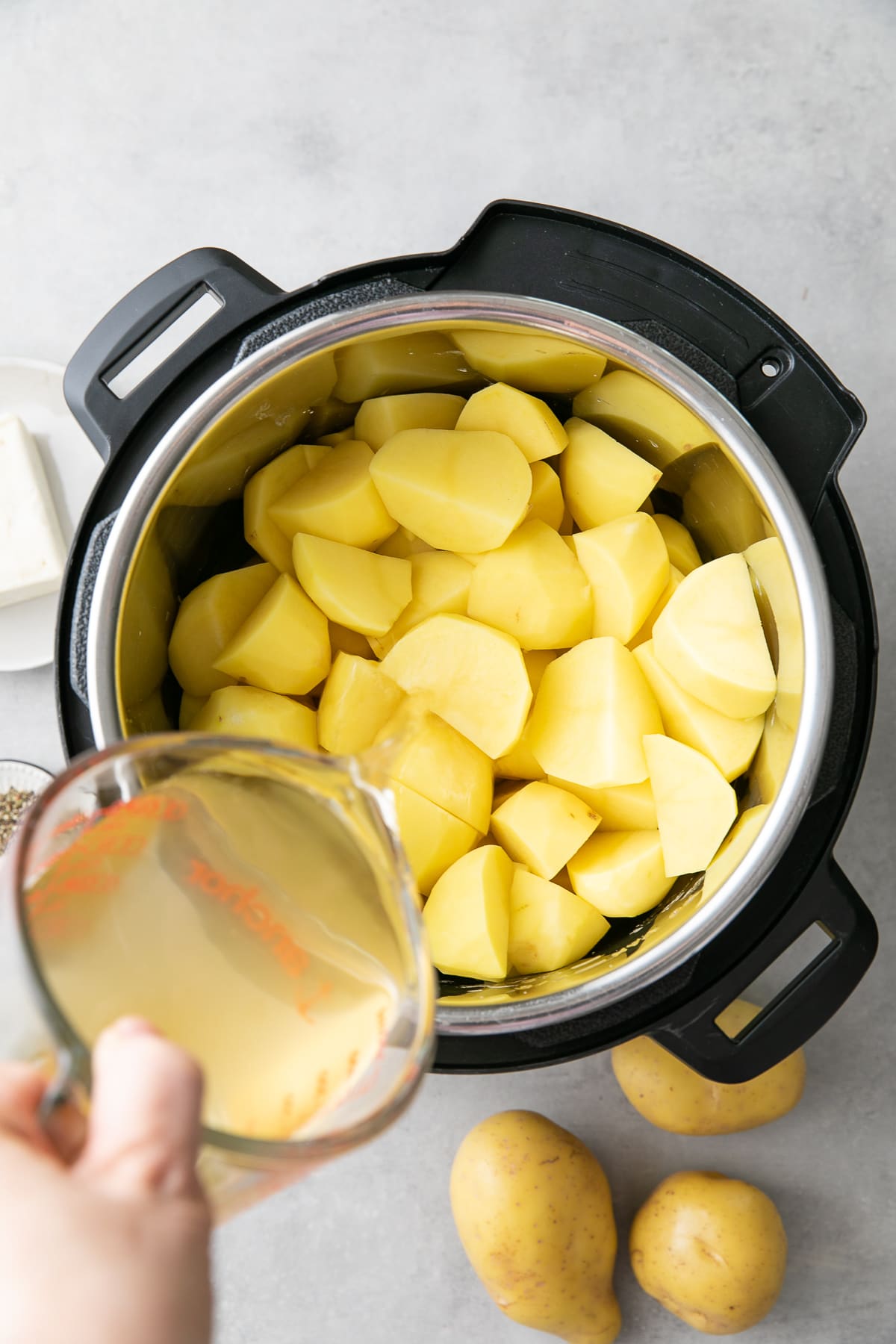 How To Make Instant Pot Mashed Potatoes
Here is a quick look at the process of making mashed potatoes in the Instant Pot for reference. You can find the full printable recipe is at the bottom of this post.
Cut potatoes into quarters. If using larger potatoes, like russet, cut into 1 1/2 inch cubes.
Place potatoes in the insert of a 6 Qt. Instant Pot (affiliate link, this is the one I use). Add the water and generous pinch of salt.
Attach the lid, close the seal, and manually cook for 10 minutes on high pressure (Instant Pot will come to pressure before actually cooking which may take 10 minutes). Let vent naturally, will take about 15 minutes. Alternatively, carefully open the valve to manually release the pressure if you're in a hurry.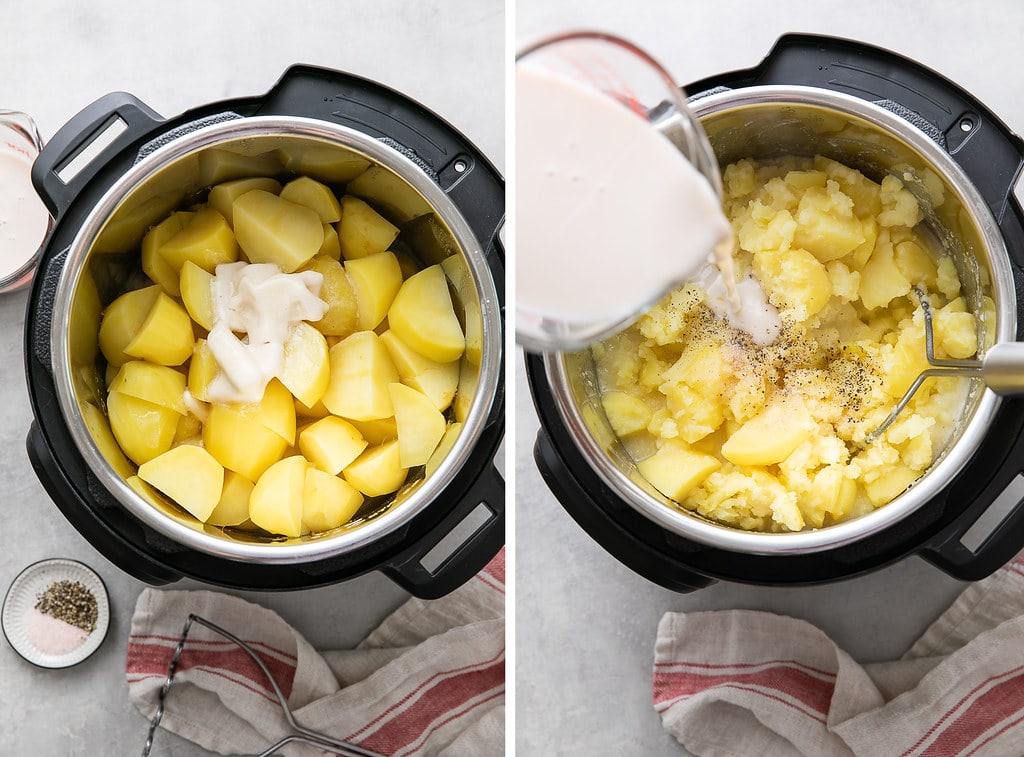 Let the potatoes rest in the instant pot until ready to mash. If adding vegan butter, add that right away so it has time to melt. When ready to mash, add plant milk or Vegan Cream and mix. Season to taste and add more butter or milk as desired.
And that's it – simple, no fuss, and most of all delicious!
Flavor Variations
Garlic mashed potatoes. For garlic mashed potatoes, add in 1 – 2 minced garlic cloves or 1 – 2 teaspoons of garlic powder with the potatoes before cooking.
Add vegan parmesan cheese. Add grated block parmesan, my favorite is this vegan Violife Parmesan that grates and melts just like regular parm. A reader even used this TSV Vegan Queso!
Sour cream + chives. In place of butter or oil, add in up to 1/2 cup of store bought or homemade cashew sour cream. and chopped chives for a heavenly fluffy and rich sour cream mashed potatoes.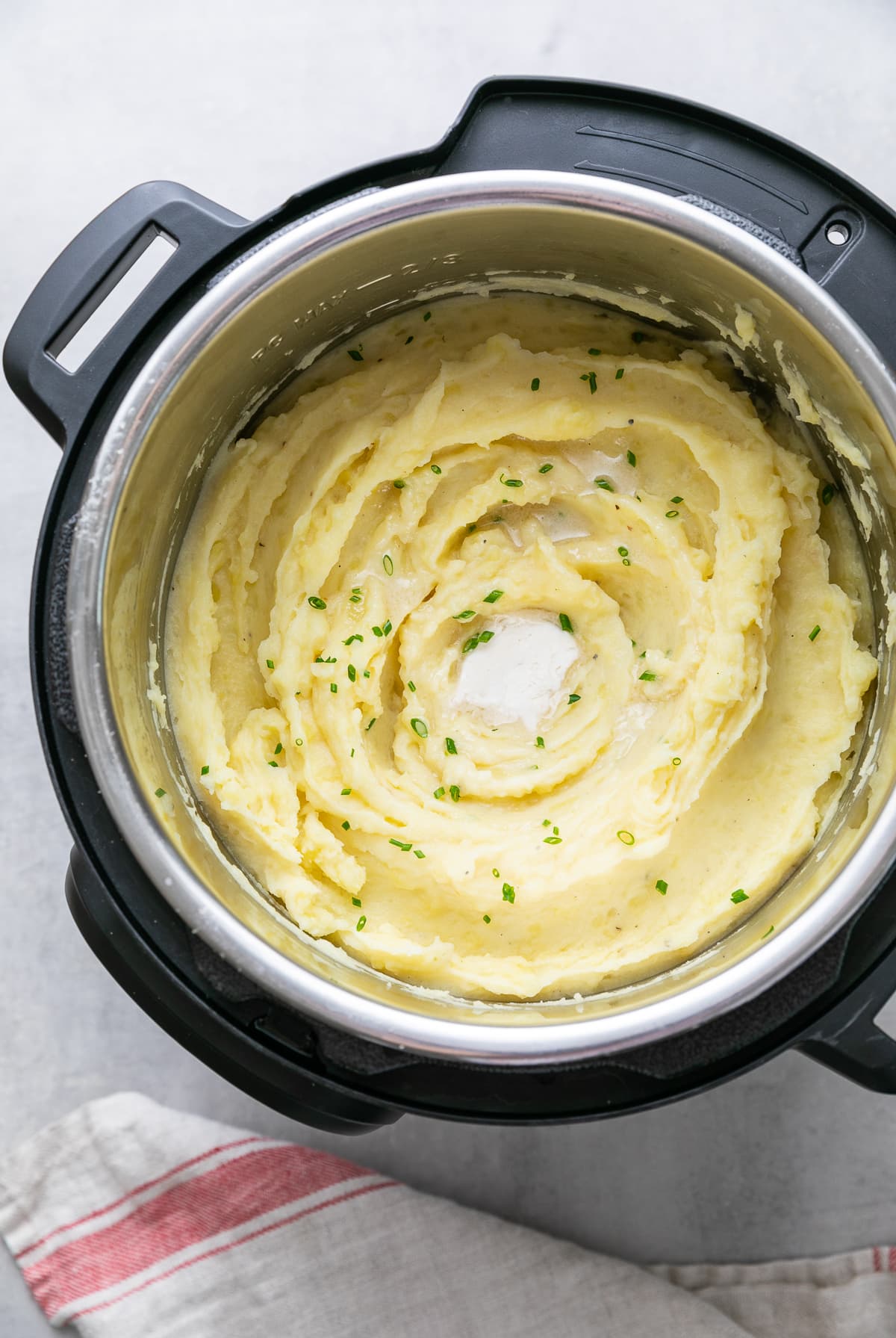 How To Store
Refrigerator: Leftover mashed potatoes can be kept in the refrigerator for 4 – 5 days, in a covered container.
Freezer: To store longer, your mashed potatoes are freezer friendly and will last 2 – 3 months in freezer safe containers (affiliate link) or baggies. When storing in containers, be sure to leave about 1/2 inch at the top for expansion. For baggies, remove as much air as possible before zip locking. Let thaw before reheating.
How To Reheat Mashed Potatoes
Stovetop: Warm on the stovetop over low heat, giving them a good mix to break them up and adding a splash or two of milk as needed to bring back fluffiness. Warm to desired temperature, stirring occasionally.
Slow Cooker: Place mashed potatoes in a slow cooker on warm for 2 – 4 hours, stir potatoes well, adding milk as needed to re-fluff the potatoes, stirring occasionally.
Microwave: You can warm them in the microwave by adding a small amount of non-dairy milk, cover and heat on half-power for 4 – 5 minutes at a time, stirring occasionally until warmed.
From frozen: If using frozen mashed potatoes, let thaw in the refrigerator before heating.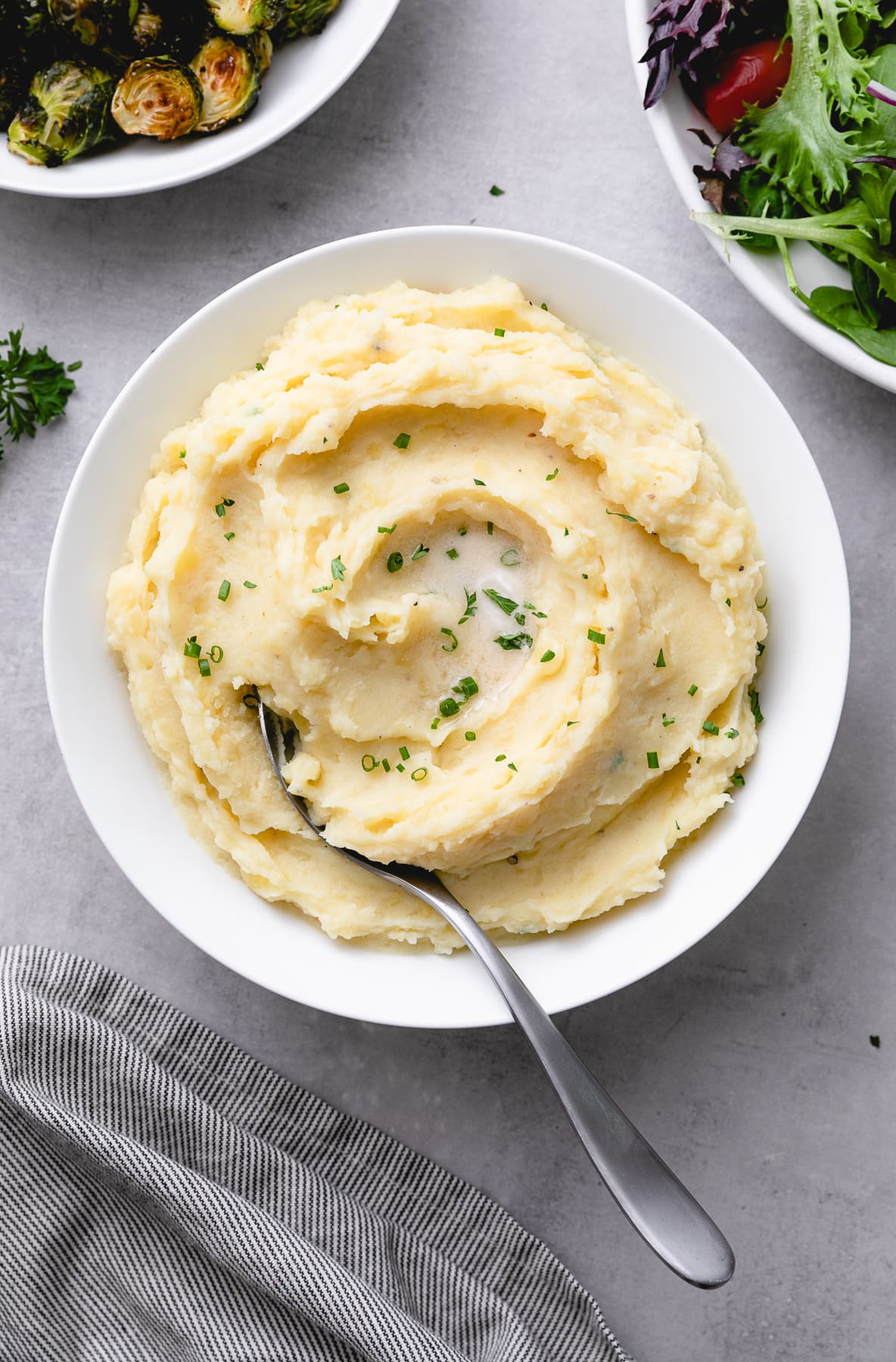 Serving Suggestions
Mashed potatoes are super versatile and can be served alongside lentil loaves or used as a bed for gravy and stew. Here are a few of my favorite mains and sides: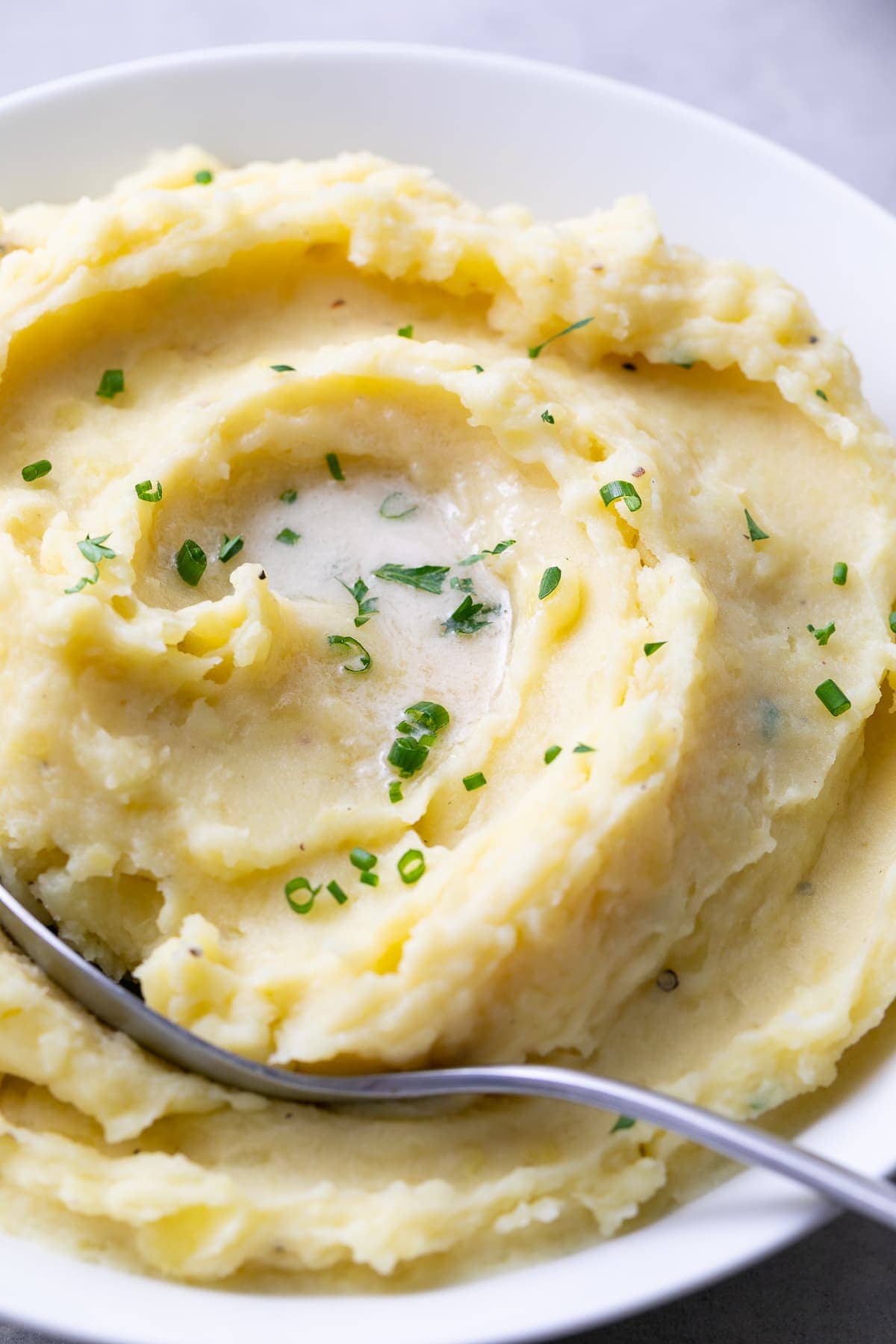 More Delicious Potato Recipes
If you try this Instant Pot recipe or have a question, please let me know! Leave a comment and rate it below. I love to hear what you think, or any changes you make.
Print
INSTANT POT MASHED POTATOES (EASY, NO DRAIN RECIPE)
Updated: Instant Pot Mashed Potatoes was originally published in October 2018. It has been retested and updated with new photos and helpful tips in December 2020.
FOLLOW TSV on Facebook, Instagram, Pinterest or RSS for more updates and inspiration!