Chilled Avocado & Cucumber Soup
If you love to slice and dice your food without too much preparation, then this creamy Avocado Cucumber Soup recipe is just for you! With only 5 simple ingredients, plus water and salt, this chilled soup is easy to make.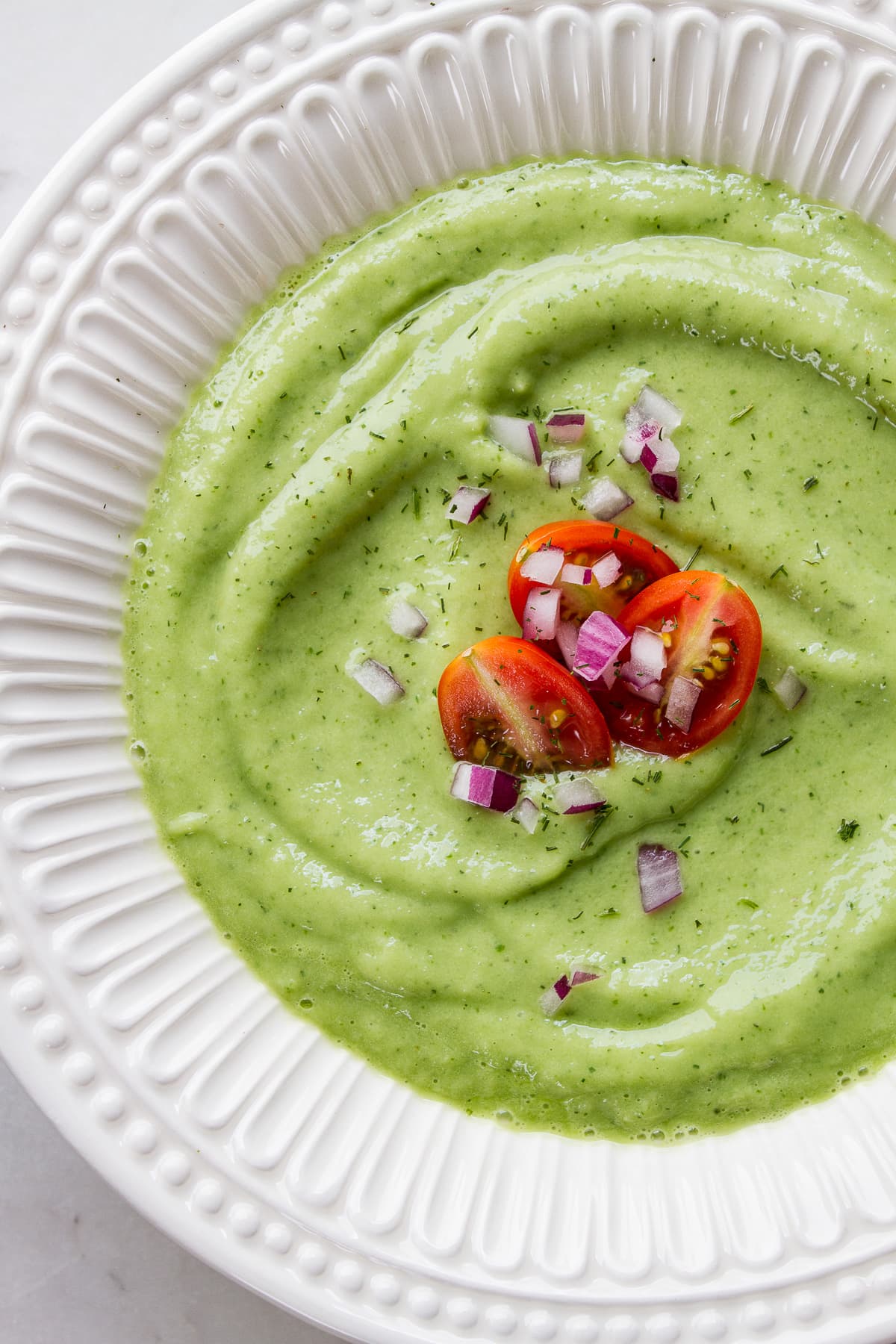 Light, fresh and delicious, this detox soup is raw, vegan, and so very simple to make! Simply puree the ingredients in a blender and serve.
Chilled Avocado & Cucumber Soup
The cool sensation of cucumber combined with the creaminess of avocado makes for a wonderfully refreshing soup. It's full of flavor and can be served chilled or at room temperature.
Various ways to use this soup:
It would be great as a base for a guacamole dip. Adding cucumber in with the avocado is a great way to reduce some of the fat and calories of the traditional avocado mixture without losing any flavor, especially if you like to eat a lot of it!
Use it as a dip for veggies, chips, or as a spread on sandwiches.
It would make a fantastic salad dressing and would be great on raw spiralized noodles, like zucchini and carrots.
There are lots of ways to use this recipe with minor changes of the water amount, use less for a thicker base or more for a thinner base.
Enjoy this soup often, it's perfect when the warmer weather sets in, making for a light lunch, dinner or make ahead meal!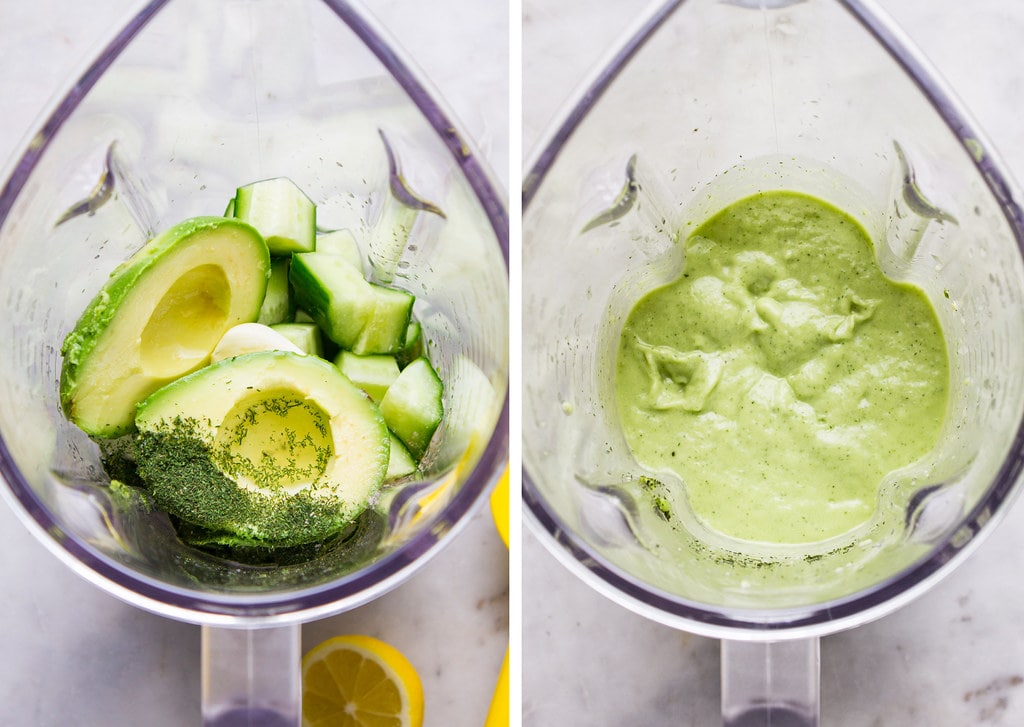 How Long Will Leftovers Keep?
Leftovers will keep for 5 – 6 days in the refrigerator, stored in a covered container.
Can You Freeze Avocado Cucumber Soup?
Yes, it freezes beautifully for up to 2 months! My favorite way to freeze this soup is in individual small containers that are freezer safe. When ready to eat, just pull it from the freezer and let it thaw in the fridge or on the counter. You can also freeze larger portions in large freezer safe ziplock bags or containers.
More Healthy Raw Recipes!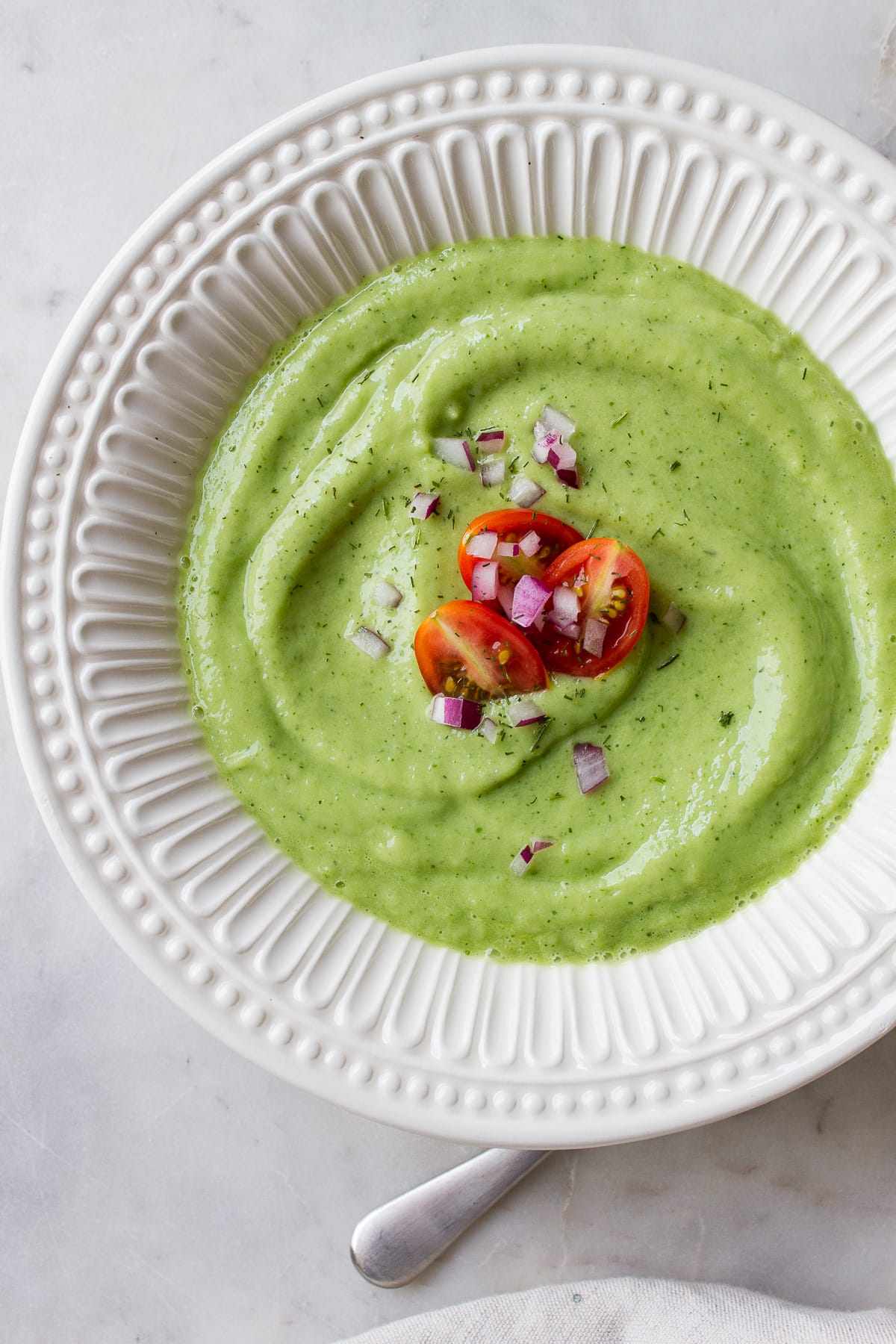 If you try this avocado cucumber soup recipe, please let me know! Leave a comment and rate it below. I love to hear what you think, or any changes you make.
Print
Chilled Avocado & Cucumber Soup
The cool sensation of cucumber combined with the creaminess of avocado makes for a wonderfully refreshing cold soup. It's light, refreshing and 100% raw!
1/2

cup

water

1

medium avocado

1

large cucumber (regular or english), with or without the skin

1 teaspoon

cumin or 1/2 teaspoon dill*

1

clove garlic

1/2

squeezed lemon
dash of mineral salt
Instructions
Cucumber: Slice the cucumber in half lengthwise, cut the halves in half lengthwise, and chop the cucumber slices into 1/2 inch pieces.
Avocado: Slice the avocado in half lengthwise, remove the seed and using a large spoon scoop the avocado flesh from the skin.
Blend: Add the cucumber, avocado, garlic, cumin or dill, lemon, and salt to the cup of your blender or food processor. Blend until creamy.
Enjoy chilled or at room temperature.
Serve garnished with diced tomatoes, red onions and cilantro if you like. You could even top with julienned carrots, diced colorful bell peppers, etc. Most veggies will make a nice garnish and taste well with this dish while also adding some texture.
This is 2 small servings or one large serving.
Notes
*Use dill or cumin. I like to change up the herb or spice when making this easy pureed soup. Cumin is a warm and heavy spice and is delicious in this soup. When I want to keep it super light, I opt of light and refreshing dill.
Chilled Avocado Cucumber Soup recipe originally published July 2012. Updated October 2019 with new photos and helpful tips. No change to the recipe – I wouldn't dare!
FOLLOW TSV on Facebook, Instagram, Pinterest, or RSS for more updates and inspiration!