Vanilla Chia Pudding (Easy + 4 Ingredients)
The best Vanilla Chia Pudding is made with 4 simple ingredients and pairs great with fresh fruit and granola! It's thick, creamy, and makes a perfectly healthy breakfast, snack, or dessert!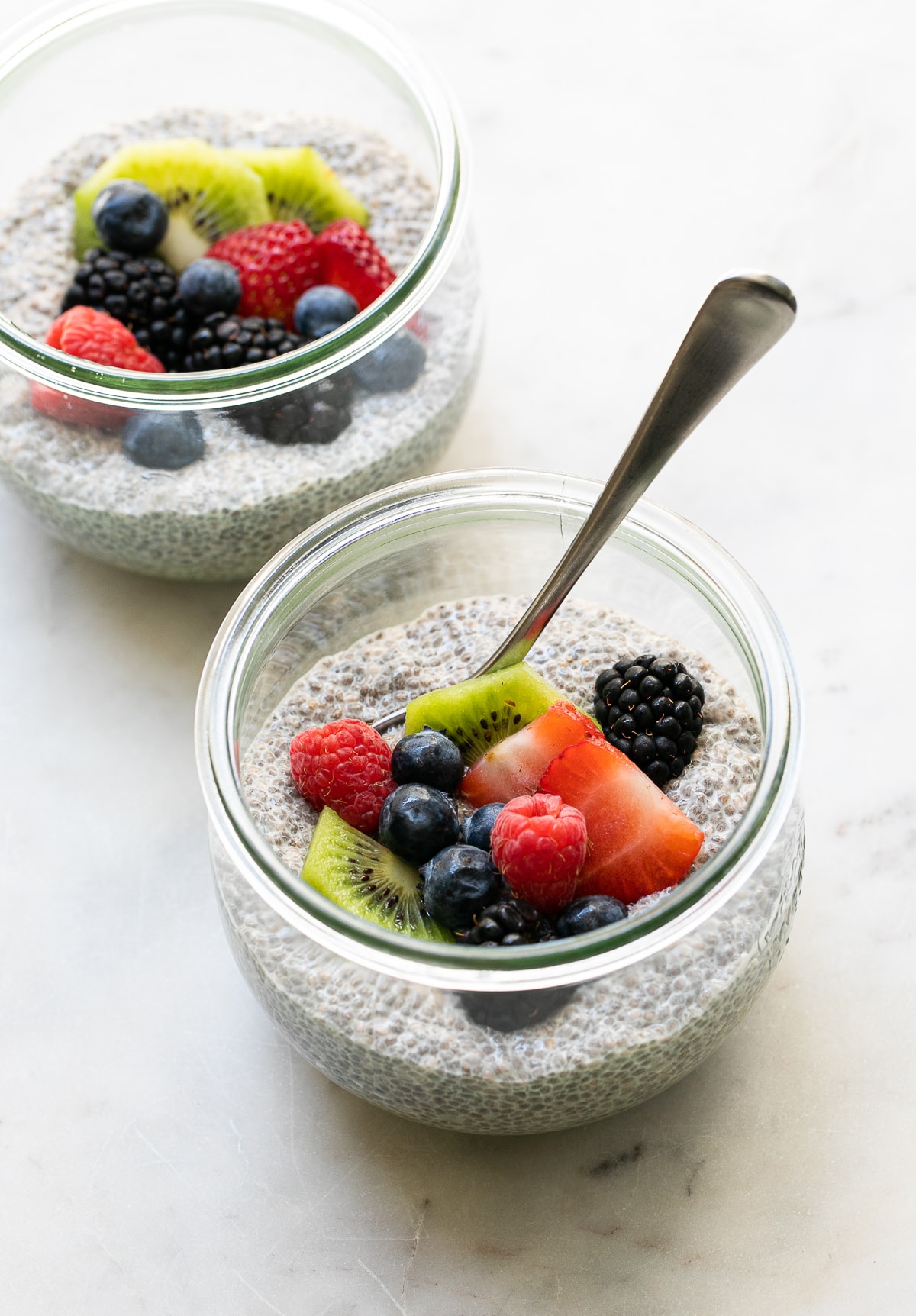 This chia seed pudding has been my little obsession lately. I love it for breakfast, snacks, or a light lunch!
When paired with an assortment of fruits, it's light, refreshing, and surprisingly filling. And for even more texture and flavor, add a little granola to the mix!
Chia pudding is extremely easy to make with just 4 simple ingredients. Add them all together, place in the fridge, and within 4 hours or so you'll have yourself a perfect 'superfood' pudding. And if you make your own plant milk, you'll have a superfood raw pudding!
What does chia pudding taste like? Flavor-wise it's delicious. Texture-wise, chia seed pudding is not too seedy or crunchy at all, these amazing little seeds absorb the milk making them mostly gelatinous.
There is much to love about this quick and easy treat. So without further ado, let's get to it!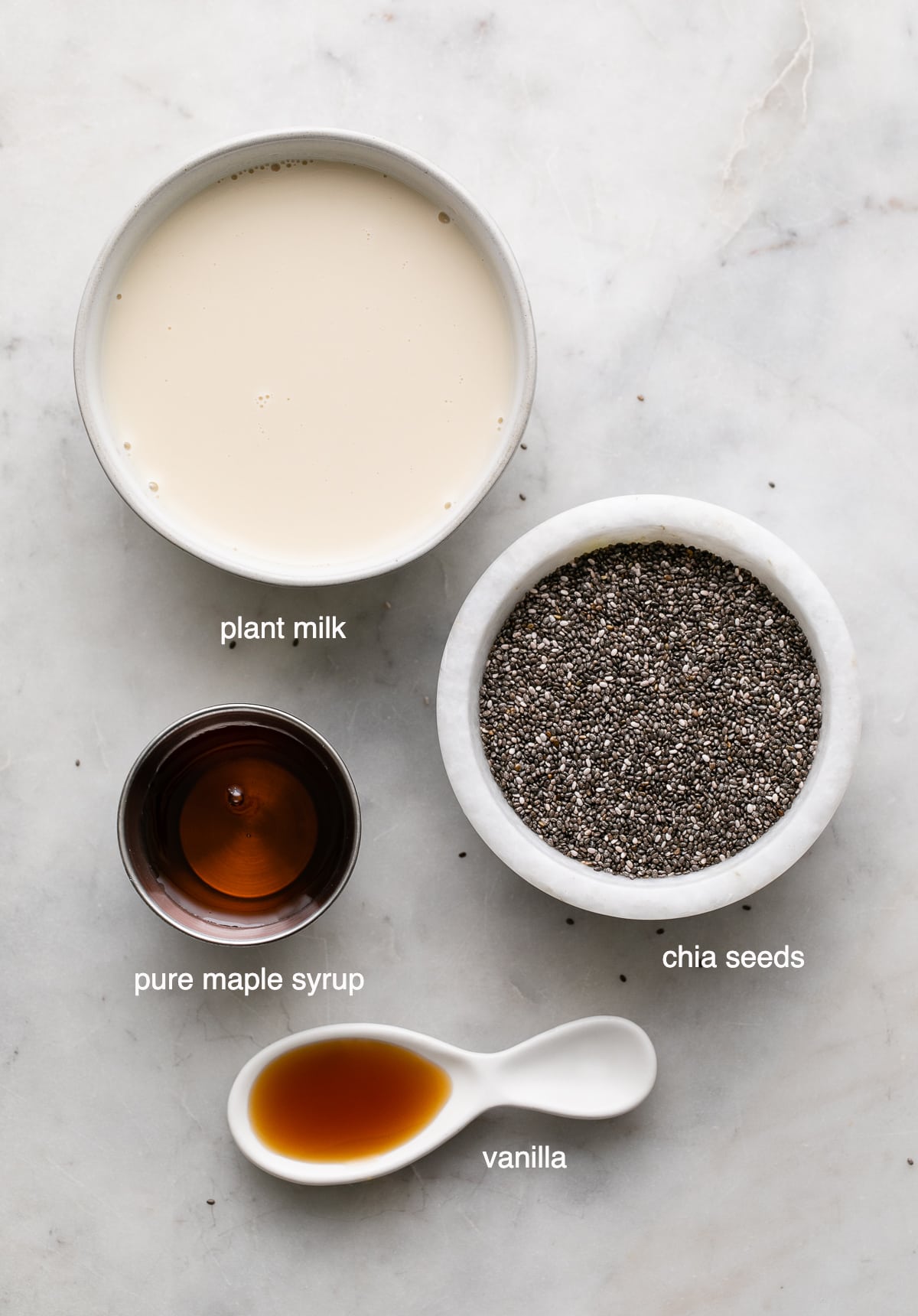 Ingredients You'll Need
This recipe combines a mix of chia seeds, non-dairy milk, vanilla and sweetener, creating a simple and tasty raw, vegan dessert or snack.
Here is everything you will need, including substitution ideas (measurement are in the recipe card below):
Chia seeds – use black or white
Unsweetened plant milk – almond, coconut, oat, soy, or your favorite non-dairy milk
Vanilla – use vanilla extract, vanilla bean, or ground vanilla
Pure maple syrup – can sub with coconut sugar or be optional
Chia Seeds Q&A
Are chia seeds healthy? Yes! Chia seeds are small, but nutritious, and should be included in your heart-healthy habits! Per 1 ounce serving (2 tablespoons) of chia seeds, you'll get 138 calories, 9 grams of fat (I strive for 3 grams per 100 calories but this is healthy fat), 10 grams of fiber (amazing!), 4.7 grams of protein (not too shabby). They contain a concentrated amount of the essential omega-3 fatty acid, although they don't contain all the essential omegas like EPA or DHA, you'll still get a good dose of the others at 5 grams. All their fiber will help aid in digestion and elimination.
Where can I find chia seeds? Chia seeds have finally made it into the mainstream. They are no longer just seen in health food stores and are easily accessible. I see them at Target and all my local grocery stores. They are mostly found dark-colored, like the ones you see above, but you can find white chia seeds online.
How to use chia seeds? In the world of vegan food, chia seeds act as a binder to replace eggs and also as a thickener, like for this pudding. When not making chia pudding, you can sprinkle them on smoothies, oatmeal, salads and make the refreshing drink called 'chia fresca'.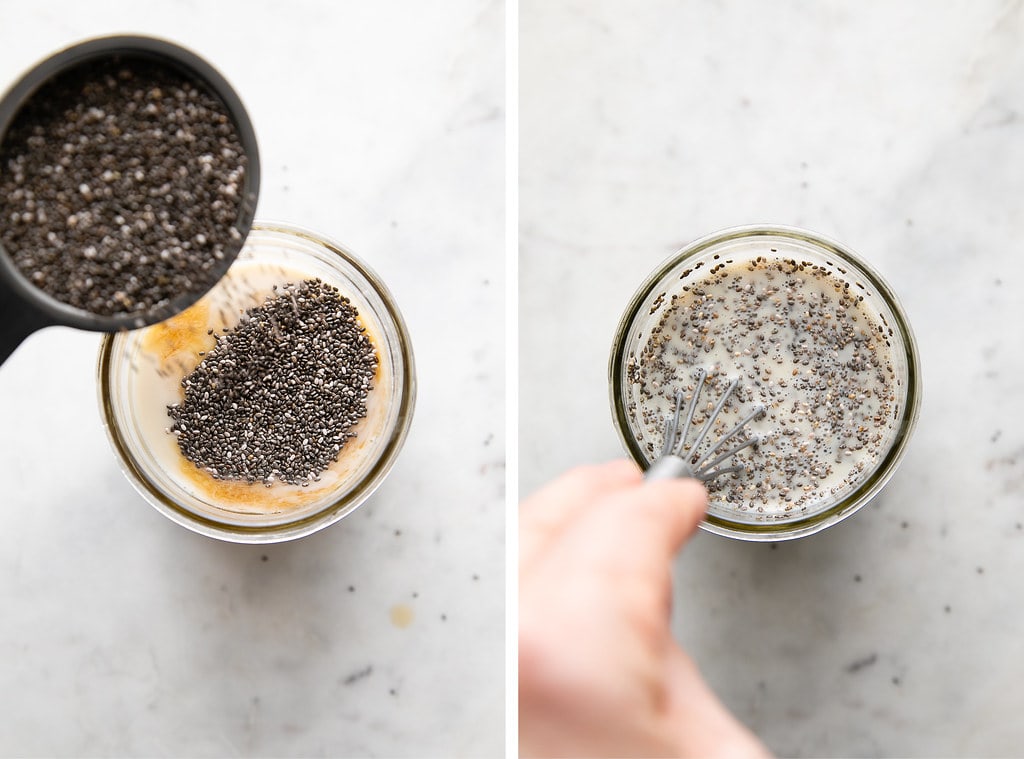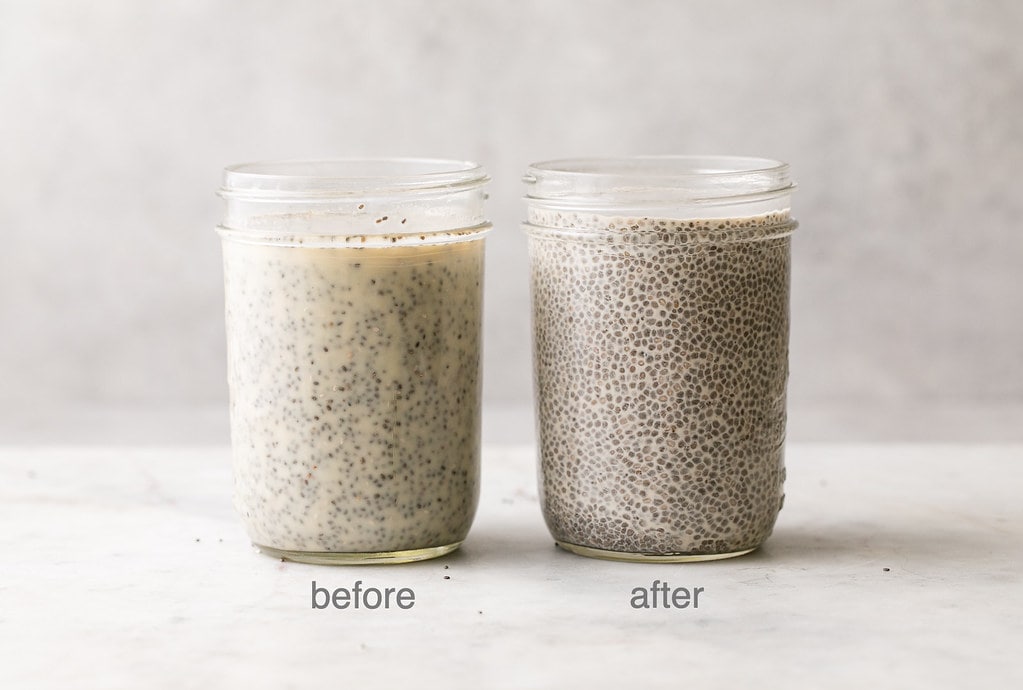 How To Make Chia Pudding
Making vanilla chia seed pudding is super easy. it just takes a few stirs and a couple of hours to set. Here's a look at what you can expect. The full printable recipe is at the bottom of this post.
Combine. Place chia seeds, almond milk, vanilla, and sweetener in a container or bowl and mix well.
Stir twice. Place covered in the refrigerator and give a good mix after 5 and 10 minutes. Mixing just once or twice will do. Mixing is important since the seeds will fall to the bottom of the container, if not shaken or stirred every now and then it won't thicken and set properly.
Before & after. Above you'll see the difference between before and after. The jar on the left has just been mixed together and the jar on the right is what it will thicken up to look like after six hours or so.
Keep refrigerated.
Tips + Faqs
Preferred containers. I used mason jars to make and store my chia pudding. They work well, and all you have to do is shake the jar every few hours until it sets. Mason jars are also great for travel. Fill pint-size jars halfway using half the recipe, once set, fill the other half with fruit. It's perfect for a to-go lunch or snack!
Add dessert spice. Vary it up with a sprinkle of cinnamon, cardamom, or other dessert-type spices for a change of pace.
Can I make vegan pudding without chia seeds? Yes, this raw chocolate pudding is made with avocado and banana, and is ready in minutes!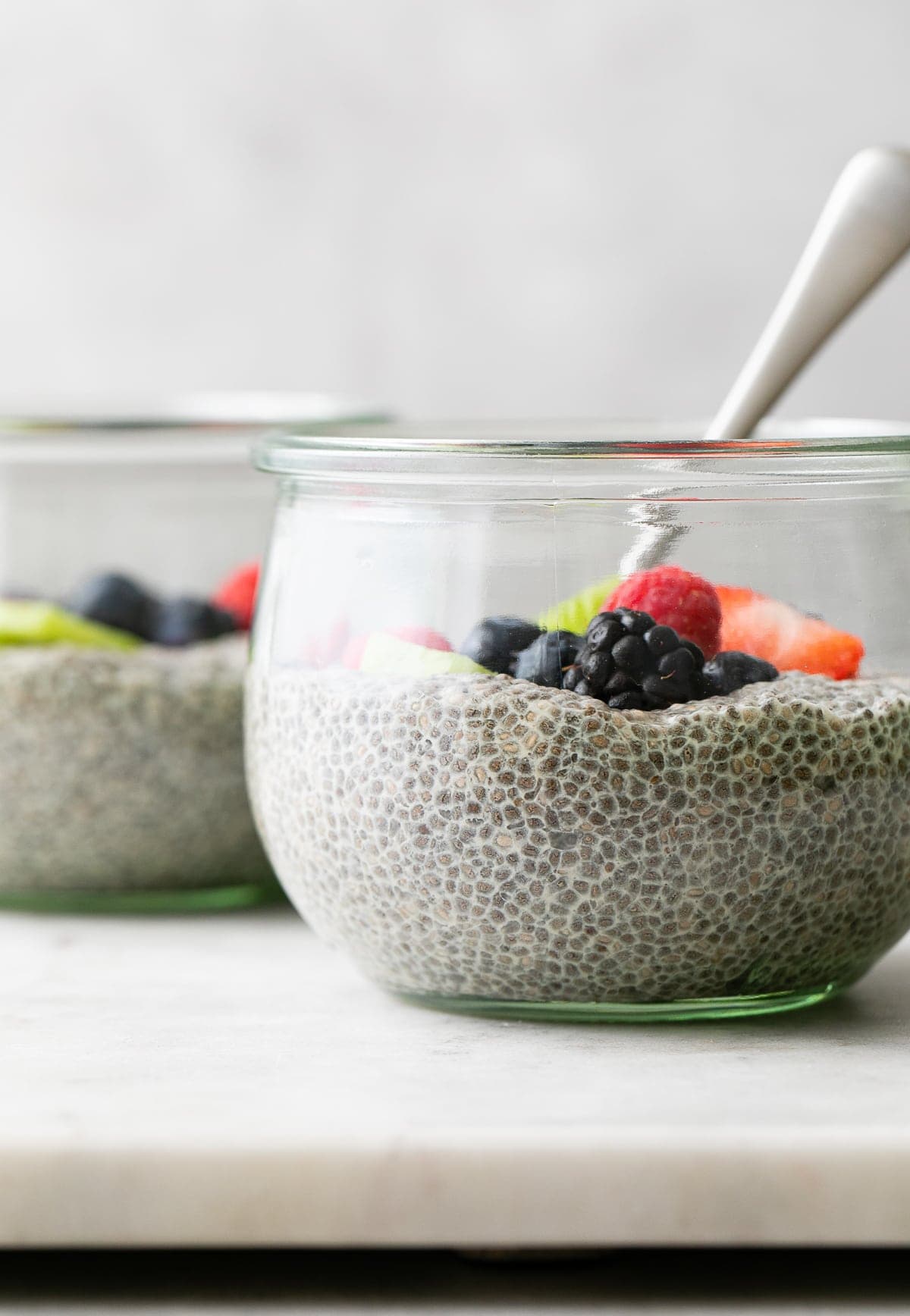 How To Store + Meal Prep
Refrigerator: Leftovers can be kept in the refrigerator for 5 – 6 days.
Freezer: Chia seed pudding is freezer friendly and can be stored in the freezer for up to 2 – 3 months. To freeze, place in freezer-safe containers, leaving 3/4 inch headroom for expansion. Let thaw in the refrigerator. Give a good stir before serving.
Meal prep: Chia seed pudding is perfect for a healthy grab-n-go treat. To pack, spoon pudding into to-go containers with fruit or as is. If adding granola, it's best to keep it separate until ready to eat.
How To Serve Chia Pudding
My favorite way to enjoy chia seed pudding is with a mix of seasonal fruits and granola.
Fruit: Some of my favorites are mandarins, oranges, kiwi, raspberries, blueberries, blackberries, grapes, strawberries, pineapple, mango, banana, apples, peaches, granola, nuts, seeds, etc.
Granola: Serve with a small handful of Healthy Granola, Seeds and Goji Berry Granola or Ginger-Orange Granola.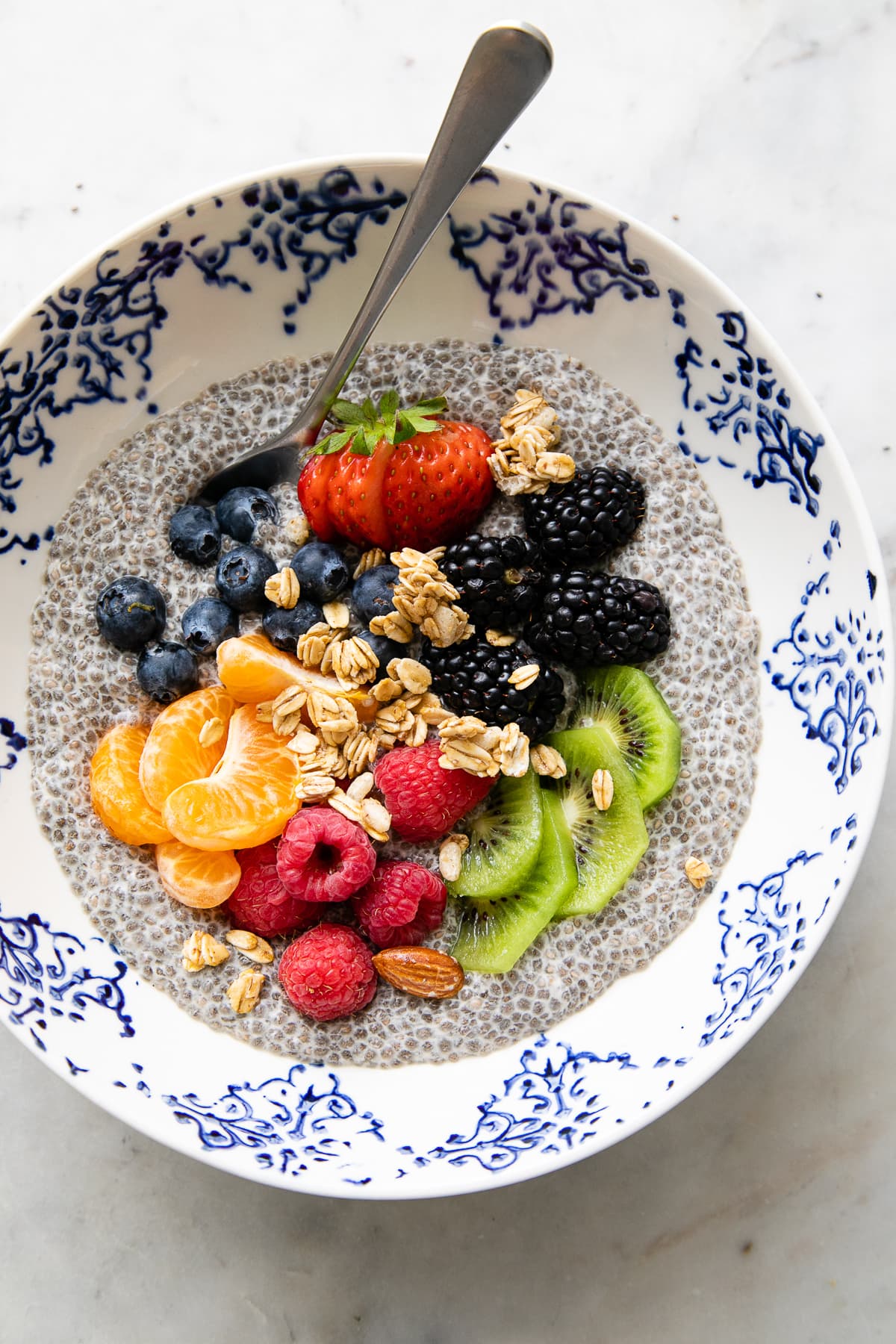 More Pudding Inspiration
If you try this easy chia seed recipe, please let me know! Leave a comment and rate it below. I love to hear what you think, or any changes you make.
Print
Vanilla Chia Pudding
Chia Pudding with vanilla is so easy to make and requires just 4 ingredients! Pair with mixed seasonal fruits for a healthy, wfpb breakfast, snack, dessert or a light lunch!
Author: Julie | The Simple Veganista
Prep Time:

4 hours

Total Time:

4 hours

Yield:

Serves 4

Category:

Snack, Dessert

Method:

mix

Cuisine:

American

Diet:

Vegan
2 cups

unsweetened almond milk (use your favorite)

1/2 cup

chia seeds

2 teaspoons

vanilla extract, 1/2 teaspoon vanilla bean powder or seeds of 1 vanilla bean

1

–

2

tablespoons pure maple syrup or coconut, turbinado or organic pure cane sugar, optional
Instructions
Combine: Place ingredients in container or bowl and mix well.
Mix twice: Mix the chia mixture after 5 minutes, then again after 5 minutes, mixing well each time. Mixing the chia seeds is important so they don't fall to the bottom of the container. If not shaken or stirred every now and then, the pudding will not set properly and the seeds will sink to the bottom.
Chill: Keep covered in the refrigerator until set. Will be ready in 3 – 4 hours.
Makes about 2 1/4 cups
Serve: Spoon into individual bowls or containers, and serve with fresh fruit, granola or whatever your heart desires that sounds good!
Store: Keep stored in the refrigerator for up to 5 – 6 days. For longer storage, keep in the freezer for up to 2 – 3 months. Let thaw in the refrigerator.
Serves 4
Notes
I usually eat about 1/3 with a bunch of fruit. Use mandarins oranges, kiwi, raspberries, blueberries, blackberries, grapes, strawberries, pineapple, mango, banana, apples, peaches, granola, nuts, seeds, etc. Mix and match your favorite fruits, nuts & seeds!
I use mason jars to prepare the pudding. This way you can shake the jar to mix instead of mixing with a utensil. Mason jars are also great for traveling.
I don't add sugar to my chia pudding but the option is there if you prefer a little sweetness.
Add a sprinkle of cinnamon, cardamom or other dessert type spices for a change of pace. 
Nutritional values are estimates only. See our full nutrition disclosure here.
Updated: Vanilla Chia Seed Pudding was originally published in February 2015. It has been retested and updated with new photos and helpful tips in June 2020.
FOLLOW TSV on Facebook, Instagram, Pinterest or RSS for more updates and inspiration!