Raw Sprouted Chickpea Hummus is full of nutrition and easy to make. It's a healthy, oil-free vegan dip that tastes delicious with fresh sliced veggies or whole-grain crackers!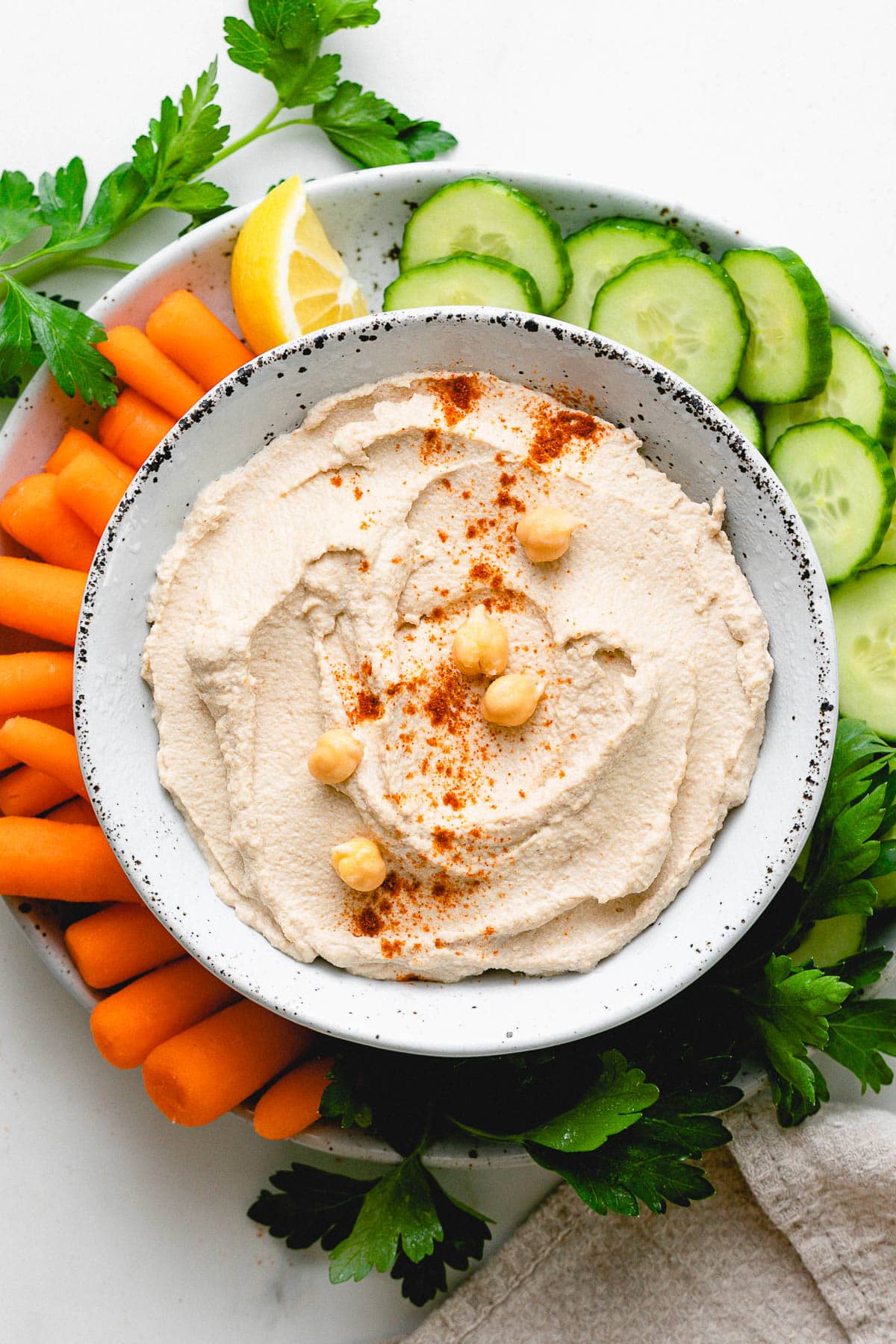 Yes, another chickpea recipe is born! This time it's a raw sprouted hummus that's full of delicious earthy flavor and packed with nutrition!
Raw chickpeas have a much different flavor than the cooked ones I'm used to. At first, I wasn't sure if I would like this. But it came out really well and I would absolutely make this again and again!
Freshly sprouted chickpeas have a nice flavor alone, but in hummus they are spectacular!
I made this sprouted chickpea hummus the same as I make regular hummus, except I added extra of everything to really get a good and flavorful raw sprouted hummus.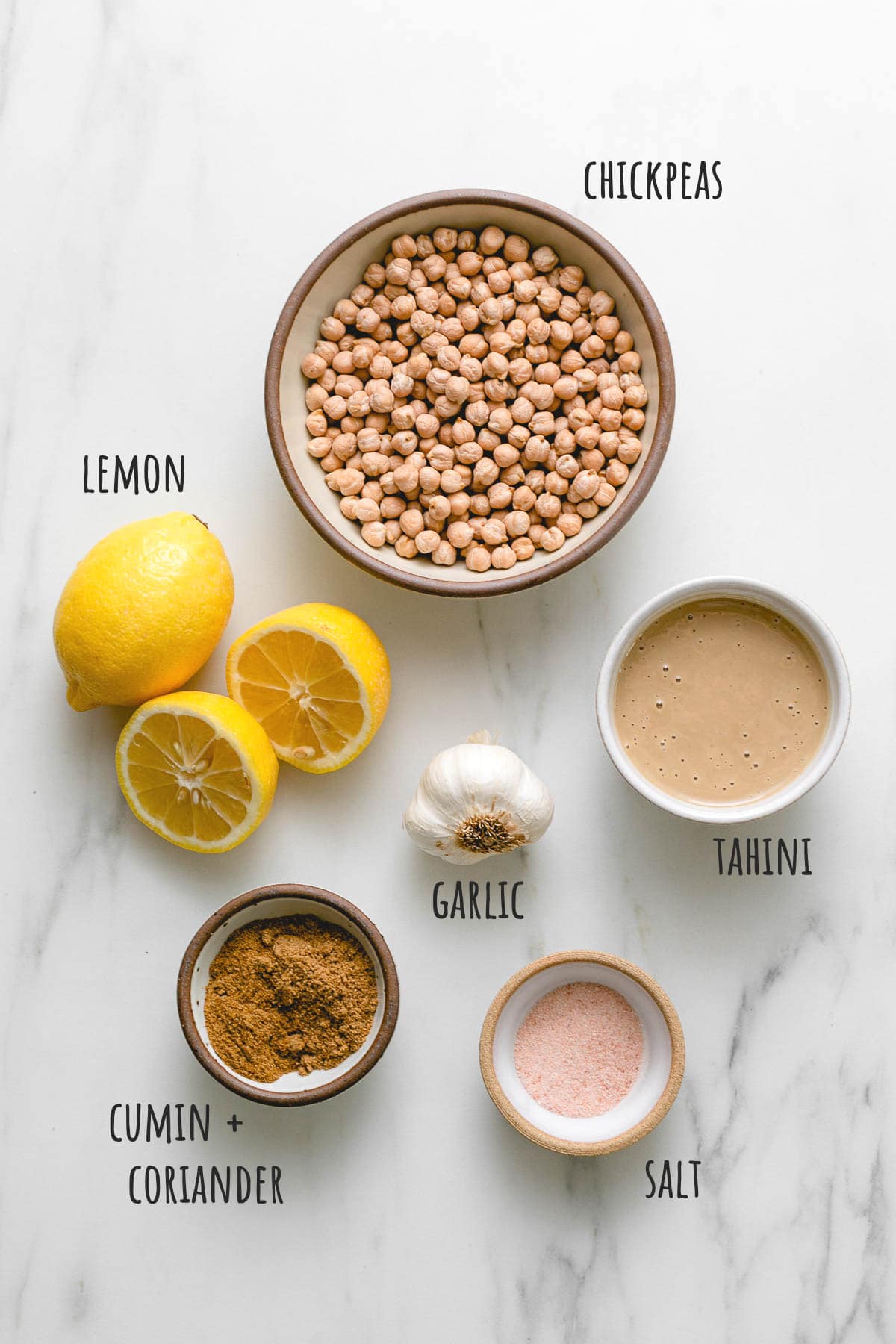 Why We Love This Spouted Hummus Recipe!
We know cooked chickpeas are good for us but they are even better after sprouting!
Sprouting unleashes their full potential. Water is the key to unlocking their rich source of nutrition.
Germination is a life force and we can benefit by adding sprouted nuts and seeds into our daily lives. Once sprouted the protein content will increase by as much as 20%, nucleic acids by 30% and many vitamins by as much as 500% – yes 500%. Pretty amazing!
Best of all, chickpeas are really easy to sprout. It just takes a couple of days of patience, but it's worth watching your little seeds come to life and do their magic.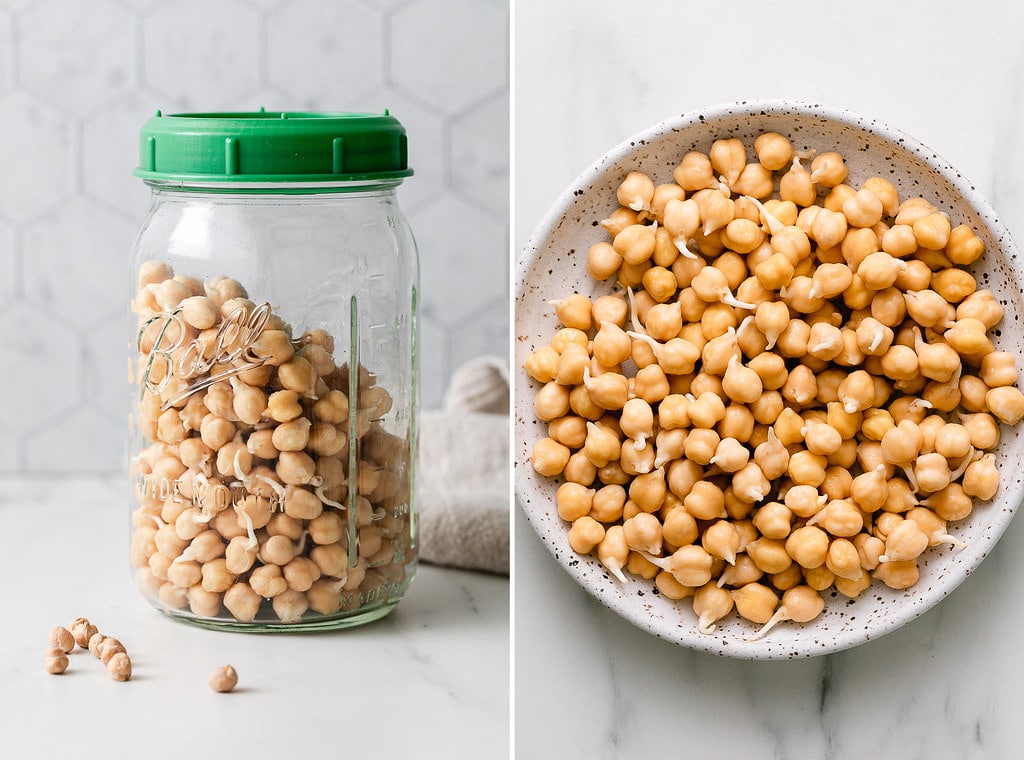 How To Sprout Chickpeas
The main point to sprouting is the initial overnight soaking, then rinsing thoroughly 2 – 3 times a day with purified water for two days.
You don't really need any special tools to sprout your chickpeas. I used a mason jar with a sprouting lid but any bowl or jar will do. This sprouting kit would be great too!
Cheesecloth rubber-banded around the top of a jar will work too if you don't have a sprouting lid. I've also sprouted without any lids and did just fine using my hand & fingers as a strainer.
You could just as well use a simple colander after the initial soaking process; this will ensure maximum airflow and allow you to really rinse them well.
The above picture is two days after the initial soak. Most of my beans sprouted very well, some only had little sprouts and some had none. You can expect various stages of sprouting and that is perfectly fine.
Once sprouted the beans will be at their highest potential and will give you excellent nutrition along with a wonderful hummus once everything is put together.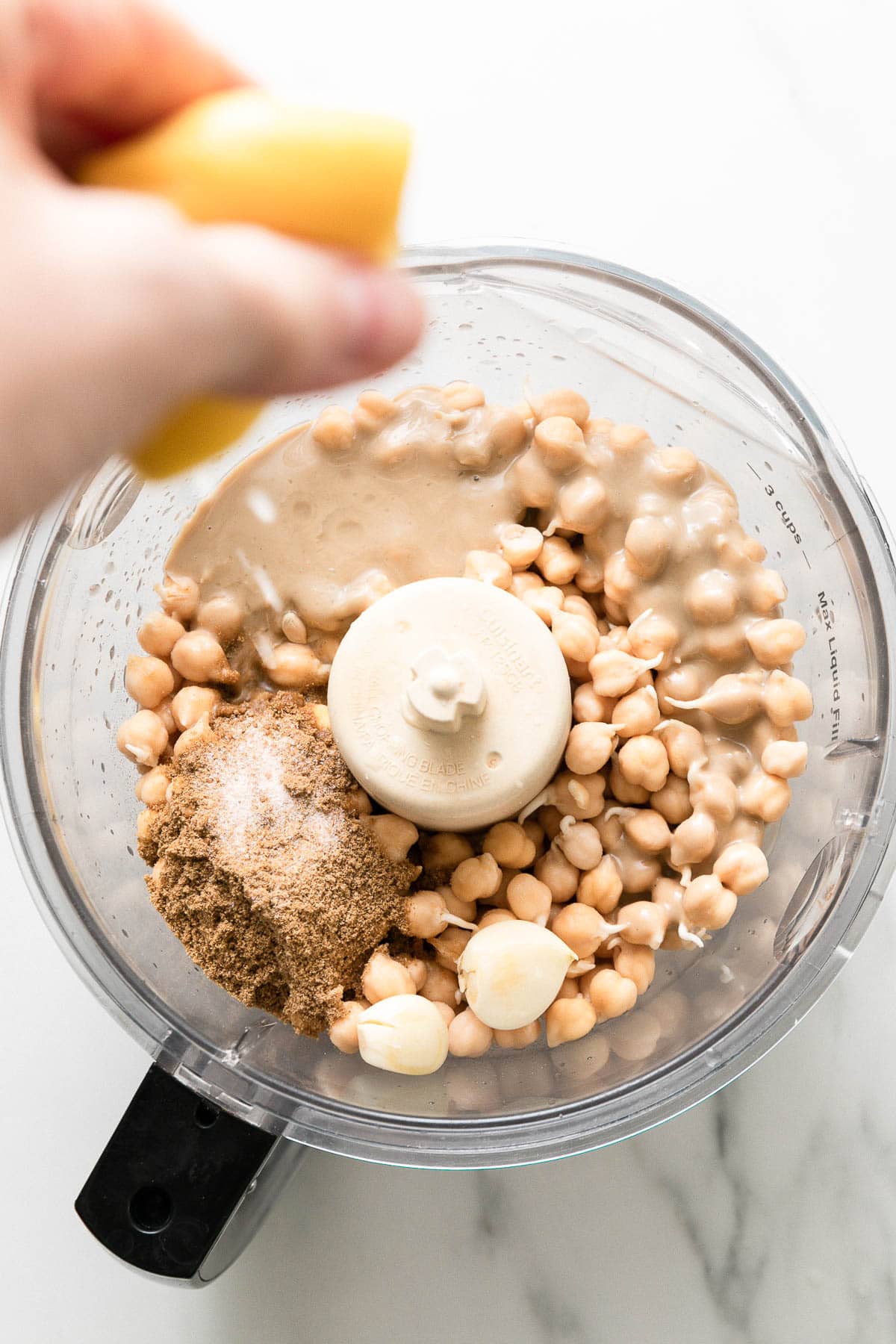 How To Make Raw Sprouted Hummus
Now that you have sprouted the chickpeas, making sprouted hummus is easy as can be!
Using a food processor or high-speed blender, add the chickpeas, tahini, cumin, coriander, garlic, lemon, and salt to the bowl/cup and process until smooth and creamy, stopping to scrape down the sides as needed. It literally takes less than 5 minutes!
Top Tips
For smoother hummus, we recommend using a high-speed blender.
Serving Suggestions
We like to pair this sprouted hummus with fresh veggies such as cucumber, carrots, celery, and colored bell peppers strips. It's also great with raw juice pulp crackers or traditional pita chips.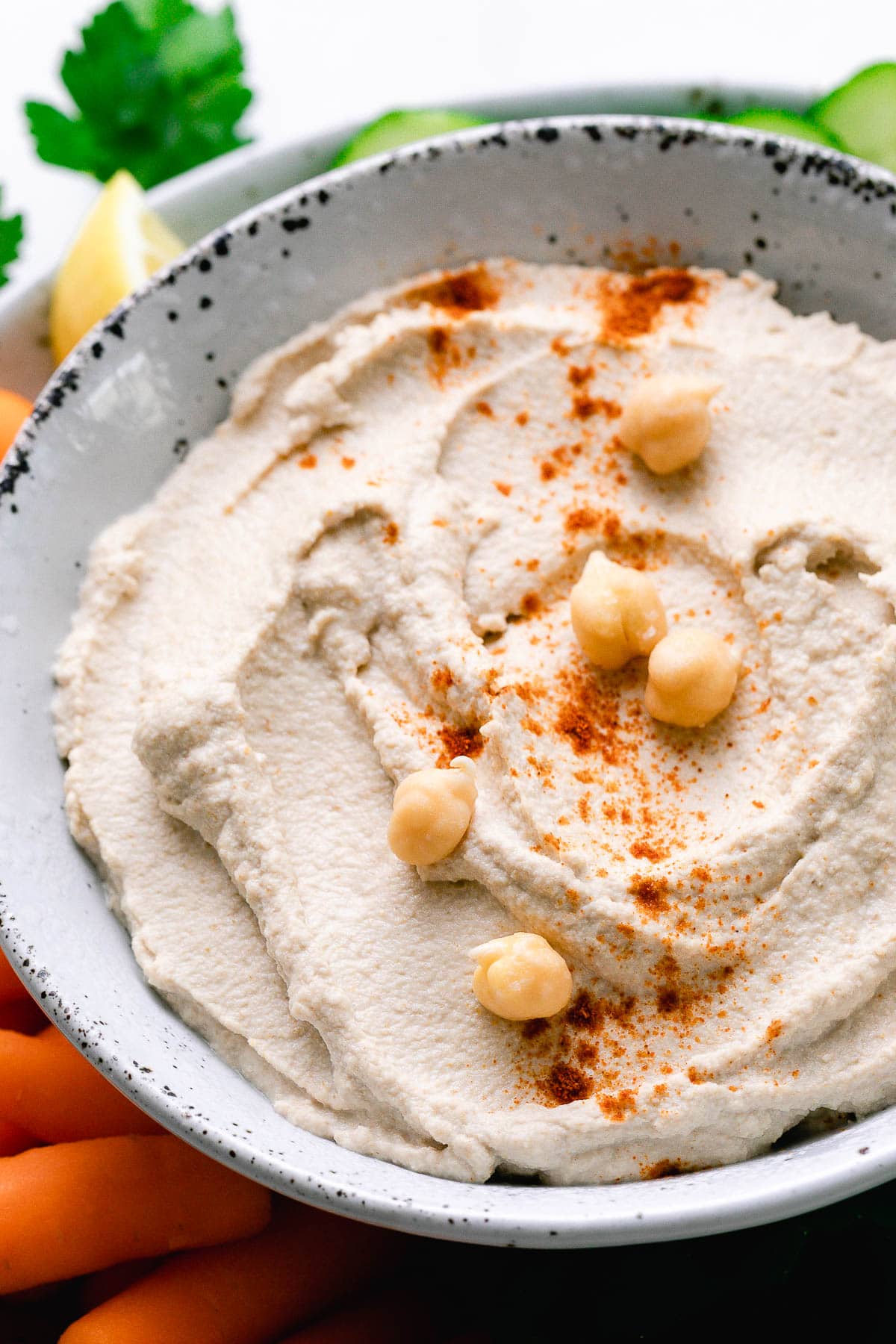 More Healthy Hummus Recipes!
If you try this sprouted hummus recipe, please let me know! Leave a comment and rate it below. I love to hear what you think, or any changes you make.
Print
RAW SPROUTED HUMMUS
The life force of germination in a refreshing and earthy flavored raw sprouted chickpea hummus will fuel your mind, body and soul! This recipe is vegan, oil-free, and easy to make.
3/4 cup

dried garbanzo beans or

1 1/2 cups

sprouted chickpeas

1/4 cup

tahini

2

large garlic cloves
juice of

2

medium lemons

1/4 cup

purified water, + more as needed to thin

1 tablespoon

cumin

2 teaspoons

coriander
himalayan salt, to taste
Instructions
Soak chickpeas: If starting with dried beans, place the dried chickpeas in a large bowl and fill with fresh purified water. The beans will double in size so be sure to cover and leave plenty of extra water for them to soak up, about 2 to 3 times as much water. Soak for 8 -12 hours. Rinse and drain thoroughly.
Let beans sprout: Place the chickpeas in a mason jar with a sprouting lid (or sprout them using a colander). Leave the chickpeas anywhere at room temp and rinse and drain them 2 – 3 times a day for 2 to 3 days. If your garbanzo beans are not sprouting, try moving them to a warmer area. Here is a great guide to sprouting garbanzo beans from the Sprout People for reference.
Hummus: Place the ingredients into a food processor or high-speed blender and process until creamy.d You may need to stop every now and then to scrape down the sides. Taste for flavor, adding anything extra you like – garlic, tahini, lemon, spices, or salt. If adding more water, add 1 tablespoon at a time until desired consistency.
Makes about 2 cups
Store: Keep leftovers in the refrigerator for up to 5 days.
Serves 8
Enjoy with fresh sliced veggies or crackers.
Notes
For smoother hummus, use a high-speed blender. 
Keep in mind that the below nutritional values are not showing the true nutritional value of sprouted chickpeas. The protein, vitamin & mineral values would be much higher.
FOLLOW TSV on Facebook, Instagram, Pinterest, or RSS for more updates and inspiration!