Simple Zucchini Pasta Salad (Quick + Easy)
Simple Zucchini Pasta Salad is fresh and healthy and perfect for a light warm weather lunch or dinner ready in 15 minutes or less!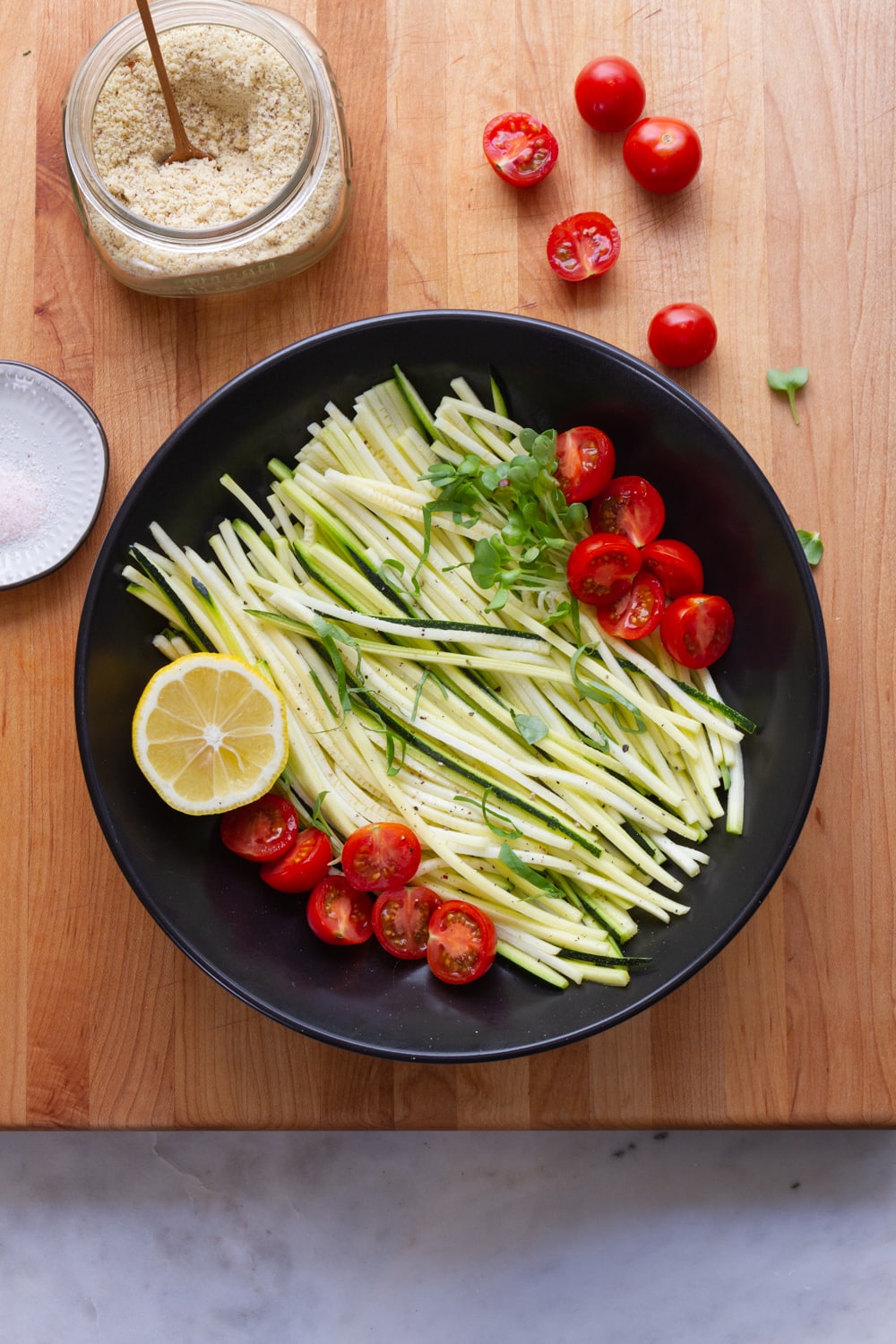 Simple and clean, this raw zucchini pasta salad featuring julienned zucchini noodles, cherry tomatoes, basil, lemon, and avocado is amazingly delicious!
With just a few simple flavors that work well together, I love the simplicity of this vegan zucchini noodle pasta recipe. It's light, fresh, and will leave you feeling vibrant and healthy!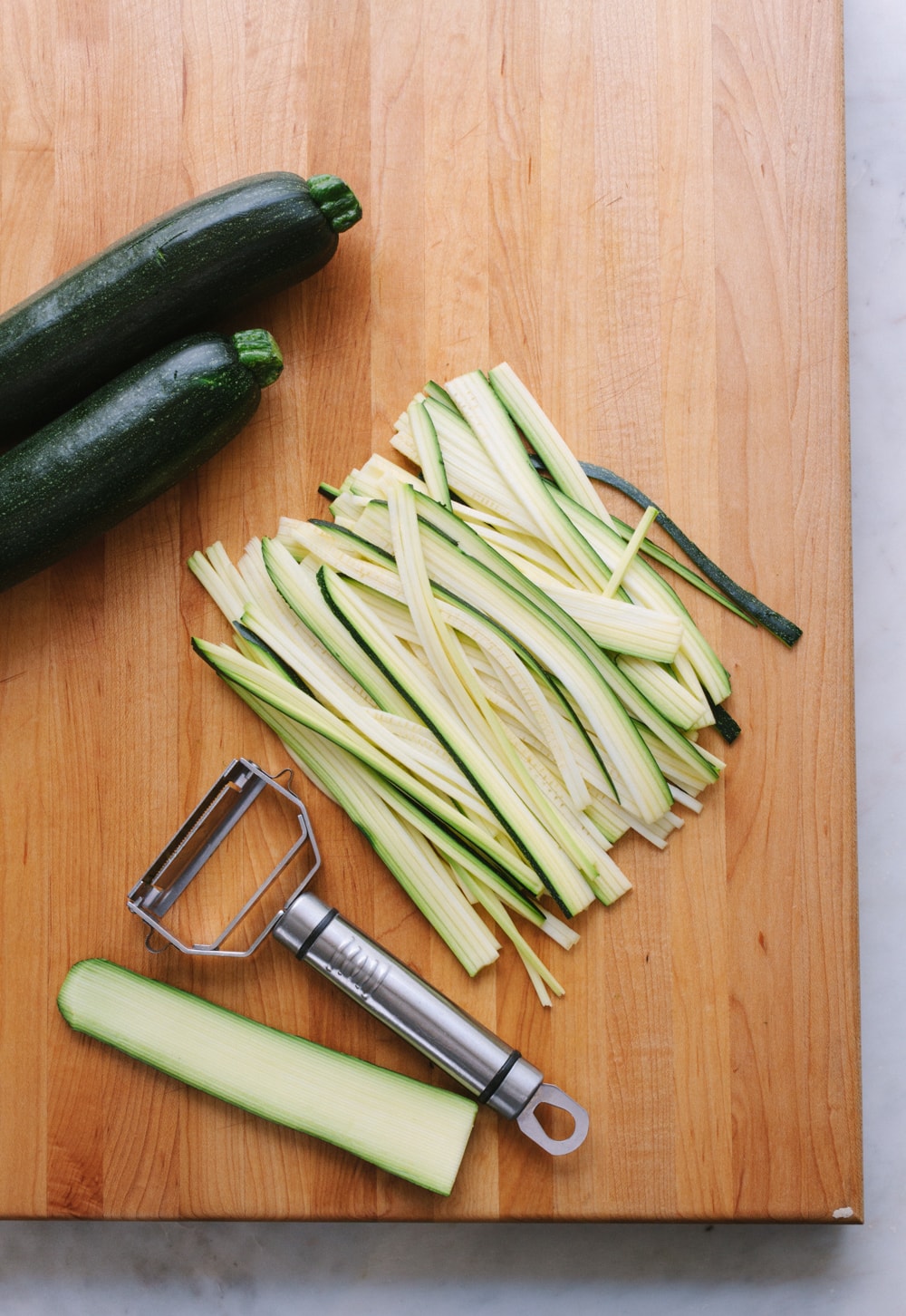 Ingredient Notes
In this recipe, simple zucchini noodles are served with tomatoes, sprouts, and avocado and topped with lemon juice, hemp hearts, and basil for a light and refreshing salad.
Here is everything you will need:
Zucchini – use the freshest you can find, and enjoy this recipe often during its peak season.
Cherry or grape tomatoes – will add a pop of color and juiciness.
Alfalfa sprouts – these microgreens are full of nutrition while adding texture.
Basil – this fresh herb adds flavor and color.
Lemon – is used to dress the salad, adding wonderful zestiness.
Avocado – adds a bit of creaminess and healthy fat.
Hemp hearts – loaded with healthy omegas, these little seeds pack a lot of nutrition.
Red pepper flakes – we like to add a sprinkle for a bit of heat.
Himalayan salt & freshly cracked pepper – use to taste to enhance the flavors.
Almond parmesan – perfect for adding a bit of 'cheese' flavor to your zucchini noodles.
How To Make Zucchini Pasta Salad
This zucchini pasta salad is easy to assemble and will be ready in about 5 minutes. The zucchini 'noodles' can be made ahead of time and stored in the refrigerator for a couple of days, making for a quick grab-n-go meal idea any time you need.
Simply julienne or spiralize your zucchini.
Place the zucchini in a bowl, along with halved cherry tomatoes, a few sprouts, avocado, chiffonaded basil, and a sprinkle of salt and pepper.
Add a big squeeze of lemon overtop. If you like, a little olive oil is great too.
And don't forget your almond parmesan. It's a great staple to have in the pantry or fridge for meals like this, topping it off nicely while adding more nutrition and flavor!
Recommended Equipment: Zucchini noodles can be made using a julienne tool or spiralizer. For the zucchini pasta you see here, I used a julienne tool, creating straight noodles. This tool is small and easily fits in the utensils drawer. On the hand, a spiralizer is a bit bulkier and creates long curly noodles, like these spiralized zucchini noodles. Both tools are great to have on hand, creating different styles of noodles. (This paragraph contains affiliate links.)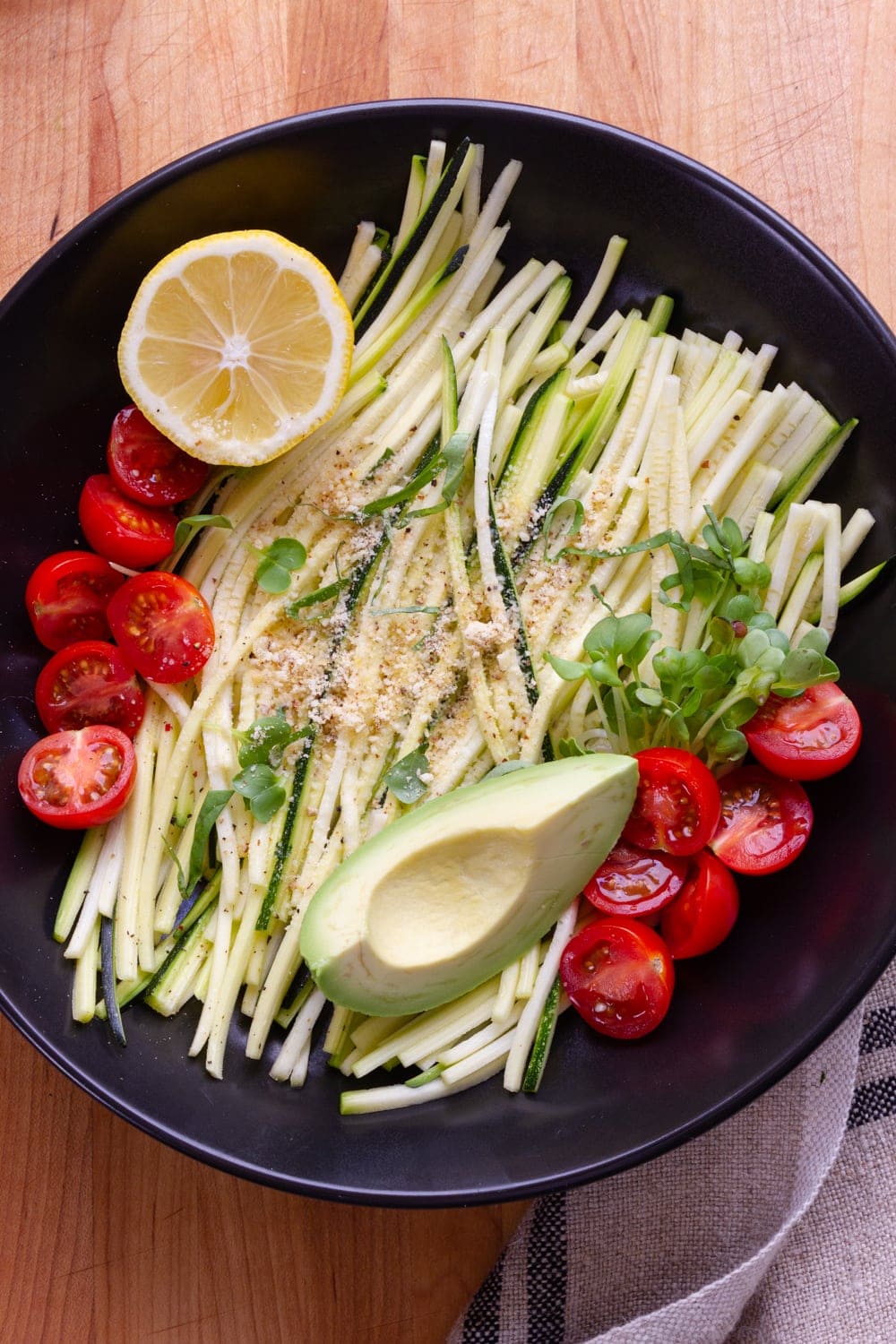 More Raw Zucchini Noodle Recipes!
If you try this alkalizing recipe, please let me know! Leave a comment and rate it below. I love to hear what you think, or any changes you make.
Print
SIMPLE ZUCCHINI PASTA SALAD
Light, healthy and delicious, this easy simple zucchini pasta salad is so easy to make! A perfect light lunch, dinner, snack or make ahead meal.
1

medium zucchini, julienned or spiralized
handful cherry or grape tomatoes, cut in half
small handful alfalfa sprouts

1

–

2

leaves of basil, chiffonade

1/2

lemon, juice of

1/4

avocado
sprinkle of hemp hearts, optional
pinch or

two

of red pepper flakes, optional
himalayan salt & freshly cracked pepper, to taste
almond parmesan

, for dusting
Instructions
Prepare your vegetables. In a medium size bowl combine all ingredients and serve with a dusting of almond parmesan on top.
So simple, easy and good for you!
FOLLOW TSV on Facebook, Instagram, Pinterest, or RSS for more updates and inspiration!