CARROT + ZUCCHINI RIBBONS + CILANTRO PEPITA PESTO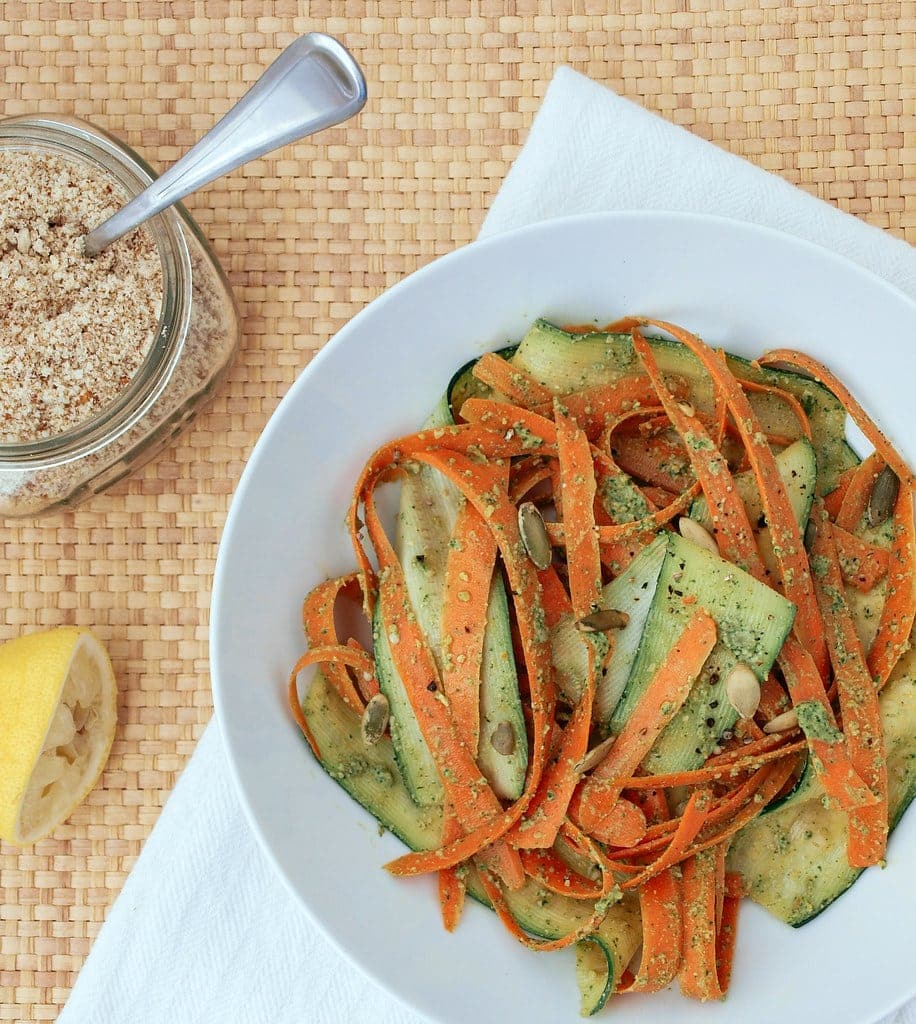 It's about time I added a new raw dish to the collection with this Carrot + Zucchini Ribbon and Cilantro Pepita Pesto. It fresh, nourishing and delicious!
I love these clean eating, raw dishes like this. It's a good way to cleanse the body and get away from the typical everyday eating. These meals tend to leave me feeling alive and full of energy.
So I share with you another wonderful raw dish to add to the collection of Raw Recipes, it can be eaten generously and frequently!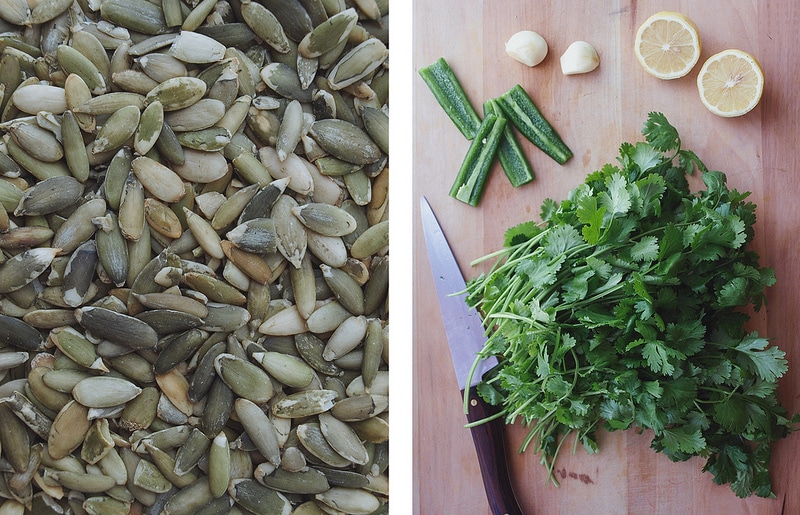 Cilantro Pepito Pesto
I have a ton of pepitas (shelled pumpkin seeds) that I need to use up and thought this was a great way to use them. I also had some cilantro on hand and decided to use that. What I really love about cilantro, besides the lovely flavor, is that it's available in bunches and so easy to find. In general, it's hard to find basil in large amounts enough to make pesto, making cilantro a great alternative to the traditional basil pesto.
I also added a small amount of garam masala to this pesto but feel free to omit it if you don't have it on hand or don't care for it. I have yet to use my garam masala and thought why not try it here for something unusual. So I tested it out and found that I rather liked it as it adds an interesting layer of flavor and pairs well with the fresh vegetable ribbons.
I even used my left over pesto as a dip for carrot sticks…so good! But keep in mind that I'm quite strange and can eat the weirdest combinations. So If you feel like experimenting, go for it…if in doubt, leave it out. I also added in some hemp hearts as well, two tablespoons or so, if you have some on hand this is a great place to use them!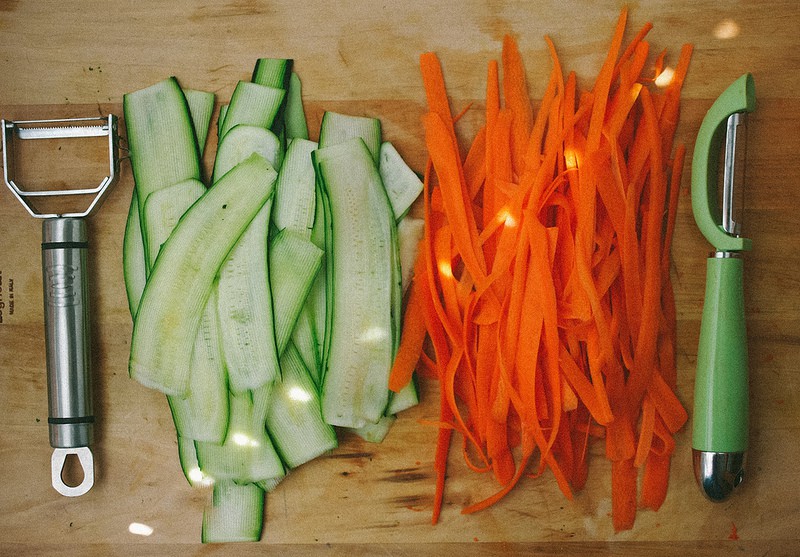 How To Make Zucchini & Carrot Ribbons
The ribbons are easy to create. I used a mandolin to ribbon the zucchini and a peeler to do the carrots. It's best to use smaller sized zucchini so the mandolin will be wider. This will help keep the zucchini edges cleaner looking instead of scoured. But do it however you're comfortable and use whatever tools you have. If you only have a peeler you can just as easily use that to ribbon the zucchini too. You can also simply use a julienne tool for thinner ribbons or julienne everything by hand if need be.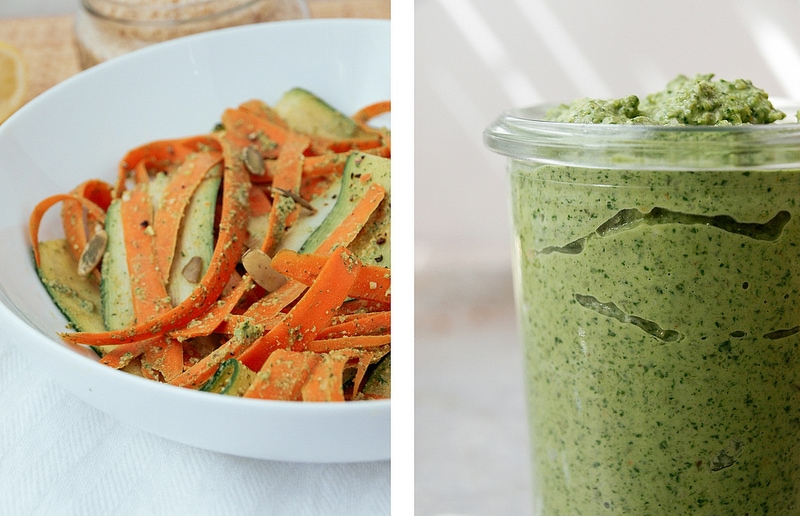 More Fresh & Healthy Inspiration!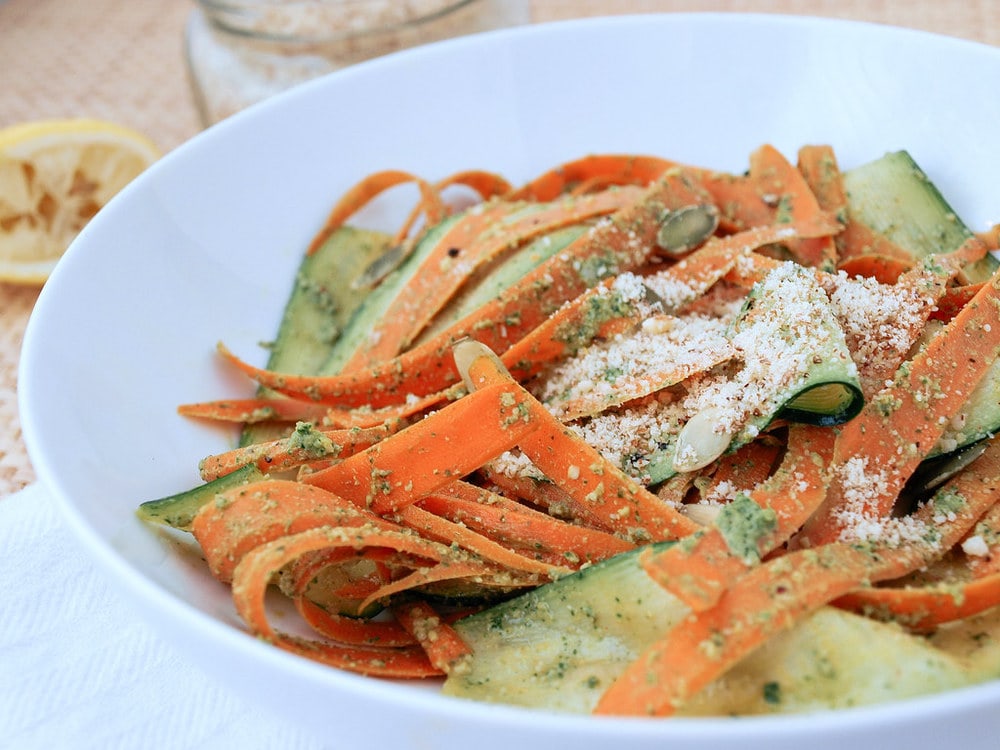 Print
CARROT + ZUCCHINI RIBBONS + CILANTRO PEPITA PESTO
A fresh, nourishing and delicious raw recipes with vegetable ribbons and easy cilantro pepita pesto!
Prep Time:

15 min

Total Time:

15 minutes

Yield:

Serves 2

Category:

Entree

Cuisine:

Vegan, Raw
3

large carrots

3

small zucchini

pepitas, for serving

mineral salt & cracked pepper to taste

almond parmesan

, for serving
Cilantro Pepita Pesto (serves 4)
1

large bunch cilantro (3 cups loosely packed), ends removed, leaves and small stems ok

1/3 cup

pepitas (shelled pumpkin seeds), toasted or raw

2 tablespoons

hemp hearts, optional

2

cloves garlic

1

small jalapeno, seed removed (leave a few seeds for heat if you like)

3 tablespoons

extra virgin olive oil
juice of

1

large lemon

1/2 teaspoon

himilayan salt

1/2 teaspoon

garam masala, optional
Instructions
Pesto: Place pepitas in your food processor and pulse a few times until seeds are broken down fairly well. Add remaining ingredients and blend until well combined and fairly smooth, stopping to scrape down the sides as needed. Add water, 1 tablespoon at a time, to thin if needed (no need to add more oil unless you want). Taste for flavor and season to taste. Set aside.
Ribbons: Peel the outer layer of your carrots and discard. Using the peeler, ribbon the carrots. Wash your zucchini, cut the ends off and using a mandolin, or tool of choice, ribbon the zucchini. You can just as well julienne your carrots and zucchini with a julienne tool or by hand if you would rather have thinner strands.
Combine: In a medium size bowl, place carrots and zucchini, add a few spoonfuls of pesto and mix to combine. You will have pesto leftover unless you really love the stuff and use it all!
Serve: Plate your ribbons, top with a sprinkle of pepitas and a nice dusting of almond parmesan. For a little extra color you could add some red pepper flakes to the top.
Serves 2
Store leftover pesto in an airtight container in the fridge for up to a week. Use the pesto for pasta, as a dip for vegetables, as a spread for sandwiches, thin it out with water or lemon juice and make a dressing for salads, etc. Lots of ways to use pesto.
NOTES:
Use almonds in place of pepitas if needed. I used raw pepitas instead of toasting them.For the garam marsla, if pairing this with regular pasta I would leave it out. It pairs well with the freshness of the carrot & zucchini ribbons. Also, I found that it tasted fine with almond parmesan. But like I said earlier, I can eat some really unusual combinations. If you feel like experimenting, try it out…if in doubt, skip it.