SOCCA (FARINATA) – CHICKPEA FLATBREAD RECIPE
Socca is a wonderfully quick and easy flatbread recipe made with chickpea flour and cooked in a skillet until golden and crispy along the edges. It's bakes up dense, yet tender, and can be easily customized with herbs & spices!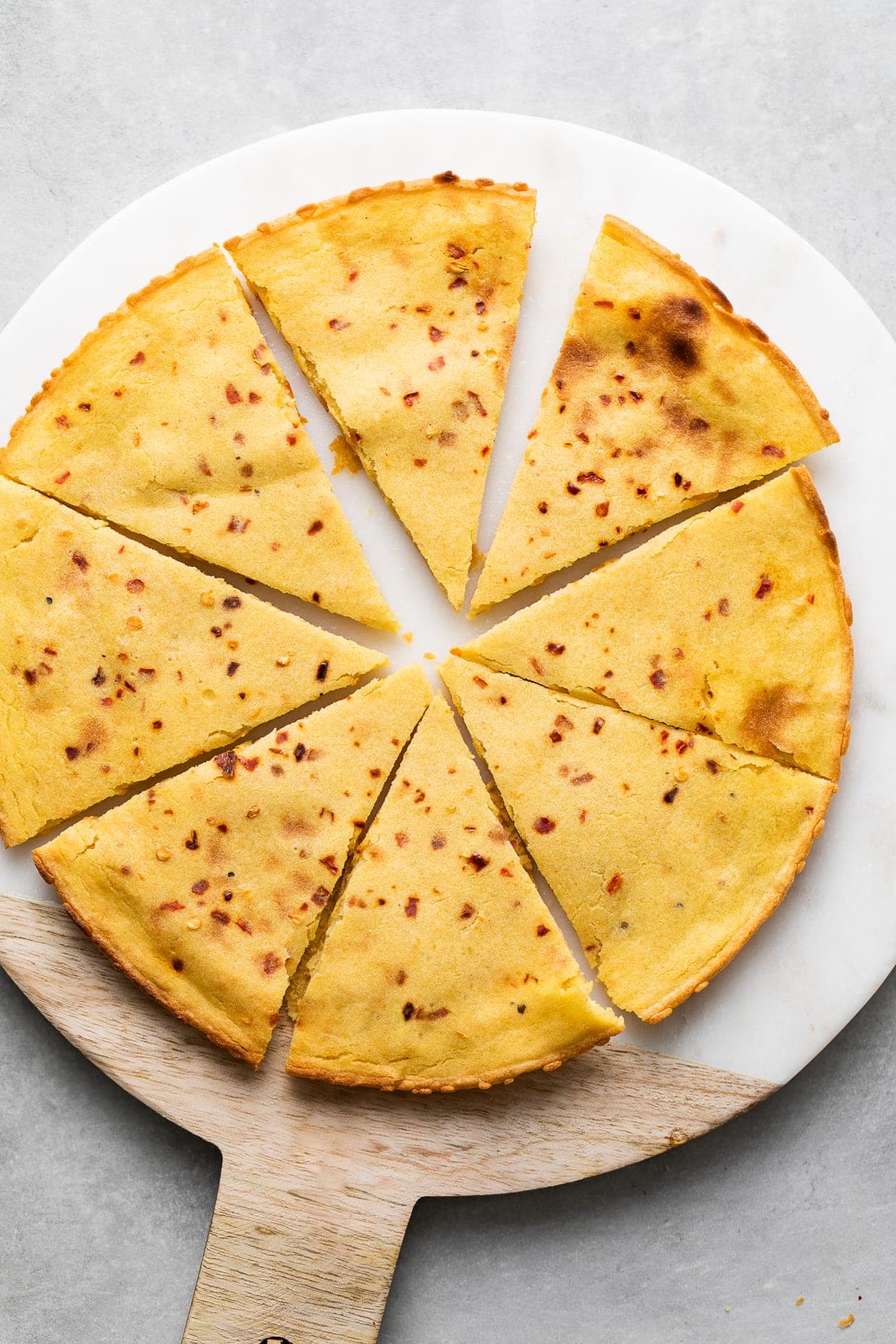 You may already be familiar with the Savory Chickpea Pancake which is another way to use chickpea flour. It's made like a pancake with vegetables of choice mixed right into the batter and is delicious served any time of day – it's a must try as well!
What Is Socca Bread?
Socca is a simple and savory, unleavened, round flatbread cooked in the oven until crispy on the edges and tender in the center. It's made with chickpea flour, making it gluten free, grain free and a good source of protein and fiber.
Traditionally, socca is cooked in an open oven on a large tin-plated copper pan, where it is then sliced and served plain, with an optional sprinkle of pepper on top. It can also be topped and used as a pizza crust of sorts, or stuffed making a chickpea omelette or crepe.
Where Did Socca Originate?
The origin of socca is believed to have originated in Genoa, Italy, where it is said that Roman soldiers roasted chickpea flour on their shields. Others believe it comes from the French Riviera (southeast France). But what we can all agree on is that this Mediterranean flatbread is delicious no matter where it began!
You will find this popular dish rooted in and around the area of Nice, France and the province of Genoa, Italy. And depending on your geographical location, this flatbread is served various ways using the same batter base of one part flour to water plus salt and oil.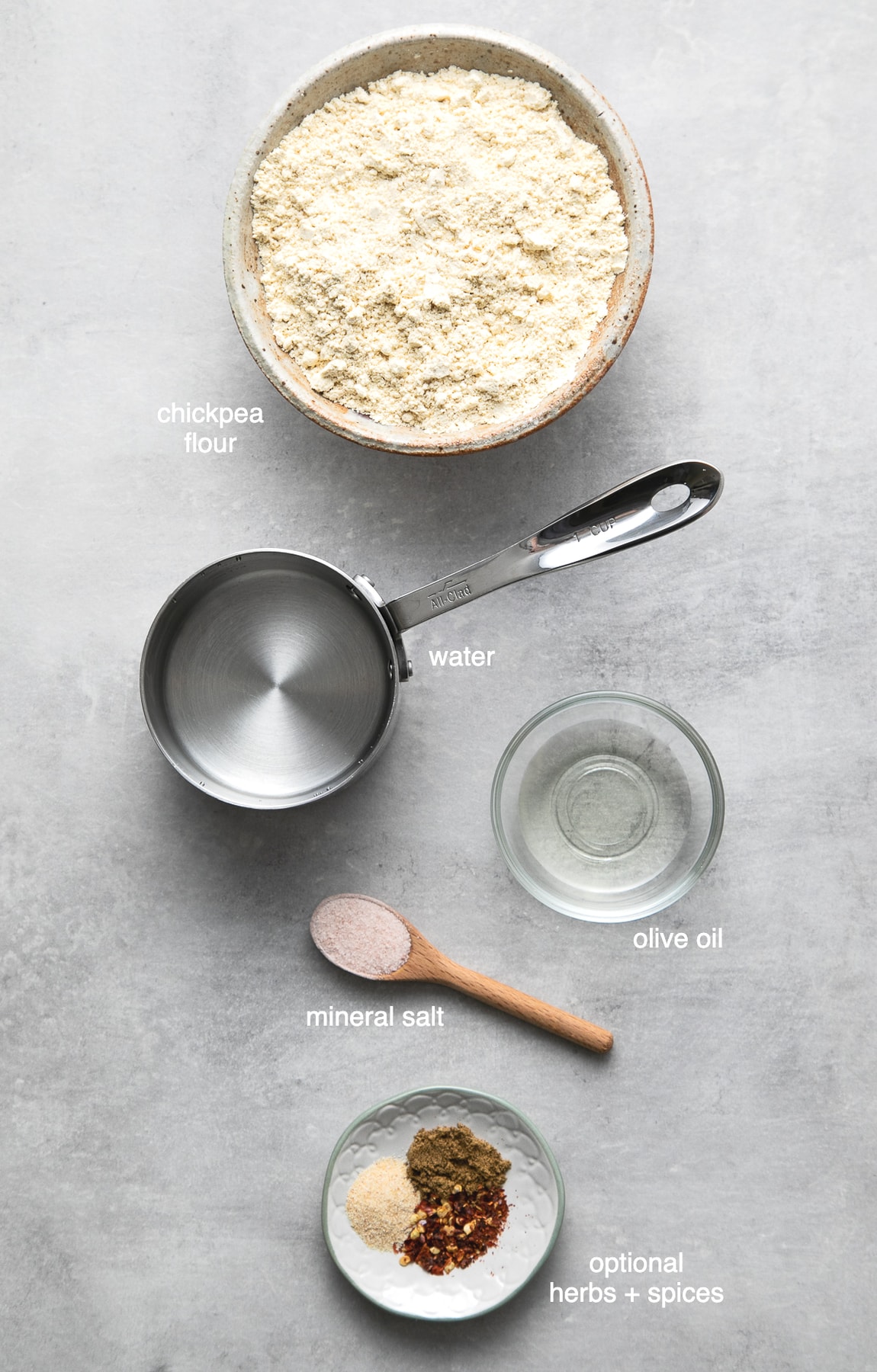 Ingredients You'll Need
In this recipe, chickpea flour is whisked together with water and optional spices and herbs, creating a savory flatbread to be eaten as a snack or as a side to a main meal.
Here is everything you will need:
Chickpea flour (aka besan)
Water
Salt
Olive oil
For additional flavor:
It's great as is, but you can change up the base using a generous pinch of any of these flavor enhancers:
cumin
rosemary or thyme
red pepper flakes
basil
black pepper
garlic powder
za'atar
sliced shallots
There are no rules to the spices, simply use what you love, or will pair well with the accompanying dish.
Today, I added red pepper flakes for a little heat along with a dash of cumin and garlic powder.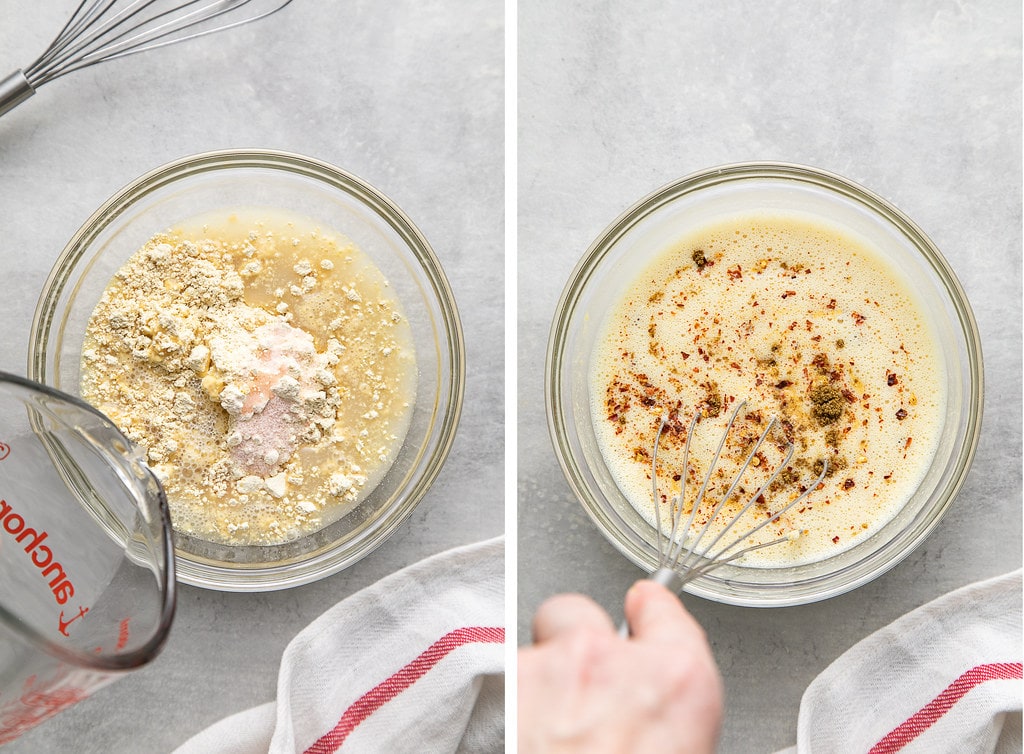 How To Make Socca
(Note – The full printable recipe is at the bottom of this post)
The base of socca bread is a 1 – 1 ratio of chickpea flour to warm water whisked together with salt and optional spices and/or herbs.
This batter, once whisked together, will need to rest at least 15 minutes, and up to 12 hours, covered.
Preheat oven to 450 degrees. Place skillet in the oven to preheat with the oven.
After batter has rested, give a good mix, and add it to the preheated skillet swirled with oil, place back in the oven to cook for 12 – 15 minutes.
Once your socca is done, gently lift edges with a spatula, pull apart, or slice, and enjoy hot or warm!
Tip: In this recipe I've used a cast iron skillet but you can use any flat, shallow and oven-safe baking dish you have on hand.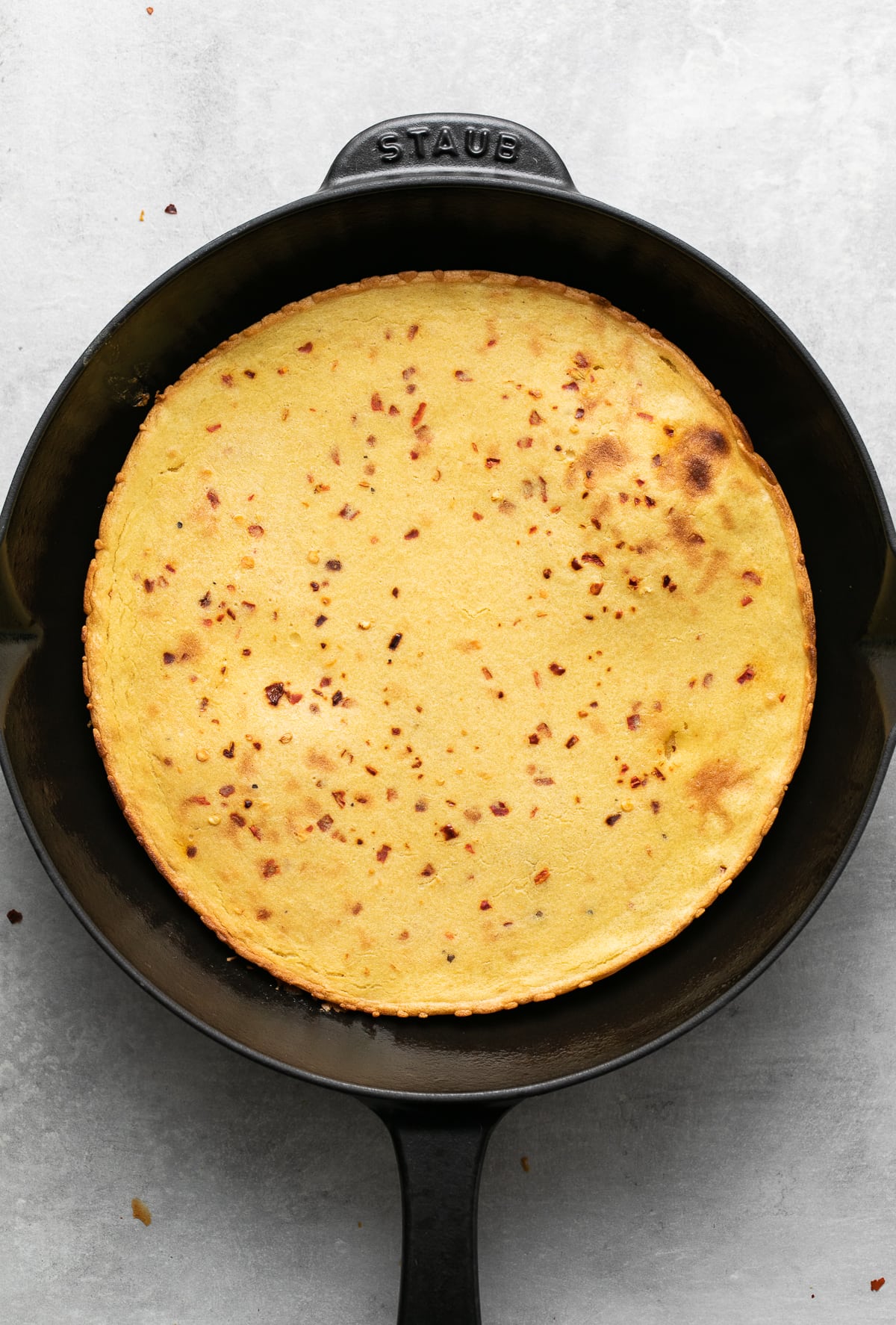 How To Serve Socca
Typically this savory flatbread is served with a few herbs and spices and eaten with the hands. The flatbread can be eaten as is (torn apart or sliced), served with condiments or serve topped with various ingredients. Here are a few of my favorite options for a full meal: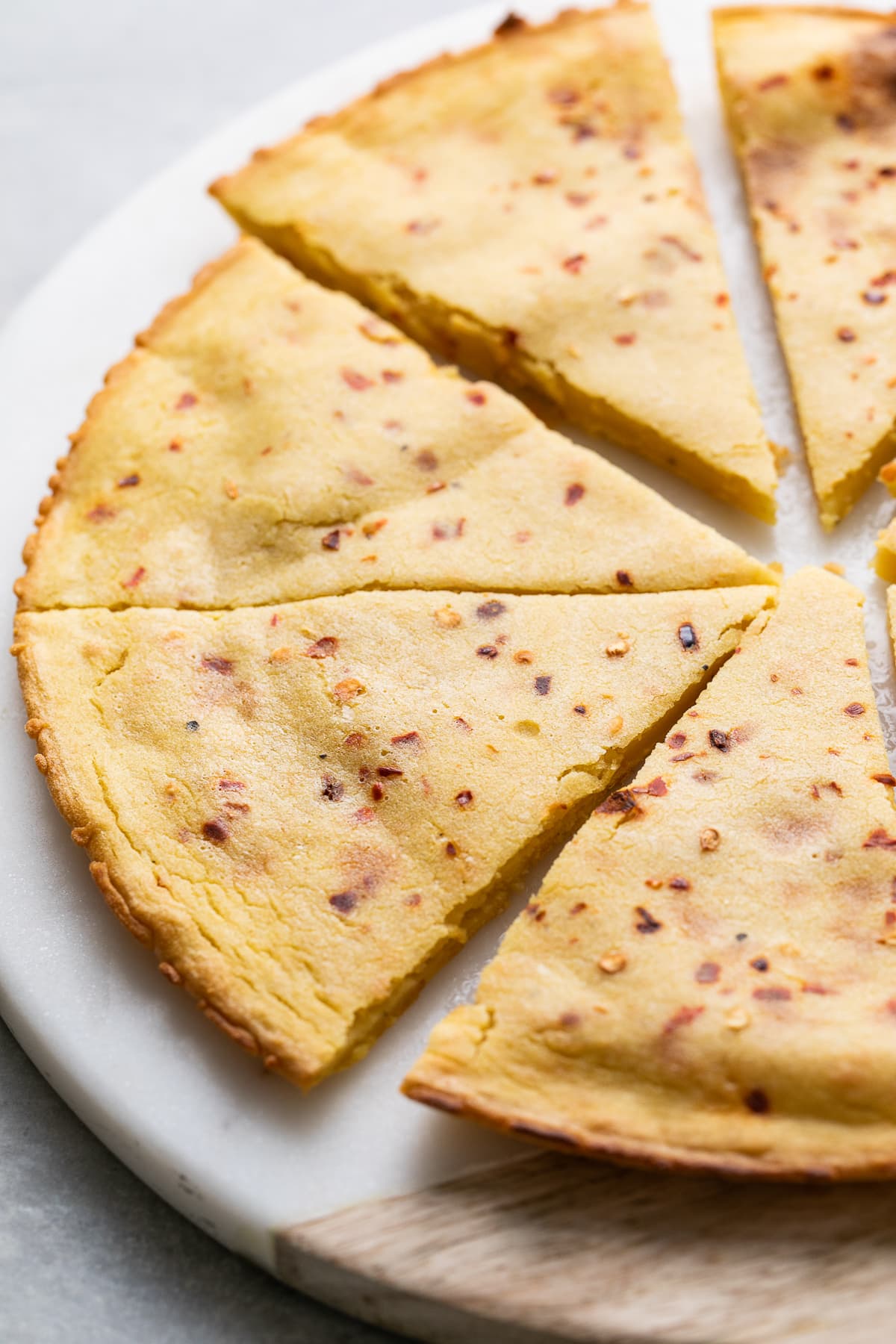 More Easy Bread Recipes
If you try this socca flatbread recipe, please let me know! Leave a comment and rate it below. I love to hear what you think, or any changes you make.
Print
SOCCA (FARINATA)
Socca is a simple, savory gluten-free, grain free flatbread that pairs well with soups, salads or eaten alone!
Author: Julie | The Simple Veganista
Prep Time:

15 min

Cook Time:

15 min

Total Time:

30 minutes

Yield: Serves

4

- 8

1

x
Category:

Bread

Method:

oven, bake

Cuisine:

Vegan, Gluten Free, Mediterranean
1 cup

chickpea flour (aka besan or garbanzo bean flour)

1 cup

lukewarm water

1/2 teaspoon

mineral salt

1

–

2

tablespoons olive oil
optional add-ins for variation
1/8

–

1/4

teaspoon cumin

1/2 teaspoon

fresh rosemary or thyme

pinch of red pepper flakes

small handful chopped basil

fresh cracked pepper

1/8

–

1/4

teaspoon garlic powder

sliced shallots
Instructions
Mix and let rest: In a medium size mixing bowl, add flour, water and salt. Whisk until smooth, cover and let set for at least 15 minutes, up to 12 hours, covered, on the counter or overnight in the fridge.
Preheat: Heat oven to 450 degrees F. Place a well seasoned skillet on the middle rack while oven is heating (we want it to get nice and hot).
Oil skillet + pour batter: Once oven is ready, carefully remove skillet, add 1 – 2 tablespoons oil and carefully twirl skillet so the oil coats the bottom evenly. Pour the batter into the skillet.
Bake: Place skillet into the oven and back in the oven for 12 – 15 minutes, until golden on the edges and firm throughout.
Optional broiler: Once done you may like to add a more golden and rustic look, turn broiler to high, place skillet under broiler for about 2 minutes, until top starts to golden a bit.
Cool & remove: Remove from the oven and let cool a few minutes. Using a spatula gently push under and around the sides of the flatbread. Tip skillet to remove socca bread or carefully flip skillet over to remove.
Serve: Cut into 4 – 8 slices or pull apart and eat. Socca is best eaten right away.
Store: Socca can be stored on the counter in an airtight container for up to 3 days.
Notes
Using a 12 inch skillet, pan or baking dish will give you a thinner bread, while a 10 or 8 inch skillet will give you a slightly thicker bread. The one I have shown here is a 10 inch, bread was about 1/4 inch thick.
If you don't have an iron skillet, you can use any flat, shallow oven-safe baking dish.
Chickpea flour (aka garbanzo bean flour or besan) can be found on-line, at most health conscious stores and at Indian and Middle Eastern markets.
Updated: Changes made to the recipe include omitting 2 tablespoons of oil added to the batter (as is traditional). It's delicious without it, but make sure to oil the pan well!
Nutritional information is calculated with 1 tablespoon olive oil included.
Keywords: socca, socca recipe, farinata, chickpea flour flatbread
Updated: Socca was originally published in September 2014. It has been retested and updated with new photos and helpful tips in February 2020. The only changes made to the recipe were omitting 2 tablespoons of oil added to the batter (as is traditional), but it's delicious without it.
FOLLOW TSV on Facebook, Instagram, Pinterest or RSS for more updates and inspiration!