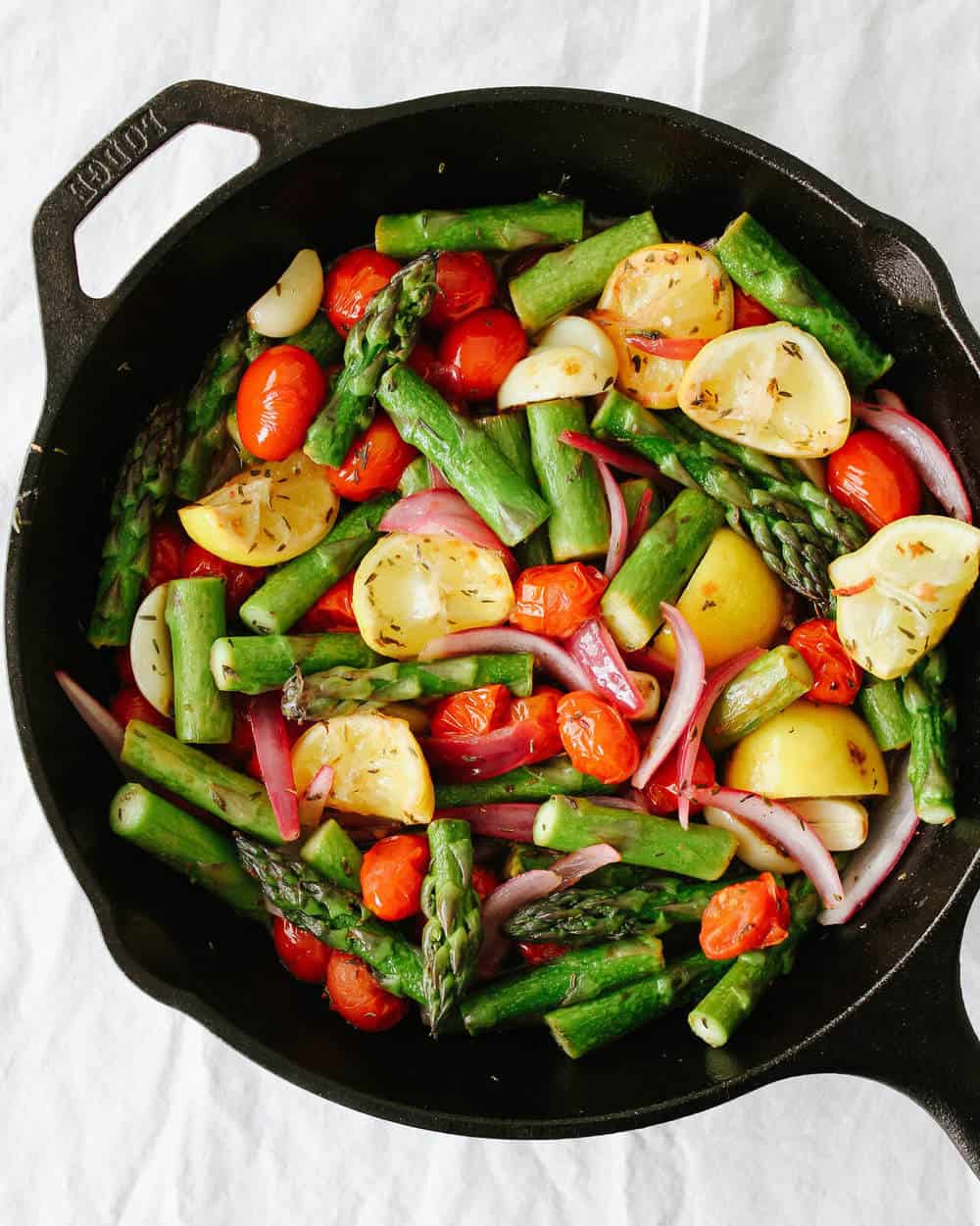 The simples are my favorite. Full of color and flavor, this is one of those easy dishes I could eat almost everyday.
The tomatoes are bursting with juiciness and the lemon adds a wonderful touch. Something about adding lemon to the skillet brings out their sweetness in a most delicious way.
Pairing all of this goodness over a grain of choice, as well as a bean, rounds this meal out by giving you extra protein and fiber to leave you satisfied without feeling weighed down. I've paired my skillet medley with quinoa and cannellini beans.
Feel free to add other vegetables to this as well. This is just a template and can be made to suit your taste!
Gather your ingredients and prep…
Add ingredients to a medium bowl (don't forget the garlic and lemon like I almost did), mix well to coat…
Cook in your favorite skillet and serve with grain and beans of choice. Enjoy the simples!
Print
SKILLET ASPARAGUS & TOMATO MEDLEY
A colorful and delicious mix of vegetables, paired with a white bean and grain for a quick n' healthy meal.
Ingredients
1 1/2 cups cherry tomatoes

1 bunch asparagus (or about 10 oz.), chopped in thirds

1/2 red onion, sliced

whole garlic cloves, as many as you like

2 lemons, quartered and seeds removed

1 tablespoon olive oil

himalayan salt & cracked pepper, to taste

1 teaspoon thyme

1 can (15 oz) white beans, drained and rinsed

cooked quinoa, farro, barley, brown, jasmine or basmati rice (I used quinoa)
Instructions
Prep your veggies and place in medium size bowl along with salt, pepper and thyme. Drizzle with and mix to coat.
Add a drizzle of olive oil to your skillet and heat on medium to medium high. Add vegetables and cook for about 8 to 10 minutes stirring occasionally, or until tomatoes soften. A few minutes before you're ready to remove from heat, add beans and let warm through.
Serve on a bed of grains of choice.
Serves 3