The Ultimate Vegetable Lentil Loaf
The Ultimate Vegetable Lentil Loaf is hearty, delicious and made with pantry staples! It's customizable to be gluten free, oil free and can be made ahead. Plus, the leftovers make for great vegan meatloaf sandwiches!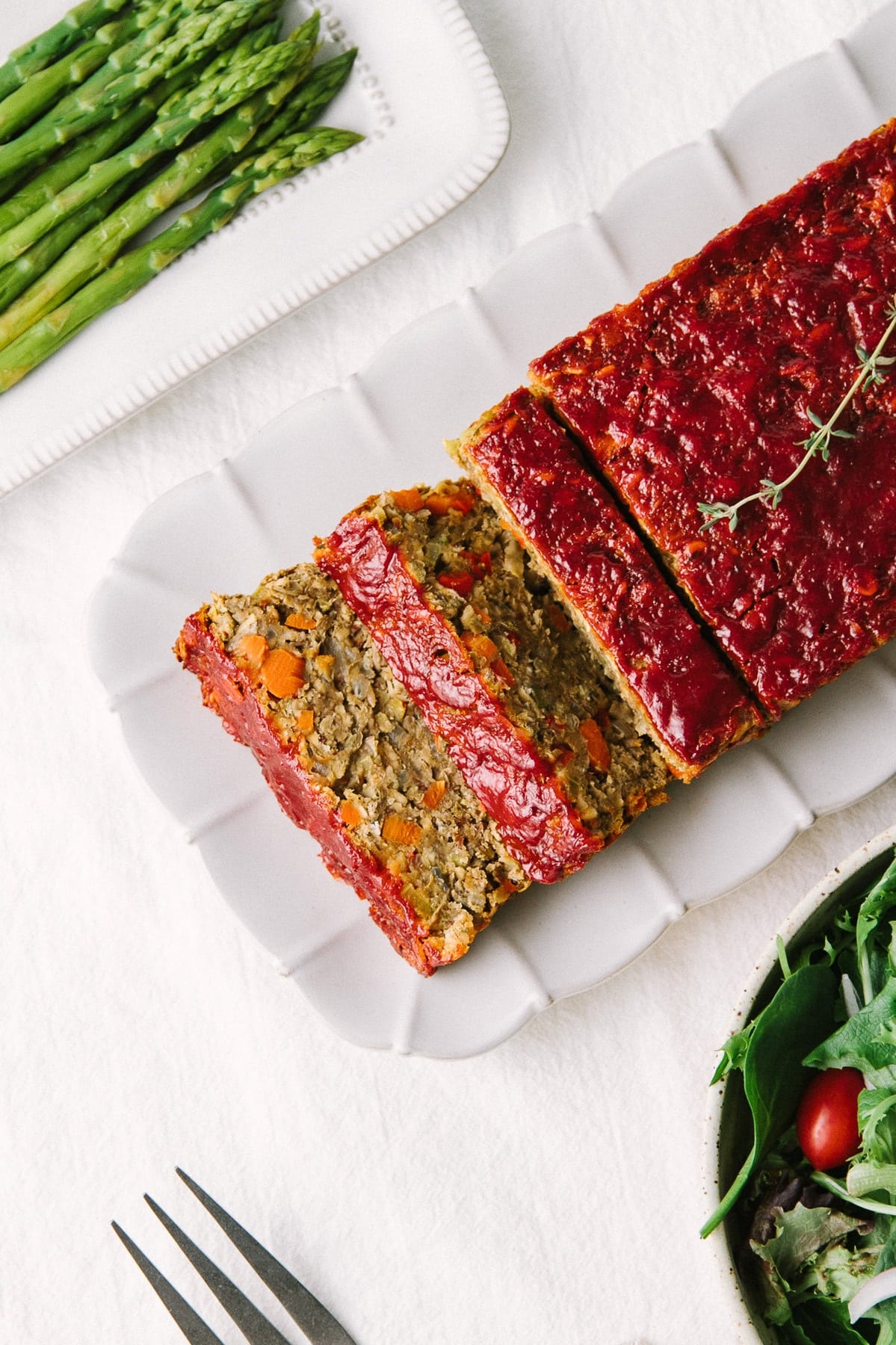 After a few attempts (five to be exact) at making this vegan lentil loaf, I have finally come up with a veggie version that tastes pretty darn good and is extremely filling!
I wanted to keep this lentil loaf recipe (aka vegan meatloaf) easy, with ingredients you may already have in your pantry. After doing a little digging, I was able to piece this together from a few resources.
One source was this recipe from Made to Create, which is wonderfully simple, and also had good reviews from when I shared it on my Facebook page!
Then there was this one from Oh She Glows, which is a walnut version using apples and raisins, but I wanted one with all veggies (Angela's looks delicious and I will be trying it later).
Last but not least, I referenced this recipe at My Vegan Cookbook.
This lentil loaf has great texture, flavor and is super filling. Be prepared, one slice will most likely fill you up, it sure does for me. I'm not kidding when I tell you this is one hearty and filling lentil loaf.
I especially love the glaze for the top of this lentil loaf, which was adapted from Angela's recipe. You could serve a little extra on the side, or double the amount if you like, slathering a little more over top the lentil loaf once cooked.
For a fall flavored or holiday (Christmas or Thanksgiving) lentil loaf, try this Lentil Walnut Loaf with apple, fennel and sage. It's just as amazing!
Now on with the recipe – make a loaf and share the love!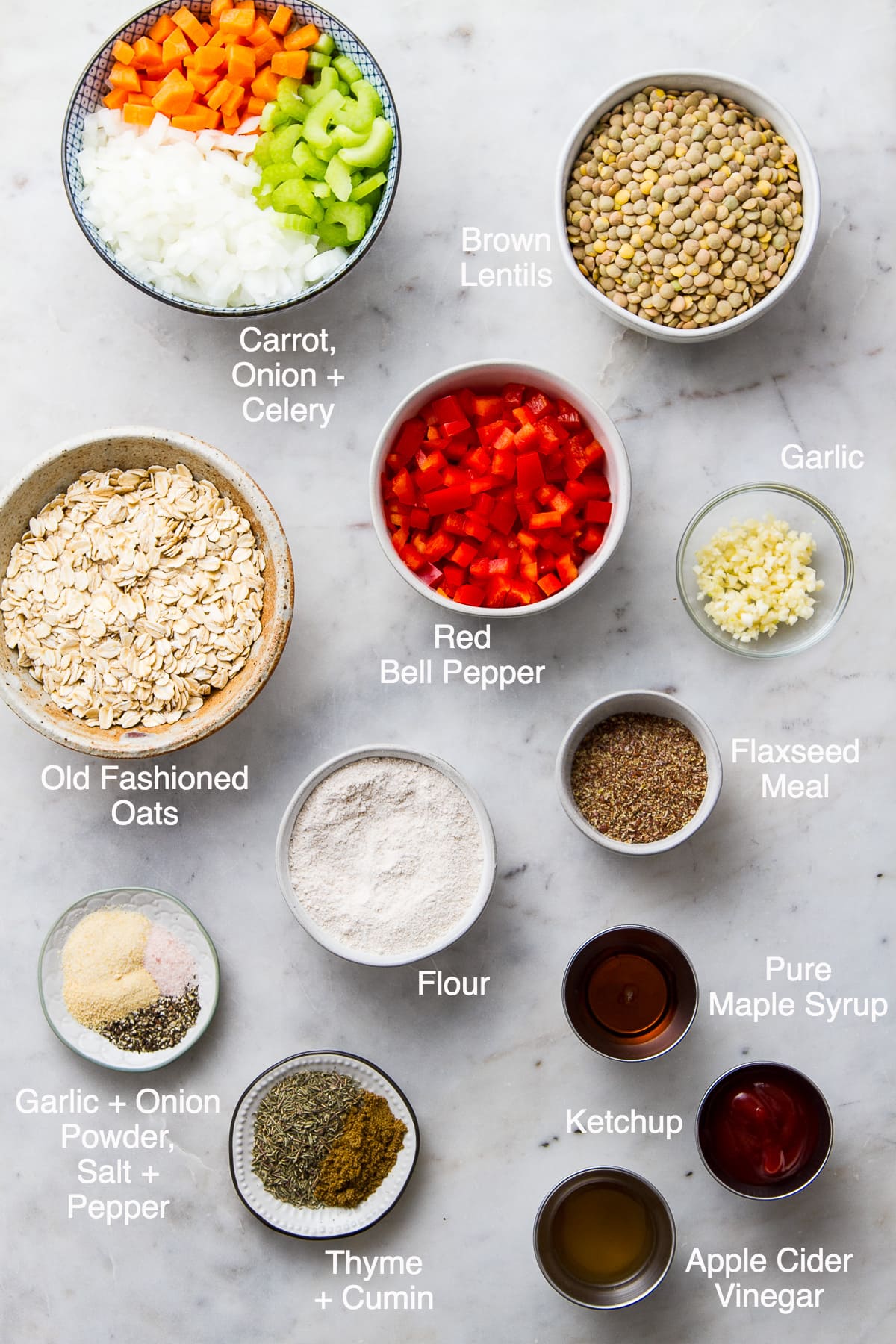 Ingredient Notes
In this WFPB recipe, mashed brown lentils are combined with sauteed carrots, onion, celery, oats, flaxmeal and herbs and baked in a loaf pan with a tangy glaze top creating a hearty vegan lentil loaf.
Here is everything you will need:
Lentils – Use brown lentils for best results as they cook up tender and can easily be mashed. Canned lentils work too, as noted in the recipe card.
Veggies – The vegetables include the usual mirepoix of onion, carrot and celery, with added red bell pepper. Feel free to sub in other veggies if you like. Some have left comments of adding zucchini for the bell pepper. You get the idea, you can adjust to what you have on hand or prefer.
Garlic – If you don't have fresh garlic, use 1 heaping teaspoon of garlic powder.
Oats – Use old fashioned or quick oats.
Flour – Any flour will work so use what you prefer or suits your dietary needs. For gluten free, use oat or gluten free flour blend.
Flaxmeal – We'll be making flax eggs, combining flaxmeal with water.
Herbs & Spices – I absolutely love the thyme in this lentil loaf recipe, but have added cumin for a little earthiness and warmth. Feel free to omit the cumin all together, especially if making for the holiday table such as Christmas or Thanksgiving. And if you like spicy, you'll love the ground chipotle pepper in this recipe with the glaze, it's such a nice combo of sweet and spice!
Glaze – The glaze is a flavorful and tangy mix of ketchup (organic pref.), pure maple syrup and apple cider vinegar. Feel free to double the glaze.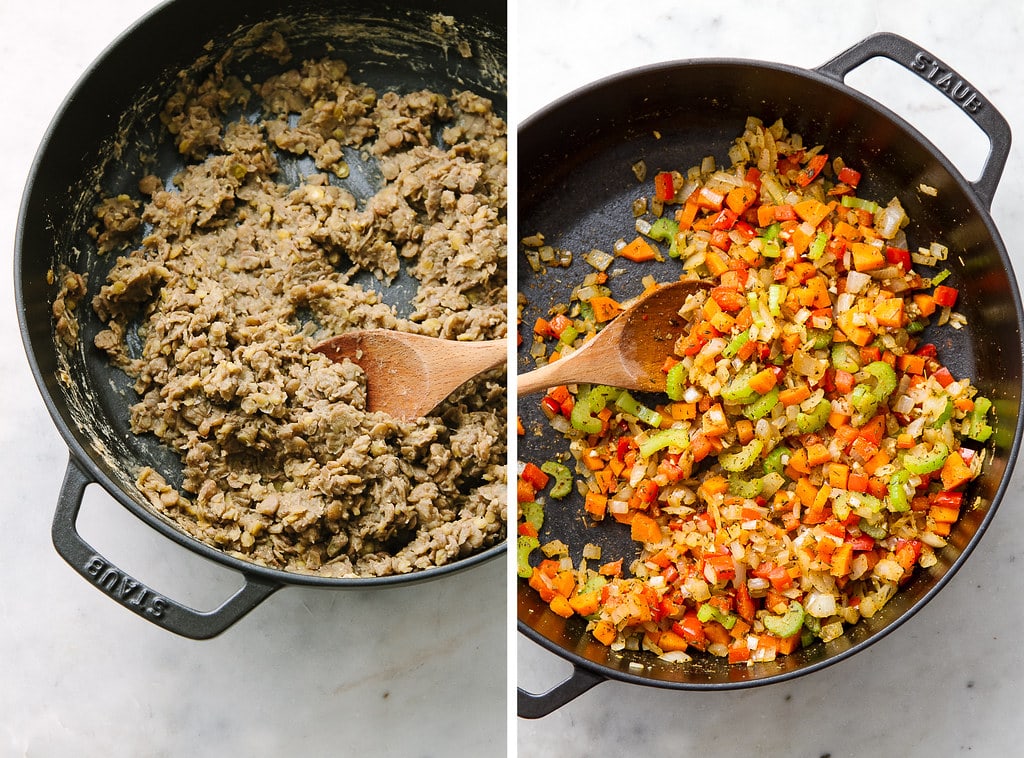 How To Make Lentil Loaf
Cook the lentils. Cook your lentils, let set for about 15 minutes, most of the liquid should be absorbed. Mash or puree about 2/ 3 – 3/4 of the mixture. You should be able to easily mash the lentils with a back of a fork or slotted spoon.
Saute the veggies. While lentils are cooling, saute the vegetables (above right).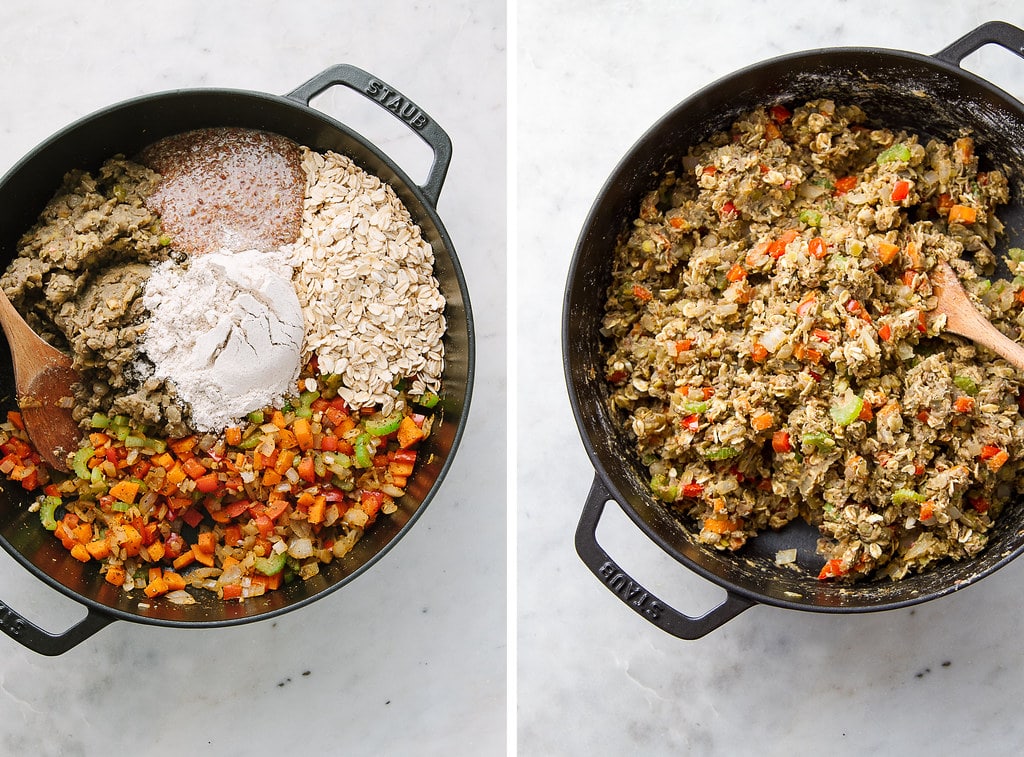 Combine and mix. Add the lentils to the sauteed veggie mixture along with the oats, flour and flax egg. Mix well to combine.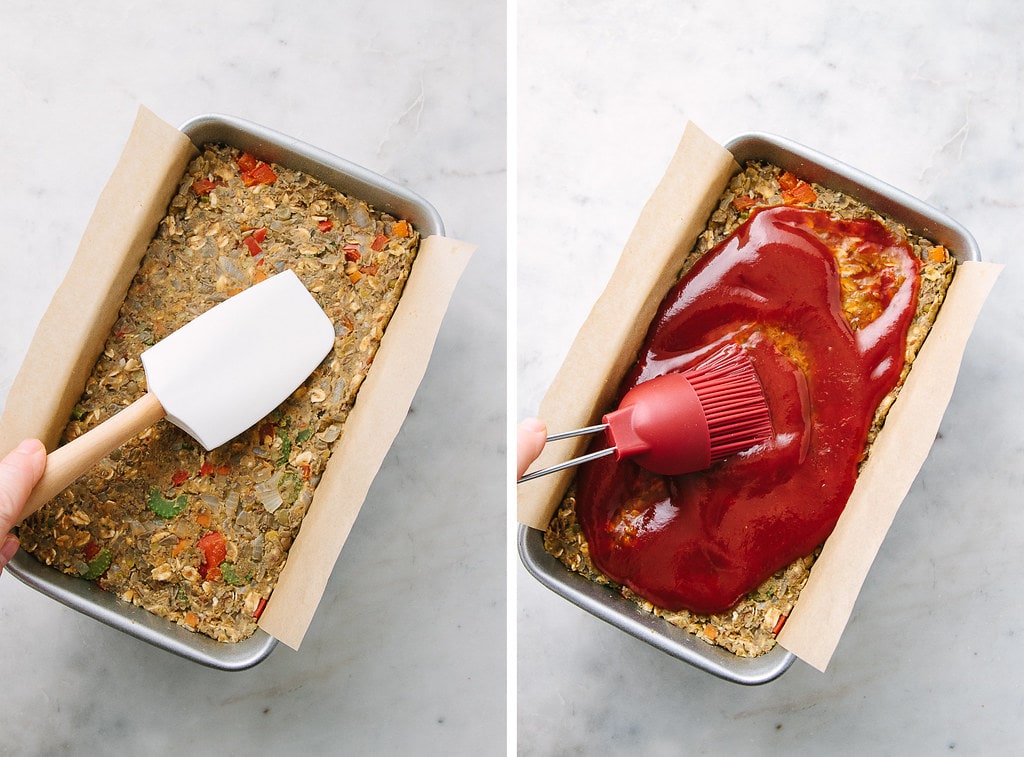 Pack into loaf pan. Once everything is mixed, pack the lentil mixture into a 9 x 5 loaf pan. It helps to use parchment paper to line the loaf pan, making it easier to remove the loaf using the overhanging paper.
Add glaze. Spread glaze over top and distribute evenly as possible.
Bake. Place lentil loaf in the oven at 350 degrees for 45 – 50 minutes.
Top Tips
Change the seasonings. Don't be afraid to switch up the seasonings in this recipe. I think Italian seasoning would be great.
Double the glaze. I've had many readers say they double the glaze and I couldn't agree more!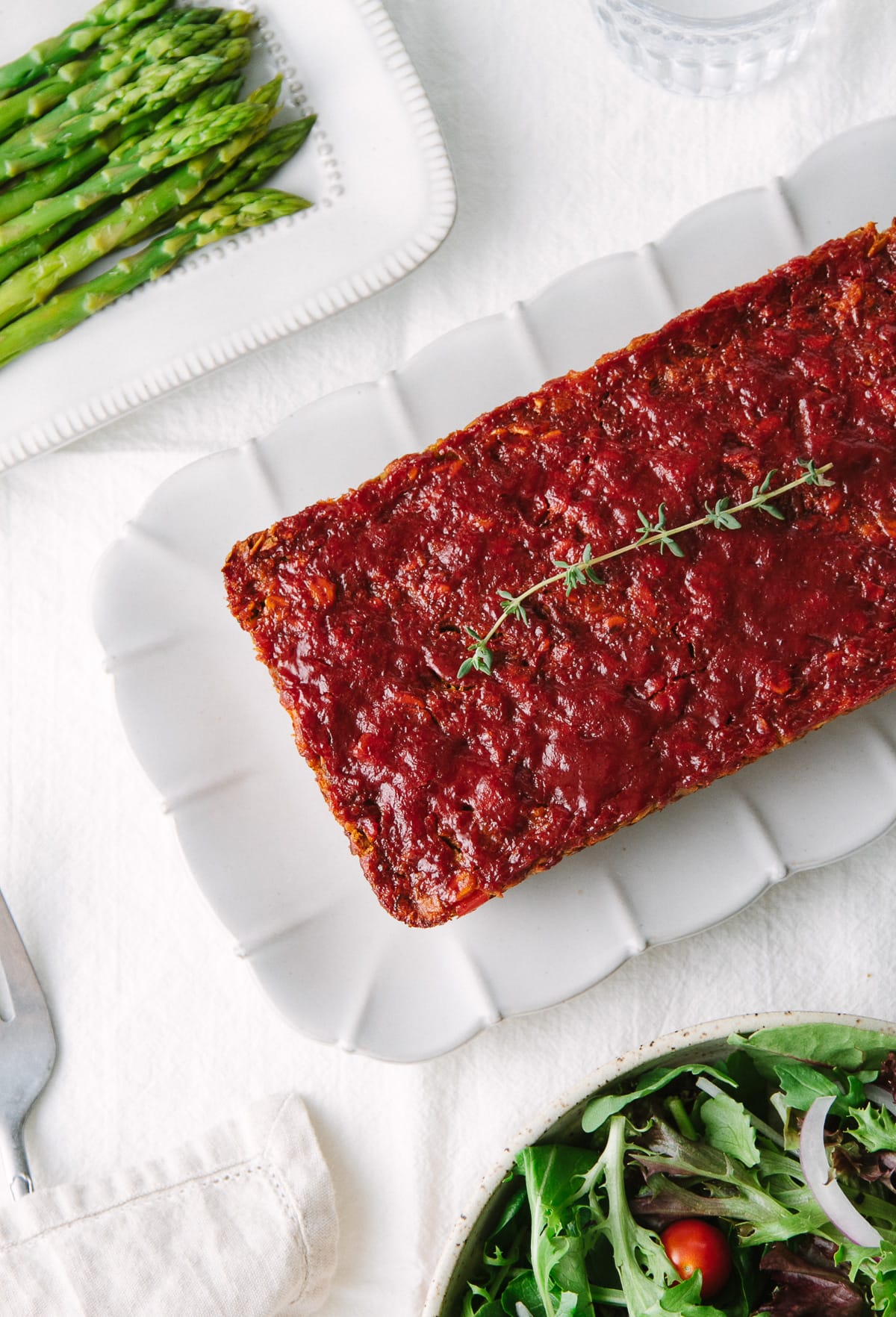 What To Serve With Lentil Loaf
This lentil loaf pairs great with a variety of sides like these:
Vegan Mashed Potatoes made in an Instant Pot or stovetop
Steamed asparagus
A light and simple salad for freshness
& Leftovers make great 'meatloaf' sandwiches!
How To Store Leftovers
Refrigerator: Keep leftovers in the refrigerator for up to 5 – 6 days, in a covered container. Leftovers make for great sandwiches!
Freezer: To keep longer, store in the freezer for up to 2 – 3 months. To freeze, let the lentil loaf cool completely. Slice into individual cut pieces and store in freezer safe containers (affiliate link) with parchment paper between the slices so they don't stick together. You can also use or freezer safe ziplock bags, removing as much air as possible before closing.
Reheat: I don't recommend reheating the entire loaf at once because it will most likely become too dry. I do recommend cutting slices and then reheating. Reheat in the microwave or oven at 350 for 5 – 10 minutes.
Make Ahead
You can make your lentil loaf the day or two before and store, uncooked, in the refrigerator until ready to heat. When ready bake according to instructions.
Why Is My Lentil Loaf Mushy?
If you find your lentil loaf is mushy, too much moisture is most likely the culprit, creating a mushy lentil loaf. To combat this, when cooking the lentils, be sure to cook down the water all the way. There should be no more than 1 tablespoon water (and it's ok if there is none). If using canned lentils, omit the flax egg (there's plenty of moisture in canned lentils, even after draining).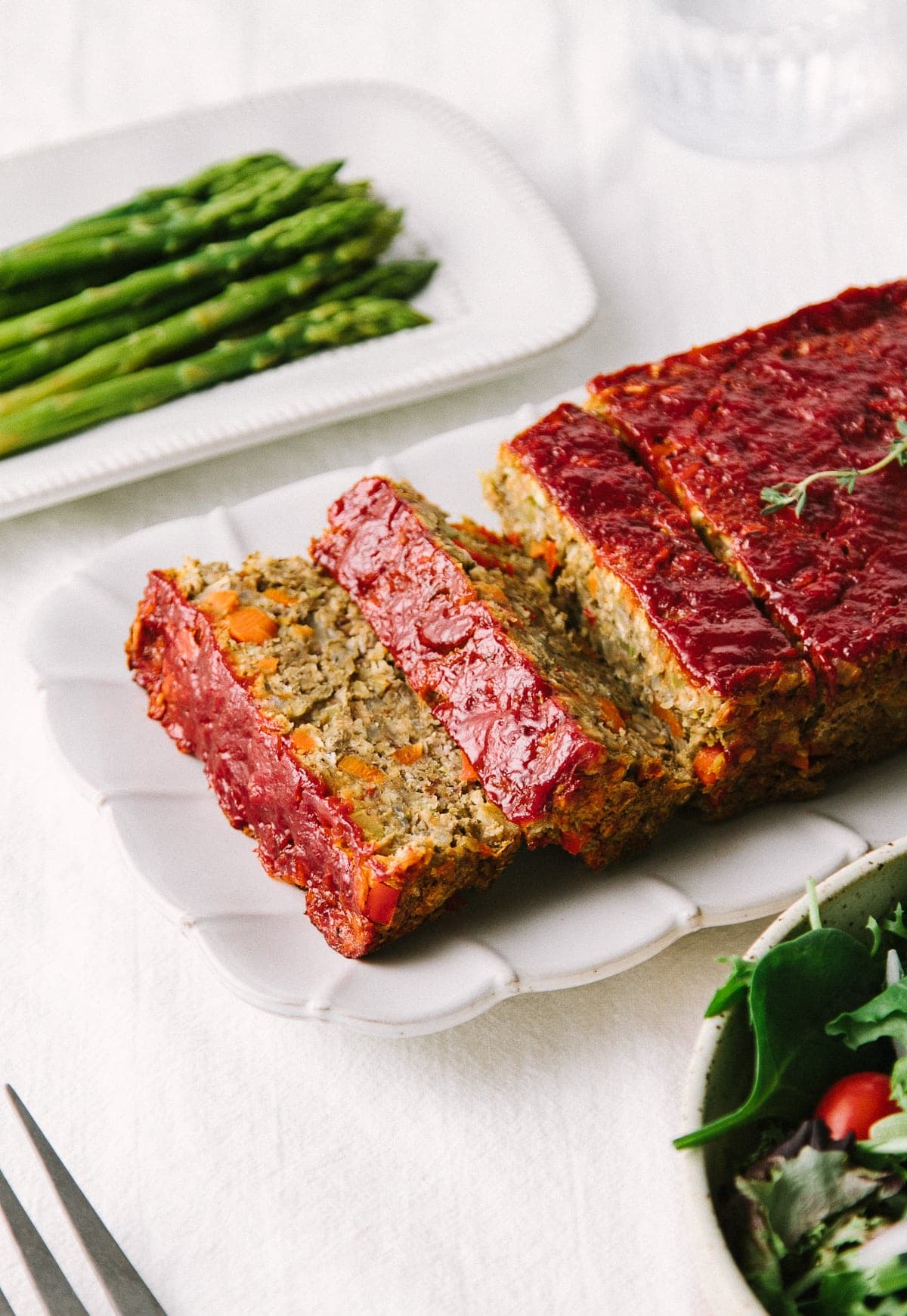 If you try this vegetable lentil loaf recipe, please let me know! Leave a comment and rate it below. I love to hear what you think, or any changes you make.
Print
THE ULTIMATE VEGETABLE LENTIL LOAF
A wonderfully flavored lentil loaf for the whole family to enjoy. The leftovers make for great sandwiches too!
Author: Julie | The Simple Veganista
Prep Time:

15 min

Cook Time:

90 min

Total Time:

1 hour 45 minutes

Yield:

Serves 8

Category:

Entree

Method:

bake

Cuisine:

Vegan, American
Loaf
1 cup

dry lentils (use green/brown)

2 1/2 cups

vegetable broth

3 tablespoons

flaxseed meal (ground flaxseeds)

1/3 cup

water

2 tablespoons

olive oil OR steam saute using 1/4 cup water

3

garlic cloves, minced

1

small onion, finely diced

1

small red bell pepper, finely diced

1

carrot, finely diced or grated

1

celery rib, finely diced

3/4 cup

oats (I used GF oats)

1/2 cup

oat flour or finely ground oats (any flour of choice will work here too)

1 teaspoon

dried thyme (or Italian Seasoning)

1 teaspoon

EACH garlic powder & onion powder (for good measure!)

1/2

–

1

teaspoon cumin, optional

1/4

–

1/2

teaspoon ground chipotle pepper, optional
cracked pepper & sea salt, to taste
Glaze
3 tablespoons

organic ketchup

1 tablespoon

apple cider vinegar or balsamic (see notes)

1 tablespoon

pure maple syrup
Instructions
Prepare lentils: Rinse the lentils, remove odd pieces. In large pot add 2 1/2 cups water/broth with lentils. Bring to a boil, reduce heat, cover and simmer for about 35 – 40 minutes, stirring occasionally. It's ok if they get mushy, we are going to roughly puree 3/4 of the mixture when cooled. Once done, remove lid and set aside to cool (there should only be a little bit of water so do not drain), lentils will thicken a bit upon standing, about 15 minutes is good.
Preheat oven to 350 degrees.
Make flax egg: In small bowl combine flaxseed meal and 1/3 cup water, set aside for at least 10 minutes, preferably in the refrigerator. This will act as a binder and will thicken nicely upon sitting.
Saute vegetables & spices: In saute pan heat oil or water over medium heat. Saute garlic, onion, bell pepper, carrots and celery for about 5 minutes. Add spices mixing well to incorporate. Set aside to cool.
Mash the lentils: Using an immersion blender, food processor, back of a fork or potato masher, blend 3/4 of the lentil mixture. For me this was an important part, I tried it other ways and this worked to help as a binder. If using an immersion blender, tilt the pot slightly to the side for easier blending.
Assemble lentil loaf: Combine sauteed vegetables with the lentils, oats, oat flour and flax-egg, mix well. Taste, adding salt and pepper as needed, or any other herb or spice you might like. Place mixture into a 9×5 loaf pan lined with parchment paper, leaving it overlapping for easy removal later. Press down firmly filling in along the edges too.
Glaze: Prepare your glaze by combining all ingredients in a small bowl, mix until incorporated. I recommend making each tablespoon heaping so you have plenty of this great sauce on top (if using tomato paste and mixture is too thick, add a teaspoon of water, or a little extra vinegar & syrup). Spread evenly over top the loaf.
Bake: Place in center of the oven, and bake in oven for about 45 – 50 minutes. Let cool a bit before slicing.
Serves 8
Serving suggestions: Serve with cooked asparagus, green beans, brussels sprouts, mashed potatoes, roasted red potatoes, scalloped potatoes, savory sauteed kale, baked beans, macaroni salad and/or simple salad, etc.
Notes
Glaze: Use either apple cider or balsamic vinegar. Balsamic will yield a bolder flavor. You may like to double up on the glaze, having some to put on the loaf after it's removed from the oven.
Omit spicy heat: If you don't care for a little spicy heat, omit the chipotle powder.
Canned lentils: You can use canned (15oz) lentils (or about 1 1/2 – 2 cups), just be sure to drain and rinse them well, and mash about 2/3 – 3/4 or so. Skip the vegetable broth as it is used to cook the dried lentils.
Store: Leftovers will last 5 – 5 days in the refrigerator, in covered containers. To keep longer, store in the freezer for 2 – 3 months. To freeze, cut into individual slices with parchment paper between the slices and store in freezer safe containers or bags (if using baggies remove as much air as possible).
Reheat: I do not recommend reheating the entire loaf at once. It will most likely become too dry, as the heat will take too long to reach the center. I recommend cutting slices and reheating.
Make ahead: If you need, you can make your lentil loaf the day before and store uncooked until ready to heat, bring to room temperature and heat according to instructions above.
RECOMMENDED EQUIPMENT: This loaf pan is a great size, or something similar. For lining the loaf pan I cut these parchment liners in half (affiliate links).
Updated: The Ultimate Vegetable Lentil Loaf was originally published in November 2012. It has been retested and updated with new photos and helpful tips in November 2019. No changes were made to the recipe as it's still just as good!
FOLLOW TSV on Facebook, Instagram, Pinterest, or RSS for more updates and inspiration!