MEDITERRANEAN VEGGIE SANDWICH
The best Mediterranean Veggie Sandwich features roasted red peppers, cucumber, tomato, avocado, hummus and basil for a healthy, quick and easy vegan sandwich everyone will love!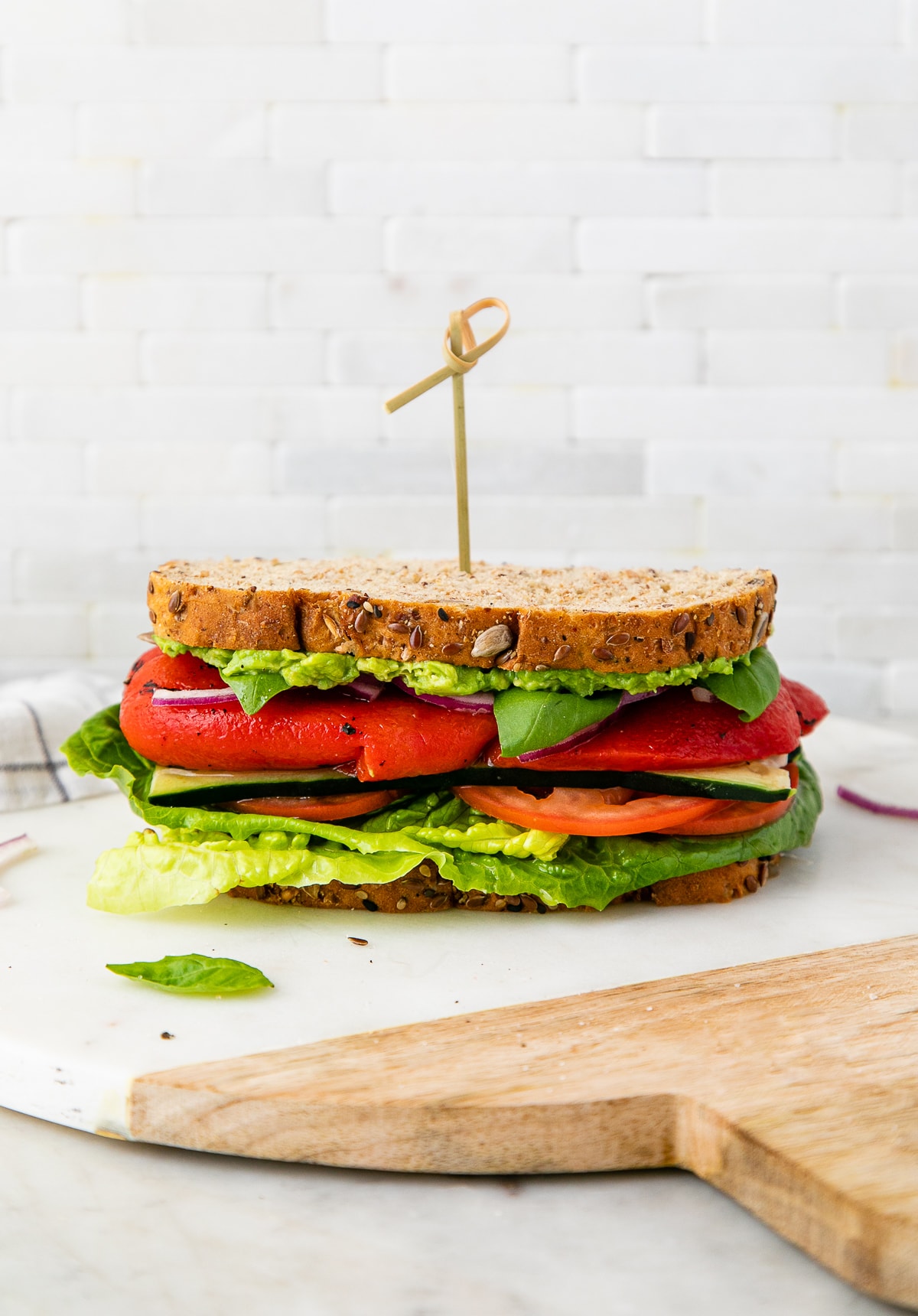 Hello, foodie friends!
I'd like to introduce you to my new favorite sandwich – Mediterranean Veggie Sandwich featuring roasted red pepper, hummus and avocado, and it's the bomb!
I've been putting together recipes specifically to go with the recently shared guide on How To Roast Bell Peppers. I have tons of roasted bell peppers stored away from putting the guide together.
Whether you're roasting a large batch to store or just making a few to use right away, we'll need a way to use them up.
If you haven't already seen the first recipe, Pasta & Peas + Red Pepper Romesco, in the series, do be sure to check it out. It's delicious!
And if you love mediterranean sandwiches, this Mediterranean Smashed Chickpea Salad Sandwich is amazing and can also be used to make lettuce wraps or scooped up with crackers.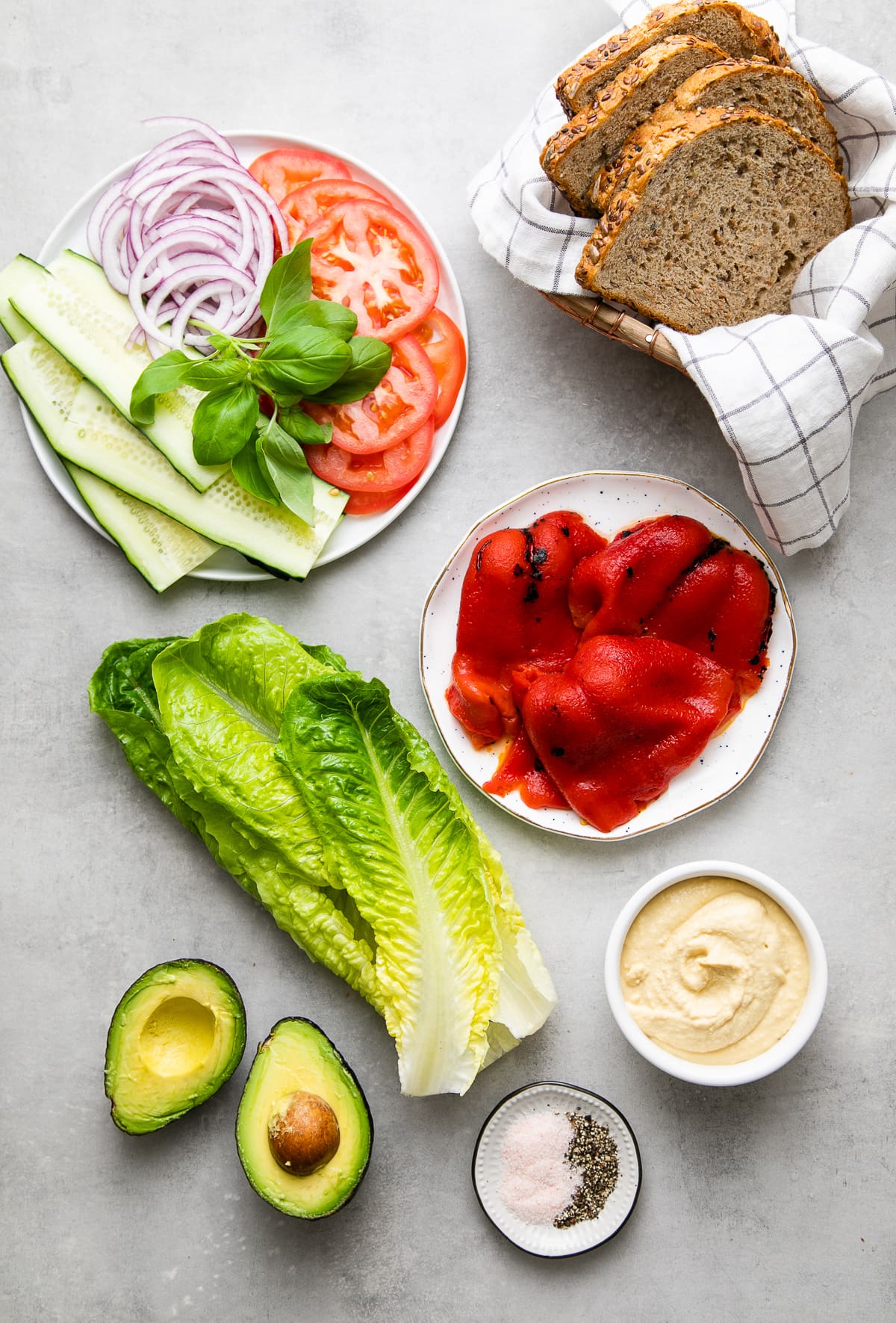 Ingredients You'll Need
The cast of characters for this easy recipe includes roasted bell peppers, crisp cucumbers, juicy tomato, and avocado all piled on your favorite bread and sliced in half for a healthy and delicious WFPB sandwich.
Here is everything you will need:
Roasted red peppers
Cucumber
Tomato
Red onion
Avocado
Hummus
Basil
Leafy greens
Salt + pepper
Bread
There isn't too much here to change up. Of course, you can omit anything you like. For the hummus, with so many different flavors out there these days, go bold with flavors or keep it simple with the classic.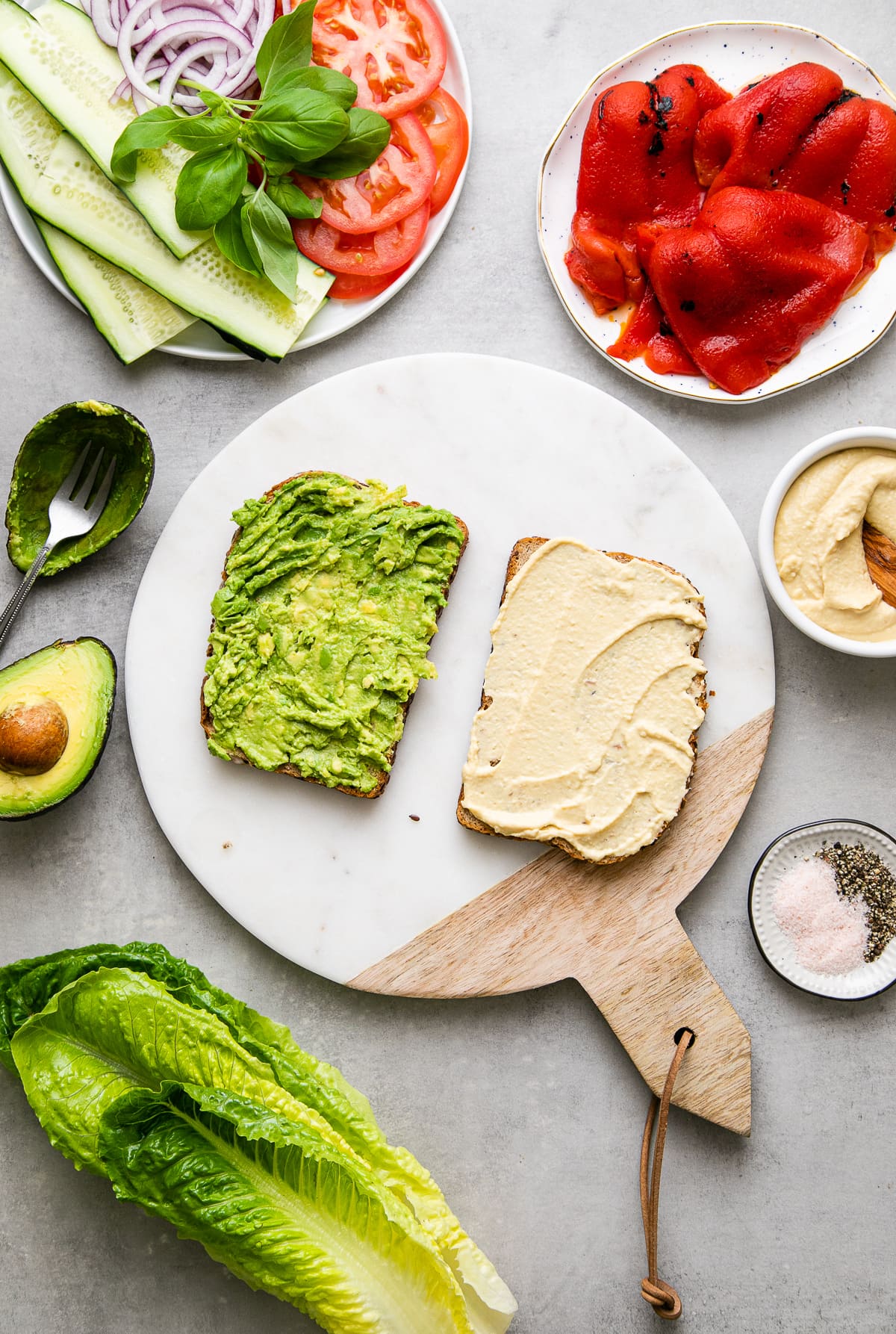 How To Make Mediterranean Veggie Sandwich
Spread your hummus on one slice and 1/2 smashed avocado on the other. The avocado can easily be mashed with the back of a fork right in its skin. Add sliced avocado if you prefer.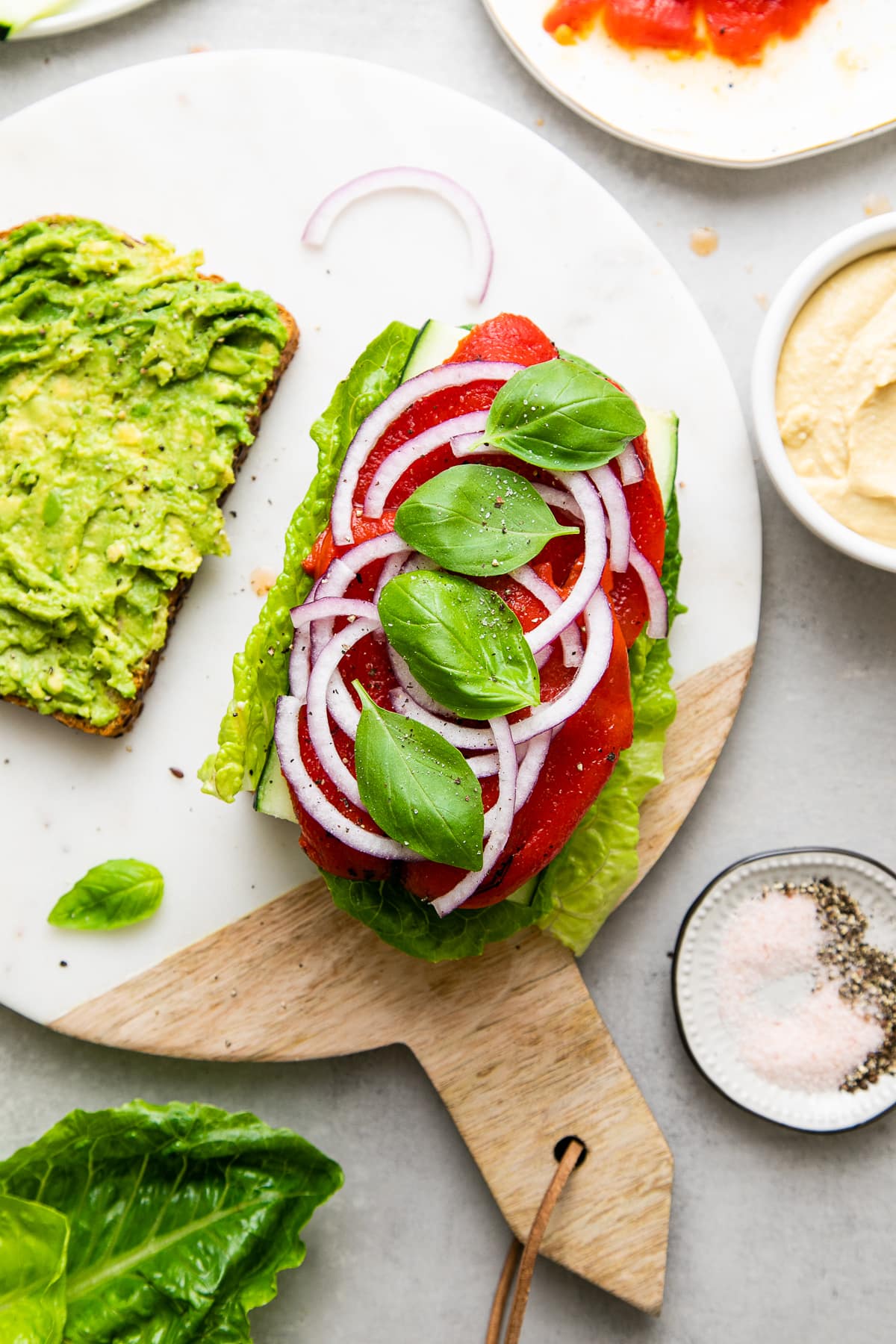 Start layering the bottom slice with your leafy greens, tomato slices and cucumber.
Next, add the red peppers, red onion and basil.
Finish if off with a sprinkle of salt + pepper, and top with remaining slice of bread.
And now you're ready to enjoy this flavorful sandwich!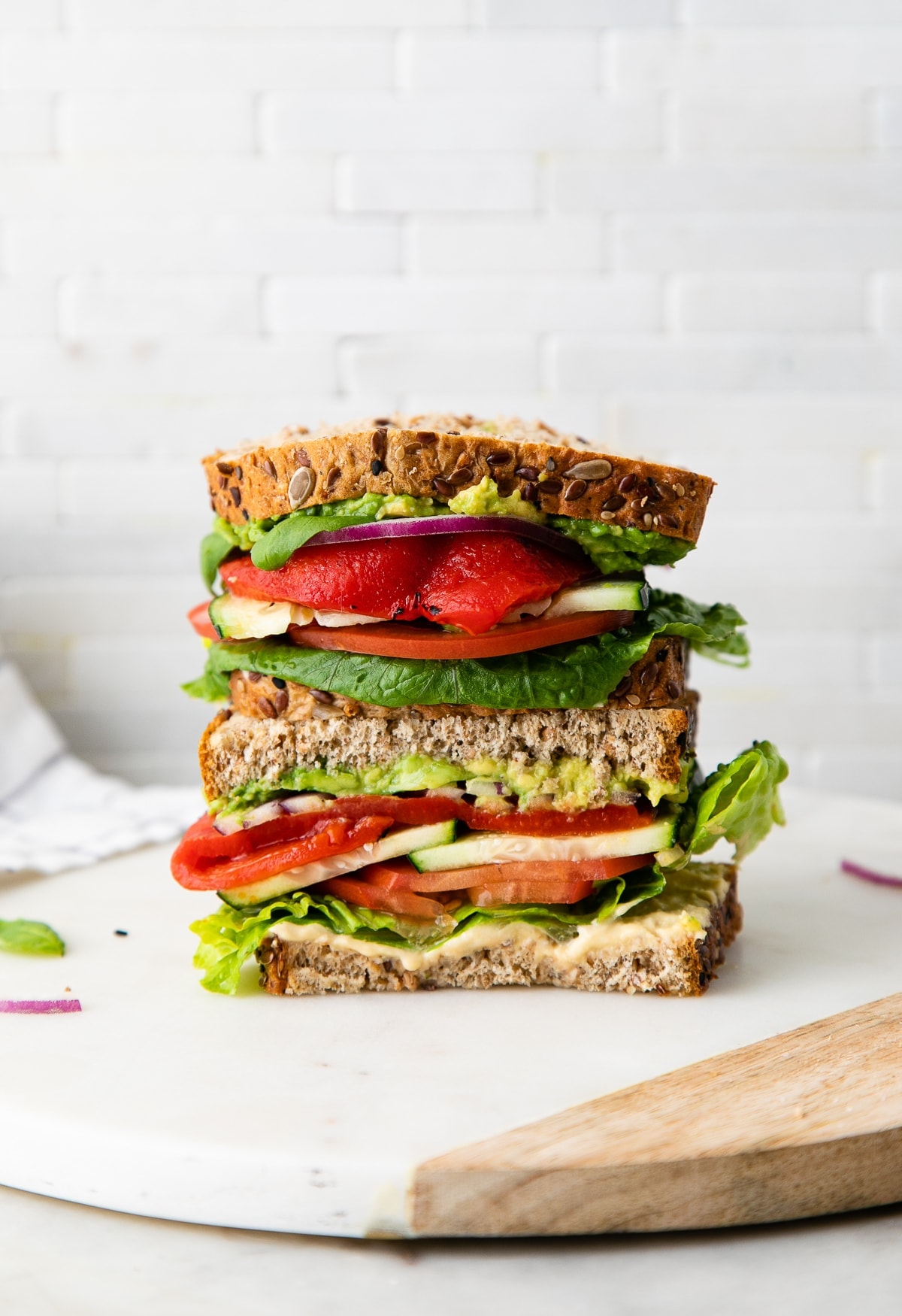 How To Store + Meal Prep
Refrigerator: Prepared sandwiches can be stored in the refrigerator for up to 1 – 2 days, but are best eaten within 24 hours.
Meal prep: When meal prepping, the sandwiches can be made the night before or the day of, and then stored in multi-use containers (affiliate link) or bento boxes.
Serving Suggestions
This savory sandwich is great on its own, but can be made even heartier with any of these serving options: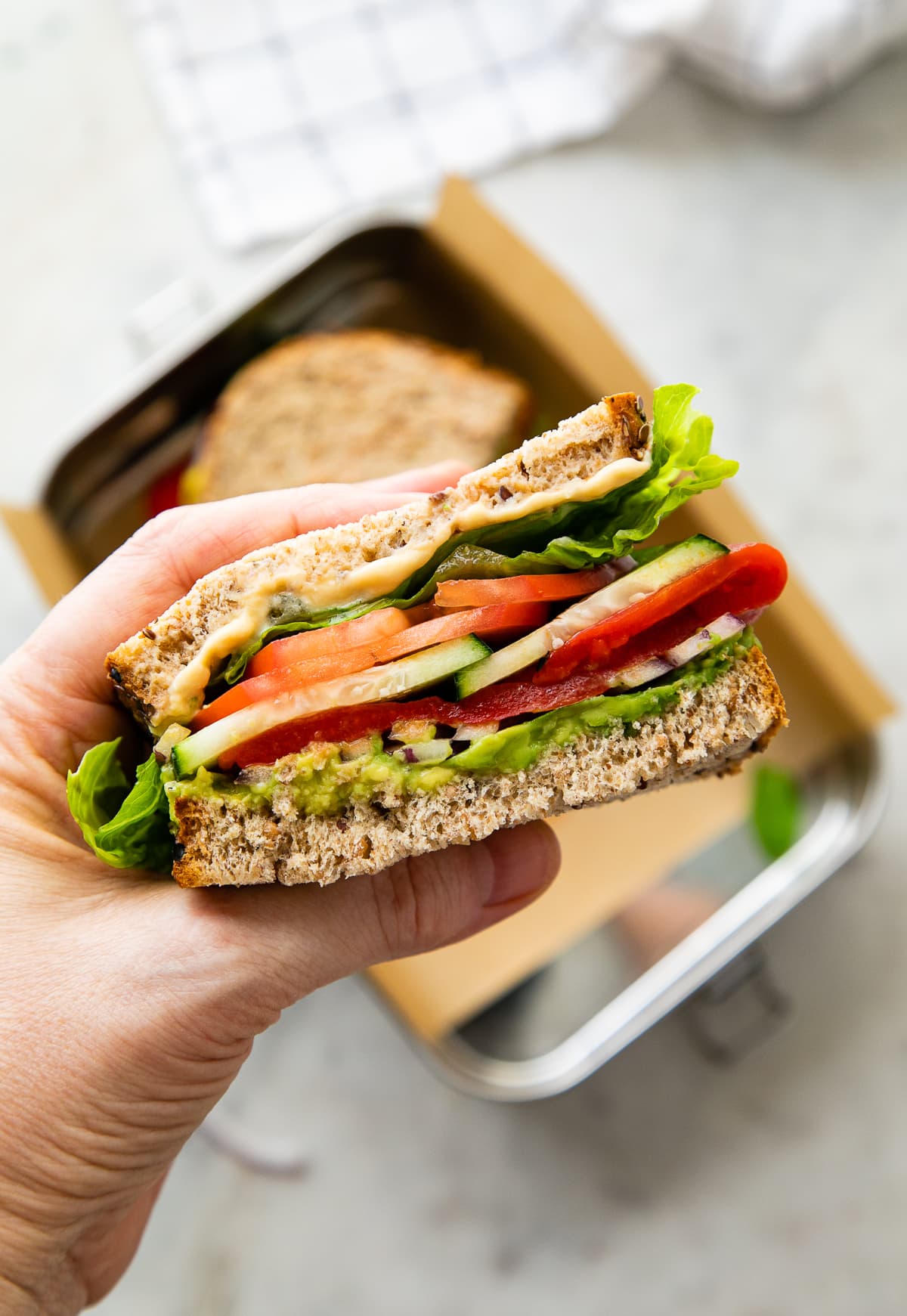 More Easy Sandwich Recipes
If you try this roasted red pepper sandwich recipe, please let me know! Leave a comment and rate it below. I love to hear what you think, or any changes you make.
Print
MEDITERRANEAN VEGGIE SANDWICH
Updated: Mediterranean Veggie Sandwich was originally published in July 2016. It has been retested and updated with new photos and helpful tips in July 2020. The only changes made was to change the name, the old title was Roasted Red Pepper, Hummus + Avocado Sandwich.
FOLLOW TSV on Facebook, Instagram, Pinterest or RSS for more updates and inspiration!